Here we share our types of recliners buying guide including different design styles, options, materials and buying tips.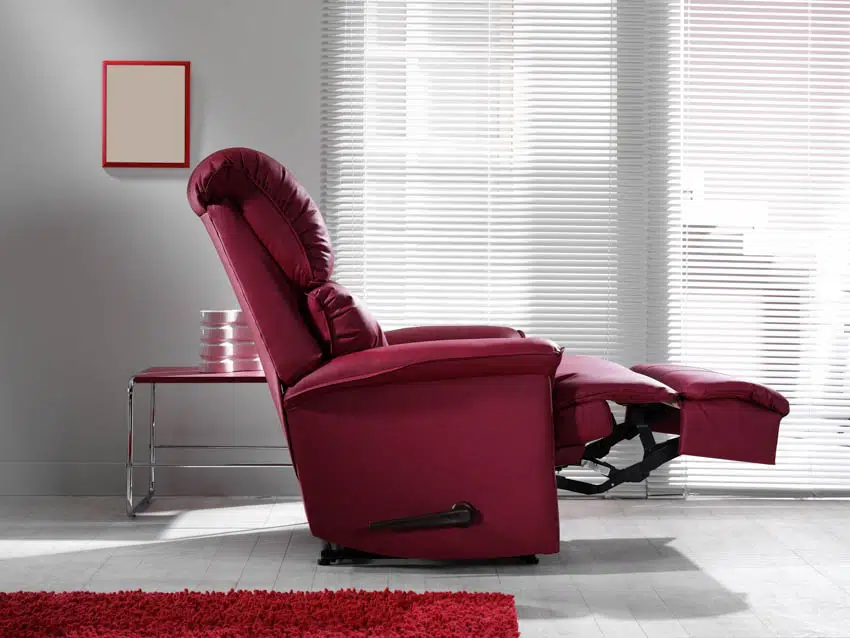 Recliners have truly become a favorite choice by countless homeowners as they deliver maximum comfort, luxury, and beneficial features. Nowadays, we are living in a very modern and technological world, the advancement of recliners has highly transformed.
Space-saving features, power capabilities, and extreme comfort are what recliners have to persistently offer. However, with so many options available in the market, it could be quite difficult to identify the best option.
Fortunately, in this article, we will give you a buying guide that will assist you in determining the various types of recliners and the available features that will suit your needs. There's just one thing that you always need to ascertain – comfort is the most crucial aspect.
What is a Recliner?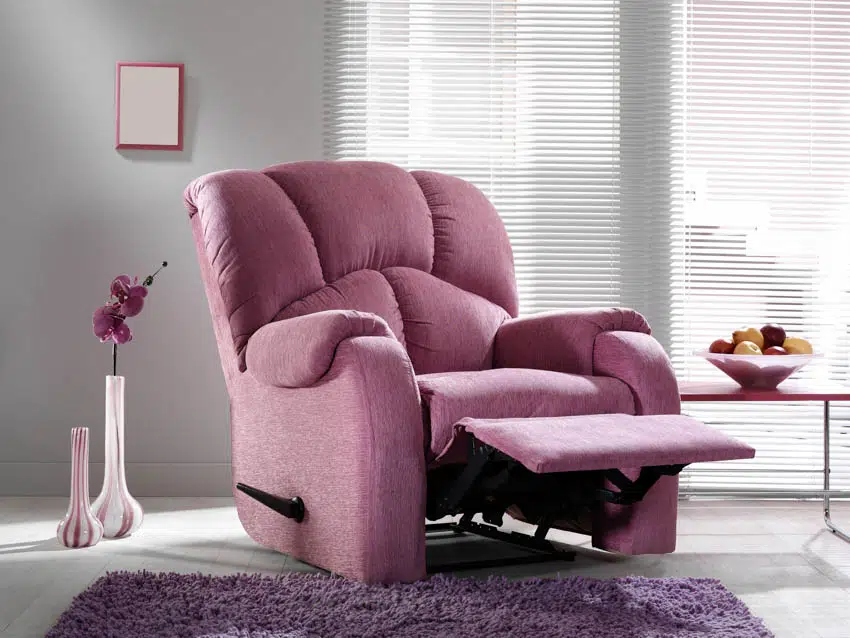 A recliner is generally a single-person sofa or armchair that can be adjusted to provide maximum comfort to the occupant. It reclines when the person sitting on it lowers the back of the chair and elevates its front. A recliner is also called a lounger, automatic armchair, or reclining chair.
Moreover, it normally contains a tiltable backrest and a comforting and extendable footrest that can be adjusted with the use of a lever located on the side of the recliner. Some footrests automatically extend when the back of the chair is reclined.
Most recliners nowadays usually feature lumbar support, an adaptable headrest, and an automatic footstool that can adjust with the weight and angle of the occupant's legs in order to amplify comfort and relaxation. Some high-end recliners incorporate massage, heat, and vibrating features.
Lay Flat Recliner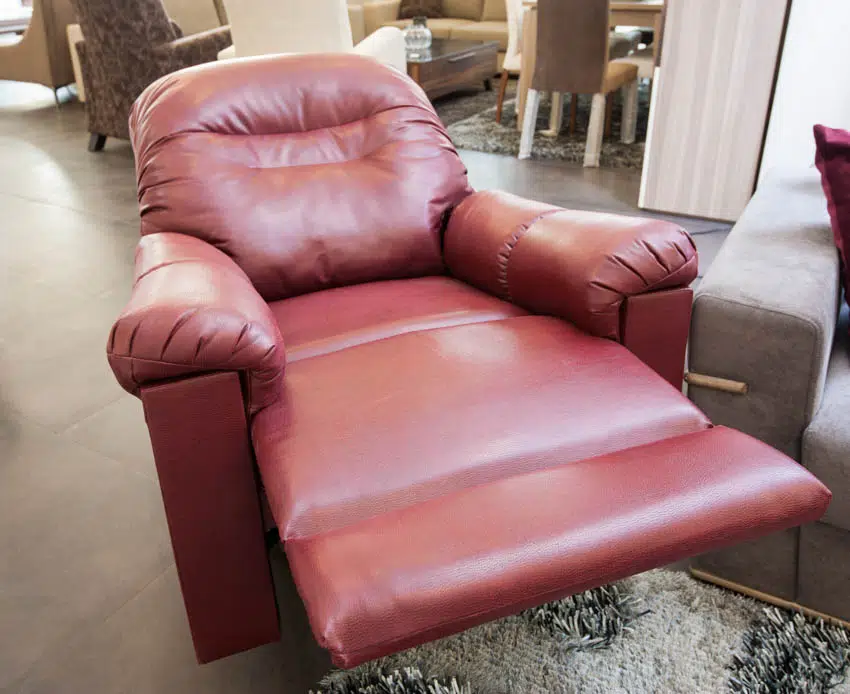 A lay-flat recliner can be adjusted to either a nearly or fully horizontal position to allow for comfortable napping or even long sleeping.
This option can be reclined to a flat position and it has features that are truly ideal for those people who are fond of sleeping in their chairs.
Push Back Recliner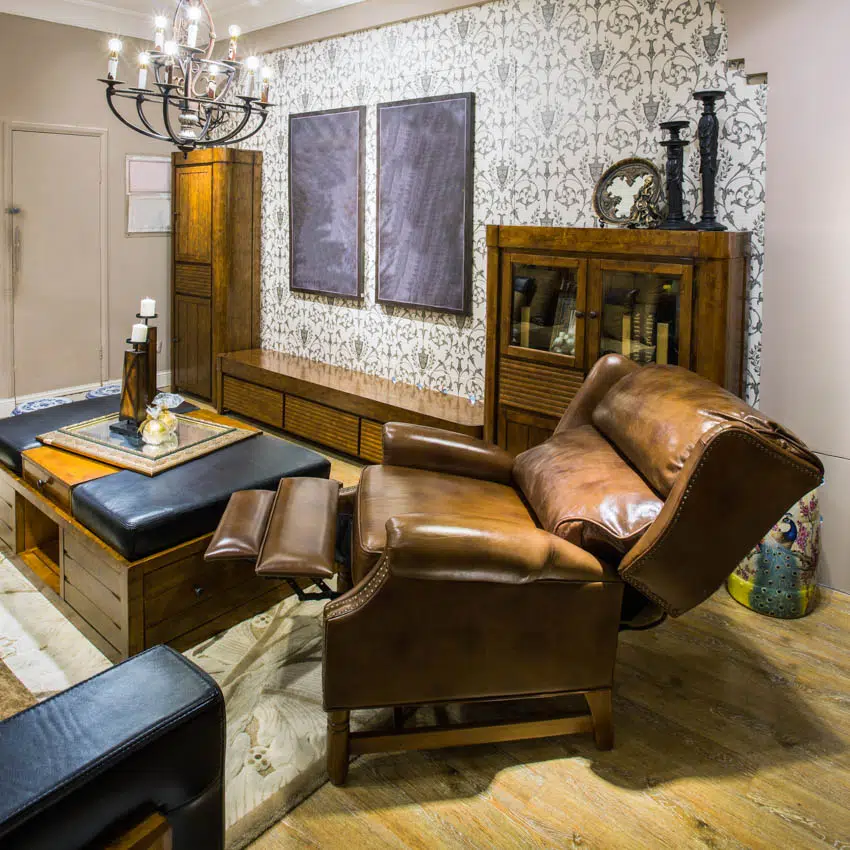 A push-back reclining chair is one of the most common and traditional recliners available. It can be reclined without the assistance of a button or lever.
To adjust it, the occupant will just have to lean back and give additional pressure to the back of the chair to make it reclined. Most push-back recliners nowadays have sleeker and minimalist designs.
Rocker Recliner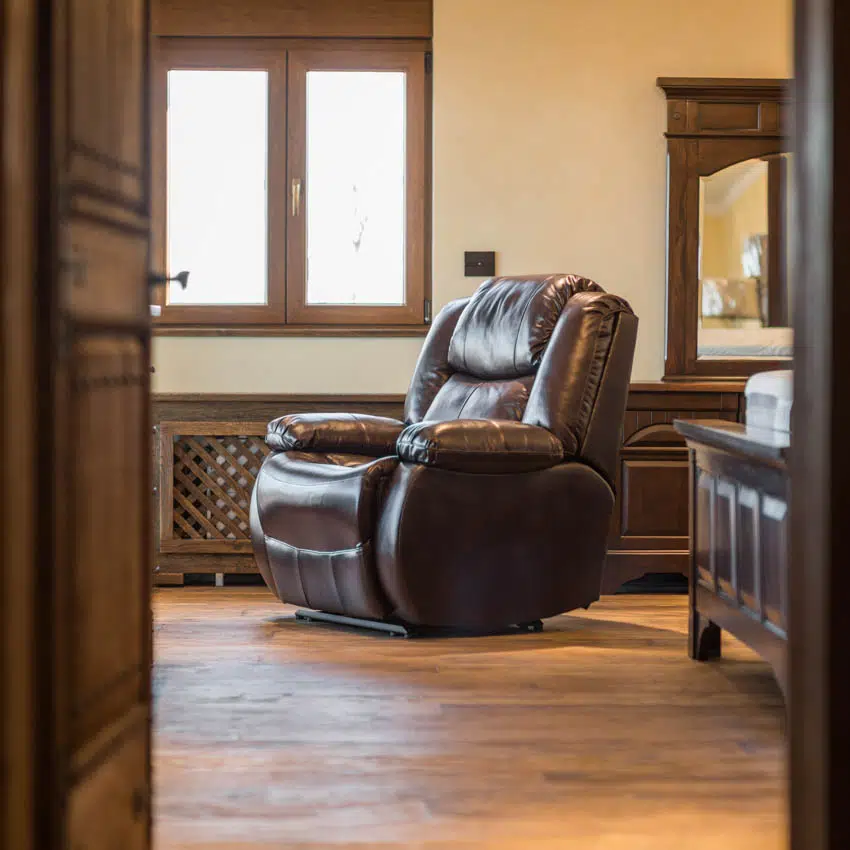 A rocker recliner does two things – to rock and recline. Its motion features allow for easy and relaxing rocking which is very ideal for nursing mothers, insomniacs, and mothers who are helping their small kids to sleep.
This recliner is one of the most preferred and common options by most homeowners.
Rocker chairs that have a reclining feature are perfect for people who are experiencing any difficulty in sleeping. Some rocker chairs do have more spacious rooms that can help in accommodating the most comfortable space for reclining.
Power Recliner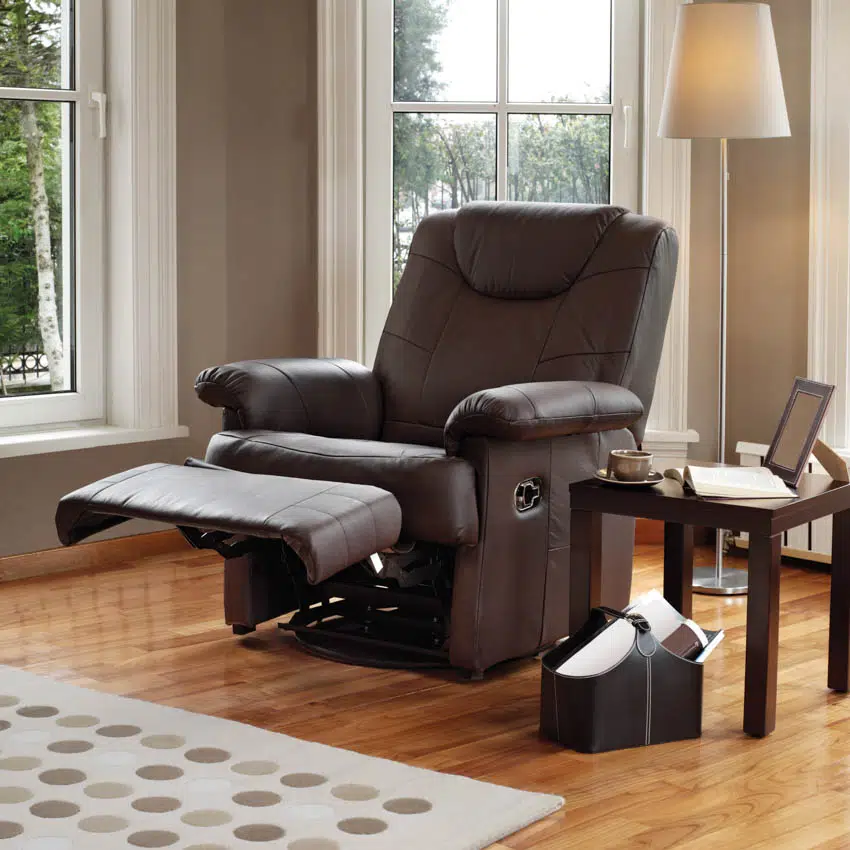 A power recliner is one of the most advanced and modern types of reclining chairs. It can be adjusted and reclined without the assistance of a handle or lever.
Instead, all you have to do is press a single button and the chair will automatically recline with the help of its motor. However, it does need to be plugged into a power outlet to operate.
Swivel Recliner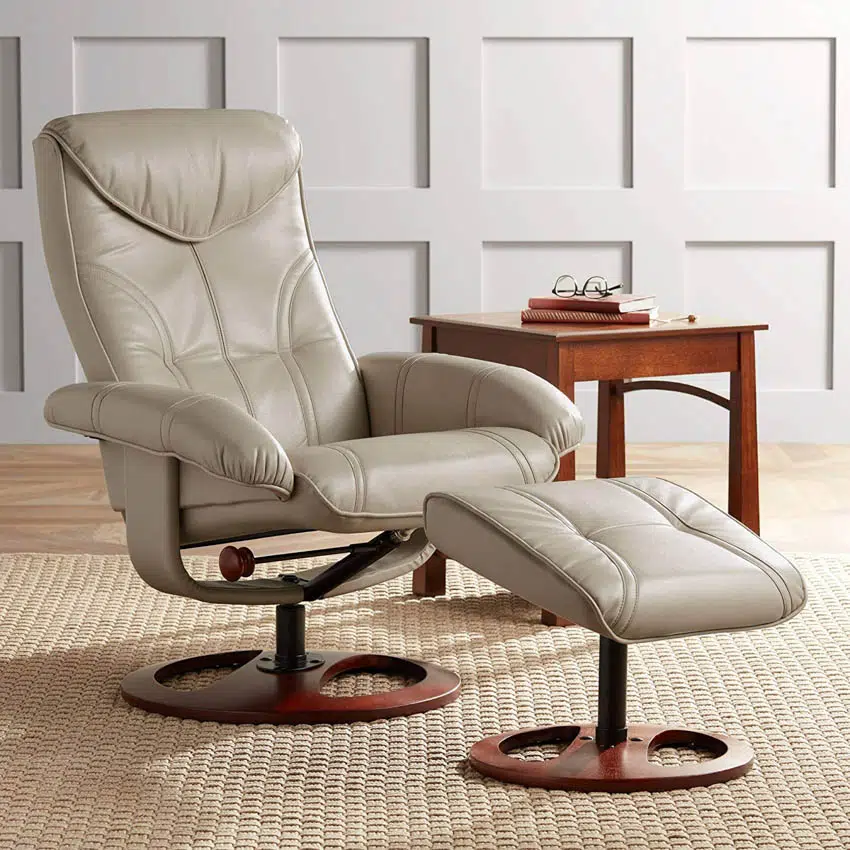 See this swivel recliner at Amazon [sponsored link]
A swivel recliner is one of the most comfortable and versatile types of recliners. Its highly advanced motion feature allows the occupant to either rotate or face a specific direction you want.
Swivel recliners are generally designed on a round-shaped base that enables them to be swiveled right, left, and backward. Compared to other recliners, a swivel recliner offers a complete range of motion features.
Glider Recliner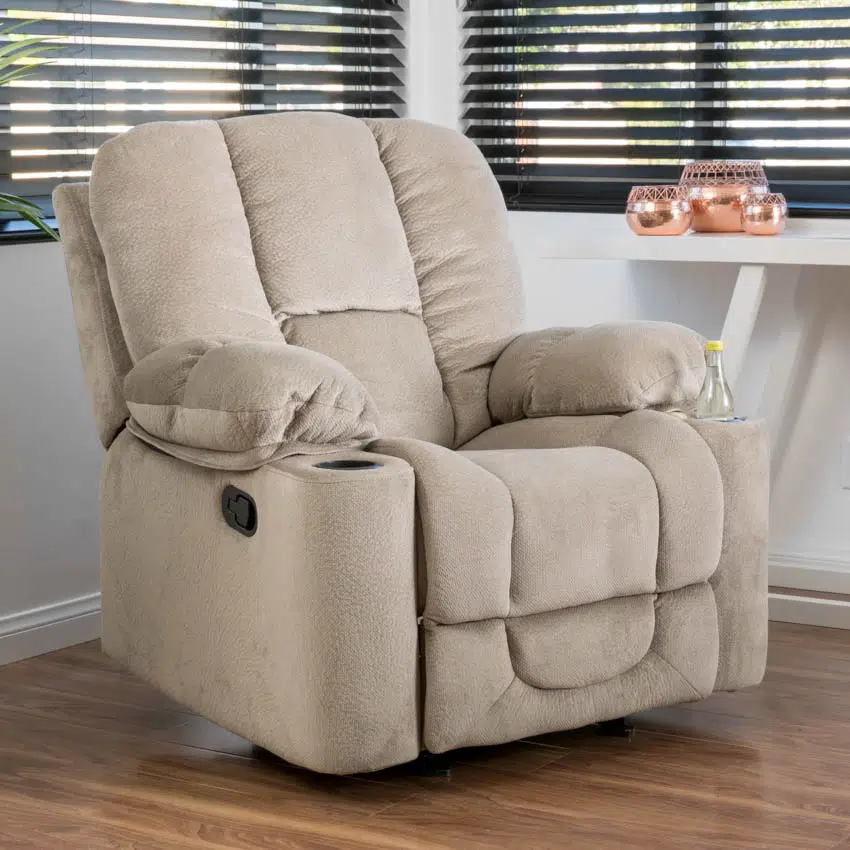 See this glider recliner at Pier 1 [sponsored link]
A glider recliner is almost the same as a rocker recliner. The only difference is that it moves backward and forward in a linear direction. A glider recliner is normally stationary but it tends to provide a virtually noiseless and smoother motion.
Some glider recliners can also swivel and some even have a safety lock feature. Among the various types of recliners, this option is also ideal for nursing mothers and to help their small children from getting asleep.
Wall Hugger Recliner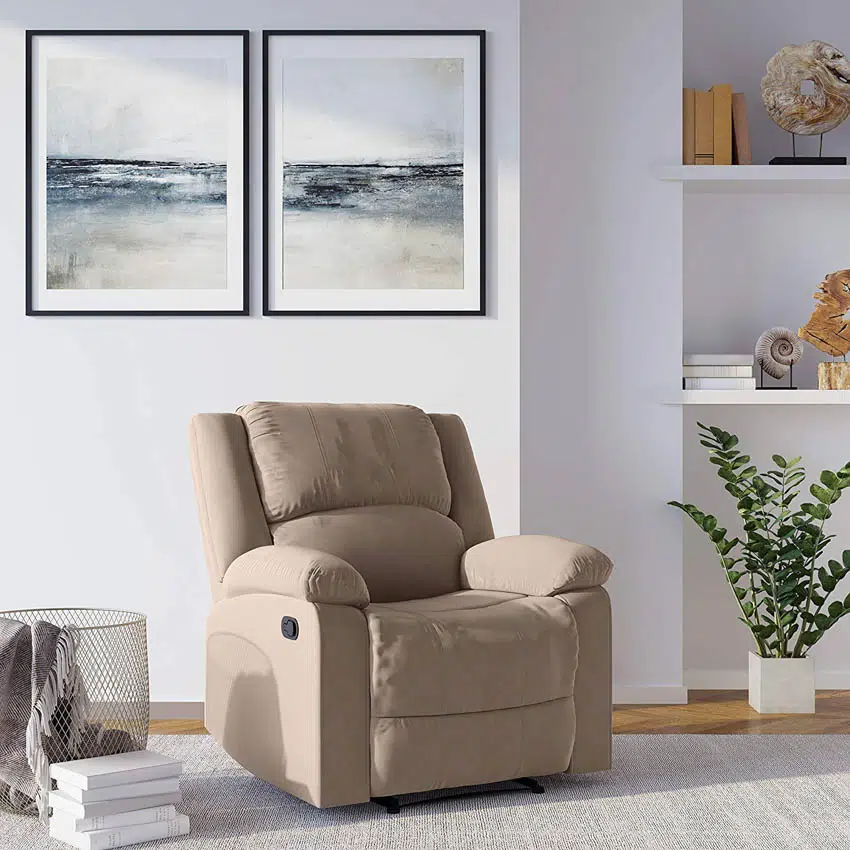 See this wall hugger recliner at Amazon [sponsored link]

A wall hugger recliner is also known as a wall-saver or wall-away recliner. It is one of the most unique types of recliner available in the market.
Unlike some recliners, a wall hugger can be placed near a wall just a few inches away just to help save indoor space.
But how does it work? As you recline back on a wall hugger recliner, the chair will move forward so you will be reclined away from the wall.
Since wall hugger recliners are excellent space-saving reclining chairs, they could be a great choice for people living in apartments or small-scale dwelling units.
Power Headrest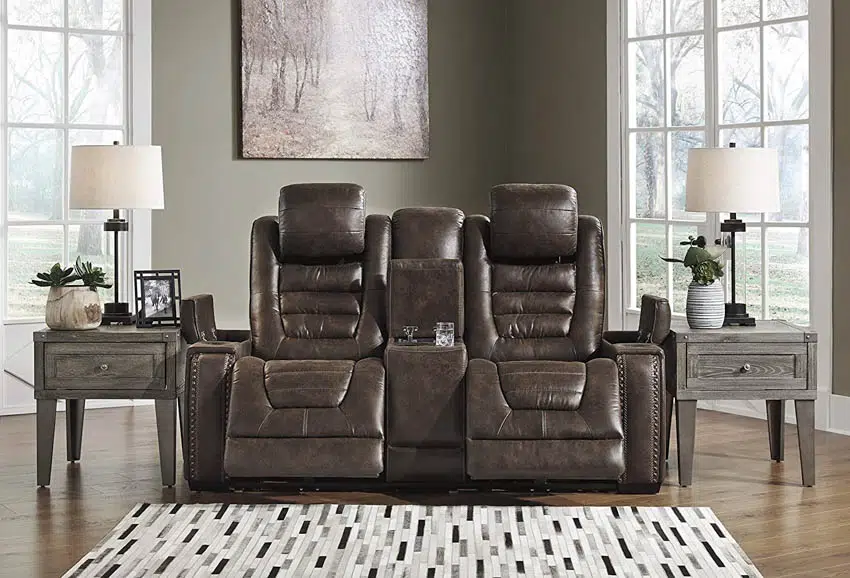 See this power headrest recliner at Amazon [sponsored link]

A power headrest is commonly added to a power recliner to allow for more comfort and relaxation.
Most power headrests are adjustable so that they can be either lowered or raised to help the occupant find the most comfortable television viewing or reading position.
A power headrest gives you superior head support among the various types of recliners out there.
Lift Chair Recliner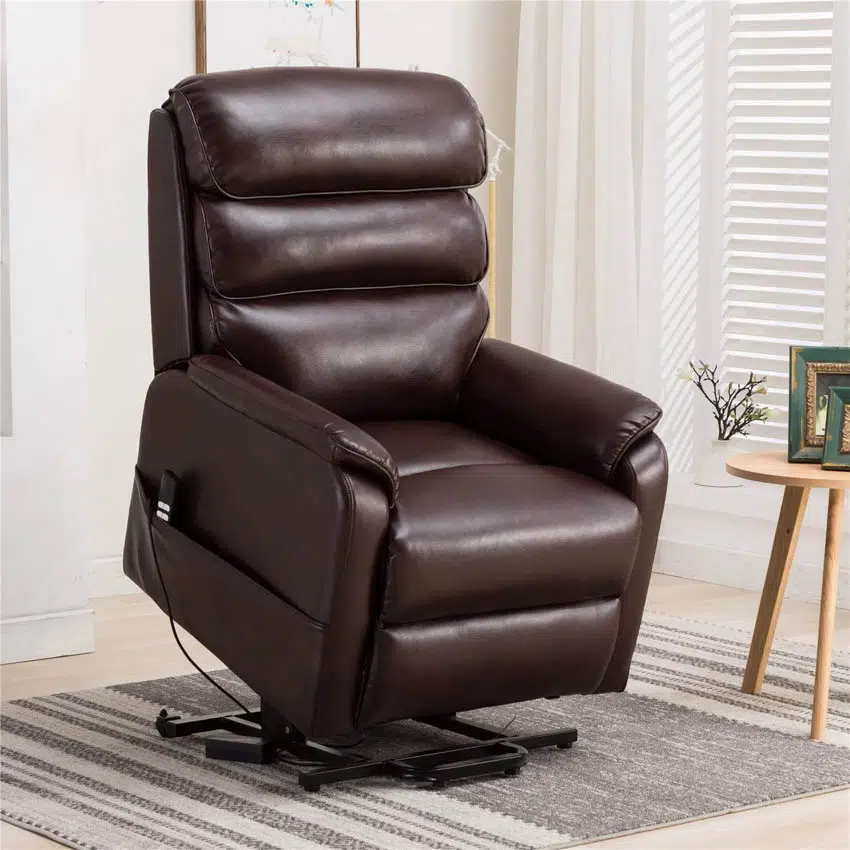 See this lift chair recliner at Amazon [sponsored link]
Lift chairs are more than just a recliner. They also help in raising you from a sitting to a standing position with the assistance of powered lift technology.
Among the different types of recliners, this option is very ideal for those people, specifically old or injured people, who have trouble getting up from their chairs.
Massage Recliner Chair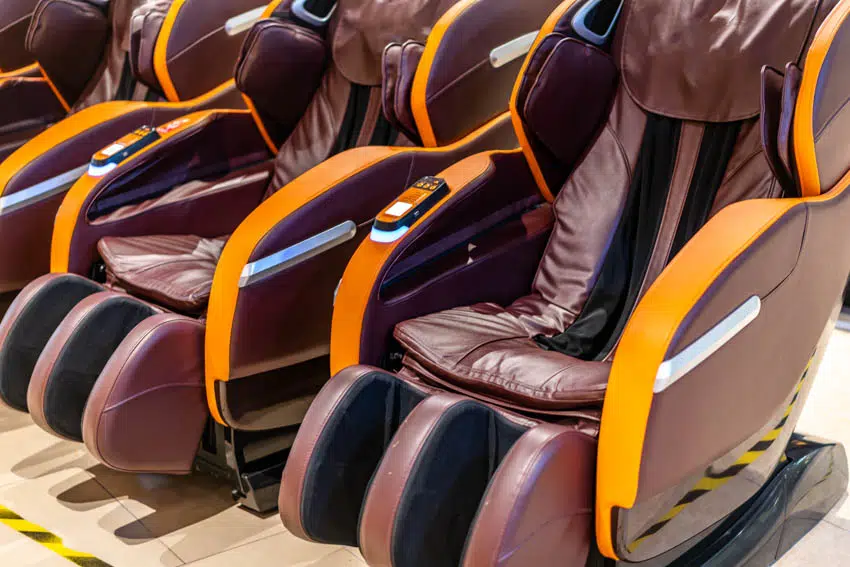 A massage recliner chair is one of the most healthy options in the market as it gives you the utmost comfort.
Not only can they be reclined, but they are also infused with a mechanism that gives you a relaxing massage. You can enable that massage feature by just pressing a button.
Massage recliners do offer different features. Some of them incorporate a heat option which is very suitable for people who are experiencing stress and muscle paint. The motors present in this type of massage chair have a gear that creates vibration when it spins.
Two Person Recliner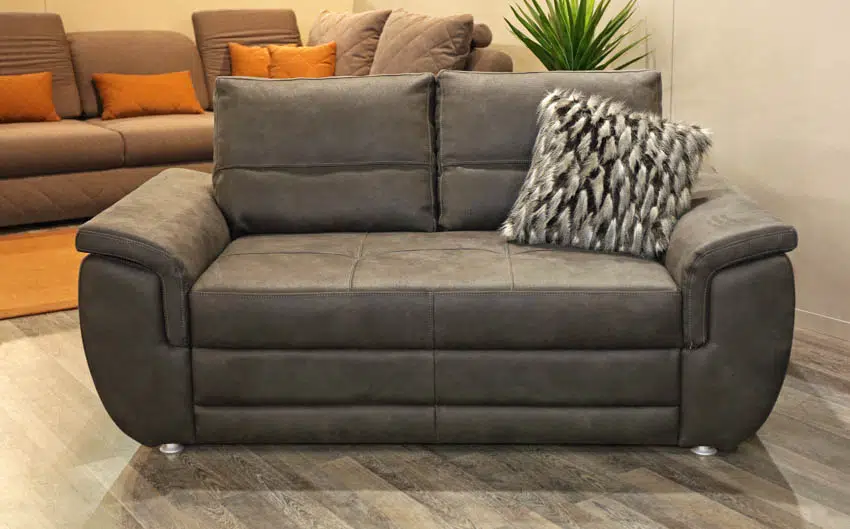 A two-person recliner is more known as a cuddler recliner. The principle it uses is the same as a standard recliner except for one thing that it is designed to accommodate two people. It is an oversized recliner perfect for couples who love to cuddle.
Fabric Material Options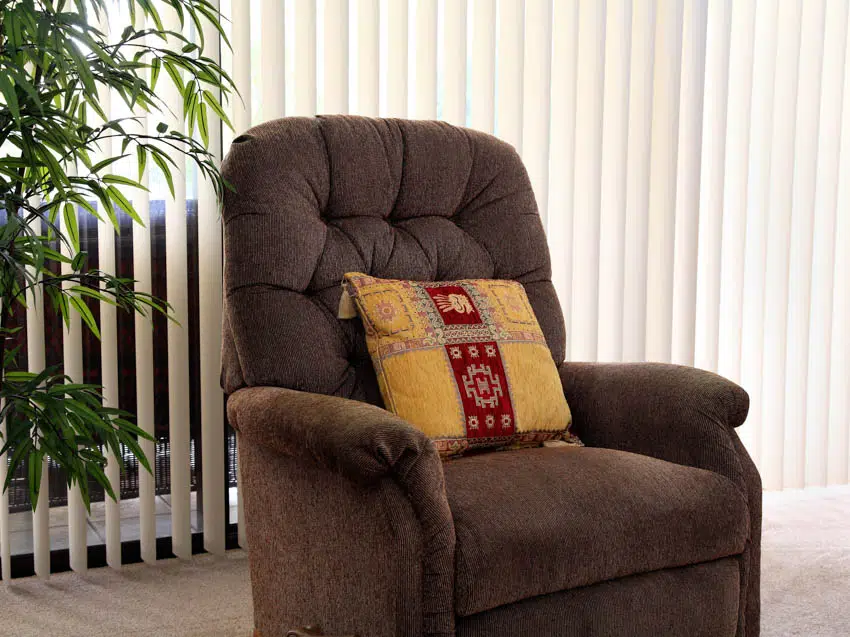 The available fabric options for the coverage of your recliner are cotton or synthetic like a microfiber. The choice will be yours to make as it will depend on your personal needs and preferences.
However, if you are looking for maximum comfort and relaxation, fabrics such as cotton or microfiber are highly recommended as they offer pure softness and great texture quality.
They are also resistant to scratches The downside, on the other hand, is that they can be vulnerable to odors and stains.
Selecting the Best Recliner Fabric (Upholstery)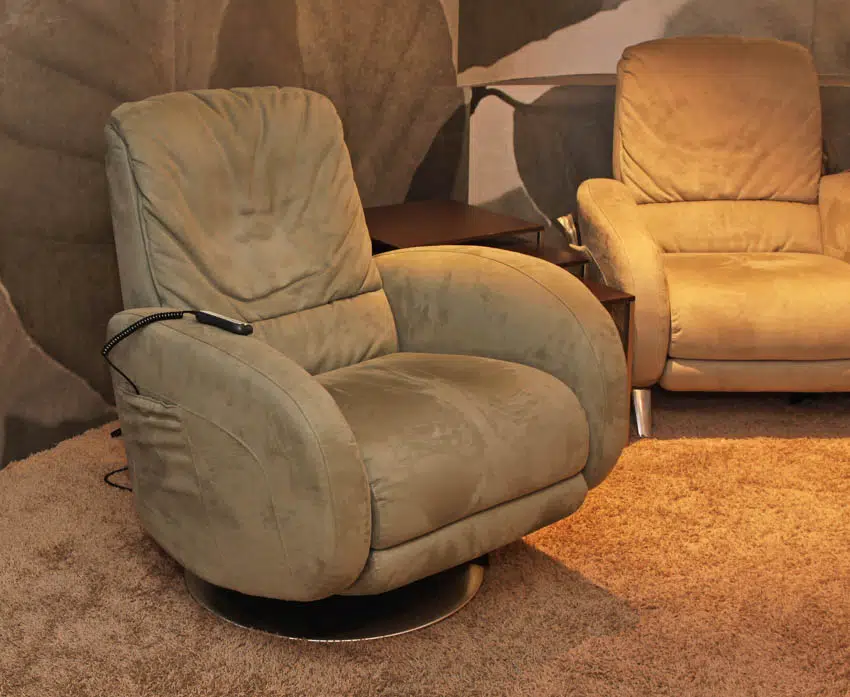 It is very important to select the best fabric or upholstery for your reclining chair as it will affect many factors such as comfort, durability, value, and performance.
Normally, there are 4 fabric or upholstery options for recliners – standard fabric, high-level fabric, genuine leather, and polyurethane.
Let us talk about these four fabric options so you will know what fabric option will suit your needs.
Standard Fabric (Comfort And Softness)
Standard fabric is one of the most typical upholstery options in the market. The different types of recliners that are covered with standard fabric can be easy to clean. If it gets dusty, it won't be difficult to remove it using a duster or vacuum.
It also does not absorb heat, making it an ideal selection if your indoor space tends to accommodate high temperatures frequently.
One of the main reasons why it is a favorite fabric or upholstery choice is because it is simply cozy, soft, and very comfortable.
The fabric used in a recliner with standard fabric is customarily tight-woven and high-quality. Meaning, it can resist scratches which makes it ideal for houses with pets inside. It also offers a very comfy and plush material that keeps the occupant undoubtedly relaxed.
There are only a few downsides to a standard fabric. This option is not stain-resistant. For example, once you stained a standard fabric with wine, ketchup, or soy sauce, it could be difficult for you to remove the stain.
High-level Fabric (Performance and Easy Maintenance)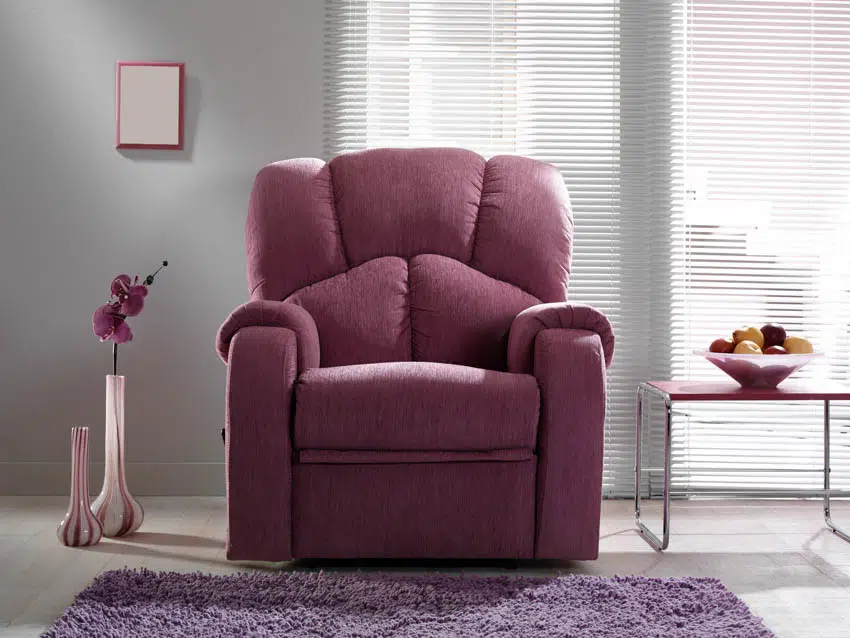 High-level fabrics are superior in terms of their performance and easy maintenance. If you have kids and pets in your house, this would be an excellent choice as it is very durable, stain-resistant, and easy to clean.
It also offers a very thick, breathable, and soft material that is truly comfortable and relaxing. Compared to a standard fabric, this is slightly more expensive but it is definitely the better choice when it comes to quality. This is no doubt a wise selection for your recliner.
Genuine Leather (Luxury and Longevity)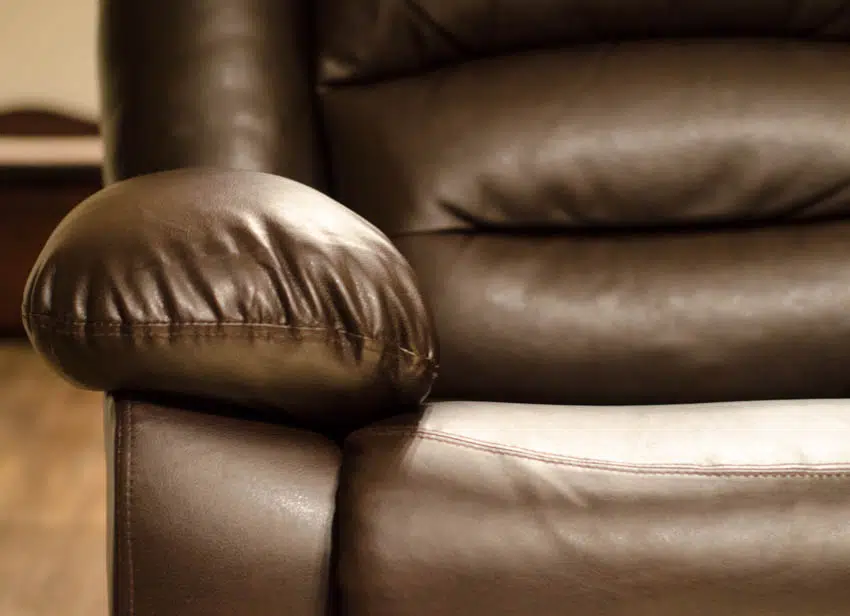 Of all the available fabric or upholstery options available, genuine leather is arguably the most long-lasting and luxurious.
Genuine leathers are normally designed to last for more than 10 years. They also offer a more gorgeous and stylish look, making your interior space a lot more valuable and eye-pleasing.
Genuine leather can get really cold in low-temperature indoor spaces. It is also very easy to clean when it gets dusty or stained – all you have to do is wipe it with a clean cloth and it will look new and elegant again.
However, leathers can be easily scratched. It can also easily get hot in high-temperature areas. But that does not make leather a bad option. Actually, along with standard fabric, leather for furniture is also a favorite fabric option.
Polyurethane (Value and Elegance)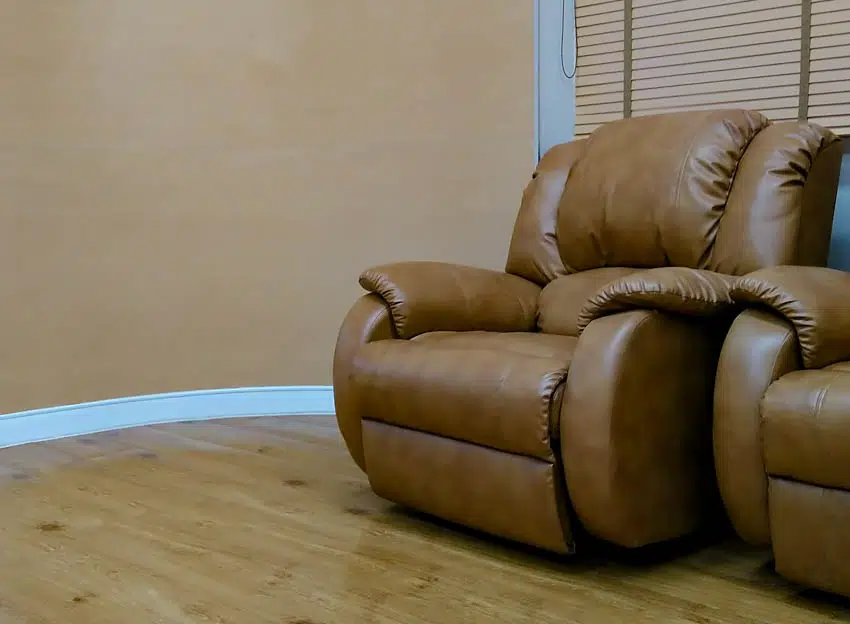 This recliner fabric option is also known as synthetic leather. It is an inexpensive leather alternative. However, it still gives the feel and looks of genuine leather and it offers a very smooth and soft texture.
It also offers plush comfort and it is very easy to clean when it gets dusty and stained. But like genuine leather, it also can't resist scratches.
Best Material for Recliners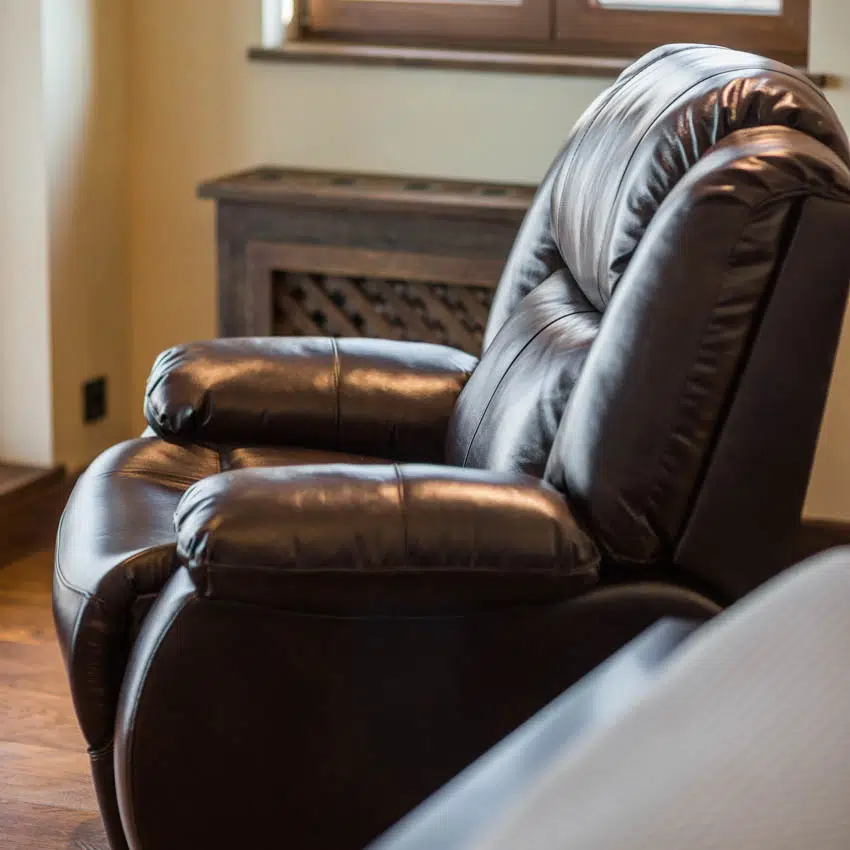 Talking about comfort and resistance to scratches, no doubt fabric materials are the best option. They are also ideal for both cold and hot indoor temperatures.
Recliners that are covered with a fabric material won't get cold in a low-temperature space and they also won't get hot in a high-temperature space. Meaning, fabrics are a more all-around option.
But if you are looking for an easy-to-clean, luxurious, and firmer material, you can go for leather. Leather materials can resist stains and odors, unlike fabrics.
They can also be much easier to repair when they get damaged. They tend to get warm in a high-temperature area and they can become extra cold in low temperatures.
For the best low maintenance recliner fabric material the award should go to synthetic microfiber. Microfiber has highly woven fabric that provides excellent protection against spills and staining. It has a soft and comfortable feel and is easy to clean.
Microfiber fabric is most often created from polyester or nylon and can also be a blend of the two materials.
Both fabric and leather materials can be great materials for the various types of recliners. You just have to make sure that the material you will select will suit your personal needs and preferences.
How to Buy a Recliner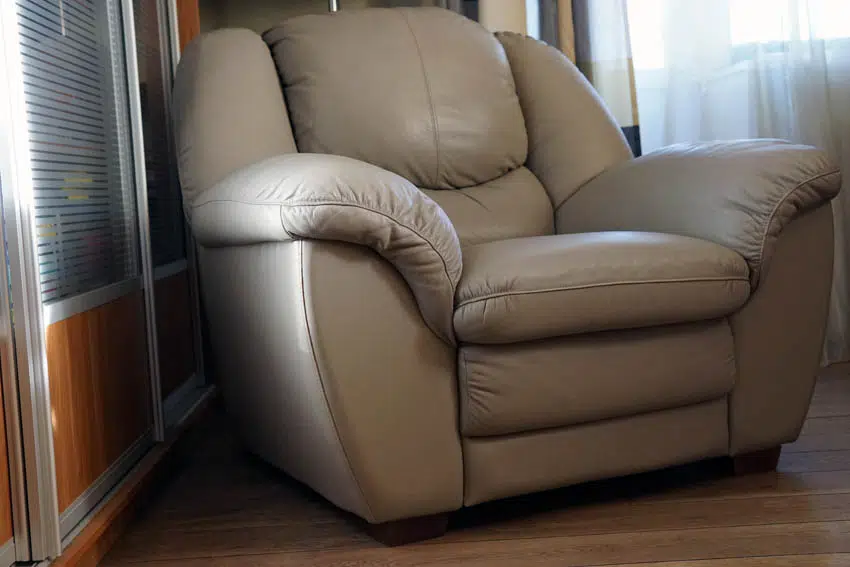 Here are factors you have to consider first before buying a recliner:
Room Size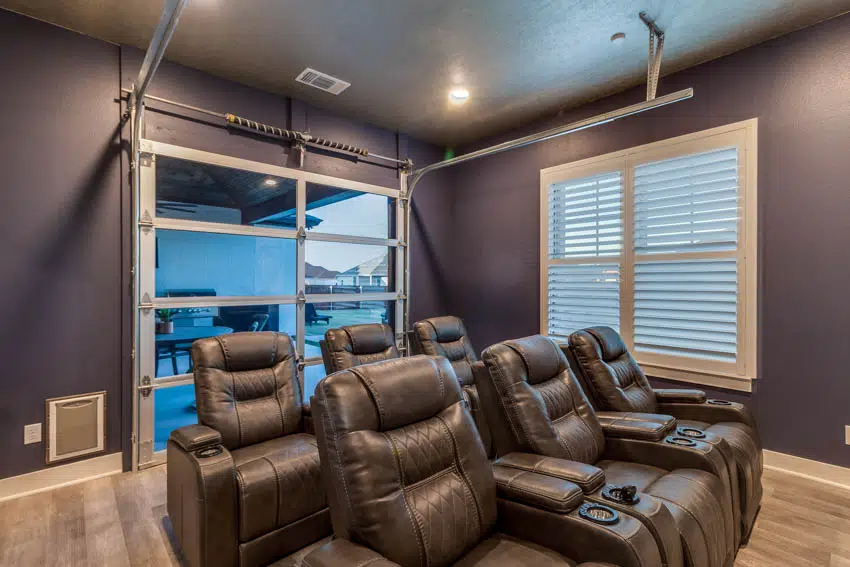 Although it is very exciting to go shopping for a recliner, you must do some essential things first before that such as measuring the size of your room. The main objective of doing this is to get a much clearer picture and idea of the space where you will put the recliner in.
And because there will be additional space required for reclining the chair, it is highly recommended to determine the measurement of your available and extra space. Normally, you will need a measurement ranging from 1 to 3 feet of space from your wall.
But of course, you also have to know the exact measurement of your prospective recliner to ensure that it fits your space.
Body Size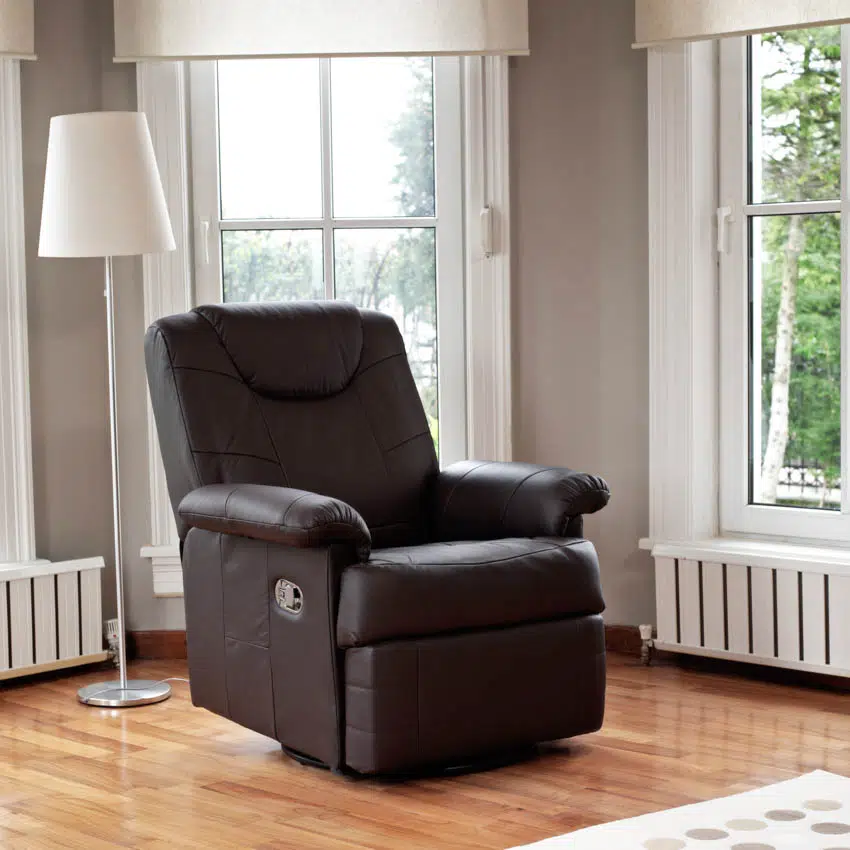 It is also important to consider the size of your body as well before buying a recliner. So while you are actually browsing for different types of recliners in a store, you can try sitting in your prospective recliners and observe how the recliner reacts to your body.
While sitting, determine if your feet are touching the floors or if your head can rest very comfortably on its headrest. These are some of the most necessary factors to consider if you want the best recliner that will give you the utmost comfort.
Moreover, you have to see if the distance between the seat and leg rest is at least 5 inches or below. Check if the recliner's footrest can support your heels properly.
The lumbar support should have an ideal quality. Meaning, it must not be too hard or too soft either.
Structure, Design, and Style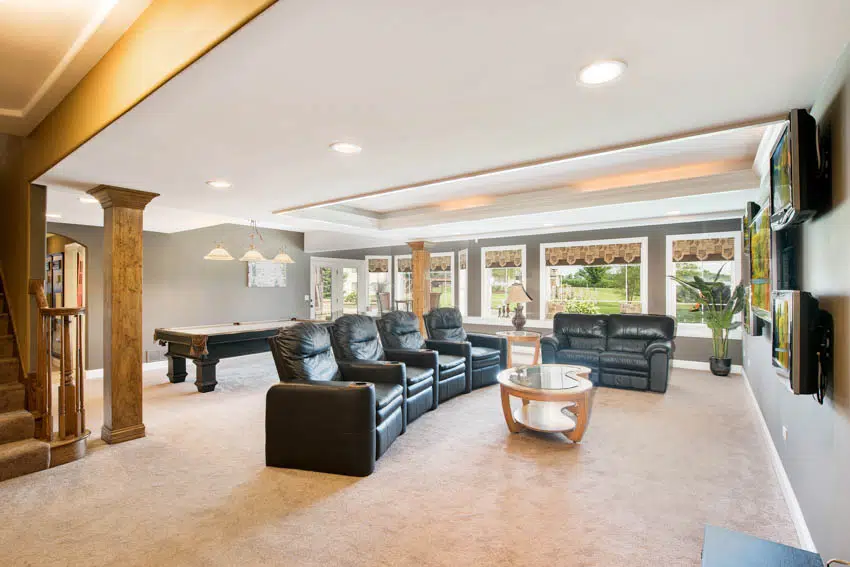 The style of your recliner must focus more on providing comfort, not just on boasting appearance. If the leather or fabric on your chair looks truly eye-catching but isn't soft and comfortable, that is definitely a bad selection.
That is why you have to ascertain that you are giving a lot of attention to the materials used for the coverage of your recliner.
Just like what we have discussed earlier, you can choose between leather, cotton, synthetic, or microfiber. The materials must give your much-needed comfort, and of course, they must be easy to maintain.
Buying a recliner isn't just your normal purchase; it is more considered as an investment. Because it can be an expensive purchase, you have to make sure that it is made out of durable and high-quality materials. Below are some of the things you might look for in a recliner:
A durable layer of mesh: A good-quality recliner must have a durable mesh layer located between its cushions and springs.
This layer of mesh is very essential because one of its main functions is to evenly distribute the weight to the whole surface. Without this important layer, your base seat cushion will deteriorate easily over time.
Four-sided frame: A standard-quality recliner normally contains a 2 or 3-sided frame. However, these frames are not that superior in terms of withstanding high pressures.
Remember, it is normal for you to put pressure on the recliner's armchair when you are getting up. Well, this practice might prompt the 2 or 3-sided frames to break over time. But a 4-sided frame will last much longer.
The base of the chair: The chair base must be well-built and durable enough to withstand the weight of the occupant for a long period of time without the possibility of warping and cracking.
If you want to opt for an extremely durable recliner chair base, ensure that it is made out of hardwood. Hardwood is definitely much stronger than plastic.
The overall structure of the recliner: Make sure to take a closer look at the construction of the recliner. You can do it by observing if the recliner's handles, buttons, and levers are well-built and easy to operate.
In a nutshell, here are some of the major things you have to look for in a recliner:
• Noiseless motors
• Heavy and rust-free screws
• Well-built and easy-to-operate handles and levers
After considering and observing its overall structure, you also have to consider its style. You have to ascertain that it complements your indoor space very well.
The color you will choose should match well with your room to maintain an eye-pleasing indoor space. If you are having a hard time choosing the right style and color, go for a neutral-colored recliner.
Recliner Features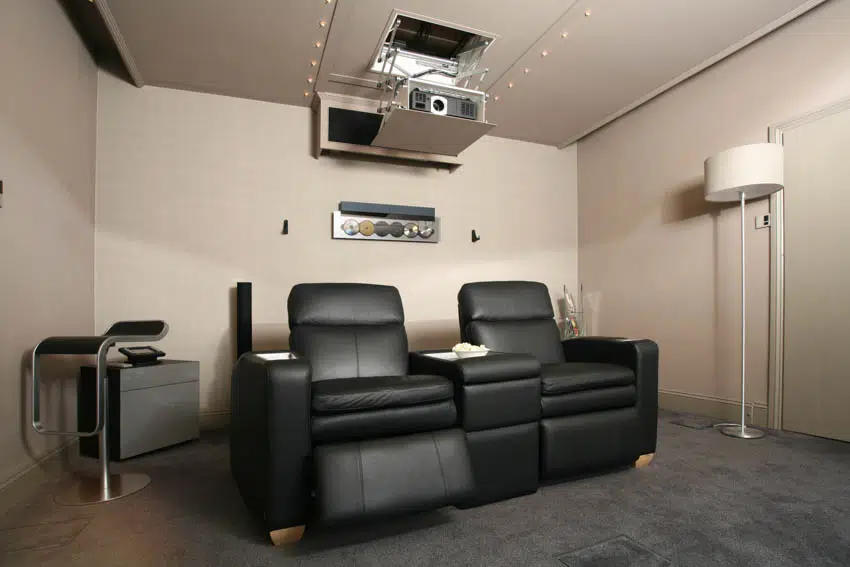 Each reclining chair has its own features designed for every homeowner's needs and convenience.
For example, if someone in your household recently gave birth to a child, the most recommended types of recliners for her could be rocking or glider recliners as they have features that are perfect for nursing mothers.
If the person who will use the recliner is an elderly or injured with limited mobility, a power recliner would be an ideal option so he/she won't experience difficulties when adjusting the chair.
And for people who have trouble getting up from their chairs, a lift chair recliner could be a good option. There's also a massage recliner for people who are always experiencing body pain.
The point is, the different types of recliners have features that serve a purpose. So you have to make sure that the recliner you are purchasing contains features that are beneficial for you and your household members.
How to Buy a Recliner that Fits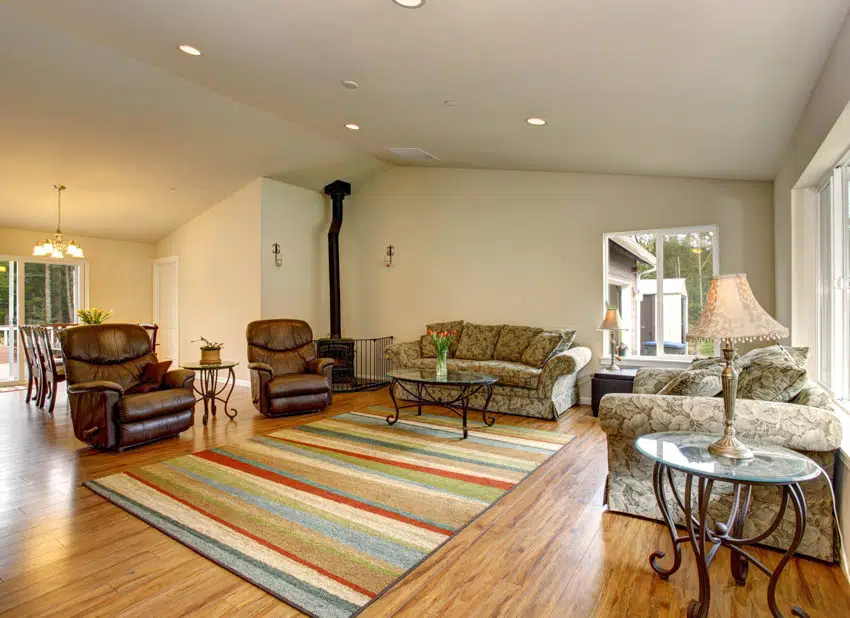 Here we share tips on how to buy a recliner that fits.

• Identify your height and select a reclining chair that is only within the range of your height. The minimum height that a recliner can accommodate is 5'4 below. The maximum height, on the other hand, could be 6'3 above.

• Try sitting back into the reclining chair's depth and ascertain that your knees are angled at 90 degrees. Your feet must reach the floor very comfortably.

• While laying your back onto the recliner, you must ensure that your shoulders can naturally and easily lay at the recliner's seam where two of the back cushions make contact.

• While sitting on the recliner, you have to ascertain that the cushion located in the middle is giving sufficient lumbar support to your back, specifically the lower part. That cushion must be able to support the curve of your back.

• The headrest must fully support your head and neck; it must not prompt strain or extension forward. Your neck must be properly aligned with your head and spine and it must not hurt after leaning your neck towards it for a long time.

• While the chair is reclined, your feet must not swing on the edge of the chair. They should only reach the edge of the footrest.
Best Time to Buy Recliners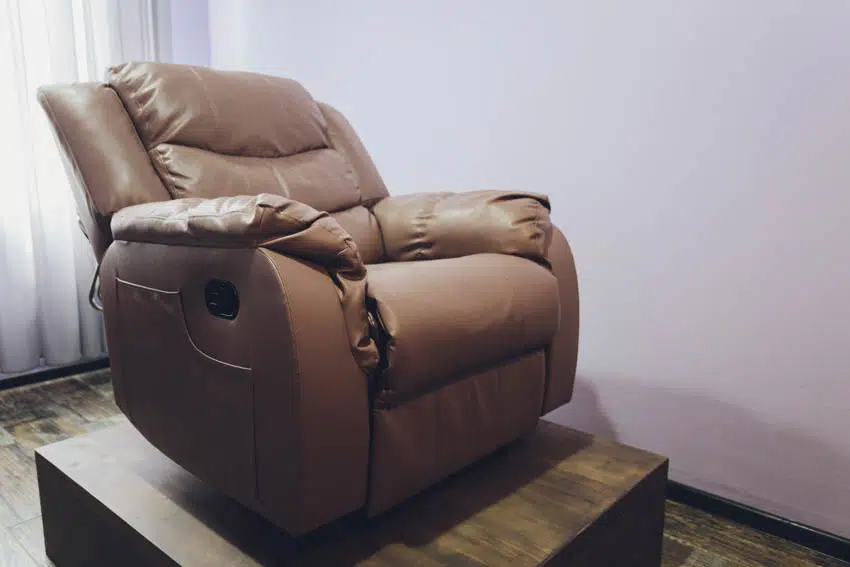 These are the times where the various types of recliners in the market are at discounted prices:
• Christmas holidays
• The month of January (start of the year)
• 'Ber' months (September to December)
• During summer
Are Recliners Bad for Your Back?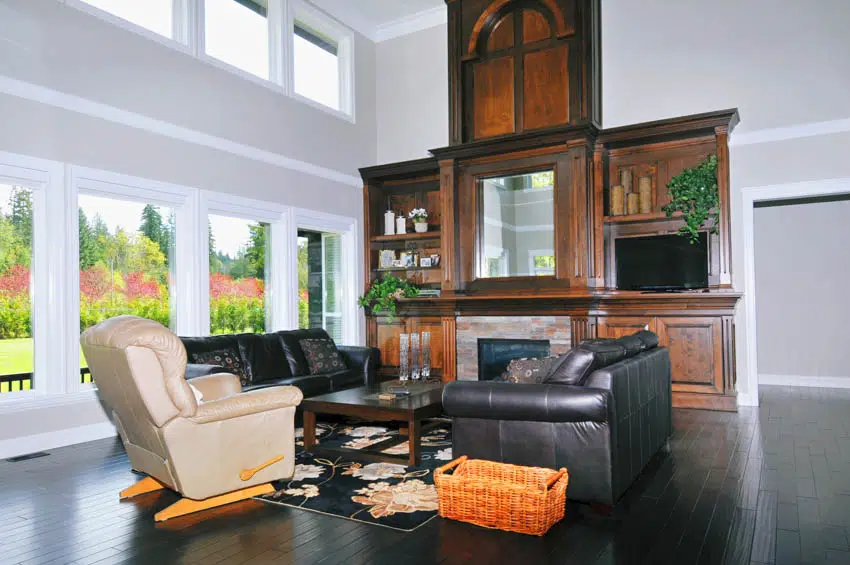 Generally speaking, the answer is no. Recliners aren't bad for your back. Numerous researches have proven that sitting in a reclined position can help in alleviating your back pain.
So, meaning, the different types of recliners are very safe for your back. Sitting in a reclined position is no doubt better than sitting in an upright position.
How Far Does a Recliner Go Back?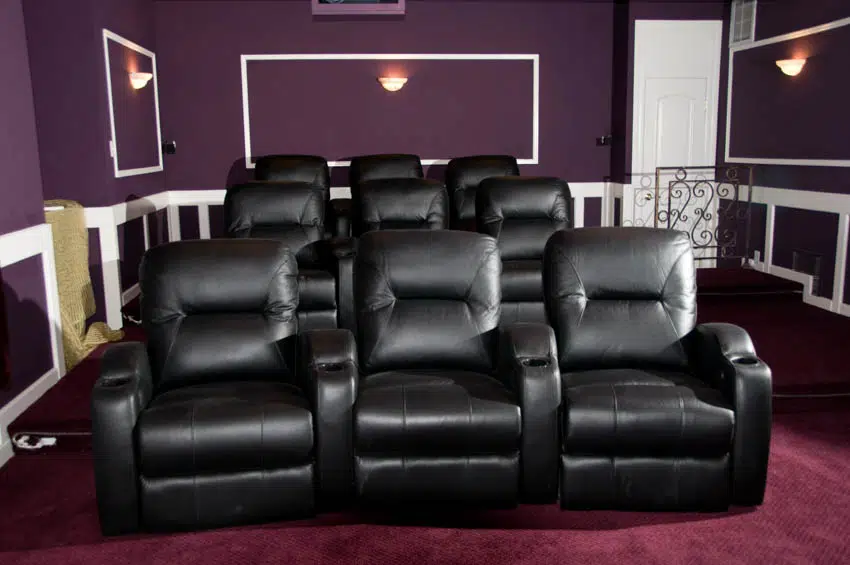 It normally depends on the design and construction made by the manufacturer. Some reclining chairs, such as lay-flat recliners, can either recline in a nearly or completely horizontal position (5° to 15°).
However, typical recliners can only go back from 20° to 30°. See more related content at our article about the different types of chairs for your interior design on this page.