Here we share our dry sink cabinet guide including what it is, the different design types, makeover tips, what to put in it, and its difference from a washstand.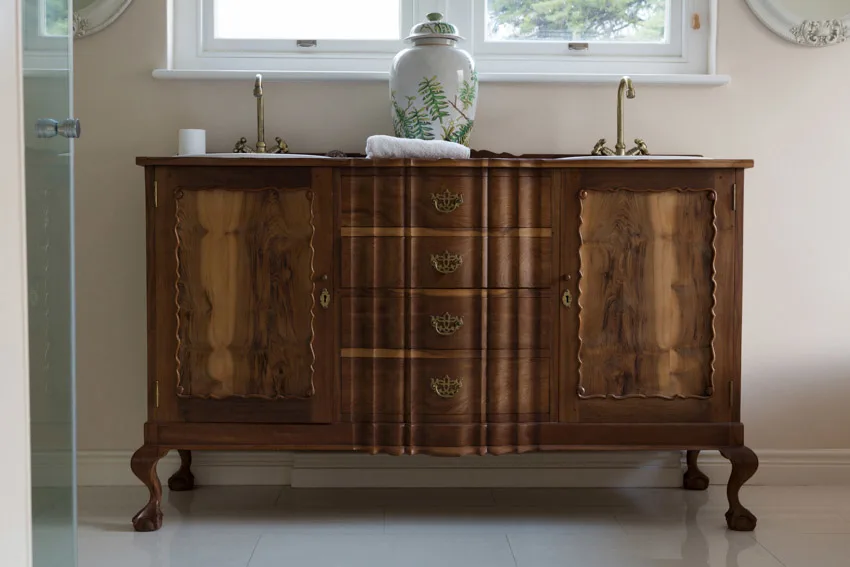 If you are looking for a few "rustic" but functional pieces of furniture to give a room a vintage or country-style feel, you should consider looking for a dry sink cabinet.
A dry sink cabinet is a low cupboard with a recessed top that used to be placed in homes to give people places where they could wash their hands or face.
Nowadays, many incorporate dry sinks into their homes as classy and interesting pieces of extra storage or display space. They can be easily placed along the wall of any room to add a point of interest .
What Is A Dry Sink?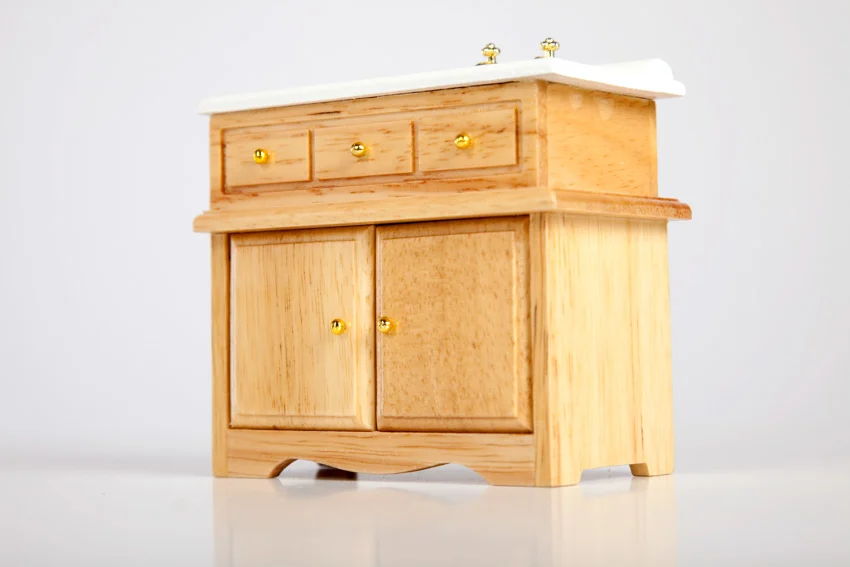 A dry sink was a standard piece of home furniture during the 19th century, before the advent of indoor bathrooms or plumbing. It was meant to hold a pitcher and wash basin and give people a place to clean up, so they were usually found in the bedrooms, kitchens, or on back porches.
You would find a dry sink cabinet anywhere it might be convenient for someone to wash their face and hands without trailing water or dirt into the other parts of the home. A dry sink is basically a cabinet or cupboard with a recessed area on top, where you would stand the aforementioned pitcher and wash basin.
The more expensive types of dry sinks would have these areas lined in a waterproof material such as copper. There were also dry sinks where the top was leveled instead of recessed, with a marble slab on top where the pitcher and wash basin could rest.
The body of a dry sink was made of wood, usually pine. The lower part of the dry sink was a functional storage area, a cabinet with or without a set of drawers, where you could keep extra towels and a few other bathroom essentials. A hook or bar might be mounted on the front or sides, where users could hang a towel.
Adding a dry sink to a room is a quick and easy way to give it a vintage feel without extensive remodeling. Dry sinks nowadays are usually used for storage and as a place to display collectibles.
Antique Dry Sink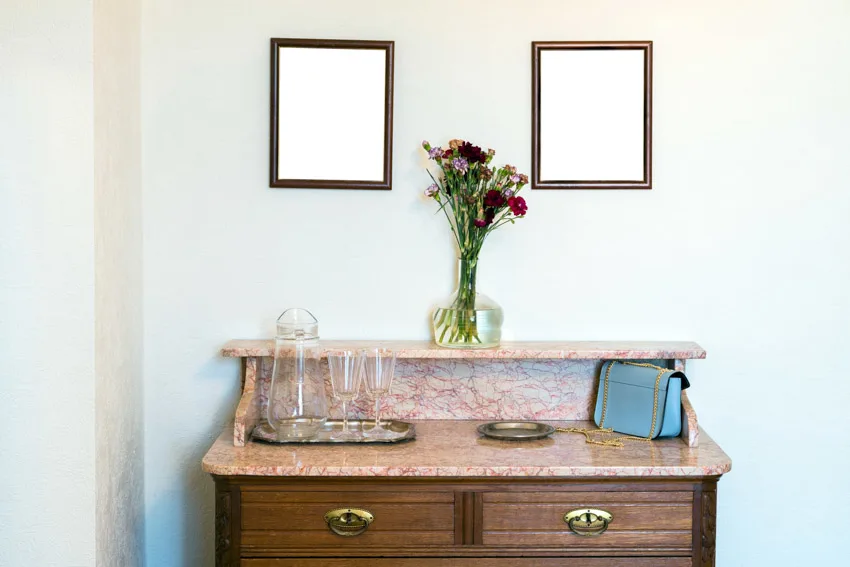 An antique dry sink is a dry sink that was created and used in the 19th century and carefully preserved and resold. While dry sinks aren't used for their original purpose nowadays, an antique dry sink is valued as a decoration piece.
Vintage Dry Sink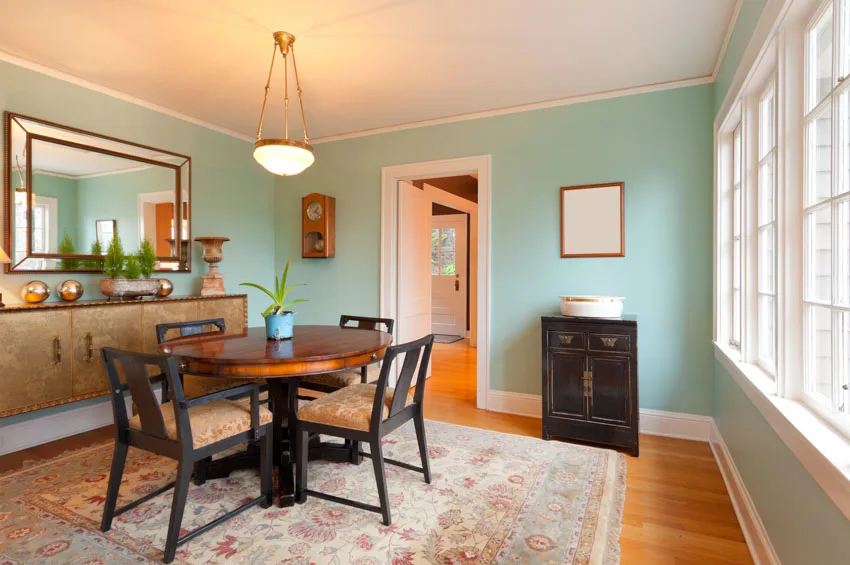 A vintage dry sink is a dry sink that is made to look "old" or antique. Dealers can achieve this by stripping a newly constructed dry sink and repainting and sanding it to create a distressed or "well-worn" look.
Some artisans might also create a vintage dry sink by using reclaimed wood to achieve the look and feel of an old-timey piece of furniture.
Dry Sink Makeover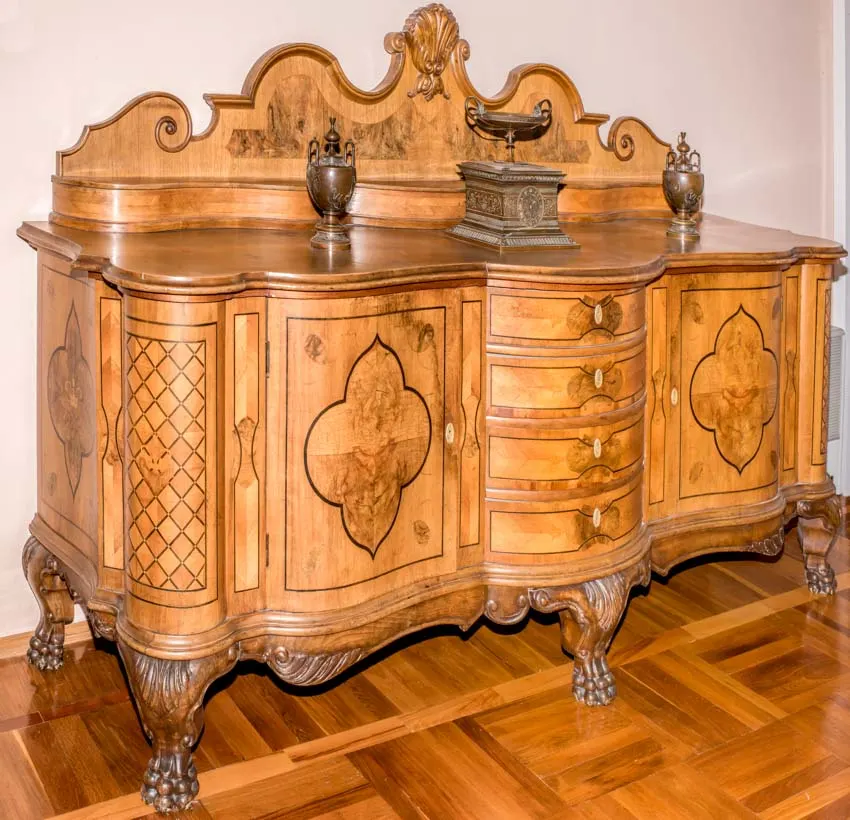 A dry sink makeover can be achieved by being creative about strategically placing it in areas of your home where you want to add a classy point of interest while gaining some extra storage space.
Whether you have an antique or vintage dry sink, here are a few dry sink makeover ideas you should try.
For your kitchen: A dry sink in the corner could be just the finishing touch needed to complete your rustic or country-style kitchen. It adds extra counter space, which you can use for display or as a practical place to put a few extra storage containers—for example, a cookie jar or a few bottles of preserves or condiments.
You can even use the storage areas to stash different types of plates, dishcloths, or other kitchen items that you don't want on display but do want to be able to locate quickly.
For your bedroom: A dry sink in a vintage bedroom can be used as a vanity. You can place an antique or vintage mirror on top to increase its functionality and store clothing and toiletries in the cabinets or drawers. It can also function as a nightstand, with a lamp where the washbasin would be.
In the dining room: A great way to makeover or repurpose a dry sink is to make it into a small buffet area or even a bar. You can place food dishes on the top of the sink or bottles of liquor. Then, you can store glassware, dishes, table linens, and silverware in the cupboard areas.
In your hallway: A dry sink in the hall can be used as extra storage space or to display knickknacks. For example, a dry sink in the entryway could hold a vase of fresh or dried flowers and a small dish or another shallow container where you can place your keys and spare change.
What Do You Put In A Dry Sink?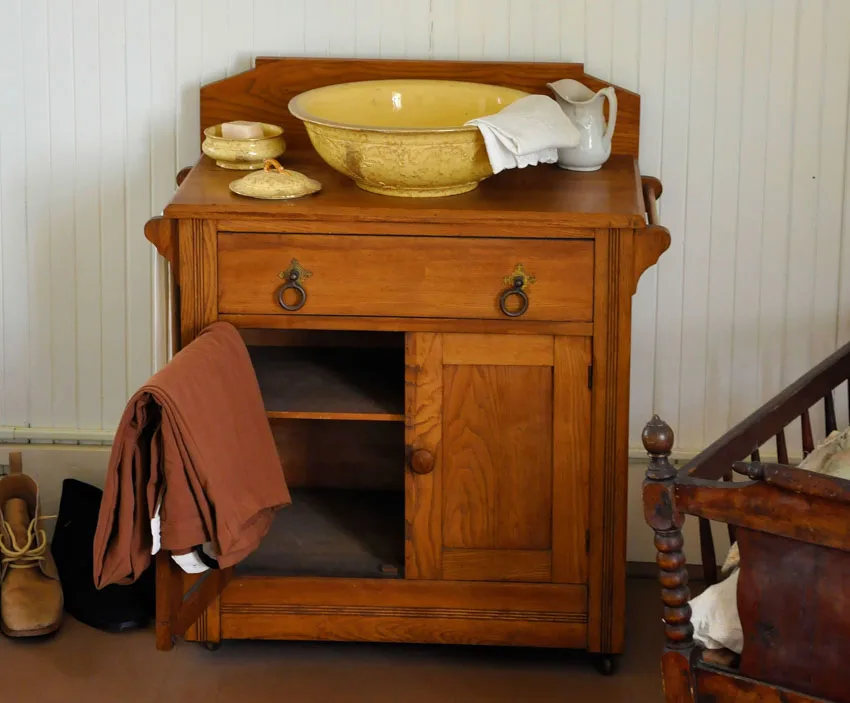 What you put in a dry sink depends on where you intend to place it and what you think you might need or want to have in easy reach.
You can place a dry sink anywhere you want to add some storage space or a bit of extra counter space without taking up too much room. Whether an antique or vintage dry sink cabinet, they will add a quaint, vintage ambiance wherever you decide to place them.
For example, if you place a dry sink cabinet in a kitchen, you can use the cabinet area to store stuff you need for cooking or dry goods. You can also put things you want in easy reach on top of the dry sink, such as a dish or fruit or a stocked spice rack.
Meanwhile, a dry sink in the hall or your living room can be a display piece; you can place a few knickknacks and family photos on top. Then you can store necessities such as extra rolls of toilet paper or unused types of linen fabric in the cupboards and drawers.
You can put almost anything in a dry sink as long as it's not perishable or in need of refrigeration. You might also want to refrain from storing anything too valuable in your dry sinks' cupboards, as there is no way to lock them.
What's The Difference Between A Dry Sink And A Washstand?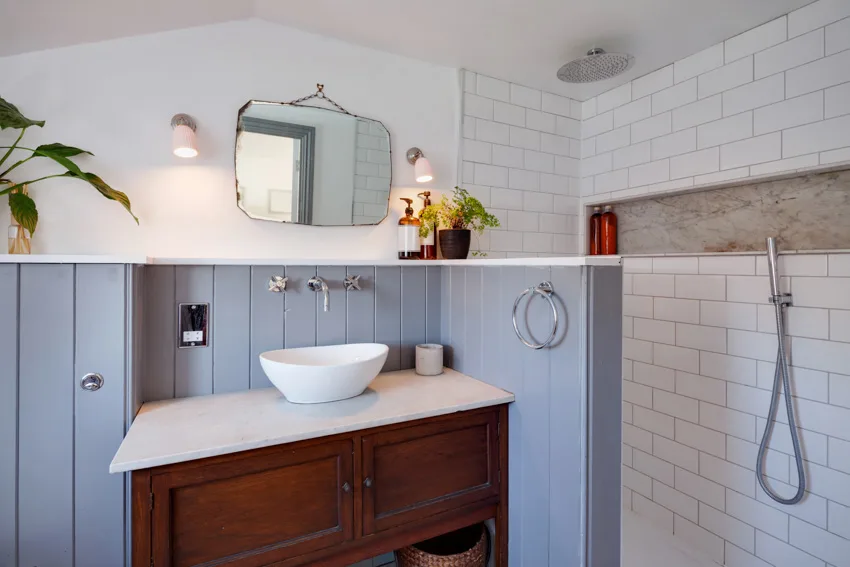 The primary difference between a dry sink and a washstand comes down to size and construction. A washstand is usually smaller than a dry sink, with the platform only having space for a washbasin and pitcher, nothing more.
A washstand is also less solidly constructed than a dry sink. At the base, there's no actual cupboard or cabinet area; instead, there is an open space below the top of a washstand. A washstand doesn't offer as much storage space as a dry sink. There may be a small drawer or a hook or towel bar, but that's it.
How Much Does A Dry Sink Weigh?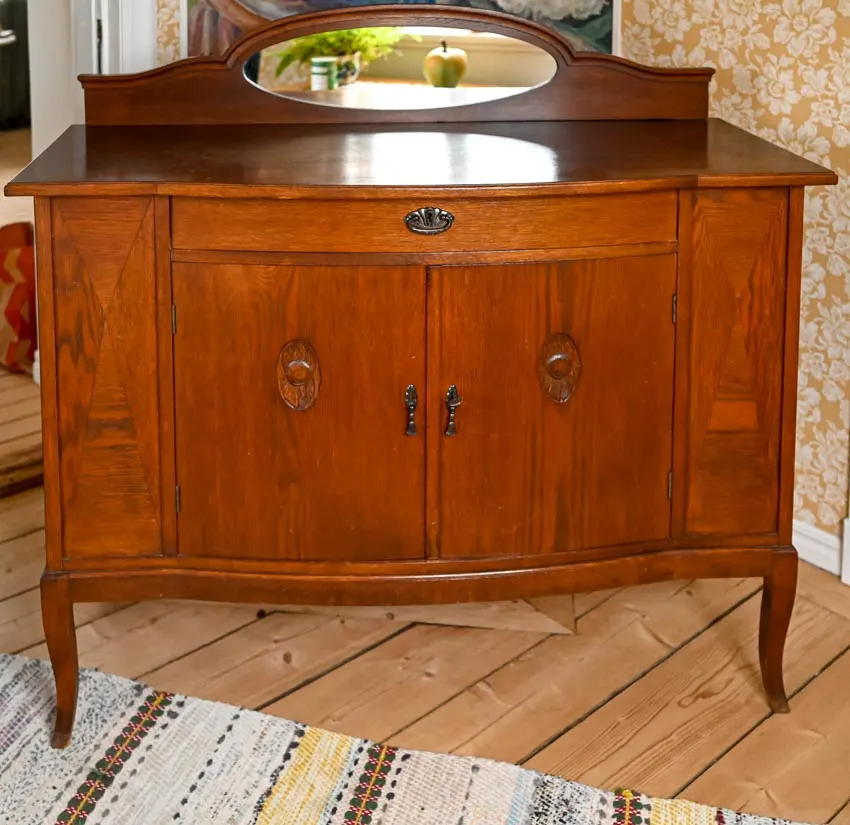 An antique dry sink is usually a rather heavy, solid piece of wooden furniture that will weigh about 80 pounds or more. You might be able to get a "modern" dry sink made of a wood composite like MDF, or metal, that will be around 60 pounds.
Does A Dry Sink Have A Drain?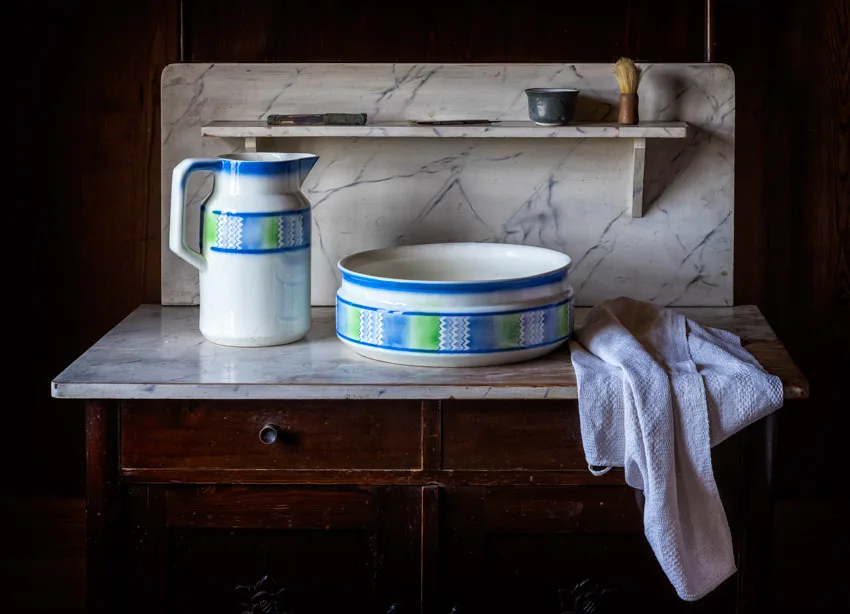 A dry sink traditionally doesn't have a drain, as it was created and used when there was no indoor plumbing. Since there are no drains in dry sink cabinets, after someone finished washing up in the basin, they removed it from the top of the dry sink and carried it outside to dump out the water.
See more related content in our article about the different types of kitchen sinks on this page.