Find out all about HDF kitchen cabinets including what they are, pros and cons, differences from MDF & wood cabinets, and if HDF cabinets are good for kitchen designs.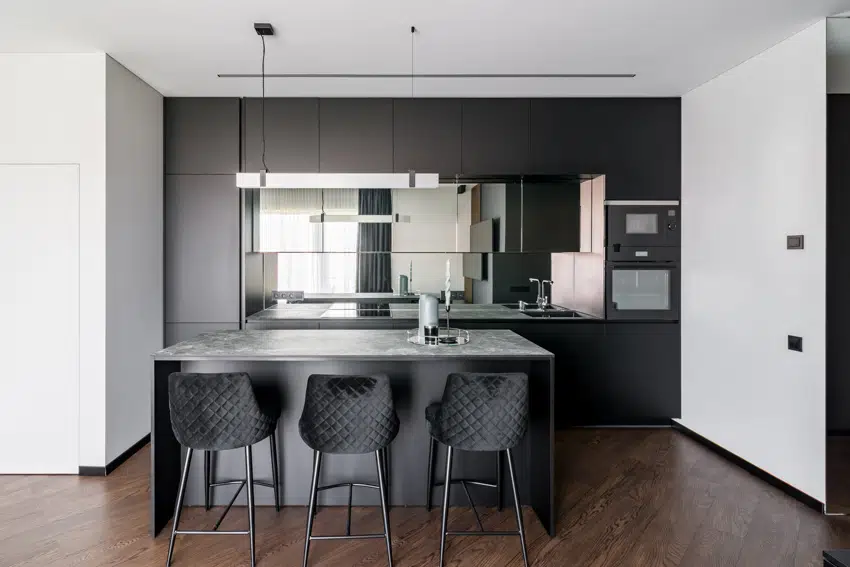 Solid wood is still happening but there is a new kid on the block: HDF. It may not be the first material that comes to mind when you think about materials you will need for cabinet doors but at the end of the day, they make for great alternatives to the costlier solid wood.
In some instances, it would be even fair to say that they are superior when compared to solid wood. In today's modern style kitchens, versatility and efficiency are important aspects to consider for cabinetry.
With a combination of ample shelves and storage for cookware, and environment-friendly construction HDF materials, you can create a functional and appealing kitchen space.
What Are HDF Kitchen Cabinets?
What is HDF in the first place? HDF stands for High-Density Fiberboard. It is an engineered wood product that's composed of wood fibers from wood pulp and other wood by-products, as well as wood chips. They have been compressed and formed together with heat, glue, and a lot of compacting, making it an excellent choice for environmentally conscious construction.
As far as engineered woods are concerned, HDF is a notch above MDF cabinets, boards and plywood. There is another higher-end version for high density fiberboard. It's SRHDF or Super Refined High-Density Fiberboard.
It's the same composition although the major differentiator is that it uses finer wood chips and wood pulp. This results in a far stronger and more durable material at the end of the day.
Both HDF and SRHDF have major attributes similar to that of solid wood but unlike solid wood, it doesn't show any visible wood grains. It also doesn't crack under temperature changes.

HDF Cabinets Pros And Cons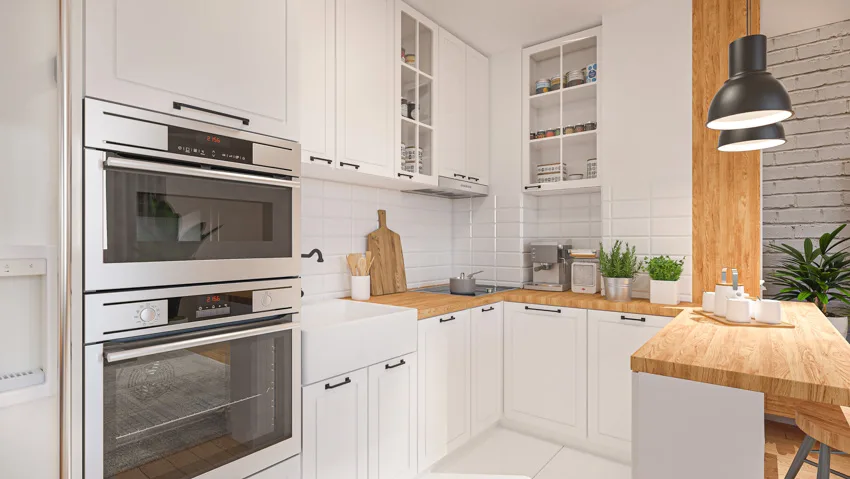 Here we share the advantages and disadvantages of these types of kitchen cabinets
Pros of HDF Cabinets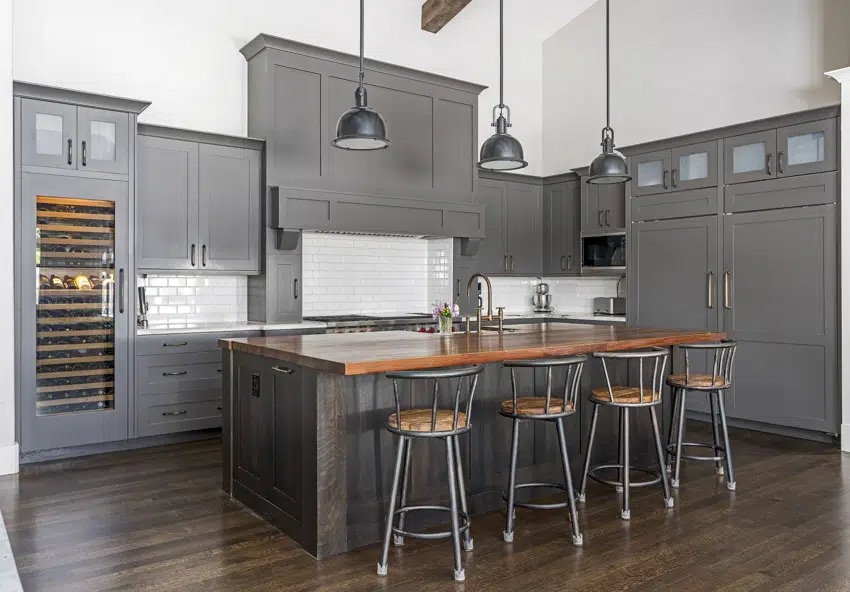 It shows no graining: Because HDF is made up of very fine particles, there is no visible wood graining. The result is something that looks smoother on the surface. This makes it very suitable for painting and other smoother finishes that you may have in mind for the board.

It doesn't crack: As with all solid wood surfaces, there will always be the risk that when you paint over it, it will tend to crack over time. This can take things away from their aesthetic value and is something that you would have to maintain as time goes by.
This is because solid wood is an organic substance and it can contract and expand depending on the humidity levels at any given point in time. These cabinets don't have this issue.
You won't be facing problems related to movement because it's a conglomeration of compressed particles instead of a solid piece. It gets to maintain the integrity of the finish throughout the time.
It doesn't warp: Similar to its issues with cracking, solid wood types of kitchen cabinet materials also tend to warp a lot especially when there is a fluctuation in temperatures. This can cause gaps that are unsightly in your cabinetry and are something that you can do without.
This isn't an issue with HDF though as it doesn't warp for the same reason that it doesn't expand or contract due to temperature fluctuations. It stays the same throughout and warping isn't that much of an issue at the end of the day.
It is more affordable: If you are planning to work on your kitchen cabinets but you happen to be on a bit of a budget, HDF is a great choice. It is inexpensive and yet, just as durable and aesthetic as wood.
It can give you all of the great qualities of solid wood without the punishing price tag that typically comes along with it. Upgrading your kitchen cabinets doesn't always have to be a financially punishing endeavor.
In fact, it can be an affordable part of a larger remodel or renovation project, improving the overall organization within your kitchen without stretching your budget way too thin.

Cons of HDF Cabinets

It's only great for indoor use: HDF makes for a great alternative to solid wood but just like any other material, it does have its downsides that you ought to be aware of.
It's great for indoor cabinetry but it isn't recommended for exterior or outdoor use. It can't handle outside elements or outdoor weather or wear and tear.
Design options may also be limited: This is something that a majority of woodworkers technically complain about when it comes to HDF.
This material is typically processed on CNC machines. There are major limitations to its customizability. Unlike solid wood that you can transform into literally anything you can think of, this material doesn't hold the same artistic flexibility, which can be a drawback during a kitchen remodel or renovation.

HDF Vs MDF Cabinets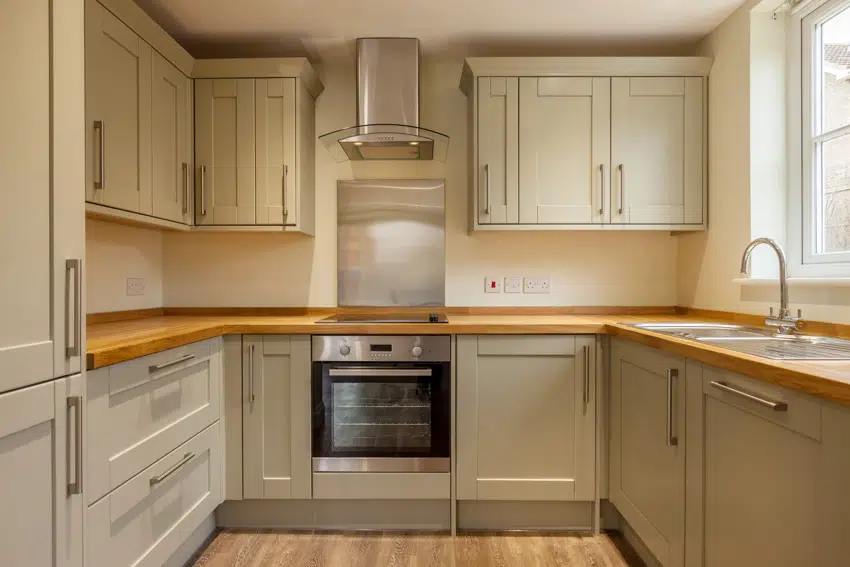 Both HDF and MDF are types of engineered wood that are wood pulp and chips combined with glue and extreme heat and pressure.
They are both recycled materials so they're both environmentally friendly and both are also highly durable. High density fiberboard costs more than medium density fiberboard though. Here are some of the major things that set them apart.
HDF is much thinner, making it unsuitable for skirting boards and interior moldings. It is, however, so much denser than MDF which means that it's stronger and far more durable.
MDF is more suitable for certain types of furniture styles and decorative purposes. It is extremely affordable and works well when painted on or when you plan to attach a layer of veneer to it. This is great if you want to create the illusion of solid wood.
Best uses for MDF:
• Flooring in bathrooms and washrooms
• Cabinetry and shelving
• Furniture
• Decorative purposes
Best uses for HDF:
• Door skins
• Cabinetry doors
• Backing panels
• High use furniture
A few important things to note:
Do not use HDF or MDF for outdoor projects or anywhere they can have contact with water or the elements outside. This can damage the wood fibers and this can make them very hard to repair.
Both materials don't have good holding strength unlike solid wood and shouldn't be turned into projects that need to be frequently dismantled and reassembled.
They aren't as child friendly as solid wood materials because of the formaldehyde being used to help keep the material together. The risk of out-gassing is far lower with HDF.
Still, it's important to take note of this as a serious health risk and should be kept out of reach of children or adults who may have respiratory issues further down the road.
HDF Cabinets Vs Wood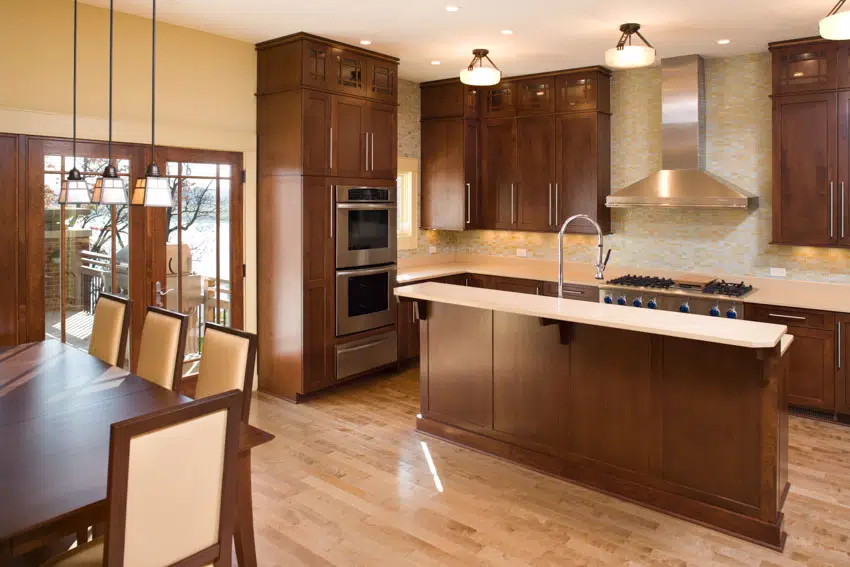 When asked the question of which material is better: solid wood cabinets or HDF; the answer is always variable. It depends.
There are plenty of factors that need to be considered when it comes to answering this question, such as storage requirements and the desired improvement in appearance. Homeowners' individual experiences and preferences also play a role in making this choice.
You need to consider the amount of space that you're working with and in, as well as the storage capabilities you require, given the information you have about your walls and room layout.
You also need to consider how much budget you have for the project and whether working with a company or contractor will affect your choice of materials.
And of course, you need to think about the details that are important for you as you will be living with the design and material choices day in and day out. After everything has been said and done, it would be easy to write everything off and declare solid wood as the clear winner.
However, we beg to argue. Each material has its strengths and its unique offerings depending on the type of cabinetry project you are planning to work on at the end of the day.
Let's go through an in-depth comparison between the two materials to figure out which one will reign supreme.
Pros Of Solid Wood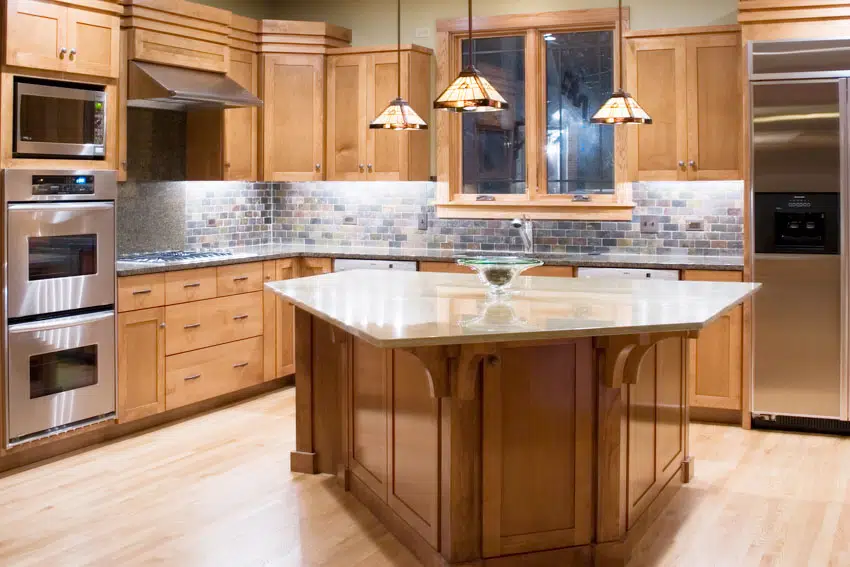 • Strength: If you are looking for something that will be able to withstand the test of time, there's a pretty good chance that solid wood kitchen cabinets will turn out to be your best bet. Solid wood is a material that's highly prized for its strength as well as its durability.
It has been used for centuries, be it indoors, outdoors, or even for structural purposes. However, you need to keep in mind the fact that not all types of wood are made or built the same way. Some hardwoods may be resistant to denting and scratching whereas others categorized as softwoods may not be as durable.
• Aesthetics: Solid wood looks great, there's no other way around it. You really can't beat the beauty of natural wood. It's distinct and timeless and it brings something to the table that no other type of man-made material will be able to replicate.
It has a certain warmth and coziness to it that can automatically make the space feel more inviting and welcoming. This is a kind of feeling or vibe that no other synthetic materials will be able to bring you after all has been said and done.
• Customizable: Nothing can ever beat solid wood when it comes to versatility in terms of design. You can transform it into anything you can want or need, from traditional to modern, to transitional, to country, and so on. It can fit into any design you can think of. This versatility is one reason many homeowners prefer solid wood.

• Value: Solid wood just holds far more value than engineered wood. It can increase your home's real estate value in the long run. It has more durability and a longer life span.
And overall, its perceived value is just so much more compared to any other material. Perhaps it can be attributed to the aesthetics as well as how rare it is to come by a lot of solid wood, especially high-quality ones.
• Variety: Different wood types have their offerings, from color, to grain quality and design, and even to how stains adhere to it. This variety of options allows homeowners to find the perfect solution to match their desired aesthetic and create a unique and personalized experience within their homes.
There is so much for you to choose from, including different sizes and shapes, and you're bound to find one that fits your specific looks and durability needs, with various characteristics to suit your preferences.

Cons Of Solid Wood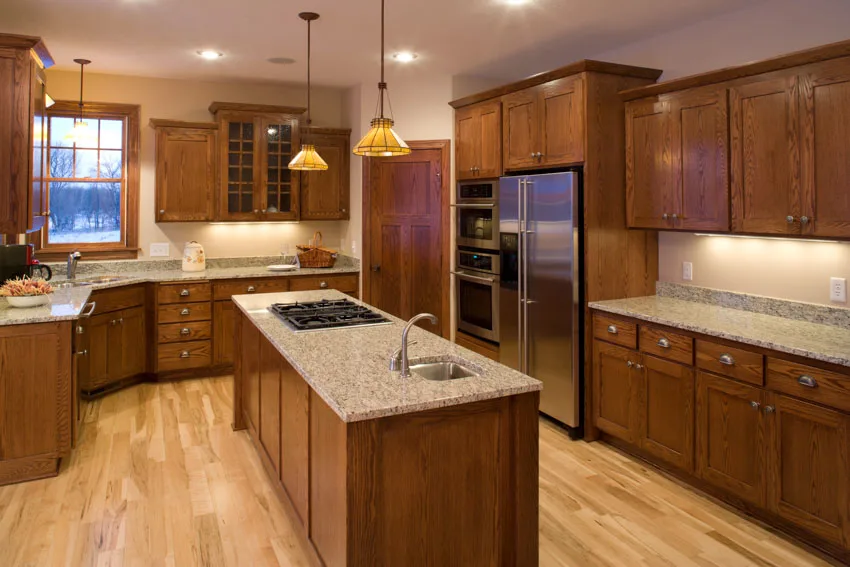 Moisture damage: A major downside to solid wood is the fact that it isn't waterproof. When it's exposed to humidity, moisture, and temperature changes, it can rot. There is no easy or cheap fix around this and more often than not, solid wood will need to be replaced completely once it has begun to rot.
Additionally, expansion and contraction due to temperature changes can impact wood doors, especially panel ones.
Cracking and warping: This is one of the major downsides of solid wood. It's an organic material which ultimately means that it can change and move along with temperature changes.
It can contract or expand. This can cause the material to swell, shrink, warp, and even have noticeable cracks that may result in permanent damage.
Pros of HDF compared to wood
• No warping or cracking
• It has a smoother surface finish. This is particularly efficient when you are painting over your kitchen cabinet doors. The paint just adheres to it so much more smoothly.
• Affordable.
• Works well for cabinet doors that have no joints.
Cons of HDF compared to wood
•You will have limited finish options. This material always needs to be painted on. This is mainly because it has no wood grains. Staining it won't produce great results. You can, however, attach veneer sheets to help replicate the look and feel of wood.
• HDF is quite sensitive to extreme heat. It doesn't perform well in high temperatures, which may be the case in the kitchen area. It also means that it isn't suitable for direct sun exposure.
• This material is susceptible to moisture. This can be the case if HDF is left untreated. It should be sealed and properly maintained for you to avoid moisture damage.
So what's the verdict? Solid wood has solid strengths and tends to lean towards the popular vote. However, as we've previously mentioned, each material has its offerings.
If it is solely for indoor cabinet doors, it will have to be the top choice. It's more economical, durable, and quite versatile for cabinetry projects. For everything else though, it would have to be solid wood.
Is HDF Good For Kitchen Cabinets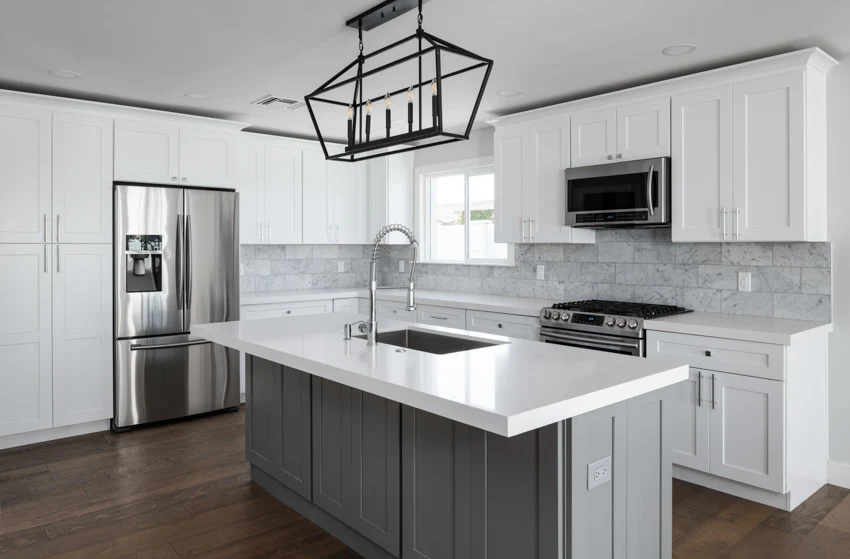 The short answer to this is a definite yes. HDF is an engineered wood product that has become quite a preferred material for kitchen cabinet doors that are painted on. It has all of the strong attributes of solid wood while at the same time, it is extremely stable and reliable.
It offers a smooth surface to be finished and painted on. You must add options such as adding a veneer sheet to it if you want to replicate the look and feel of real wood. It's durable and far more economical. It's a great option to consider throughout.
See more related content in our article about natural wood kitchen cabinets in various sizes and shapes on this page.