This gallery of natural wood kitchen cabinets showcases the different types, materials, pros and cons, design styles, cost and how to clean natural wood cabinets.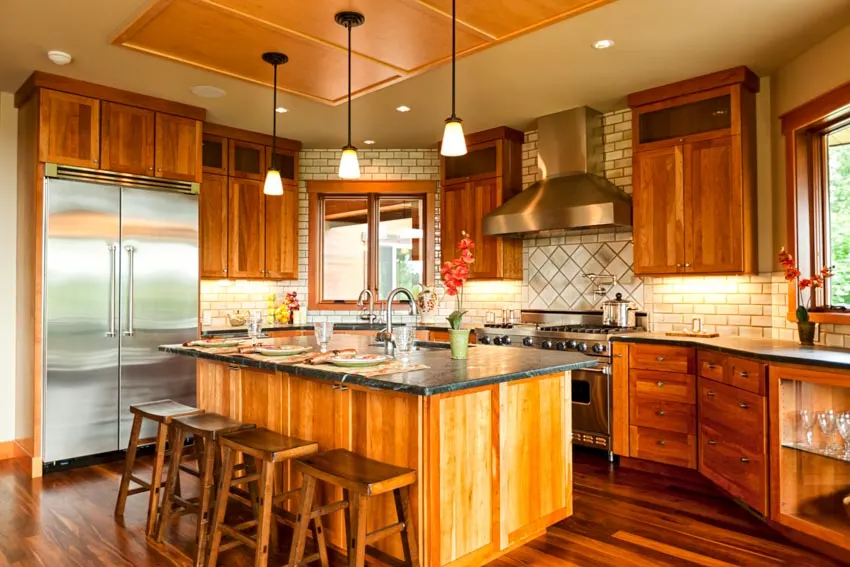 Natural wood kitchen cabinets are elements that can drastically elevate the value of your home, not just in terms of price but also in terms of functionality and aesthetics.
Wood is a staple material in homes because of the helpful characteristics that it possesses and contributes. And a wooden cabinet is one of the major ways to integrate the material into the home.
There are several major types of wood cabinets in terms of materials, including solid hardwood, engineered wood, veneer, and laminate.
When it comes to natural wood kitchen cabinets, you are pertaining specifically to solid hardwood. And this refers to classic, authentic, and real wooden pieces carved and built into cabinets.
Natural Wood Cabinet Designs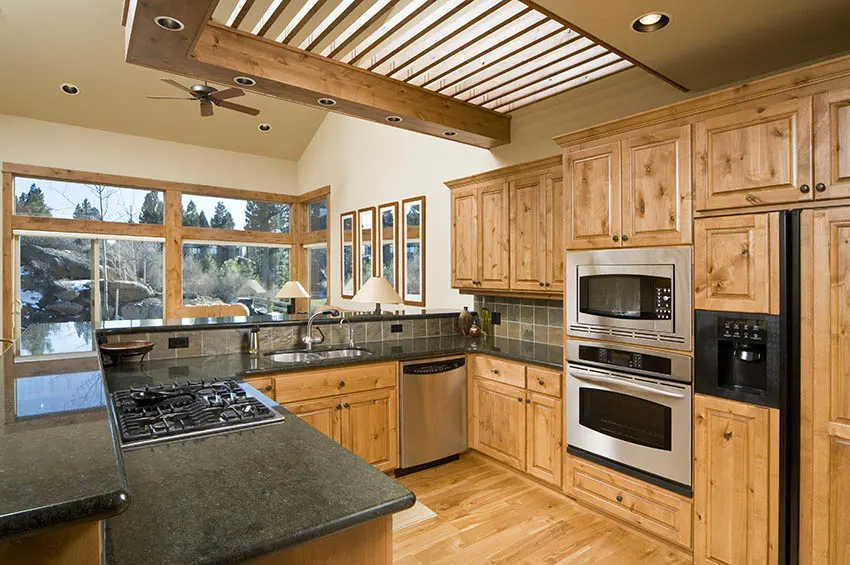 Natural wood kitchen cabinets come in different types, and you might need to consider specific characteristics and elements in order to make a final choice among the different options you have.
Here are some of the elements you have to take into account when choosing the ideal type of natural wood kitchen cabinet styles for you.
Type: Hardwood and softwood are two classifications of wood you need to consider. They are named based on their durability. Hardwood includes cherry, maple, and oak while softwood includes cedar, pine, and spruce.
Color: While not as extensive in colors as paints, wood also has a range of shades you can consider in its natural state (And of course, you can always paint on the wooden cabinets if preferred).
Maple wood for example has a naturally lighter shade. Cherry, on the other hand, leans more on the dark side of the color.
Grain: Grain is another element that you can consider when choosing a natural wood kitchen cabinet. It refers to the alignment and patterns that appear on the surface of the wood, which may affect the texture of the wood.
Every tree has a distinct pattern resulting in every wood also having its own unique design and marking.
Some of the wood grain patterns you will see in wood are the following:
• Straight (Vertical straight patterns)
• Cross (Parallel lines from one side to the other)
• Fine (Almost invisible patterns)
• Wavy (Wavy patterns)
• Curly (Circular patterns)
• Spiral (Patterns that appear like a funnel/tornado)
• Arch (V or inverted U patterns)
Construction: Natural wood kitchen cabinets are constructed and built using rabbets, dowels, and dovetails. These tools and parts would need to be considered when making a decision.
This is true since they can influence the cost, wood consumed, and even the furniture's lifespan. For example, when you use dovetails you can expect your furniture to consume more wood and last longer but it also can be more expensive.
Types Of Wood Cabinets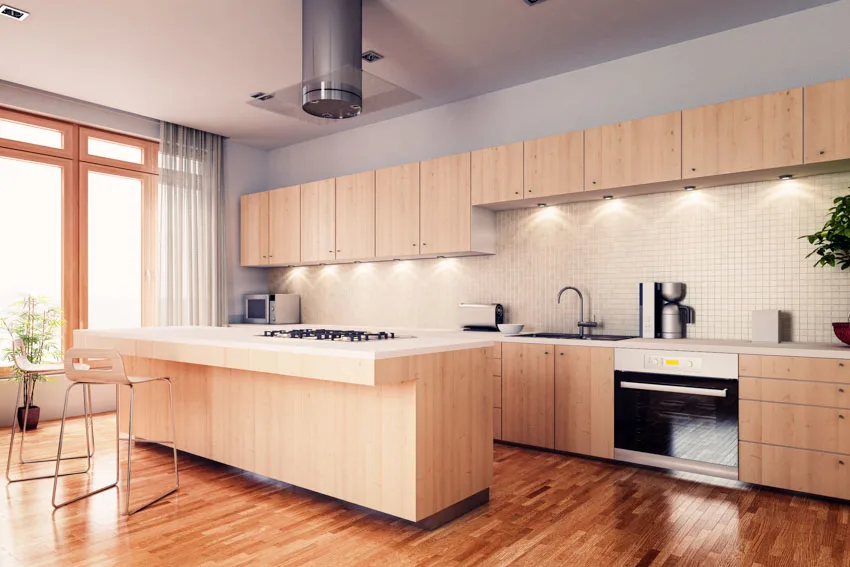 Since natural wood kitchen cabinets can range based on materials, grains, colors, and textures, it can be a bit too much for you. With a wide range of options to choose from, the only logical step is to compare and contrast your options.
And one of the factors to check on are the pros and cons of each type of natural wood kitchen cabinet you're considering.
The most ideal natural wood kitchen cabinet is one that can meet your preferences while matching your needs and situation (space available, convenience, and budget).
To help you explore your options, here are the pros and cons of the different types of natural wood kitchen cabinets you can choose for your home.
Alder Cabinets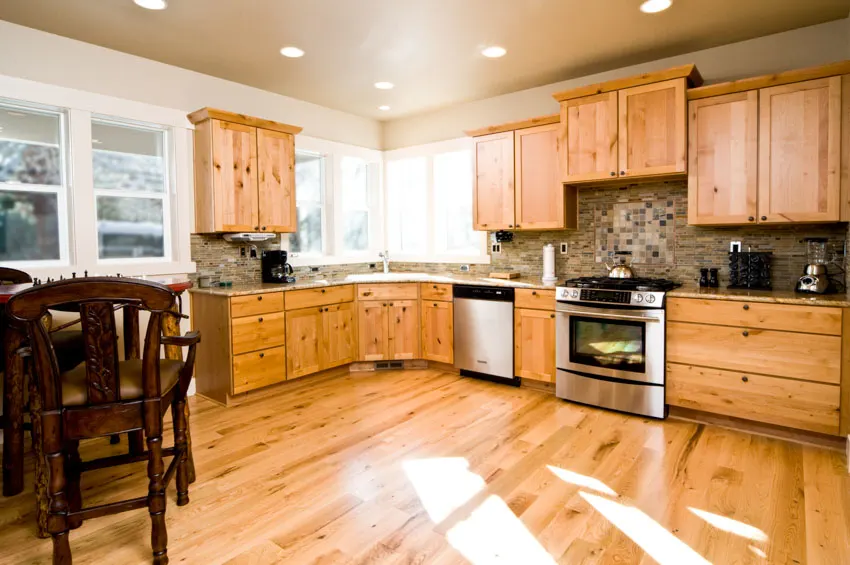 Type: Hardwood
Grain: Fine
Color: From pale pink and light brown to tan and reddish brown
Hardness: 590 (in Janka hardness scale rating)
Alder is a hardwood that's considered one of the softest in the group, along with poplar and pine. Alder wood cabinets feature a fine and straight textured grain with an appearance similar to maple and cherry.
The boundaries between the wood's sapwood and heartwood are indistinct. It is also readily available and a common wood found on the West Coast.
Pros of Natural Alder Cabinets

If you choose alder wood kitchen cabinets, here are some of the advantages you are sure to enjoy.
• Lightweight: Adler is most often referred to as semi-hardwood and not only because it is soft for hardwood but also because it is moderately lightweight.
• Easy workability: Since Adler is considered one of the softest among all hardwoods, it is easier to work with and customized based on your preference.
• Eco-friendly: Since Adler trees are abundant on the west coast, harvesting wood from these trees won't negatively affect the environment.
• Versatile aesthetics and style: Adler wood kitchen cabinets feature a wide range of colors from pale pink to reddish brown, which can be used and accommodate many styles, including traditional, rustic/antique, and contemporary or modern styles.
Cons of Natural Alder Cabinets

To balance your research and exploration, here are the drawbacks that you need to know about choosing alder wood kitchen cabinets.
• Easily dents and mar: Since alder is a soft hardwood, it is prone to marring and denting.
• Delivery might get expensive: If you live on the west coast, availability won't be an issue but if you live in the other parts of the country, having it delivered to you may be expensive and set you back a bit.
• Lightens when exposed to sunlight: Exposure to sunlight can lead to the wood lightening in color (which won't be a problem if you prefer that color).
Beech Cabinets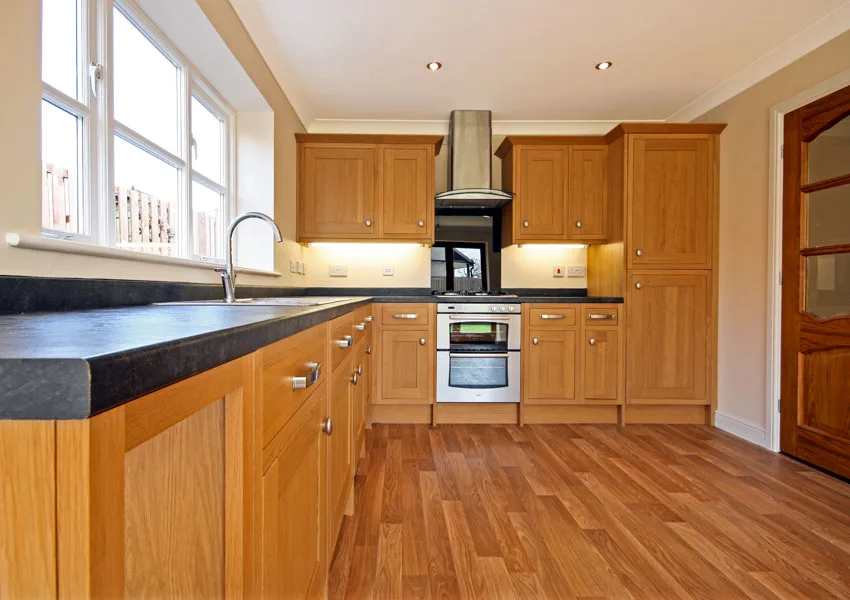 Type: Hardwood
Grain: Fine
Color: Pale reddish
Hardness: 1,300 (in Janka hardness scale rating)
Beechwood, most commonly found in the northern continents, is a durable hardwood that's versatile in its application. Beech is popular to be used for cabinets but it can also be used for flooring and other pieces of furniture like chairs and stools.
Pros of Beech Wood Cabinets

Beech is a popular material to be used as a kitchen cabinet for a reason and here are some of the benefits that make it a favorite among homeowners.
• Excellent workability: Beech kitchen cabinets can easily be cut using both power tools and hands without the possibility of damaging the material.
• Easy to stain: Since the wood is slightly coarse and scattered with tiny pores, it is easy to stain and add color to, as well as polish and customize with the finish to your liking.
• Highly durable: Beechwood is incredibly strong, rigid, and durable that it can withstand regular use, making it an ideal material for your kitchen cabinets.
• Medium resistance to shock: With great shock resistance, beechwood can even be used as flooring in areas with high foot traffic.
• Easily available: This hardwood is easily available in the market and with its stringent grading, only the best ones are able to make it on the market.
Cons of Beech Wood Cabinets

Beechwood also has specific disadvantages that you need to accept and realize before you settle on this material as a kitchen cabinet.
• Susceptible to pests: This wood is prone to pest infestation, specifically common furniture beetles and longhorn beetles, requiring protective treatment on a regular basis.
• Moisture absorbent: Beechwood tends to absorb a large amount of water making it not ideal for outdoors.
• Warping and twisting issues: Its tendency to absorb moisture also leads to the wood's tendency to crack, split, warp, and even shrink when not dried appropriately and completely.
• Heavy: Dense in nature, beech is known for producing heavy pieces of furniture so make sure you're aware that moving them can be challenging (which is why they make perfect kitchen cabinets since you won't be moving them).
• Expensive: Compared to other wood materials, beechwood is pricier and much more expensive.
Cherry Cabinets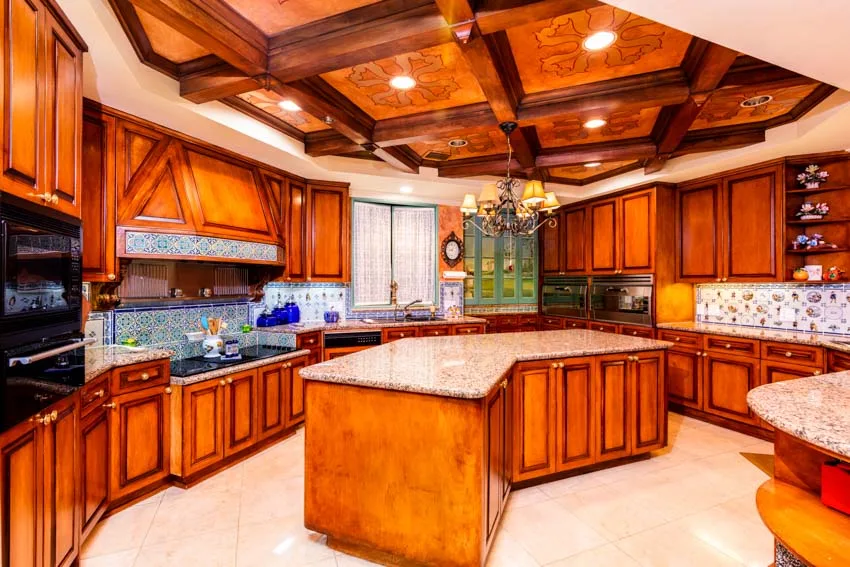 Type: Hardwood
Grain: Fine
Color: Red to reddish-brown (With areas colored blonde, gray, and even green)
Hardness: 950 (in Janka hardness scale rating)
Natural cherry wood cabinets are popular for their smooth and elegant look, coupled by its warm and rich reddish color.
This is the reason why it's the go-to option for traditionalists and even homeowners who favor contemporary styles. Its sapwood has wonderful natural details, from pitch pockets to fine pin holes and mineral streaking.
Pros of Cherry Wood Cabinets

Cherry wood kitchen cabinets are popular among homeowners because they feature the following advantages you can benefit from.
• Durable and long-wearing: Cherry wood is hard and durable enough that it can withstand knocks and mars and also seldom dents and chips.
• Stunning and luxurious aesthetics: Cherry kitchen cabinets have this deep, warm, and rich reddish brown shade, giving them a classic look. They feature even graining, random marking, and fairly uniform texture.
• Stains well: This particular wood absorbs stains well to have a more uniform color even if it's not required.
• Mellows and darkens with age: Cherry wood has this unique characteristic that when the wood is exposed to direct sunlight, it significantly darkens and turns red with age like a fine wine, giving it a more timeless and luxurious style (This can also be a disadvantage if you're not into that shade of color).
• Workable: While hard and strong, this wood is softer than other hardwood options like oak and so can be cut and customized.
• Widely available: Cherry is relatively common and widely available in the market so you won't have a problem looking for this wood.
Cons of Cherry Wood Cabinets

More than just the benefits you get from using cherry kitchen cabinets, you also get to experience the following drawbacks.
• Expensive: Cherry wood can be considered a luxury material because this high-end wood has a higher price that assures its lifetime worth.
Hickory Cabinets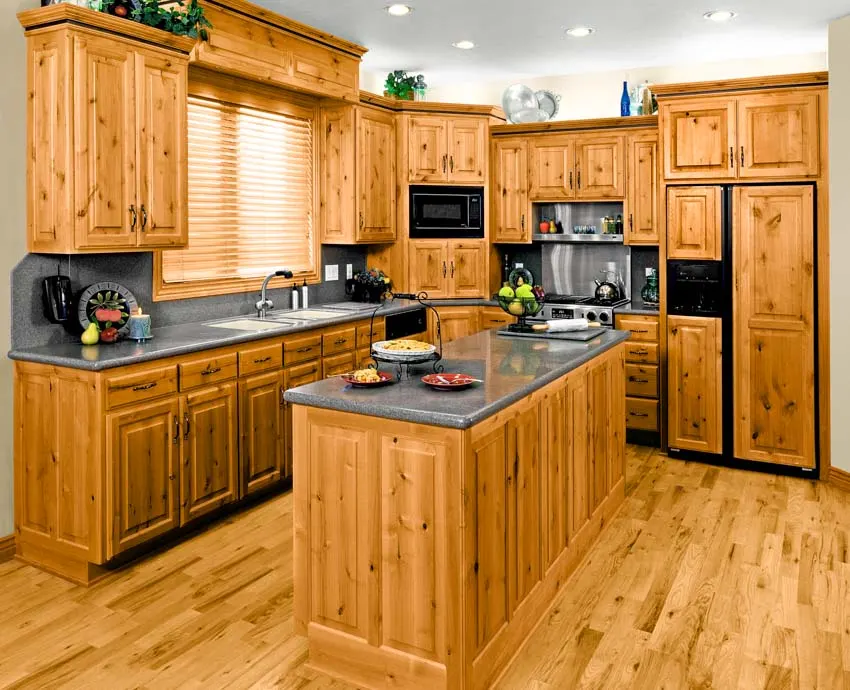 Type: Hardwood
Grain: Fine
Color: From blonde/white to reddish brown and dark brown
Hardness: 1,820 (in Janka hardness scale rating)
Hickory wood is a popular material for cabinetry but may also be used for flooring. Its price point falls in the middle range and is perfect for farmhouse and rustic-styled kitchen cabinets. It also has a contrasting appearance due to its sapwood and heartwood.
Pros of Hickory Wood Cabinets

If you are considering hickory wood kitchen cabinets, here are the benefits you can expect.

• Incredible strong and durable: Hickory is one of the hardest and strongest hardwood options you can use for your cabinet and it's even more compared to ash, oak, and maple.
• Can last for decades: With its tight grain and hardness, choosing hickory kitchen cabinets can last for a lifetime, especially when appropriately sealed.
• Affordable: Compared to cherry wood kitchen cabinets, hickory ones are more affordable when taking into account their durability and quality.
• Excellent and stunning aesthetics: Hickory kitchen cabinets feature this pretty two-toned appearance composed of white cream to pale cream and darker reddish brown to almost, adding character to your kitchen with these prominent colors.
Cons of Hickory Wood Cabinets

With all of these benefits, make sure to take into account the following drawbacks once you've chosen hickory kitchen cabinets.
• Rare choice for custom cabinets: If you want customized and personalized kitchen cabinets, this wood option is not a good consideration of how hard it is to work on.
• Heavy: Moving hickory wood from one place to another can be challenging since it is considered one of the heaviest hardwood options.
• Not good for staining: Stain cannot penetrate the tight graining of the hickory wood, which means that you need to be content with the natural colors of the wood.
Oak Cabinets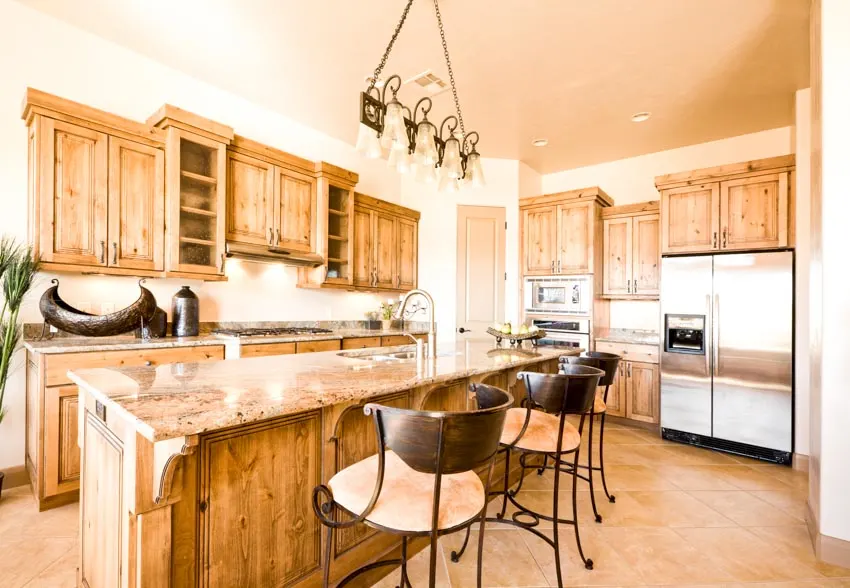 Type: Hardwood
Grain: Fine
Color: Comes in white and red varieties
Hardness: 1,290 (in Janka hardness scale rating)
Oak is an excellent wood option for kitchen cabinets that has become popular for traditional-styled homes because of its timeless aesthetics.
But the aesthetics of the cabinets can also blend excellently with other design styles. This hardwood option is available in white and red versions.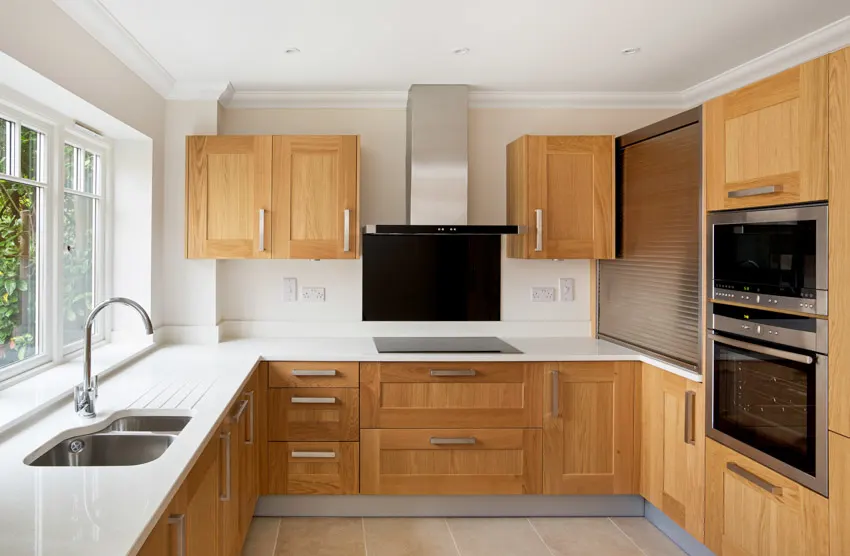 White Oak: Versatile when matched with many design styles, white oak is known for its light and golden hues perfect for a contemporary appearance. It has the same durability as red oak but is also a bit stronger, which is why it costs a bit more.
This type of oak is used for custom cabinetry but is not compatible with stains as it can add too much contrast to the wood's grain. See pictures of white oak kitchen cabinets here.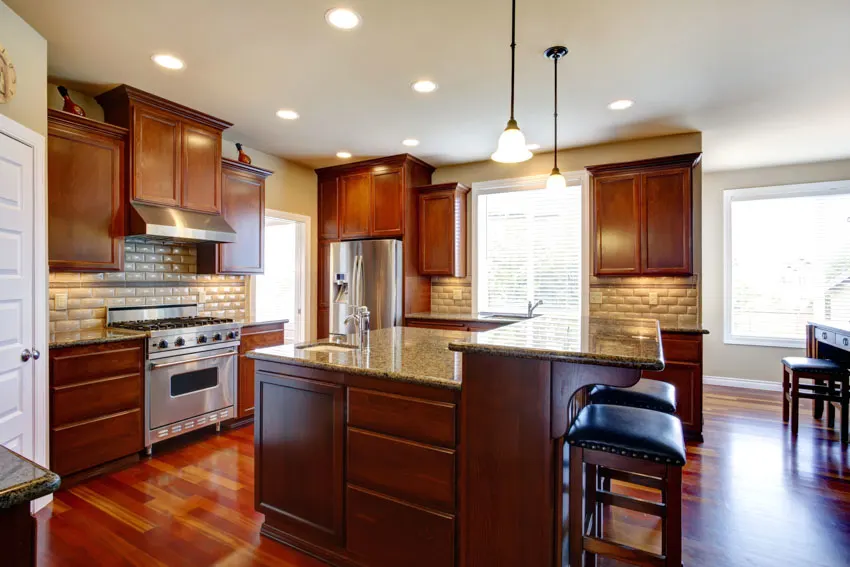 Red Oak: Common for traditional American kitchens, red oak cabinets have this prominent medium brown color with a combination of straight and curved grain patterns.
This timeless look makes red oak popular to be used for farmhouse, period, and rustic styles. Compared to white oak, this type of oak is a good option for stock and customized cabinets.
Pros of Oak Cabinets

Natural oak kitchen cabinets are popular in American homes and it's for a reason. Some notable ones are the following:
• Durable: Oak kitchen cabinets are hard and durable whether you choose white or red oak wood and can stand everyday wear.
• Affordable: This wooden cabinet is a popular choice because of its low price point.
• High availability: Both white and red oak are widely available in the market
• Takes stain well: With the oak's porous surface, it is able to absorb stain well and when treated with darker stains can easily amplify its deep brown colored grains.
• Welcoming aesthetics: Oak comes in both white and red so you have options when matching the cabinets with your home's aesthetics (White oak has a lighter honey shade perfect for contemporary kitchens while red oak features pink to reddish tones suitable for traditional and rustic kitchens).
Cons of Oak Cabinets

While you get to enjoy the benefits of choosing oak kitchen cabinets, familiarize yourself with the drawbacks that come with this choice, including the following:
• Heavy: Oak wood is heavy and so moving it from one place to another when working on it can be a challenge.
• Easily reacts with exposure to weather elements: Exposure to both cold and hot weather can have its tannin content easily react to oil finishes.
Maple Cabinets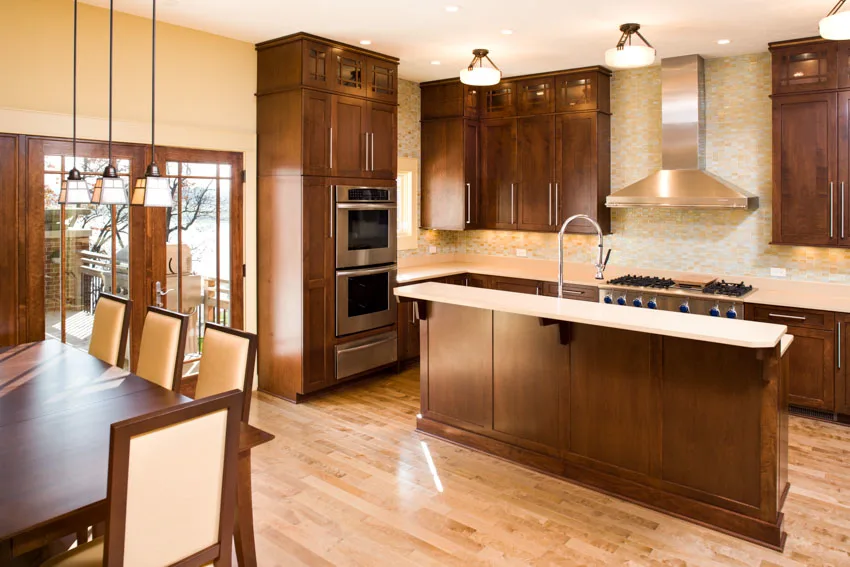 Type: Hardwood
Grain: Fine
Color: Creamy white with occasional reddish brown tones
Hardness: 1,450 (in Janka hardness scale rating)
Maple is a popular hardwood option for cabinetry, particularly custom-made wood cabinets. Natural maple kitchen cabinets are compatible with farmhouse and light contemporary styles of kitchens. So you can use it for a light and airy homey kitchen to a bold and dramatic kitchen.
Pros of Maple Cabinets

If you choose natural maple wood kitchen cabinets, you can benefit from the following advantages:
• More uniform look: Maple is known for its even and smooth graining pattern that offers a more uniform appearance than many hardwood options even with its color variation and mineral streaks, which may appear darker when stained.
• Highly durable: If you choose this wood, you get a hardy and resilient wood kitchen cabinet, as well as shock resistance which all-in-all builds a strong piece of furniture great for busy areas like the kitchen.
• Excellent workability: Maple is a hardwood that's popular among cabinet makers, woodworkers, carpenters, and DIY enthusiasts because it's easy to work with.
• Easily stained: You can stain your maple kitchen cabinets if you want the wood to look darker since maple has this naturally clean finish that can easily be stained. It can even be finished to mimic other wood options like cedar and cherry.
Cons of Maple Cabinets

Natural maple kitchen cabinets can be a wonderful addition to your home but make sure you know the following drawbacks that come with choosing this type of wood.
• Expensive: Since maple withstands temperature better compared to other hardwoods, it is also more expensive. In fact, it is more expensive compared to oak but less dense.
• Heavy: Like many hardwood options, maple is heavy and so moving the wood from one place to another will be challenging.
Ash Cabinets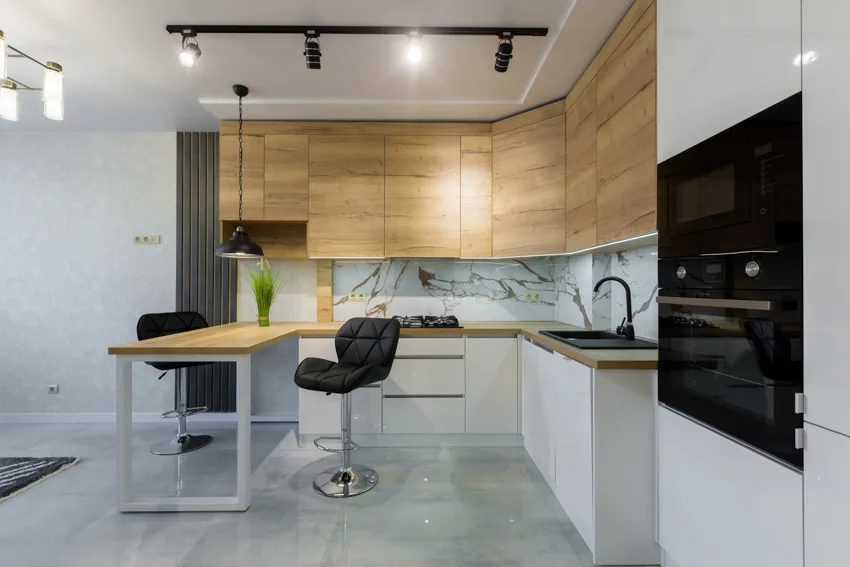 Type: Hardwood
Grain: Fine
Color: Light Brown and Soft Yellow
Hardness: 1,320 (in Janka hardness scale rating)
Ash wood built into kitchen cabinets is becoming more and more popular as it becomes part of the modern interior of American homes. These wooden cabinets are also preferred by commercial kitchens, which will tell you enough about the quality of this type of wooden cabinet.
Pros of Ash Cabinets

To help you understand if ash kitchen cabinets are an ideal option for you, here are the advantages you can benefit from.
• Affordable: Ash wooden kitchen cabinet offers elegant woodwork at an affordable price compared to other hardwood cabinets. A solid wood ash kitchen cabinet can cost $500 to $1,200 per linear foot ($60 to $200 for its RTA version).
• Durable and shock-resistant: Ash is a significantly hard and sturdy wood that's softer than maple but harder than oak, which can accommodate heavy items without fear of cracking and buckling. Because of the wood's sturdiness, this wooden cabinet is also shock-resistant and so won't dent or get damaged with regular use.
• Versatile and stunning aesthetics: Natural ash kitchen cabinets feature an appealing appearance with light brown color and fine grain pattern that match excellently with both traditional, minimalist, and contemporary styles.
• Low maintenance: These wooden kitchen cabinets require less maintenance due to their durability and especially if the wood is treated.
Cons of Ash Cabinets

With all of these benefits, ash kitchen cabinets also have specific disadvantages that you need to take into account, including the following:
• Needs to be sanded and filled in: Ash wood has many open pores and if you want a truly smooth finish, you need to sand it well to accomplish it.
• Prone to splintering: Ash is known for its long fiber, which can encourage wood splintering and cause damage to the kitchen cabinet.
• Moderate blunting effect: When cutting tools are used to work on this wood, it may cause the tools to dull, especially if they have softer edges. Splintering can be avoided by pre-drilling the wood before nailing.
• Considered a perishable wood: When ash wood is in contact with moisture, it becomes prone to rotting and more susceptible to beetles and fungus attacks, especially since the heartwood is less porous and may resist wood treatment.
Wood RTA Cabinets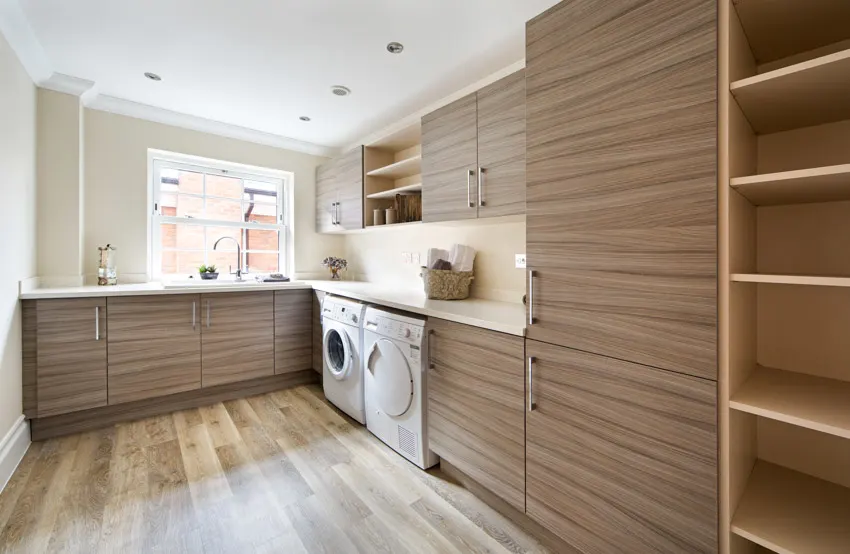 RTA or ready-to-assemble kitchen cabinets have been gaining attention over the last 20 years because of the rise of DIY projects and people needing to stretch their budgets. This can be an excellent option for you but to further solidify that decision, make sure to weigh the pros and cons.
Pros of Wood RTA Cabinets

Choosing natural wood RTA cabinets have become popular because of the many benefits that it provides homeowners, including the following:
• Cost-effective: Natural RTA wooden cabinets have lower indirect costs, making them more affordable to homeowners since they cost less than custom cabinets and pre-fabricated stock cabinets. This is because the labor cost for assembling them is not included in the total cost of the RTA cabinets.
• Easy and convenient installation: These kitchen cabinets are designed to be easily assembled by anyone just by following the manufacturer's instructions.
This is why all the required pieces are labeled and cut exactly the right sizes to fit each other perfectly and all you need to do is to glue or nail them together.
• Guaranteed quality construction: RTA wooden kitchen cabinets started with low quality but with its rise in popularity, many well-known manufacturers have delved into the market, providing more high-quality options for customers.
• More customization options: While RTA cabinets are structured to a specific design, many manufacturers now offer custom RTA versions that are pre-set according to your preference in sizes, colors, wood types, and styles.
Cons of Wood RTA Cabinets

Natural RTA kitchen cabinets, while popular in the market, also have drawbacks that you need to learn about, including the following:
• Time-consuming construction and installation: While natural RTA wooden cabinets are affordable because they take out labor costs in the mix, they will also take up your time to learn the manual and install them properly.
Depending on the difficulty of the design, you can either easily assemble the cabinets or get flustered installing them because of the design's difficulty.
• Limited selection: RTA wooden kitchen cabinets only have limited designs you can consider but if you want a design customized, you will need to talk to the manufacturers and pay extra for the design.
Wood Cabinet Styles
Natural wood cabinets can be matched with different kitchen styles and themes. Some designs of these kitchen cabinets can easily be associated with specific styles.
This is why if you are working on a specific style for your home and kitchen, choosing a specific design integrated into these wooden cabinets is a good decision.

The major aesthetics of natural wood come from the wood's grain patterns, building character into the furniture and as a result, the kitchen and the home. The cabinets can either be the room's focal point or serve as a backdrop of the space.
Farmhouse Cabinets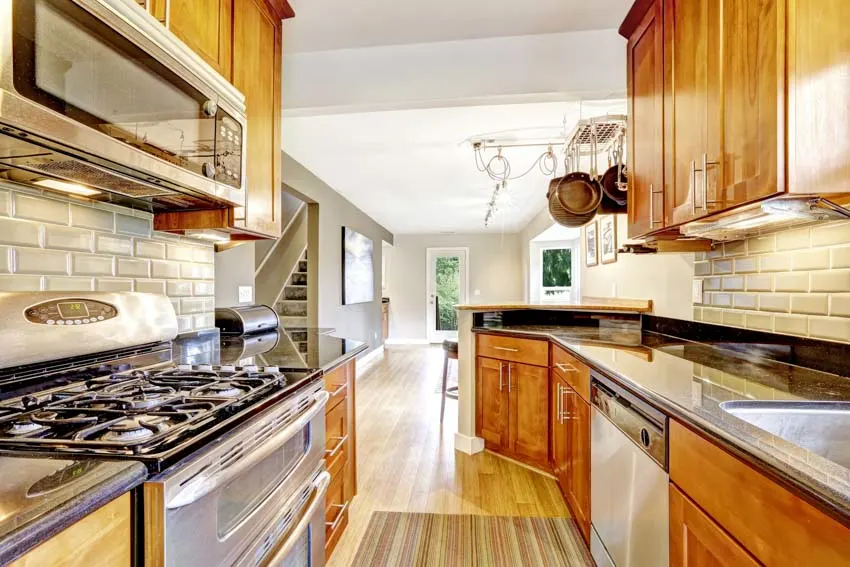 Farmhouse style is focused on showcasing a warm and homey vibe by using natural materials and unpretentious designs.
If you're going for a similar style for your kitchen and want to have a farmhouse natural wood kitchen cabinet, these are the common types of wood to consider:
• Cherry
• Pine
• Oak
• Maple
These wood options feature rustic and country living accents for your kitchen cabinets. Pine is particularly popular because of looking naturally knotty.
Pine wood cabinets are less durable then many types of cabinets, but are resistant to moisture, easy to work with and inexpensive. And if you add chalk paint in subtle tones, the farmhouse look on the cabinets and the kitchen will be completed.
Shaker Cabinets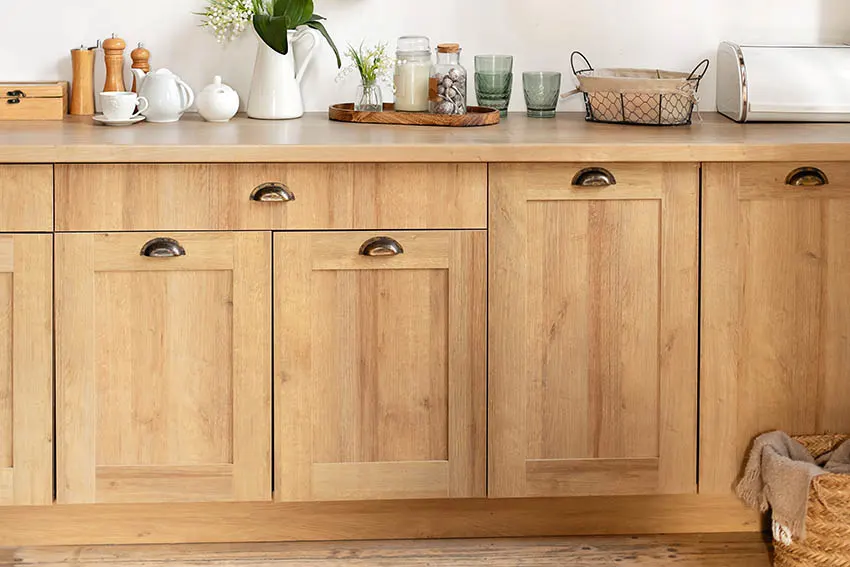 Another notable trend in kitchen renovations is the minimalistic shaker kitchen cabinets. These cabinets feature either a traditional or contemporary style, depending on how they are designed.
Originating in the 1770s American colonial era, the design came from a religious movement campaigning for functional and simple aesthetics.
A shaker kitchen cabinet design is associated with the following characteristics:
• Sturdy quality wood construction
• Utilitarian design
• Flat-paneled doors and rail frames
• Natural wood finish
• Minimal ornamentation
Some of the types of woods that can be considered for the sturdy construction of the cabinet's frame include:
• Hickory
• Maple
• Cherry
• Oak
Shaker cabinets fit perfectly with modern and contemporary kitchens, giving the room an airy and lighter ambiance. While most shaker cabinets have a natural wood finish, they can be painted gray or white to match in modern style.
These cabinets pair excellently with the following kitchen elements:
• White/light-colored countertop
• Stainless steel appliance
• Modern hardware
Modern Cabinets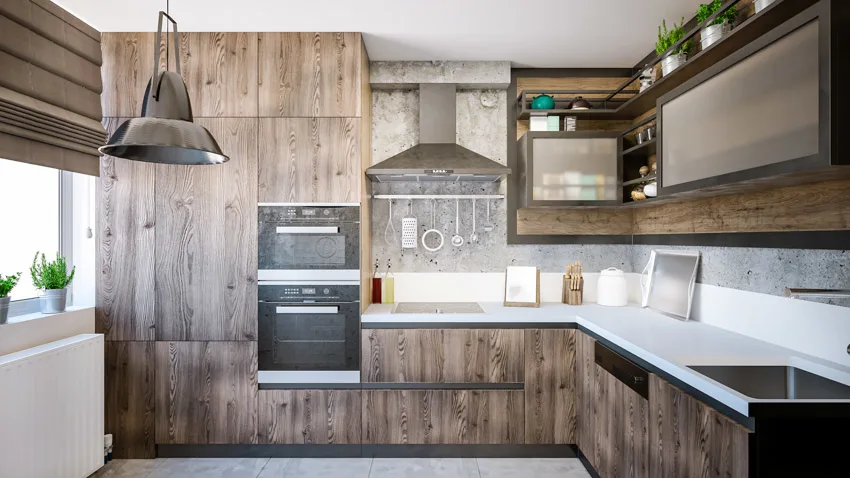 If you are looking for a modern natural wood kitchen cabinet, you're looking for a piece of furniture with simple but robust decor. You need to choose a perfect mix and blend of natural materials and synthetic materials including one of the following:
• Concrete
• Glass
• Metal
• Plastic
These synthetic materials help to add to the sleek and clean feel associated with modern kitchen cabinets. Also known as European-style kitchen cabinets and contemporary kitchen cabinets, modern kitchen cabinets have the tendency of looking too sterile or cold. The use of natural wood helps to add warmth and appeal to the piece of furniture.
Rustic Cabinets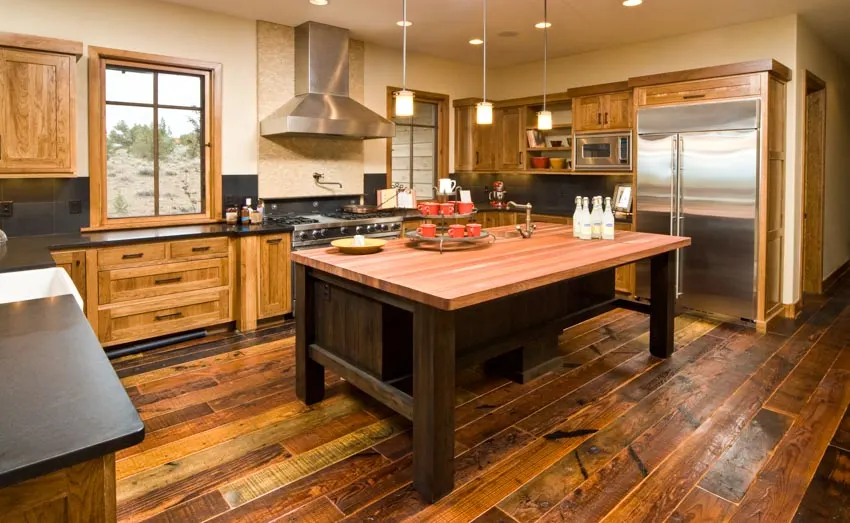 Going for rustic style in your kitchen requires a form of warmth and ruggedness from the different elements inside the room. This particular style is focused on form and textures, and adding more antique pieces to the mix will complete the rustic vibe.
With rustic natural wood kitchen cabinets, you're looking for the following elements:
• Warm tones and clear knots
• Organic textures and finish
• Farmhouse and country cottage feels
Kitchen cabinets with rustic style feel cozy and homey, which is the central point of the vibe you're looking for. You can choose country rustic or modern rustic, depending on how you want to integrate the rustic appeal into the mix.
Cabinet Cost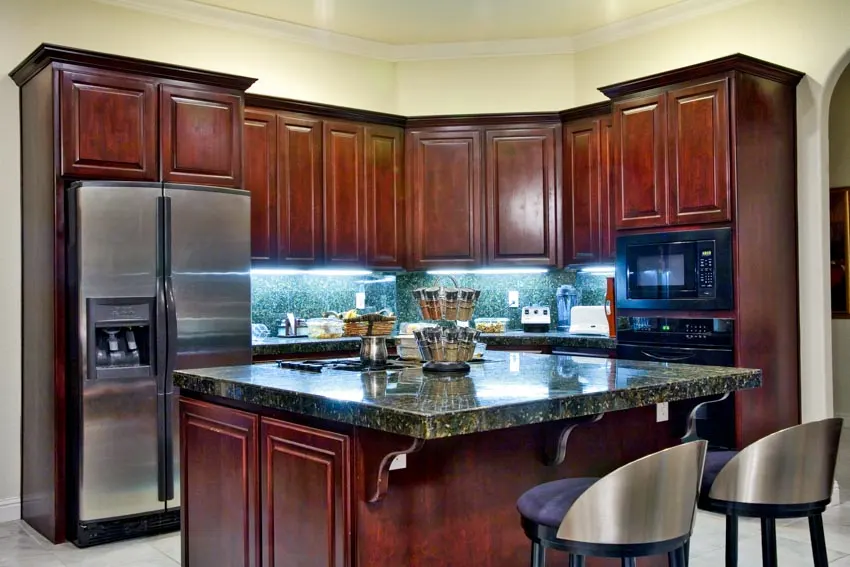 The cost of natural wood kitchen cabinets depends on many factors, from the size of the cabinet (referring to the amount of wood used to build the furniture) to the type of wood used. The materials used along with the wood are also considered in the cost and labor cost of building the cabinet.
This is why natural RTA wooden kitchen cabinets are more affordable than other types of natural wood cabinets since you will be the one to build the cabinets, taking out the labor cost in the mix.
If you're wondering how much you will need to pay for natural solid wood kitchen cabinets, make sure you are prepared to pay a minimum of $120 per square foot.
The most common natural wooden kitchen cabinets are made from maple and oak, with the former costing around $5,000 to $30,00 and the latter costing around $1,500 to $4,000.
These costs will be affected too whether you're getting stuck, RTA, semi-custom, and custom kitchen cabinets. Stock is the most affordable in this group and custom is the most expensive.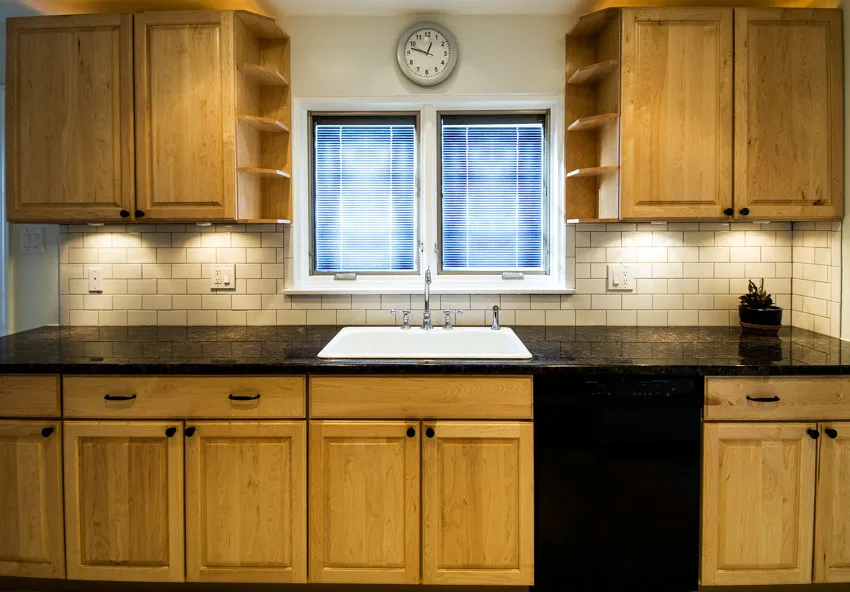 Wood Kitchen Cabinet Price Chart
If you want to compare the costs of different natural wooden kitchen cabinets to help you decide, here is a summary of these details you can check out.
| | |
| --- | --- |
| Type of Natural Wood Kitchen Cabinets | Price |
| Alder Wood Cabinet | $3.95 per square foot |
| Beech Wood Cabinet | $6.49 to $8.99 per square foot |
| Cherry Wood Cabinet | $4.95 per square foot |
| Hickory Wood Cabinet | $4.49 per square foot |
| Oak Wood Cabinet | $6 to $8 per square foot |
| Maple Wood Cabinet | $3.60 per square foot |
| Ash Wood Cabinet | $2.80 per square foot |
| Natural Wood RTA Cabinet | $80 to $500 per linear foot (Depends on the type of wood) |
Are Wood Cabinets Expensive?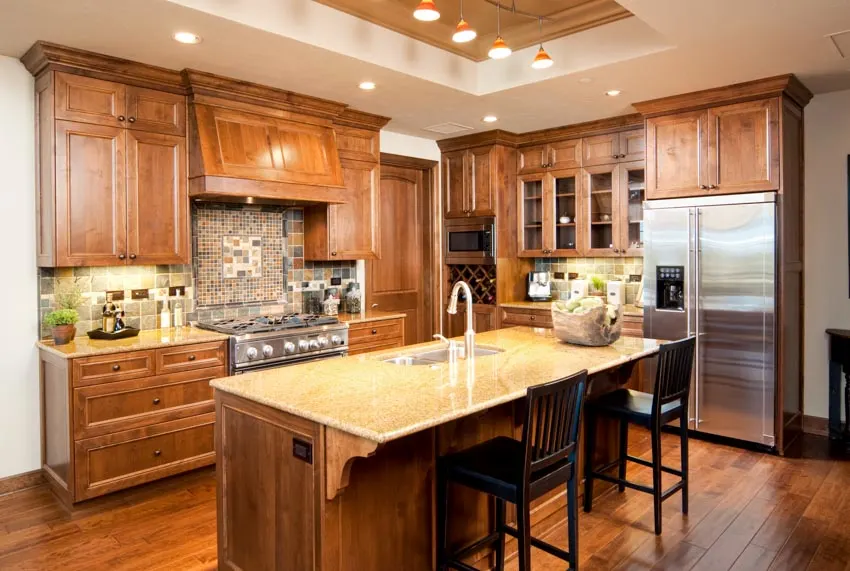 Yes, natural wood cabinets can be expensive, especially if you want to go for the most durable and high-end hardwood option. But of course, with all of these high-end authentic hardwoods, there are types that cost less and there are some that cost way more than you can afford so make sure that you make the right decision.
Oak is one of the most affordable options that's somehow known as a counterpart to cherry, which is slightly more expensive. Cherry though is a popular option because of its aesthetics.
If you have room in your budget, you can consider this type of wood. However, if you have a limited budget, you might want to stay away from maple since it's known as the most expensive type of wood for kitchen cabinets.
How Do You Protect Cabinets Made From Wood?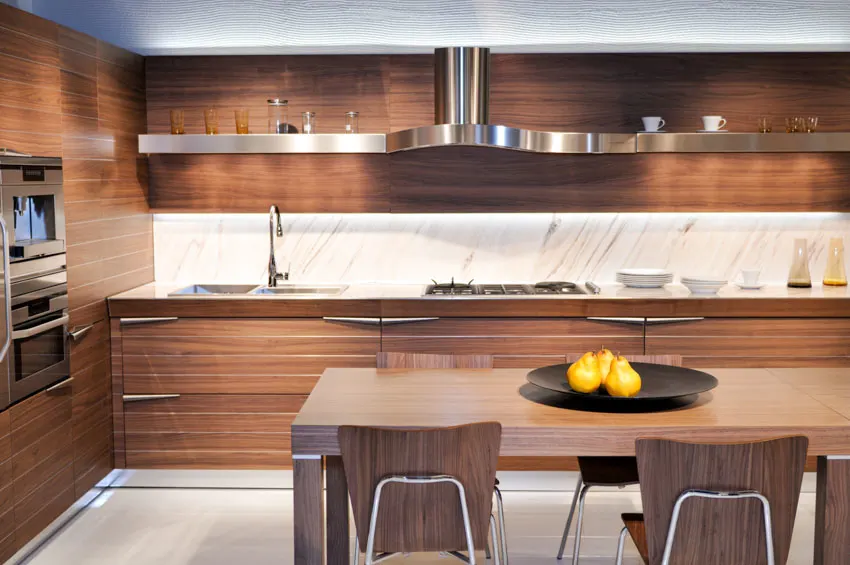 Protecting your natural wood cabinets is similar to protecting your investment in furniture, which is why it's very important to do so. Here are some ways you can protect your natural wood cabinets:
• Protect the furniture from splatters and scratches: Make sure that you don't damage the wood when handling knives and other sharp objects and placing them inside the cabinet. Keep your kids and pets away from the cabinets to avoid scratches and other possible permanent damage.
• Apply a wood protector: This protects the surface of the wood and at the same time increases the value of the cabinets and the kitchen in general. Polyurethane varnish is the most popular wood protector so you might want to consider that.
• Install your cabinets away from your stove: The heat when you're cooking can affect the natural wood kitchen cabinets you've chosen and cause discoloration over time.
How To Clean Cabinets That Are Wood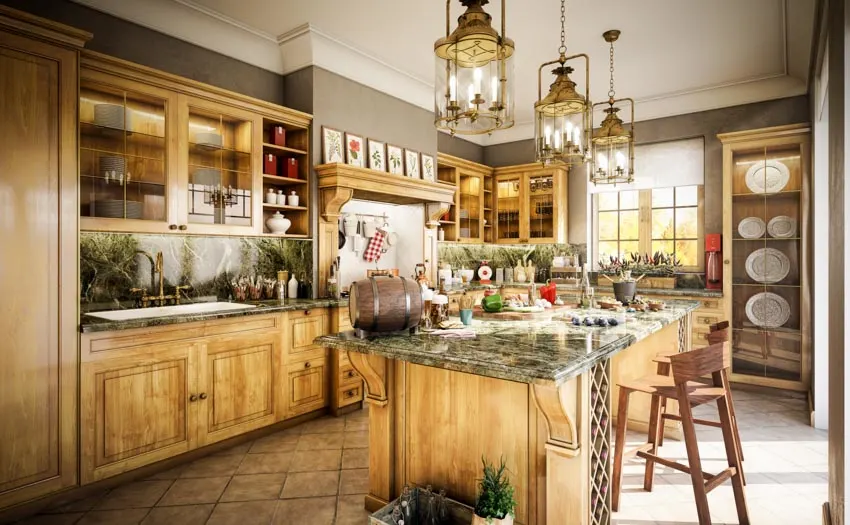 Regular cleaning and appropriate maintenance of your natural wooden cabinets can help avoid damage and possibly extend their life. The challenge with natural wood is that moisture can damage the furniture so you need to be careful when cleaning the cabinet.
Since wood is porous, it tends to absorb liquid and attract dust, dirt, and stains. This is why sealing and treating the wood is important. If not, the wood can swell and rot with too much liquid.
One way to clean your natural wood kitchen cabinet is by regularly wiping it down using a damp cloth. With a damp cloth, you get to control the moisture you expose the wood to. Make sure you dry the surface after cleaning.
You can also wood a specially formulated wood cleaner to help you clean and condition the cabinet. It's easy to apply and easy to clean without any residue left on the surface.
Finally, wax your natural wood cabinets regularly. If you want a shiny and brand-new-looking cabinet, wood wax can ensure your cabinet still looks new even after many years.
See more related content in our article about farmhouse kitchen cabinets on this page.