In this low ceiling kitchen lighting guide we share different design ideas, best fixtures, how to use pendant lights, and tips to make a space look bigger.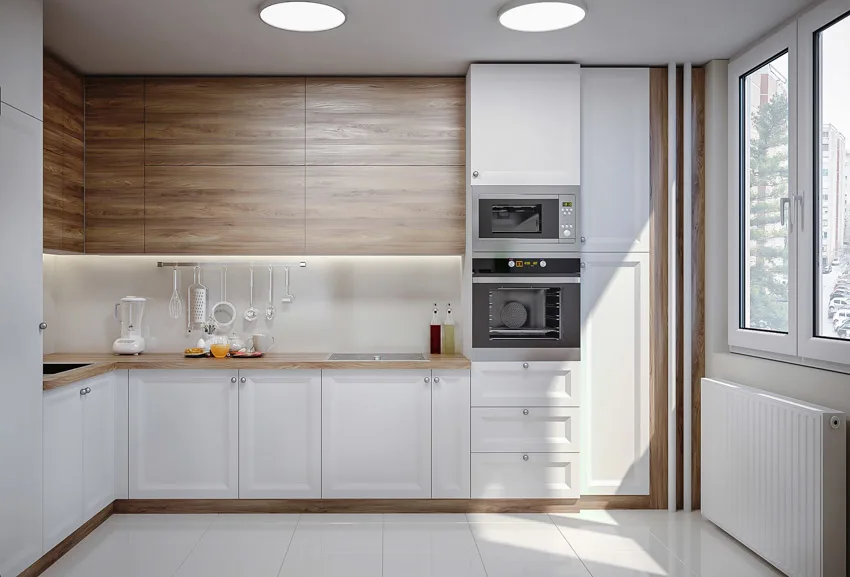 Although ceiling height has changed over the years, the standard height is nine feet for the first floor of a home and eight feet for additional stories.
Additionally, eight-foot ceilings are still fairly common. Once the ceiling height decreases, such as a seven-foot-high ceiling, the space will feel smaller, cramped, and even crowded no matter the size of a room.
A low ceiling kitchen poses more constriction than other rooms in a home due to everyday use. Kitchens are where families gather to prepare meals, eat together, and visit over a cup of coffee.
Kitchen lighting is also a functional need. Cooks require proper kitchen lighting to prepare recipe ingredients safely, and often, extra lighting is installed over the kitchen sink.
Kitchens with a low ceiling but plenty of windows may provide better lighting but only provide relief on sunny days.
This informational guide contains information on how to light a kitchen with a low ceiling and how to make the kitchen space appear bigger.
Kitchen Lighting Ideas For Low Ceilings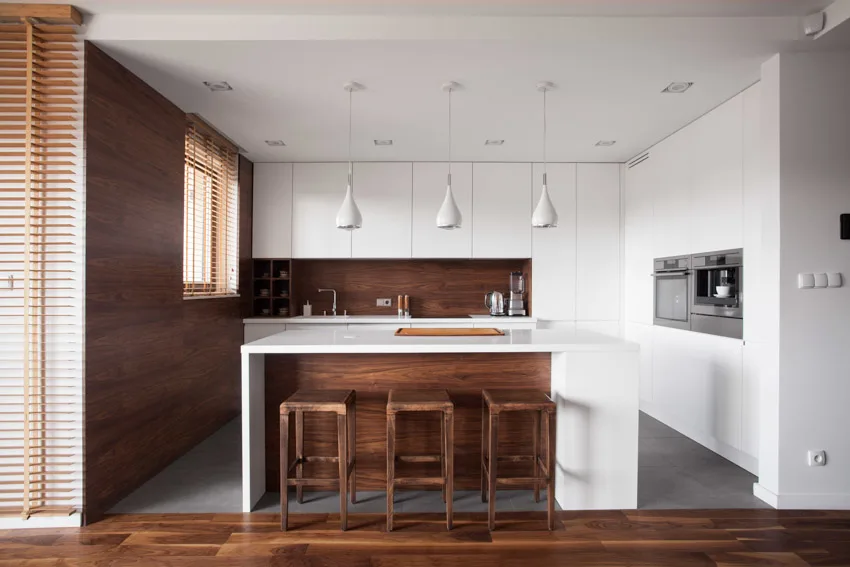 When deciding on lighting for a kitchen with a low ceiling, consider the size of the area and who uses the kitchen most often.
If there's a kitchen island, lighting above the island will provide a great place to do food prep. A galley kitchen with low ceilings may pose issues for cabinetry if the low ceiling prevents cabinets from being installed over countertops or appliances.
These factors all add up to determining the type of lighting to install and where to place each fixture for the most benefit.
There are quite a few options to light a kitchen with low ceilings and several techniques to help make the area seem larger. Each choice will depend on your particular space, design, and electricity requirements.
Homeowners can install lighting or perform some of the work, but some may require a contractor if wiring is involved.
Low Ceiling Small Kitchen Lighting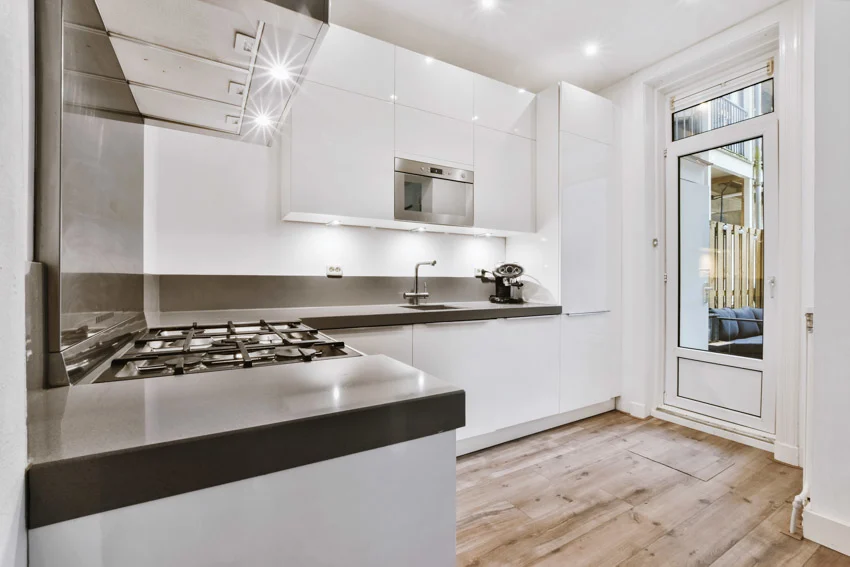 A small kitchen with a low ceiling creates an even tougher challenge when planning lighting.
Likely, there's a lot less square footage of ceiling space for light placement, leaving fewer options. One way to gauge the amount of illumination needed for a small kitchen is to calculate the number of lumens for best results.
Most types of ceiling lights have the number of lumens listed on their packaging, making it easier to purchase enough lights.
Simply speaking, lumens equal brightness. There are a few easy calculations to determine how many lumens you need for your kitchen lighting.
Most include foot candles. A foot-candle measures how bright a light is when you stand one foot away from it. There's no need to determine how many foot-candles a particular light is, just the amount of foot-candles needed per square foot of space.
Most of the rooms in your home have an average foot-candle per square foot of space already measured.
The recommended foot-candles per square foot are 30-40 for a kitchen. The lumens are determined by taking the average foot-candles for a room and multiplying it by its square footage. Here is an example:
| | | | |
| --- | --- | --- | --- |
| Room | Foot Candles | Square Footage | Lumens Needed |
| Kitchen | 30-40 | 100 | 3,000-4,000 |
You can now shop for and plan lighting for your small, low ceiling kitchen with approximate lumens needed in mind. While this calculation does not factor in a low ceiling, it provides a starting point.
A popular phrase for lighting made to work for a kitchen with a low ceiling is 'close to ceiling lights,' also known as flush mount or semi-flush mount lights.
Flush mount lights refer to types of lighting fixtures that sit directly on the ceiling. Semi-flush mount lights are mounted on a ceiling with an inch or two between the ceiling and the fixture.
Often, homeowners think of the old-fashioned builder-grade flush mount lights with ribbed glass or made for fluorescent bulbs. But that's not the case anymore.
Flush mounted and Semi-flush mounted light fixtures are not only made better, but they also come in decorative options.
When searching for close to ceiling lights, numerous options appear, providing many choices for a small kitchen with a low ceiling. You'll want to be sure to meet or exceed the number of lumens for your size kitchen to be sure the additional light creates a loftier space.
Best Kitchen Lights For Low Ceiling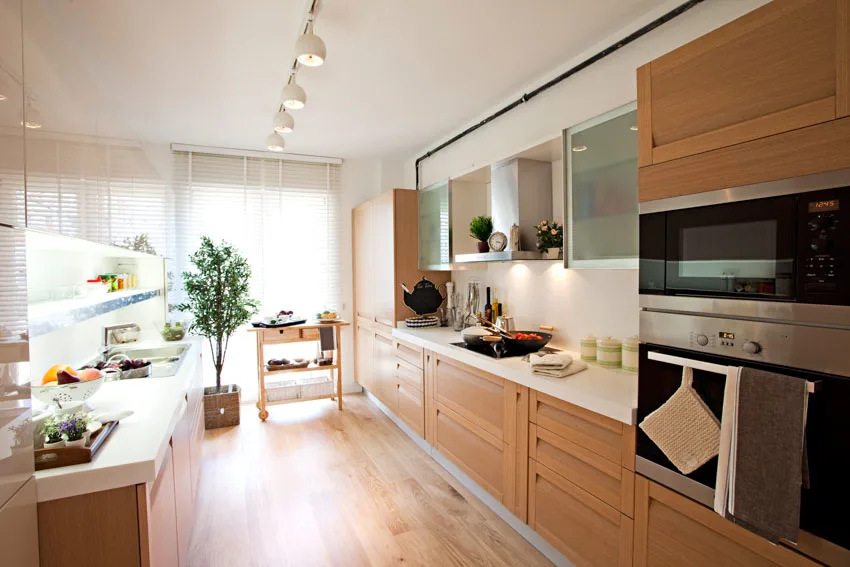 One of the most efficient lighting options for a kitchen with a low ceiling is recessed lighting. These light fixtures sit almost flush with the ceiling and can be positioned around the kitchen where needed most.
Recessed lighting gives the kitchen a finished look while providing plenty of light when positioned evenly. Compared to canned lighting popular in the 90s, recessed lighting fixtures provide a brighter ambiance and a wider light beam span.
The result is an evenly illuminated kitchen creating an efficient workspace.
Can I Put A Pendant Light On A Low Ceiling?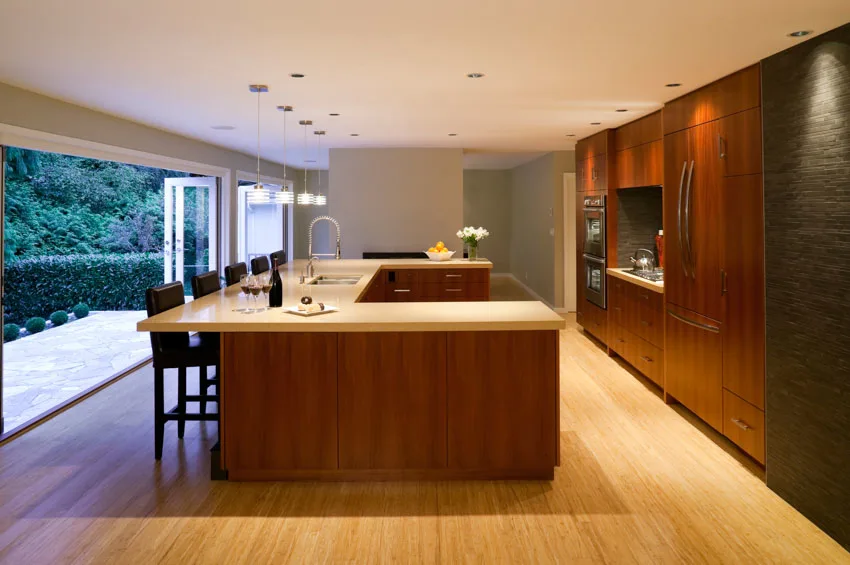 Pendant lighting can still work in a kitchen with a low ceiling with a bit of creativity. The basic measurements state a pendant light should hang 12-20 inches from an eight-foot ceiling.
For taller ceilings, 3 inches are added for each additional foot. Pendant lights work perfectly in a corner behind a seating area or hung over a breakfast nook for lower ceilings.
Artistic types of pendant lights not only provide lighting, but they also add interest to your interior décor.
There are pendant lights with short extensions, so they hang only inches from the ceiling. Many are made with a bar from different materials where the lights are attached.
Some examples include a brass bar with a number of old-time light fixtures that resemble lanterns. Placed in a row, evenly spaced, they provide concentrated lighting for areas of the kitchen where more light is needed.
How High to Hang Pendant Lights
When hanging pendant lights, measure the length using these guidelines:
• Living Room: 5 to 7 feet above seating areas. People need room to sit and stand without bumping the fixtures.
• Dining Room: 28 to 32 inches above the tabletop to create enough space for headroom.
• Kitchen Island: 28 to 35 inches above the top of the island. The bottom of the fixtures should be above shoulder height.
Pendant lights for low ceilings provide more light dispersion when made from clear glass. Look for designs that are all glass or have a thin frame.
They also make a great focus light over a kitchen island or sink area combined with recessed lighting throughout the kitchen.
Due to safety concerns, it's not recommended to hang pendant lights over stoves or cooking areas. High lumens recessed light is best for cooking areas.
How To Make A Low Ceiling Kitchen Look Bigger?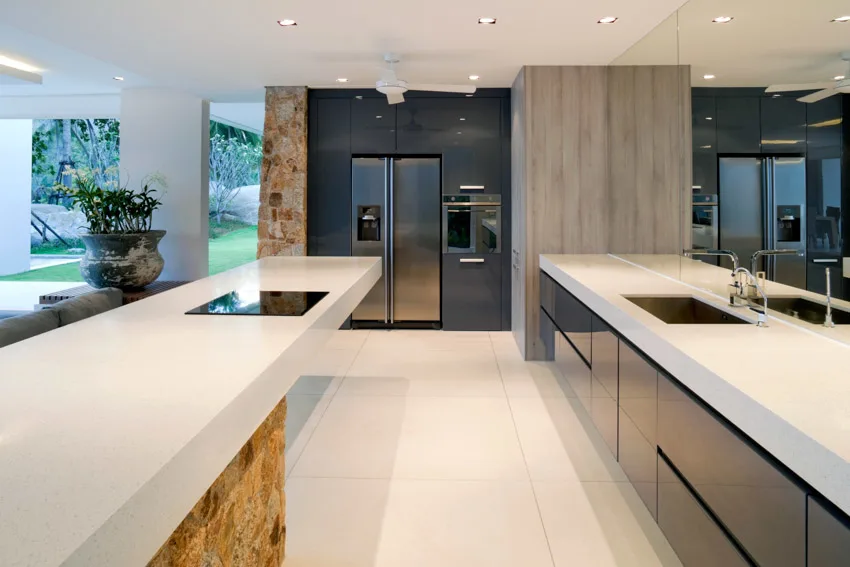 In addition to lighting, there are several other techniques for making a low ceiling kitchen look bigger.
• Ceiling Paint: Always use a color lighter than the walls, such as white. Or, paint the ceilings a few shades lighter than the walls and extend the color down the walls by one or two feet.
This technique continues the color downward, creating an illusion of the ceiling being higher.
• Floor Lamps: Floor lamps, in addition to ceiling lights, provide more illumination, and when they are pointing up towards the ceiling, they create more height in the kitchen.
• Wallpaper: Use wallpaper with vertical designs or stripes to raise the look of the walls.
• Window Curtains: Hang window curtains flush with the ceiling to cover dead space and down to the bottom of the window.
Always remember, a low ceiling can work and even appear higher when you take the time to plan and decorate with the ceiling height in mind.
See more related content in our article about shiplap ceiling on this page.