See beech countertops including butcher block style countertops, a comparison between beech vs oak, and some ideas of why beech wood makes a good countertop material.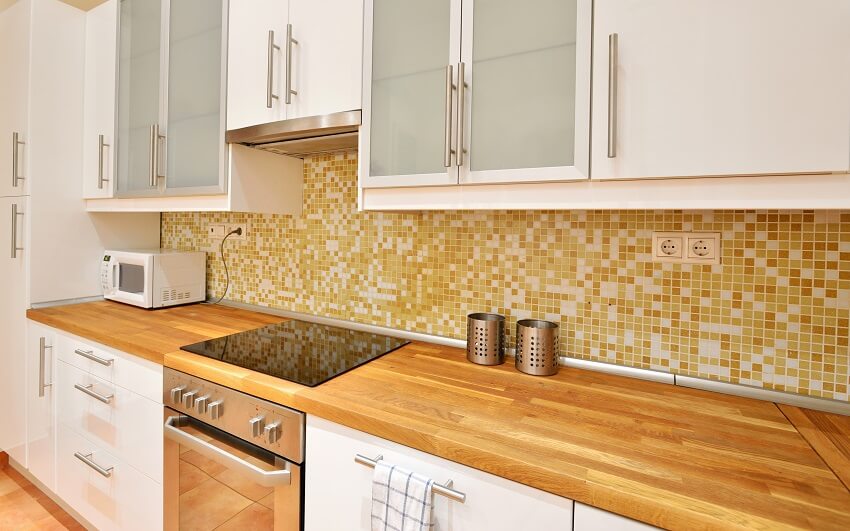 When you're remodeling your kitchen or just looking for a change, a new countertop can really shake things up. Not only can it change the way that your kitchen looks but you can take the chance to take advantage of further benefits that new or novel materials might introduce to your home.
With so many options out there, though, it can seem overwhelming to learn about all your choices. Here, we'll take a moment to break down everything you need to know about one tried-and-true but elegant option: beech countertops.
What Is Beech Wood?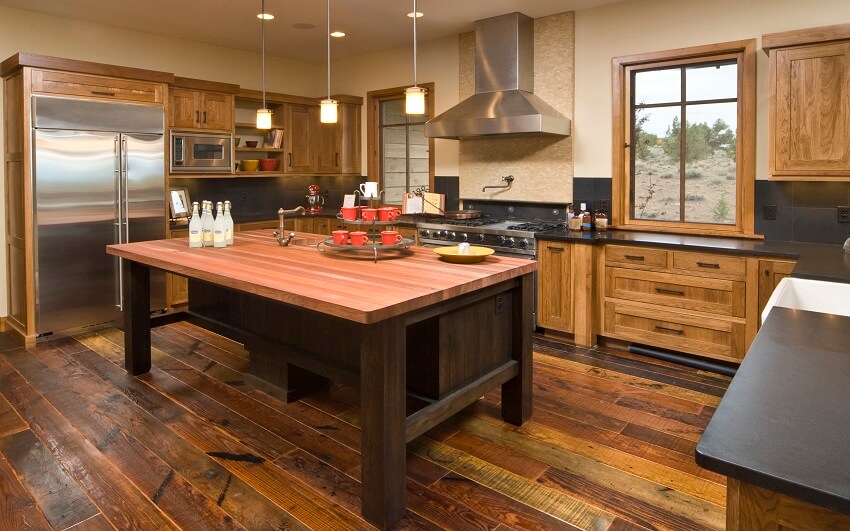 Beech wood isn't currently uncommon in many homes. Aside from countertops, it's a type of wood that's often used in furniture, cabinets, flooring and more. It's also often incorporated into other items such as handles on tools or even the wooden spoons you have in a drawer in your kitchen.
As for appearances, beech wood usually has a slightly red or brown tone to it. The wood grain itself is typically rather straight and uniform. It is considered one of the lightest and smoothest hardwood types that you can use.
We've already covered the aesthetic appeal of beech and, luckily, you won't have to put in a lot of work to maintain them. In addition, beech is a very hard wood, making it a strong choice for any purpose.
On the other hand, beech is heavy, so you'll have to account for the weight. As a countertop, this usually doesn't cause much of a problem.
Since beech absorbs water, though, you won't want to leave any spills sitting for long to avoid issues. This means it isn't suited for outdoor applications either.
Finally, you'll want to consider the cost. Beech is typically a more costly type of wood at about $40 to $45 per square foot for a beech butcher block countertop, for example.
Beech Countertops Pros and Cons
Just like anything else, beech has its pros and cons as well. To weigh your options and check out if beech countertops are the ideal choice for your home, let's start with the advantages you can enjoy from using beech countertops.
Pros
Elegant appearance – beech countertops have a great appearance primarily due to having uniform grain. With its uniform grain, it results in a fine and straight texture, giving a consistent look to your kitchen.
Its glossy and smooth appearance adds to the kitchen's charm and glam. And its elegant red and brown tone gives it a warm and welcoming vibe and adds character to the kitchen.
Strong and durable – Beechwood is a very tough and durable material (1300 on the Janka hardness scale), making it an excellent choice for countertops. A little harder than red oak, it can withstand heavy loads and is resistant to shock, as well as not vulnerable to scratching and scarring. These factors make beech countertops great for areas with high foot traffic.
Odorless – Beech countertops do not have a smell, making them a good option for common areas and even the bedroom.
High flexibility and workability – Beechwood can easily be customized to any shape and style, making it flexible in terms of design, including countertops.
Versatile placement option – With its durability, beechwood can be installed in different areas of your home, in your kitchen as countertops, and even in the living room as flooring (And yes, even with heavy foot traffic!). One area you should avoid its installation is the bathroom and other moist areas.
Low maintenance – Beech countertops require less maintenance compared to other hardwoods but it is important to make sure you do so in order to keep their best quality and increase their lifespan.
Cons
Besides these incredible benefits that could convince you to install beech countertops in your kitchen, there are also drawbacks you have to accept that come along with it. Some of these disadvantages that you should know about include the following:
Heavy – Beech countertops are incredibly heavy since they are naturally dense. This is a consideration you have to prioritize when installing it in your kitchen but you don't need to worry since beech countertops do not cause much issue when it comes to this.
Not for exterior – Since beech wood cannot withstand dust and weather changes, it is not a good material for anything exterior. With beech countertops, it would be a great decision to keep them in the kitchen indoors.
Staining difficulties – If you are looking for countertops with a color different from beech wood's natural hue, you might as well choose a different type of wood.
Beechwood is difficult to stain and whatever the color that beech wood may have, that's the color of your countertops. Lighter dye stains have a chance of working but darker ones don't.
Weak with moisture and absorbs water – Beech countertops absorb a lot of moisture fast, which is why it is not a good option for the exterior in the first place. This might be an issue for beech countertops so make sure to wipe down spills to avoid these issues. And you can also use paints and polish to seal the material and prevent moisture.
With the tendency to crack and warp – Cracking and warping tendencies result from its characteristic of absorbing moisture fast. Just like in avoiding moisture issues, the solution is to use paint and polish on the surface and to keep it dry at all times.
Expensive – Beech countertops are more expensive compared to other types of wood since they need regular care and maintenance.
Is Beech Wood Good For Countertops?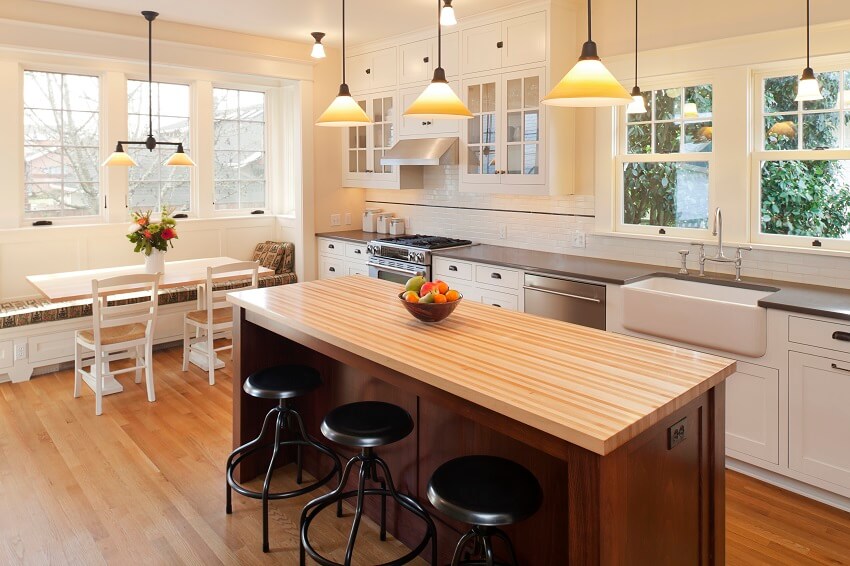 Of course, one of the first questions that you might have when it comes to beech wood is whether it's a good option for your countertops. Fortunately, beech wood is used fairly commonly in countertops for good reason.
First of all, beech wood is dense. This offers a few advantages but the biggest one is durability. You aren't going to damage your beech countertops easily and they can even handle some more high-impact activities such as using a knife directly on the countertop.
This is great news for a countertop, especially in a high-traffic area like a kitchen, since it offers you some longevity.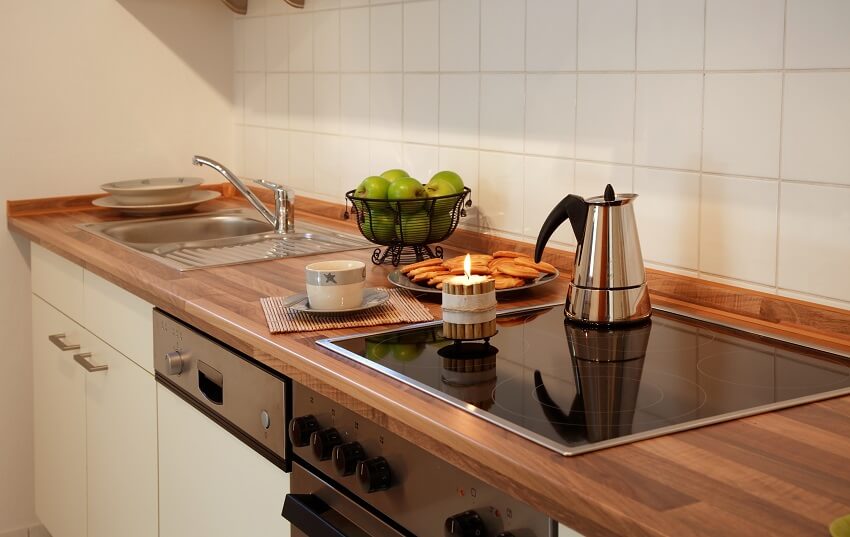 On top of that, beech is great for its versatility. As we've mentioned, beech wood naturally has a reddish-brown undertone.
However, if you don't like that specific appearance, it's a type of wood that takes well to different finishes, making it easy to adjust to suit your personal tastes and fit the design theme of your kitchen.
Solid beech wood slabs offer beautiful grain patterns and are available with live edge designs that make a big impression on main kitchen countertops or islands. Beech wood has a medium strength overall with a Janka hardness rating of 1300 which is most similar to ash wood.
Beech Butcher Block Countertop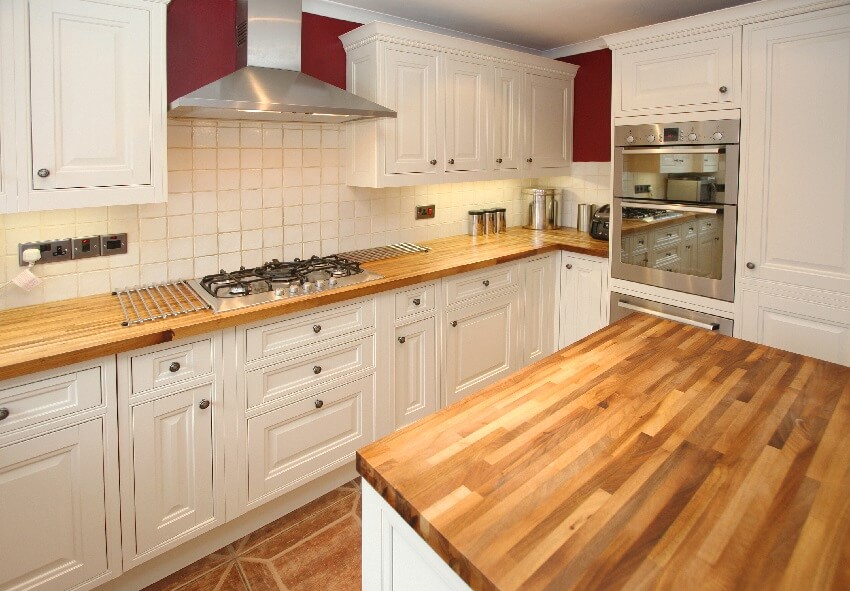 The first thing to answer here is defining exactly what a butcher block countertop is. It's a term that relates directly to wood countertops, although they don't necessarily have to be made of beech, specifically.
The defining feature of a butcher block countertop is when the countertop is made with straight cuts and laid out as a large, thick slab. These offer a variety of benefits. For one, the single piece of wood is dense and works well as a more stable, steady work area in your kitchen.
These types of countertops do more than just offer the benefits of a regular countertop, though. They're made to accommodate whatever the homeowner might need the countertop for including anything from the regular run-of-the-mill use to use in lieu of a cutting board and even as a table for serving.
Since beech wood has no odor or taste it makes an excellent countertop material. For this reason this type of wood is frequently used as containers for liquid and food.
One of the main things to consider when you're thinking about a butcher block countertop made of beech or any other material is maintenance.
After all, if you're preparing or chopping food directly on your countertop, you'll need to be extra careful when it comes to keeping things clean and tidy.
Is Beech Wood Good For Butcher Block?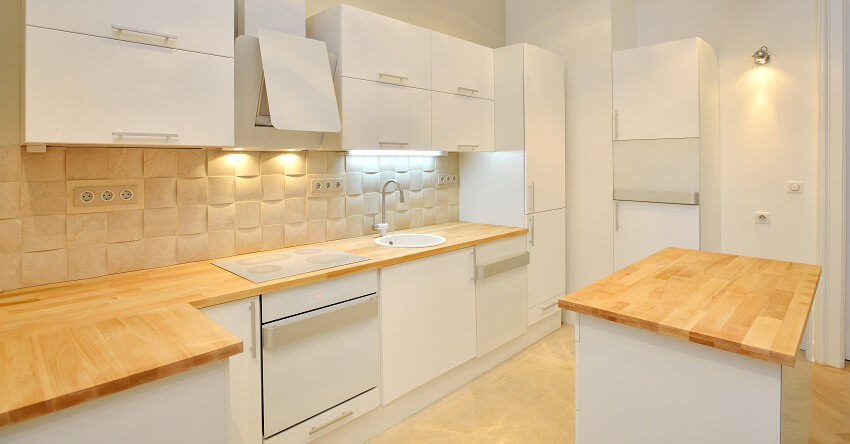 So, with this definition in mind, what does this mean for beech wood countertops? Is beech wood a good choice when it comes to choosing a butcher block countertop?
The great news is that it's actually a great option! As we covered earlier, beech is a strong and durable type of wood and isn't easily going to damage by something like using a knife on it. Read more about the most durable kitchen countertops here.
This makes it a great candidate when you want a butcher block countertop that will be easier and quicker to work on as you prep food or beautiful enough to gather around when you want to serve the dishes you've crafted.
Beech Vs. Oak Countertop
A common alternative choice to beech countertops is oak countertops. So, how do the two options compare? It's worth noting that when it comes to countertops, white oak is far more common than red oak.
This is because while red oak is handy in many applications, its porous nature can cause some problems as a countertop. As such, we'll take a look at a comparison between beech and white oak specifically.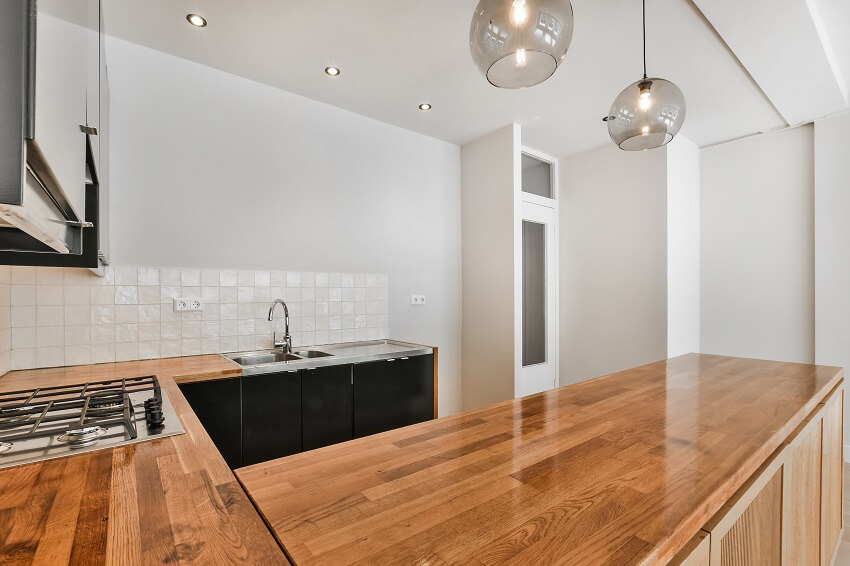 The good news is that both oak and beech have plenty of benefits. We've already discussed some of the best features of beech for your countertops including its strength and durability.
Beech is also great as a countertop since it's good at handling sharp objects it might come into contact with as a countertop such as the edge of a knife.
Oak, on the contrary, is hard but not quite as hard as beech is, putting it at a slight disadvantage. Still, it will hold up well under the standard, everyday use of your kitchen countertops.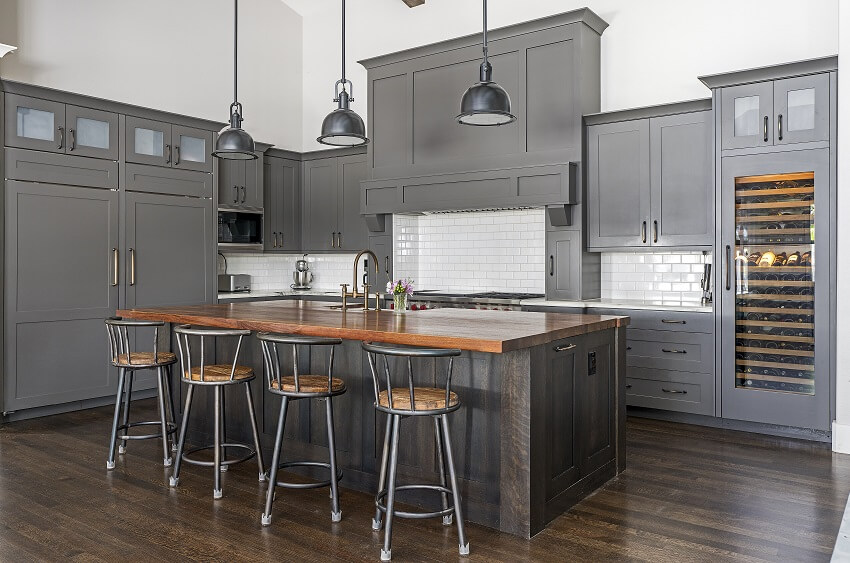 When it comes to white oak, it's also beneficial if you want a cooler rather than warmer undertone to the wood. While beech has a red undertone, white oak often features a gray or even blue undertone. Yet, as previously mentioned, beech is easy to stain and finish to fit your purposes!
Beech countertops are not common but they are also not that rare in many homes. There is a variety of wood types that you can choose for your countertops, it's just a matter of matching them to your needs and preferences.
Visit our guide to wood kitchen countertops for more related content.