See backsplash with oak cabinets including the best color options and the different ideas you should consider for your kitchen design.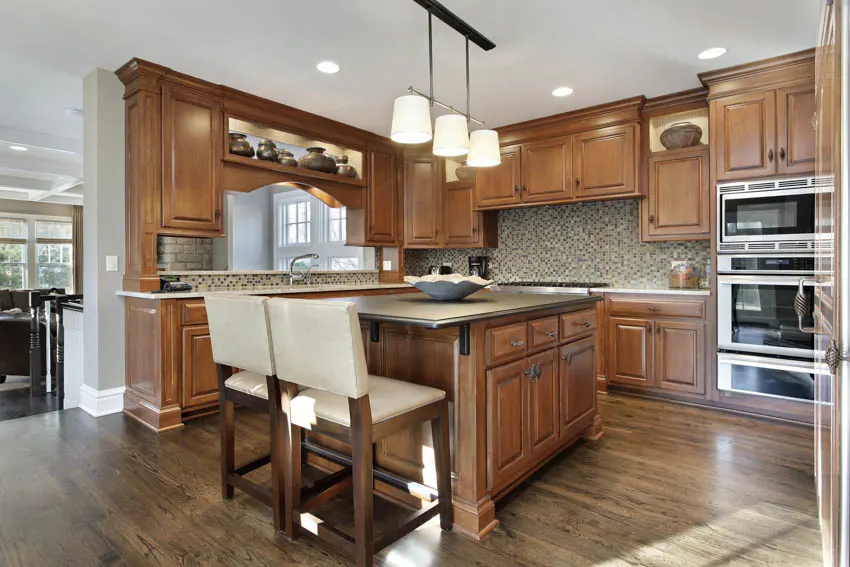 A backsplash has both functional and decorative properties and, when paired with oak cabinets, can have a major impact on the overall design of your kitchen, bathroom, or workspace.
Backsplashes protect the walls of your kitchen, bathroom, or work area from splashes and stains. The design options include tiles and sheets of various materials.
When choosing this kitchen fixture, it is vital to consider the other major design elements in the room. Perhaps no single element interacts as closely with the backsplash as your cabinets.
Cabinets come in all styles and materials, but one of the most popular and enduring cabinet materials is oak. The species owes its popularity in cabinetry to its exceptional strength and durability, along with a beautiful natural grain that readily accepts stain.
Learn about the difference between types of oak and what backsplashes go best with dark or light countertops and wooden cabinets.
Backsplash Ideas For Oak Cabinets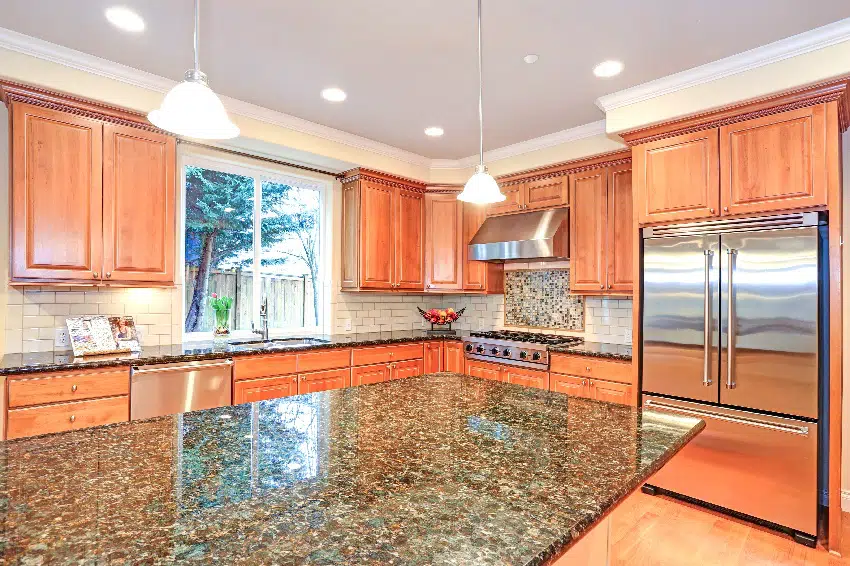 The shades of oak wood may vary and range from light to dark, but overall, their trademark is their warm, golden undertone. Oak wood is also primarily brown and since it is a neutral color, it is very versatile and can easily match with other colors.
Before you decide on the material, style and color of backsplash to go with your oak cabinets, you first need to decide on what visual effect you want to achieve for the space. You can either blend your cabinetry with your backsplash material or accentuate it and create contrast with the rest of your color palette. Ultimately, the design attribute that you want to stand out will direct you to the right backsplash colors to choose.
Because oak wood has a warm undertone to it, cool colors and neutrals with cool undertones contrast well with it. Therefore, if you want to accentuate your wooden cabinets, opt for backsplashes and materials that are gray, white, blue, purple or green. This results in an overall dramatic effect for the space.
While, if you want to create harmony in the space, pair oak cabinets with warm colors and neutrals that have warm undertones. Beige, cream, brown and greige will help downplay the warmth of the wood and will help tone it down. The warm honey tone of the timber blends very well with these colors and creates a very seamless transition.
Choosing Backsplash For Oak Wood Cabinets
The distinct warm, golden hue of oak wood is what makes it one of the most favored kitchen cabinetry materials in traditional kitchens. Extremely popular during the 1970's to the early 90's, oak wood cabinets became the trademark of American kitchen design and until this day, its signature look continues to be updated to fit into a more contemporary setting.
To make sure that you highlight the inherent beauty and color of oak cabinets, it is important to pair them with the right colors and backsplash materials. A backsplash can easily enhance tone down your cabinetry and affect the overall feel of the space.
The first step in choosing the best color backsplash that will go well with oak cabinets is to know what variety you're working with, as it can have gray, yellow, or red undertones.
The second step is to check the other major design elements in the room. What color are the floors, walls, and countertops?
Once you've established the undertones of the wood and the other colors and textures in the room, you can use color theory to complete the design scheme and find the best color to pair with your oak cabinets.
If the different types of kitchen countertops or floor and oak cabinets have the same color undertones, you may choose a backsplash in the same color family to create a monochromatic color scheme.
However, if the colors are already contrasting, you might want to choose a neutral color. Read more about individual kitchen paint colors that go with oak cabinets here.
Best Color Backsplash For Oak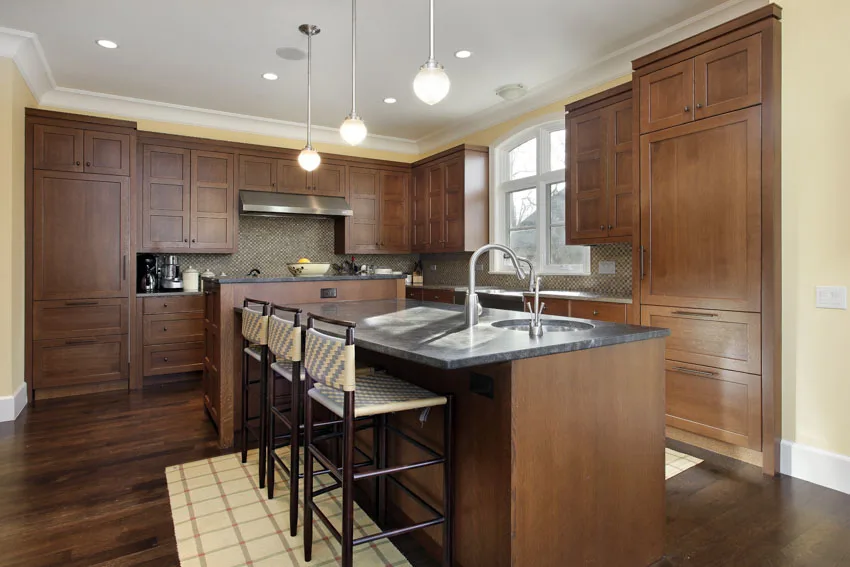 Here are some of the best backsplash colors to pair with oak kitchen cabinets.
Colors that Blend

These backsplash colors will help tone down the warmth of oak cabinets:
White – White is a very versatile backsplash color which can be paired with any type of wood cabinet. When paired with oak cabinets, white backsplash tiles offer a crisp, clean look. The advantage to using a white kitchen backdrop is it can easily match with any type of accessories and appliances. It will not clash with any color, and it offers a timeless look that fits perfectly with any style of wood.
Beige – Beige is another versatile neutral that pairs perfectly with oak-hued cupboards. The color beige shares the same color temperature as the wood, and both have a warm yellow undertone to them. A beige backsplash can easily complement these wood tones and can produce a harmonious overall color palette. This combination can help make a kitchen feel more inviting and welcoming.
Cream – Cream is another "feel good" color that matches well with oak-toned cabinetry. Compared to beige and white, cream is a warmer shade with butterscotch yellow undertones. A cream-colored backdrop offers perfect balance and neutrality because it won't camouflage the yellow tone of oak wood and wont accentuate it either. Together, this warm pairing produces a space that is naturally inviting and cheery.
Greige – If you want to create a space that is equally warm and cool, try pairing this cabinetry with a greige backsplash. Considered to be a new neutral, greige combines a subtle cool gray base with a warm beige undertone. This is one of the best backsplash colors to pair with light oak cabinets, as it produces a very well-balanced color palette.
Colors that Contrast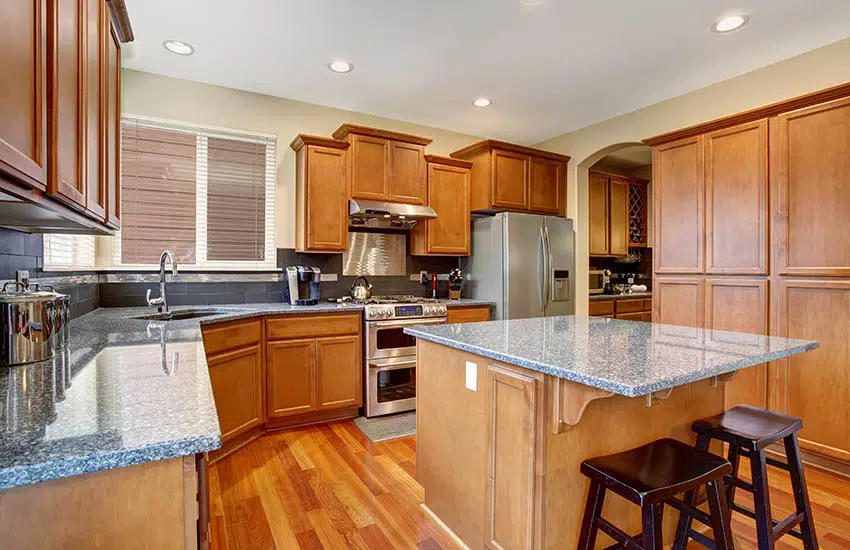 These backsplash colors will help accentuate oak cabinets:
Green – One of the best cool colors which can help tone down the warmth of oak wood cabinets is green. Because this variety of wood has a warm yellow undertone to it, any cool hue will contrast well with it. When paired together, this wooden cabinetry and a green backsplash produce an organic vibe.
The final look that is created in this versatile color pairing will depend on the intensity of green you are using for your backsplash.
Darker shades, such as olive green will help render a luxurious look for the space. Whereas a lighter shade of green, like mint can easily give out a refreshing feel. Muted shades of green like a sage colored backsplash will help give these cupboards a more updated look.
Blue – Another cool hue that contrasts really well with yellow tone wood is blue. Regardless of the intensity of the color — whether it is a dark rich shade of navy blue, a muted blue gray or a light powder blue hue, shades of blue bring in a refreshing pop of color that can enhance the kitchen cabinetry.
Gray – A light shade of cool gray also pairs really well with oak kitchen cabinets. The subtle hue of gray literally functions as a neutral when combined with yellow tone d woods because it will not blend with it, but it won't highlight it either.
A gray backsplash also offers a nice transition and can help tie a color palette cohesively, especially if the appliances used are stainless steel.
Here are some other color pairings you can try for oak cabinets and backsplashes:
Monochromatic Colors – A monochromatic scheme can be created by layering various shades of one color into one room. Since the prevailing color of oak cabinets is primarily brown with a yellow undertone, you can opt for other tints and tones of browns for your walls, countertops and backsplashes.
Choosing one to two shades lighter or darker is perfect and produces a well-balanced color palette. Any shade of brown, will bring out the warm undertones of the wood-hues.
Neutrals – Neutrals will always be the safest bet in decorating. Combining oak cabinets with any neutral-colored backsplash such as white, beige, gray or even brown will always work.
The best thing about pairing this cabinetry with neutral-colored backsplashes is that you can easily introduce other pops of color into the space.
Complementary Colors – Complementary colors are colors which are found directly opposite each other in the color wheel. This is the way to go if you want a bold look for your space.
Since oak cabinets have a yellow undertone to them, shades of purple like lavender, lilac, plum, sangria or wine are complementary colors that you can use as a backsplash color.
Analogous Colors – Analogous colors are groups of three colors next to each other in the color wheel. Analogous color schemes are harmonious because they have undertones that are common — for example, yellow, yellow orange, and orange all have yellow in them.
This color scheme is perfect in creating a more upbeat and updated space. For oak-shaded cupboards, you can try an orange-colored backsplash to match its yellow undertones.
Backsplash With White Oak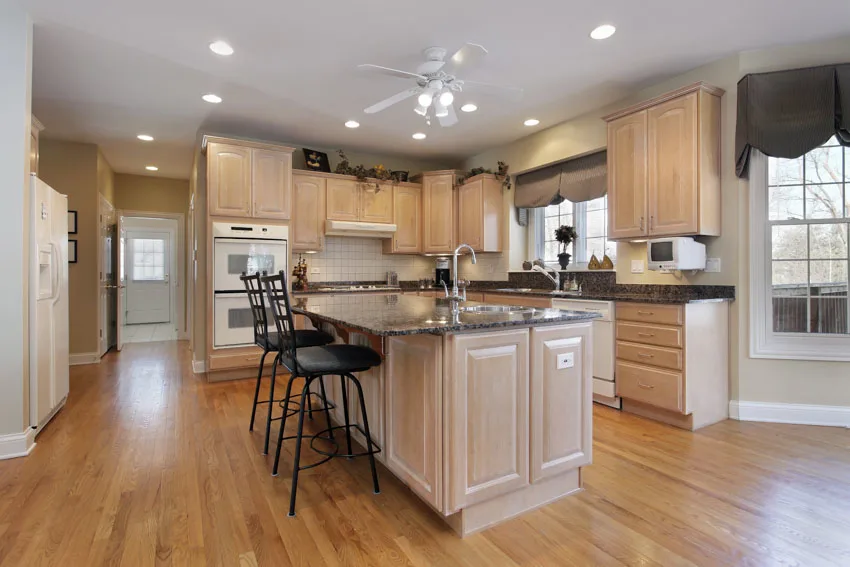 White oak cabinets are a delicate, pale beige color, and act as a neutral in your design scheme.
This gives you the freedom to go bold regarding your backsplashes. Consider a sunny yellow subway tile or a slick sheet of bright red acrylic.
Backsplash With Red Oak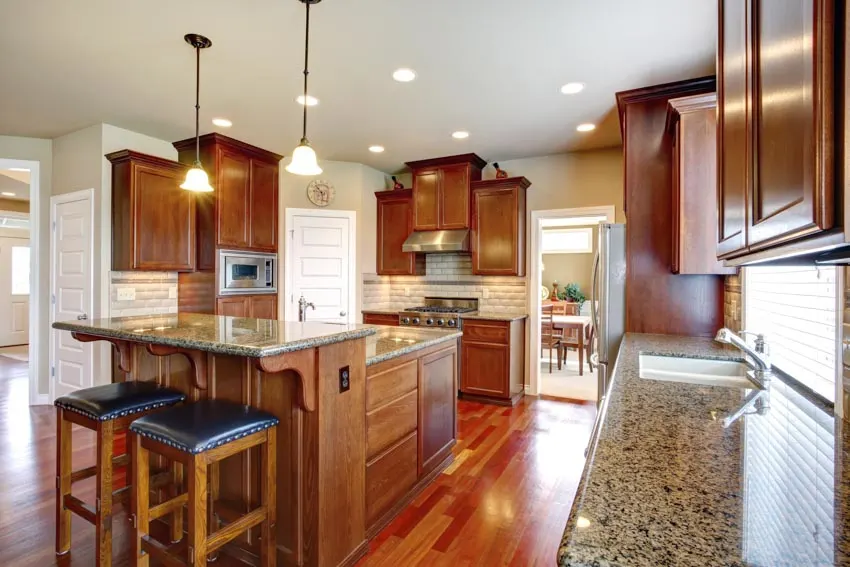 Red oak cabinets have ruddy undertones that can work with a variety of backsplashes. Avoid neutral-colored options, as they won't enhance the beautiful color of red wooden cabinets. To bring out the red hues, look for berry and fruit-colored tiles.
Another design strategy for red oak cabinets is to use contrasting colors. Purple or green backsplashes with bluish undertones marry well with this cabinetry.
Backsplash With Honey Oak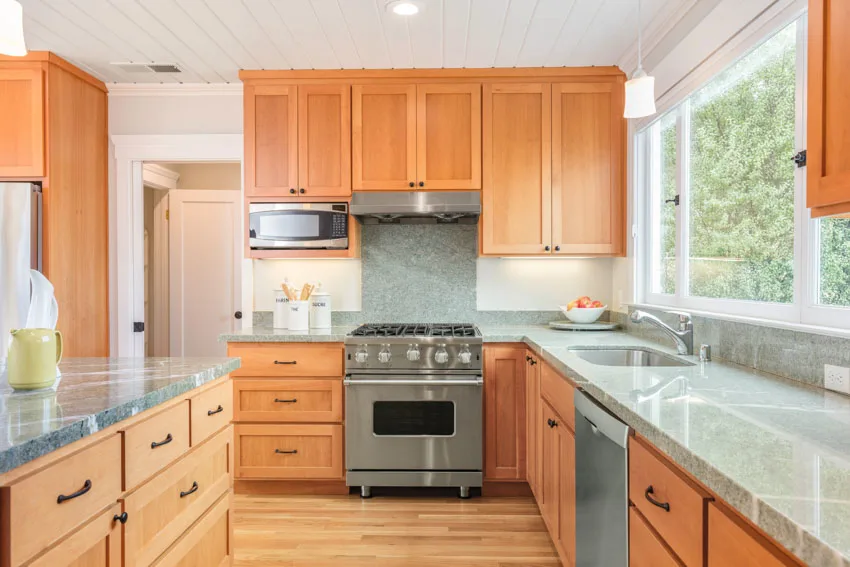 While honey oak cabinets are extremely popular, there are no species of tree known as honey oak. Rather, honey refers to the color of the cabinet. Honey oak cabinets have a warm, golden hue.
To feature this glowing presence without working against it, consider neutral paint colors that go with honey oak for your backsplash, such as beige, gray, or off-white. You could also pair honey toned cabinetry with a warm, buttery, yellow option.
Oak Cabinetry and Dark Countertops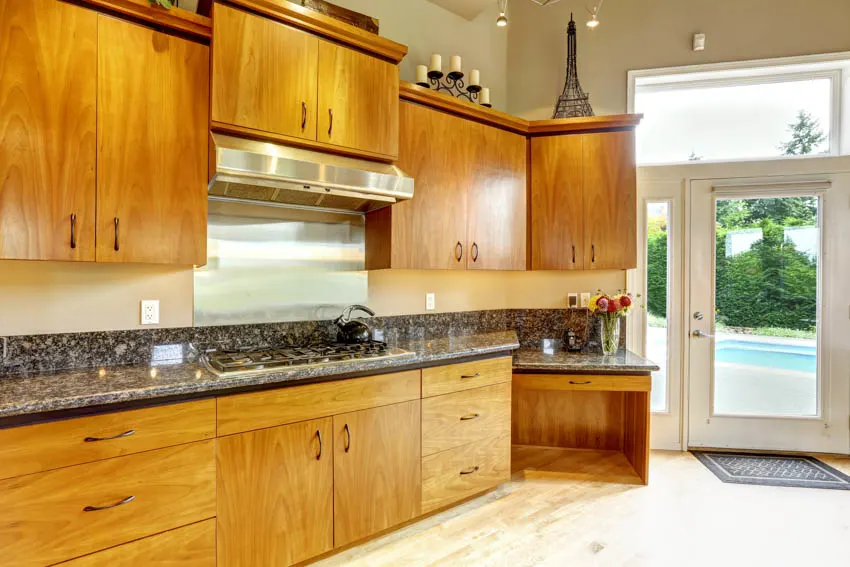 If you plan on pairing oak cabinets with dark countertops, it is best to stick with light colors for the backsplash to balance out the overall palette of the space.
Light neutrals like beiges, cream, white and gray are also some of the best backsplash colors to try out if you have dark colored countertops like chocolate brown and black. These combinations render contrast and help add depth and dimension, resulting in a dramatic visual effect.
Light shades of brown can also be used if you have dark brown countertops. Choosing a shade lighter for the backsplash creates a nice transition between two materials and produces a very harmonious overall look. The color brown, in general, is one of the best colors to use if you want to create a monochromatic effect.
If you have black countertops paired with oak cabinetry, you can go with a cool gray backsplash with black accents.
Most backsplash materials like tiles and natural stones have black streaks and designs that match cohesively with a black-colored countertop. These pops of color are perfect, especially when paired with matching hardware and kitchen accessories.
You can use your backsplash to tie the room together when you have existing dark countertops and these wooden cupboards. A dark backsplash can go with dark cabinets, but you need a lot of natural light.
Tile laid in an ombre pattern can be used to transition from dark colors near the countertop to lighter colors as the backsplash moves up the wall.
Oak cabinets and dark countertops can create a heavy, almost gloomy feel, especially in small spaces. In this case, off-whites, grays, and yellows can be used to brighten up the space, while still pairing well with this kind of cabinet.
Oak Cabinetry and Light Countertops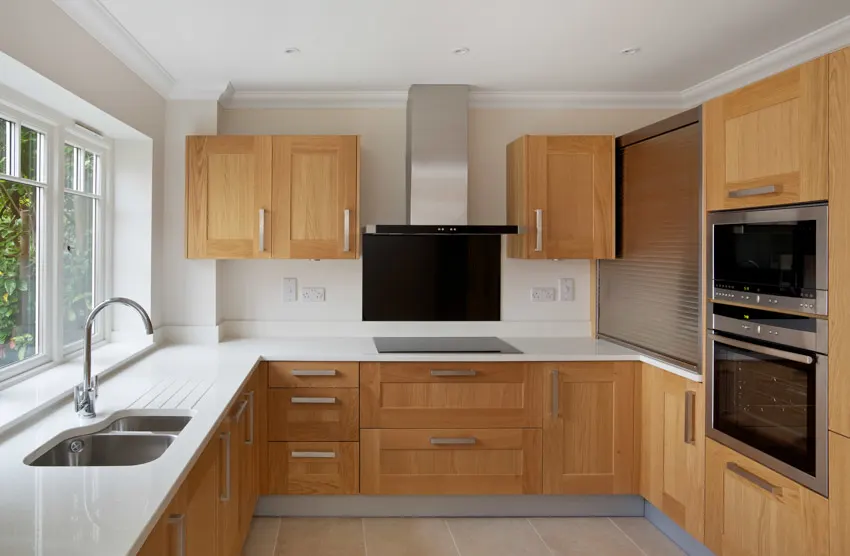 For kitchens with oak cabinets paired with light countertops like beige, white, light tan or light gray, opt for any light colored backsplash.
Alternatively, you can use a backsplash the same color as your countertop for a more seamless look. This color combination will work regardless of the shade of your oak cupboards — whether it is light or dark.
Pairing this cabinetry with light-colored countertops and backsplashes will make the space look more open and airy. This is also one design trick you can use if you want to update the look of oak cabinets and make the space look more contemporary.
This cabinetry and light countertops present a fairly neutral design scheme, giving you many options for coordinating or contrasting backsplashes.
For a contemporary feel, a sheet of glass makes a sleek backdrop. Or, introduce texture into the space with a stamped faux metal backsplash. These cabinets can pair well with backsplashes of all materials.
What Does Oak Wood Look Like?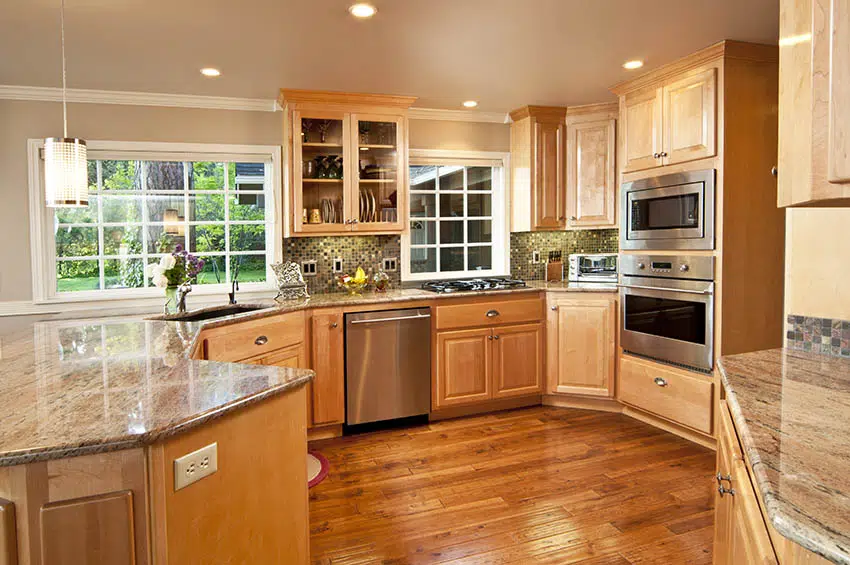 Oak is generally classified as a yellow-toned wood. It has a distinct graining pattern and varying undertones which can range from beige to gold to tinges of red pink, orange and rich amber. This wood species has about six varieties with White and Red Oak as the most commonly used in furniture making.
White varieties tend to have a light beige to brown color while Red varieties have a rosier undertone. This color change is attributed to the part of the tree the wood comes from. The sap is usually lighter in color than the core.
Oak wood can be treated with different finishes, and it takes stains very well. If applied with a coat of wood stain, the wood will receive different undertones, which are different from its original color, giving it a wider color range.
Best Kitchen Backsplash Ideas With Oak Wood Cabinets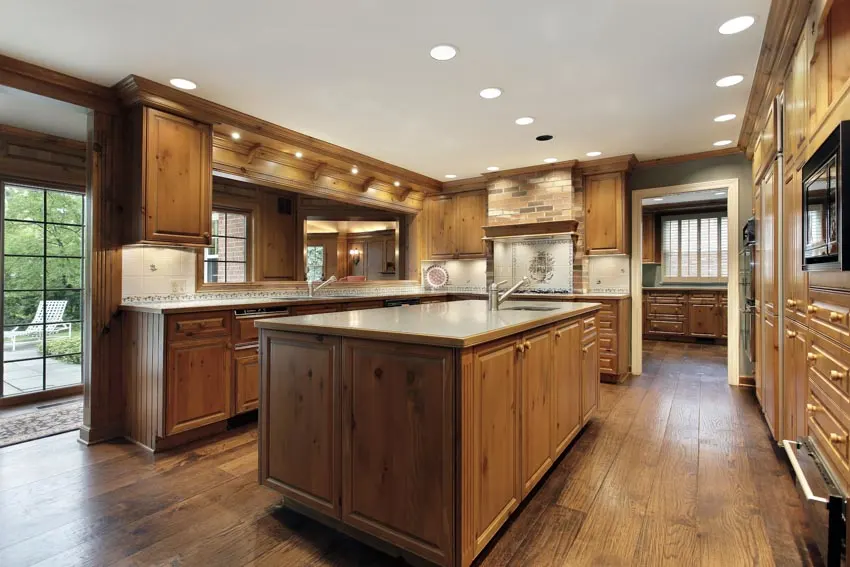 Oakwood cabinetry will likely outlast every other design element in your kitchen thanks to its strength and durability.
One of the best and least expensive ways to update your kitchen without spending a fortune on cabinets is to change the backsplash.
Backsplashes come in all colors and all materials. Tile is the most popular material for backsplashes and can be made from ceramic, glass, metal, or stone. Sheets of glass, acrylic, and metal can also be used to create different types of backsplash.
Standard backsplashes are about four inches tall, measuring from the top of the counter. A full-height backsplash covers the span of the wall between the countertop and the upper cabinets.
Either choice can work well with this material. If you choose a standard backsplash, make sure the paint on the wall coordinates with your overall color scheme.
One of the best kitchen backsplash materials to pair with oak cabinets is faux stone veneer. Stone veneer meshes well with the natural visible oak-grain and adds texture to your kitchen.
However, it is porous and vulnerable to staining, so you may want to make another choice in the area of your stove.
A kitchen backsplash made of glass tile will reflect light around the room, which can help brighten up kitchens with cabinets made of dark wood.
If both the countertop and cabinets in your kitchen have a visible pattern, such as the wood paired with marble countertops, it's generally best to avoid introducing a third pattern on your kitchen backsplash. Stick to solid-colored, plain tile.

If you have stainless steel appliances, one way to make your cabinetry made of this wood-tone stand out is to use a sheet of stainless steel as a backsplash.
Stainless steel backsplashes help the appliances blend into the background, allowing your oak cabinets to take center stage.
See more related content in our article about oak wood flooring on this page.