See our kitchen countertop ideas with oak cabinets including the best colors to use, types of granite, quartz & marble countertops, and matching with light oak cabinets.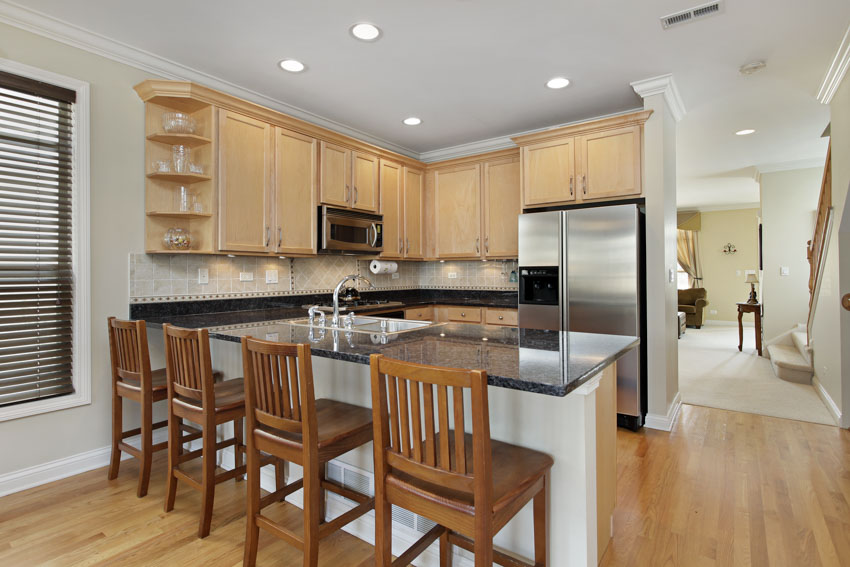 Oak cabinets have been around in kitchen design for the longest time. It has become a bit of a staple because oak is a type of wood with a fairly neutral color. It is extremely durable. and more importantly, it is timeless and a veritable classic. But as great as oak cabinets are and always will be, the challenge has always been to figure out what countertops will go well with them.
Oak cabinets are notorious for being difficult to match, not just with paint colors for the rest of the kitchen, but specifically with countertops. So as much as they look great on their own, without a countertop that perfectly complements it, it still won't end up being a real asset or feature in your kitchen.
What Color Countertops Go With Oak Cabinets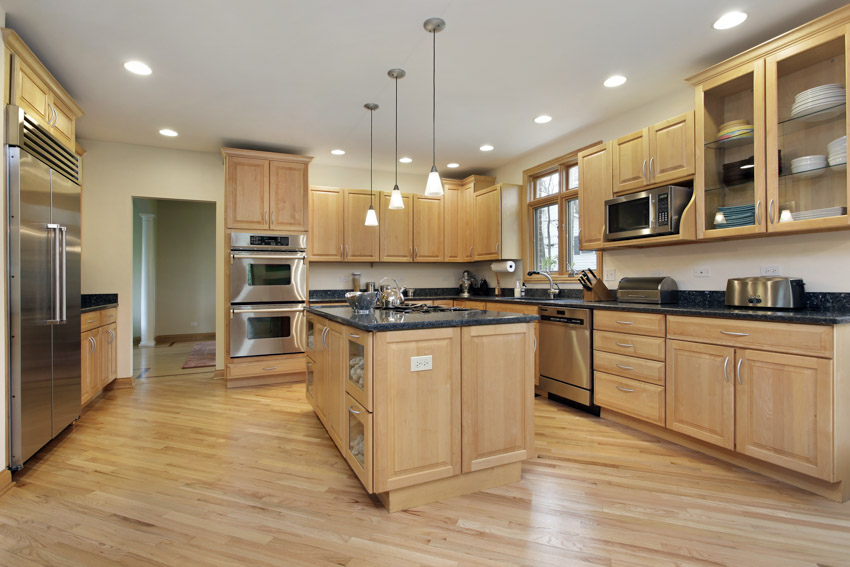 Depending on the countertop you choose, it can make your kitchen space appear a little outdated if you're not careful. Here's a helpful guide on figuring out which kitchen countertop will work with your oak cabinets at home.
Plain White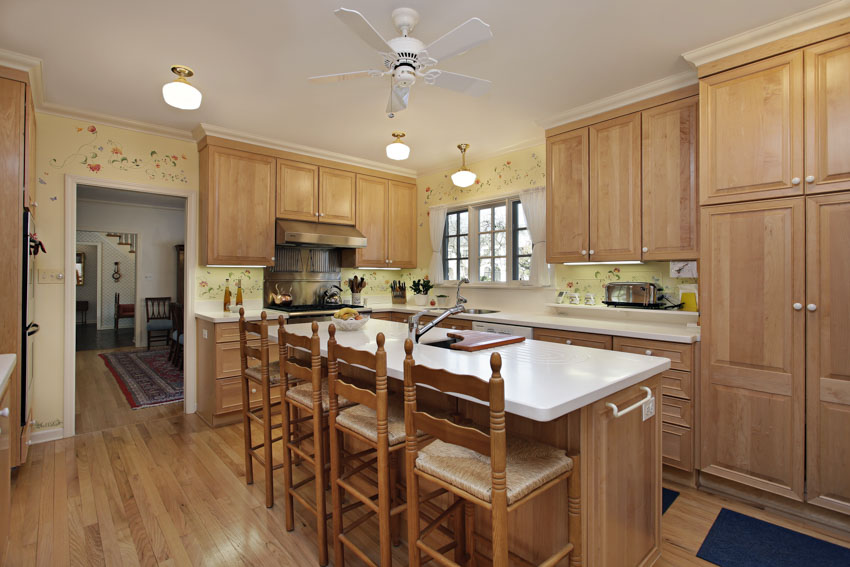 The typical rule of thumb in interior design is that white usually goes with everything. And that rings quite true when looking for countertops that you can pair up with your oak cabinets as well. The two of them put together can look absolutely stunning and this can be to your advantage.
The thing with oak is that its wood grain is highly unique and characteristic. Although it looks great if you zoom in on it, as a cabinet, it has the tendency to appear somewhat outdated. A plain white countertop can easily balance that out and modernize the look and feel of your kitchen space with the combination they create.
Plain white countertops are clean and minimalist. They create a kitchen space that encourages the vibe of being unencumbered by clutter. They also magically make your kitchen space appear brighter and airier, perhaps even bigger than its actual size.
Marbled or Veined White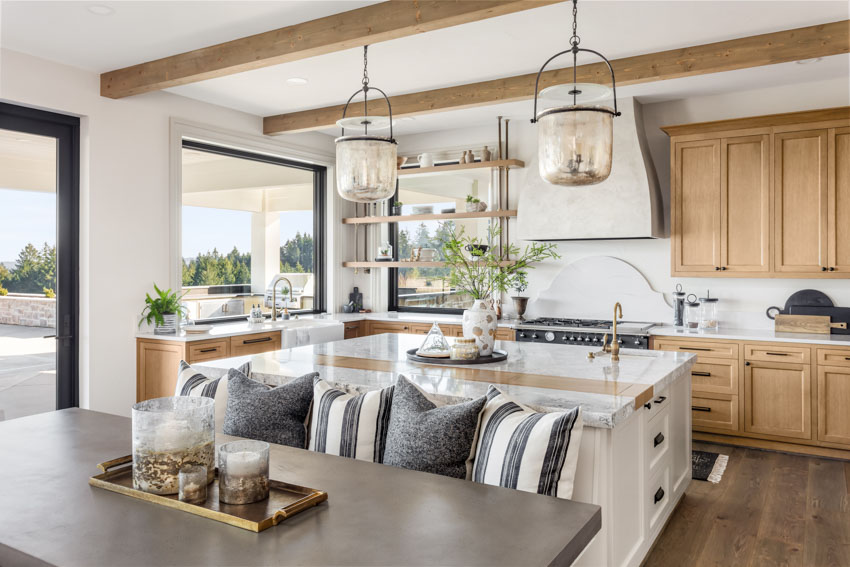 If you want to create something a little more opulent or something with a touch of premium or elegance, you can opt for veined or marbled white types of kitchen countertops.
Although it has a little bit more character and personality, it's still technically pretty much a neutral. It can also pair up with literally any type of cabinet color and texture you can think of – and that includes oak. It's bright. It looks expensive. And it brings in a certain level of sophisticated to your overall kitchen look.
Instead of going with marble stone, you can find countertop materials that give the appearance of marble. There are quartz, porcelain slabs, and solid surface countertop options that can achieve this look.
Black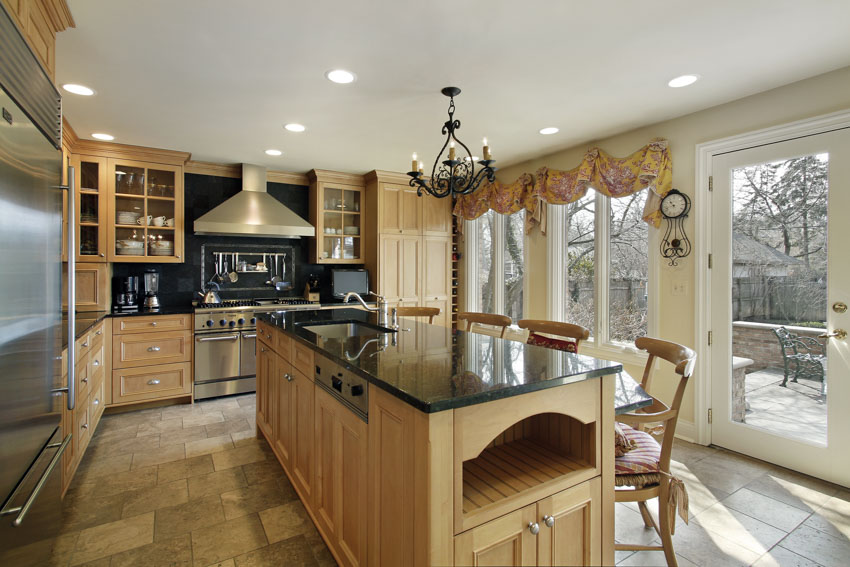 Black is a bold statement color but it can go very well with your oak cabinets. If you want to create a little bit more drama or bring in something moody and a bit darker, a black countertop paired up with your oak cabinets in the kitchen is definitely a great combination. The overall look can be moderately sleek and highly polished.
Take note though that since kitchens usually need to be airier and brighter compared to the rest of the areas in your home. You need to make sure that you only add dark elements for kitchens that have access to an ample amount of natural light or your kitchen space might end up looking a little too dark. If natural light isn't really that much of an option, make sure that you supplement with sufficient artificial light fixtures instead.
Gray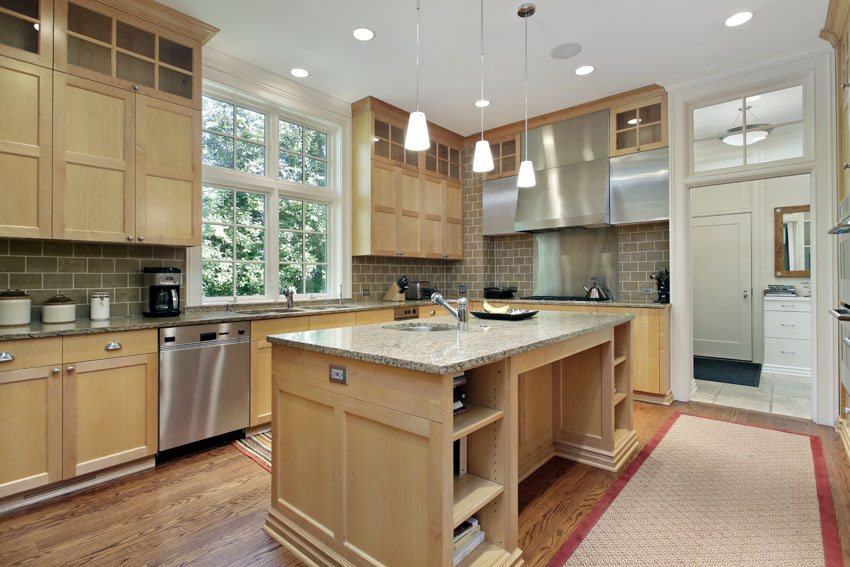 If you want to go for a look that's a little more modern or contemporary compared to the typical neutrals but don't really want to go all-out on the dark shades, a gray countertop can be a pretty good middle ground.
Take note as well that gray can come in with a wide spectrum of shades, even at times being borderline neutral when it's on the light side. This means that you have a lot of looks and options to play around with.
Still, it's bold enough to bring out an edgier vibe compared to the usual combinations you see when placed alongside oak so that's always a win-win.
Beige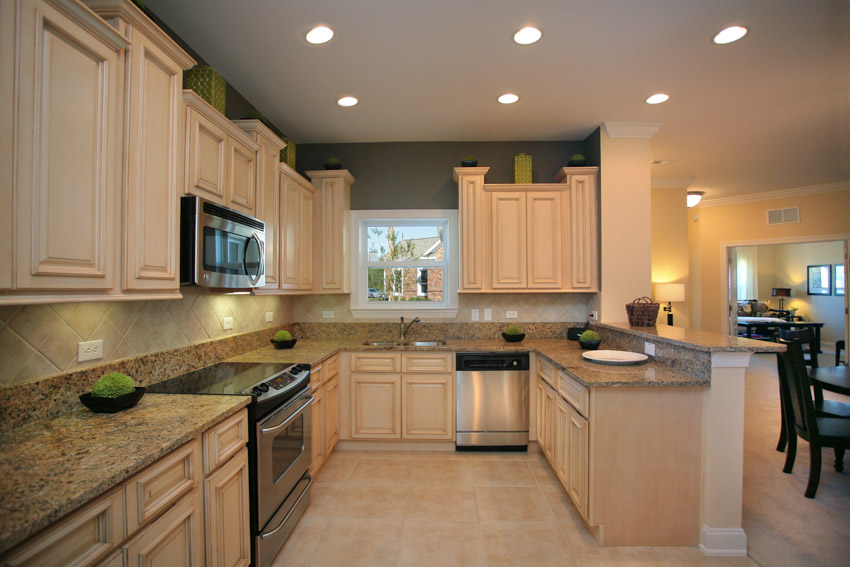 Beige countertops are mid-tone options so it comes as no surprise because they might oftentimes be overlooked. Still, don't push them aside just yet. The beige ones can pair perfectly with your oak cabinets.
Why? Because beige countertops carry the look together. This creates a vibe in the kitchen that's harmonious and peaceful – like there's a lot of good energy to get around with.
On top of all that, beige is a color that looks and feels clean without overdoing it or without coming off as extremely clinical looking.
Best Color Countertop For Oak Cabinets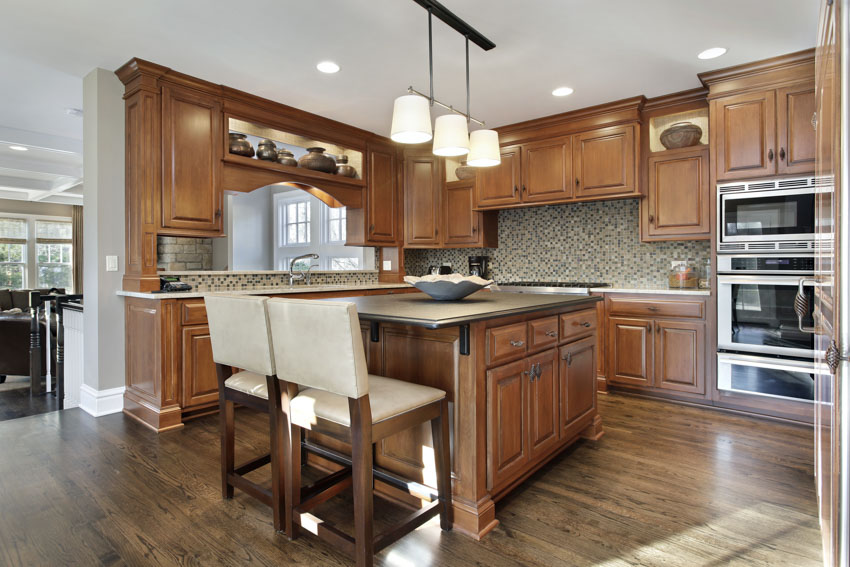 There are a thousand shapes and materials to choose from if you have oak cabinets. This can be tricky and a bit overwhelming, but with enough planning, you can easily come up with a kitchen design that's based exactly on your personality as well as your style and color preferences.
Here are some of the best color options for countertops to pair with your oak cabinets in your kitchen at home.
White: This is a very subtle color. What it offers is a look that's upscale and contemporary for your kitchen space. The thing with a white countertop is that it can pair well with literally anything, be it a fairly dark or light-colored oak cabinet shade.
White is hands down one of the most timeless colors out there as it doesn't really clash with any other colors. It works as a great base. It is easily blendable. It's a smart and timeless choice for a countertop color all throughout.
Cream: This color is a great option to go for if you aren't really that much of a fan of the clinical cleanliness of a white countertop. If you aren't comfortable with an overly white countertop, a cream one can be the next best option to consider.
A cream countertop can perfectly complement your oak cabinets in the kitchen. It brings forth an opulent finish and the overall look aesthetic is something that's warm yet clean and minimalist. Plus, cream comes in various shades and intensity, so you have a bit more flexibility in this area as well.
Brown: Brown is a rich color and if you want to create a more luxurious feel in your kitchen, you can opt to pair a brown countertop up with your oak cabinets. Some people might initially feel that brown is a bit of a heavy color and has the tendency to look a bit outdated but that isn't the case at all.
Brown is a great color to pair with oak cabinets. It's harmonious while at the same time, looks clean and elegant as well. If you want to nail down a mid-century aesthetic in your kitchen décor, brown is a great countertop color for you to consider at the end of the day.
Black: Black is a bold and eccentric color for a countertop. And yet, it's also classic and timeless. If you want something that can visually ground your kitchen design or something that will keep the eyes focused on it, a black countertop is one of the best elements you could ever bring in.
It is something bold and avant garde and it can give you a lot of options as well because brown comes in a lot of finishes, from high gloss, to matte, and so on.
Gray: Gray is a neutral color or tone. If you want to go for something a bit more calming in the kitchen, you can pair up your oak cabinets with a gray countertop. This shade is usually best for darker colored oak cabinets as gray will turn out to be the lighter neutral.
Oak Cabinets With Black Countertops
Black is a color that goes with technically everything. Think of it in the same way as a little black dress can easily complement a woman of any race, color, or shape. It is a solid choice for a kitchen countertop regardless of what your style preferences may turn out to be.
If you pair it up with oak cabinets, it can turn out to be an elegant statement that's also a bit bold and "out there". If you aren't really into subtleties, black countertops are a great style choice to consider.
There is a wide variety of materials to choose from should you opt to get a black countertop for your kitchen space. It works easily for you whether you're opting for something traditional or something a bit more modern or upscale.
It's understandable why you might be a little afraid to go for a black countertop. It is a bold move and if used improperly, it could end up overwhelming the entire kitchen space.
If used properly though, it can be timeless and bold and just downright beautiful. It offers up a solid block surface that really allow your oak cabinets to shine. It can deliver you that dual-tone look that few other countertop colors can ever even come close to.
It works for both traditional and modern aesthetics. It's rare to find a color that works both ways, but a black countertop does just that. It's simple and highly versatile and it can work with whatever colored oak kitchen cabinets you might have at home.
It's easy to clean a black surface because you can easily see dirt, food particles, fingerprints, and so on. With the right material cleaning is easy, however the downside being that literally anything on the surface is easily visible. Still, with a wipe down of your kitchen countertops they can be looking great again.
It's also a myth to say that you can't have a black kitchen countertop if you have a small kitchen space. You still can. Although it's true that black can cramp up a space and make it appear smaller and compacted, you can combat this by making sure that you have lighter colored oak cabinets, lighter walls, and lighter colored floors as well.
Oak Cabinets With White Countertops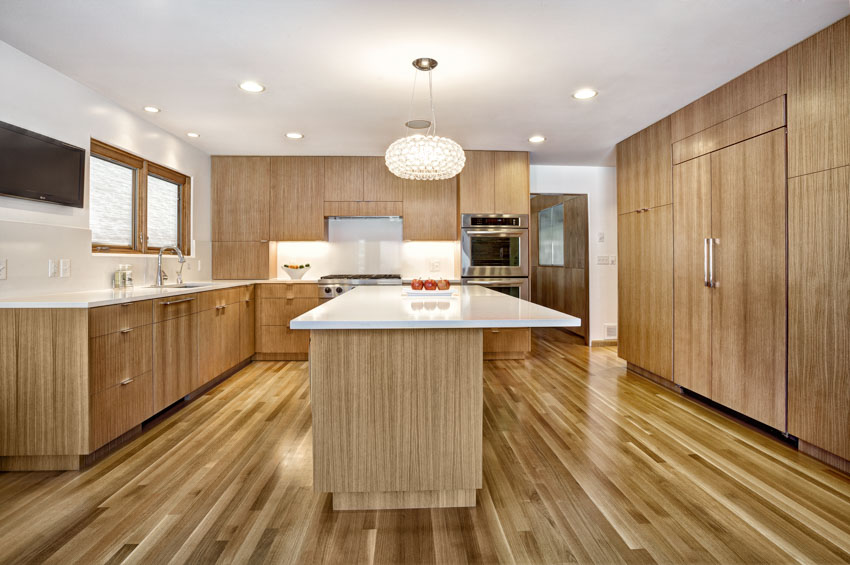 It's easy to understand why you might initially find white countertops intimidating. After all, white stains easily and tends to show dirt more easily. However, white is a great option to pair up as a countertop with your oak cabinets especially if you're going for something modern or minimalist in your kitchen space.
It's also classy and pristine and you really can't go wrong with a white countertop, no matter what your kitchen aesthetic may be. When opting for a white countertop, make sure that you consider the type of material that you're getting.
If you are getting something porous such as marble countertop, you out to make sure that it's properly sealed multiple times in a year. This will avoid any issues with it absorbing spillages that might eventually lead to stains. This will also make the surface far easier to clean as it wouldn't require anything more than a basic wipe-down.
It has a versatile appeal to it so although it's a bit more on the trendier side, it is also timeless. Like we've previously mentioned, you can't really go wrong with white. It can go well with any color and it can definitely go well with your oak cabinets, no matter what shade they may be in. Trends may come and go but what you can be rest assured of is the fact that a white countertop will never really lose its appeal.
It's a color that tends to reflect a lot of light. It can instantly make your kitchen space appear brighter and so much more inviting. Kitchens are one of the unique spaces at home that at some point, have the prerequisite of being bright and warm.
They give the illusion of more space to the kitchen, which is always a good thing in our book. If you aren't that fond of the plain white color, you can go for white countertop materials that either have specks or veining in them for more character and dimensionality.
What Countertops Go With Oak Cabinets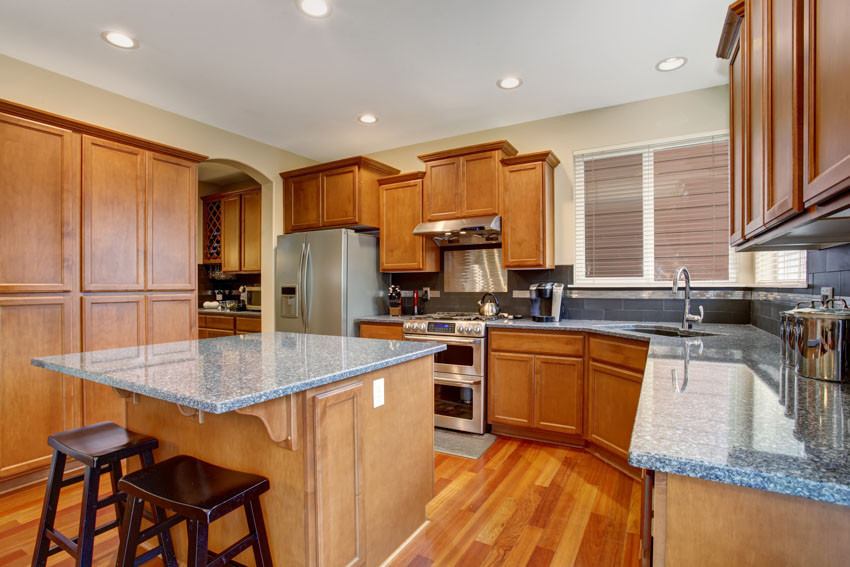 Here's some of the popular countertop materials that go with oak cabinets.
Granite Countertop With Oak Cabinets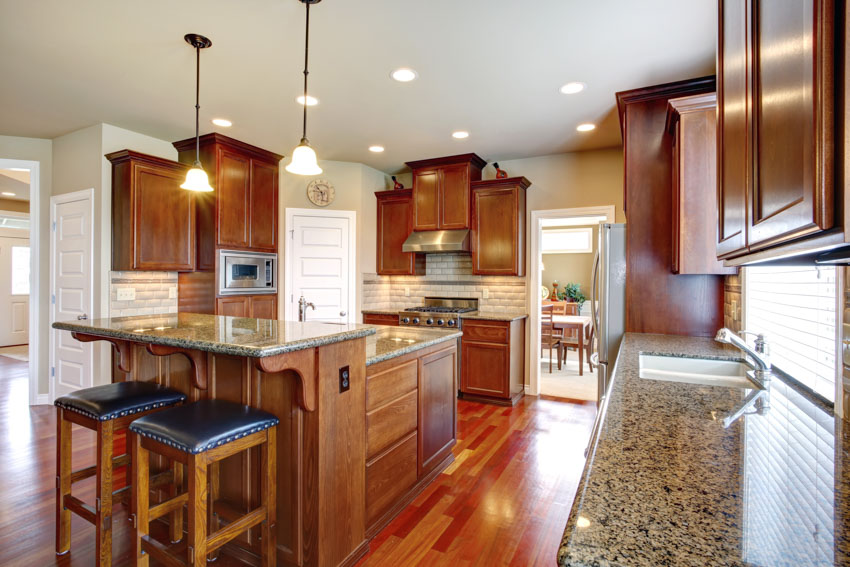 Granite countertops are one of the mainstays in kitchen décor and they go well with oak cabinets. Granite has natural colors which means that it can go extremely well with the warm and organic wood tones of your oak cabinets.
It is also a type of natural stone that's extremely durable and it can withstand heavy use, which is usually the case in the kitchen. Here are some of the most popular granite countertop types to consider.
Blue granite: The blue in this type of granite works great with the organic wood colors of the oak cabinets. It can pick up certain undertones and make it appear brighter. The overall effect in the kitchen space is something that appears sunnier and far more cheerful.
If your kitchen happens to have a lot of stainless steel in the area, be it in appliances and other design or functional elements, blue granite is a great option to have. It can tie the look together, making it look cohesive and very well-put together.
Brown granite: Brown granite countertops have a fairly dark color. This shade of dark brown is great when it comes to complementing natural wood grain patterns. This pairing can make your kitchen area look more stylish and more elegant at the end of the day.
Gray granite: Gray granite offers up a neutral color. Neutrals always go well with other colors, whatever they may be. This granite is also known to be more durable and low maintenance. It makes it very easy to maintain it and care for it.
Green granite: If you want to add in some color in your kitchen area but you still want it to complement your more traditional oak cabinets, green granite is a great option to consider.
There are certain variations of green for this type of green granite but the best ones to pair with your oak cabinets are in forest green, verde butterfly, or something similarly deep. If you have darker colored oak cabinets though, we suggest you go lighter on the green. Try to go for a sea foam or mint green type of green granite.
White granite: White granite is one of the most popular countertop choices for oak cabinets. This is because it delivers a very fresh and clean look for the kitchen. This goes very well with the natural grains and patterns of the oak wood in the cabinets. They complement each other perfectly. White granite is also easy to clean and maintain so that's a plus as a countertop.
Baltic brown granite: If your aim is to have something with a little bit more texture and color and still complement your oak cabinets perfectly, Baltic brown granite is a great option to consider as a countertop. Darker colored oak cabinets will be able to make this granite pop, making it the anchor of the kitchen's design.
Coffee brown granite: Coffee brown granite can deliver a really warm and classic look to your kitchen. It pairs well with oak cabinets and can create a very homey and warm vibe that's both inviting and comforting.
Ganache granite: Ganache granite is one of the more versatile granite colors and options out there. It has a dark chocolate color that's perfect for creating a high end and sophisticated looking kitchen design. It can make your kitchen look expensive. It pairs well with oak cabinets and is perfect for that extra touch of elegance you've been looking for.
Giallo Fiorito granite: This type of granite has gold and yellow tones all throughout its surfaces. These tones and patterns can complement oak wood cabinets extremely well.
Hawaii granite: This is a great granite countertop if you want something that's durable and can hold up against heat quite well. It's easy to clean and comes in a white variety of colors ranging from white to green to black, and even pink; which is a surprising option for granite.
Netuno Bordeaux granite: This granite has dark colors in it that fairly complements the light tones in the oak cabinets. It's also great if you want that extra touch of luxury in your kitchen.
Snowfall granite: This type of granite is characterized by gray and white veins all throughout. This is great in bringing out the wood grains in your oak cabinets at home. The overall look it creates is something that looks impressively modern and clean.
Titanium granite: This type of granite has cool tones in it. Because it is normally dark and cool, it's effective in bringing out the white tones in the oak wood. It's also one of the most durable types of granite around so if you happen to have a high traffic kitchen, a titanium granite might serve you quite well.
Venetian gold granite: This type of granite has creamy warm tones all throughout. This versatile granite complements the oak wood quite beautifully and is a popular choice..
Quartz Countertop With Oak Cabinets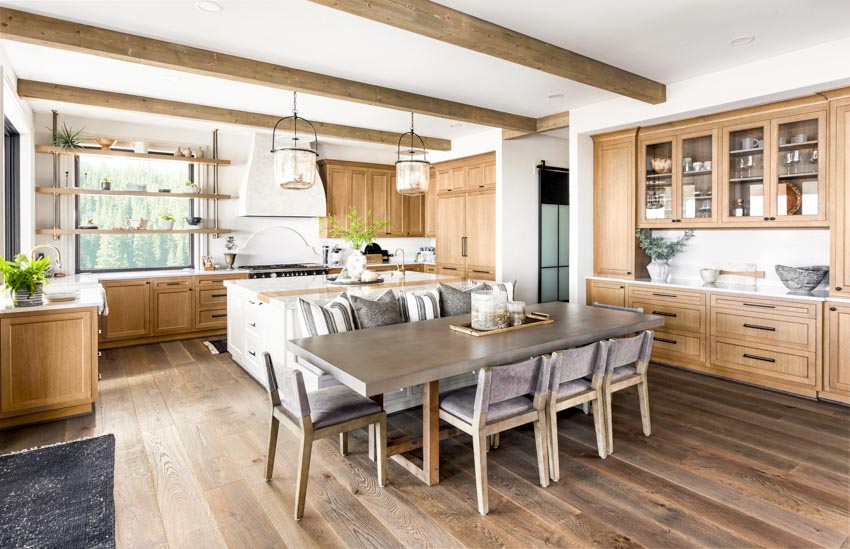 Quartz is a natural stone that can go well with oak cabinets. They come in a wide variety of colors ranging from white to black. It is one of the hardest and the most durable stone types around. It's also great to know that it is highly stain and heat resistant, which makes it kind of perfect as a countertop material.
Here are some of the best quartz materials to go for that can pair easily well with your oak cabinets.
Beige quartz: This is a great quartz color that can go with a lot of different colored cabinets, but can work best with oak ones. When choosing your specific slab of beige quartz, make sure that you take note of the wood grain and color of your main oak cabinets.
Go for something that has a bit more variation in the color and the undertones. This will keep it from looking too boring or too monochromatic.
Gray quartz: Gray quartz is one of the perfect colors that can really complement your oak cabinets at home. It's versatile and comes with a wide range of applications and combinations. It's subtle enough to blend with the rest of your kitchen colors but it also happens to be strong enough to just hold its own.
Red quartz: If you want to add a bit more color in the kitchen without washing your oak cabinets out, red quartz is a great color option and material to consider. It's unique and it makes a statement. It's a definite standout. It can even turn your countertop into a bit of a statement piece. Interestingly, this is a popular choice among homeowners.
Taupe quartz: A taupe quartz countertop will be able to easily complement the wood grains in your oak cabinets. It's kind of brown but not really and there's a certain mystique and interest in the visuals that it creates. It can definitely stand up to daily use as well.
White quartz: And of course, we wouldn't dare forget about white quartz. It should've been at the top of the list but this time around, we thought it would be great to save the best for last. It's great for your oak cabinets because it has a natural light color that can really make your oak cabinets pop and shine.
Very few other quartz options can do that as they tend to be the stars of their own shows. This isn't the case with a white quartz countertop. It stands a great base and it allows the rest of your other kitchen elements to kind of take the lead.
If you want to really showcase your oak cabinets the right way white at the same time, make your kitchen appear bigger and airier, white quartz is a great option for you to consider at the end of the day.
Marble Countertops With Oak Cabinets
Marble has been around for centuries. It's been the main natural stone material of choice for sculptures during the renaissance period. Interestingly, they remain to be modern marvels even in kitchen interior design.
They make for great countertop pairings with oak cabinets. A marble countertop paired with your oak cabinets feels lux. That's a type of vibe that marble brings in without even trying too hard. It just naturally looks and feels rich right off the bat. And it doesn't stop there because marble comes in a lot of different shades.
Black marble: They look and feel sophisticated and sleek. If you want to go for a bit more modern look in your kitchen, you can pair your oak cabinets up with a black marble countertop. They come together very well and can create a very timeless and effortless look.
Brown marble: This type of marble is a classic pairing with oak cabinets. It usually has natural veining that add character to the surface area of the countertop and it can come off looking very warm and inviting while at the same time, also very posh and unique.
Cream marble: If you want to stick to a more classic look in the kitchen, you may opt to pair your oak cabinets up with a cream marble countertop. If you have a smaller kitchen or don't really have the luxury of a lot of space in that area, it would actually be smart if you pair your oak cabinets with a cream marble countertop. It can make things look bigger and brighter because cream marble is a neutral base.
Gray marble: Gray marble countertops have cool tones in them that can pair up perfectly well with the warm tones in your oak wood cabinets. This, in turn, creates a really aesthetic contrast that looks like a real classic.
This is a more traditional look though but if you want to go with a more modern one, you might want to paint your oak cabinets white or in a really light color to make it work. This can create a really sleek and clean look for your kitchen area.
White marble: White marble is one of those materials that will always be in vogue and will never really go out of style. If you want to brighten up your kitchen space and make it look airier and brighter as well as bigger than it really is, white marble countertops can be your best bet. It pairs quite nicely with oak cabinets. But of course, you already know that white works with anything.
Calacatta marble: Calacatta marble is a type of white marble that has unique waves and vein patterns visible at the surface. This marble is imported specifically out of Italy. Its veins and other marks are usually much darker compared to the rest of the stone.
It's a great countertop option if you happen to have oak cabinets in the kitchen. The dark veins of Calacatta marble countertops will end up contrasting quite nicely against the light complexioned wood. It creates an elegant yet cohesive look.
Statuario marble: This white marble has subtle grey lines in it. This material is known for its low maintenance requirement as well as for its durability. Since oak cabinets are typically light colored, paired with the whitish statuario marble; this can create a modern look. You can always get your oak cabinets painted black if you want to go for something a bit more modern.
Michelangelo marble: This marble is also exclusively quarried out of Italy. Its composition is mainly made out of dolomite and limestone. What makes this marble type stand out is that it has very fine and consistent veining patterns all throughout the stone. This makes for a very textured but fairly stable base for your oak cabinets.
Carrara marble: Carrara marble is also another great option to pair with your oak cabinets in the kitchen. It's mainly a white type of marble but it stands out for its blue-gray veins and patterns all throughout.
It's great for creating a modern look in your kitchen space. It's one of the denser or less porous marble types so it doesn't require as much maintenance as the other types of marble.
Kitchen Countertop Ideas With Light Oak Cabinets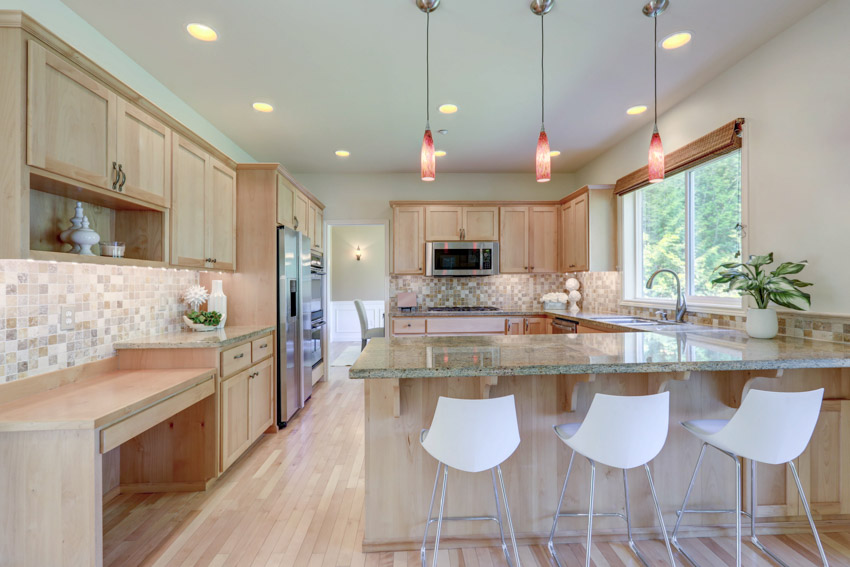 Light oak or honey colored oak cabinets have an old school appeal to them. They feel homey and intimate and a kitchen equipped with them can look very warm and inviting. If you want to modernize your kitchen look without having to remove your light oak cabinets, there's a way around that. Pair them up with the right kitchen countertops.
These oak cabinets have neutral or warm tones to them. They usually have orange undertones in their finishes. What you need are neutral colored kitchen countertops. They're great for balancing out the warmth in your light oak cabinets.
Quartz and marble countertops are usually great at getting the job done. It's all in hitting the right combinations. People oftentimes find it challenging to balance out the orange undertones in the light oak cabinets but here are some ideas that you can work with:
Cool beige countertops: They are one of the safest options to consider for light oak cabinets. They're neutral so not only to they blend in well with your light oak cabinets, they can blend in well with the rest of your kitchen colors and design as well.
Try to look for beige countertops with green undertones to them. They cancel out the bright undertone of the light oak, making it appear cooler to the eyes.
Cosmopolitan gray countertops: This combination has a more modern charm to it. Gray is still technically a neutral type of color and can work well in balancing out the bright undertones of the light oak while at the same time, deliver an edgy and modern feel to your overall kitchen design.
Go with a Cosmopolitan gray that has purple or green undertones for the best effect. You will be able to create something that's adaptable and easily transition over from traditional to modern to just basic minimalist for your kitchen look.
Bright white quartz countertops: Lighter colored countertops such as those made out of white quartz can transform your kitchen quite easily. They tend to look very neat and posh. This is a great look to go for in your kitchen.
White quartz is highly durable. It's also non porous which means that it's easy to clean and requires less maintenance despite of its light color. They also tend to reflect more light which technically means that you are also creating an illusion of a much bigger and brighter looking kitchen in the process.
Warm brown countertops: If you want to create something a little more rustic, you can pair your light oak cabinets up with a warm brown countertop. It creates a more cohesive look and can make your kitchen look very well put together.
Brown or tan palettes work perfectly and seamlessly with light oak cabinets in the kitchen. Pair them up with lighter colored stainless steel appliances to make sure that the warmth in the colors don't get washed out. They are equally bright so adding in some cabinet under lighting might be smart to make sure that the kitchen doesn't end up looking to cramped.
Dark veined neutrals: One common trend we can see is that when a kitchen is equipped with a countertop that has some type of veining in its surfaces, it instantly looks posher and more elegant.
Since your countertop is a neutral, you can more or less take more creative liberties with your kitchen design. This can be opting for a splash of color with your kitchen appliances or putting up a bright colored accent wall. The veining in your countertop could bring out design elements in your light oak cabinets without making it look too busy or overwhelming.
Sleek black countertops: Combining light oak cabinets with a dark sleek back countertop might actually be a pretty good idea. Some people would initially write it off as something that might look outdated but that isn't actually the case.
Combining light and dark colors can be timeless. More than that, you also need to keep in mind that an added benefit of a dark colored countertop is that it doesn't look as easily dirty as the light colored ones. It's great if you want to introduce a low key visual stimuli in your kitchen design without really trying too hard or without adding in way too many elements in the process.
Cool blue countertops: Another great countertop that's really effective in balancing out the warmth in your light oak cabinets would have to be cool blue countertops.
Blue granite, for example, has a knack in making your kitchen appear more modern or contemporary while blending in quite nicely with your light oak cabinets. Although light oak can make your kitchen appear somewhat traditional, blue granite can easily balance that out and make the entire kitchen appear a bit more modern.
The blue in the countertop and the orange undertones in the light oak wood are both primary colors which means that they pair up quite nicely. It's visually appealing and it has an adaptable aesthetic that will allow you the freedom to design your kitchen space in any way that you would want.
See more related content in our article about kitchen countertop overlays on this page.