Discover different microwave placement ideas showcasing where to put this appliance in a kitchen layout, design tips, remodel suggestions, and where to place in an island.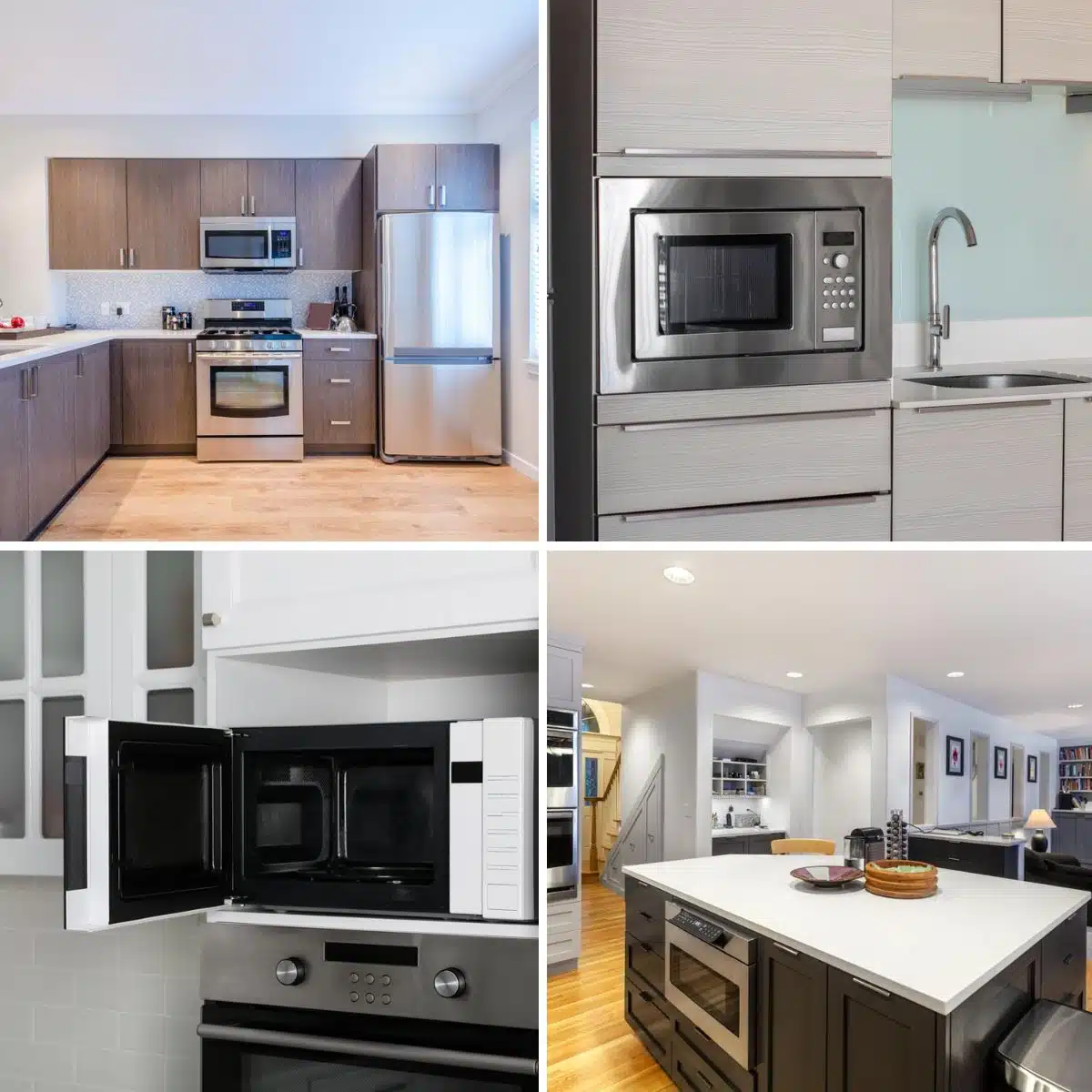 Figuring out the perfect spot for your microwave is about so much more than looks – it changes up the entire kitchen flow and makes life way simpler. Tracing the best places for your appliance optimizes convenience as well as culinary comfort, so reheating food – or cooking a meal from scratch – becomes swift and effortless.
With safety top of mind, we'll dive headfirst into the art of seamlessly integrating modern microwaves into your kitchen's aesthetic. From just the right distance to other appliances to discovering untapped counter space, you get all the convenience these devices bring while also adding thoughtful style.

Where To Put a Microwave In the Kitchen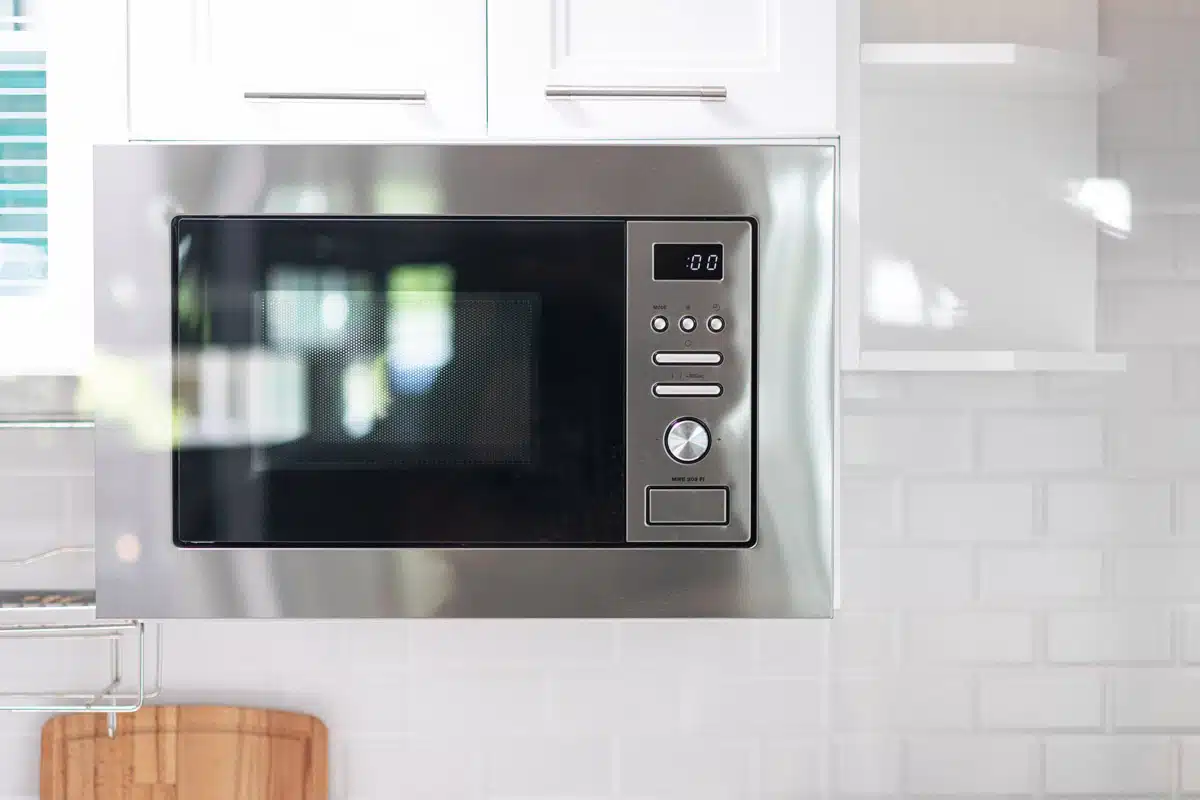 This chic modern equipment isn't just a dream come true for cooks – its savvy positioning can positively transform your home kitchen into an efficient workspace and take your cooking to the next level. Its impact is no joke; it's sure to revolutionize any master chef's culinary journey.
Microwave ovens are electronic devices which use microwave or highfrequency energy to generate heat. – Commercial Microwave Ovens, Assembled Or Unassembled, from Japan, United States International Trade Commission , 1991
If you're looking to turn your kitchen into a chef's paradise, check out our top-tier tips on where to nestle that microwave. Whether it be with a splash of color or tucked away from sight, there are plenty of great locations in the heart of your home for cooking convenience.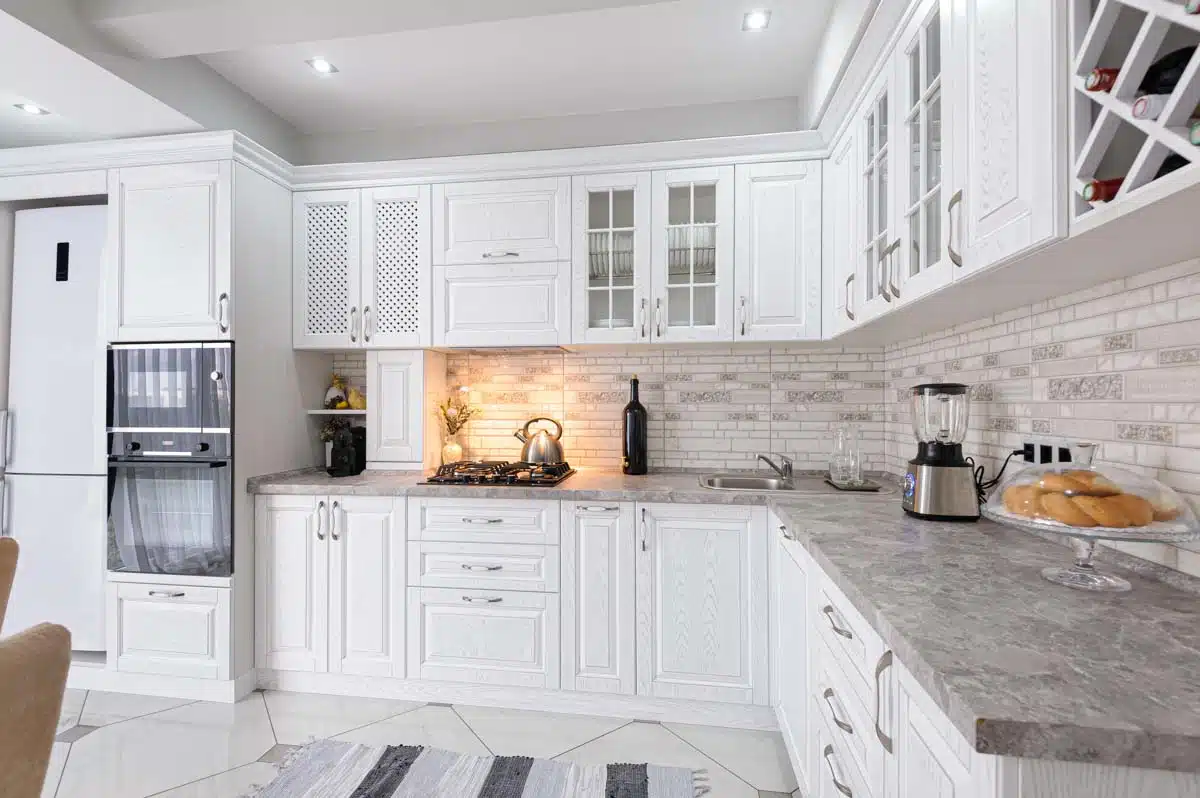 Integrated into the Kitchen Cabinets: You can pamper your kitchen with a gorgeous microwave, skilfully blended into the cabinetry. Fusing functionality and style to perfection, this custom option will have you drooling.
Not only does it look beyond stunning, but it also ensures that all of your culinary pursuits are unhindered by bulky appliances – guaranteeing you an eye-catching yet practical cooking space.
Per BHG an integrated cabinet appliance can often be added without any heavy remodeling or hiring a contractor. However, the installed unit will often have some caps between it and the cabinetry that may be unslightly. A custom cabinet remodel may be required if you want a perfect fit.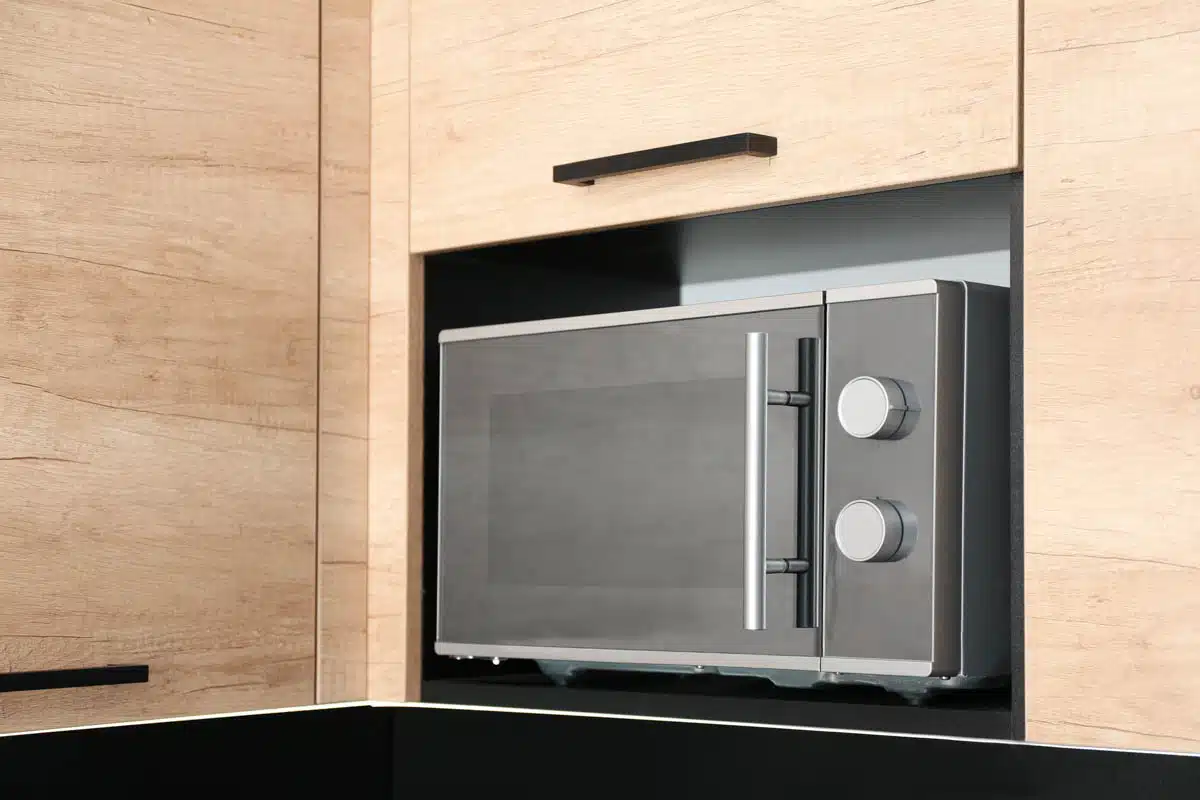 Spare Cabinet Hideaway: Let loose and let yourself show off that DIY stuff you've got with this unbelievably genius way out – a secret hideaway cabinet. This awesome concept is a sheer flash of innovation and offers an unnoticeable storage place for your microwave, which generally comes in handy. Get the most utilization of your kitchen countertop space and, at the same time, turn it into an orderly haven without any mess.
Below the Counter: With ergonomics redefined, you'll be able to store the microwave within reach of your primary kitchen work triangle for an effective cooking setup. Smoothly weaving together form and function, the inventive setup maximizes accessibility without sacrificing good looks.
According to experts at Houzz, a below the countertop microwave setup leaves kitchen surfaces open for food prep with the drawback of having to bend down to access the appliance, which can be a nuisance.

Cooking becomes a choreographed performance – convenience blending perfectly with the aesthetics of kitchen countertops in rhythmic unity.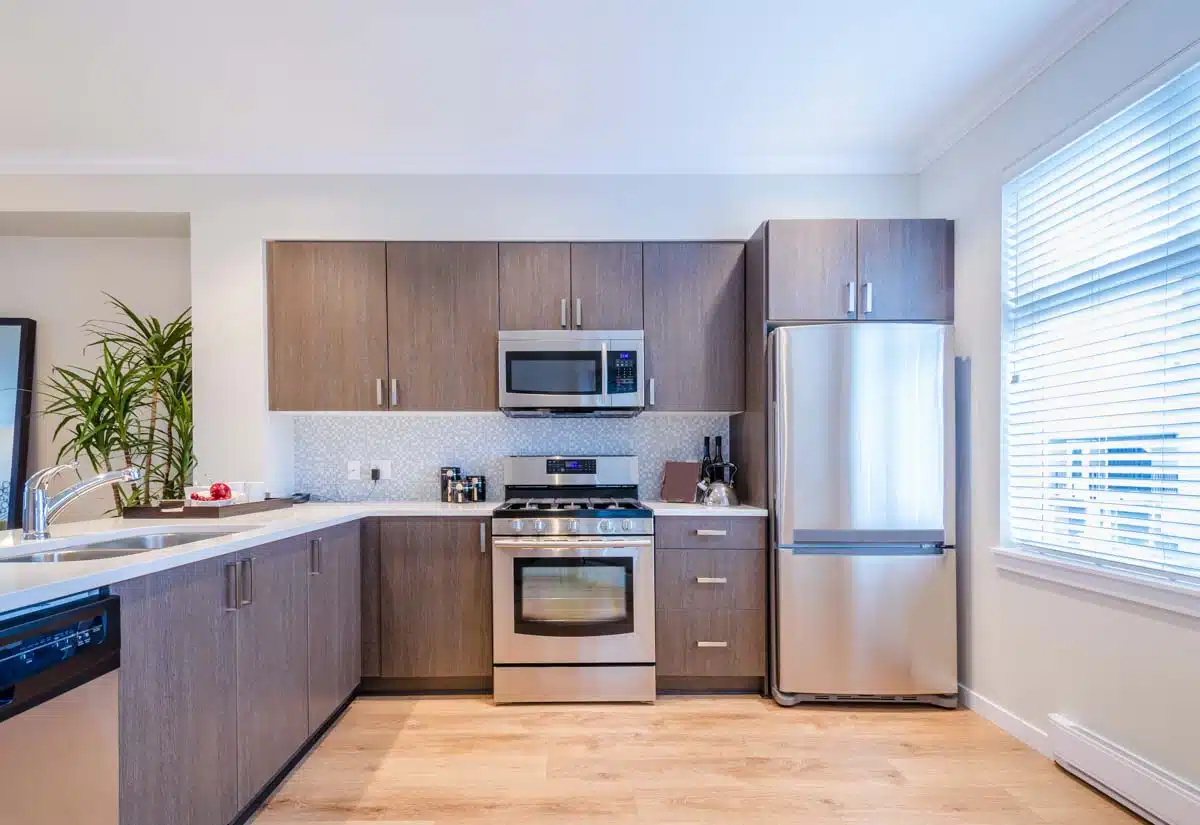 Above the Kitchen Range: If you want to take your culinary game up a notch, you may try installing the microwave over the range: It'll blow your mind with its turbo-form mix of convenience and style. Turn away from the traditional prep and enjoy stunning innovation that pair exhaust kitchen hoods with microwave ovens.
Tucked within Kitchen Island: You can cleverly stash away the microwave in its depths. A microwave in island is a stylish idea that strike the perfect combination of useful pleasures with an eye-catching beauty, making this space a truly multifunctional marvel that will have all your dinner guests practically drooling as you effortlessly create culinary masterpieces.
Behind Folding Doors: You can always transform your kitchen with a mysterious touch by stowing away the microwave behind stunning fold-away doors. A hidden jewel ready to be discovered, this setup intertwines utility and beauty for a surprise when the doors open up and expose your cooking buddy.
Floating Shelf: Installing dreamy floating types of shelves for your microwave is another smart option. This simple set-up's gravity-defying look will add modern elegance to your kitchen vibes. Witness your microwave's exquisite beauty rise like an edible masterpiece. An irresistible allure stands in wait; you can enjoy this unique design choice and its minimalist grace.
Pull-Out Pantry Integration: Experience the pinnacle of culinary ease with a pull-out pantry installation. His and her masterpieces are ready to go—just give an effortless tug, and out slides your microwave; all warm smiles and excitement for helping you in the kitchen. A clever yet inconspicuous way to make cooking practices smoother while celebrating that conniving cuisine we call creativity.
Angled Corner Cabinet: If you have kitchen corners that are begging for attention, give them the love they deserve with an angled corner cabinet. This genius hideaway accommodates your microwave like a charm, optimizing area real estate where crumbs could have flown.
Out of sight, out of mind – it's almost like that appliance never even existed. Besides, there's more room to show off beautiful creations coming straight from your cooktop magic show.
Above the Bar Station: You can seriously up the ante when it comes to kitchen get-togethers. Placing your microwave right above your bar station brings an extra sprinkling of dining enchantment and options.
This way, you can keep all eyes on you as you prepare delectable treats for your visitors whilst sipping on martinis – what's more, there's always the trusty microwave that stands ready to swoop in if need be.
Appliance Garage: With an appliance garage to help keep your microwave and other culinary must-haves close, you'll achieve the dream of a clutter-free countertop. Plus, all your everyday appliances are still just steps away behind those shining roll-up doors.
And let's not forget the beauty of being able to take advantage of seamless functionality; it does bring happiness when everything looks organized but is ready for use at a moment's notice.
Whether they need to stay within arm's reach or be tucked away discreetly until needed, your kitchen appliances will have found their perfectly tailored home.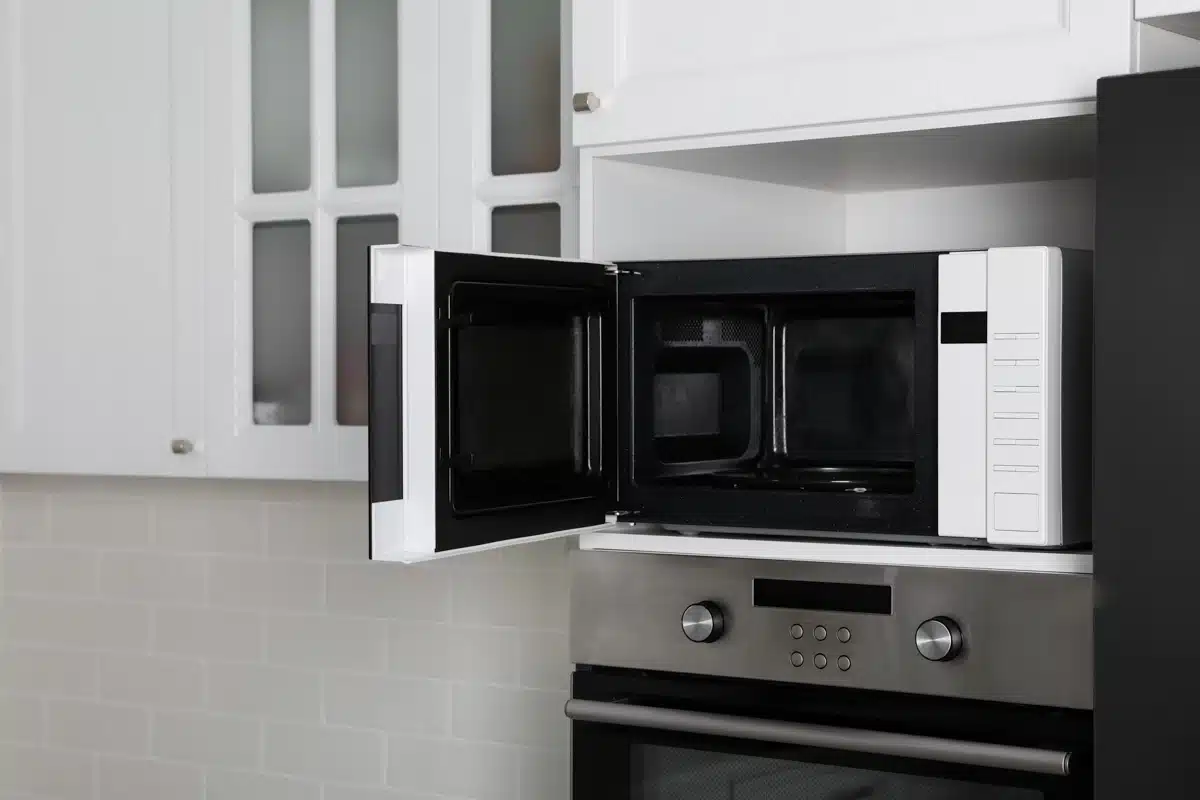 Above the Baking Oven: This design duo is the key to achieving optimal efficiency in your baking process – a wall oven combined with a built-in microwave is the utmost for convenience and ease of use.
With this clever placement idea, two of your best kitchen appliances join forces and give your cooking space a delightful makeover – you'll definitely be raising the bar on all of your baking endeavors.
Microwave In Kitchen Design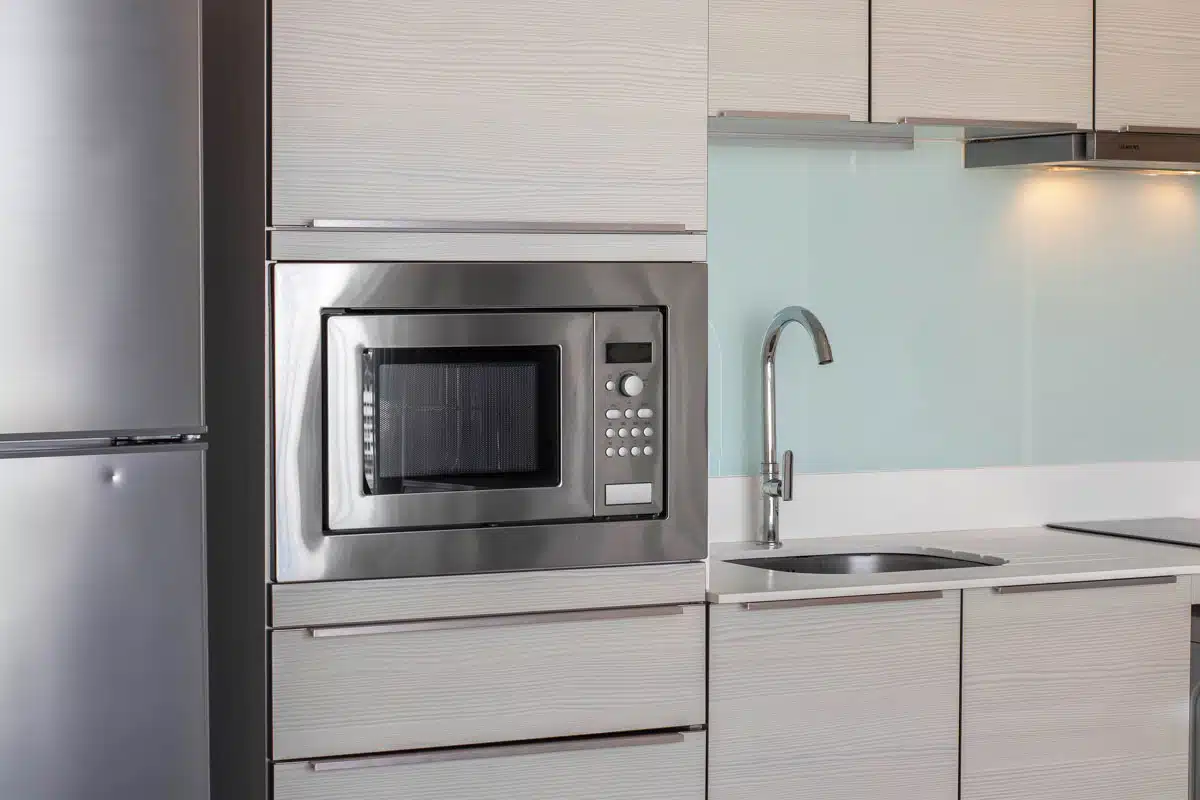 These days, microwaves are a must-have in the kitchen – not just for their practical purpose but also as part of the overall design scheme. It has done wonders to bring life into cooking.
Placing the microwaves efficiently and suitably into your kitchen can provide you with so much more than mere functionality and style. Let's have a more in-depth glance at the perks of having a well-positioned microwave.
Streamlined Workflow: You'll be cooking up a storm in no time if you stick that microwave right where it belongs – the kitchen. Doing so ensures your workflow is railroaded for maximum success and optimum efficiency.
Positioning the microwave right by your main workstations, like your stove and food-prep station, significantly reduces excess running around and makes cooking a breeze. This smart layout preserves energy and time, allowing you to hone in on concocting scrumptious delights.
Enhanced Kitchen Safety: When you want to make your kitchen a lot safer, strategically placing the microwave in areas away from busy walkways and live flames is key. This simple step can help lessen any chance of accidents, especially if you have little ones running around or lots going on at once.
Optimized Kitchen Space: Strategically placed microwaves liberate much-needed counter space – giving you extra room for meal prep, show-off your best ingredients, or just adding a touch of décor.
That extra space can be super helpful in kitchens or when your countertop is about as big as a postage stamp; every inch matters, and this optimization comes into play. You can use organizational zones with a variety of trays, risers, and dividers per Architectural Digest to create more storage space.

Aesthetically Pleasing Integration: With a keen eye for aesthetics, integrating the microwave into your kitchen design can drastically enhance its visual appeal – transforming the look of your cooking space. After all, it's sure to turn some heads and add an extra wow factor.
Customized cabinetry, appliance garages, and above-the-counter placements come together for an ultra-sleek look that's in tune with the vibe of the space. When you put microwaves into thoughtfully planned placements, you add a unique element that makes every grown-up kitchen design stand out.
Increased Kitchen Versatility: A thoughtfully placed microwave can kick up the flavor of any kitchen. Put it near a breakfast bar or counter top, and suddenly, you've got yourself a little entertainment station for whipping up bites and sips during social gatherings. That way, your kitchen can embrace all kinds of cooking styles and palettes.
Making hosting guests would be a breeze with an orderly and efficient kitchen. Keeping your cooking space organized not only simplifies the prep work for dinner but it helps you keep on top of things so you can enjoy entertaining.
Time-Saving Convenience: Strategically positioning your microwave can be a real time-saver when you're in the kitchen. By sticking it near your cooking space, you'll be able to easily and quickly heat or thaw out whatever ingredients you need – merging that essential appliance into your meal prep routine for good.
This helpful time-saver is incredibly useful when life's bustling, like dinnertime or when you're trying to juggle recipes.
Redefined Culinary Experience: When the microwave is efficiently placed in your kitchen, it's not just a fancy appliance; this trusty sidekick helps you journey through your culinary masterpieces. Positioned perfectly, your handy-dandy helper can spark ideas for imaginative recipes and make it easy to heat up dinner again.
Kitchen Remodel Placement for Microwave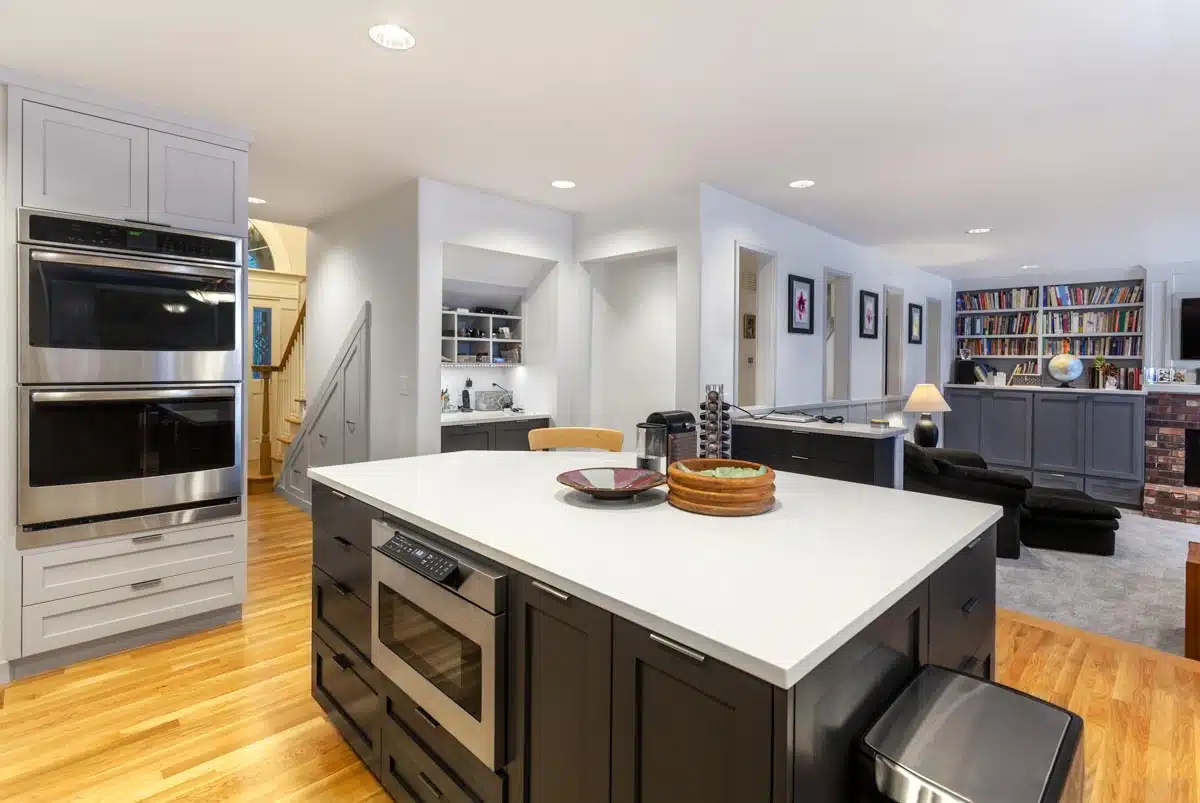 A kitchen remodel is a prime opportunity to kick off some kitchen organization into gear by reevaluating the position of your microwave and optimizing what heaven you already have in your fantastic culinary sanctuary.
You may be surprised at how thoughtfully considering different placement scenarios can affect both the functionality and spritzing vibe of your newly redesigned cooking corner.
Your kitchen is the heartbeat of your home, so why not upgrade it and take its efficiency and style to new heights during a remodel? Where should you place that all-important microwave? Let's find out!
• Customized Cabinetry Solutions: In the process of a kitchen remodel timeline, customized cabinetry solutions can make your microwave stand out – for all the right reasons. Imagine having a custom-built nook or special pull-out shelf just for it; that's cabinet work personalized to fit perfectly into your overall design.
• Functional Zones: Breaking down the kitchen into "functional zones" is an increasingly popular idea when it comes to designing your dream space. Put that microwave close to the breakfast bar or coffee maker for a prime spot dedicated to scrambles and sips, so cooking up meals and creating harmony amongst all its components becomes a cinch. By using this approach, you'll level up your remodel by maximizing each area of the kitchen.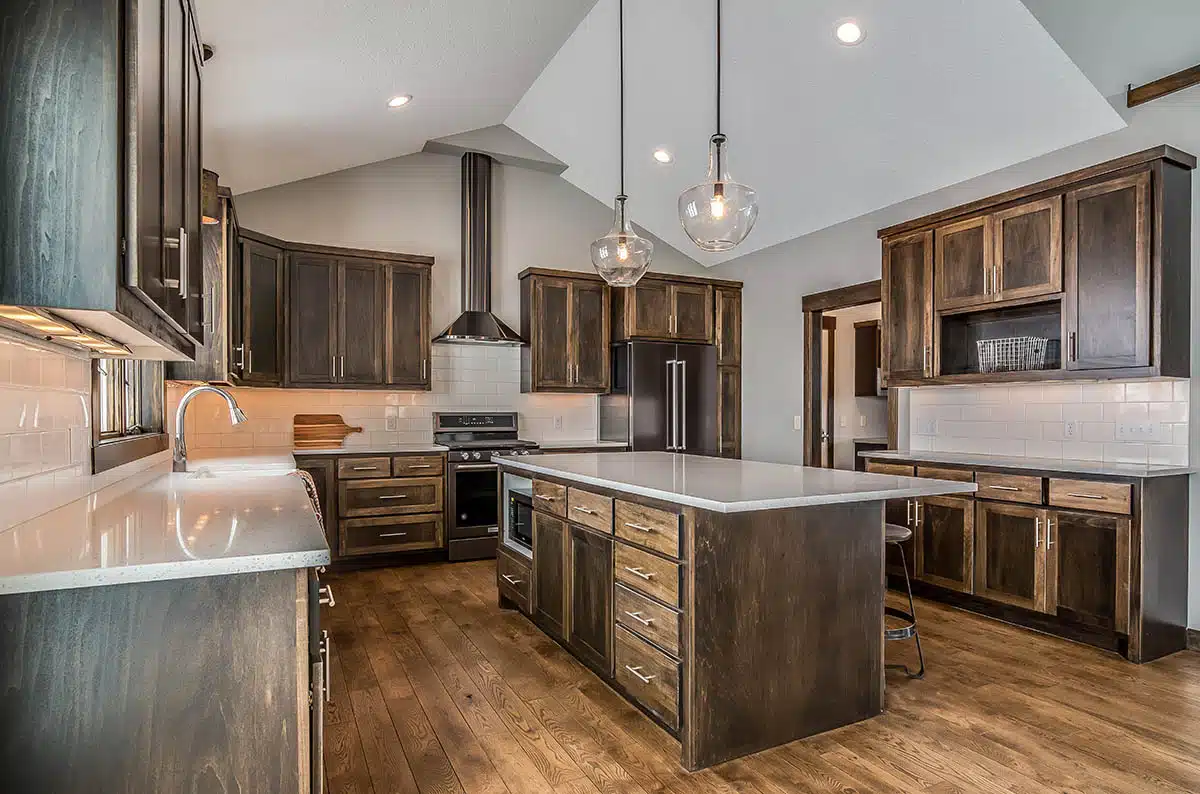 • Integration in Kitchen Islands: If you're remodeling your kitchen and are lucky enough to have the space for a kitchen island, it's the perfect spot to integrate your microwave. It'll offer easy access without being in your main cooking area – letting multiple cooks get their groove on in there at once.
• Showcasing with Open Shelving: This is the hottest design trend to showcase your kitchen necessities like microwaves. For a unique twist on this remodel, smartly display and neatly organize these cooking components for additional flair; the microwave can come alive with style while also doing its job.
• Elevating with Artistic Backsplashes: For an extra stylish flair, you can add a beautiful backsplash behind your microwave. This creative enhancement draws eyes right to the microwave and brings out the beauty of your cooking space – upping its style game. A touch like this is sure to leave you feeling exceptionally proud every time you step into that kitchen.
• Considering Ventilation: Ventilation is an essential factor to consider, especially when it comes to installing an over-the-range microwave. Getting proper ventilation not only keeps your kitchen comfy and scent-free but also makes cooking a lot more pleasant for everyone. Close proximity to an oven range hood or windows should be a consideration to enhance air flow and removing potential pollutants.

Small Kitchen Placement for the Microwave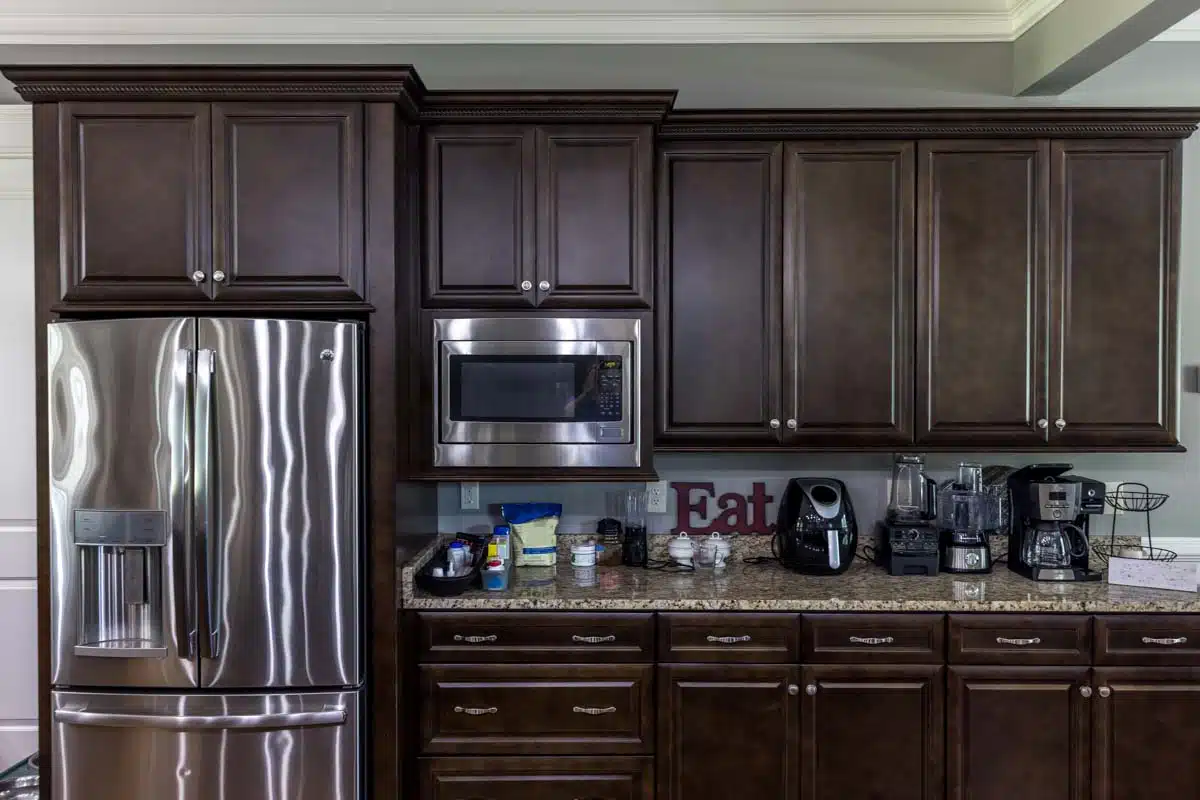 In cramped kitchens, you need to be ultra-smart with space. Punctuating your countertop with a well-thought-out placement of the microwave can free up much-needed room and give an airy feel to your small kitchen oasis; clever ideas help turn even the tiniest spaces into cool culinary havens. Walk through the ideas below and they'll have your cooking sanctuary transformed in no time.
• Under-Cabinet Mounting: Maximizing the use of the space beneath your cupboards is a great way to free up countertop real estate. Tucking your microwave away out of sight yet within easy reach makes all the difference, letting you focus on cooking and meal prep without clutter in the way.
• Vertical Microwave Integration: With countertop space often at a premium, vertical microwave integration has become an incredibly popular solution. Placing your cooking device atop a stand specifically designed to provide additional storage capacities not only takes up less room but also keeps your kitchen spic and span while providing the ultimate functionality.
• Wall-Mounted Microwave Shelf: This fantastic microwave placement idea offers a brilliant alternative to your traditional countertop placement and allows you to keep your soon-to-be best friend within arms reach without snatching up any extra space. Now no more agonizing over where to put your trusty kitchen sidekick.
• Pull-Out Pantry Integration: Integrating the trusty microwave with a pull-out pantry cabinet in small kitchens can be transformational. Think of it as a hidden gem – when not in use, the pantry they live in will conceal that appliance for you while still maintaining an orderly appearance and making full use of every square inch available.
• Compact Microwave Drawer: You may opt for a super space-efficient microwave drawer to give that sleek, modern look to your kitchen. It'll fit right into your cabinetry and you won't even have to lift a finger. Compact yet versatile, it's the perfect companion for any busy cook: easy access with no mess.
• Folding Hideaway Shelf: This ingeniously designed shelf does a fantastic job of keeping your microwave tucked away until it's needed – ensuring that your small kitchen layout stays sleek and as flexible as possible. Practically screaming ingenuity, this hideaway shelf is an absolute must-have for anyone with a mini kitchen.
• Portable Cart: A rolling cart or portable island can be an excellent way to create additional surface area and utilize this appliance without any hassle. These can be purchased with an undercounter storage shelf that can accommodate the device and still leave room for food preparation on top.
Placement of a Microwave In the Kitchen Island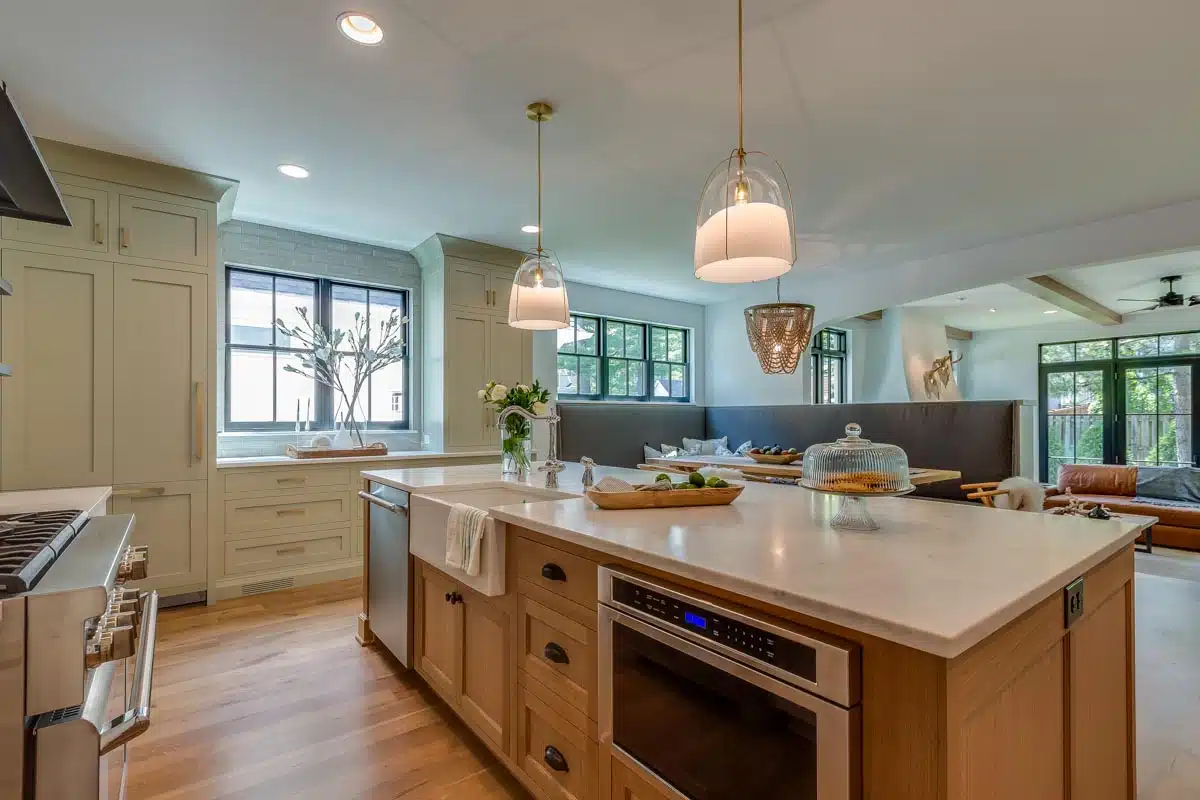 Nothing spices up the kitchen like a good island. Not only does it serve as a great spot for prepping meals and entertaining but adding a microwave also takes this functionality to the next level.
You'll be amazed at how introducing an appliance into your culinary space can totally transform it. The wonders of island microwave placement might just be your secret; check down below how it is so.
• Island Microwave Drawer: You can always give your kitchen island a perfect touch of classic charm by adding a microwave drawer. It'll not only enhance the overall look but also make all culinary-run tasks heaps easier. The built-in drawer tucks away that high-tech appliance for an effortless way to truly embrace your home's aesthetic.
• Island Microwave Shelf: A purpose-built microwave shelf integrated into the kitchen island will make your life easier by being easily accessible at all times, and it also frees up precious counter space. This is ideal for folks who want a straightforward style for their kitchen island.
• Island Microwave and Prep Station: Every serious chef knows that an island microwave and prep station is a real blessing. Having them both in the same place creates a super-efficient and organized kitchen. It turns your island into a one-stop shop for all your cooking needs, enabling you to take on virtually any culinary creation.
• Elevated Island Microwave: Elevating your microwave to the island countertop is a great way to make your kitchen look chic and modern. Not only will it stand out as part of the home decor, but you'll always have easy access to that dinner-saver known as the reliable microwave.
A higher unit also protects small children from playing with the appliance and will help avoid the need to bend over to clean out stains and debris.

• Island Microwave Niche: Give your island a stylish touch by carving out a small nook for an oven. That way, you can store it without it taking up too much space but keep it easy to grab whenever needed.
• Integrated Island Microwave Oven: If convenience and luxury are at the top of your list, this placement is something to add to your cooking space. At high-end kitchen islands, you'll get both a microwave and an oven united in one practical spot.
Do you have any questions or experience with microwave storage to share? Send your comments down below. See more related content in our article about microwave sizes on this page.