Here's our kitchen galley dimensions guide with standard and minimum one-row and two-row kitchen galley width and kitchen galley with island sizes.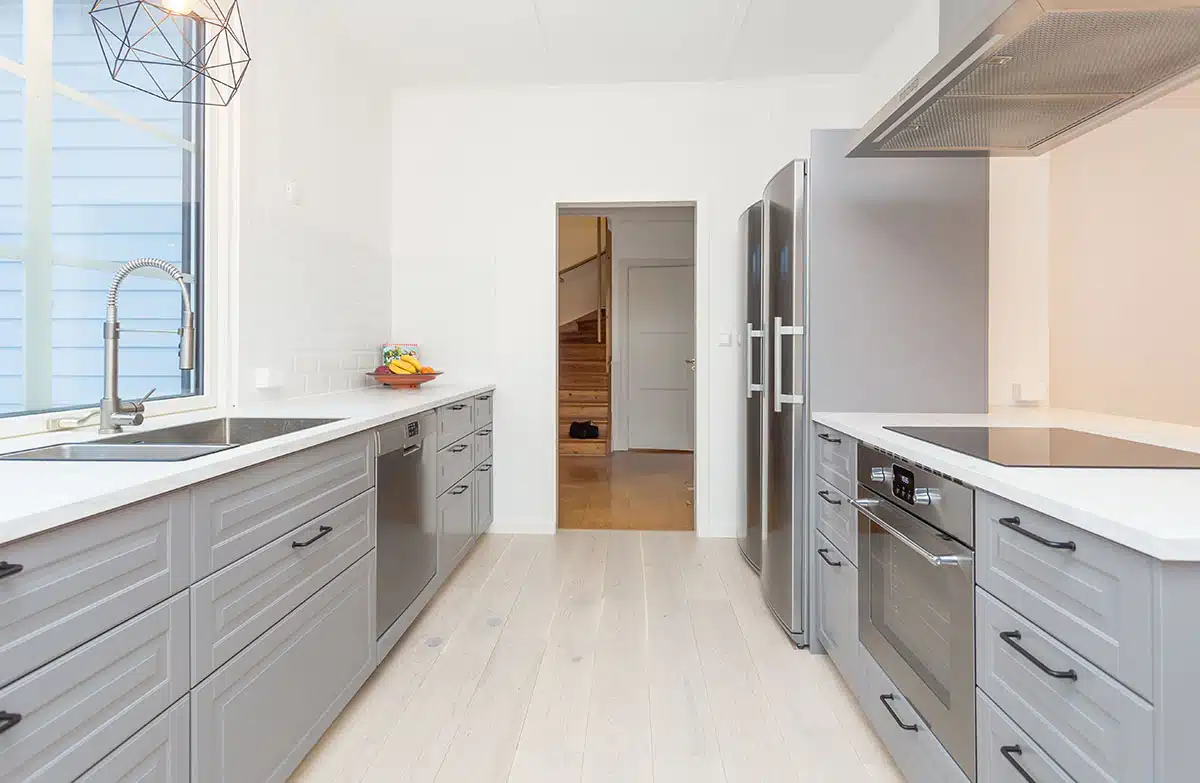 Most people associate "galley kitchens" with the tight and cramped food service preparation station in trains and similar mass transport vehicles. They often cannot see a galley kitchen in ordinary homes.
On the contrary, architects and interior designers often recommend a galley kitchen for the home because it is "ergonomically ideal." Moreover, the classic galley kitchen layout offers simplicity, efficiency, versatility, and durability like no other floor spacing design.
With rows of food preparation and management resources on both sides of the aisle, making food for families and guests is nearly effortless.
However, designing a galley kitchen for the home requires more than the usual appreciation of its benefits. It demands homeowners recognize essential galley kitchen dimensions to help them create the most efficient system for food management.
What Is The Size Of A Galley Style Kitchen?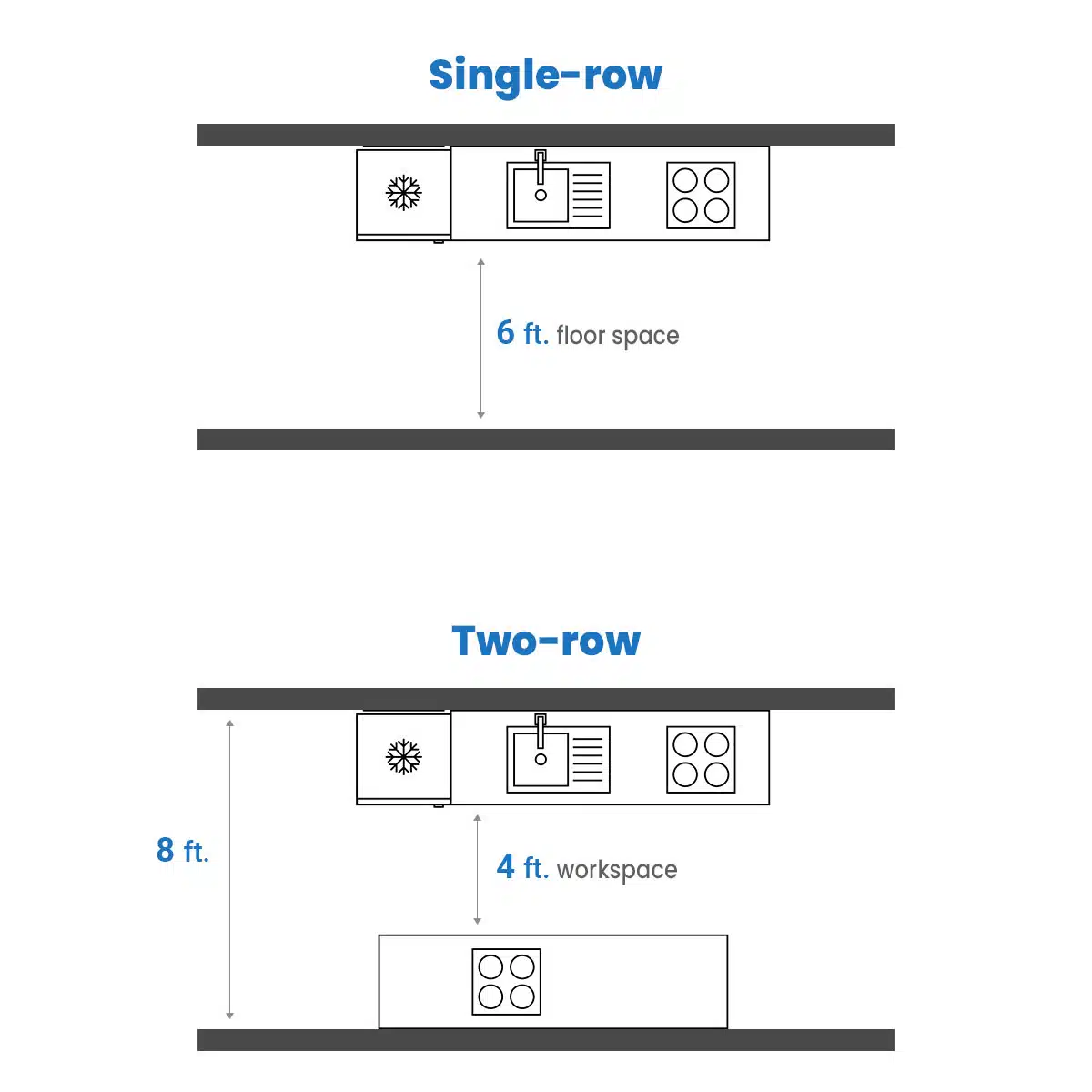 Galley kitchen size variations depend on a home or building's floor plan or available kitchen space unless they remodel. Hence, the size of a household's galley kitchen might differ from a neighbor or a friend.
Homeowners and remodelers must recognize the fundamental description of a galley kitchen to understand the size requirements of galley kitchens. One can think of a "galley" as a walkway or corridor.
Imagine a small room with a narrow space in the middle where one or two individuals can move and work to prepare, cook, and manage meals. Sandwiching the "movement space" are rows of resource-oriented fixtures. These could be walls with cabinets or countertops with sinks and other kitchen essentials.
One can look at the galley kitchen as an unusually long and narrow room. On the left is a counter, sink, or cabinetry. The middle is floor space for people to move and work. And the right is another set of kitchen basics (i.e., cabinetry, countertops, cooking appliances, etc.).
Experts call this layout (kitchen resources sandwiching a "workspace") a two-row galley kitchen. It is possible for a galley kitchen to only have one row of kitchen resources (i.e., countertop, cooking appliances, cabinetry, sinks, etc.) on either side of the room. Half of the room will be the "free workspace" next to a wall. Such a layout is a single-row galley kitchen.
This description strengthens the notion that galley kitchen size is relative (dependent on existing or planned layout).
On average, the "corridor" or space in the middle where people work and move about in the galley kitchen must be three to five feet wide. Meanwhile, most kitchen countertops are two feet to 25.5 inches deep from the wall to their outermost edges.
Based on these measurements, homeowners can assume that a galley kitchen can measure at least seven feet across (two feet on either side and three feet in the middle). Unfortunately, three feet can be a tight squeeze for most people unless they are skinny.
Ideally, homeowners must strive for a two row galley kitchen with a breadth of 8.8 feet or about 2.64 meters. A 4-foot-wide "workspace" in the middle should offer enough room for two people to work their magic in the kitchen without fuss. The room can be 12.6 feet long (or about 3.81 meters) for a total floor area of 108 square feet or 10 square meters.
A single row galley kitchen, also called a one wall, can be more forgiving, especially for families living in cramped spaces. A 6-foot-wide floor space should be enough to accommodate a 75-square-foot galley kitchen (or about 7 square meters).
Some tips, according to Durasupreme cabinetry, include having the flooring material run parallel or lengthwise with the walls can give the appearance of a larger layout. A backsplash that has an opposite orientation to the floor can also provide the feel of extra height and depth.
Additionally, having cabinets that go up from the floor to the ceiling can provide extra storage and the feeling of a height in the room's layout design.
Minimum Galley Dimensions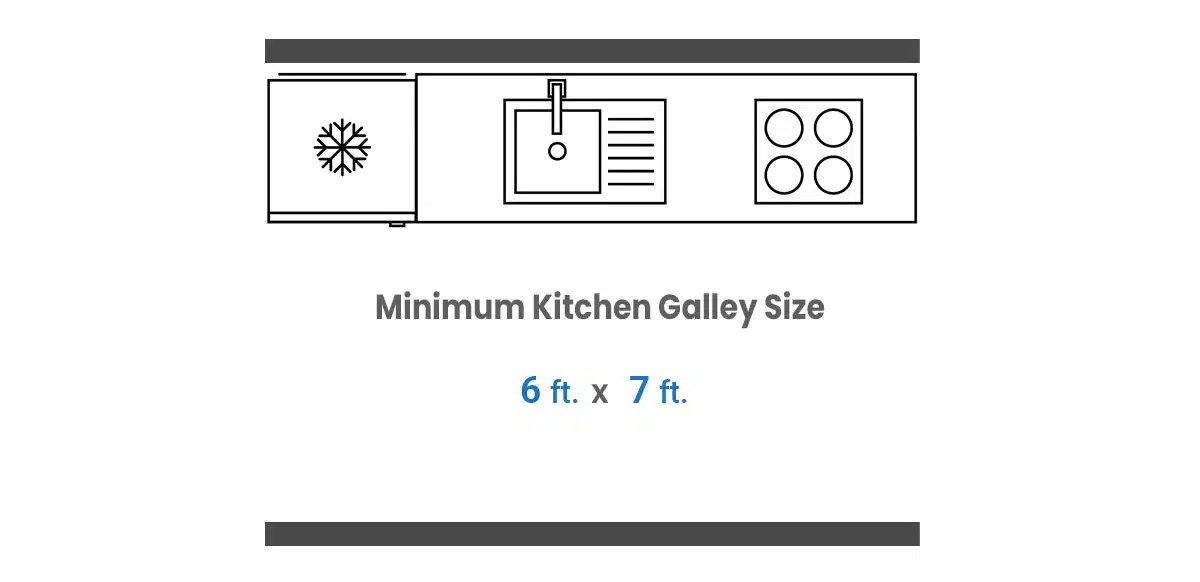 The minimum dimensions for a residential galley kitchen vary across houses. For example, a large home can opt for at least a seven-foot-wide workspace or aisle. Their countertops on both sides can be at least five feet, bringing the combined galley kitchen width to twelve feet.
The galley kitchen length can be at least 12 feet, requiring a kitchen floor area of 144 square feet or about 13.4 square meters.
Unfortunately, some families don't have the luxury of space in their homes. Experts recommend a minimum galley kitchen aisle of three feet spanning the kitchen resources (i.e., cabinets, sinks, prep tables, countertops, and appliances. Three feet should be wide enough for one person to move about unless the individual has a wide girth.
The minimum galley kitchen length is six feet, sufficient for small families to squeeze their bare kitchen essentials (i.e., an ultra-compact countertop, midget appliances, and others).
These measurements put the minimum galley kitchen sizes at 42 square feet (6 feet long x 7 feet wide) or about 3.9 square meters.
Having the galley kitchen layout open at both ends can create a traffic corridor. However, according to Thoughtco. you will want the lane to be larger than three feet wide to accommodate two people moving at one time. Another alternative project to an entry on both sides is to allow for a storage pantry area at the end.
What Is The Smallest Width For A Galley Corridor?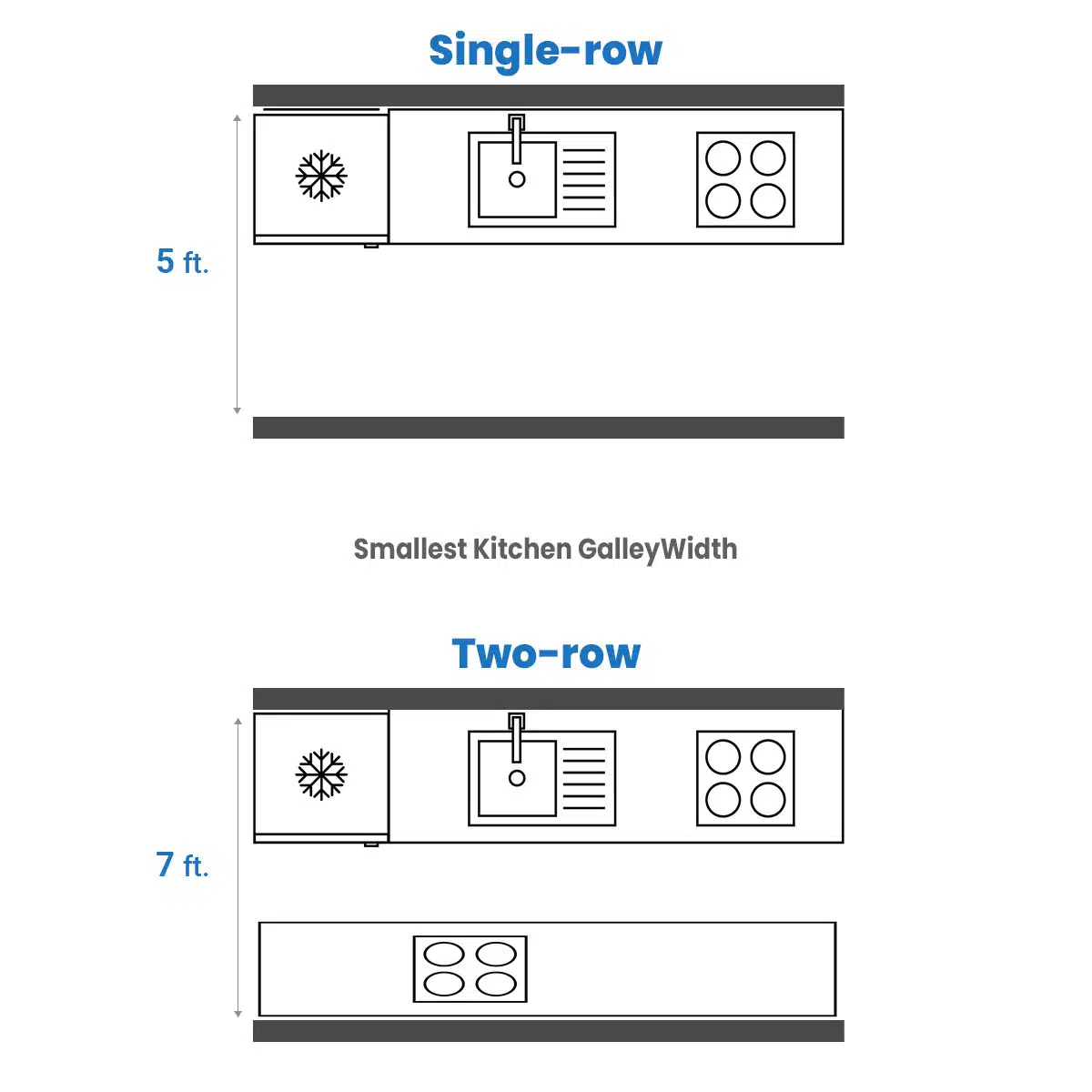 The smallest galley kitchen width varies across homes. However, most home renovation and remodeling experts recommend a minimum aisle or workspace width of three feet. This area describes the galley kitchen section where people stand and move to prepare, cook, and manage food.
One must also consider the galley kitchen layout. Is it a two-row kitchen or a single-row design? The former requires two sets of kitchen resources (i.e., appliances, countertops, cabinetry, sinks, and other kitchen essentials) on both sides of the walking space. On the other hand, single-row galley kitchens only have kitchen resources on one side.
Although the standard kitchen countertop is 25 inches deep, homeowners may choose a smaller version (about 19.5 or 20 inches). Unfortunately, kitchen appliances (i.e., gas ranges and refrigerators) can be bulkier than 20 inches. Hence, the minimum space requirement for a kitchen resource section in a galley kitchen layout is two feet.
Hence, a two-row galley kitchen must have a minimum breadth of seven feet (two feet on either side and three feet in the middle), while a single-row design only needs five feet of lateral space.
Galley Width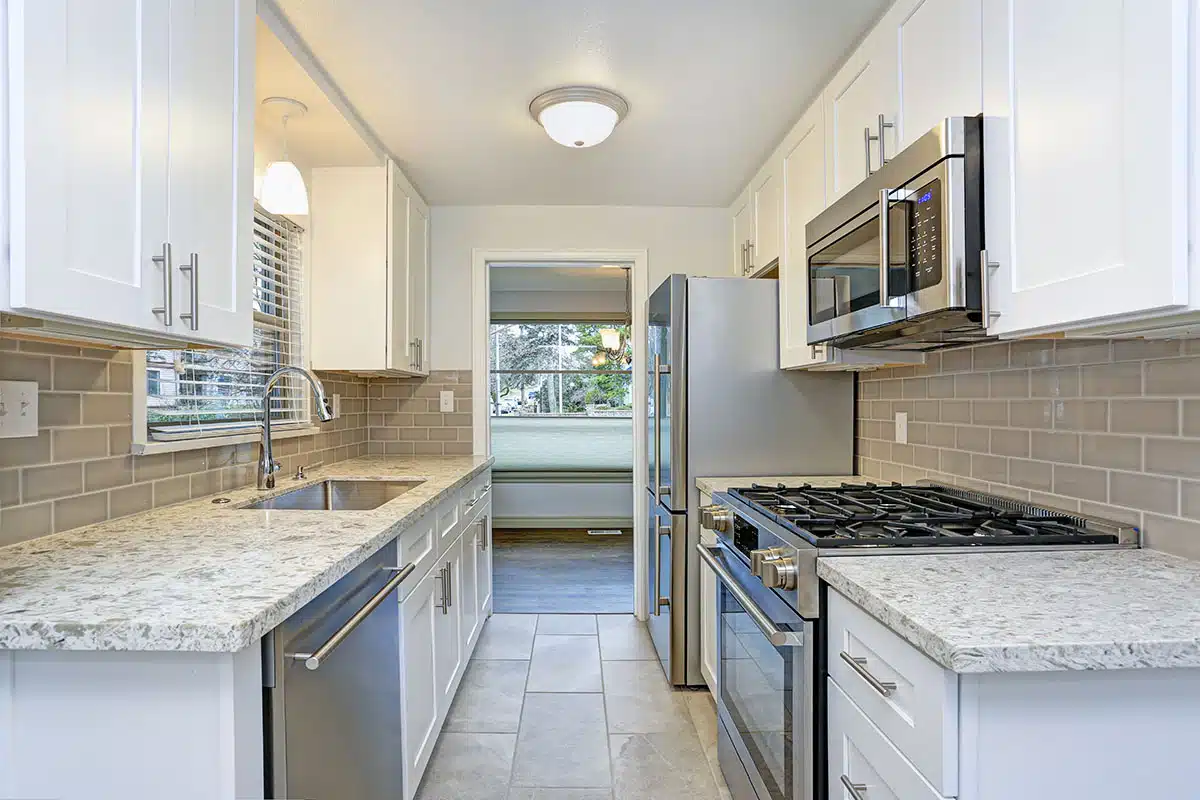 Creating a galley kitchen in the house requires analyzing existing space. As mentioned, standard galley kitchen dimensions exist, but the measurements would still depend on a building's layout.
Many galley kitchen designers recommend a width of 8.8 feet or about 2.64 meters for a two-row layout. This measurement presupposes a four-foot-wide walking space or aisle for kitchen workers to move about. The width also assumes a 2.2-foot kitchen resource section on either side, combining for 4.4 feet.
On the other hand, a single-row galley kitchen can be as broad as six feet, with the one-sided kitchen resource section smaller by two inches from a two-row layout. Homeowners do not need to worry about the space on the other side because it is the kitchen wall.
Small Galley Layout Dimensions
Homeowners faced with space limitations in their kitchens can choose a galley kitchen with slightly smaller sizes. However, experts recommend observing the bare minimum to ensure efficiency and functionality in the kitchen.
As mentioned, a small galley kitchen should not be shorter than six feet or 1.8 meters. Its aisle or walking space must not be narrower than three feet. Homeowners can choose small or space-efficient kitchen appliances, fixtures, and items to put in the galley kitchen's resource section.
A single-row galley kitchen could be as small as 30 square feet (five feet across and six feet long), while a two-row layout could be at least 42 square feet (seven feet across and six feet long).
Homeowners must realize that existing kitchen space is the only limitation of their galley kitchen layout. One way to give the appearance of a wider space per Omegaplc. is to use darker finish cabinets on the lower units and lighter on the upper cupboards. You can pair light and dark shades or white on top with more color below with excellent results. Using reflective cabinet surfaces can also help reflect light to provide a brighter overall feel.
Standard Galley Design Kitchen Size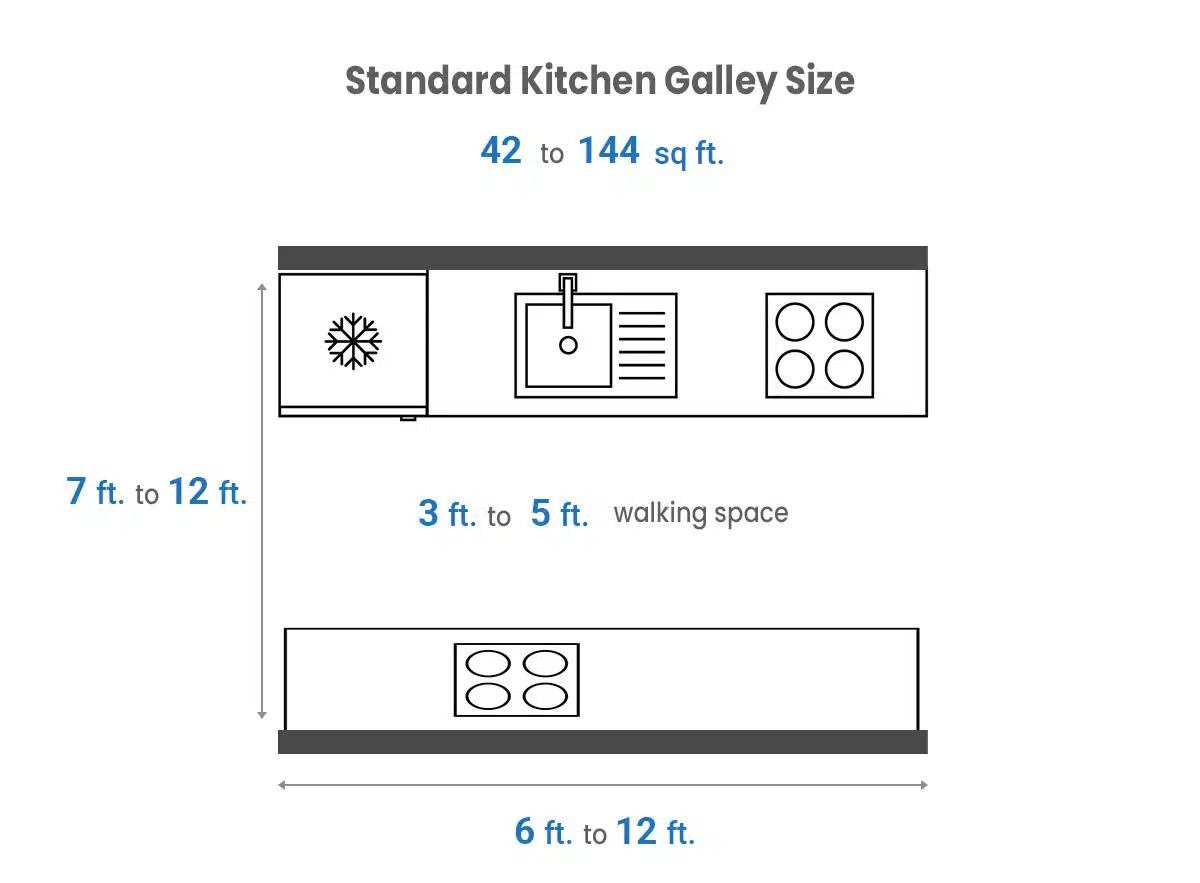 Most homes with a galley kitchen allot seven to twelve feet (2.1 to 3.7 meters) of cross-sectional space to accommodate two kitchen resource sections and a middle walking area or aisle.
Many homeowners adjust their walking spaces from three to four or five feet (about 1.2 meters), ensuring greater freedom of movement, kitchen efficiency, and safety.
Meanwhile, the galley kitchen's length can be six to twelve feet or about 1.8 to 3.7 meters. However, some homeowners extend this parameter to 15 feet (about 4.6 meters) to accommodate more flexibility with kitchen appliances and fixtures.
These measurements require a two-row galley kitchen size ranging from 42 to 144 square feet (3.9 to 13.4 square meters).
Galley With Island Dimensions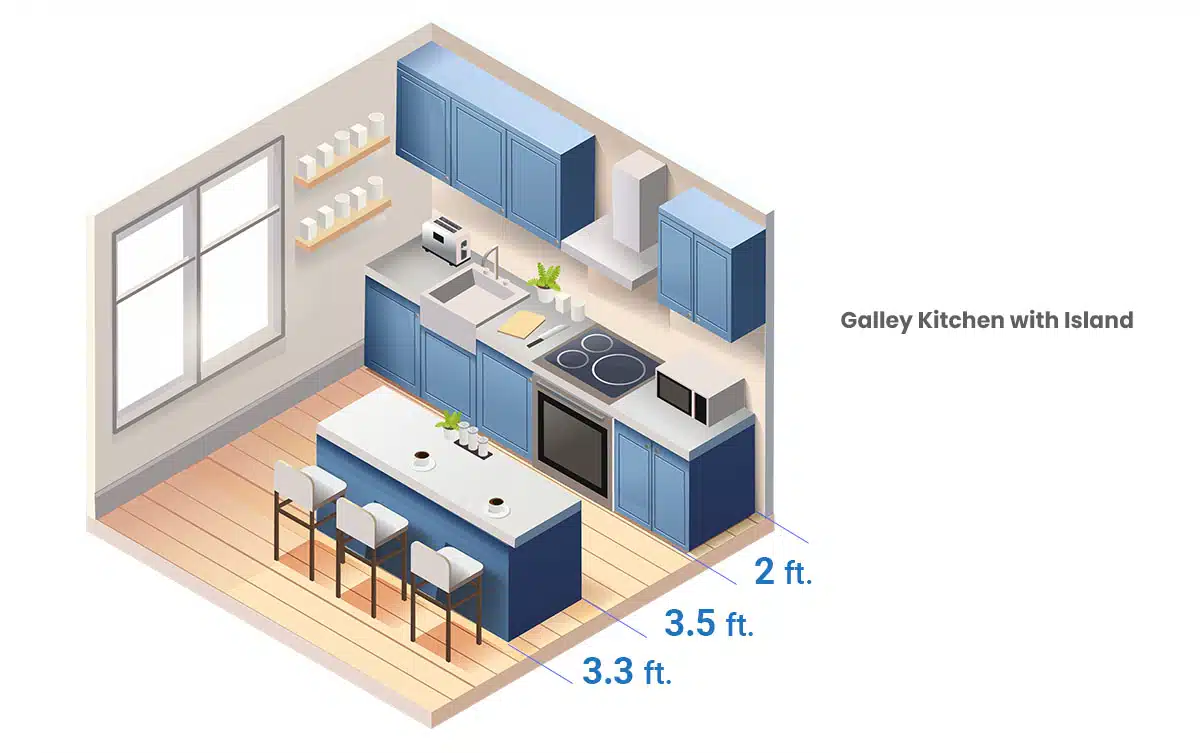 Adding an island to a galley kitchen layout requires a larger room. Most kitchen islands are 40 inches wide and 80 inches long (about 3.3 by 6.7 feet or 1 by 2 meters). Experts recommend a walking space of 42 to 48 inches (about 3.5 to 4 feet or 1 to 1.2 meters) around the kitchen island.
A galley kitchen with an island can have the following minimum dimensions.
Kitchen resource section – 2 feet or 0.6 meters each
Walking space – 3.5 feet or 1 meter on any island side
Kitchen island width – 3.3 feet or 1 meter
Hence, a galley kitchen with an island will have a minimum width of 14.3 feet (2 feet + 3.5 feet + 3.3 feet + 3.5 feet + 2 feet = 14.3 feet) or about 4.4 meters. The length should be identical to a standard galley kitchen layout, although 12 feet or 3.7 meters would be ideal.
An island is beneficial for extra storage space for items such as pots, pans, dishes, cutting boards, or utensils, and small appliances like the toaster, microwave, or coffee maker to help keep countertops clear.
They can also be effective in creating a kitchen work triangle that can allow you to maximize food prep by keeping the dishwasher, refrigerator, sink, oven, and stove within easy reach. For those with more extensive layout designs, one can incorporate an island dining area with barstools and pendant lighting for more illumination and style.
Can A Galley Aisle Be Too Wide?
Some homeowners assume that galley kitchens can be as wide as they want. However, experts recommend limiting a galley kitchen's aisle or walking space to 8 feet or 2.4 meters. Too broad a galley kitchen can undermine kitchen efficiency. Reaching for items between kitchen resource sections can be tiring, reducing the fun of preparing food for friends and family.
Did you find all of the information about layout plan ideas and floor plans you were looking for? Share any questions or experiences with galley kitchen sizes or remodeling in the comments section. Visit our guide to kitchen layout dimensions for more related content.