In this herringbone backsplash tile guide you'll see what it is, different types, installation tips, cost, and differences between herringbone and a chevron pattern.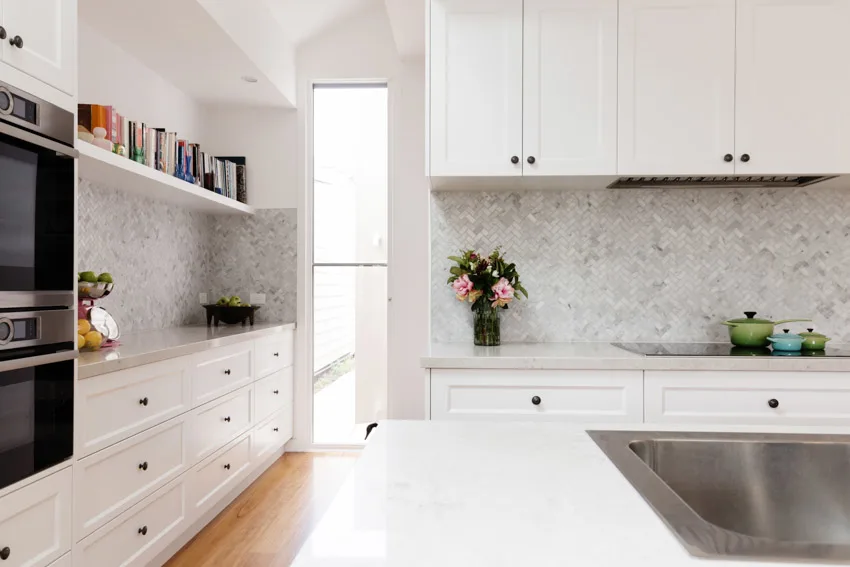 Herringbone is a timeless pattern that has found its way into every aspect of design. Herringbone designs are popular in interior design and can be spotted in practically every architectural element, including rugs, throw pillows, wood floors, curtains, and above all, tiles.
Herringbone tile offers timeless charm to any design, whether it's for a bathroom floor or a kitchen backsplash. In this article, our main focus is on the herringbone backsplash and all the aspects under it.
What Is Herringbone Backsplash?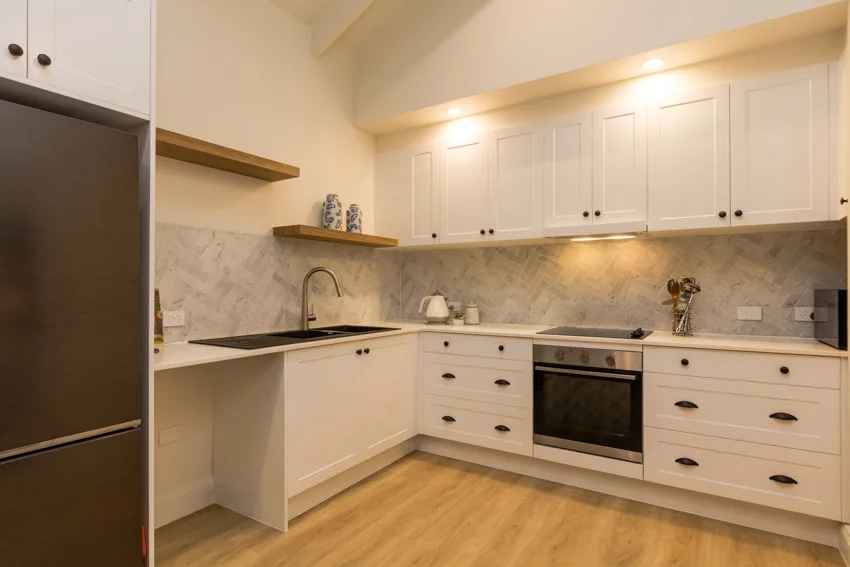 The name comes from the concept that a herringbone backsplash protects walls from splashes and spills. However, in most kitchens, they also function as a decorative centerpiece, which can make choosing a tile pattern challenging.
Herringbone is one of the most favorite patterns by plenty of homeowners. The design is reminiscent of fish bones. It's usually constructed out of rectangular-shaped ceramic, stone, or porcelain tiles. See more types of kitchen backsplash here.

Double Herringbone Backsplash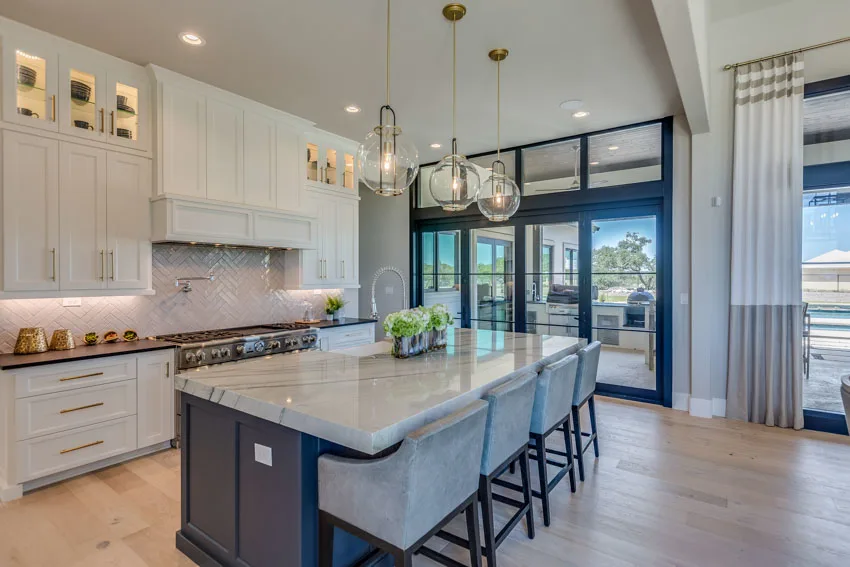 Two rectangle-shaped tiles are connected to form a double herringbone backsplash pattern. Since it is a challenging layout to execute, this design is rarely used.
Herringbone Kitchen Backsplash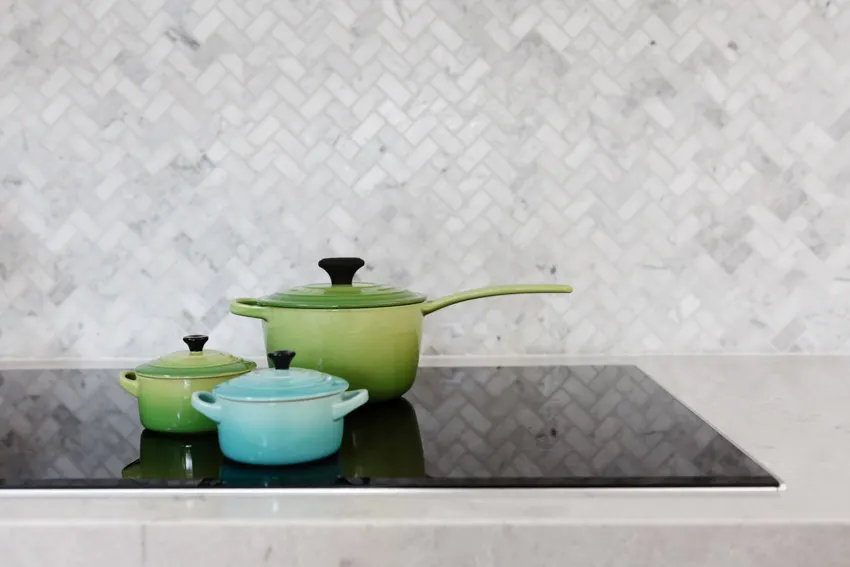 Herringbone tiles in white and marble are a popular choice for kitchen backsplashes. Indeed, they are lovely and classic, but if you want something a little different, you can search online for some of the most stunning herringbone backsplash ideas.
If you have all the similarly colored cabinets or need to transform the atmosphere of your kitchen with a touch of vibrancy or patterns of herringbone backsplash tiles, the colorful options should be explored.
There are various ways to make a captivating herringbone backsplash pattern in your kitchen. Regardless of the material, each piece is put at a certain angle to the next, either parallel or offset.
Herringbone Subway Tile Backsplash
Another popular choice for a backsplash is herringbone subway tile. Ceramic, porcelain, and marble, to mention a few, all fall under this category.
You can consider using a beveled edge to enhance texture of subway tile backsplash by creating a 3-D look.
Rectangles, or parallelograms with a little proportional variation, such as the herringbone subway tile form, are less striking than thinner and longer tiles. Thinner tiles offer a busier effect that may be broken up with different hues.
Herringbone Mosaic Backsplash
Using a herringbone mosaic backsplash to provide stunning detail is a great idea. This classic pattern is suitable for both wall and floor tile applications. The pattern is more comparable to a broken zigzag than a chevron, yet they both have a geometric charm.
Installing traditional marble mosaic sheets for a herringbone backsplash kitchen tile design that produces an expansive white interior may make this design seem timeless. As the ultimate neutral pick, you can mix it with any paint color and cabinet design.
Mosaic backsplashes with a mix of styles are appealing. These hybrids mix a variety of materials to provide textural and surface appeal in a vast array of kitchen backsplash options.
When it comes to mosaic mix backsplashes, the options are literally endless: glass, granite, ceramic, stone, glass, metal.
Herringbone Peel And Stick Backsplash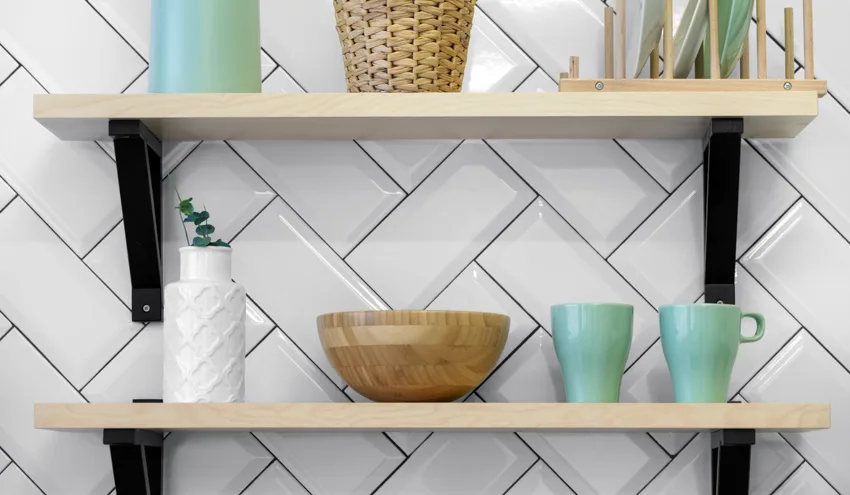 Herringbone peel and stick backsplash may be used to embellish kitchen island walls, bathroom backsplashes, mirrors, laundry rooms, RVs, and fireplaces, among other places.
With a unique peel-and-stick backsplash tile, it may convert the living area from ordinary to extraordinary.
This Herringbone peel and stick backsplash tile could be used in the shower, and it's ideal for kitchen island walls and bathroom backsplashes. It has a high-quality adhesive that is more durable than regular self-adhesive tiles.
You can adhere it to the wall firmly and you won't worry about peeling it off. You don't have to overlap your stickers like you would with sticker tiles. You can simply connect the dots one by one.
Marble Herringbone Backsplash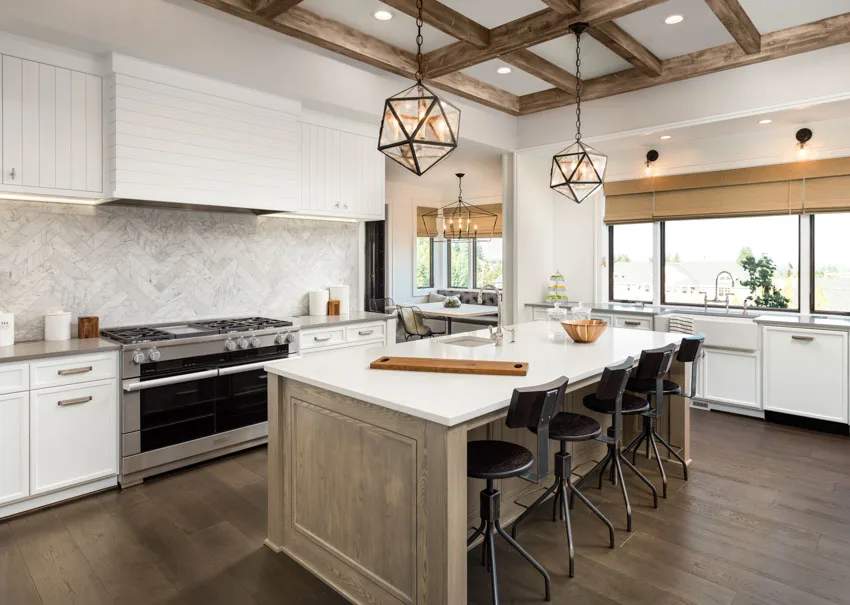 Indeed, the marble herringbone backsplash is a great representative of nature's creativity. A marble-tile kitchen backsplash is a timeless masterpiece.
Marble comes from a long line of families and generations who have mined slabs of the natural stone from quarries owned by their ancestors.
The timeless elegance of a marble herringbone backsplash tile may be found in the kitchen or bathroom. Marble also gives your project a sense of depth and elegance.
Glass Herringbone Backsplash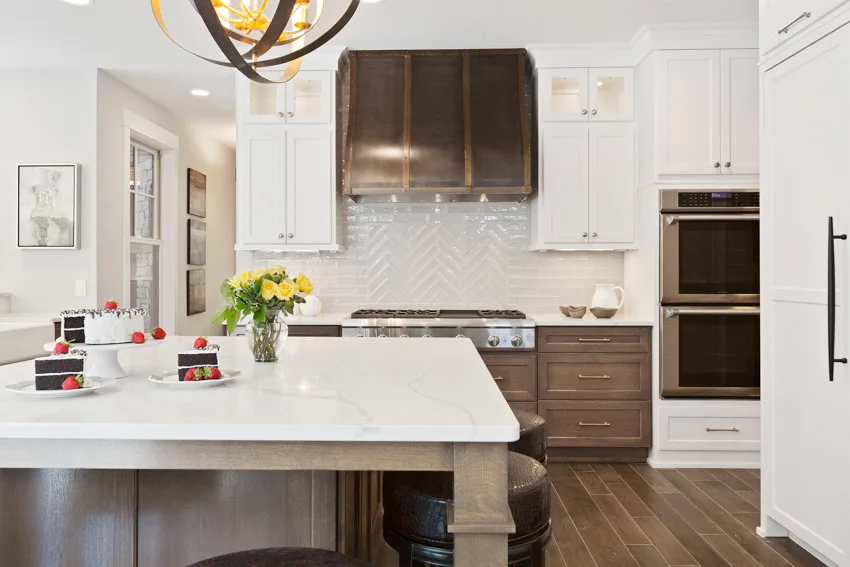 Kitchen designers love the aesthetic of a glass herringbone backsplash. Glass tiles provide a splash of color and depth to any room, and they come in a variety of styles.
A glass backsplash could inspire history and tradition, or it can blend a contemporary or transitional concept.
A glass herringbone backsplash adds dimension, color, and limitless possibilities to any room. Glass backsplash tile comes in a wide range of colors and options, giving unlimited possibilities a whole significant definition.
Glass, while not as inexpensive as ceramic, has a wide range of styles and alternatives.
Ceramic Herringbone Backsplash
Ceramic science and design breakthroughs have given place to countless creative spins in ceramic herringbone backsplash patterns, making them highly durable and flexible.
From the current craze for modern mosaic designs to subtleties inspired by history and even nature, there's something for everyone.
Ceramic herringbone backsplash tile also comes in a variety of textural and tile size variations. All of this adds up to a budget-stretching renovation project.
Ceramic tile backsplashes are less expensive than marble, granite, or Corian backsplashes.
Ceramic herringbone backsplash tiles are often inexpensive, lightweight, and simple to install. To fulfill the highest requirements, this alternative is specifically prepared and baked in high-fired kilns.
Choosing a ceramic tile backsplash means thinking about how far you can stretch your renovation budget.
Herringbone Wood Backsplash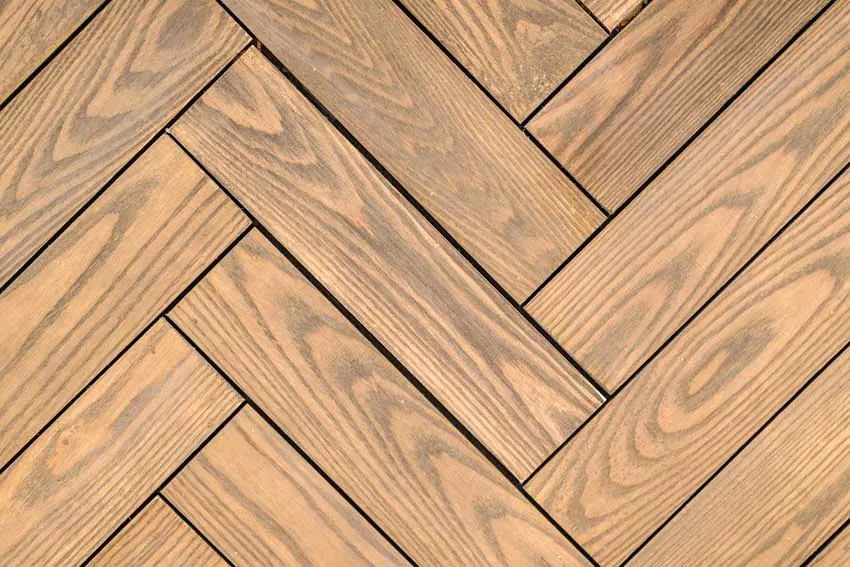 A herringbone wood backsplash is a great choice if you want a traditional, rustic, yet trendy look. It provides a lot of texture and breaks up a large expanse.
If full coverage is too much, you may always make this pattern a focal point in the center of the floor or wall, just like the wood backsplash.
Installing Herringbone Backsplash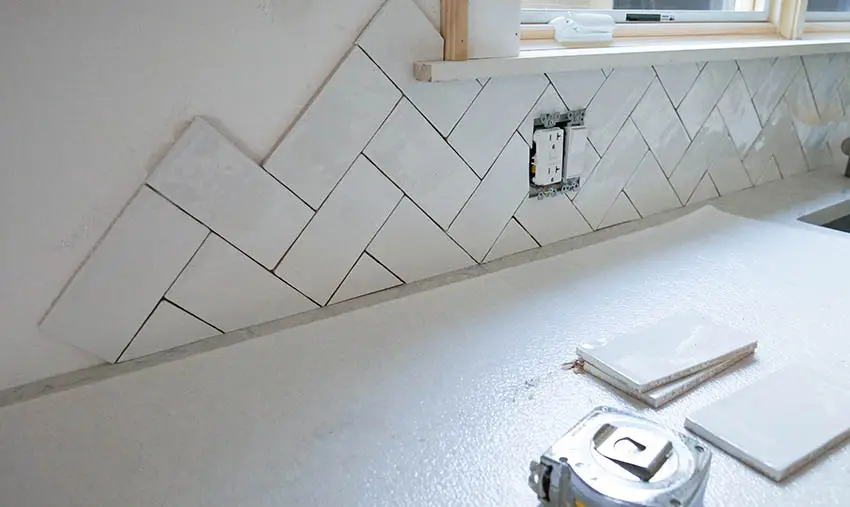 If you want your tiled area to be symmetrical, which is frequently the most appealing look, start in the center and work your way out when you install a tile backsplash with this pattern. This ensures that your herringbone pattern is consistent on both sides of a wall or square floor space.
If you want to be sure that there are no cut tiles along one of the corners of your floor or wall, start there as well.
This procedure will not lower the number of tiles needed to finish a herringbone pattern, but it will allow you more control over the edges of the tiled area that will be cut.
Which Direction Should Herringbone Tile Be Laid?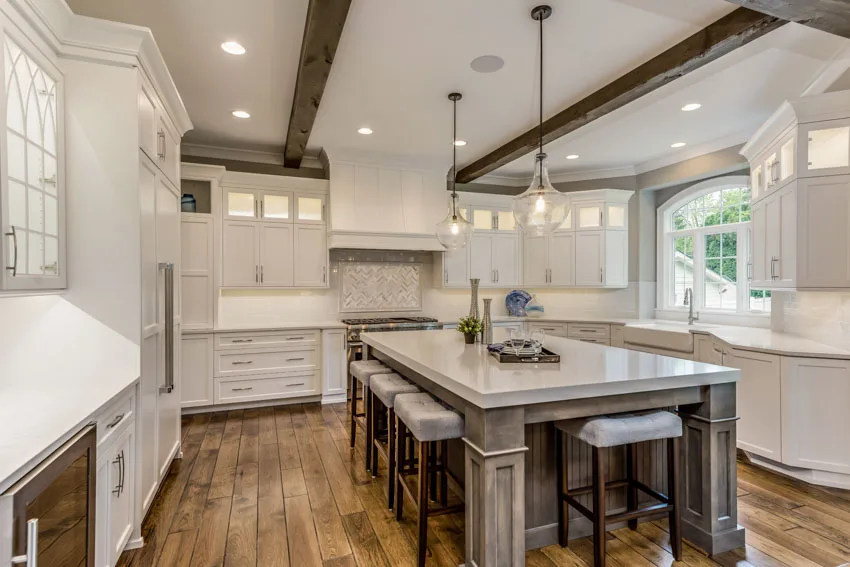 The direction of a herringbone tile is customarily laid parallel to the longest wall in the room or towards the window.
Moreover, when installing a herringbone backsplash, the conventional rule of thumb is to lay each rectangular tile at a 90-degree angle to the tile adjacent to it.
This creates a fishbone pattern that also resembles a collection of arrows or triangles, according to professionals.
Is Herringbone Tile More Expensive?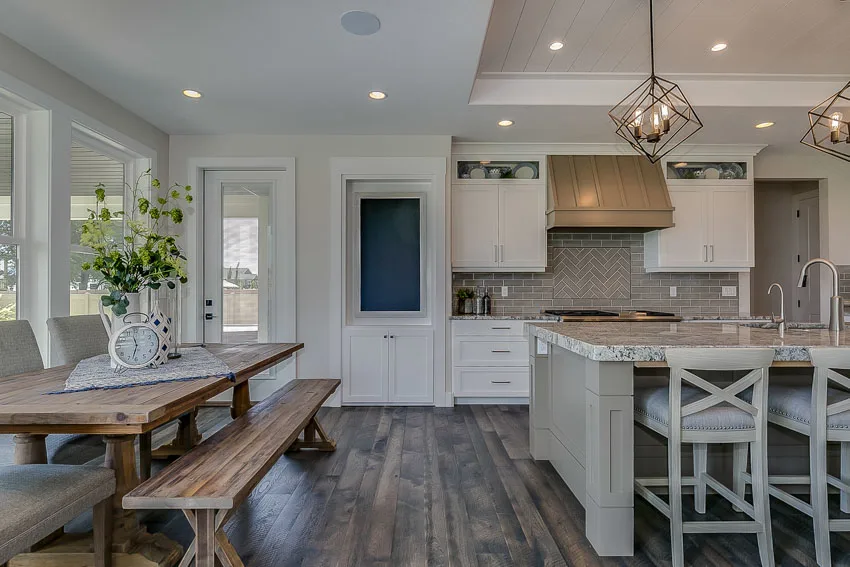 Yes, laying tile in a herringbone pattern is more expensive. Because the design is more complex and needs more time and effort to cut than others, this tile may cost you an extra $3 to $5 per square foot in labor.
Because no walls are perfectly straight or square, builders must cut edges at various angles across the room. They must also cut several outside and interior angles, as well as utilize laser levels to properly lay the tile pattern line.
Some tile patterns may even demand more work to cut than regular patterns since they use thick ceramic and thin glass tile.
Will Herringbone Backsplash Go Out of Style?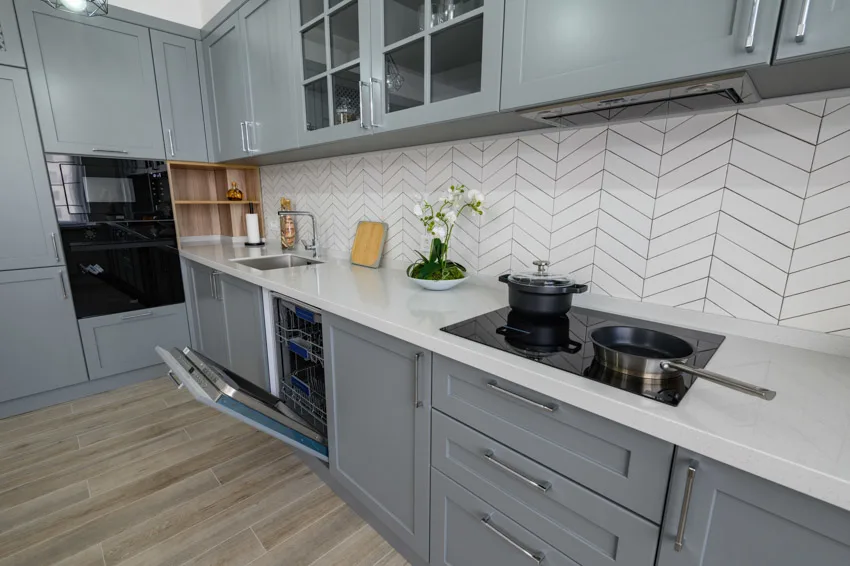 The good thing is that herringbone is not going out of style any time in the future.

This style will last for a long time due to the versatility of patterns and their history, as well as the many different appearances you can get with herringbone. See more ways to match kitchen countertops with backsplash here.

Difference Between Herringbone and Chevron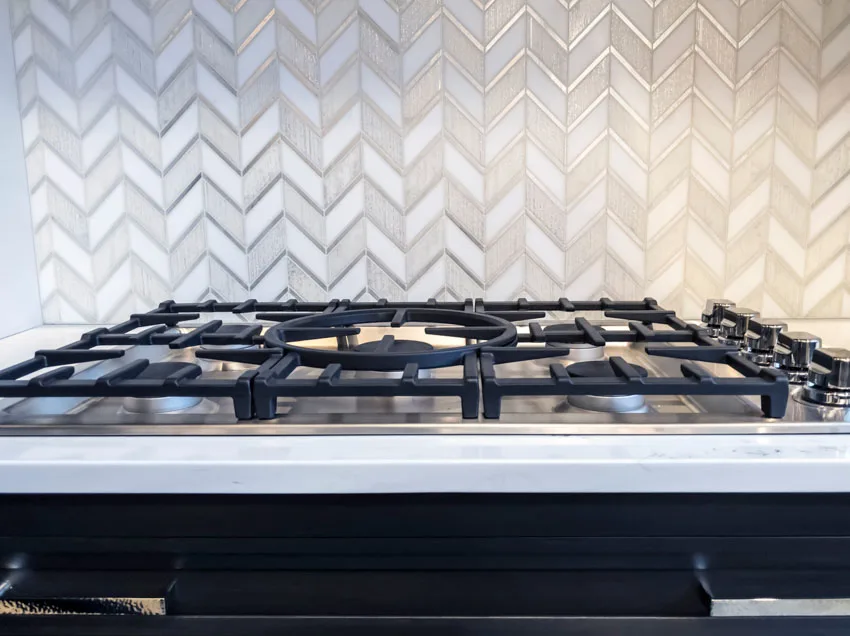 Chevron boards' ends are cut at a 45-degree angle. Herringbone planks, on the other hand, are cut at a 90-degree angle. Chevron flooring is designed in a zigzag pattern with a point at the top of each zigzag.
Herringbone flooring, on the contrary, still has a zigzag design, but it's more of a staggering impression.
See more related content in our article about the kitchen backsplash designs on this page.