Welcome to our ultimate guide to the different types of kitchen backsplash including the most popular styles, patterns and design ideas for your home.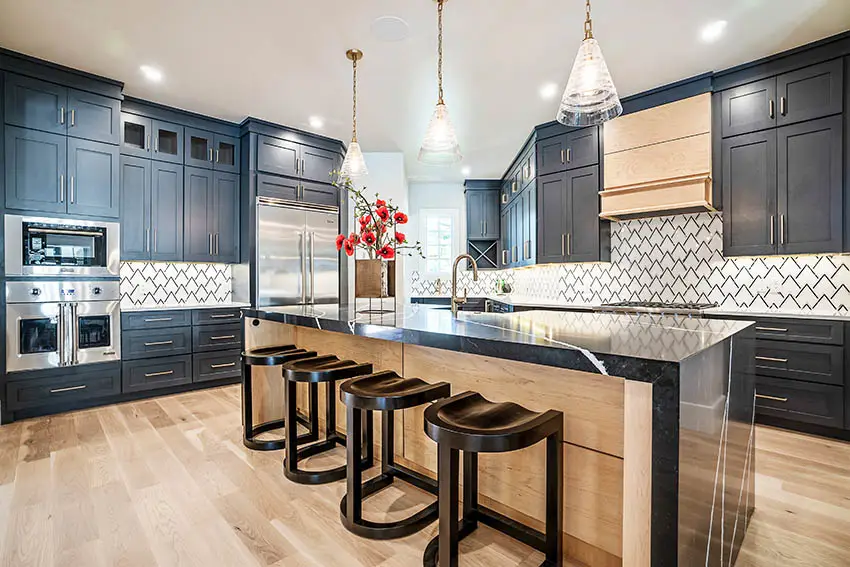 A kitchen backsplash has several purposes. The most basic and obvious purpose is to protect your kitchen walls. Most importantly, the wall behind your sink must be protected from accidental water splashes.
Backsplash Materials
Installing a backsplash behind your stove can protect the wall from grease or sauce splatter stains and make clean-up much more manageable. Along prep areas, a backsplash will catch the splashes generated by chopping, stirring, and blending foods and is much easier to wipe clean than a painted wall.
Another practical reason to have a kitchen backsplash is to achieve a cosmetic result. Whatever your vision for your kitchen, a backsplash can support and enhance it.
Matching the backsplash to another element in your kitchen, such as the countertop or kitchen island, will tie things together. A brightly colored or distinctively patterned backsplash can be the focal point of your design, or it can complement other choices you've made.
Understanding the many options available for kitchen backsplashes will help you create a beautiful and functional kitchen and help you select the material that is best for you.
Ceramic & Porcelain Tile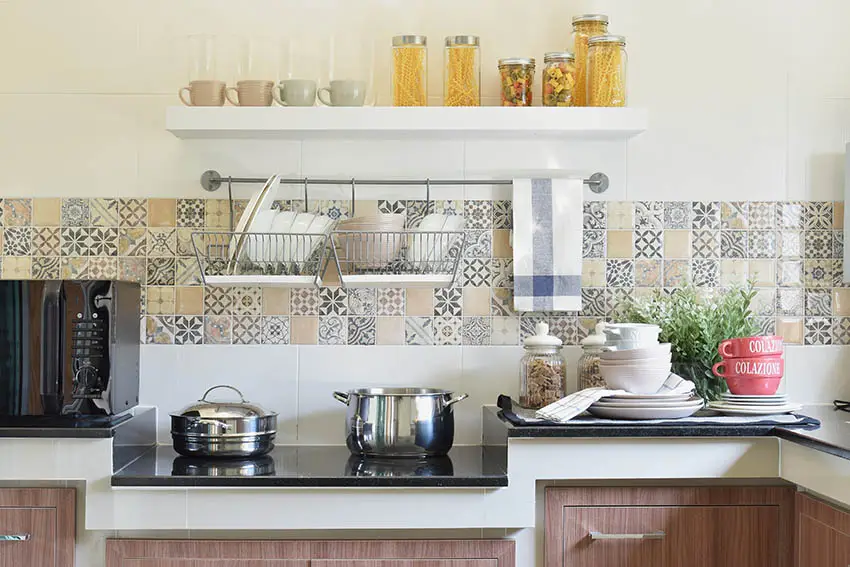 The most popular material choice for kitchen backsplashes is tile. Tile can be made out of many different materials, but the best known are ceramic and porcelain.
Ceramics and porcelain are similar because both are made from clay and fired in a kiln.
Porcelain uses only white clay and combines it with sand and feldspar. (Feldspar is a catch-all term that refers to rock-forming silicate materials.)
The result is a strong, hard, and dense material that is very non-porous. Porcelain absorbs less than 0.5% of water. Because of the materials used and the high temperature at which the clay is fired, porcelain tiles are very hard and dense.
They are ideal for use in outdoor kitchens, as they can withstand temperature and UV light variations.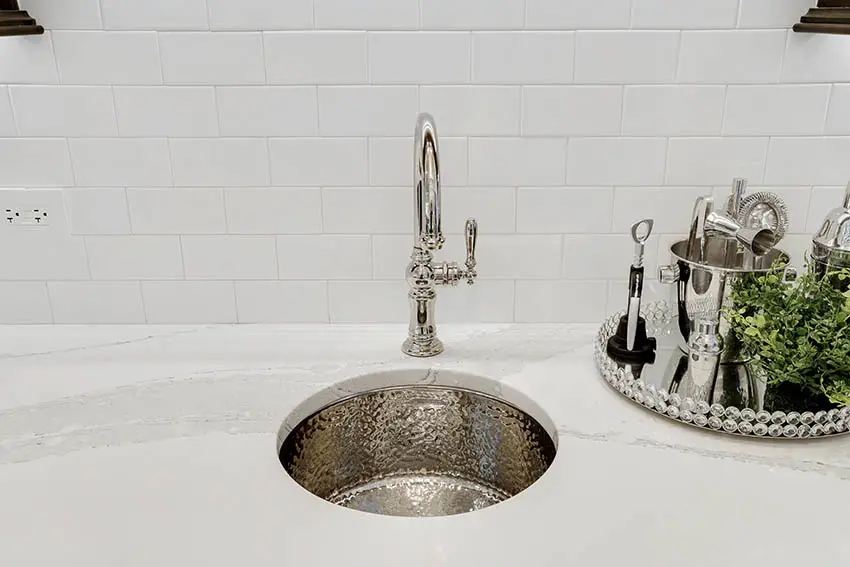 Porcelain does come with some drawbacks. It is more expensive than ceramic and is harder to cut. It tends to be available in a smaller range of shapes. Also, the colors and patterns are limited because only white clay is used.
Ceramic is created from red, white, or brown clay. Although it's softer and less dense than porcelain, it is still plenty hard enough for a kitchen backsplash. It can crack at cold temperatures, so it should not be used in unheated or exterior kitchens in cold climates.
Ceramics absorbs more water than porcelain, but it will protect your kitchen walls from accidental water splashes from the kitchen sink.
Like porcelain, ceramic is easily cleaned with a soft cloth and a non-abrasive cleaner. It is an excellent, budget-friendly alternative to porcelain.
Consumers looking for distinctive patterns or shapes will find many options in the ceramic tile catalog of their chosen supplier.
When looking at ceramic or porcelain tiles, buyers may see a rating from PEI 0 to PEI 5. The Porcelain Enamel Institute created this rating system to help consumers choose a material well-suited for their purpose. (Source: PEI)
Porcelain usually earns a 4 or 5 rating, meaning it can support significant weight and heavy foot traffic without cracking. Most ceramic is rated as a 3 or 4, making it suitable for non-commercial uses.
Luckily, backsplashes are non-weight-bearing and do not see foot traffic, so tiles with ratings as low as PEI 0 are appropriate for this use. You can learn more about ceramic vs porcelain tile here.
Stone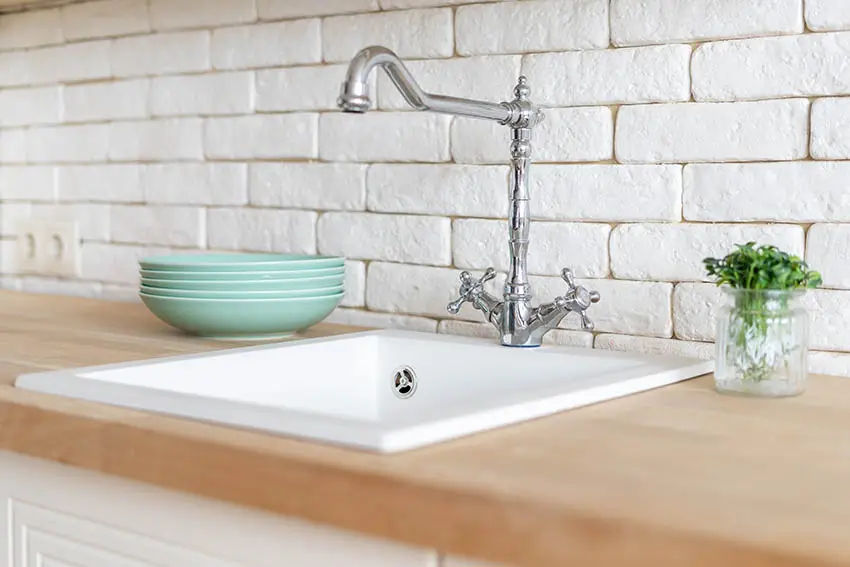 If you're installing a new countertop made of stone, you should strongly consider using the same material for the backsplash.
Natural stone has distinctive variations depending on the time and location it was quarried. This makes it essential to purchase all the materials you will use simultaneously, as it may not be possible to get a close or exact match later.
Stone is of high quality and highly durable, making it an ideal choice for a backsplash that will last for years.
Quartz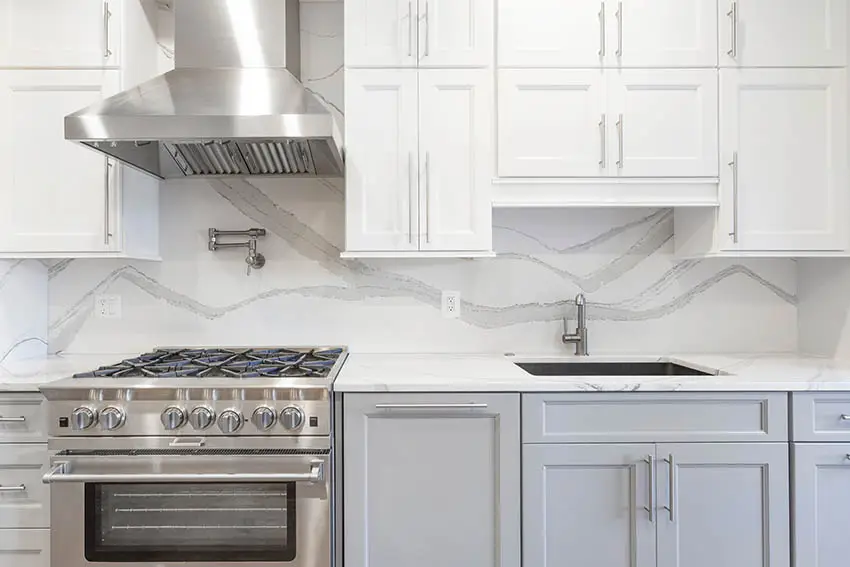 Quartz countertops and backsplash are made from crushed quartz, combined with resin and poured into slabs.
They are beautiful and highly durable, as well as non-porous. They are sparkly, bright, and easy to clean and maintain, requiring no sealant.
An advantage of quartz backsplash is that the material can be closely matched, even years later, as long as the manufacturer is still producing.
This means that quartz backsplashes can be added to your quartz countertops at any point without sacrificing a streamlined look.
Marble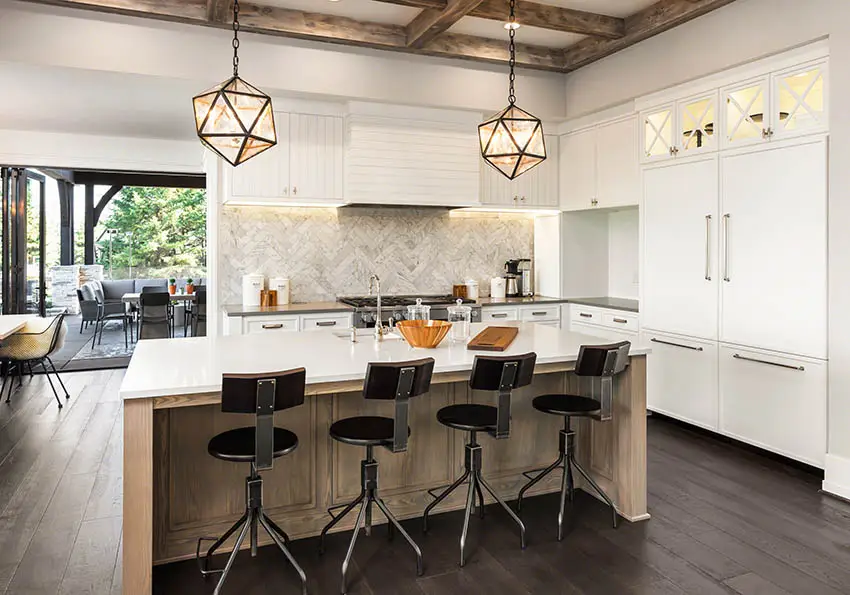 Marble countertops are hard, non-porous, durable, and absolutely gorgeous.
They must be professionally installed. The veining will be very consistent if the backsplash and countertop slabs are quarried simultaneously from the exact location.
A marble backsplash has all the benefits of a marble countertop — it is a durable and low-porosity material that is scratch and scorch resistant.
Make sure your cabinets can support the weight of marble before installing.
Adding a marble backsplash years after your countertops have been installed is not recommended due to the difficulty of matching color and veining.
Travertine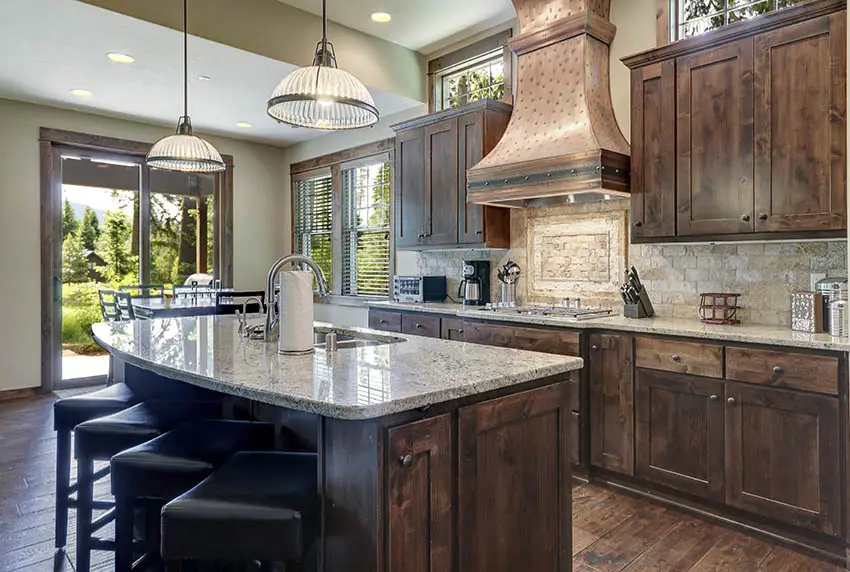 Travertine was once the most common choice for kitchen backsplashes, although it has fallen out of favor recently.
A type of limestone, travertine, is available in a 'polished' or 'tumbled' finish. The tumbled finish has a rougher, more pockmarked appearance and is more porous than polished travertine.
The biggest complaint about travertine is that it needs to be sealed every three to five years.
Some consumers complain that travertine is challenging to color match and may look different when installed than in the showroom.
Particularly, travertine can have a pinkish tint under incandescent light. Some homeowners consider this a feature, while others consider it a bug.
Stone Veneer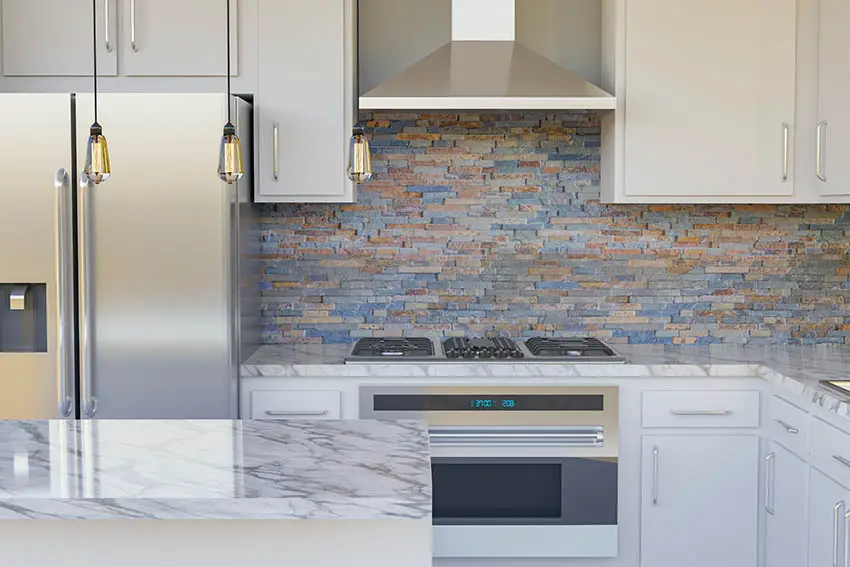 A fascinating material that is not yet widely known is stone veneer. The stone in question is slate, and sheets of this material are so thin and flexible that they can even be installed on curved walls or columns.
Even translucent panels of stone veneer are available to reveal the texture or pattern of the wall behind it. Stone veneer can be utilized as a brick backsplash to provide old-world charm, a contemporary or even industrial look, depending on your other finishes.
Metal Tile
Pressed metal tile is a distinctive and attractive choice for a kitchen backsplash. Made of an aluminum alloy, they are rustproof and heat-resistant, making them perfect for installation behind stoves and sinks. Stamps are used to 'press' a repeating design into the metal.
These tiles can be painted to match your kitchen or your cabinets. Still, different manufacturers recommend different paints, so make sure to read the specifications carefully before breaking out your paintbrush. Visit this page to see more types of metal backsplash.
Stainless Steel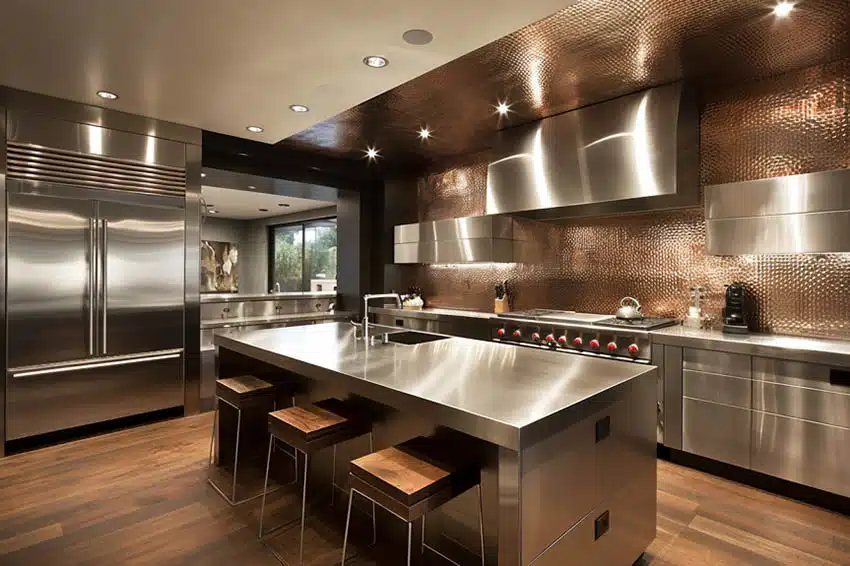 Not too shiny and reflective but not too light absorbent, either; stainless steel has a way of making every space seem more extensive and more expansive than it is.
Stainless steel is a ubiquitous choice in commercial kitchens, and the reasons are clear. It is non-porous and, therefore, hygienic as well as easy to clean.
It is both heat-proof and water-resistant. Some finishes are prone to picking up fingerprint smudges, while others are more resistant to this type of smear, which is an important consideration when choosing a backsplash material.
Stainless steel can be purchased as a large sheet and cut down to size, perfectly matching the dimensions of your kitchen.
Some homeowners install stainless steel behind the stove while using a different material for the rest of the backsplash. If you choose a magnetic variant, you can use your backsplash to hold up recipes or notes — make sure to keep anything flammable well away from the stove.
There are some downsides to stainless steel. It can dent or scratch, so it is essential to treat it kindly. Acidic liquids like tomato or lemon juice can scar stainless steel if left to sit, so promptly wipe up any spills or squirts.
Be wary of combining stainless steel backsplashes with stainless steel appliances unless you intend to create an industrial/commercial kitchen. See more examples of stainless steel countertops on this page.
Peel and Stick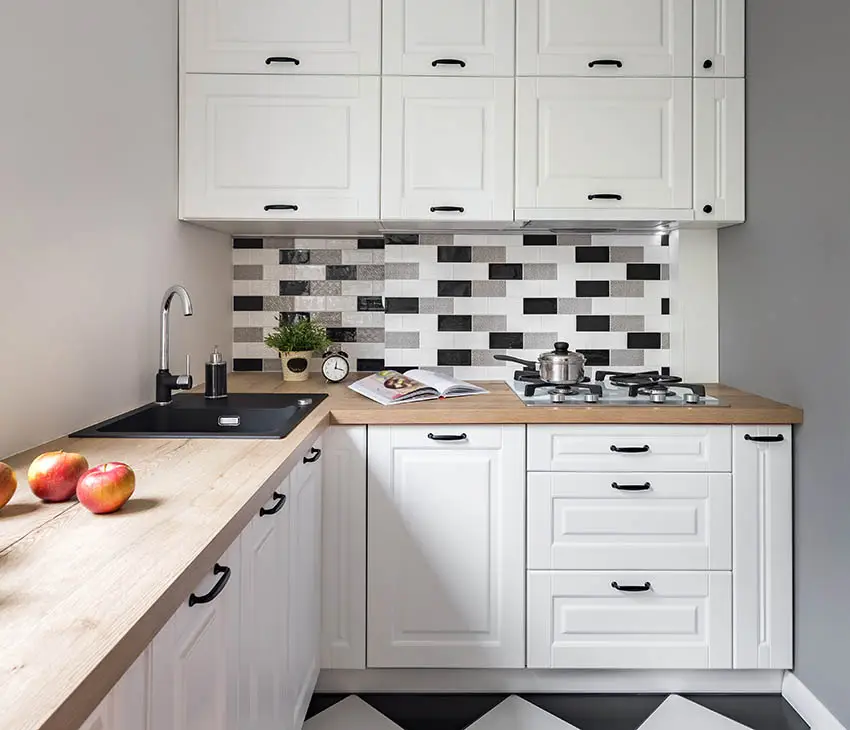 Precisely as the name suggests, peel-and-stick tiles are ideal for DIY installation. The tiles could be made from vinyl, metal, glass, or even ceramic (most expensive).
They are lightweight enough to adhere to your wall without specialty adhesives or caulking. Peel away the protective film, revealing the sticky surface on the back of the tile, and attach it to a clean, dry wall.
Thin vinyl peel-and-stick tiles can look cheap, so choose a thicker or 3D style for a more professional look.
One major benefit of peel and stick backsplash is that they are easy to remove. This makes them ideal for installation in a rental property, where permanent modifications are prohibited in the lease. Tenants should still discuss their plans with the landlords.
Thermoplastic (Faux Metal)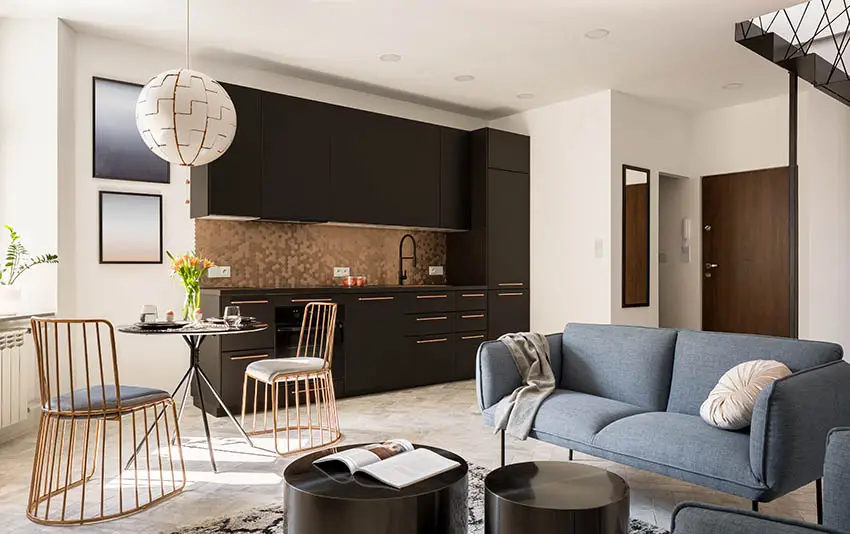 Thermoplastic is a specialty material made of plastic but looks very much like metal. This material comes in sheets or rolls, can be cut with household scissors, and easily clings to the wall with just a few strips of double-sided tape.
It's easy to install and wipes clean in seconds. However, it will be damaged by heat above 140 degrees Fahrenheit. For this reason, they are not appropriate to be installed behind a cooktop.
Mirror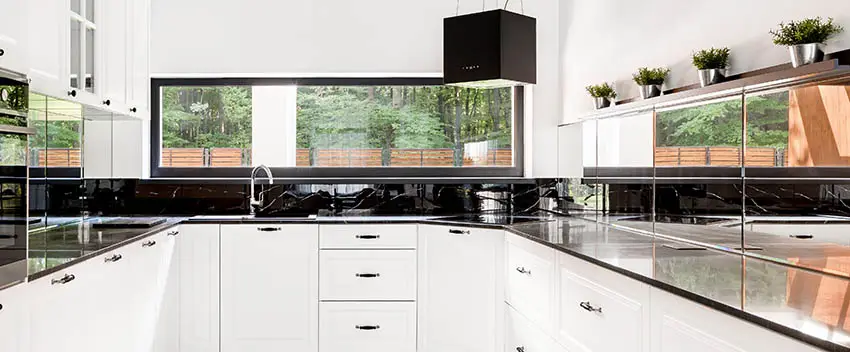 In a small kitchen or one without much light, a mirrored backsplash can help reflect light and open up the space.
Technically, these backsplashes are mirrored glass, but it's not the same kind of mirror you would use to check your appearance in the bathroom.
Rather, the glass has a smoky silvery or bronze tint that lends a sophisticated air to a contemporary kitchen.
Wood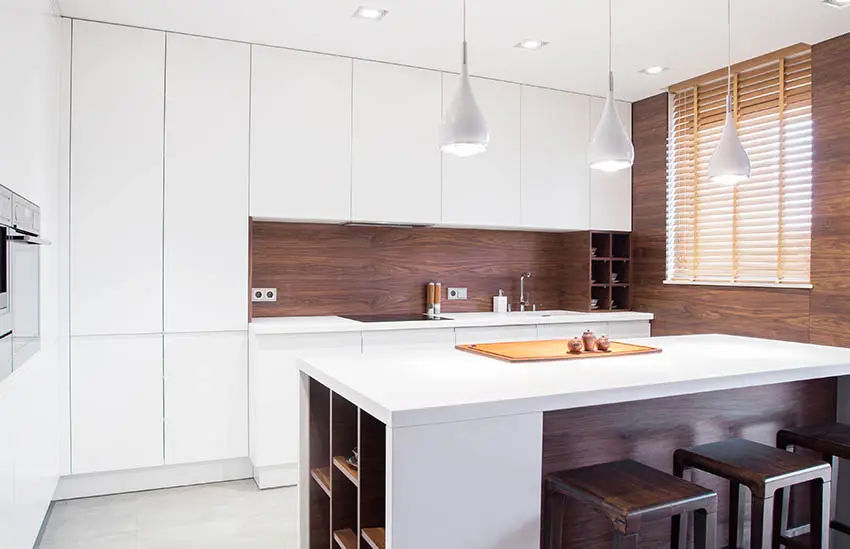 Wood might seem unlikely for a backsplash, but when properly treated and sealed, it is water-resistant. Wood is not scorch-proof, so if your stove has gas burners, it is essential to ensure adequate space around the burner.
Fire code requires at least 18 inches of clearance, so you may need to incorporate a different material behind your stove. A layperson can easily install wood backsplashes, although professional installation may yield better results.
Bamboo is a popular choice for wooden kitchen backdrops, although technically, bamboo is a type of grass, not indeed wood at all.
If you've reclaimed wood from another project, the kitchen backsplash is a great way to use it.
Shiplap backsplash (long planks, attached horizontally) and beadboard (narrow, vertically attached planks) are popular wooden patterns.
Concrete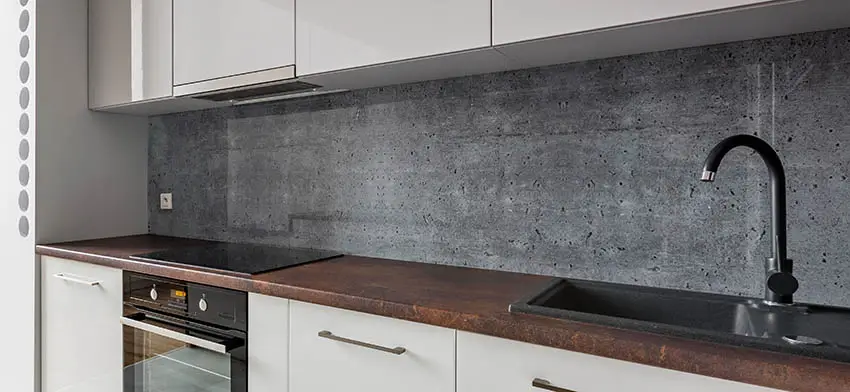 Concrete may seem unlikely for a kitchen backsplash, but extending the look up the wall makes perfect sense if you've already committed to concrete countertops.
Even stamps and molds are available for purchase, which can create a beautiful patterned design in your concrete.
While some retailers sell the concrete in slabs that can be cut to backsplash size, this is more commonly undertaken as a DIY project. Ensure your cabinets and wall can support the weight of the concrete before installing.
Wallpaper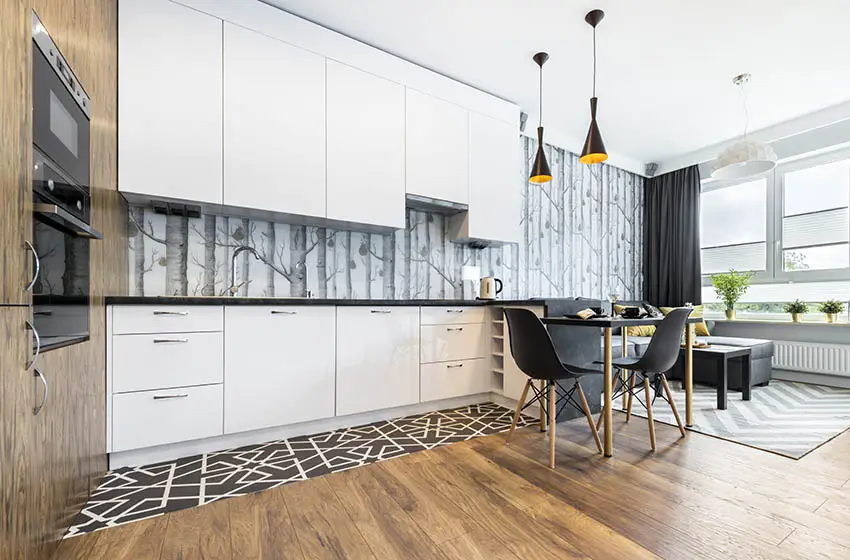 Wallpaper alone is not a good choice for a kitchen backsplash. It is flammable and can be difficult to clean. If you've fallen in love with a wallpaper design, you can still use it in the kitchen, but it will require an extra step.
First, hang the wallpaper. Then, have a ¼"-thick piece of tempered glass installed over the wallpaper to protect it. The glass can be sealed around the edges with liquid silicone to prevent water from getting behind the glass and spoiling the intended effect.
Tempered glass can be cleaned just like regular glass, making this an easy solution to your backsplash problem.
Panel (Ceiling Tiles)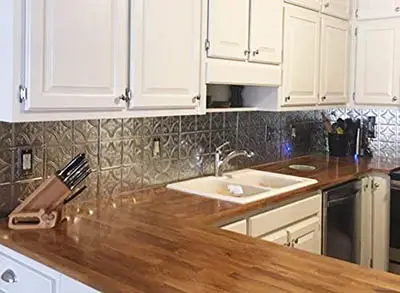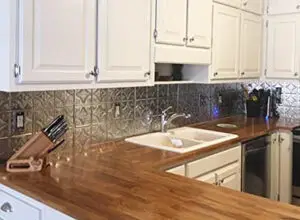 Ceiling tiles are made to be durable yet lightweight. They are usually made of plastic. Tin ceiling tiles are also available.
Although they are called ceiling tiles, there is no reason you can't use them for your kitchen backsplash.
This tends to be a very cost-effective and easily installed option, making it popular with folks who want to change up the look of their kitchen without spending a fortune.
Chalkboard Paint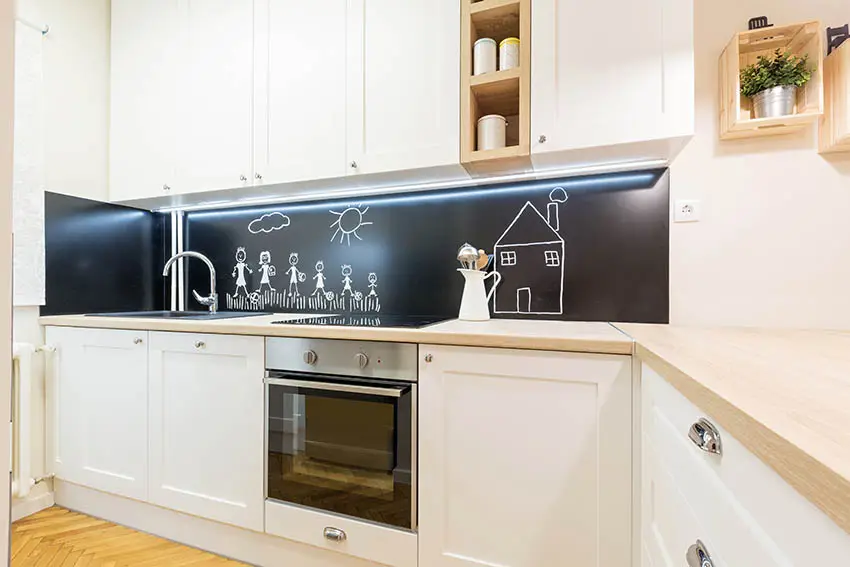 One slightly unorthodox choice for a kitchen backsplash is to use chalkboard paint. When a regular wall is painted with chalkboard paint, it becomes possible to write or draw on the wall using chalk.
The benefits of an extra writing surface in the kitchen are apparent — you can make grocery lists, jot down conversions for recipes, or write reminders to the other members of the household.
However, anyone who used a blackboard in school will remember coming away from the board with dust covering their hands.
While dustless chalk is now a product on the market, studies find that it still releases particles into the air, making it less than ideal for use in a food preparation area.
If you're committed to a chalkboard paint backsplash, use a wet cloth to clean it, rather than an eraser, to minimize the dust.
Backsplash Tile Shapes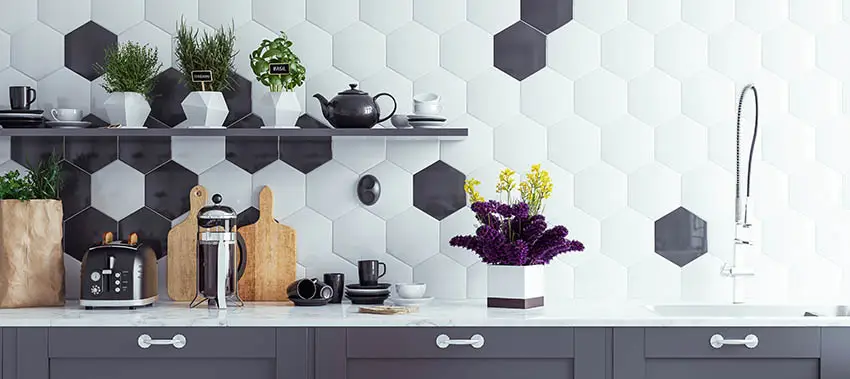 Here's some of the most popular tile shapes used for kitchen backsplashes.
Rectangular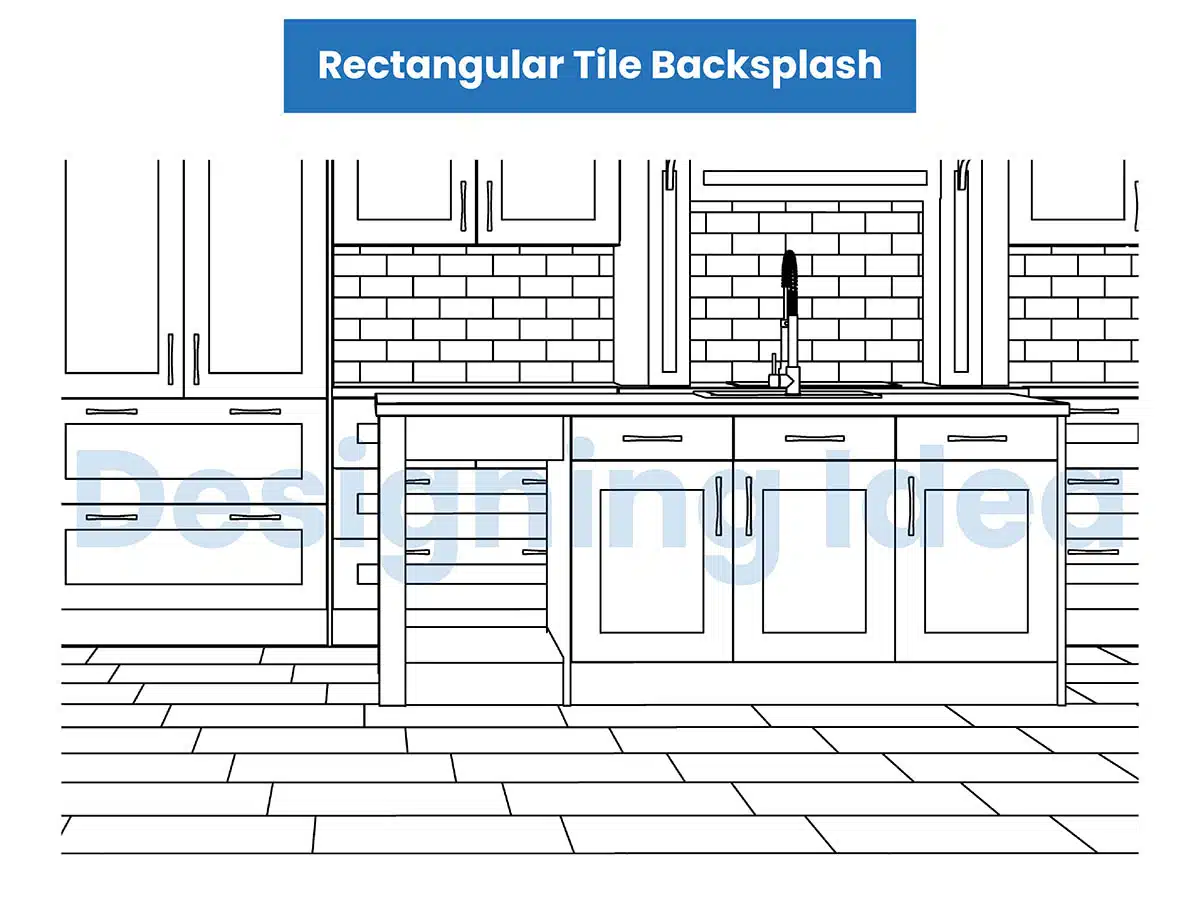 A four-sided tile with two sets of parallel lines. Each corner is a right angle. One pair of sides is longer than the other. It can be oriented vertically or horizontally.
Rectangular tiles work well for: Modern, transitional, farmhouse, contemporary, Scandinavian and industrial style kitchens.
Square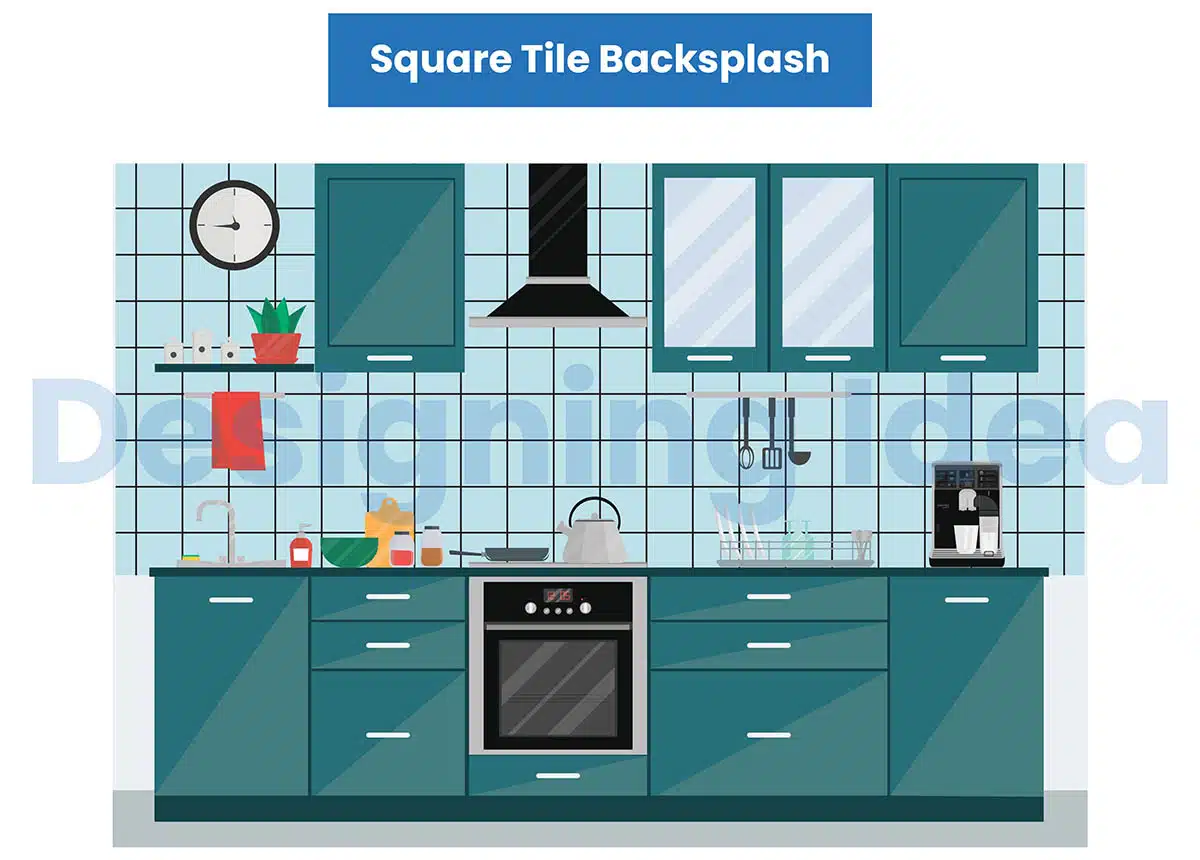 A four-sided tile with two sets of parallel lines. Each corner is a right angle. All four sides are the same length.
Square tiles work well for: Traditional, transitional, industrial, cottage, and rustic style kitchens.
Hexagon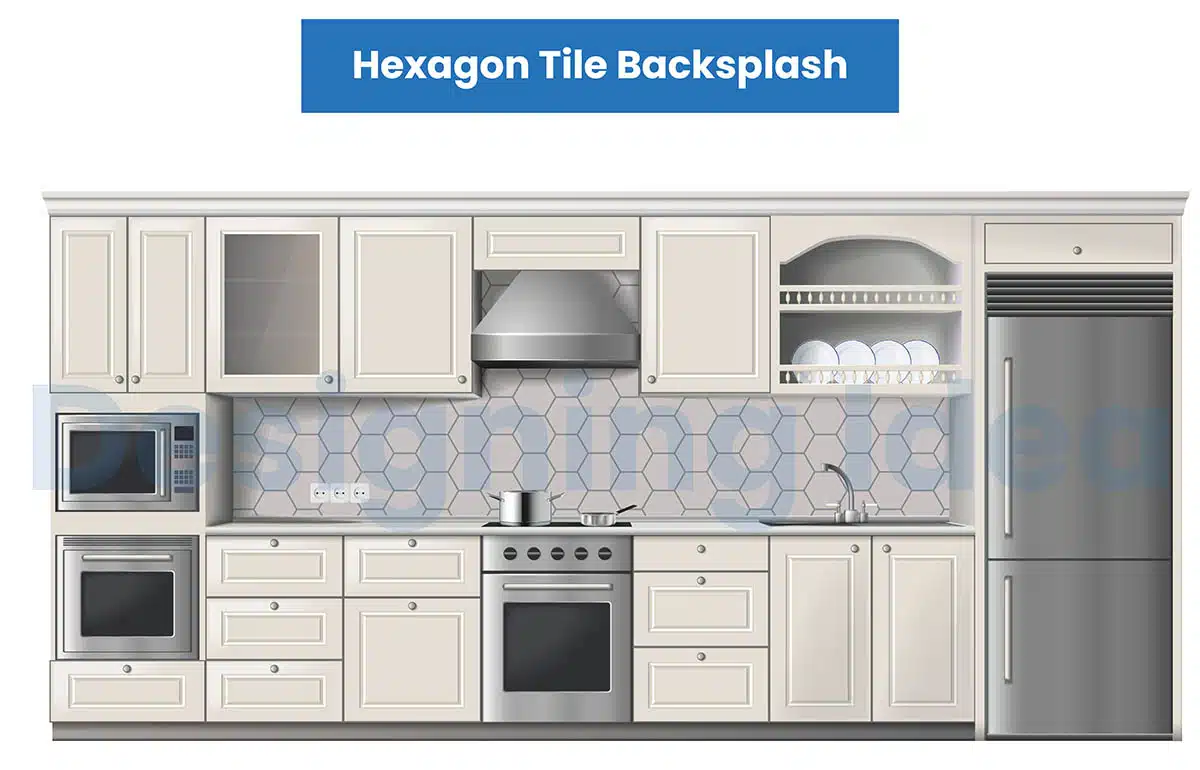 A tile with five sides of equal length.
Hexagon tiles work well on: Modern, mid-century modern, eclectic, Scandinavian, coastal or beach styles.
Octagon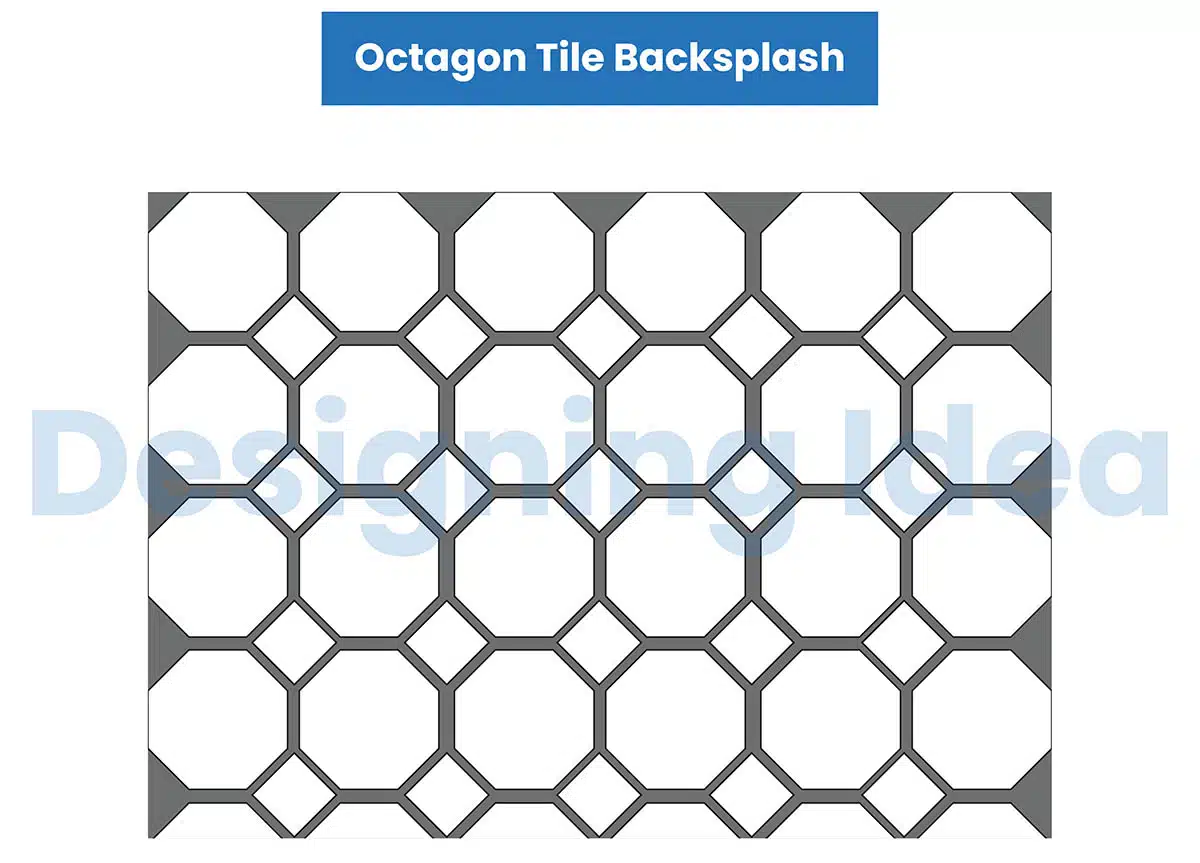 A tile with eight sides of equal length.
Octagon tile works well on: Bohemian, eclectic, cottage, Mediterranean, vintage, and retro styles.
Diamond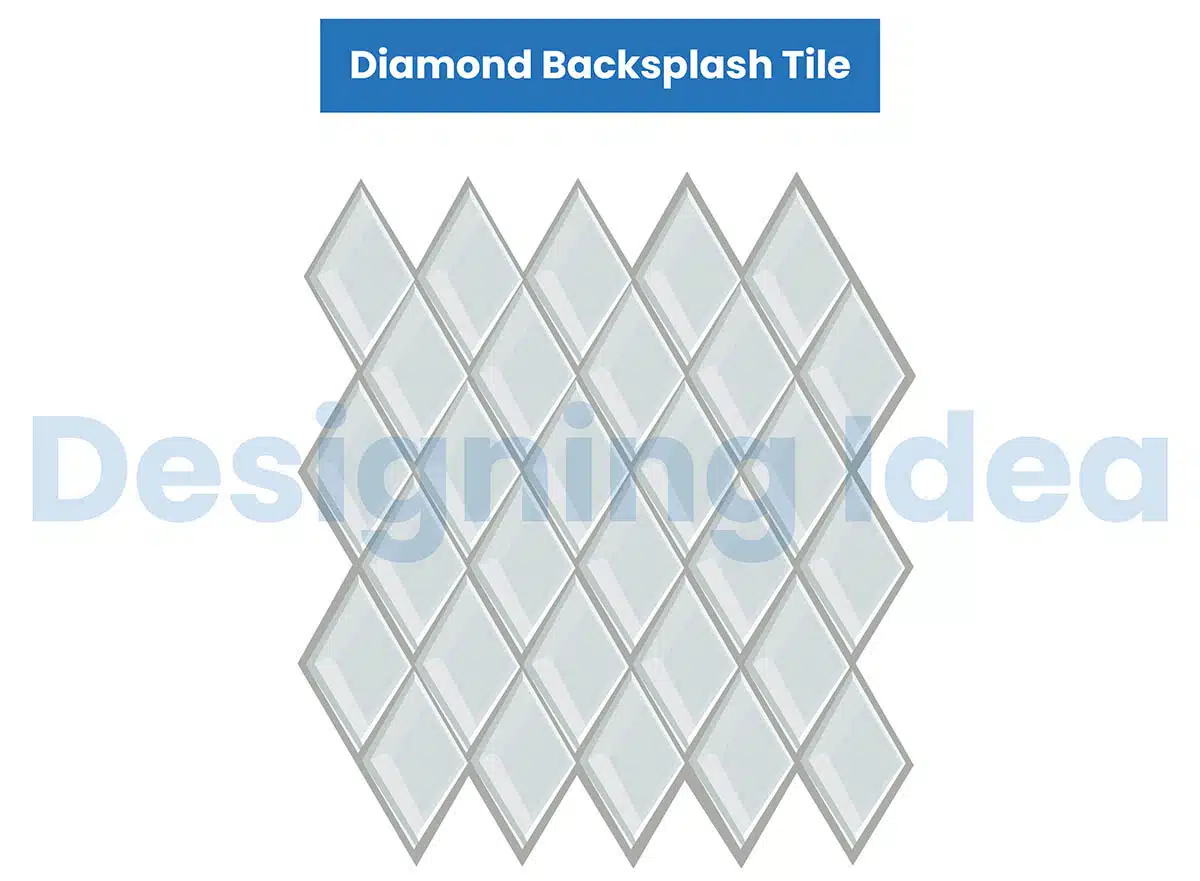 A four-sided tile with two sets of parallel lines. Two corners are acute angles, the other two are obtuse. Can be oriented vertically or horizontally.
Diamond tiles work well on: Art deco, contemporary, transitional, glam and bohemian styles.
Circular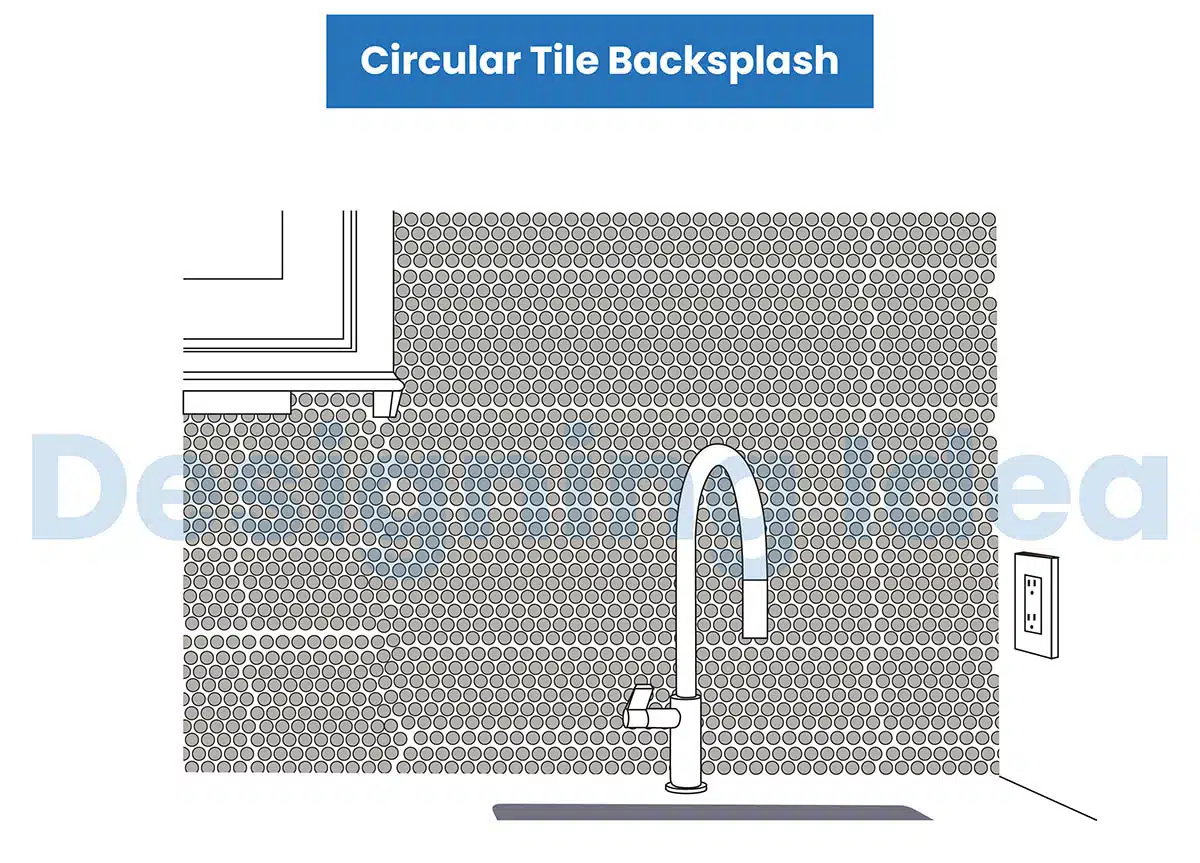 A round tile that is often used as a small penny tile backsplash.
Circular tiles work well in: Mid-century modern, retro, nautical, futuristic, eclectic, coastal and modern kitchen styles.
Arabesque (Lantern)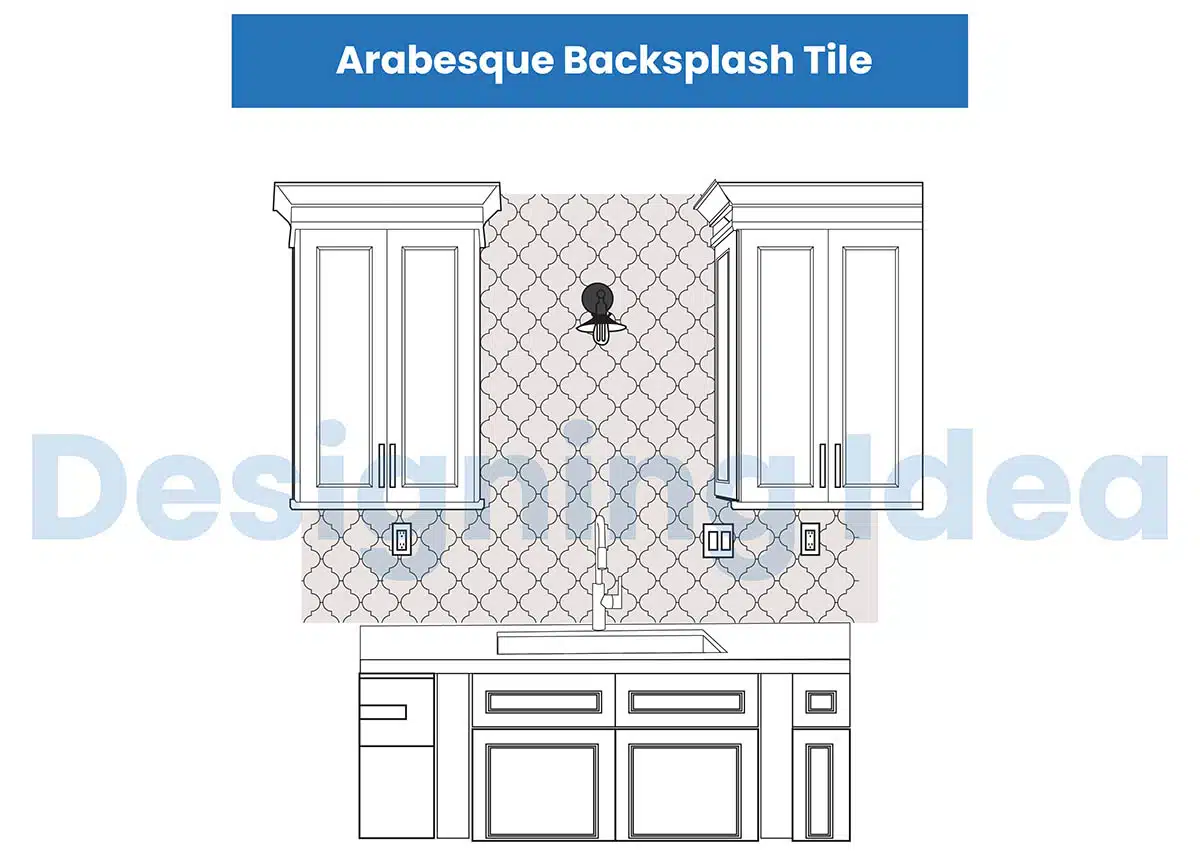 Moorish-inspired curvilinear tile with detailed interlocking pattern. See more examples of arabesque tiles here.
Arabesque tiles work well in: Mediterranean, contemporary, Moroccan, transitional, eclectic and traditional styles.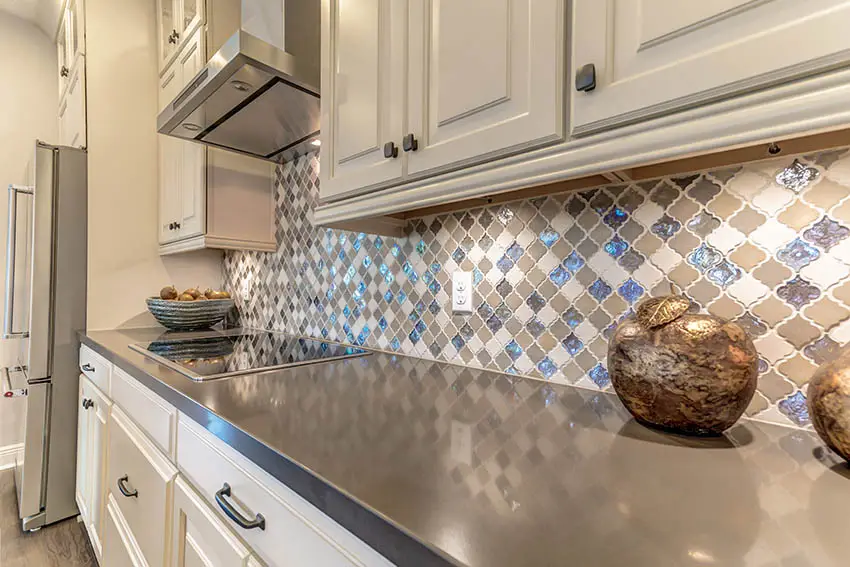 Random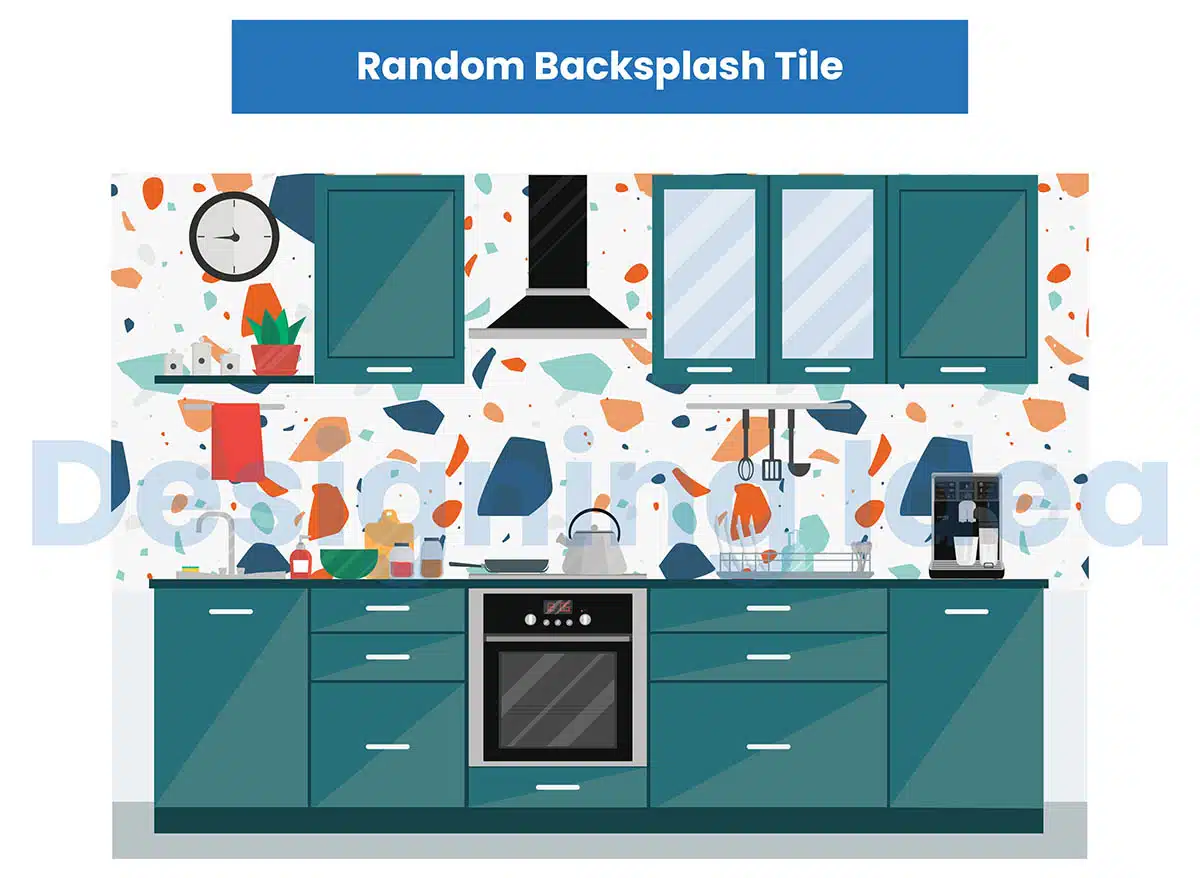 Combines three or more colors or shapes of tile to create random or variegated tile patterns.
A random tile works well in: Bohemian, eclectic, modern farmhouse, coastal, and contemporary styles.
Backsplash Ideas
Here we share an assortment of kitchen backsplash ideas to provide a variety of design styles you can use for your own space.
Match the Countertop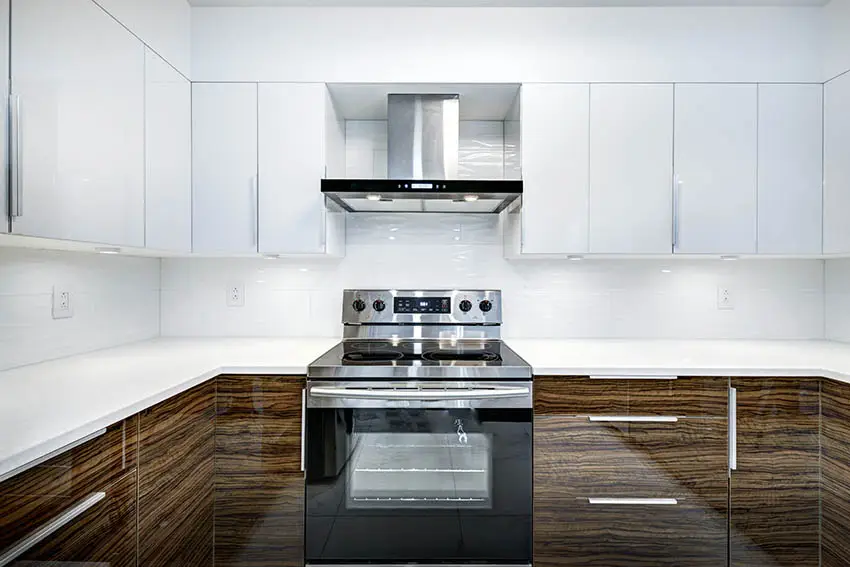 Many countertop materials are also available in a unique, thinner size that can easily be attached to a wall as a backsplash. This easy solution creates a cohesive and clean look in any kitchen workspace.
Match the Kitchen Island Material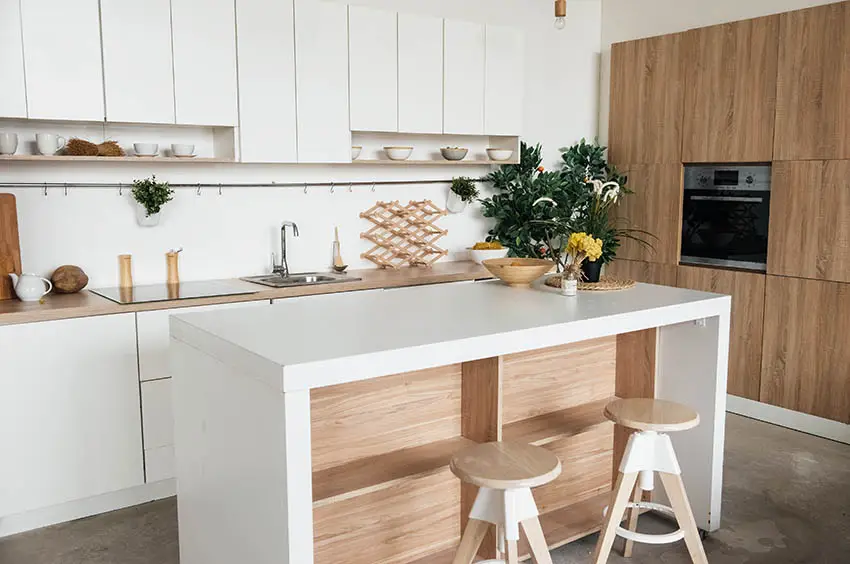 If you are lucky enough to have a kitchen island, you have another source of design inspiration.
Backsplash tiles that match the material, color, and finish of your kitchen island can help the island feel more integrated into the kitchen or provide an opportunity for contrast with the kitchen countertops.
Up the Wall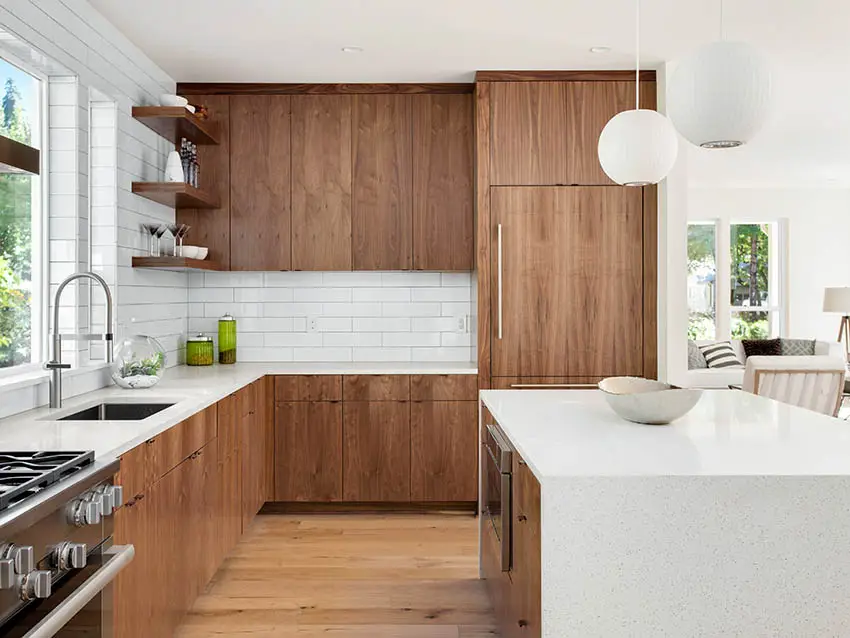 The standard-sized backsplash extends about four inches up the wall. However, you aren't limited by this standard with wall tiles. Six or even eight-inch backsplashes are becoming more common.
A full backsplash extends from the countertop to the bottom of your upper cabinets. Some homeowners even choose to extend tiling up to the ceiling.
Subway Tile Backsplash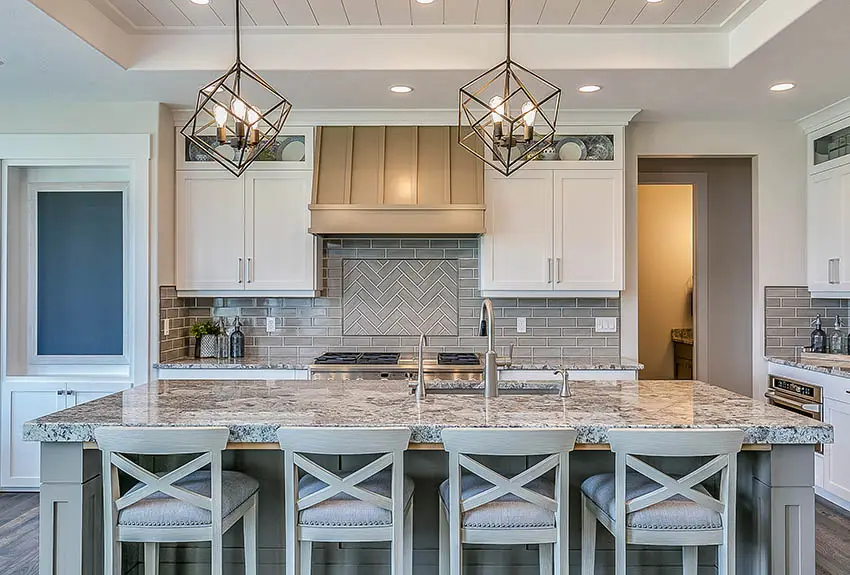 Subway tile is a trendy and well-known style for kitchen backsplashes. It uses rectangular tiles, laid in a pattern that resembles a brick wall.
Subway tile backsplash can be made from glass, ceramic, stone, or even marble. They are usually glazed, with a glossy finish that reflects light.
Painted Glass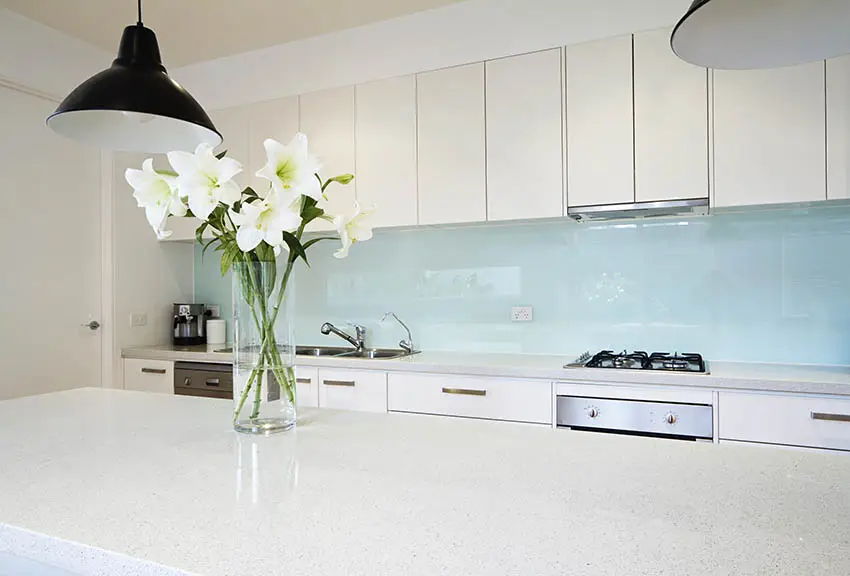 A newer style of backsplash that is gaining popularity is called 'painted glass.' A sheet of glass is painted with a color of your choice and then installed on your kitchen wall.
The paint goes on the back of the sheet of glass. It would help if you chose a supplier that bakes the paint onto the glass — this will help protect your backsplash from suffering chips, nicks, and peeling.
Painted glass backsplashes are distinctive because they have no joints or grouting — it is simply a single sheet of glass.
Homeowners who choose painted glass love their kitchen backsplash's streamlined, visually uninterrupted look. Note that there is no way to get behind the glass to clean it, once installed, so the glass must be spotless before installation.
Mosaic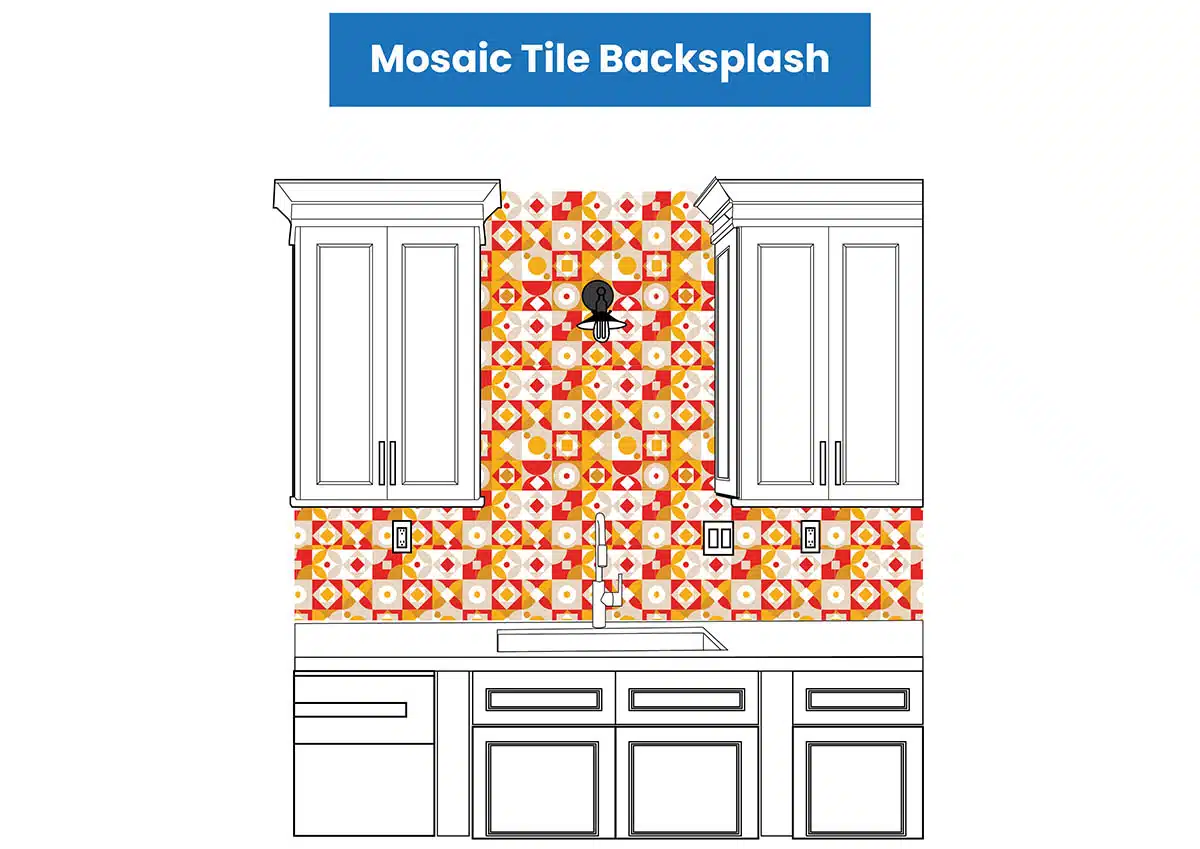 Mosaic is an ancient art form wherein small pieces of regularly or irregularly shaped tile are laid in an intricate design. The design can be repeating, random, or use small amounts to create a larger picture.
Sometimes, mosaic tiles are of different thicknesses, but this is not recommended for a kitchen backsplash application, as an uneven surface is more difficult to clean than a smooth and even on.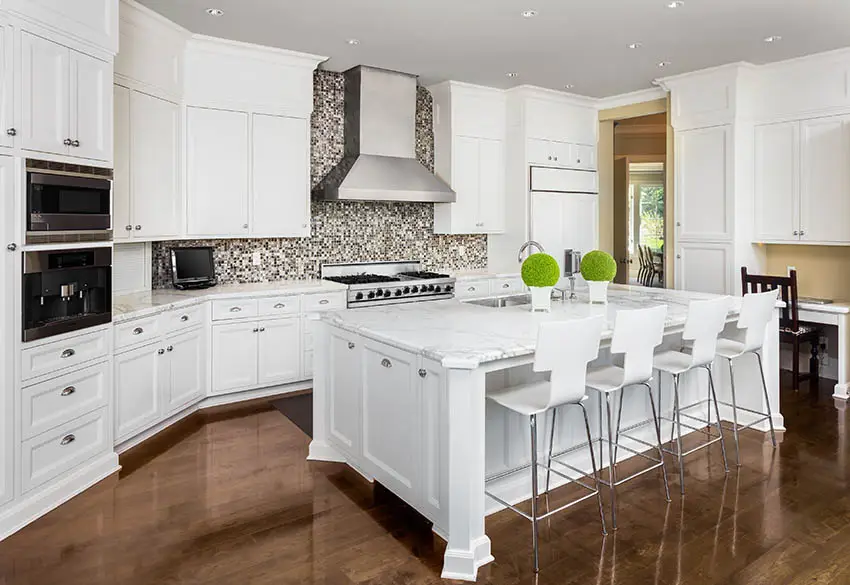 Mosaic backsplashes are beautiful and add texture to the wall behind your food preparation area.
High Gloss Tile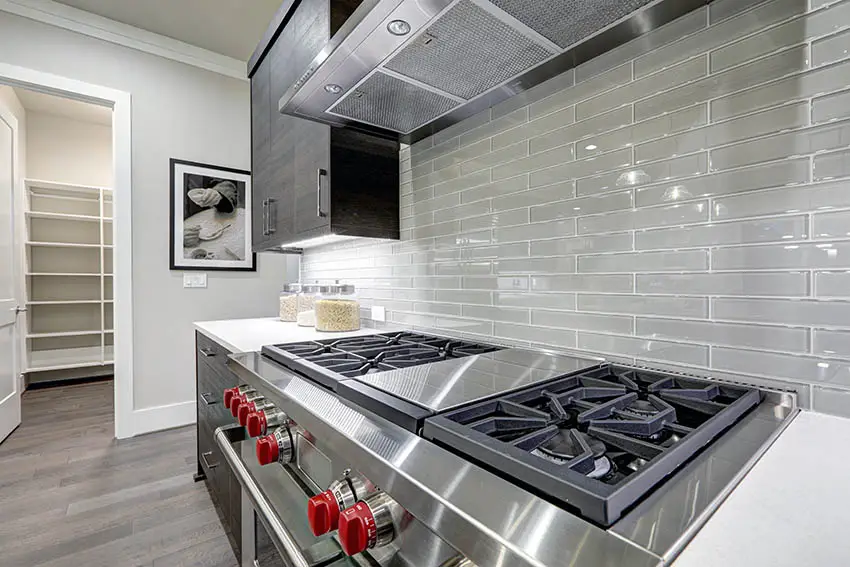 Super shiny, reflective, high gloss tile is trendy with a subway tile design. The more polished your tile, the more likely it is to scratch. Matte finish tiles are more scratch-resistant.
Penny Tile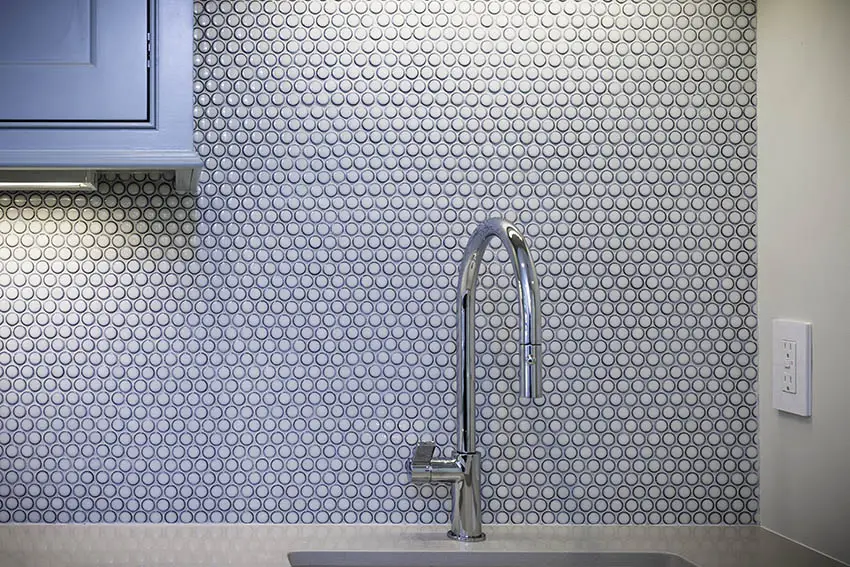 Penny tiles are round ceramic or glass tiles that are set into mortar. They are highly customizable and can be used to create intricate designs or even spell words.
The drawback of a penny tile backsplash is that the mortar or grout can be difficult to clean. They are also time and labor-intensive to install, and should chipping or damage occur, they must be replaced entirely.
Tin & Copper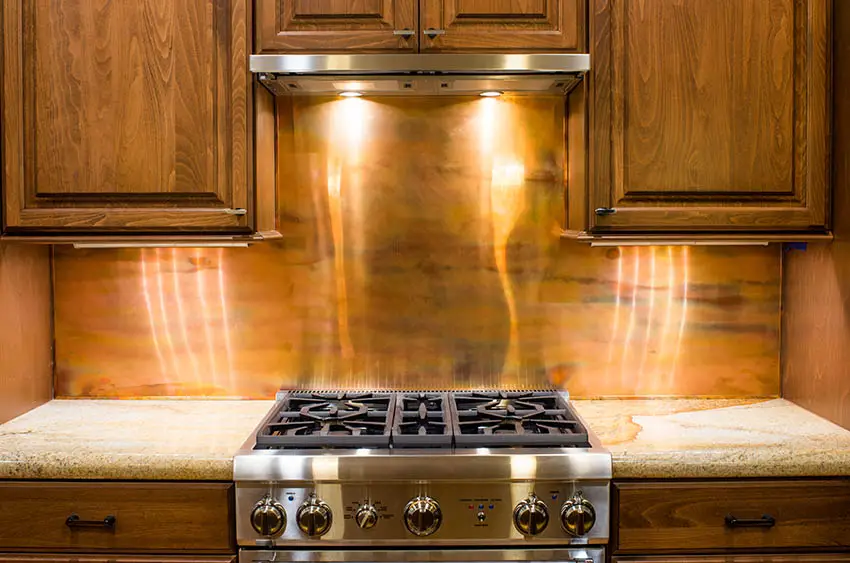 A non-standard but beautiful choice of tin and copper backsplashes are sold in sheets and tiles. Tin can often be painted, while copper is better left to develop a natural patina.
Corrugated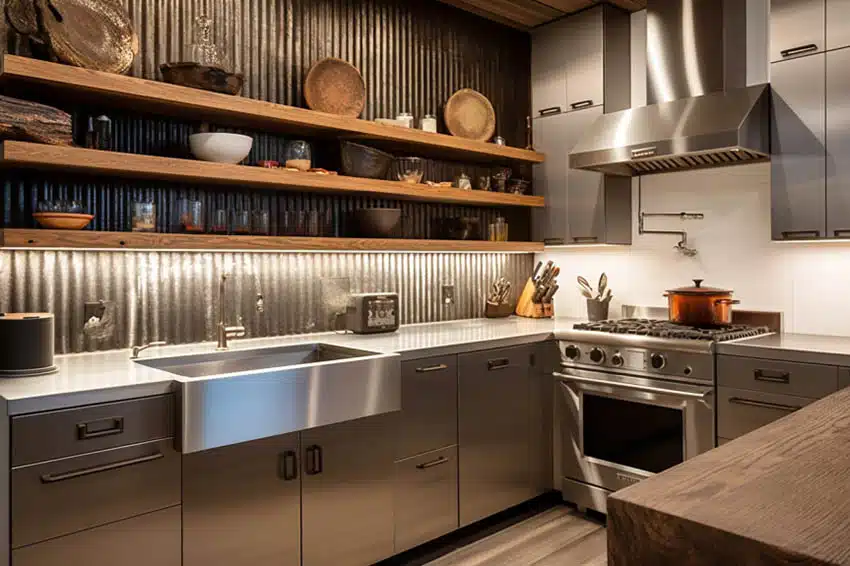 Corrugated tin has ridges or grooves that add aesthetic interest, strength, and durability. It is fireproof and easy to clean.
It is often thought of primarily as a roofing material for outbuildings and sheds and makes a very effective kitchen backsplash. It can be installed with adhesive and then painted or sealed.
Large Pattern (4″)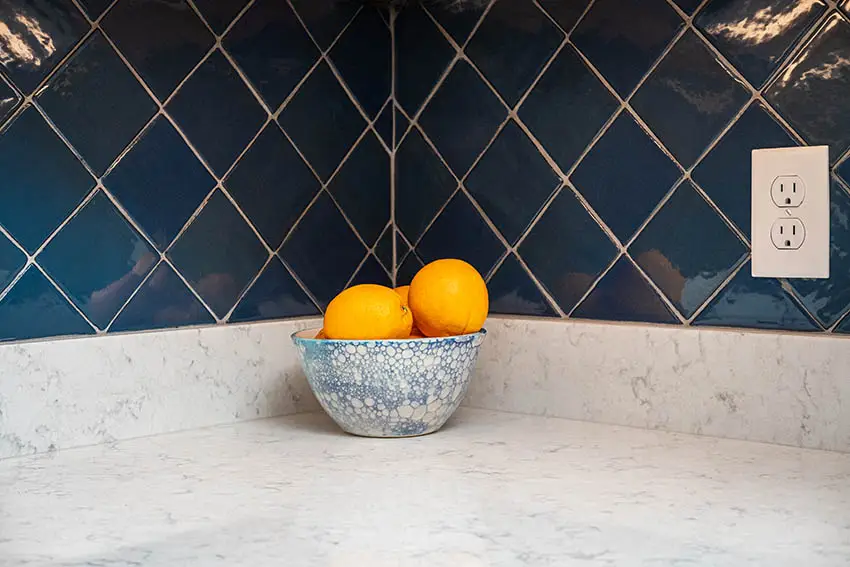 Many patterns of tile backsplashes are created by combining smaller tiles in a distinctive design. Other patterns use large tiles with painted or printed designs, typically 4 inches by 4 inches.
Since four inches is the standard height for a kitchen backsplash, large pattern tiles are perfectly suited to this application. Read more about 4 inch tile backsplash here.
Full Slab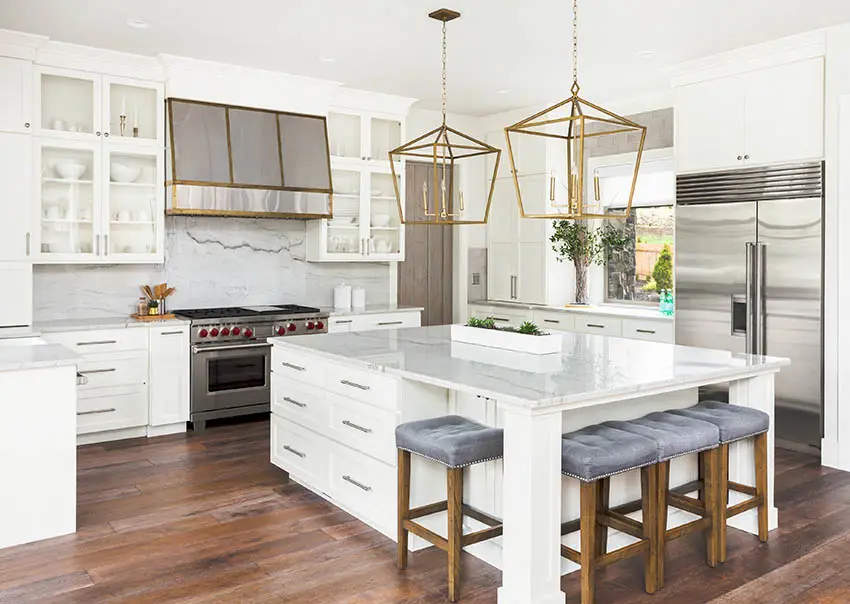 Also called 'solid slab', this is a large sheet of unbroken material with minimal joints.
Full slab backsplashes can extend up to the ceiling, particularly stunning when used in conjunction with open shelving.
A luxurious and high-end choice, the cost can be brought down using cheaper natural material, or the look can be replicated with vinyl.
Herringbone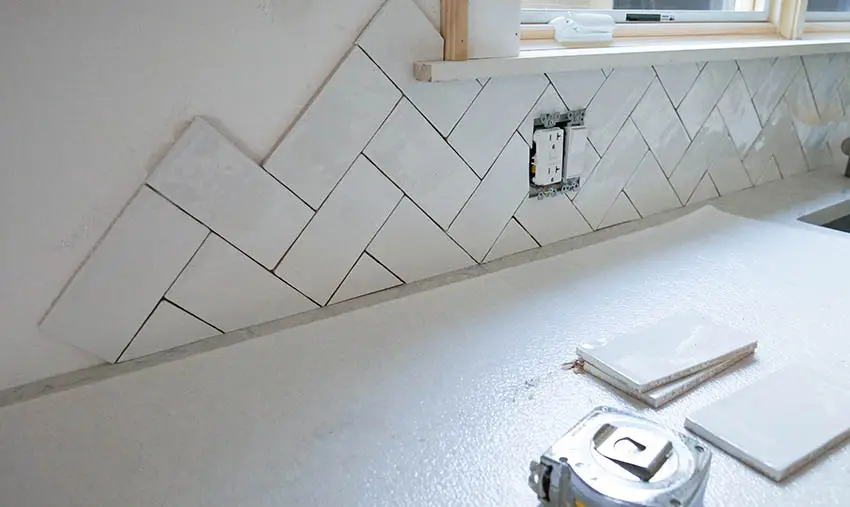 Herringbone refers not to the material used for the backsplash, but to the design of the tiles.
Like chevron, herringbone backsplashes with rectangular tiles come together in a repeating 'V' shape.
The tops of each V are somewhat staggered, resulting in a more irregular look than the neat, clean lines of a chevron design.
Chevron
This kitchen shows a chevron design tile backsplash above the stove top.
Spanish Style
Spanish tile is an inexact term but generally refers to square tiles that have a vibrant design.
Diamonds, starbursts, flowers, and geometric designs can all fall under this category. They can be mixed with more neutral tiles to subdue the design.
Alternatively, a full backsplash with brightly colored Spanish-style tiles is one of the most distinctive styles of backsplash available on the market today.
3D tiles (Wavy and Textured)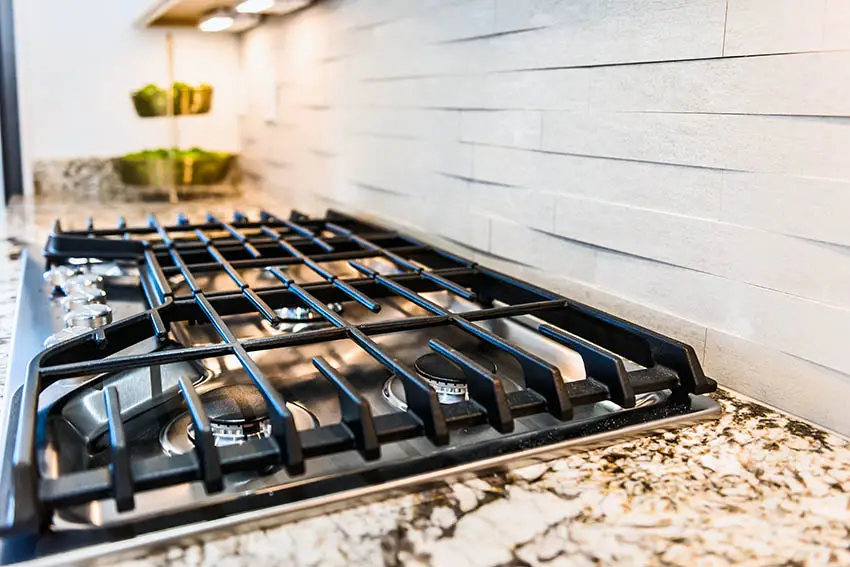 Concave, convex, wavy, smooth or ridged and bumpy — texture and contour are the signature features of 3D tiles.
These tiles can be overwhelming when used in large quantities, making them perfect for the relatively constrained area between kitchen countertops and cabinets.
Make sure you are prepared for the cleaning demands of this unique material — they can collect dust and grime at a higher rate than other, smoother-surfaced styles.
Specialty-Shaped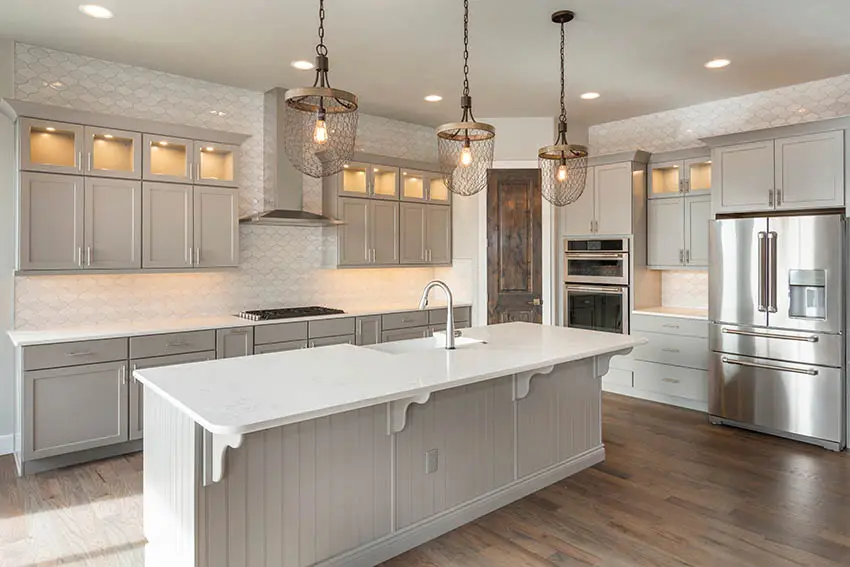 Rectangular, square, hexagon, and circular tiles are the standard available shapes. Anything other than these standard shapes is considered a 'specialty' shape. Specialty shapes include arabesques, fans, diamonds, pickets, and waves.
Best Type of Tile for Backsplash
There is no one best choice for a tiled backsplash, but there are minimum requirements.
Whatever tile you choose should be flameproof and water and splash resistant. It should be easy to clean and maintain. It should work within the design constraints already established in the kitchen.
Contrasting, complimentary, or matching colors, as are textured and patterned tiles, are acceptable for a kitchen backsplash.
Look at the amount of natural light you have coming in the kitchen. If there is a great deal of sunlight streaming in, you may get an unpleasant glare off glossy tile, so stick with a satin or matte finish, which reflects less light. – Tom Meehan, Lane Meehan, Working with Tile
Choosing a backsplash tile you love to look at is the most important thing.
What is the Most Popular Backsplash?
Subway tile has been the most popular style of kitchen backsplash in recent years and is a classic, beautiful choice that will work in almost any home.
The up-and-coming design trend is concrete backsplashes, with more and more people taking on DIY home improvement projects.
Marble or quartz backsplashes that match the countertop or kitchen island material are timeless choices that will never go out of style.
Backsplash Costs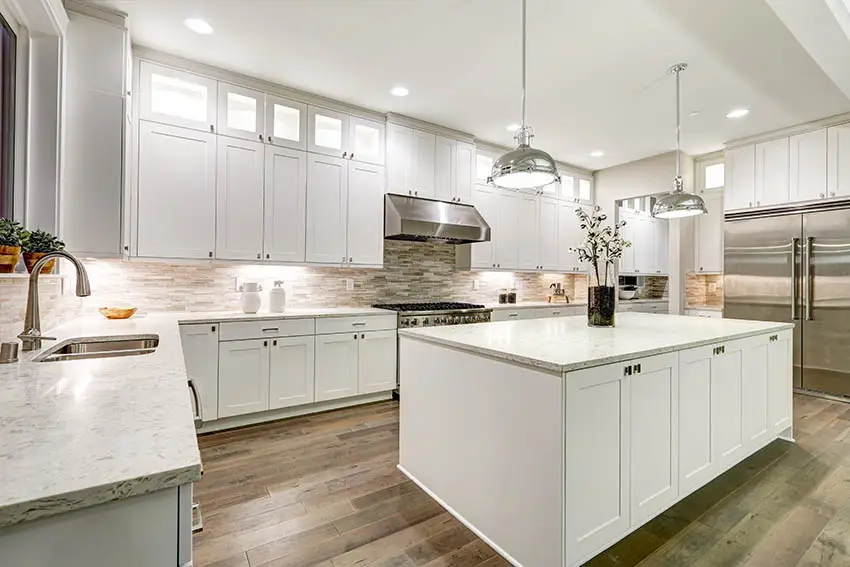 As with all construction and renovation projects, the budget is essential.
Your budget should include the cost (including delivery) of materials, professional installation if required, and the maintenance throughout the life of the kitchen backsplash (sealing, refinishing, cleaning products, etc.)
Because backsplashes do not need to support weight and do not interact with plumbing, electricity, or duct-work, they are an ideal project for the ambitious do-it-yourselfer.
If you're installing a backsplash yourself, you can save at least $1000. Purchasing backsplash materials range from about $10 to $100 per square foot, depending on the materials selected. Using engineered stone tile rather than solid natural materials can reduce the price.
To DIY your backsplash there are a variety of tools and materials you'll need to have. Some common things required are the tile, mortar, tile spacers, grout, grout sealer, and haze remover. Source: Home Depot
Don't forget to include the opportunity cost of your time in your budget — if you freelance, for example, every hour spent gluing penny tiles to your wall is an hour you can't spend earning money.
While many kitchen backsplashes with problems can be removed and replaced easily, such as peel and stick tiles, others are a more permanent proposition.
In general, professionally installed kitchen backsplashes, and those made of natural materials, will be the most expensive to repair.
To try out different types of kitchen backsplash for your own layout, you can use one of the many kitchen cabinet design software programs available. These will enable you to input the exact dimensions of your space, and add the cabinets, countertops, and backsplash you would like to see how they look to you before buying any materials.