Welcome to our guide to quartz backsplash kitchen designs including full-height, slabs, tiles, cost and popular types.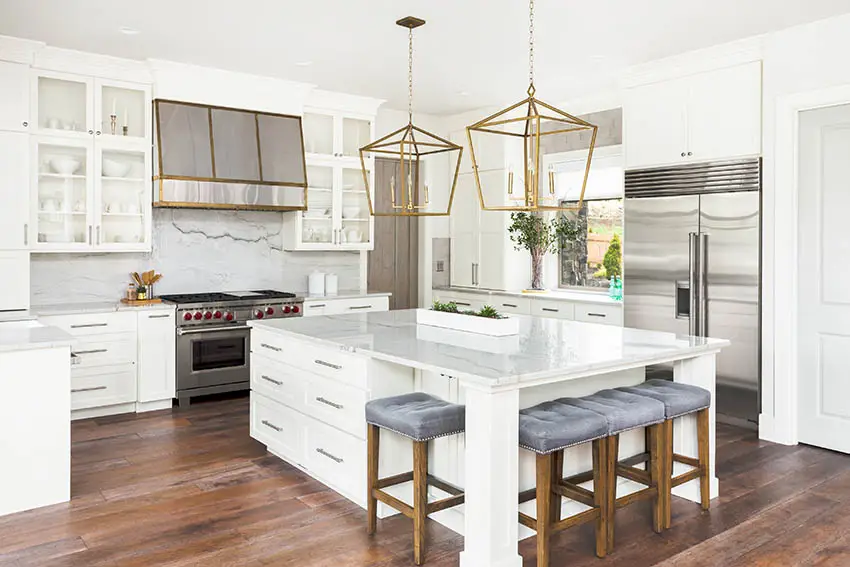 Backsplashes aren't only a classic and beautiful touch to any kitchen but they're handy as well. These are a great addition if you want to avoid damaging your wall with the things that come through kitchens every day like staining splashes.
You have plenty of options when it comes to the type of backsplash you might want as well. One suggestion you'll want to consider carefully is a quartz backsplash which can be used in a number of ways to give you a gorgeous and functional kitchen that you can rely on.
Quartz Slab Backsplash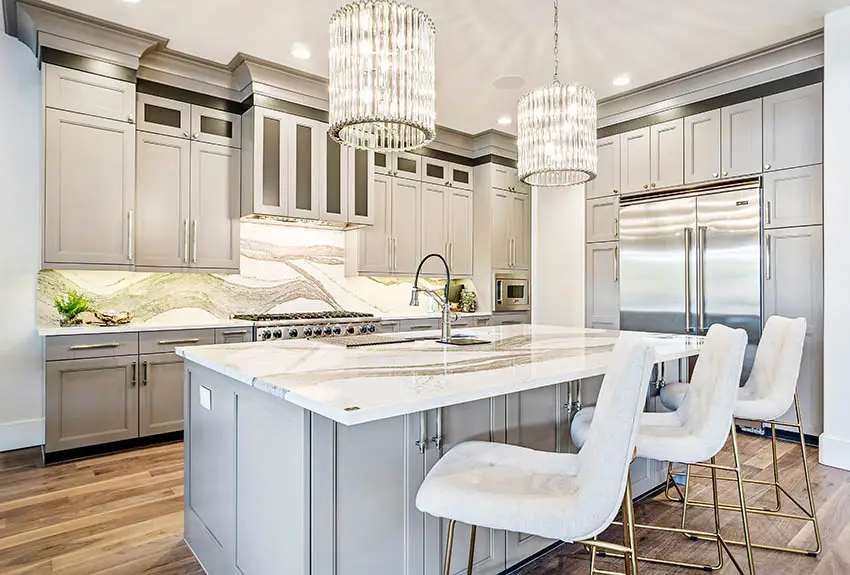 There are a few different ways that you can make the most of a quartz backsplash. One thing to consider is how do you want to use quartz in your backsplash. Would a quartz tile backsplash fit or does your kitchen call for a quartz slab backsplash?
A quartz slab backsplash is a solid piece (or slab) of quartz rather than broken down into smaller pieces. This can provide an even, smooth appearance unbroken by grout lines. There are quite a few benefits to this as well as catering to personal preferences.
The most talked-about benefit of a solid slab of quartz as a backsplash is that it offers a sense of luxury and modernity to a kitchen without an unreasonable price tag.
Quartz Tile Backsplash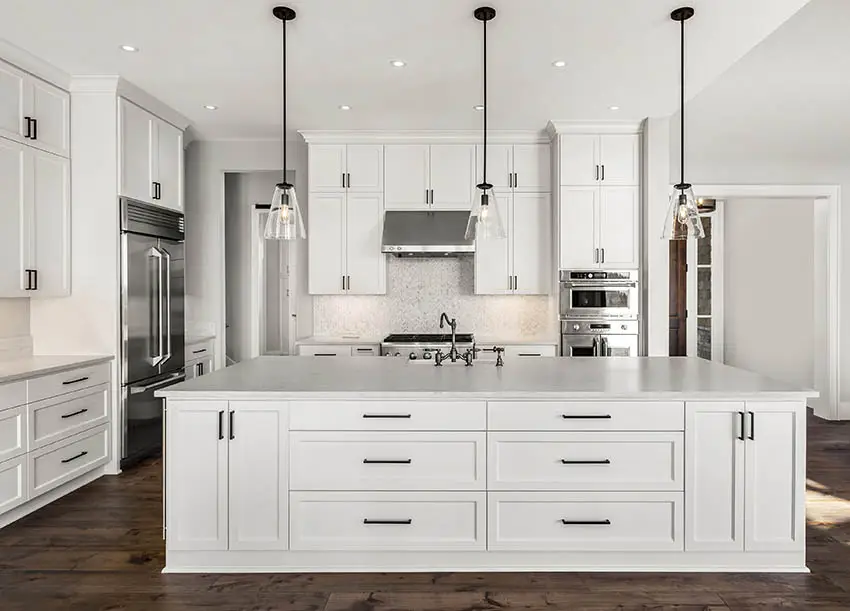 The other option you have is a quartz tile backsplash. This type of quartz backsplash is made up of smaller tiles made up of quartz rather than using a solid slab. The biggest difference here is that you'll notice grout lines between tiles whereas quartz slabs look more seamless.
That doesn't mean that tiles are a complete disadvantage, though. For one, they'll still help protect your wall as a slab does and maintains a sophisticated look.
However, tiles will suit certain home decor styles better than a slab might. For instance, a kitchen renovated in a rustic or farmhouse design may look more true to the interior design style to use tiles over slabs. See more types of kitchen backsplash on this page.
Full-Height Quartz Backsplash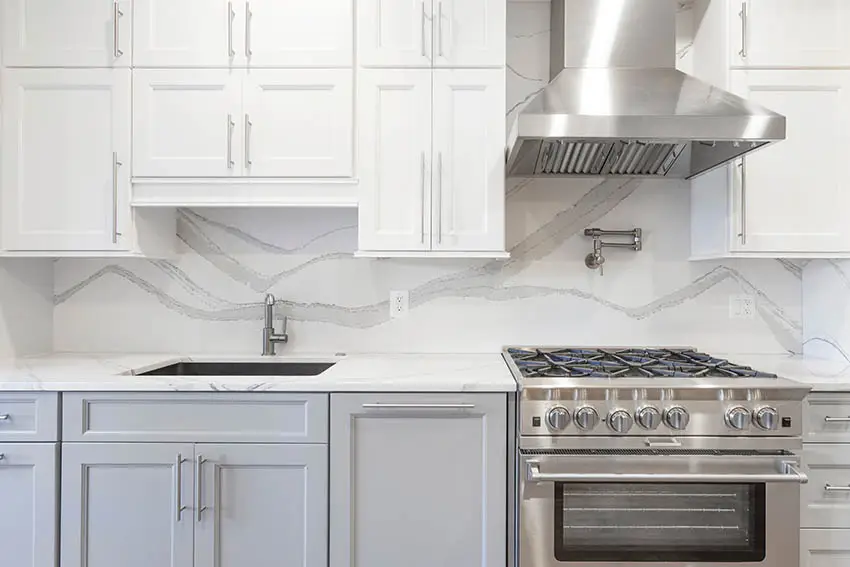 To understand what a full-height backsplash is, it's important to understand how tall a standard backsplash is. A standard backsplash only extends partially above the counter – usually around 4 inches from the surface of your countertop.
A full-height backsplash goes beyond this measurement. These usually either extend completely up the wall to sit flush against wall cabinets or even the ceiling, depending on what you prefer.
This offers more total coverage of your wall, keeping it safe from splashes and spills while you cook. This way, you don't have to worry about causing a mess over the height of your backsplash. This is important in a room such as a kitchen where mess is a pretty common concept.
Quartz Backsplash Cost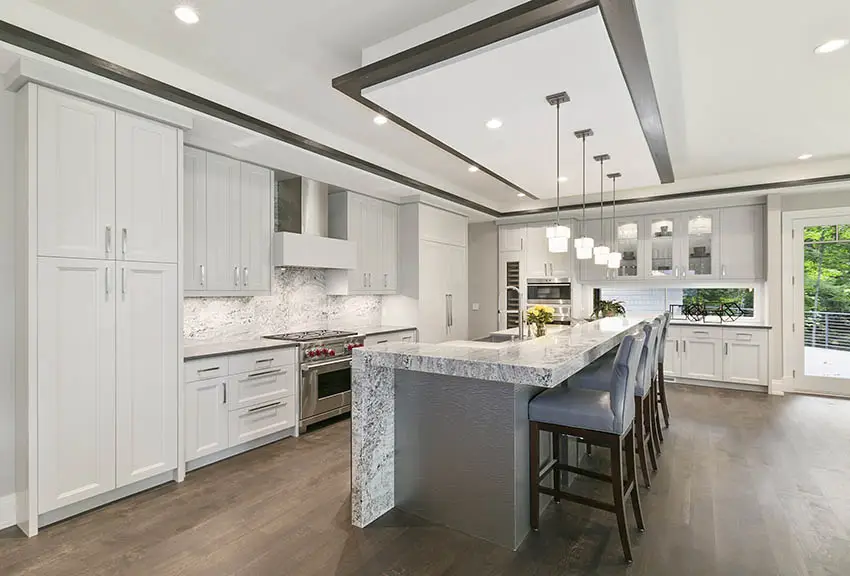 The cost of quartz backsplash, like many renovations, can vary depending on a few different factors.
One of the things that works to a homeowner's advantage is that quartz is a manmade material. It's made up of about 10% resins and pigments with 90% being quartz rock. As such, it has a cost advantage over natural stone options like marble.
The general cost for quartz has a wide range, stretching from $10 to $100. Given these parameters, the average total cost ranges from $150 to $10,000 for a total installation.
This is another concept that can vary based on whether you choose to use tiles or slabs. Tiles tend to come at a lower cost than full slabs.
Quartz Backsplash Thickness
When it comes to choosing a backsplash when you're using a quartz slab rather than a quartz tile, there are some unique questions. In fact, some of these questions veer closer to the concepts that most people would consider when purchasing a slab for another purpose – like a countertop!
One such example of this is that you need to know how thick your quartz slab for your backsplash should be.
The average thickness of a backsplash of any kind in tile is about 3/16 to ¼ inches. Once you start considering using slabs, though, this thickness increases.
The average quartz slab is about 1-¼ inches (or 3 centimeters) thick which is what is often used in a quartz slab backsplash.
Quartz Countertops with Backsplash
The question of how quartz countertops and backsplash intersect is an important part of kitchen design. After all, these elements are some of the main visual focal points of your kitchen, alongside concepts like cabinet colors and material.
If you want a quartz backsplash in your kitchen, it's worth considering quartz countertops. This way, your countertops and backsplash match well together rather than clashing with one another.
It is worth noting that if you want your quartz countertop and backsplash to match perfectly, you should consider a quartz slab backsplash over a tile backsplash. Due to the nature of the material, tiles are often difficult to match perfectly to an existing countertop.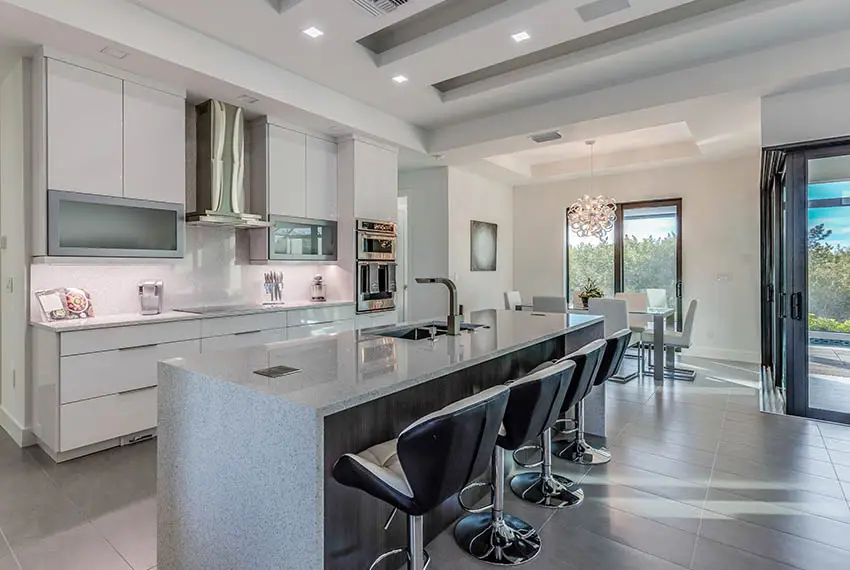 White Quartz Backsplash
Of course, not all quartz options look the same. You have a few different options to choose from but one we'll focus on here is a white quartz backsplash.
White quartz is a great choice in a few different ways. For one, white is often associated with modern or luxurious designs, elevating your kitchen with just one change. White quartz countertops combined with backsplash can help give your space a contemporary or modern design.
On the other hand, white, when properly maintained, will help give your kitchen a clean appearance. White quartz even makes for a neutral tone if you want to put the focal point in your kitchen to be elsewhere such as showstopping cabinet colors.
Calacatta Quartz Backsplash
Calacatta quartz is unique because it has a strong veining pattern – the pattern you see in a lot of natural stone. This makes it advantageous for a few reasons. For one, you have the same durability and affordability of quartz.
On the other hand, Calacatta, due to its veining, resembles more expensive materials whose appearances are conflated with luxury – like marble.
All in all, quartz offers you a lot of options when it comes to how your backsplash looks and performs. Considering your options in quartz will help ensure that you have the kitchen of your dreams!
For more related content see our gallery of Calacatta quartz countertops.