Below is our butler's pantry design guide including what should be in one, storage, tips on accessories, layout, butler's pantry dimensions, and other important details you should know.

A butler's pantry is the transitional space between the dining area and the kitchen. It is where you do your food preparation and storage.
Thus, it is also called a serving pantry. Not all houses have a butler's pantry. But if your house area has the luxury of space, a serving pantry is a good addition.
Having a butler's party will give you easy access to everything while staying hidden at the same time. It also gives you additional storage space for your groceries, countertop appliances, and serving ware that you might not want to dump in the main kitchen.
What Should Be In A Butler's Pantry?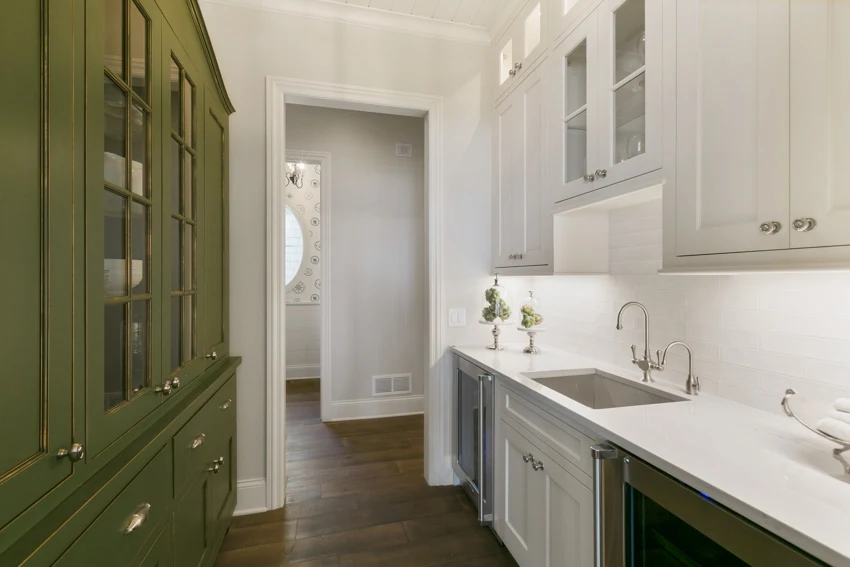 Aside from food preparation and staging space, some people use the butler's pantry to store their snacks, coffee paraphernalia, and wine. Therefore, what you put in this space depends on its purpose.
Some of essentials found inside a butler's pantry design include:
• It is a practical storage system to store your cookware, plates, and appliances. You can also keep your food and other items here that you often need.
• Adequate lighting fixtures for access and food preparation
• Add canisters, containers, and baskets to store your spices, vegetables, and fruits.
• Pantry bench to set up your food and stash dirty dishes during a party.
• Power points to plug your appliances, so they're always ready to use when you need them.
• Decorative accents cheer the room up. Your working space doesn't have to look drab and boring.
• You can consider changing the pantry paint colors to update, add personality or brighten the space.
What Accessories To Put In A Butler's Pantry
As mentioned in the section above, the accessories you add or place in the butler's pantry design depend on its purpose and the space you have.
If you want some privacy, you can add pocket or saloon doors. Or you can build a false back wall in your dining area or kitchen to hide your pantry. See our gallery of pantry door ideas here.

Consider building open shelves to grab things faster when you need them.
Lighting and ventilation are also important. Putting a window is ideal. But if it's not possible, we recommend using task or strip lighting. For an enclosed butler's pantry, you need an extractor fan.
Add a second sink with a faucet. It should have hot and filtered water directly from the tap. That will help you do away with the kettle.
It is also a good idea to reserve a spot for your broom or stick vacuum so you can quickly clean up any dirt or crumbs on the floor.
Butler's Pantry Layout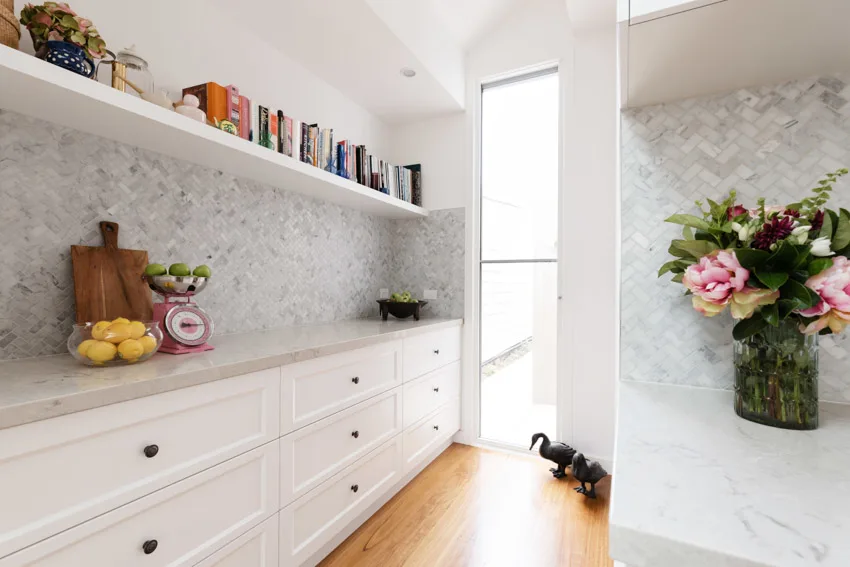 Before you think about the layout for your butler's pantry, consider the following points first:
• Position — where do you plan to build your butler's pantry? Ensure that the space has plenty of room to move about and wide doors for serving trays.
• What are the items you want to put in the butler's pantry? Consider a smaller space if you plan to put only the plates, glassware, servers, and food. But if you want to include big appliances, you'll need a larger space.
• Add easy-access open shelves for items that do not require a dust-free space.
• Reserve a wall section for hanging different items like mugs, calendars, aprons, or menu lists.
• Add a serving hatch. It will be easier to transport the food from the serving pantry to the dining room.
Butler's Pantry Dimensions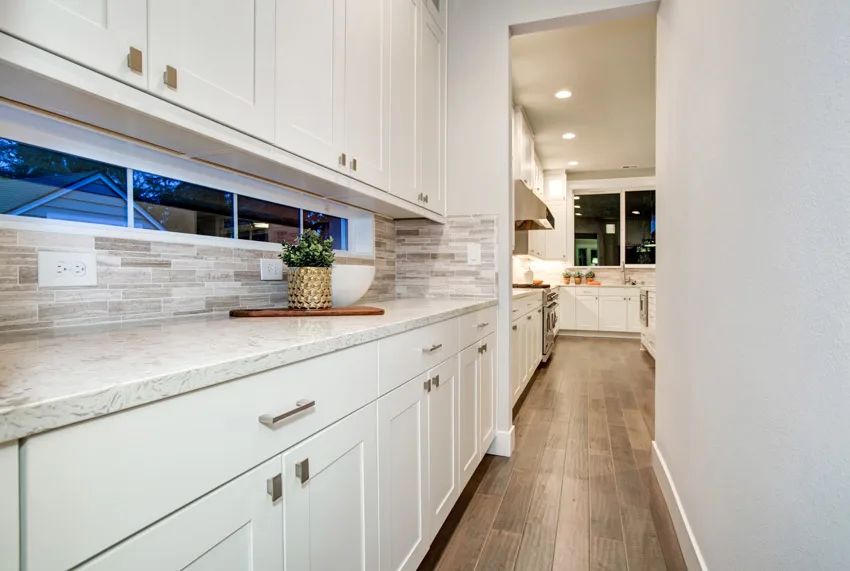 As a general rule, the walkway in your butler's pantry design should be at least 39" or 1000mm. That will give you enough space to move about the space. For an averaged-size pantry, try installing shelves that are 12" or 300mm deep.
You'll also need 24" or 600mm deep for bench space with open shelving or cupboards below. Also, provide outlets for the appliances you will put in your pantry.
Depending on how much space you have, an L-shaped pantry provides a functional layout to hold appliances like a toaster, dishwasher, and microwave.
If you have more space, a U-shaped pantry is possible. A straight-line pantry is perfect if you have a smaller area. See more pantry dimensions here.

What Is A Good Size For A Butler's Pantry?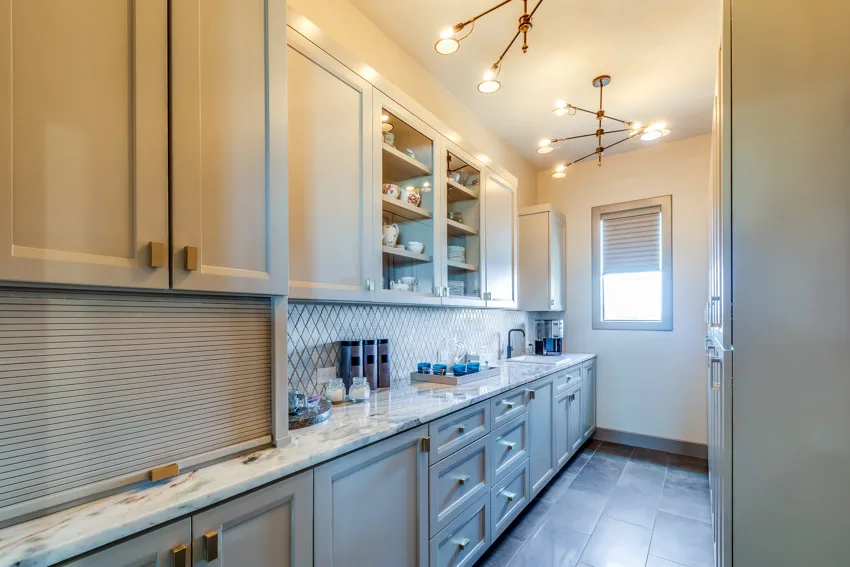 The good news is you can create a butler's pantry in any available space. However, consider how you're going to use the room and the ways to incorporate it into the kitchen layout dimensions.
For a butler's pantry to be functional, a minimum space of at least 5'6' wide X 7' long is enough. If you want to add larger appliances, like a dishwasher and fridge, you need a bigger space — ideally 8' X 10'. This size will also allow you to add a countertop and plenty of storage space.
How Much Does It Cost To Put In A Butler's Pantry?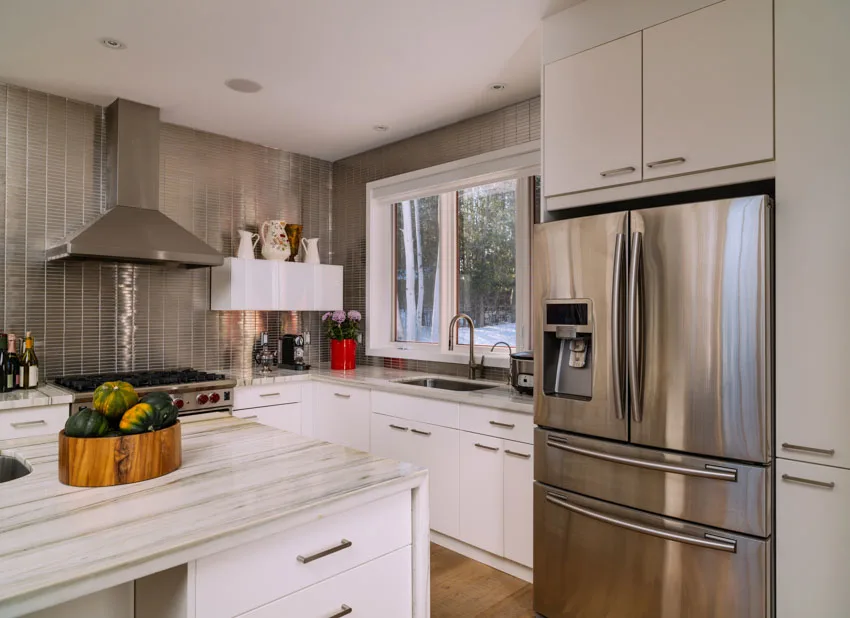 Again, the answer to this depends on the space available and the things you want to include in your butler's pantry.
According to experts, a basic serving pantry costs around $2000. That is if you already have the necessary space for it.
But if you are planning to build it from scratch, adding a butler's pantry to your house will cost between 30 and 50 percent of the cost of your kitchen.
In other words, if your kitchen costs $10,000, expect to spend around $3000 to $5000 for your butler's pantry. So before you decide to add this, consider whether you need one or not.
Fridge In Butler's Pantry Or Kitchen?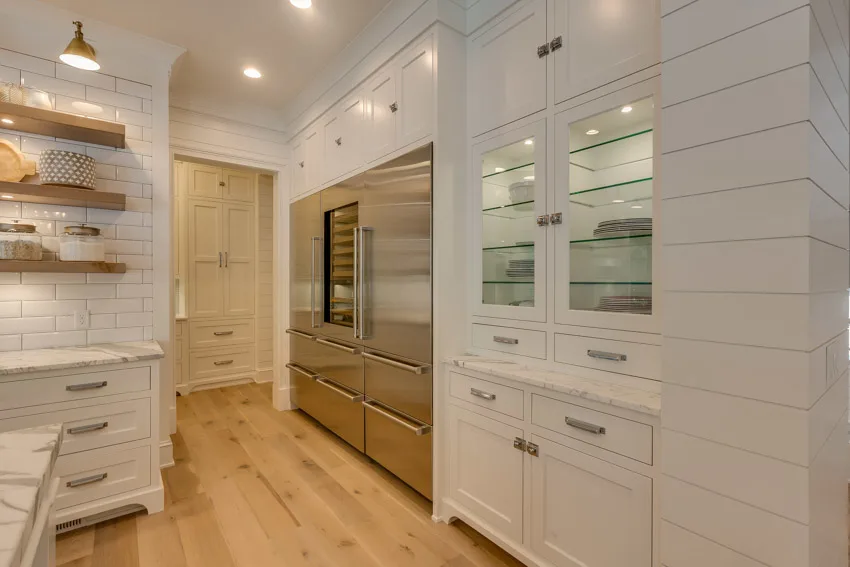 People have been debating about this. Where should you put your fridge — in the kitchen or the butler's pantry?
Well, if your pantry is large enough to accommodate a fridge, why not put it there. But if it will affect your mobility around your serving pantry, better leave the fridge in your kitchen.
More so, if you want to store your groceries and other foodstuffs in the butler's pantry, then putting your fridge there is not an issue.
Remember that the general idea of a butler's party is so you can have a space for food preparation. It is also a place where you can place all your dirty dishes, especially during a party. Anything messy and unattractive goes to your butler's pantry.
So if you want to keep your kitchen looking like it's straight from the magazine, better put all your foodstuff in the butler's pantry. And that means putting your fridge there as well.
Dishwasher in Butler's Pantry
There are two options when you're considering this. If you want to stack your dirty dishes in the butler's pantry so you can load them quickly into the dishwasher, then the answer is yes. Go for it!
If you are fond of holding parties at home, you can add a dishwasher in your butler's pantry and the kitchen. But then, that's quite a luxury.
Just remember: if you put this fixture in the serving pantry, you need to install a sink and consider the dishwasher dimensions as well. Rinsing the dirty plates before loading them into the dishwasher becomes easier if you have a sink.
Difference Between A Pantry And A Butler's Pantry
A butler's pantry is a small kitchen within the kitchen. Its primary purpose is to hide the mess you're making when cooking and preparing the food.
It's especially ideal during parties, so the dirty dishes and the food scraps remain hidden. Then, you can clean them after all the guests go home.
A pantry is an extra space to store your beverages, dried and canned foods, and cleaning supplies. You can keep almost everything in your walk-in pantry.
You might be wondering now whether it is a good idea to add a butler's pantry to your house. If you have the space and the budget to do that, adding it to your room is nice. It can also add value to your house. If you don't have the money and the space for it, perhaps you can do it later.
See more related content in our article about the differences between a butler's pantry vs walk-in pantry on this page.