In this kitchen layout dimensions guide you'll find the minimum aisle width, standard and small, medium and large kitchen layout sizes.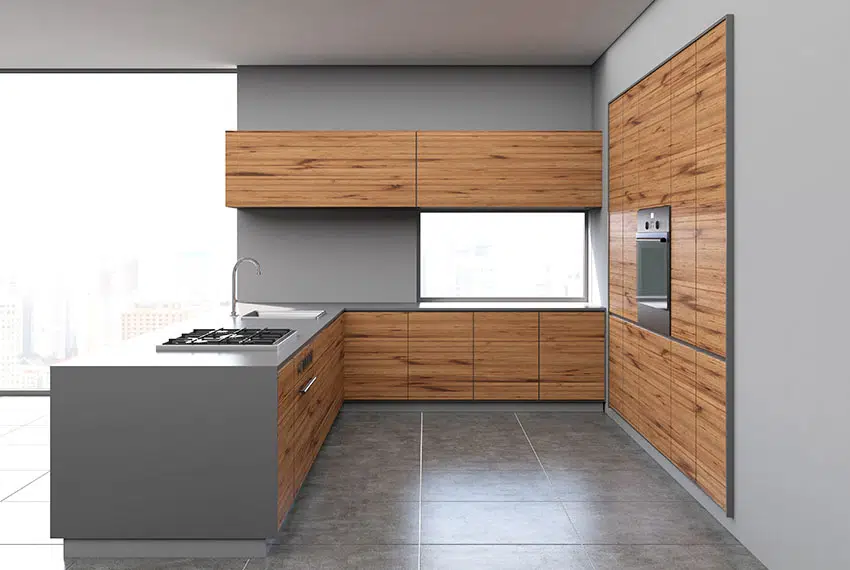 When you are constructing or doing a quick overhaul in your home, the kitchen is one of the most critical parts. The food we eat not only gets cooked inside a kitchen, but it is also where we commune.
Here, we provide you with a 101 regarding kitchen sizes and layouts. We also offer you dimensions that can be tweaked and readjusted to accommodate the actual size of your kitchen.
Standard Kitchen Dimensions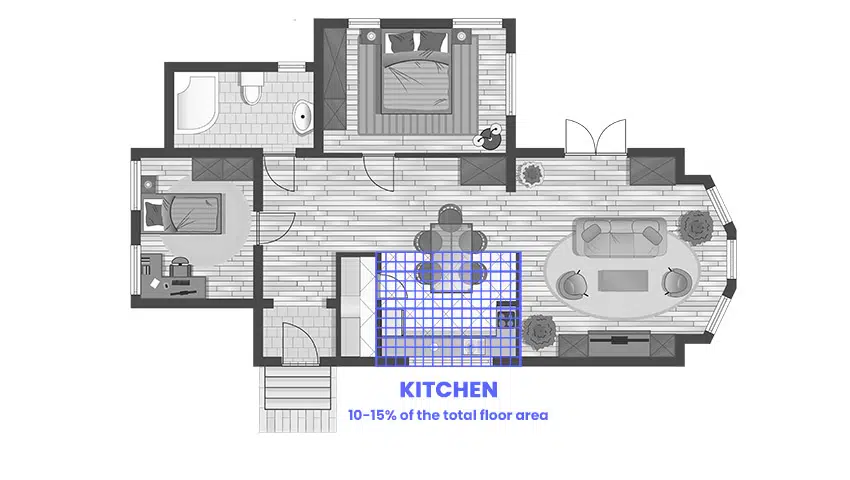 The first thing to determine before any other building or remodeling project is the measurement of the space. The measure will differ from one household to the other depending on different factors, including the size of your house, if you are building or remodeling an existing kitchen in an old home, or the layout you will go for.
In accordance with the U.S Census Bureau, the average size of a home is 1500 square feet, but the standard size of today's new home is 2600 square feet, and the kitchen more often occupies about 10 to 15 percent of that space.
If you have a home of 1500 square feet, then 10 or 15 percent of that space or 150 or 225 square feet will be the allotted space for your kitchen.
Minimum Aisle Width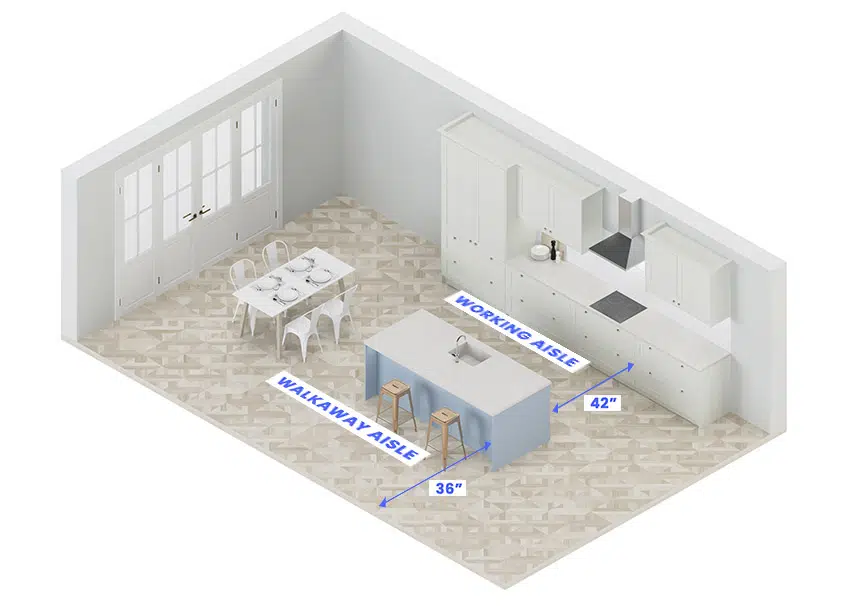 There are two aisle dimensions to consider, and that is work and walkway aisles. A work aisle is where you do the work in the kitchen: the cutting, the peeling, and the cooking. On the other hand, a walkway aisle is a space you utilize for walking or moving around in the kitchen.
The average width of the aisle for a workstation in a single-cook kitchen is 42 inches, while for multiple people to be able to work side by side, a work aisle of 48 inches in minimum is required.
For the walkway aisle, the minimum width requirement is 36 inches, and this space shouldn't pass through what you call the kitchen triangle.
A kitchen triangle or a working triangle is an ergonomic layout to a kitchen that theorizes that the three main work areas of the kitchen should form a triangle.
This layout usually requires the stove, the sink, and the refrigerator to be in a place to create a triangular space that could make it easier for the person working in the kitchen to be arms away from one station to the next.
Dimensions and Layout for Small Kitchens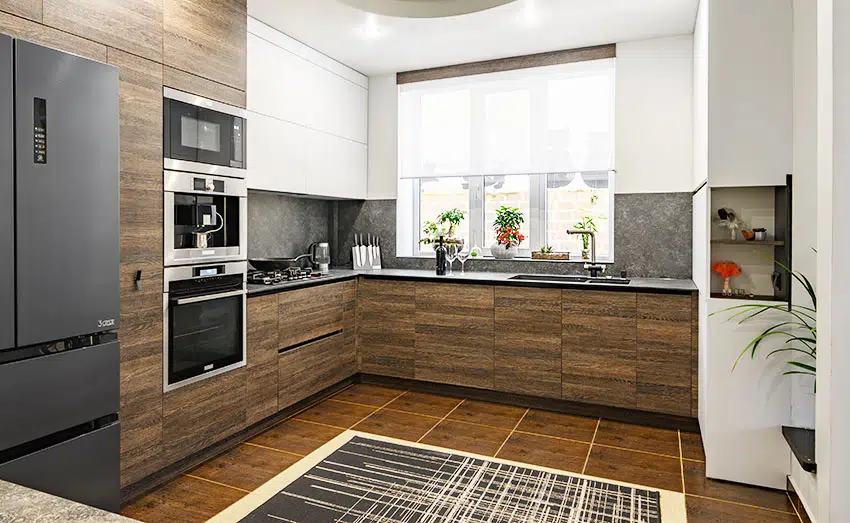 Smaller kitchens are what you could see on smaller homes or kitchen apartments. There are a few benefits to smaller kitchens, and it is not only that it works for the place.
In smaller kitchens, space management is more critical, thus requiring everything to have its own space; a smaller kitchen also requires you to use fewer kitchen appliances and other items, and in this process, you avoid unnecessary clutter. Check out our how to organize a small kitchen guide here.
The last benefit is that having a smaller kitchen will also require less space to clean, efficiently keeping your kitchen in pristine condition.
Smaller kitchens and apartment kitchens usually have dimensions of 70 square feet or even less. Creativity is vital to utilize this small space efficiently.
You can add more workspace using a moveable kitchen island, a pegboard that could double as a vertical hanging board and decoration, or smaller appliances like a converter oven.
Dimensions for Medium Kitchens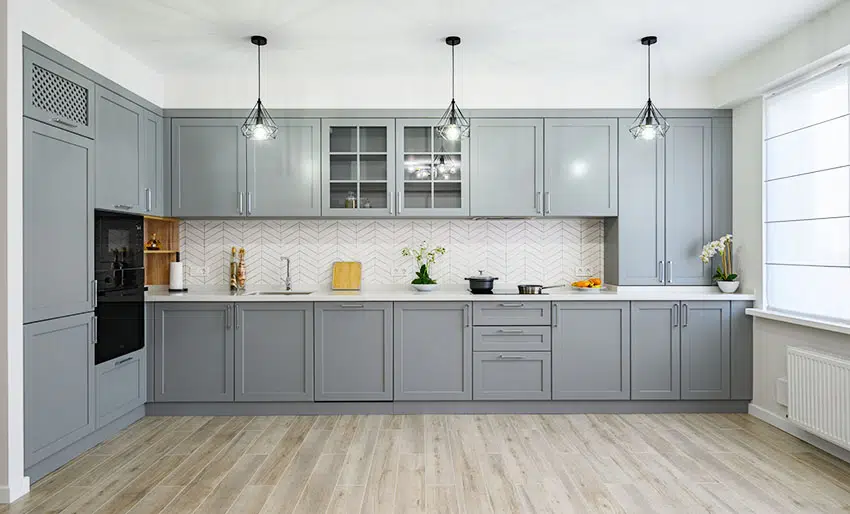 Mid-sized or medium-sized kitchens are the closest to the size of the standard kitchen. A kitchen this size could reach 100 square feet, and for this kitchen size, you could fit a decent-sized kitchen island with breakfast stools on one side.
A medium-sized kitchen is also great for more space when you choose to do the entertaining in your kitchen while you cook.
There are many factors in deciding what size of kitchen you need, the number of heavy appliances you have, who and how many people will use the kitchen or how big the household is, and how often you will cook. It is supposed you're going to be utilizing the kitchen more often than usual.
In that case, it is smarter to invest in a medium over a smaller kitchen to accommodate all the food and appliances you want to have.
Dimensions for Large Kitchens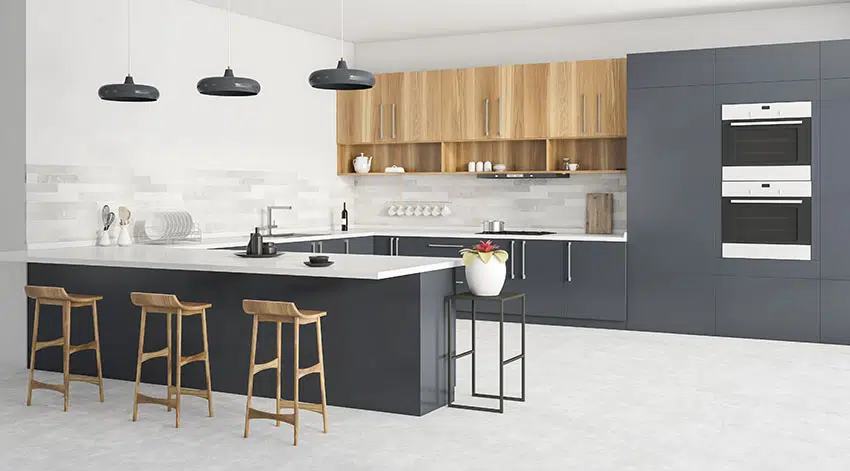 You often see larger kitchens in bigger houses, and they are also more often what home cooks and bakers want. Large kitchens have a measurement of around 200 square feet, and this is only an estimate. Some larger kitchens could go more prominent, especially if a dining table is incorporated, a breakfast nook, or a large pantry.
A larger kitchen can have some of these benefits. First, it can accommodate more storage and larger appliances. This is especially important for more extensive appliances like a double-door refrigerator, additional freezers, or dishwashers.
More storage is also great for home cooks and bakers who want large amounts of ingredients always available for their convenience.
A larger kitchen will also allow you to have more breathing room and more room for you to move around quickly in your kitchen without bumping something accidentally. A lot of counter space is also another benefit of a large kitchen, especially if you bake a lot.
Kitchen Layout Sizes by Type
Since you have decided how big or small you want your kitchen to be, it's time to determine how you want it to look. You do that by choosing and deciding your kitchen layout.
Kitchen layouts are not just for aesthetics since you and your architect need to coordinate with given requirements for a kitchen like a clearance space or the kitchen triangle that is the Ergonomics 101 on how to move around your kitchen easily.
With that in mind, here are some typical kitchen layouts and their dimensions to help you decide.
Dimensions for Galley Kitchens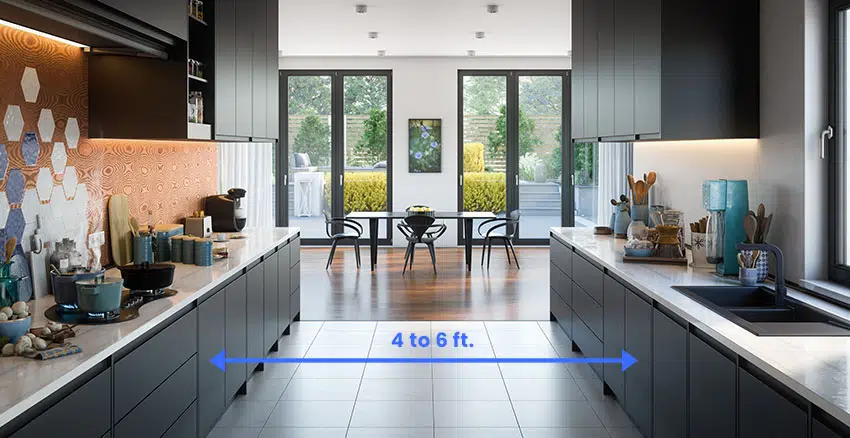 A galley kitchen is an excellent choice for kitchen layout if you are going for efficiency. But what are galley kitchens? It is a kitchen layout that has a walkway in the middle of two workstations or countertops.
There are two types: either a single row galley kitchen or a double row galley kitchen. A single-row galley kitchen fits everything into a single linear bar, while a double or two-row galley kitchen layout has two parallel linear bars.
You can find single-row galley kitchens in smaller homes, and this type will have everything from the sink to the oven in one single ergonomic line.
A space of 4 to 6 feet or 1.2 to 1.8 meters is provided to a single row galley kitchen layout. For a 75 square feet kitchen, the length of the counter from side to side is 12.6 feet or 3.8 meters, the width from the back of the counter to the end of the clearance space is 6 feet or 1.83 meters.
For homes with a medium-sized kitchen, a two-row galley kitchen layout could be more appropriate as it will provide more counter space for an added appliance like a built-in dishwasher or oven.
A 108 square meter space will be perfect for a two-row galley kitchen. This will provide a length of 12.6 feet or 3.81 meters from one side of the counter to the other, a distance from the back counter to the other of 8.8 feet or 2.64 meters, and a clearance space between counters to work in the kitchen of 4 feet or 1.22 meters will be provided.
Checkout our stylish modern galley kitchen design ideas here.
Single Wall Kitchen Layout Dimensions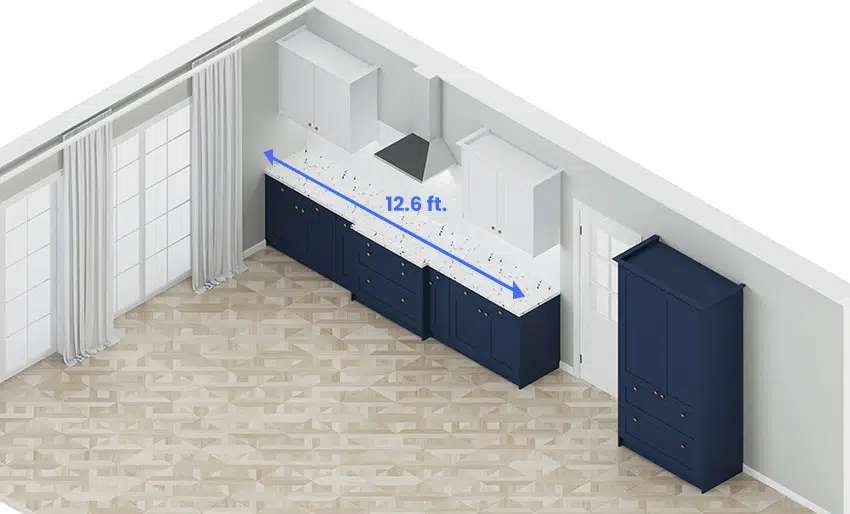 A single wall kitchen layout is excellent for planning to have an open floor plan with your kitchen opening up to your dining table or even the living room area.
Same as with small kitchens, creativity is required to figure out how to fit everything in a single line of counter space and working station. A single wall kitchen layout has every working station situated in one wall.
These dimensions could differ from what size of kitchen you have, but for a standard-sized kitchen with a single wall layout, a length running from one end of the counter to the other will require at least 12.6 feet or 3.81 meters of space. A bigger house could call for an even longer single-row kitchen.
Pullman Kitchen Sizes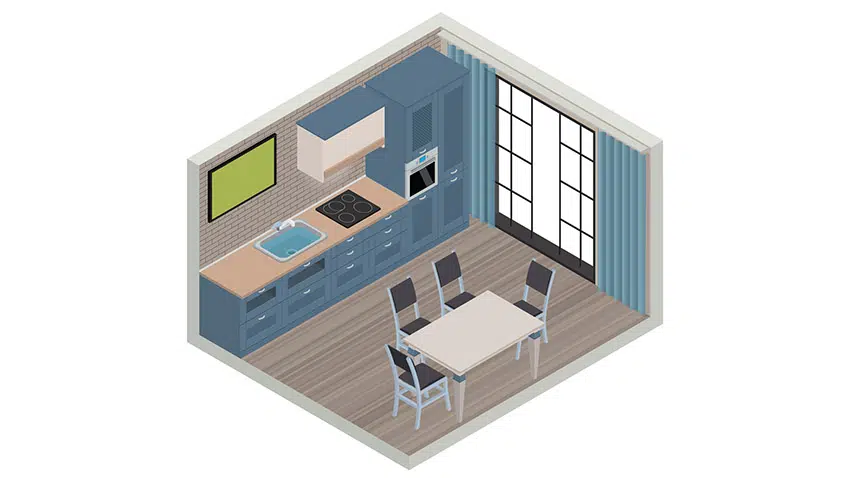 I-shaped kitchens are also known as Pullman Kitchen. It refers to kitchens with the same layout as a single wall kitchen layout or a single galley kitchen layout.
Pullman kitchens are what you call long and narrow kitchens with everything filed in a single row. You can often find this style of kitchen in small apartments and lofts where every space is utilized.
Just like single row galley kitchens, for a room of 75 square feet or 7 square meters with a width of 12.6 feet or 3.81 meters and a length of 6 feet or 1.83 meters, a minimum clearance space of 4 feet or 1.22 meters is required.
Like smaller kitchens, I-shaped kitchens need creativity to be able to fit everything on a single countertop. You can utilize space by installing a pot rack suspended from above or even installing skylights to save you the counter space needed for lights.
U Shaped Layout Kitchen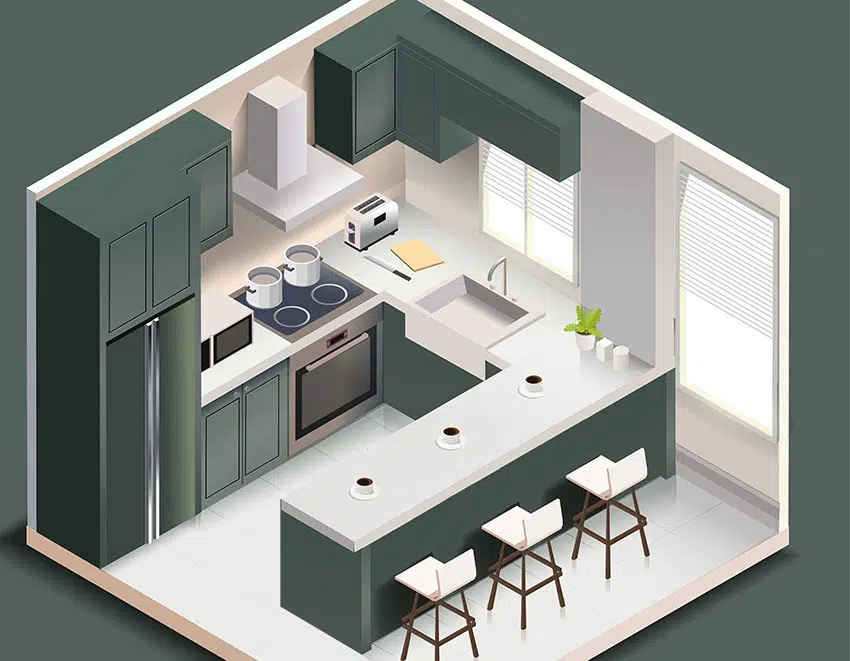 Another excellent kitchen layout for smaller and medium-sized kitchens is the U-shaped kitchen layout. You can ensure that there will be no wasted space because three sides of your kitchen space will be used for counters, cabinets, and appliances, with the floor space in the middle just enough for you to move around comfortably.
Think of a standard 107 square feet kitchen with a length of 10.2 feet or 3.15 meters and a width of 10.6 feet or 3.2 meters. 5 feet or 1.53 meters of area in the minimum should be allowed for movement and working space.
For bigger kitchens with more area left in a U-shaped kitchen layout, homeowners often decide to add central island counters for added storage and workspace.
For a medium-sized kitchen of 155 square feet, with a length of 10.4 feet or 3.25 meters and a width of 15 feet or 4.5 meters, a center island of 4.10 feet by 4 feet will be perfect. It will leave 3.6 feet of space on all sides, perfect for moving around your kitchen.
C Shaped Kitchen Sizes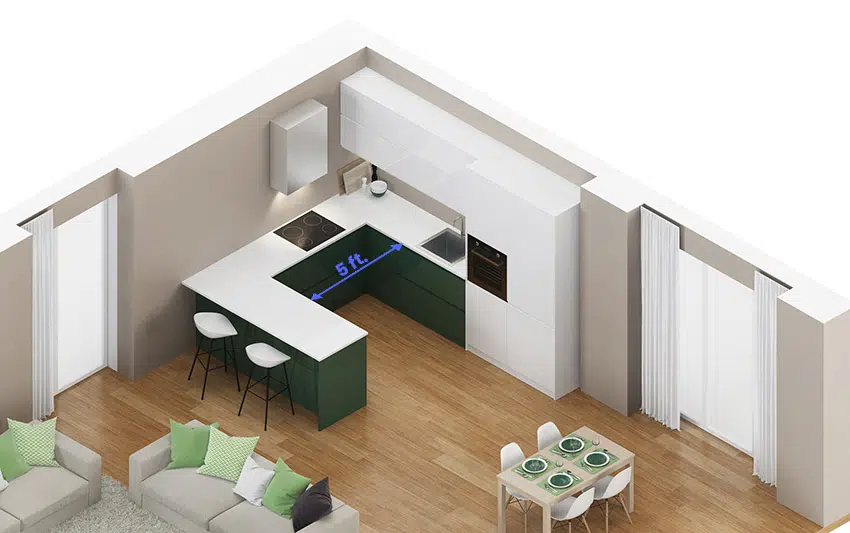 A C-shaped kitchen, as the name would suggest, is shaped on the letter. It is essentially a U-shaped kitchen inverted to a 45 degrees angle. This is great if you want to include breakfast stools outside one side of the counters, and the counters will also serve as a partition between rooms.
Like a U-shape layout, a C-shaped kitchen would have all cabinetry and appliance on three adjacent sides of the kitchen walls. A clearance space for walking around and cooking should be 5 feet or 1.53 meters at the minimum and can go from 6 to 8 feet and more for a more oversized C-shaped kitchen.
What is The Minimum Size of a Kitchen?
A room can qualify as a kitchen if it has some primary appliance and storage option that helps us prepare the food we eat.
Some essential appliances that are used and should be in every kitchen are refrigerators, an oven with a stovetop, a sink, and a free counter space where we chop and mix and other kinds of stuff.
The minimum space for a kitchen to accommodate such and be big enough for us to move around in it should have a width of 5 feet and a length of 8 feet. Read more about specifics about kitchen counter measurements here.

What is The Best Size for a Kitchen?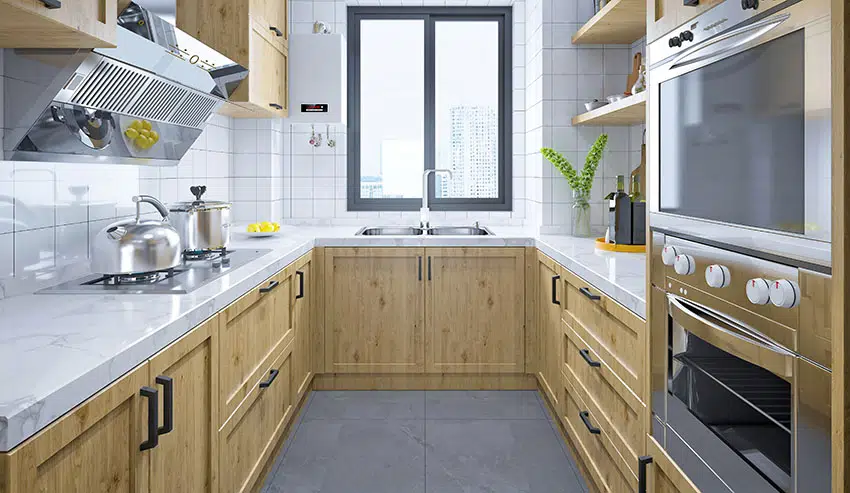 The ideal size of a kitchen should occupy 10 to 15 percent of the total space of your house. A vast kitchen would feel excessive in a small home, while a small kitchen would feel out of place in a bigger house.
Remember that the dimensions provided are just rough estimates for standardized home kitchen sizes and these layouts are adaptable to whatever size your kitchen will be.
Ultimately, the best size kitchen is what you want it to be. Every one of us has individual choices and needs to be accommodated, and there is no rulebook in deciding what works for you.
You may want to use a kitchen design software program to plan your space. This will enable you to visualize your project and attempt to get a feel for space considerations before doing any costly work.