This gallery shares beautiful rustic contemporary kitchen designs with wood floors, beam ceilings, natural stone and modern finishes.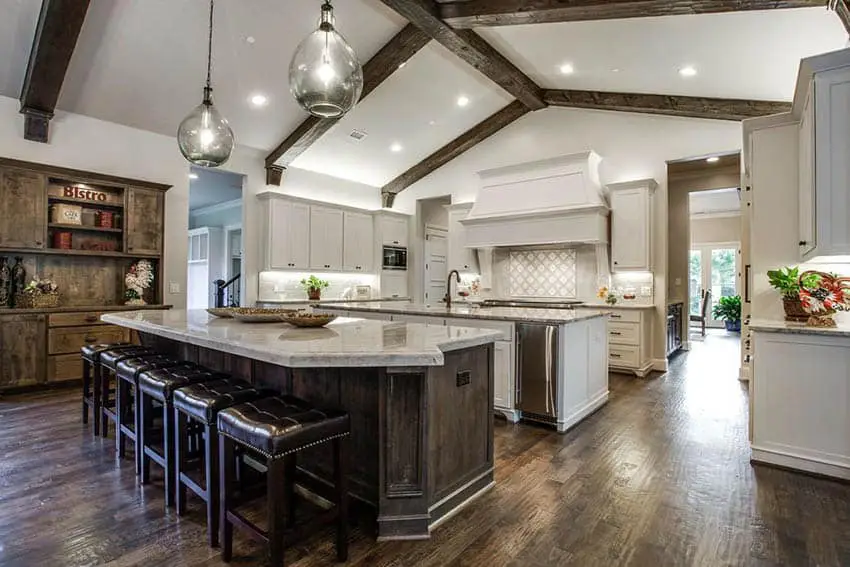 Rustic spaces are easily identified simply by looking at the finishes used in a space. Rustic style furniture pieces and architectural finishes are often made from wood or black-painted iron, and has a signature "worn-out" or weathered look. It also includes antiqued paint finishes, brass finish, etc. Rustic furniture pieces and finishes has made its way back into contemporary designs, and are often found applied on common spaces like the kitchen.
Integrating rustic finishes into contemporary kitchen spaces brings balance and warmth into your design. Contemporary kitchen cabinets and designs are often characterized by clean, flat surfaces and rectilinear forms. White is often the go-to color choice for finishes, which look bright and timeless, but can sometimes be a bit boring and flat as well. By adding a few rustic finishes and rustic accents, you are able to give more personality and a more homey warmth to your kitchen.
Common Elements of Rustic and Modern Kitchen Designs
Wooden beams / trusses – exposed wooden beams in natural weathered finish is a popular element in rustic contemporary kitchens. Sometimes the beams & trusses are real structural elements, but there are also cases when they are used solely for aesthetic purposes only.
Wood kitchen island – can be freestanding or built-in
Open shelving – can be in the form of floating shelves, or simple open cabinets mainly used to display items
Sliding barn door – these are often made from wood slats and exposed metal fittings
Finishes – wood (usually oiled, weathered or antiqued), brass, black iron, leather, etc
Paint – often warm-tone colors
Butcher block countertops – this is a nice subtle way to integrate rustic finish into your kitchen
Masonry walls – could be bricks, slate, limestone, etc
Weathered Wood Kitchen Island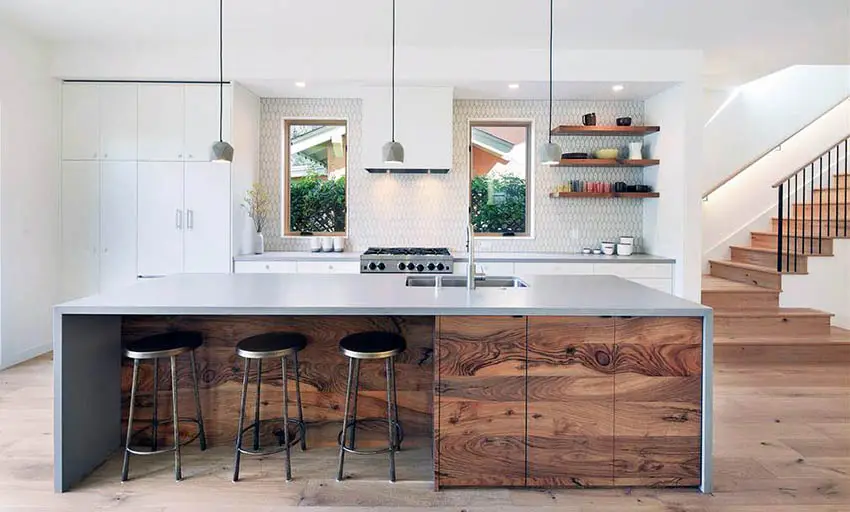 Some people are a bit averse of the idea of rustic finishes as they feel that they look too heavy, old or dated. However, rustic finishes can also be applied in a way that still looks clean and modern, just like the example above. The rustic element was the weathered wood kitchen cabinets used on the kitchen island. But instead of paneled cabinet doors, the cabinets are clean, inset doors, giving it a very modern, clean look that adds just the right amount of warmth to the small kitchen space,
Sliding Barn Door Kitchen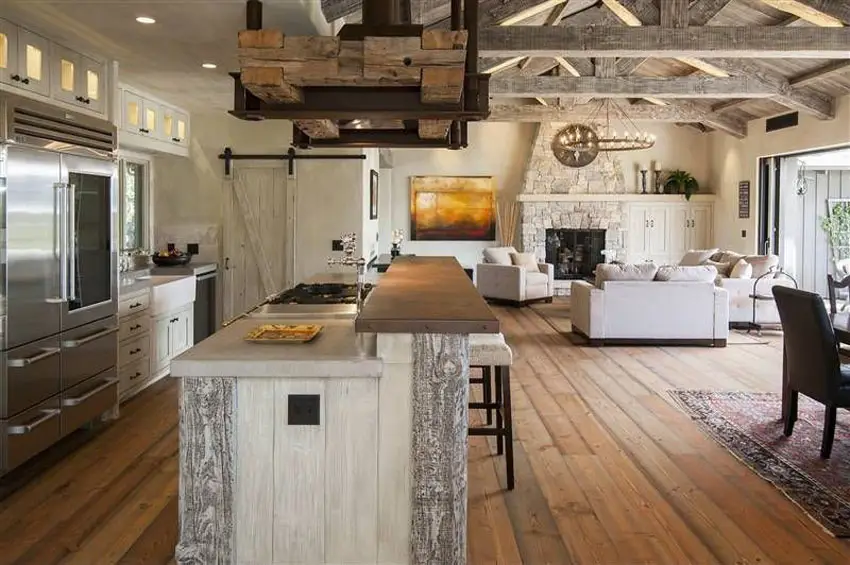 This contemporary kitchen uses multiple rustic features to achieve this look. There are exposed wooden beams & trusses, weathered white paint on kitchen cabinets, bronzed metal accent with pieces of solid weathered wood, and a small sliding barn door on the side in white antiqued paint finish.
Kitchen with Open Shelving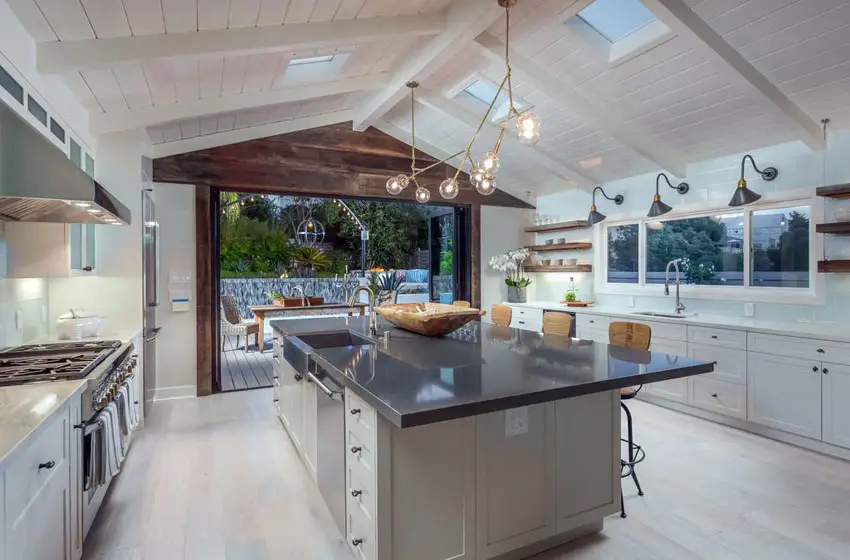 Adding open wooden shelves in any kitchen gives it a subtle rustic touch without feeling too heavy. This kitchen simply added 6 open shelves on one wall, maintaining the light and open feel of the kitchen. Subtle touches such us the wooden door frame & transom, as well as the wooden bar stools and accessories help complete the look.
Kitchen with Butcher Block Countertops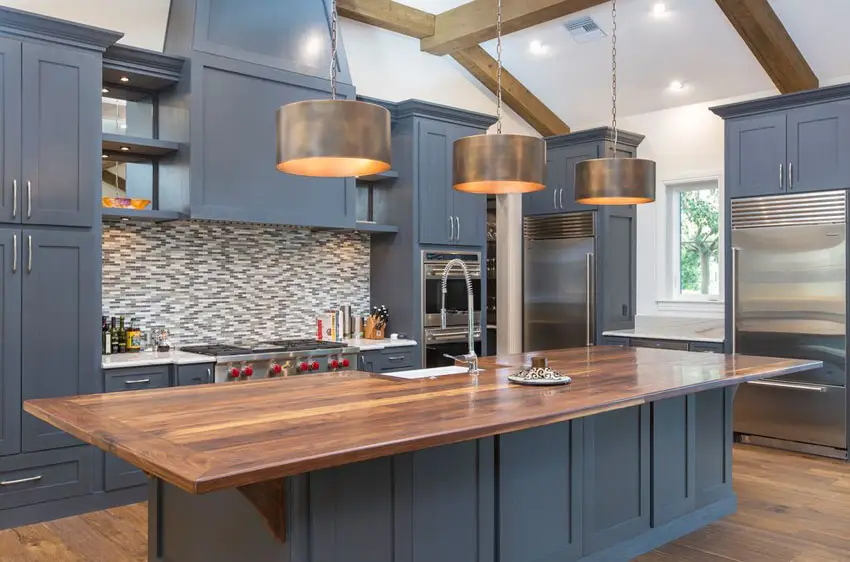 If replacing cabinetry is too costly and or labor-intensive, another way to make your contemporary kitchen space a rustic contemporary kitchen, is by adding a butcher's block countertop, such as this massive kitchen island countertop that matches the wooden flooring. The gunmetal gray kitchen was instantly given a warm touch by simply adding the butcher's block countertop.
Kitchen with Exposed Beams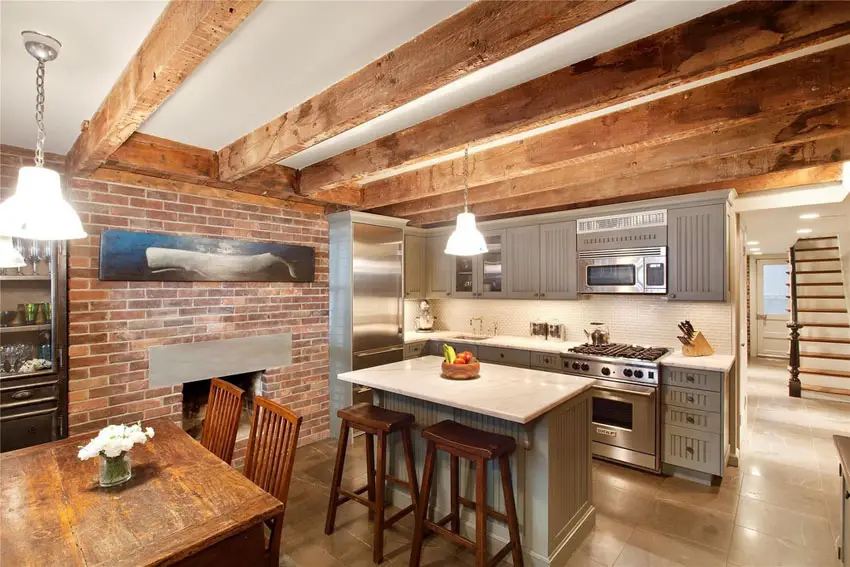 The exposed wooden beams in this kitchen are only there for decor, but it stands out quite well because of its prominent weathered finish – holes and nicks were not filled in and left as is. Other rustic elements of this contemporary kitchen would be the antique wooden furniture pieces, and the painted beadboard cabinets.
Kitchen with Wood Flooring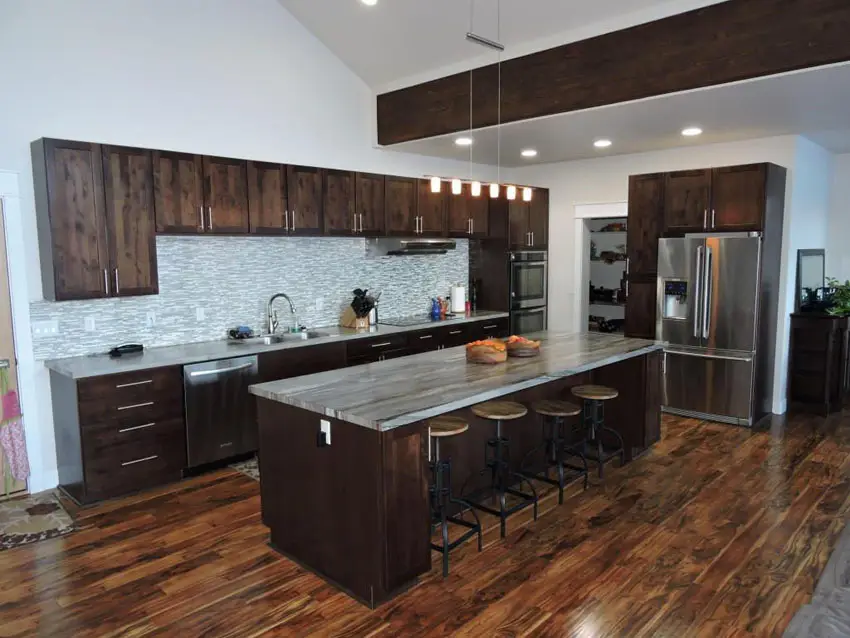 The burly quality of the maple wood floors really stands out in this kitchen because of the high contrast natural colors of the wood. This also helps highlight the dark wood kitchen cabinets paired with gray soapstone countertops which helps tone down the wood finishes a bit.
Kitchen with Brick Walls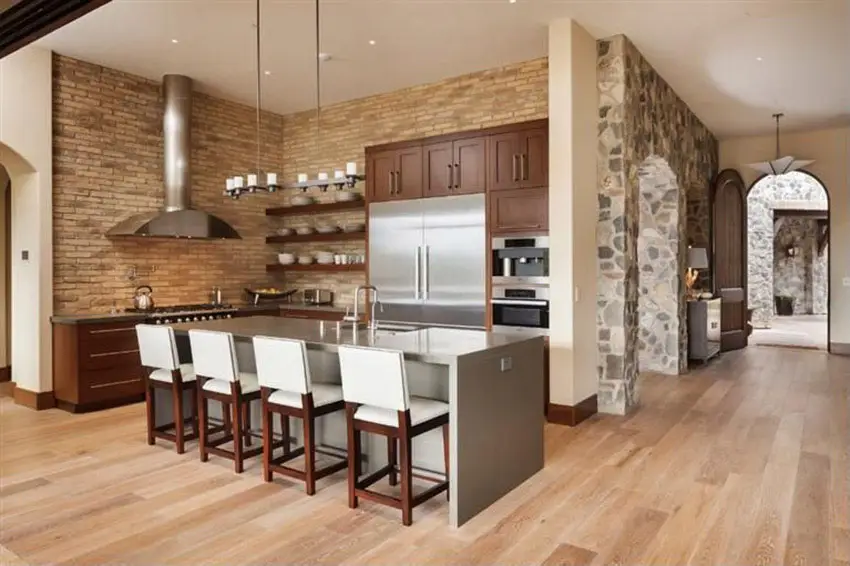 This kitchen looks sleek and stylish because of its clean, straight edges and perfectly glossy finishes. The L-shape kitchen adds a touch of texture and rustic feel by using antique brick finish on its walls. Because the rest of the finishes are plain and smooth, the brick wall does not make the space look to heavy or busy, but actually complements the whole look. The contrasting kitchen island is constructed of a polished concrete that is also used for the rest of the room's countertops.
Dark Wood Cabinetry with Stainless Steel Finishes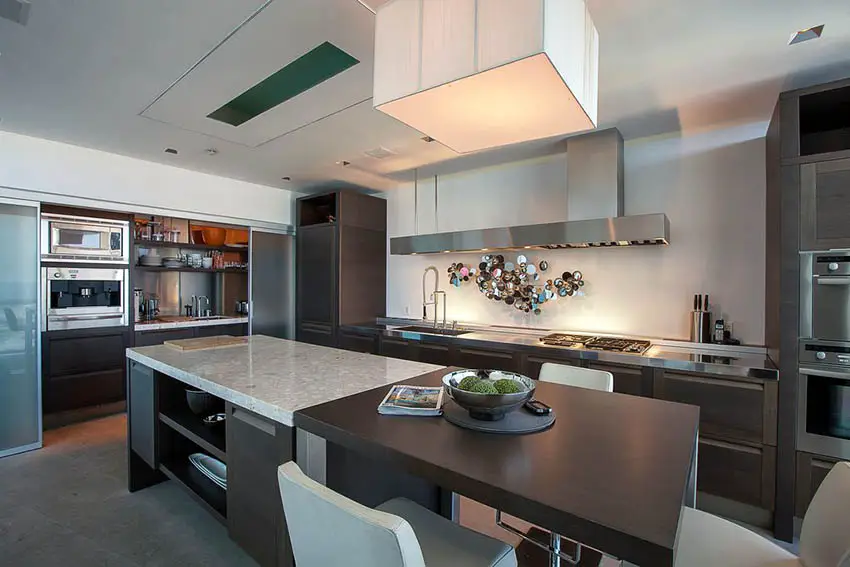 Some people love using stainless steel elements and finishes in their kitchen as it has that professional appeal, and is very easy to clean and maintain. Too much chrome finishes in a space, however, can make the space look too dull & boring. A nice balance can be achieved by adding / integrating cabinets with dark wood finish to counter the "cool" feel of the chrome/stainless steel elements.
Kitchen with Distressed Wood Island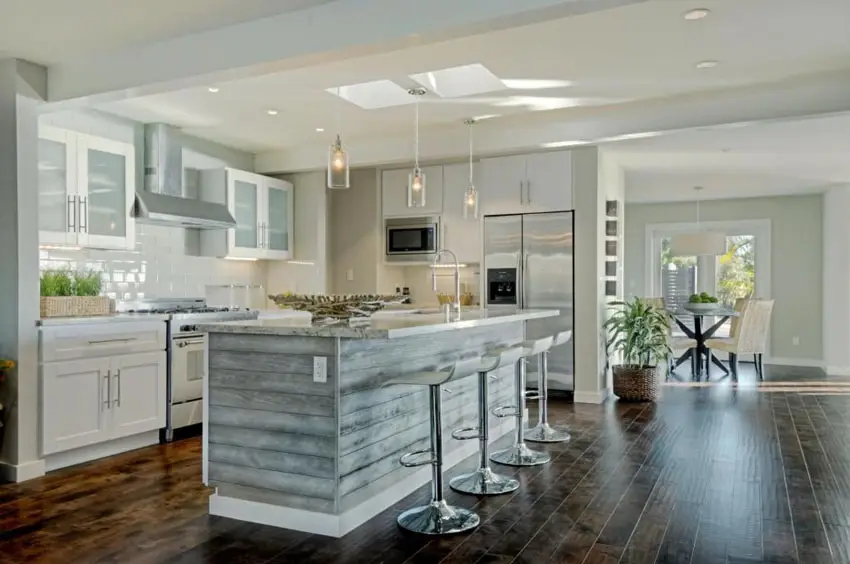 If you already have a bold or dark wooden floor, using wood on the cabinets as well might be an overkill. A great alternative would be using a distressed wood finish instead of keeping the natural wood color. In this example, the distressed finish was applied on the bleached wooden planks used on the kitchen island. The distressing technique adds a bit of a darker gray/black tint to the wood which emphasizes the wood grains and burls to give it a nice rustic feel, in a more neutral color.
Rustic Contemporary Kitchen with Antique White Paint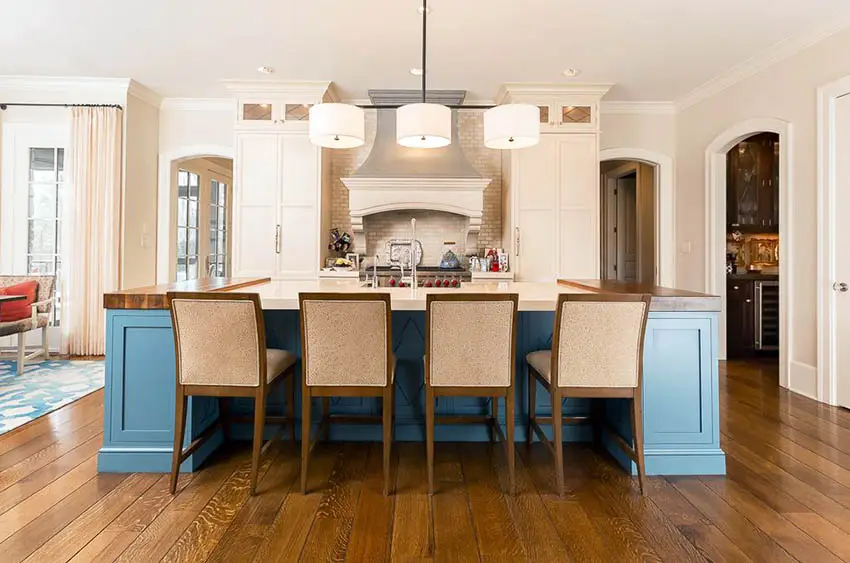 This open kitchen design has an elegant & regal appeal with its symmetrical design and elegant furniture pieces. Subtle rustic elements were injected into the space, such as the two butcher's blocks placed on two ends of the kitchen island, and a white-painted brick wall behind the stove. See more brick kitchen designs on this gallery page.
Antique Brass Finishes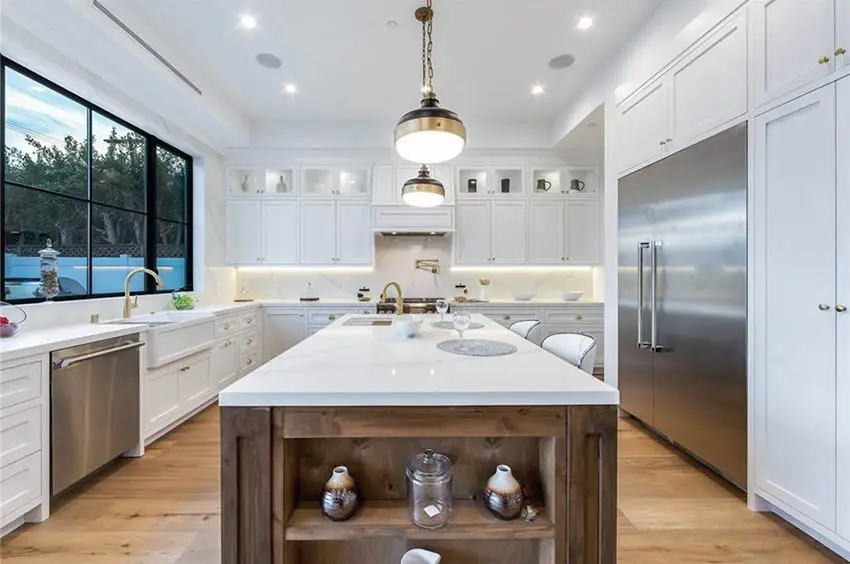 Brass is also a signature of rustic interiors, so a simple addition of antique brass elements would instantly turn your contemporary kitchen into a rustic contemporary kitchen. This example shows simple white kitchen cabinets fixed with antiqued brass pulls and accessorized with brass fittings. A kitchen island with a rustic wood base was also used, as well as pendant lamps with brass accents to complete the look.
Gray and White Kitchen with Marble Countertops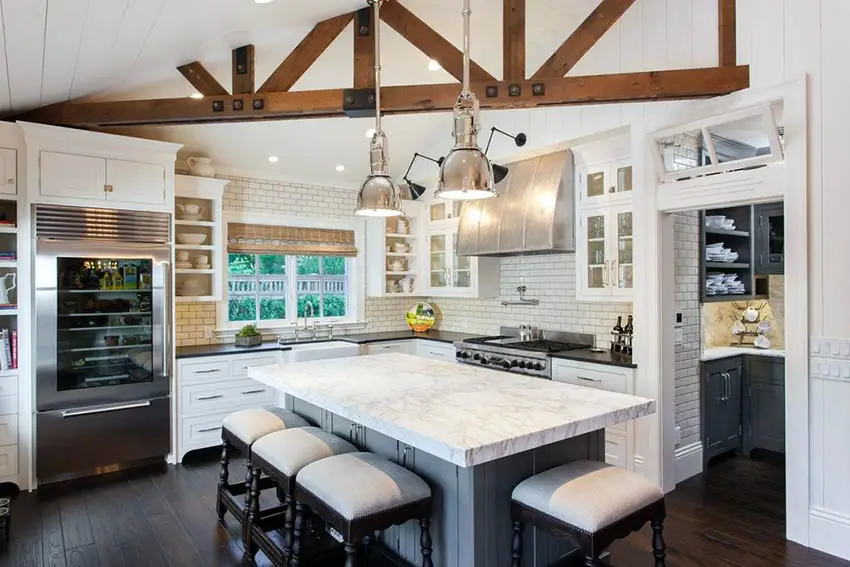 This gray and white kitchen shoes a quirky contemporary take on the classic style look. It features an eccentric mix of elements such as classic Spanish style bar stools, white painted classic panel cabinets, gray painted kitchen island base, carrara marble, hammered metal and chrome metal finishes, subway tiles, and an exposed structural wooden truss with exposed metal fittings. The combination of these elements gives a fun and chic vibe to this small kitchen space.