Here we share our pewter countertops design guide including what this material is, the different types, pros and cons, cost, and tips on how to clean a pewter kitchen countertop.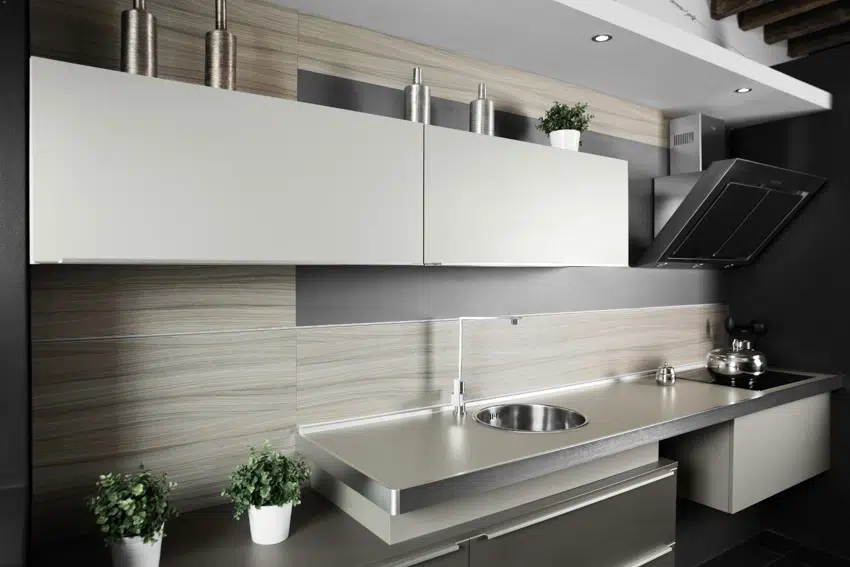 Quartz or granite — the two most common countertop materials — are likely to be found on most American kitchen surfaces, but what about metal countertops?
Metal countertops may be an excellent choice for many homes since they provide superior quality, a distinctive appearance, and a wide range of design alternatives.
Pewter, a classic metal often used to make plates, bowls, cutlery, and basins, is ideal for the cozy, old-world kitchen. Its natural grayness provides an earthy, understated tone that many homeowners find fantastic for the kitchen. Like zinc, pewter develops a subtle patina as it ages.
For generations, French bistros and brasseries have been utilizing pewter countertops. For instance, bars in France are often referred to as "le zinc," even though the famed Parisian bar are from pewter.
Because of its historically refined aesthetic, adaptability, and sustainability, the 21st-century design has rediscovered the pewter's elegance.
What Are Pewter Countertops?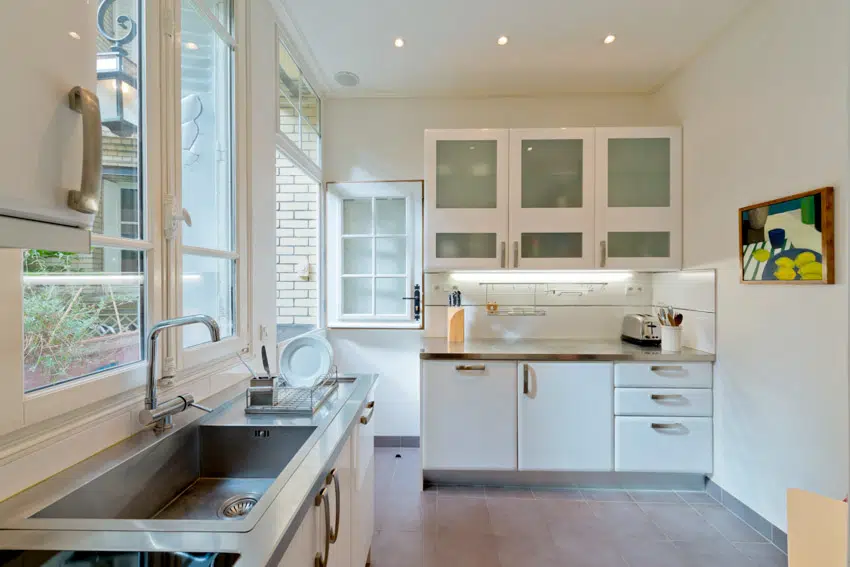 Pewter is a malleable metal alloy of 85-95 percent tin, with the rest made up of copper, antimony, bismuth, and, less typically nowadays, lead.
On occasion, manufacturers also use silver, whereas lead is for the lesser grades of Pewter, which have a blue color. Depending on the specific combination, its melting point ranges from 338 to 446 degrees Fahrenheit.
The Near East, at the beginning of the Bronze Age, initially utilized pewter. Its discovery dates back to 1450 BC in an Egyptian tomb.
Due to health concerns arising from the lead content, people no longer use pewters containing lead in objects that will contact the human body, like cups, plates, or jewelry. Many modern pewters available are entirely lead-free, while some also make lead-containing pewters for other reasons.
Pewter can also make collectible statuettes and figurines, (replica) coins, pendants, and plated jewelry, among other things.
The cold silver tone of pewter countertops is appealing, and its matte surface will develop a gray patina over time. Because of the suppleness of the metal, it may make curved forms. But the slight flaws and blemishes that are typical on metal surfaces will stand out more.
Natural and chemical patinas will continue to change over time as the counter or bar top ages. It will take approximately a year for the patina to develop.
Pewter Kitchen Countertops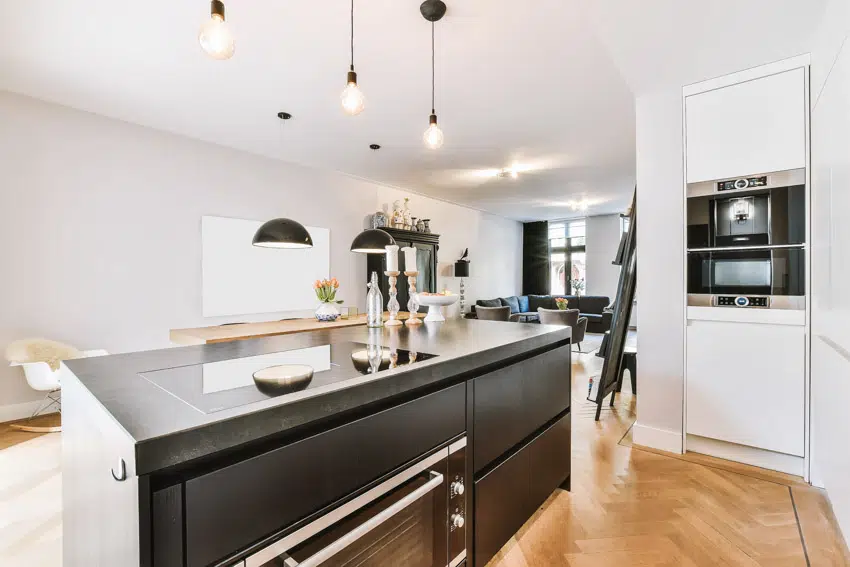 Handcrafted metal can create beautiful pewter kitchen countertops to fit your style and your space. You may also customize every size and feature.
To make your pewter kitchen countertop have a dramatic presence in your kitchen, add details like ornate edges, backsplashes, hammering, and drainboards.
Each pewter kitchen countertop is handcrafted from the finest pewter available and is thoroughly welded and polished. You may design your own straight pewter kitchen countertop by mixing a custom feature.
Pewter Brush Laminate Countertop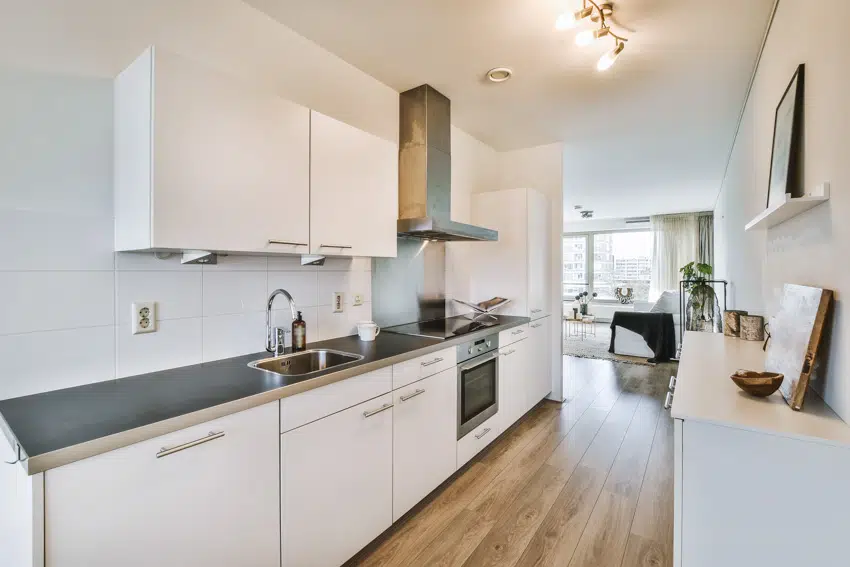 Pewter brush laminate kitchen countertops have a large-scale swirling brush effect in a pewter grey. It is usually heat and scratch-resistant, making it excellent in kitchens, baths, and other areas.
Pewter brush laminate countertops are popular in Europe and are gaining popularity in the United States because of their corrosion resistance, antibacterial, and stain resistance qualities.
The antibacterial properties of a pewter metal are remarkably similar to those of copper countertops. The non-porous structure of the metal allows for stain resistance. Spilled or dropped items will not seep through the top layer of the pewter countertop.
Instead, the chemical characteristics of the food and liquids will combine with the metal to produce a unique color and pattern.
Pewter Sheets For Countertops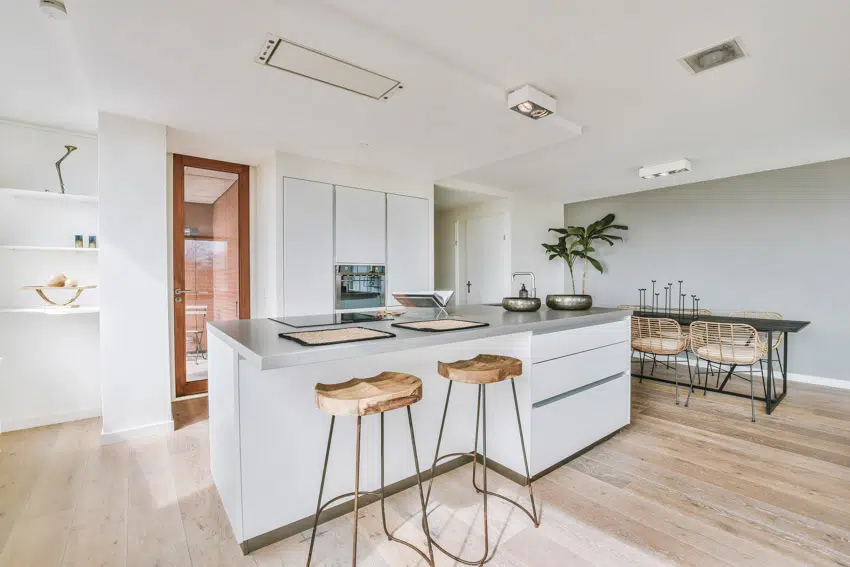 Pewter 92 is the most common and widely used grade in the US and United Kingdom. (Alternative grade Pewter 93 is available by order only.) Pewter 92 is from 92% Tin (Sn), 6% Antimony (Sb), and 2% Copper (Cu).
It is mainly utilized for bar and tabletops, as well as handcrafting and spinning. The pewter sheet is an excellent material for countertops, sinks, and commercial and residential bar tops. When used for countertops, pewter sheet metal has several desired qualities and is a potential alternative to stainless steel countertops.
Pewter sheet metal may survive over a century, and you can determine the color and pattern by the foods, liquids, and other objects that come into touch with it.
Pewter Countertops Pros and Cons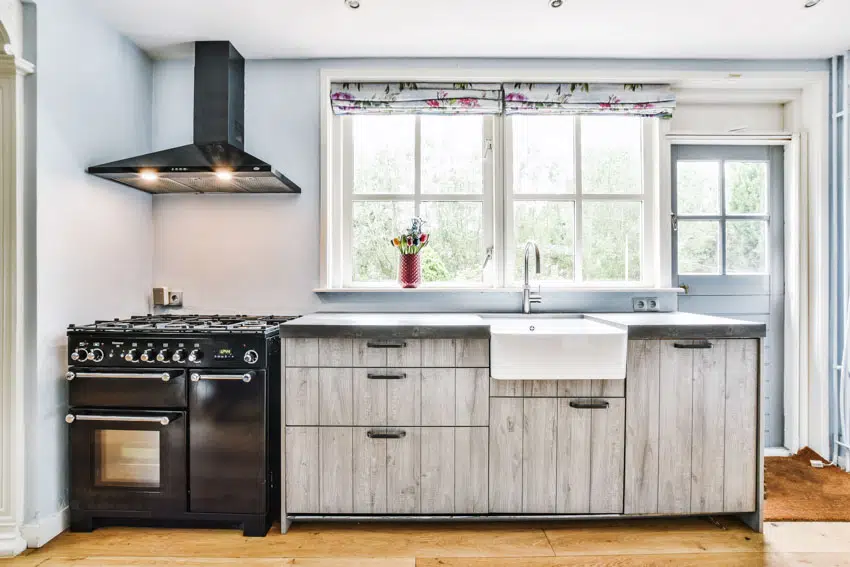 Here we share the advantages and disadvantages of using pewter kitchen countertops.
Pros
• Naturally antibacterial
• Non-porous metal
• Ideal for ornamental edging
• Simple to clean
• Traditional and "old world classic" design
• Extremely versatile
Cons
• Because of its softness and mold-ability, it may be readily stamped or molded
• Patina or color changes evolve throughout time. The dull gray patina isn't everyone's cup of tea.
• Quite pricey (more expensive than its closest counterpart, zinc)
• Lead may be present
Pewter is the softest of the metals, having a silver tint that fades to a dark grey patina with a satin shine. Because aluminum types of kitchen countertops may be scratched and dented with severe usage, you might want to use them for anything other than a work surface.
Avoid putting hot pots directly on the surface, as you would with zinc. It may also develop noticeable "patterns of usage" that are lighter and smoother than the rest of the body.
Because certain pewter alloys include lead, be sure you get your pewter countertop from a company that makes food prep surfaces.
Pewter Countertops Cost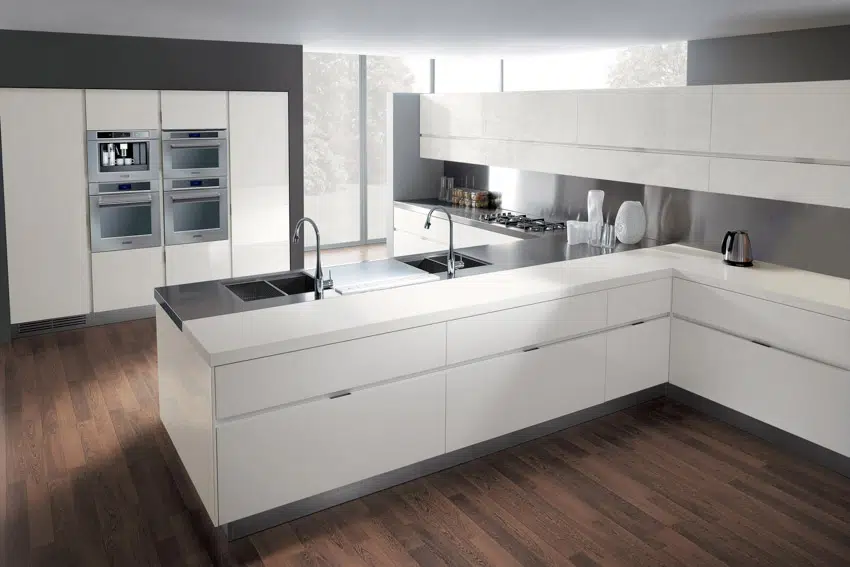 Pewter countertops cost $200 to $400 per square foot to install. Pewter is available in various treatments, including matte, mirrored, and professional patina. Pewter is, without a doubt, more costly. Zinc has a drab, blue-grey matte surface, while pewter has a more lustrous and dazzling look.
Both are lovely, and because of the low melting points, each metal may have almost any ornate edge design you can conceive, which may also enhance or detract from the appearance of a cast pewter tabletop.
Find an artisan that works with cast metal. Cast zinc or pewter top can be entirely handcrafted, and the result resembles a genuine old-world French counter.
Depending on the final appearance you want to achieve, the edge detail you pick adds a sleek or ornate frame to your countertop. Clients enjoy their metal surfaces because they are simple to maintain and can withstand a lot of abuse.
How Do You Clean Pewter Countertops?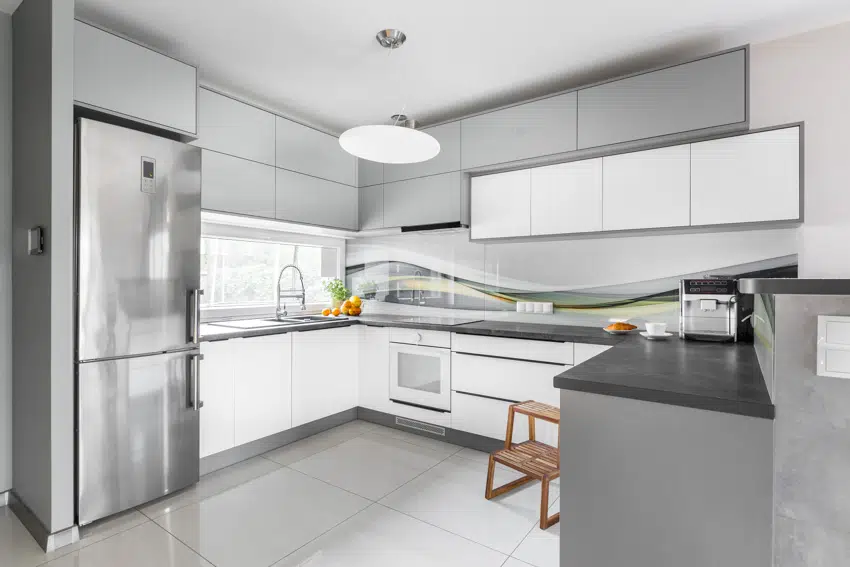 Cleaning is as simple as using mild soap and water regularly. You can also use Windex. To avoid spots and glass rings, clean away with liquids as soon as possible.
For eliminating water stains, streaks, and fingerprints, use the "Stainless Steel Magic" cleanser and polish (available at most supermarkets). Because pewter is a sensitive metal, we suggest using trivets for boiling pots and different types of cutting boards for chopping to protect your surfaces.
Harsh or abrasive cleansers, such as bleach, should be avoided since they may harm the fragile surface of the pewter.
Do not add any coatings or lacquers to your metal items since they are composed of raw, bare metals. Depending on the polish style, you will need to follow different maintenance instructions:
• Matte Finish: Normal – Use a home 3M Scotch-Brite pad to remove minor scratches and mineral streaks.
• Extreme Cases – Deep scratches may be sanded and polished off with sandpaper grades up to 220. To restore the countertop's original finish, brush it in a circular pattern. This brushing will result in a matte look. Over time, the patina will return to its original state.
• Mirror-Polish Finish: Normal – You may use any metal polish for general cleaning.
You can also handle pewter using a machine-polishing pad in extreme cases. Sanding or polishing a patinated finish can eliminate scratches but will also remove the patina.
Over time, the patina will return, producing its distinct pattern of usage. Avoid using cleansers that include acidic chemicals or fluids, such as lemon, lime, or orange, since they may irreversibly harm the patina's quality and color.
Places that get a lot of usage and cleaning will seem lighter and smoother. Professionally patinated pewter will appear darker and more consistent than pewter that has been allowed to acquire its patina naturally.
Pewter countertops are a timeless and beautiful option that has long been popular in European homes, restaurants, and wine bars. Pewter was a popular ornamental and unique item material in the Middle Ages, and it evokes an old-world feel. It is a durable metal that will tell its narrative, pass on its heritage, and makes an excellent countertop.
See more related content in our article about aluminum countertops pros and cons on this page.