Here's our kitchen countertop overhang guide including standard overhang size for countertop seating, kitchen islands and breakfast bar designs.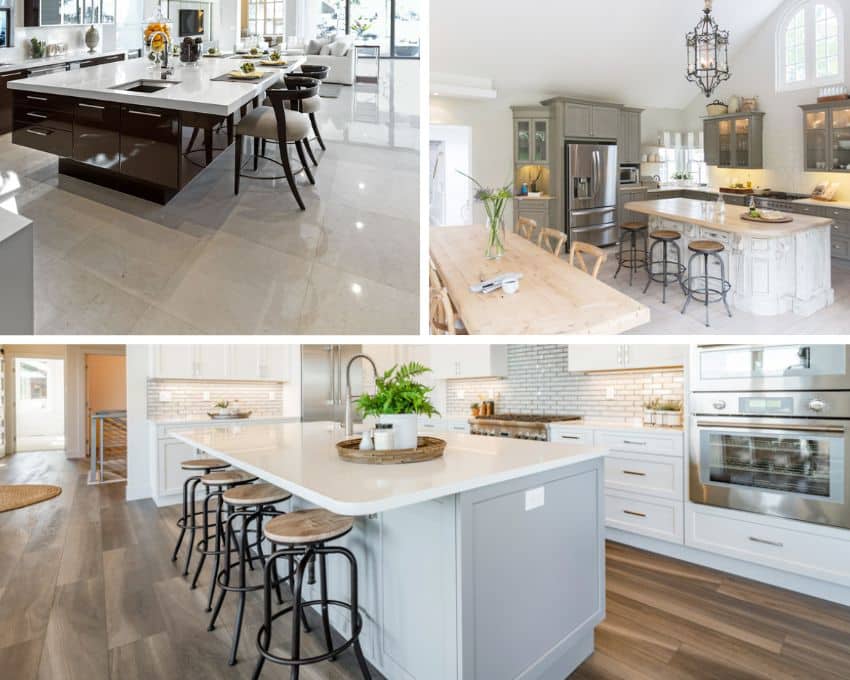 Whether planning to build a countertop in the kitchen or the bathroom, one essential consideration is deciding on the overhang size. Overhangs in the countertop will ultimately add to the function of countertops, whether it is enhancing the usability of the structure by ensuring ergonomics or adding to the features of the countertops.
The measurement for these features usually needs to be decided before construction and installation and will depend on what the homeowners are looking to achieve for their countertops.
The measures will consider how long the kitchen overhang will be and also how wide, which will usually follow the wideness of the countertop itself.
How Much Overhang For a Kitchen Countertop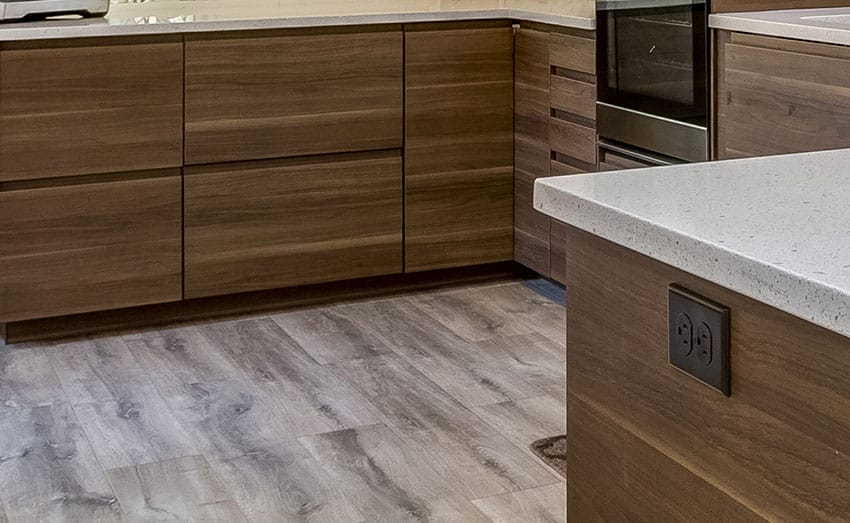 The primary function of most kitchen countertops overhangs is to extend enough that it covers cabinets and drawers below it to prevent anything from spills to bits of rice from falling when homeowners are prepping in the counters.
There can be varying sizes for the overhang, but often, they can have it standard if they are using it for the essential purpose of preventing spills.
A generous overhang will protect the door and drawer fronts below from spills. – The Kitchen Consultant: A Common-Sense Guide to Kitchen Remodeling, Herrick Kimball
The standard kitchen countertop overhang is one and a half inches or around 4 centimeters. This number is measured from the front edge of the central drawer or cabinet.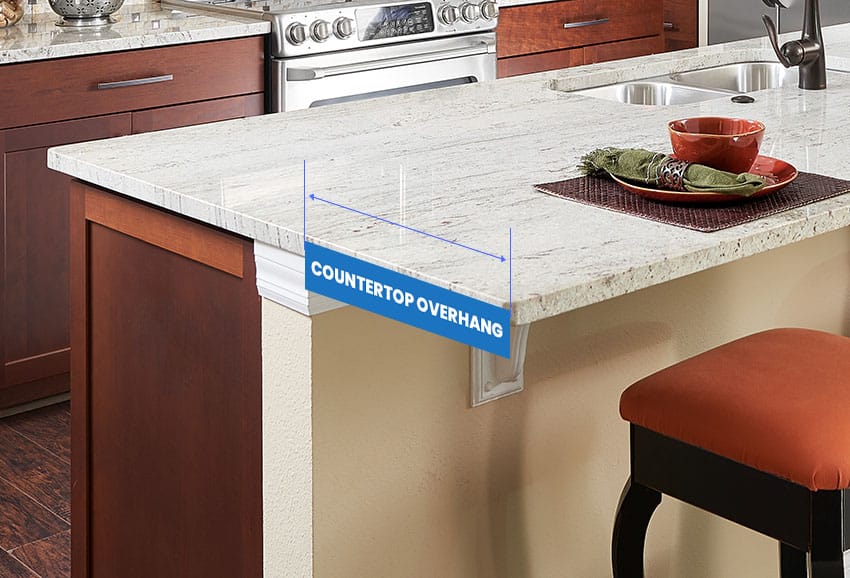 To visualize it, the homeowner should stand over their countertops and look down; the edge of the counter closest to them is where they should start measuring the one and a half inch overhang needed for their countertops.
Standard Countertop Overhang

Standard countertop overhang will depend on the type or countertop section the overhang will be added. There is more than one place an overhang can be added to a cabinet, and sometimes there can even be more than one side for a countertop with an overhang.
The overhangs on the sides and front of a countertop will usually be a 1 1/4 inches space or about 3 centimeters of overhang in a 25 inches cabinet or counter. More often than not, this overhang depth is predetermined.
For countertop seating, an overhang is needed to ensure that anyone can sit comfortably under the overhang. For this purpose, an overhang of 16 to 22 inches or around 41 to 56 centimeters.
The counterpart for countertop seating bars will usually be shorter since users are expected to be standing at the bar. On average, an overhang ranging from 6 to 8 inches or 15 to 20 centimeters will be enough for bar overhangs.
How Much Counter Overhang For Seating?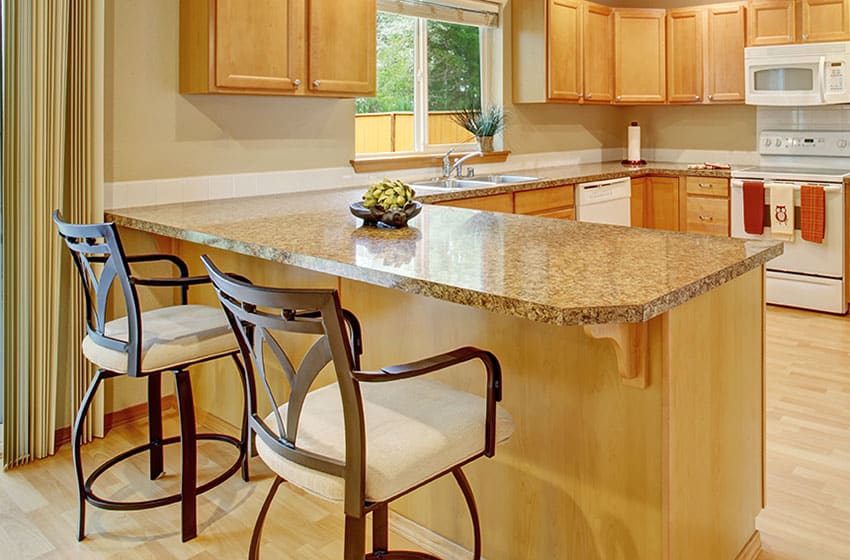 A countertop overhang that will offer seating is an example of how adding overhangs can genuinely give a countertop an added purpose aside from just being a surface for food preparation.
Whether a kitchen island or a countertop, a space for sitting is a great idea. More or less, the free space or overhang size should start at 12 inches or 30 centimeters from the base cabinet forward.
This 12-inch space can be enough so the knees of anyone sitting on the bar will be comfortably nestled underneath. The great thing about this space is that it can be adjusted to whatever size a homeowner needs.
The only downside to any overhang size above the 16-inch range is that it would need more support in the structure, like added posts or brackets.
Standard Island Counter Overhang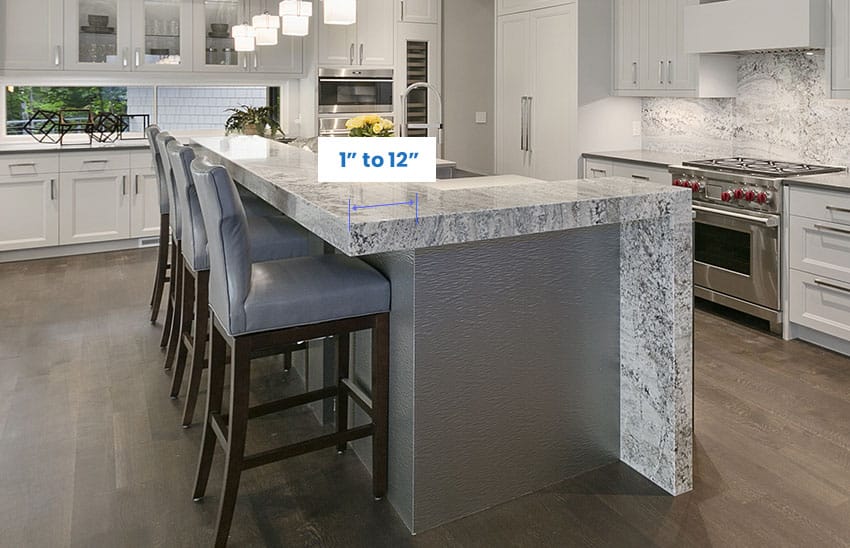 Just like the overhang on regular kitchen countertops, the overhang for the kitchen island will protrude out of the island's base.
Since most homes will have an island, knowing the overhang size needed for this structure is important. Aside from being a decorative element to the otherwise bare island, it will also offer added seating options.
Overhangs for a kitchen island start at the smallest 1 inch or 3 centimeters to the longer 12 inches or 30 centimeters. The latter will be enough for a whole breakfast area with stools, while overhangs starting at 1 inch or over will protect the cabinets from any spillage.
How Much Overhang For Island Seating?
An overhang for the kitchen island can be done two ways: the standard overhang of 1 1/2 inches or around 4 centimeters and the overhang for kitchen islands to account for seating. If seating is the option one has in mind, going for a longer overhang is the best way.
Overall, the overhang for this purpose will be the same as the overhang needed for countertop seating at 12 inches or around 30 centimeters. Anything longer than the standard 12 inches or 30-centimeter overhang will need additional construction support, which is not always an option for the ordinary homeowner.
Standard Bar Countertop Overhang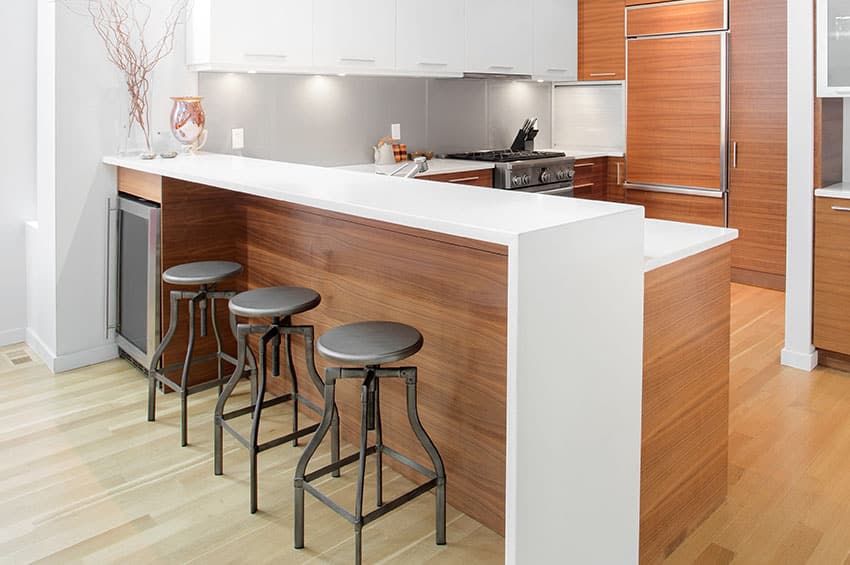 Home bars are one of the greatest pleasures any homeowners want to have in their homes, whether it is used as a breakfast bar during the day or a nice hangout place at night.
Bar overhangs can start with a length of 6 inches or 15 centimeters. This space might seem tight when thinking about it, but the idea is that people will opt to stand when using the bar.
But, homeowners can extend their bar overhang to 12 inches or 30 centimeters to ensure seating options for their family members or guests. This is the regular overhang size that will ensure regular stools can fit under the overhangs when not in use.
Is A 10 inch Island Overhang Enough?
Many homeowners might be wondering if a 10 inches or 25 centimeters overhang is enough, and the answer is yes. A 10 inches overhang, whether for countertops or kitchen islands, is the best of both worlds.
It will be enough size to protect the cabinets or drawers underneath from kitchen scraps or spillage, and it will also be the best overhang size to install breakfast stools underneath.
How Far Should Island Counter Overhang For Stools?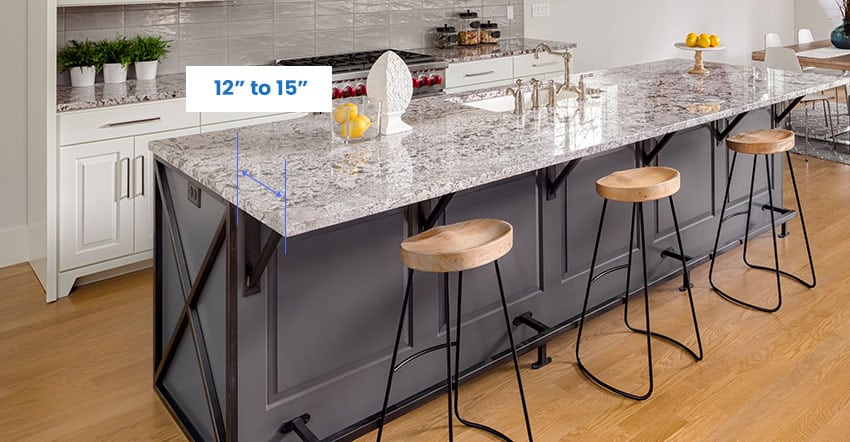 The space for a countertop or kitchen island overhang will depend on what the homeowners need. There is a standard island overhang of 12 inches or 30 centimeters that will be enough for most stools.
Still, more oversized stools are also available, which will mean that more sizable overhangs are also beneficial to ensure that the stools will fit under the island overhang.
The overhang should extend to 15 inches or 38 centimeters if the island has bigger seating. Both 12 and 15 inches are the standard for most island overhangs for seating, and choosing between the two sizes is also an option depending on the stool size that the homeowners will choose.
What Is The Minimum Overhang For A Breakfast Bar?
The most significant consideration when planning a breakfast bar is the overhang that is required to make sure that it will be functional. The best thing about breakfast bars is they can be installed and incorporated on a higher countertop or an island in the middle of the kitchen.
The average height for these will often be around 42 inches or 107 centimeters. In comparison, the overhang should be more or less 18 inches or 46 centimeters to allow stools to go in and out when used or unused, and it will also allow for adequate leg room to ensure comfort when used.
How Far Can Quartz Overhang Without Support?
Quartz countertops for counters or islands are all the rage for many reasons. Not only are they aesthetically stunning, but they are also durable and have antibacterial properties that are attractive to many homeowners.
Although they are equipped with many benefits, it is also very expensive, which makes them a premium, and wasting any square feet will cost money.
So, how much overhang can a quartz countertop handle without support ensure that it will not break with pressure? Overall, the best thing to do is to follow the 70% rule regarding quartz overhangs.
This states that the island or counter should support 70% of the countertop. Anything over this number will require brackets or posts for extra support.
How Far Can Granite Overhang Without Support?
The length of a granite countertop overhang that can be supported without any brackets or poles will depend on factors generally the same as quartz countertops: the thickness and the size of the overhang. The maximum thickness of an 8 to 10 inches or 20 to 25 centimeters for a countertop made of granite and its overhang is around 2 to 3 centimeters.
Overall, the kitchen overhang size should not exceed 1/3 of the total countertop width from side to side. Any overhang bigger than this will need more support, like steel brackets or posts, to ensure durability and prolonged use. Overall, 2/3 of the granite countertop should be supported by the island or the countertop's base.
How Far Can Marble Countertop Overhang Without Support?
There is less flexibility for base support, the heavier the material of the countertop or the island is, and this is the case for marble-made overhangs. Usually, any size below six inches won't need additional support to ensure structural integrity.
Still, marble countertops can extend 10 inches with a thickness of 1 1/4 inches without any need for brackets or steel reinforcements.
Like the quartz and granite overhang considered before it, as long as two-thirds of the total width of the counter is covered and supported by the base, there is no need for support.