These are the best countertops for families including the different kid-friendly counter materials, benefits, and the kitchen countertops that should be avoided.

The kids in our homes are known to be so active, curious, and sometimes stubborn. And when it comes to our countertops, they may put them to an experiment, whether it is with glitters and glue, unintentional spills, or cleaning with the incorrect products although they are trying to assist.
However, just because you have small kids does not imply you have to sacrifice your design aesthetic just to ensure functionality and longevity. Indeed, you need to have a countertop that can withstand multiple tasks, your children's activeness, and unavoidable spills. The countertop material you choose must be scratch-resistant, stain-resistant, and low-maintenance.
If you have kids in your house, we suggest that you continue reading. As you read on, you are about to determine the best countertop materials for every family, especially those who have kids in their household.
Kid Friendly Countertop Materials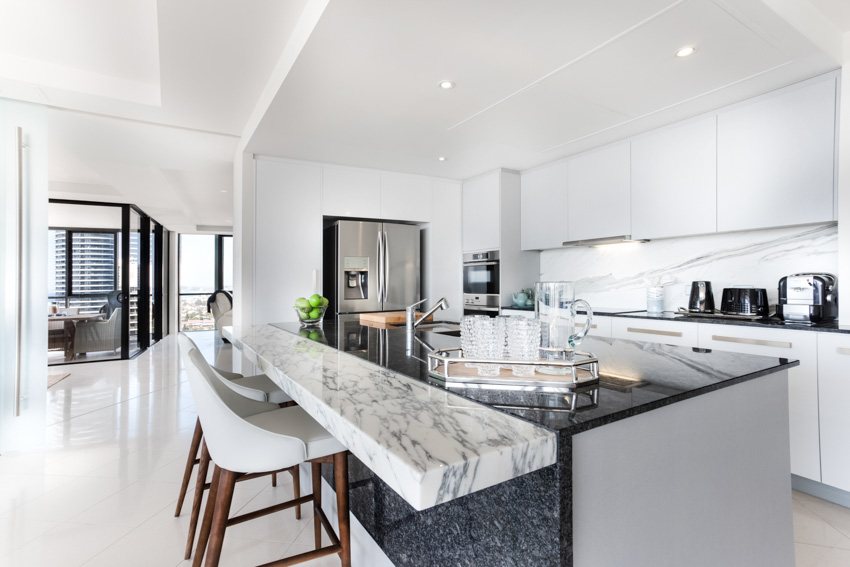 If you have kids in your house, you need to be picky about the countertop materials you use. Certain types of kitchen countertops are not very resistant to spills, stains, and a variety of other possible kid-involving mishaps. If you end up with countertops that are not very kid-friendly, they will probably wear out sooner than you would like.
Here are the most kid-friendly countertop materials that you might want to try:
Granite Countertops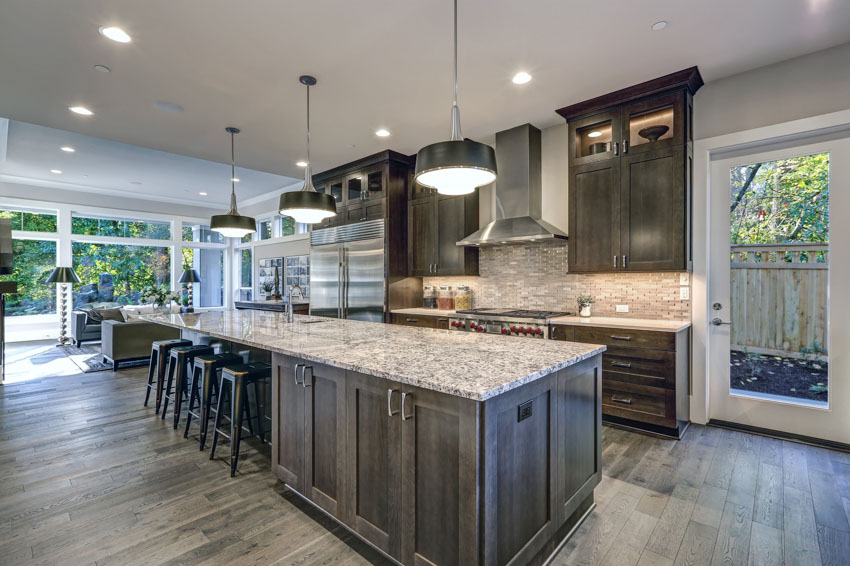 Granite countertops are an excellent choice for families because they are tough, long-lasting, and impervious to cracks, scratches, dings, stains, and high temperatures. Plus, their natural and diverse patterns are excellent for concealing the crumbs and dirt that children frequently leave on the countertop surface.
Although granite is one of the strongest natural stone countertop materials available for your house, that does not imply it will be 100% invulnerable to harm whenever your children spill food or drink on it.
However, with adequate care and upkeep including thorough sealing, there are massive advantages to choosing granite such as the highly complex and varied surfaces that make dirt and filth unnoticeable. Even though granite does necessitate regular sealing, it is relatively simple to maintain and will appear wonderful for years to come if properly maintained.
Admittedly, this material is somewhat pricey, but considering all of the benefits of granite, the benefits for busy families are likely to counterbalance the cost. If you are totally determined to install granite countertops because of the exceptional and rich look they give, you can try going with a dark hue with an extremely variegated surface.
Granite normally has a lot of speckles, spots, and striations, so even if your kids inflict some minimal damage on the granite countertop surface, nobody will recognize it.
Benefits of Granite Countertops
• Chip-, stain-, and scratch-resistant
• Highly variegated surfaces can hide flaws, spills, and other damages
• Heat-resistant
• Luxurious appearance
• Incredibly long-lasting
Quartz Countertops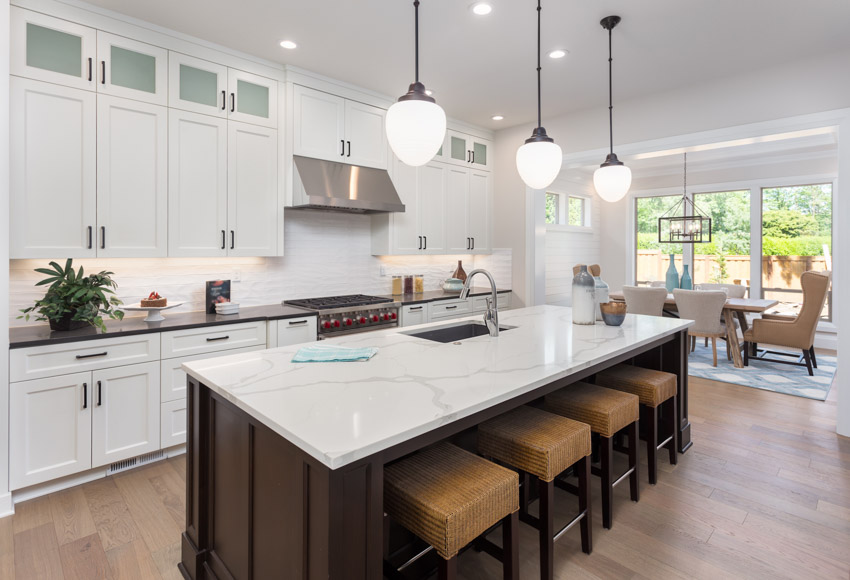 Quartz is a man-made stone that is virtually unbreakable. It is indeed heat-, scratch-, and stain-resistant, and it does not need to be sealed or cleaned with specific cleaners. To maintain cleanliness, you can simply use warm, soapy water.
Despite being a manufactured stone surface, quartz still contains more than 90% natural stone. This is combined with polymers and resins that hold it together and colors that can make it resemble various stone surfaces such as marble and granite. This implies you will receive natural stone's richness and character in a non-porous countertop surface that never requires sealing.
Even though quartz is not as strong as quartzite, the resins that hold it intact are somewhat flexible, which aids in the prevention of cracks as well as chips. Furthermore, the non-porous surface resists staining and keeps germs and fungus at bay, providing a safe, clean environment for your family and kids to prepare meals and perform their everyday routine.
However, while using quartz countertops, you must still use heat pads as well as chopping boards to keep quartz countertops in good condition, and, like granite, you must pay a bit higher price for this material.
The good news is, its uncomplicated maintenance and incredible durability are definitely worth it as you can rely on it for so many years or even decades.
Benefits of Quartz Countertops
• Uniform appearance
• Easy to maintain and repair
• Cannot be easily cracked or chipped
• Resistant to germs and mold
• Heat-, scratch-, and stain-resistant
Solid Surface Countertops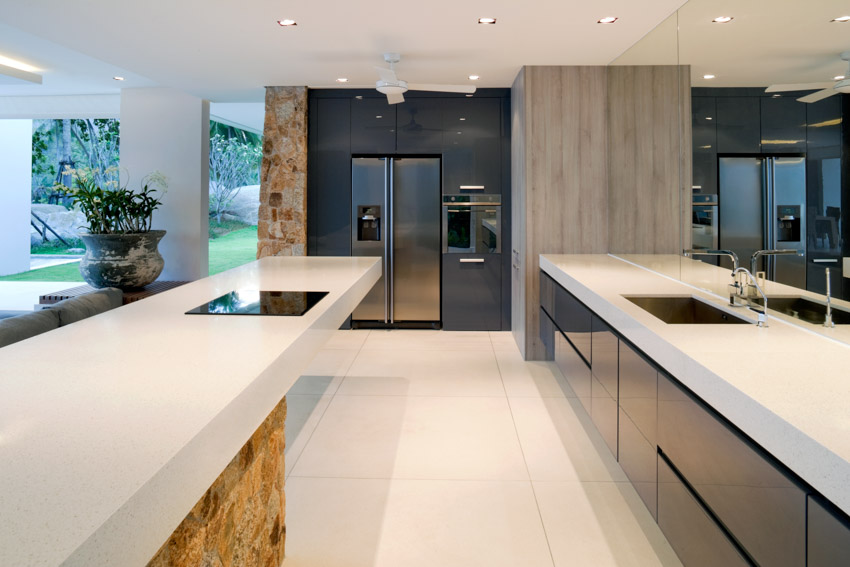 Solid surface countertops are the closest to being non-porous of any countertop material. The exceptionally minimal porosity of solid surfaces keeps germs at bay, creating a tidier and more hygienic countertop.
Furthermore, the material of a solid surface extends all the way through, from top to bottom, creating a stunning homogeneous appearance.
Indeed, solid surface countertops are generally low-maintenance and long-lasting, although they are prone to scratches. But the great news is that if you get scratches on your solid surface countertop, they can be simply sanded out and mended. In light of everything else, this one disadvantage is not all that bad.
Cleaning solid surface countertops is a quick and easy task that requires only soap and water or a basic household cleaning solution. So, if you have children who like to mess around on your solid surface countertop, you will not have to worry about cleaning them with ease.
Cleaning the surface will always be a breeze. Although a solid surface countertop may not have the depth of genuine stone or even quartz, it does mimic stone significantly more than laminate.
After carefully weighing its advantages and disadvantages in comparison to other materials, many countertop buyers, especially those who have kids, prefer solid surface countertops. And if budget is your concern, not to worry, solid surface countertops are usually more affordable than natural stone materials.
Benefits of Solid Surface Countertops
• Nearly non-porous
• Have uniform appearance
• Easy to maintain and repair
• Inexpensive
• Available in different materials and designs
Concrete Countertops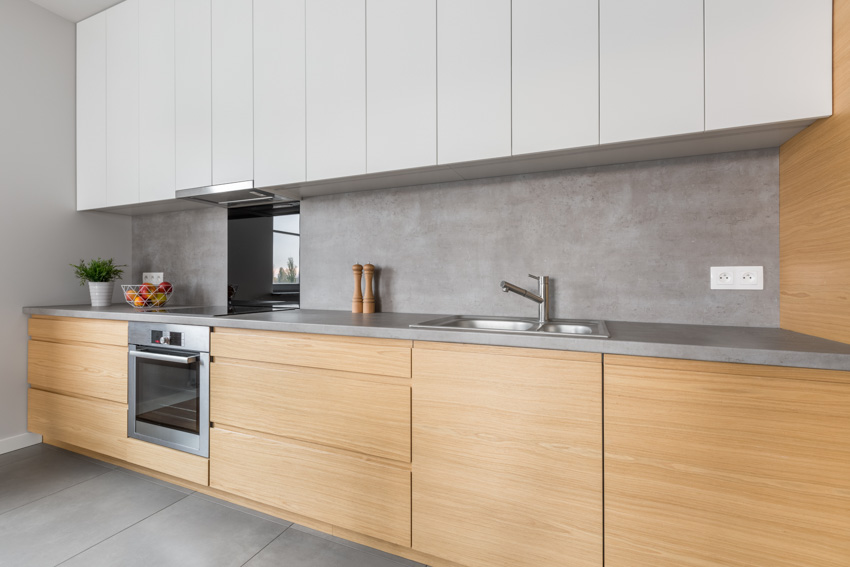 Concrete's hard surface makes it robust and long-lasting, ensuring that it will be dependable for all the bustle that comes with a large family with kids. It is indeed obvious that when you are thinking about concrete, you also conceive the word "hard" or "durable", and this is precisely why this is a choice for active households with kids.
Modern concrete countertops nowadays have a more natural stone-like appearance. The effect is created by acid staining, which can be done in a range of hues from very light to very dark and creates the mottled appearance of granite or slate. These concrete countertop versions may be a great option for families with kids as they are likely to disguise flaws and damages.
Concrete is also quite durable and does not scratch or chip easily. With just the bare minimum of routine care, it will endure for decades. Most likely, you will not need to update it until you want a fresh style for the kitchen. The countertops will not discolor or harbor bacteria if properly maintained. With gentle soap and warm water, they will tidy up right away.
Nevertheless, there are a few factors to think about before choosing concrete countertops. Because a sealer should be applied and any seams should be constantly fixed, this material might require slightly labor-intensive upkeep.
Concrete can also discolor, which is not ideal for busy families with young children unless you react quickly to spills. Even so, concrete can still end up being a fantastic selection due to its toughness and distinctive appearance.
Benefits of Concrete Countertops
• Available in different designs including a marble- or granite-like appearance
• Very durable
• Scratch- and chip-resistant
• Easy to clean
• Extremely long-lasting; ideal for very busy families
Recycled Glass Countertops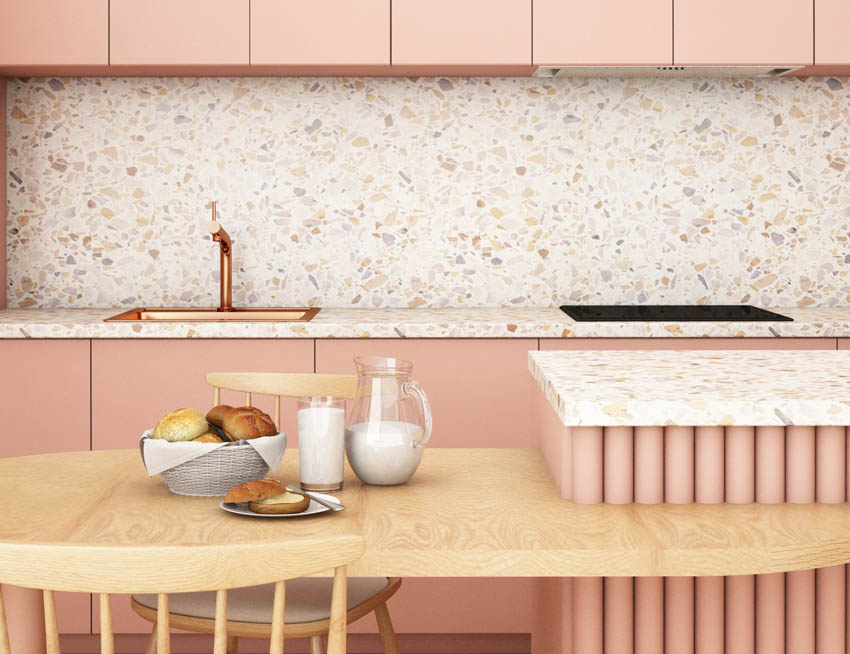 The majority of recycled glass countertops have a mosaic of multicolored shards sitting in the binding substance. This usually creates a terrazzo appearance, which is currently fashionable in many design applications.
Countertops made from uniform recycled glass are also available. The vast majority of these countertops are stain-resistant, impervious to high traffic, and easy to wipe.
There are normally two types of recycled glass – finely pulverized or large shards. Finely pulverized recycled glass makes it less cluttered yet large shards give it a lively, modern appearance. The majority of glass counters can withstand heat, scratches, cuts, as well as stains.
Natural stone countertops are among the most frequently complained countertop materials because of how easily they may get stained. Fortunately, recycled glass is not impacted by this issue. Families with very messy children will find it to be a perfect choice because it will not quickly stain or turn discolored.
The only drawback, however, is that recycled glass countertops are not that durable in comparison to other natural stone countertops. Hence, these countertops need to be fortified using other hard materials to make them a lot more kid-friendly. But still, in terms of maintenance, hygiene, and stain resistance, recycled glass countertops are indeed an ideal solution.
Benefits of Recycled Glass Countertops
• Stain- and scratch-resistant
• Ideal for high-traffic kitchens
• Can withstand heat very well
• Ideal for families with messy kids
• Hygienic; easy to tidy
Laminate Countertops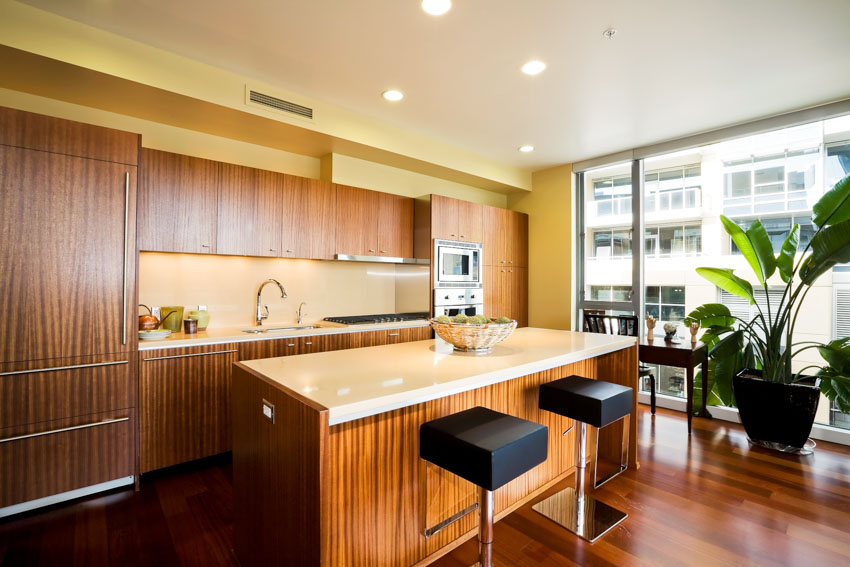 Due to its affordable price, a plethora of color and pattern options, and kid-friendly stability, laminate remains a widely used material for kitchen and bathroom countertops. Laminate countertops include a lot of kid-friendly features.
The surface of laminate countertops is non-porous, henceforth germs and viruses cannot live on it. If wine or juice spills are not cleaned up right away, they will not stain quickly. Laminate countertops are undoubtedly impact-resistant and will not easily break or crack, making them ideal for households with very active children.
Nowadays, laminate countertops offer a plethora of color and pattern options. They can look like quartz, marble, granite, or anything else ranging from modern to traditional.
Furthermore, laminate countertops are inexpensive, thus you may select it now and change it later without feeling that you have just wasted finances. After acquiring laminate countertops, your renovation budget will still have room for additional purchases.
Laminate countertops are constructed of high-quality plastic resins that make them easy to wipe and stain-resistant. Typically, a simple cleaning method that involves soap and water is generally all that is necessary. They can be scratched, unfortunately, if harsh cleaners are applied to them.
Modern high-pressure laminate countertops are obtainable in a broad range of shades, designs, and textures, as opposed to the traditional faux stone and wood grain styles. Modern laminates now have depth and realism that was previously thought to be unattainable.
But due to advances in printing technology, it was made possible. You can find designs that have lots of striations or specks like marble, which are also ideal for obscuring marks and stains that kids might create.
Benefits of Laminate Countertops
• Very sanitary
• Not easily stained; spills are easy to wipe
• Impact-resistant; does not crack easily
• Incredibly easy to clean
• Available in a variety of designs
Countertop Materials to Avoid with Kids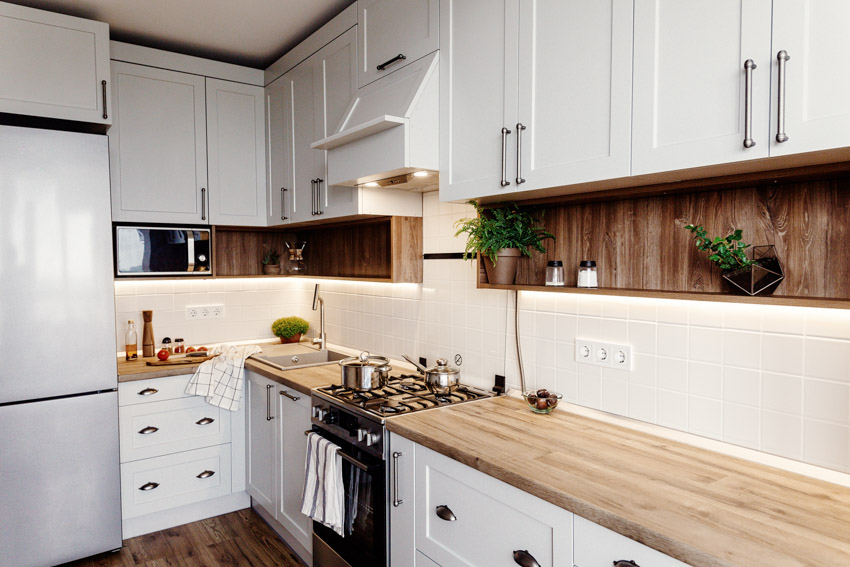 Here we share the different countertop materials to avoid with kids.
Butcher Board Countertops (Wood)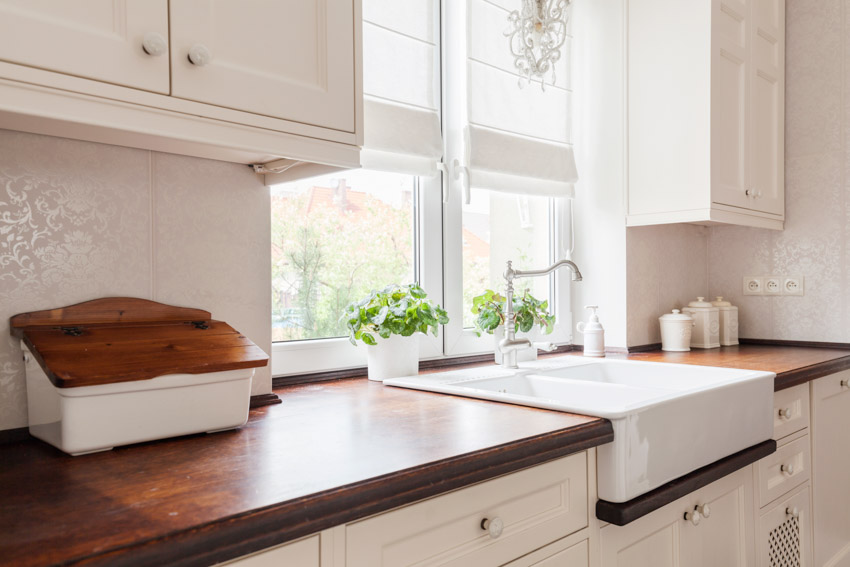 Butcher boards and other wooden countertops are attractive and fairly priced in their products. Unfortunately, butcher board countertops, as with any other wooden surface, will show indications of wear and tear earlier than natural stone materials.
Hence, you must be ready to see the worn-out surface of your countertops, whether it comes from a splattered hot sauce, a scorching pan surface, or markings from your sharp knives.
If you have children who tend to make messes on your countertops, wooden countertops may not be the best choice. Aside from that, wooden countertops necessitate periodic oiling to maintain the wood glossy and lustrous, which adds to the maintenance costs and routine.
Stainless Steel Countertops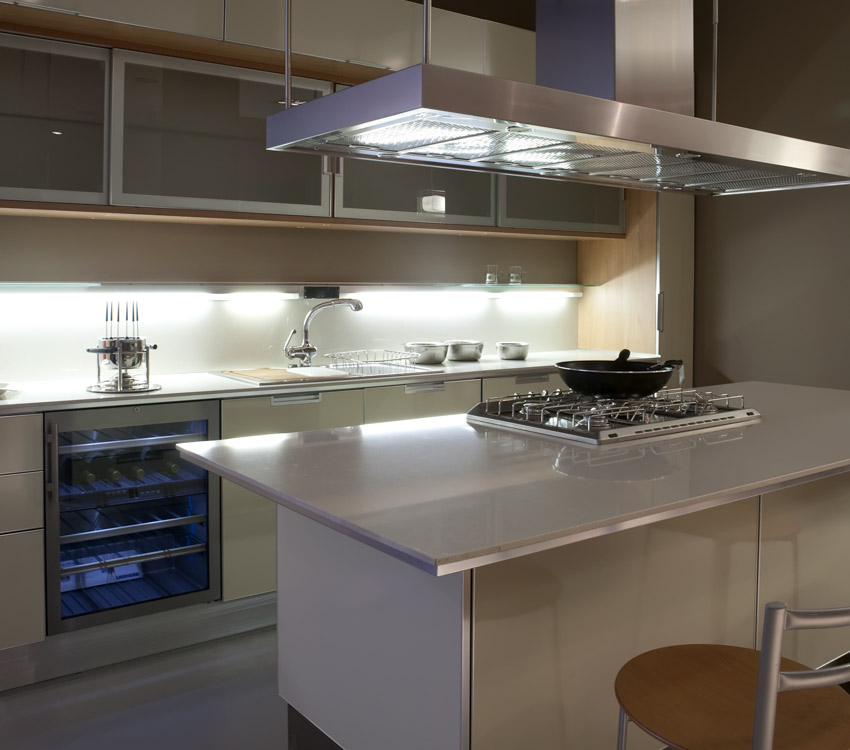 Although stainless steel is naturally beautiful and elegant, it is significantly more expensive and necessitates extensive maintenance and care to eliminate smudges, scratches, and dents on the surface.
Children who are extremely active and playful may cause damage to the surface of stainless steel countertops. Furthermore, some stainless steel kitchen countertops have sharp edges that could accidentally damage the children that play in your home.
Travertine Countertops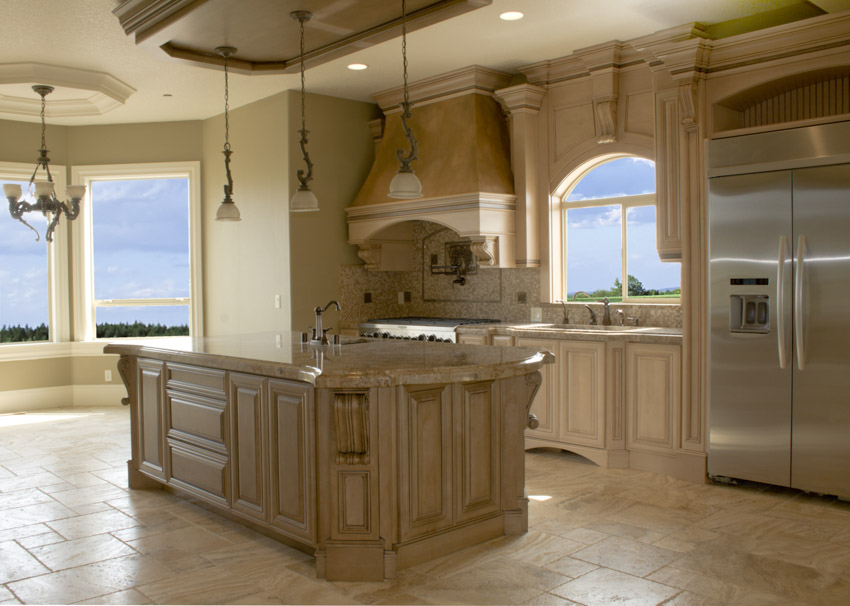 Travertine is a soft stone that stains easily, especially in the shallow pits that run across the surface. Wine spills or splattered sauce can quickly stain travertine countertops, making them unsuitable for families with messy children.
Travertine countertops can be sealed, but lime juice, vinegar, and other acidic substances can degrade the sealer and expose the travertine to stains.
See more related content in our article about the different types of countertop overlays on this page.