Here we share pros and cons for travertine countertops including design ideas, pictures, prices and details to help decide if they're right for your home.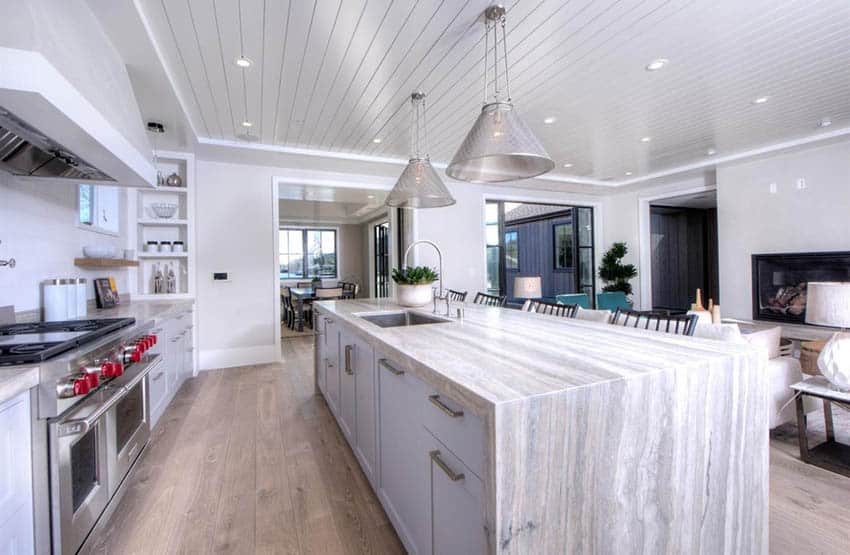 Travertine countertops can be used in many types of buildings, including both commercial and residential spaces. For interior design projects these countertops have great aesthetic appeal with a wide variety of affordable shapes, colors and patterns. With minimal maintenance travertine counters look beautiful are durable and cost efficient.
What is a Travertine Countertop?
Travertine Countertops are a sophisticated material that will bring a luxurious feel to any space, greatly resembling marble. Travertine was used to make historical Roman buildings such as the Colosseum, so can really withstand the tests of time and wear. Nowadays travertine is used extensively in bathroom and kitchen designs. Travertine bathrooms are especially popular for Mediterranean style homes.
Travertine is a type of limestone, meaning it is a sedimentary rock, typically very hard. Travertine is sometimes referred to as travertine marble however it is classified as a type of limestone and is not actually a type of marble.
Travertine is sold in the form of tiles or a solid slab. For countertops it is historically easier to buy it in the slab form and then there is the option of using travertine tiles as a backsplash to pair with the countertop. This is to avoid any unneeded grout lines that can collect any dusts or bacteria.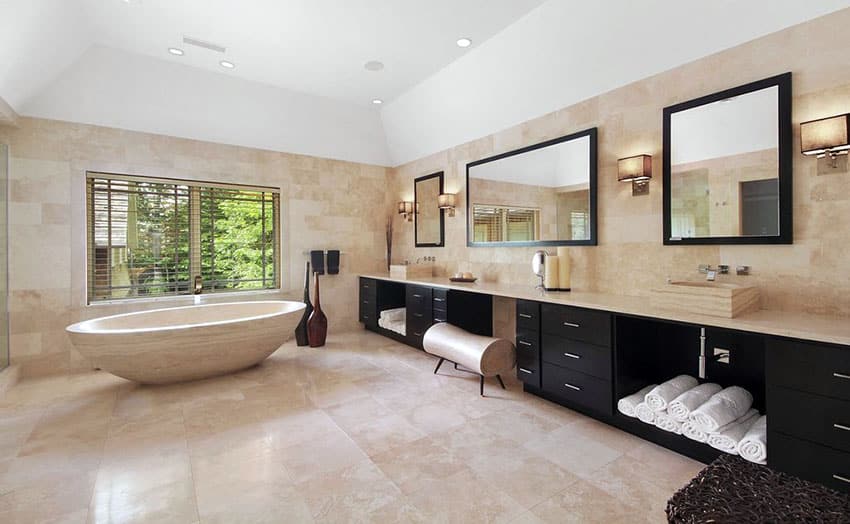 Appearance: Travertine in particular will be found with variations of holes and hollows to create unique looks in every piece of stone. The color family tends to stay within the neutral beige and brown families. The colors can include golds, slivers, and most shades of brown. Keeping the warm color palette makes for a natural, homey look when placed on counters.
Cuts: In addition to the variety of shades travertine is available in they also can come I different cuts. These can be vein cut which will be a cut done parallel with the natural veins of the stones. In contrast selecting a cross cut will cut the stone against the grain creating a much different aesthetic.
Finishes: A Travertine countertop will be have multiple different type of finishes that can change the appearance and feel of it whether honed, polished, tumbled or chiseled it will be a beautiful finish. Earlier we mentioned that travertine has various holes and cavities that add to the uniqueness of the stone.
Finishing is the step where these holes will be filled, with materials such as resin or grout. This will allow for a smooth surface for the finished to cover.
A honed finish will mean that the stone is ground into a smooth surface, any polish or shine will be removed, and it will give a matte appearance to the stone.
To get a tumbled finish you will typically need a smaller stone versus an entire countertop, but it is done by putting stone in a rubber coated barrel with grit and lubricants and it rotated in the barrel. A polished finish will add a nice shiny look to the countertops if that is what you are looking for.
Travertine Tile Durability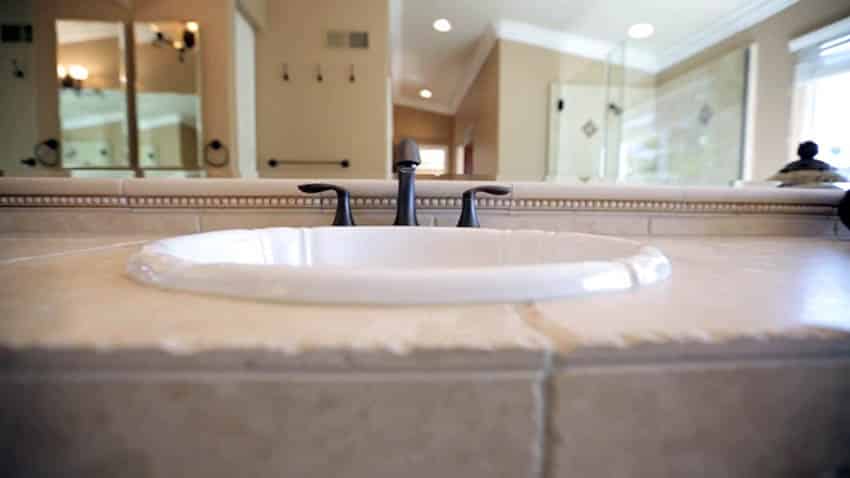 Travertine is a very durable product that, if taken care of, will not need to be replaced. This material will last a good length of time longer than most other materials of its similarity. Travertine was used for buildings that are still standing today such as: The Roman Colosseum, The Toronto Natural Bridge, Hierapolis, the Burghausen Castle, The Getty Center, and even the lobby of the Willis Tower.
These buildings are still around today, which shows the complete durability factor of travertine. This material is especially hard and durable compared to similar materials such as marble. Due to its high level of durability it is one of the natural stones that are commonly used for outdoor areas such as courtyards, gardens and other paved areas.
This material is especially used to make monuments and temples due to it being able to withstand the tests of time. Travertine will not crack easily which is a good feature to have and can add value to a home of that is where it is being placed. This being said, travertine is a material that contains holes and crevices that can become larger over time, potentially resembling cracks or chips, but it is just more ways that the stone is unique, to avoid that, sealing the flooring properly will be a top priority.
Another question though when it comes to durability is how it will hold up and what care will need to be taken to preserve it. Travertine is a porous material that will unfortunately react negatively to acids. This means spills of orange juice or lime juice can be extremely detrimental.
This will also mean that travertine cannot be cleaned with any acidic cleaning products. That being said as long as any spills are wiped up quickly and the counters are washed with soap and water, sealing twice a year will make sure the countertops beauty will last as well.
Travertine Countertops Pros and Cons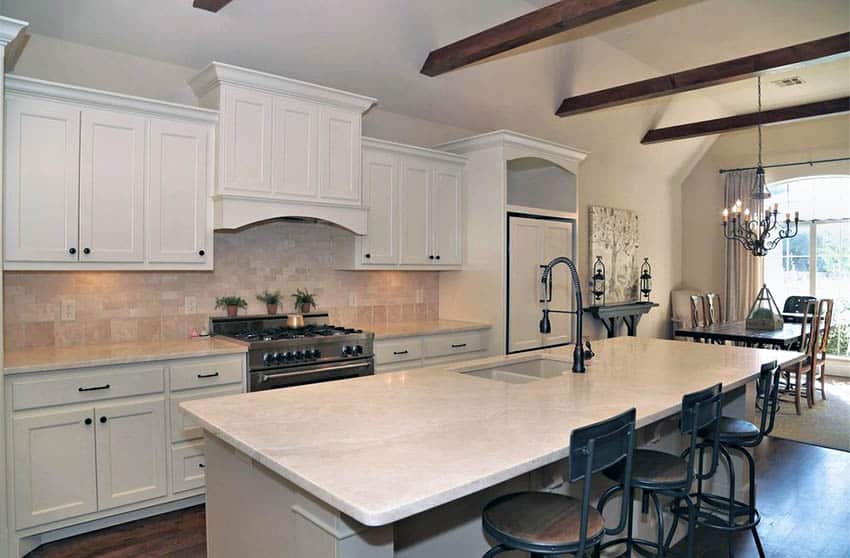 Like any materials travertine will have many pros and cons battling out, but in the end it will either be the materials you need or not. This material is often compared to marble but also contains some dissimilarities that can be the deciding factor between the two. Some of the pros and cons are below.
Pros: With a tremendous amount of pros to selecting travertine counters it is easy to understand why it is so commonly used. Travertine is a beautiful, rich and elegant look that radiates warmth to any bathroom or kitchen where it may be used.
These counters will give off a unique aesthetic with the varying veins and cavities that makes each counter special, and different from the next. On top of that these counters come in a larger spectrum of colors, sizes, shapes and patterns.
Travertine is available in both tiles and slabs which allows for many different configurations and also allows the product to become a matching backsplash to kitchen countertops. Travertine is easy to work with and is easier to cut into different shapes than materials such as porcelain. This will make travertine more versatile and easier to use in situations with unusual shapes and dimensions.
Another pro is that travertine will be a cost efficient selection when comparing to granite or marble. That will mean you still get a beautiful piece without breaking that bank. In addition to beauty and cost efficiency, travertine is an eco-friendly material. This environmentally friendly natural product will bring your home a great natural look and feel.
Cons: With so many pros there has to be a few downsides to a product. For one, unfortunately travertine counters will reactive negatively with acids. This will mean that even small drips or drops of things like orange juice, lime juice, or anything with natural acids, will cause staining to the counters. This will mean that travertine counters will be more for the aesthetics versus any locations that are too functional.
If these are used in a highly functional space then it will be recommended that special sealants and products are used to keep and maintain the counters. These products will need to be alkaline based due to the travertine stone being a naturally porous stone.
This will mean that the stone will have different holes and pits, which is one of its beautifully unique qualities, but will require polishing and sealing to be done periodically (about every 2 to 3 years) to keep the aesthetics of the stone.
Another downside will be that it is sensitive to heat and scratches. Though polishing will help with the sensitivity, it will also make the scratches easier to see.
Travertine Countertops Cost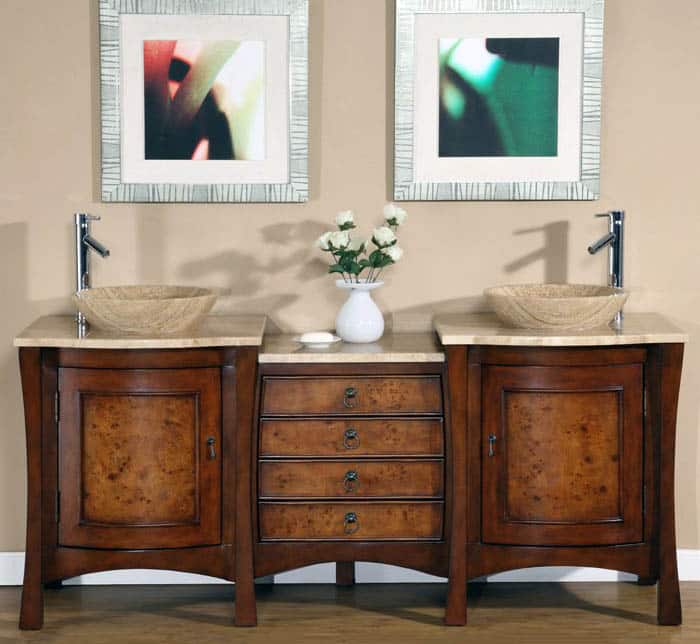 Travertine bathroom vanity with dual sinks – See at Wayfair
Depending on the type of travertine selected will have a great affect on the price. First off, the price between the slab travertine and the tile travertine will be the biggest difference. A slab will be a large cut of the material, while tiles will be smaller, thinner piece often laid out next to each other to create a surface. Slab travertine countertops will run about $25 to $50 per square foot.
Travertine Tile countertops on the other hand will range from $5 to $25 per square foot. It is important to keep in mind that these will be prices only for the travertine materials itself, things like shipping, install and sealing will be and extra price.
Though budgets may encourage this to become a do it yourself project, sometimes it is a good idea to shell out the extra bucks to get the professionals out to make sure the travertine countertop is installed properly.
Based on the difficulty of the install will have a great effect on your ability to do the project yourself or the price you will pay to get someone else to do it. When sealing the travertine after installing you will need to keep in mind price of grouts, sealants and labor or someone else applying the materials or the time you will devote to the task.
If budget is an important factor to the project (which it almost always is the deciding factor) consider doing price research and get quotes on multiple items from multiple places. Each brand, color, style, pattern, finish, etc will hit a different price point. It is also important to check the maintenance requirements for each type because that could cause some additional future costs.
What is the Difference Between Marble and Travertine?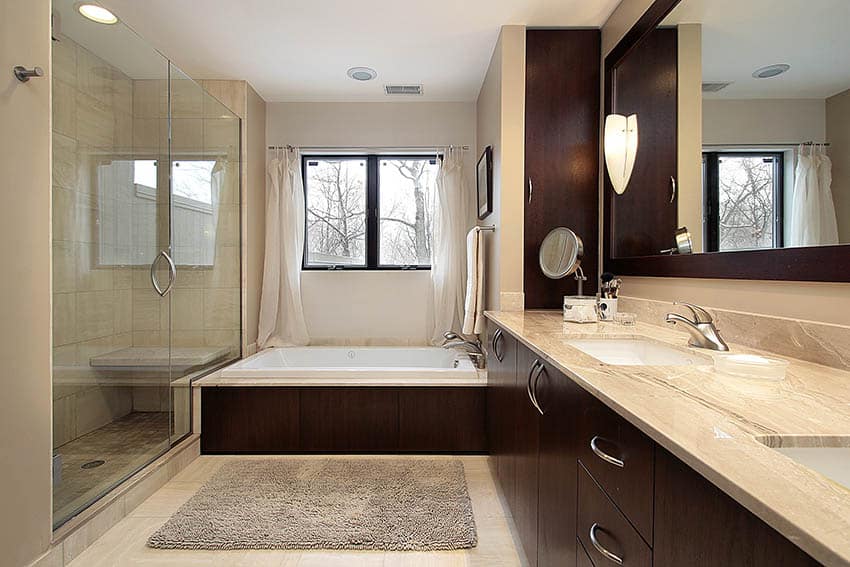 Though often confused for one another there are plenty of differences between marble and travertine. It is often thought that travertine is a type of marble, but with its own makeup and unique qualities travertine is its own separate material.
How they're made: Travertine is naturally formed and compressed over times creating holes and channels where gas or water got stuck during formation. Travertine is extremely soft, making it susceptible to scratching and staining. Marble is formed by metamorphosis, recrystallizing to become a harder surface.
How they're used: Travertine is typically used for bathroom flooring, as well as kitchens, outdoor spaces and decorative pieces. Often, they are used outdoors due to high friction surfaces preventing slipping near pools or in the rain. Marble is used for bathroom walls, floors and counters. Marble will rarely (if ever) be placed in an outdoor setting, it will scratch from the natural elements and become a slip hazard.
How much they cost: Travertine will cost less than natural marble, but a little more than cultured marble. But the cost will greatly vary based on location and quality. Both are heavy so will require large shipping and handling fees. Marble will need a very good starting seal which will add to the price tag. Either one of these stones will range from about $2 to $50 per square foot.
How strong they are: While marble will be the harder of the two, it is not harder to break. Care must be taken with marble which will make processing the material take longer and cost more. Travertine will be softer but easier to process, meaning it will have more options including: honed, polished, filled, tumbled, pillowed and chiseled edge.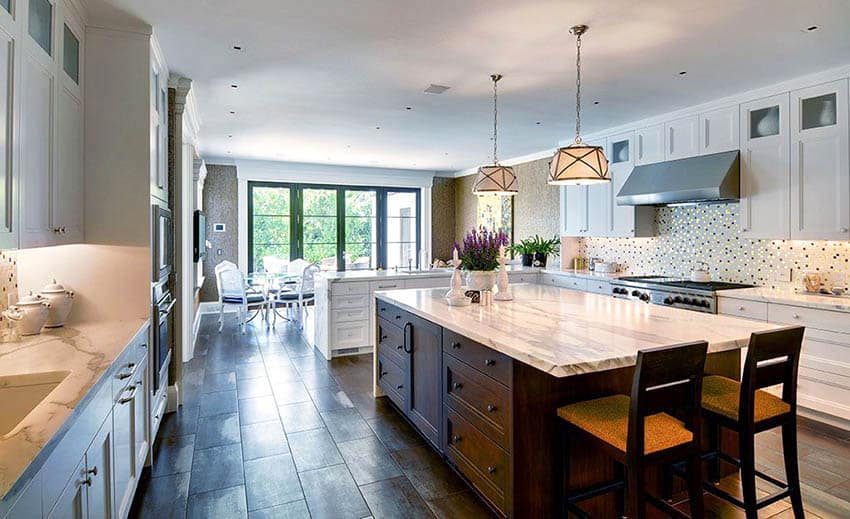 How durable are they: Both travertine and marble have high durability points. As mentioned earlier, marble is a harder stone so will have higher durability. Marble will always be a sealed product, this gives it the better water and stain resistant durability. Travertine on the other hand, can go either way, with or without sealing the material, which will greatly affect its durability.
Appearance: Marble is distinctly veiny in its color patterns. Marble is sometimes one, solid color, but frequently it will be streaked with a different color. Commonly marble will be white with gray or black veining, but it can be colors from pink, blue and green to black and gray.
Travertine will give off a more textured natural feel. The colors will range from warmer whites and creams to beige, reds, browns and even golds. There will be variations in patterns and colors to each of the tiles to keep the unique natural feel.
How to maintain them: While both materials are vulnerable to acids, there will need to be something used to clean them. Soap and water will do and sealing them frequently will help keep the stones looking in tip top shape. Spills should be wiped immediately to avoid staining and should be kept out of direct sunlight.
Visit this page to see more popular types of kitchen countertops or here for craftsman style bathroom designs.