See travertine kitchen backsplash designs including what it is, the pros and cons, different types, and if travertine is a good material for kitchens.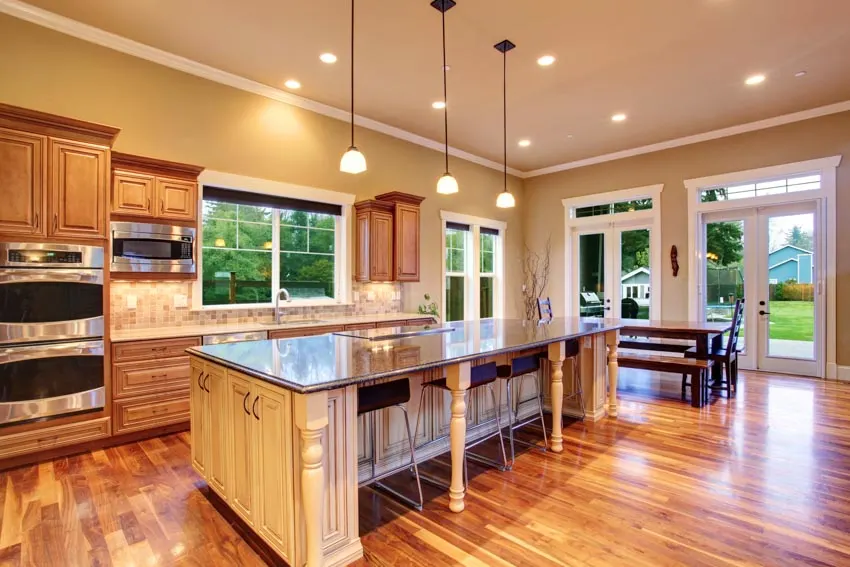 A kitchen backsplash will protect your walls and add an attractive design element to your design. With constant exposure to dirt and moisture, it is important to consider materials that can support the function of a backsplash and even help it last for a long time.
One of the natural materials to consider for your kitchen backsplash is travertine. Since this stone is beautiful, strong and durable, it can make an excellent choice as a backsplash.
What Is Travertine Backsplash?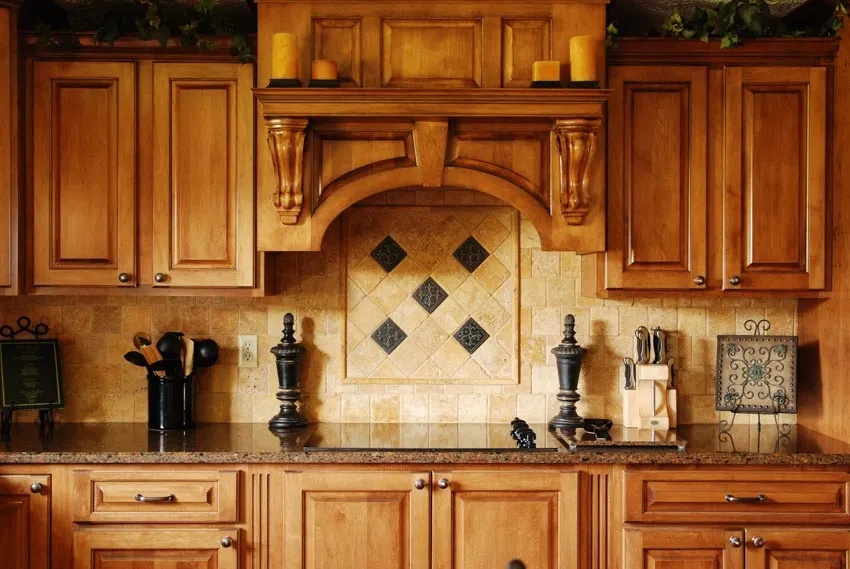 A form of limestone, travertine is a neutral and warm-colored semi-soft and porous stone that offers a subtle yet elegant and sophisticated touch to your kitchen. Aesthetically, travertine will make a wonderful backdrop and accent wall in your kitchen, especially with a wide variety of colors to choose from, including white, cream, brown, gray, and red.
Popular in Turkey, Italy, and other surrounding countries in medieval times as a material for flooring, countertops, and backsplashes, travertine is the formed stone that resulted from the mixing of different minerals in the groundwater. These large blocks of formation are extracted from rivers and springs and then cut into smaller blocks so they can be handled a lot easier.
When it comes to practicality though, travertine poses several challenges primarily due to the stone being porous. This porosity means that the material will be quite weak with moisture, which.
This can be an issue for areas like the kitchen and the bathroom, where the doors and walls are daily exposed to moisture. You just have to make sure that the stones are sealed to protect them from mildew buildup and other possible water damage.
Travertine Tile Backsplash Kitchen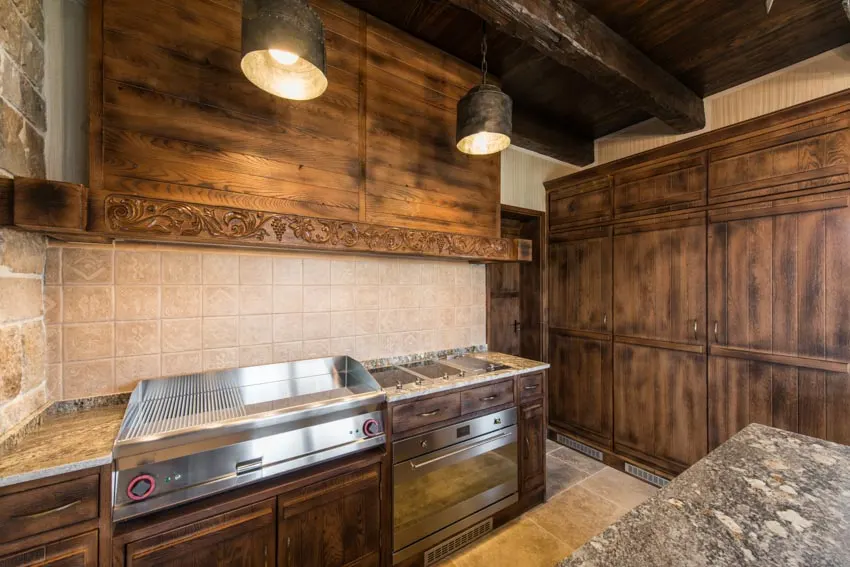 There are many ways you can go about your travertine tile backsplash and most of the factors really depend on your preference, from the colors in your kitchen to the styles you want to build. Travertine is an all-natural material and using it as a backsplash means that you are using a part of nature inside your kitchen.
You can go for the classic and timeless style for your kitchen and pair your travertine backsplash with brown cabinets and a granite countertop.
Travertine can easily add sophistication to your kitchen. But if you want something that stands out more, you can add a fun style by pairing your travertine backsplash with mosaic tiles.
For rustic style, you can work on brick-style travertine tiles for your backsplash. A country look can also be accomplished with a down-home backsplash, combining travertine stone tiles in brown and rust colors.
Since travertine is a low-maintenance material, you get to have the flexibility to choose plenty of designs for any functional space to pair with your backsplash.
With easy installation and upkeep, you won't have to worry too much about pairing this backsplash with other elements in the kitchen. Here are some of the travertine backsplash ideas you can explore.
Light Ivory Travertine Kitchen Backsplash Tile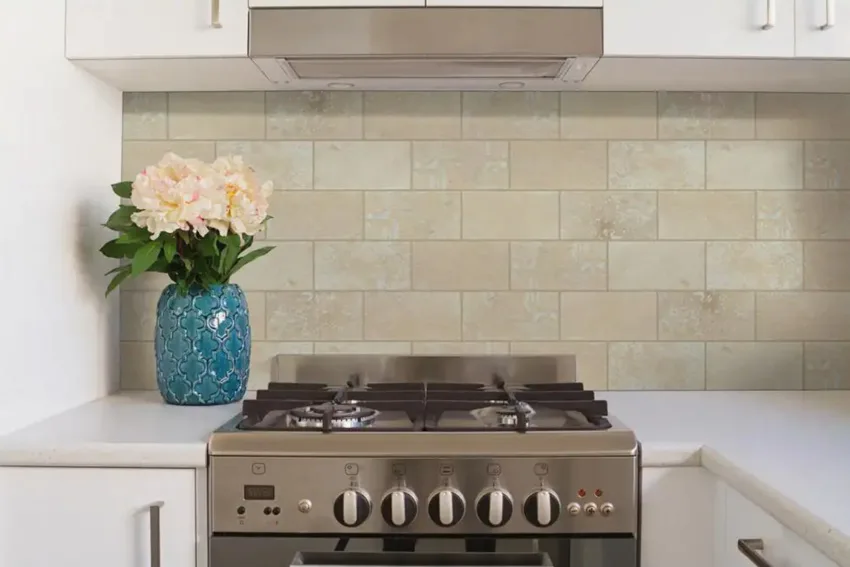 See this light ivory travertine tile set at Home Depot [sponsored link]
White will always be a safe color to consider and this goes the same way with your travertine kitchen backsplash. It's a standard color for kitchens because of its clean and hygienic look. This color can add warmth and brightness to your kitchen.
The soft and muted color can keep your options open for other elements in the kitchen to have colors. Consider matching your white travertine backsplash with white-to-brown cabinetry for a classic look and vibe.
The clean and creamy white travertine kitchen backsplash features a style that never fades. Since travertine is a natural stone though, you won't find pure white travertine because there will always be flecks and veins in the mix.
The most popular white travertines are quarried from Italy and added luxury is guaranteed. If you want a white color that's popular for its elegance, ivory is the best bet to go.
Ivory travertine, compared to standard white travertine, has this cool undertone that will elevate the look and feel of your kitchen. This ivory travertine backsplash adds a soft touch to the kitchen, especially when paired with neutral-colored cabinets. You can even choose a specific finish for the natural stone, from polished and homed to tumbled.
Silver Travertine Kitchen Backsplash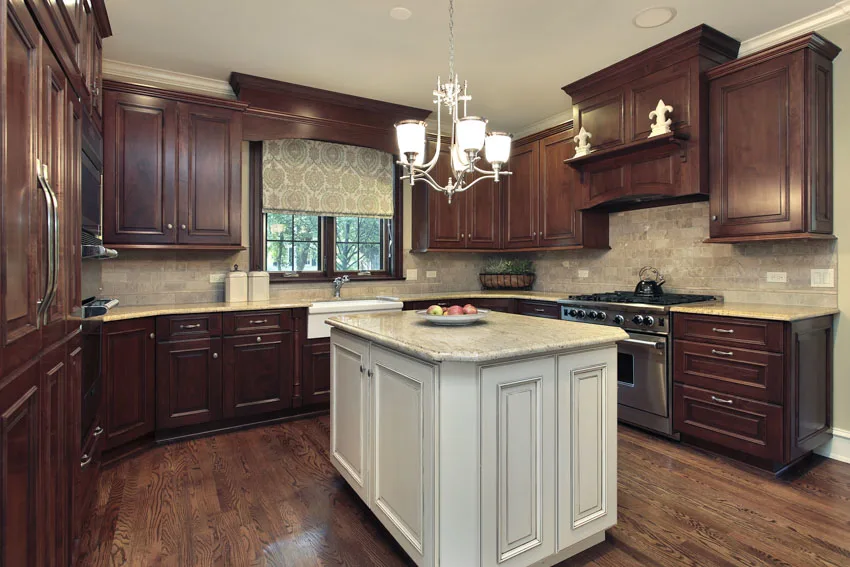 Silver is a color of elegance and luxury that would also work for your travertine kitchen backsplash. This metallic color brings shine and gloss to the kitchen and the silver travertine backsplash is also a wonderful pop of texture, especially when paired with a black countertop and white cabinets.
If you want something leaning more toward a modern-style kitchen, you can add an industrial-style faucet and an under-mount sink. Other pairs that would look good with silver travertine backsplash are either quartz or cool-colored granite countertop.
This travertine stone's natural striation is expected to last for a long time so if you're choosing silver travertine, make sure you know that you will be investing in that look for a long time.
The good news about silver is that it's one of the classic colors that will remain in vogue and trendy for centuries. These colors are easily adaptable and can be paired with many accent pieces and paint colors.
Split Face Travertine Kitchen Backsplash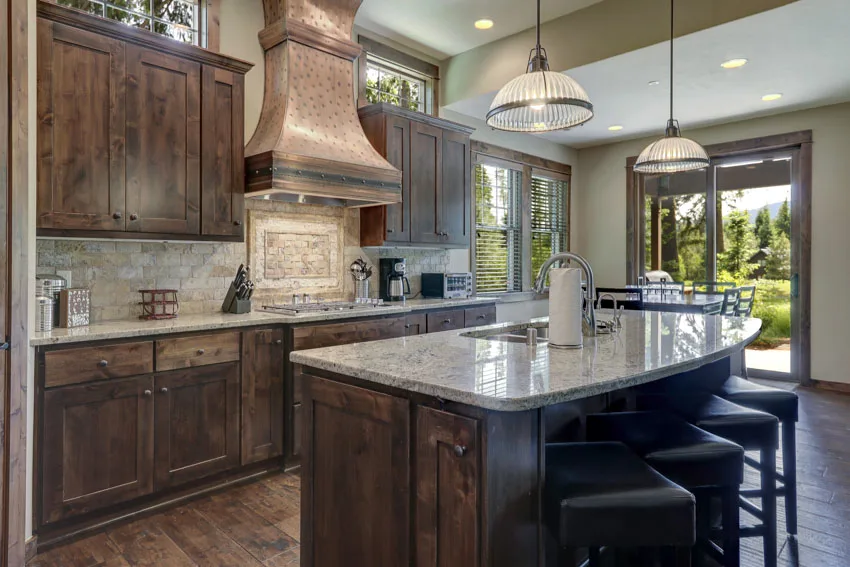 If you want something unique and different, you may want to explore the split-face travertine kitchen backsplash. The split face is a design or style that refers to strips of natural stones arranged in a fun and sophisticated undulating 3D mosaic.
These linear strips are positioned to create a staggered 3D surface. Despite a number of tiles and linear strips, they still look seamless as a backsplash, especially since they are interlocked with each other.
Split-face travertine mosaics are handmade with different linear cut stones bonded together into an interlocking shape using special glue. It is structured in a way that it can be fitted to a wall without needing to grout.
The travertine stones are cut in different depths, lengths, and thicknesses and you have control over how you want to arrange them. They are also easy to install and apply on the wall.
A split-face travertine kitchen backsplash will be a magnificent addition to your kitchen. While these tiles are not waterproof, they can still be exposed to water and so you can use them in the kitchen.
The 3D feel offers a rugged and contemporary character to the backsplash, adding texture to the kitchen and elevating its ambiance and value.
Tumbled Travertine Kitchen Backsplash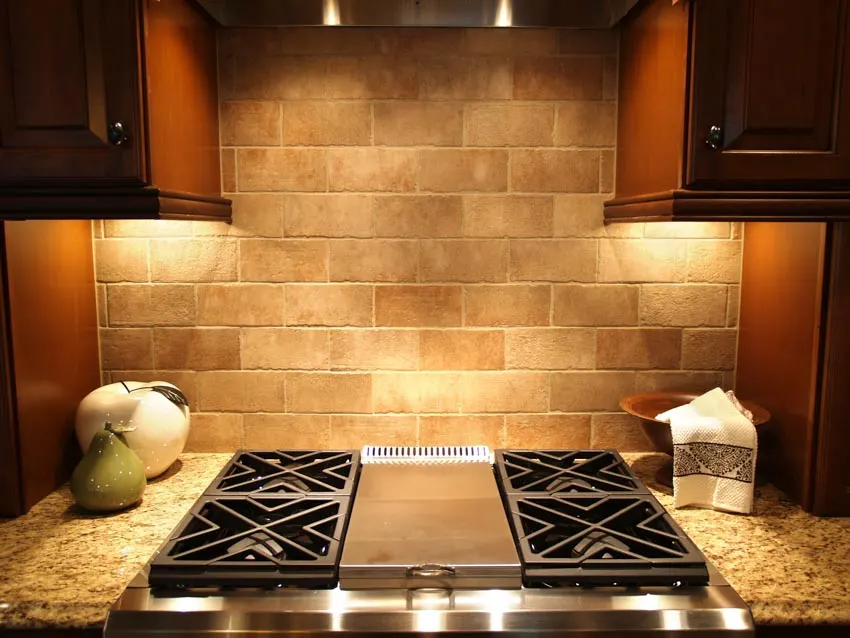 A tumbled travertine kitchen backsplash leans more on the antique look and often comes with a brushed look. This tumbled travertine is a natural stone that features this rustic aged finish, which was developed with the tumbling process.
Despite the rough textured surface that the travertine got from this process, the aesthetics of tumbled travertine has this sophisticated albeit understated appeal. If you have a rustic and traditional kitchen, a tumbled travertine kitchen backsplash will work well and feel at home in this style.
Besides the additional visual interest, this natural stone backsplash is stylish to look at the can come in different colors, including beige and tan. You can match your tumbled travertine backsplash with dark wooden floors, perimeter cabinets, and granite countertops. Warm-colored travertine backsplash can also be paired with white kitchen cabinets for contrast.
With a tumbled travertine backsplash, this would require a specific way of grouting. Follow the manufacturer's directions in mixing up the sanded grout.
Scoop a small amount using the grout float and apply the grout on the joints at a 45-degree angle until you cover the entire area. After 10 minutes, wipe the tiles with a damp cloth and then let them dry for 24 hours.
Travertine Subway Tile Kitchen Backsplash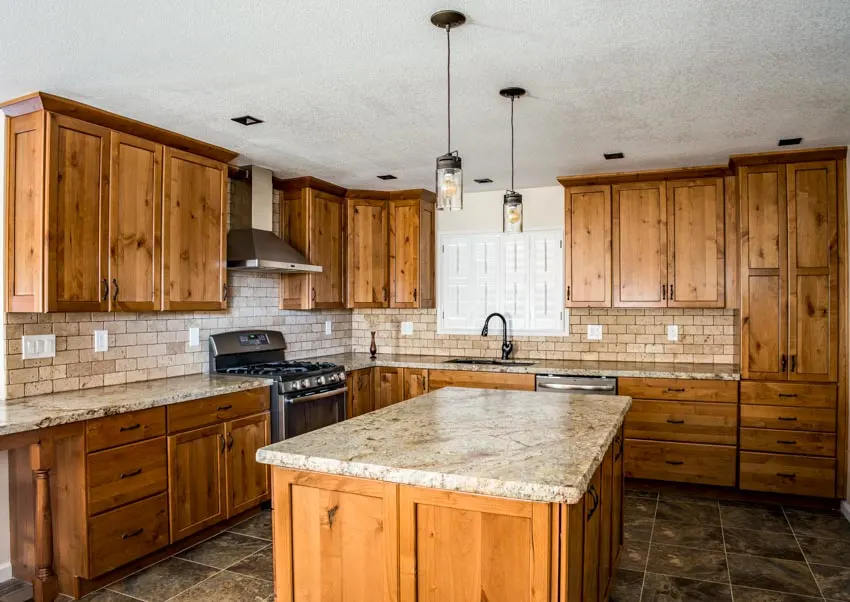 Subway style is a classic look for many walls and it's something that many homeowners prefer for their homes and kitchens. And there are different materials you can apply this style on for your tiles, including travertine tiles.
A travertine subway tile kitchen backsplash is both functional and aesthetically pleasing. The classic tiling style can easily be paired with other colors like the white wooden kitchen cabinets with striking black handles.
This combination will look classically stylish and the cabinets will blend well with the subway tiles walls and all of the elements can blend and harmonize well with each other.
You can use honed, polished, or tumbled travertine tiles as you work on your travertine subway tile kitchen backsplash. You only have to match their aesthetics with the style you want to integrate into your kitchen.
If you're working on a traditional and rustic kitchen, a tumbled finish for your travertine subway tile backsplash is a better option. Honed and polished travertine subway backsplash is a good consideration for a contemporary or modern style kitchen.
Travertine Backsplash With Granite Countertop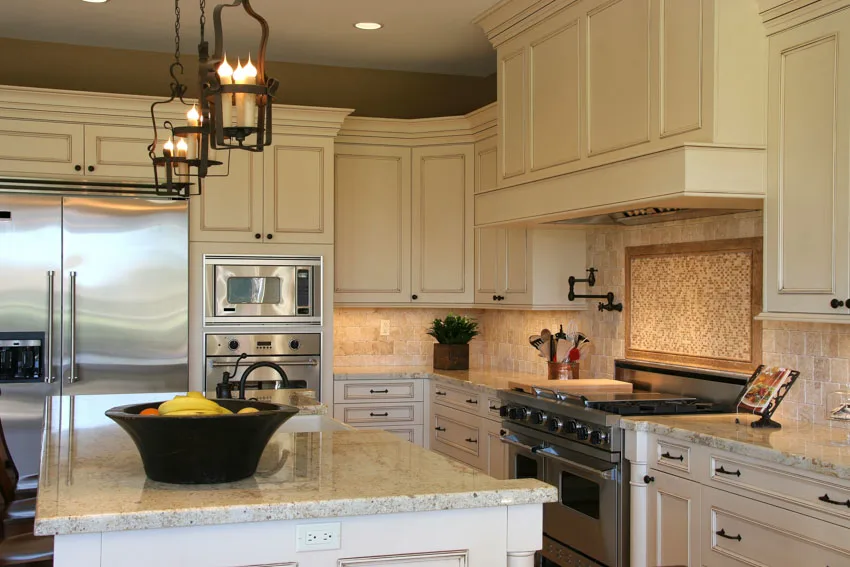 Granite is another popular material used in the kitchen, particularly for flooring and countertops. This is why it's not surprising to pair a natural stone travertine backsplash with an authentic granite countertop.
You can choose a beige travertine backsplash with your granite countertop. This combo is a great option to match your traditional and farmhouse kitchen, considering the natural stone features creamy white swirls that can elevate your space's decor and aesthetics.
If you're going for a contemporary and modern style for your kitchen, grey and silver travertine backsplash will be the perfect pair for a cool-colored granite countertop.
To contribute and spruce up this style and aesthetics further, add stainless steel appliances to the mix. You may even want to go for oversized and rectangular travertine tiles for a more modern feel.
Another option you can go for if you want something trendy and unique is that combination of a herringbone ivory travertine backsplash and black granite countertop. The white backsplash and black countertop will provide contrast to each other and make the kitchen pop and stand out.
White Kitchen Cabinets With Travertine Backsplash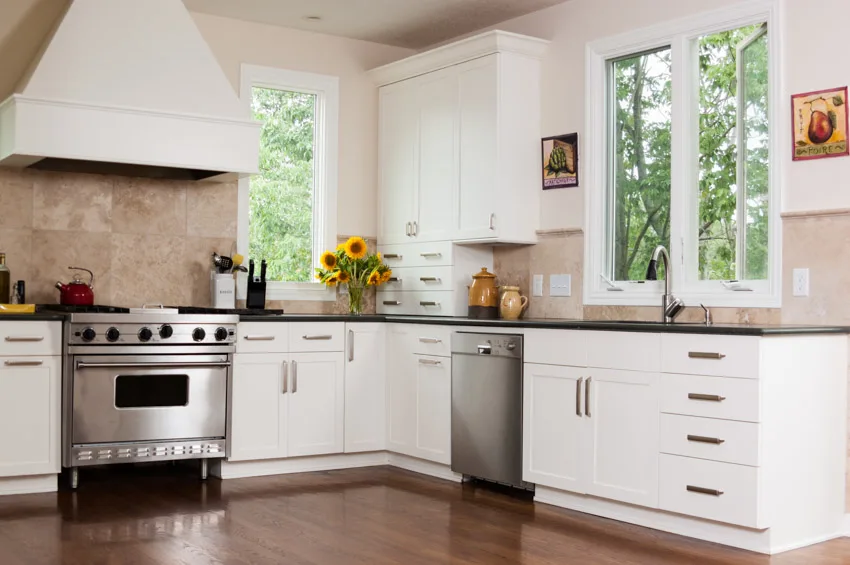 One of the most vital elements in the kitchen is the cabinet and like all other elements inside this space, you would need to match them with each other. If you have a travertine backsplash, going for white kitchen cabinets is the most common thing to do.
Aesthetic-wise, white kitchen cabinets look clean, seamless, and classic. They can basically match any type of backsplash you choose. And the best thing about choosing light-colored cabinets is that they are bound to make a space look brighter and bigger, which is perfect for small apartments and kitchens.
You can reinforce the look with light beige quartz countertops and stainless steel pendant lighting. Another direction you can go is to create a contrast with your white kitchen cabinets. You can pair this with a white travertine backsplash and back countertops.
With a sharp contrast between the white cabinets and white travertine backsplash and black countertops, you will feel all these elements stand out from each other.
Travertine Backsplash In Kitchen Pros And Cons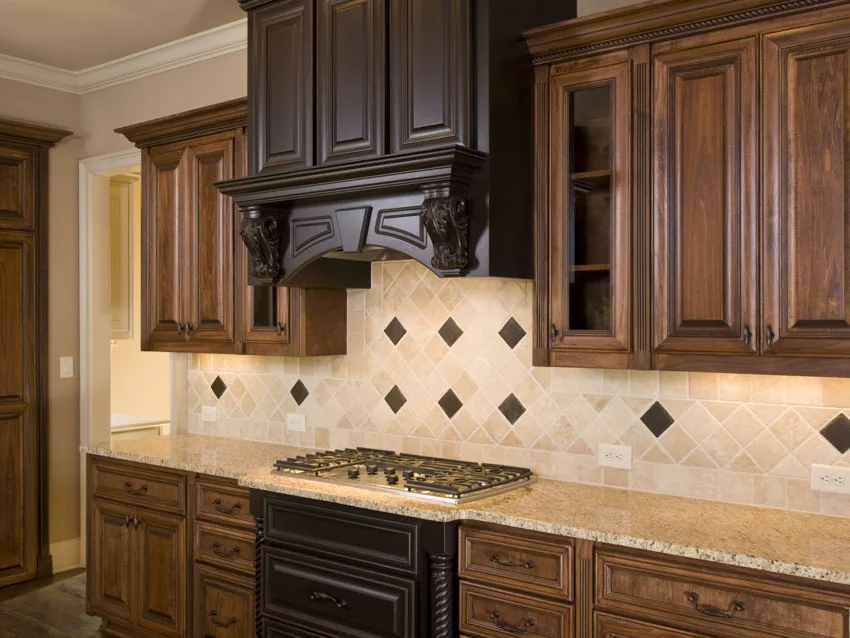 Working on your backsplash will require a thorough exploration of the materials you're using. You will also need to take into account the style and color of your kitchen so as to match your backsplash with them.
You will also consider your budget, schedule, and installation of the backsplash. And in addition to that, you also have to weigh the pros and cons of using travertine types of kitchen backsplash.
Pros Of Travertine Backsplash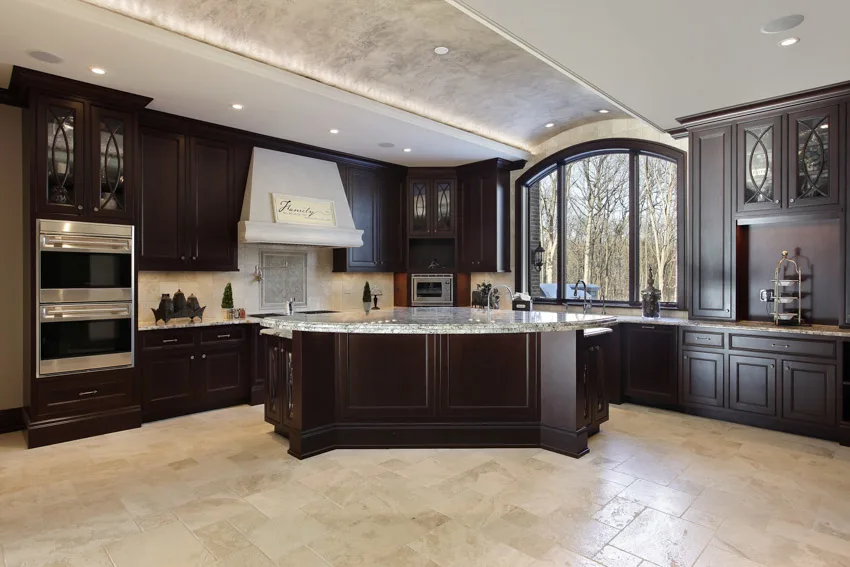 Travertine can be a wonderful addition to your kitchen and home, as long as you know how to clean and maintain it. With proper knowledge though, you can benefit from the following advantages:
• Stunning and flexible aesthetics: A travertine countertop or backsplash can be a classical addition to your kitchen, especially since the material's vibe felt like it carries a thousand years' worth of history.
But travertine is not just limited to the traditional and classic style and can also add a natural and refreshing vibe to your kitchen.
• Comes in various sizes, colors, and textures: Types of travertine come in varying sizes and can even be customized per demand and as required.
With colors, you can expect ivory, beige, brown, gold, and reddish brown travertine tiles with their color highly depending on the iron content of the material. Travertine can range from a naturally rough surface to a highly finished and polished texture with textures.
• All-natural material: Travertine is purely eco-friendly and green since the involvement of the machines is limited to cutting, polishing, and finishing and not the actual creation of the stone itself.
• Highly workable: If you're working on a travertine backsplash, you can successfully do so even if you're a beginner. The stone is easy to work with and can easily be cut. You won't need an expert or specialized tool just to install this backsplash, which can save you a lot of money in the process.
• Easy to replace: Since it's easy to install and work with travertine tiles, replacing them won't be an issue. It's easy to find similar-looking travertine tiles and taking out the damaged tiles and replace them is also easy to do.
Cons Of Travertine Backsplash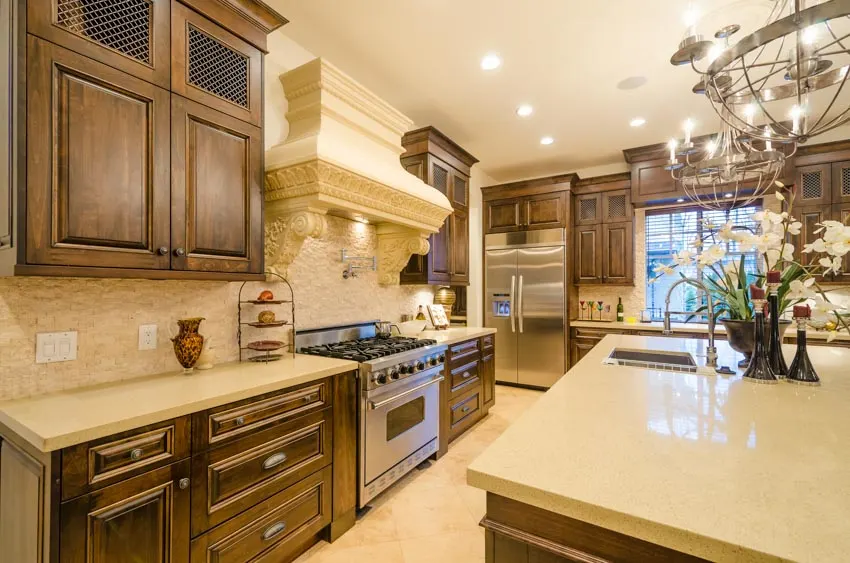 Along with the advantages you will enjoy with a travertine kitchen backsplash, you also need to access the disadvantages that come with this choice. Here are some you should know about.
• Highly reactive to substances: This porous stone is highly reactive to acidic substances that it reacts even to orange juice, however small the acidic content it may have. The only way to avoid this is to seal and stain your tiles permanently and to use a high-quality sealant and stain to help for its protection.
• Requires meticulous and regular care: Travertine is a porous stone and with it comes the need to be cared for as thoroughly and often as possible. You will need to seal the stone every now and then so make sure to choose a high-quality sealant.
• Costly: Compared to synthetic tiles, travertine tiles may cost more so you may want to prepare for that. And while it's more affordable than porcelain, you need to prepare for the cost of its maintenance and upkeep.
To settle on deciding on a travertine kitchen backsplash, you need to accept these drawbacks and consider if you can live with these limitations just to enjoy the advantages offered by this material.
Is Travertine Tile Good For Kitchen Backsplash?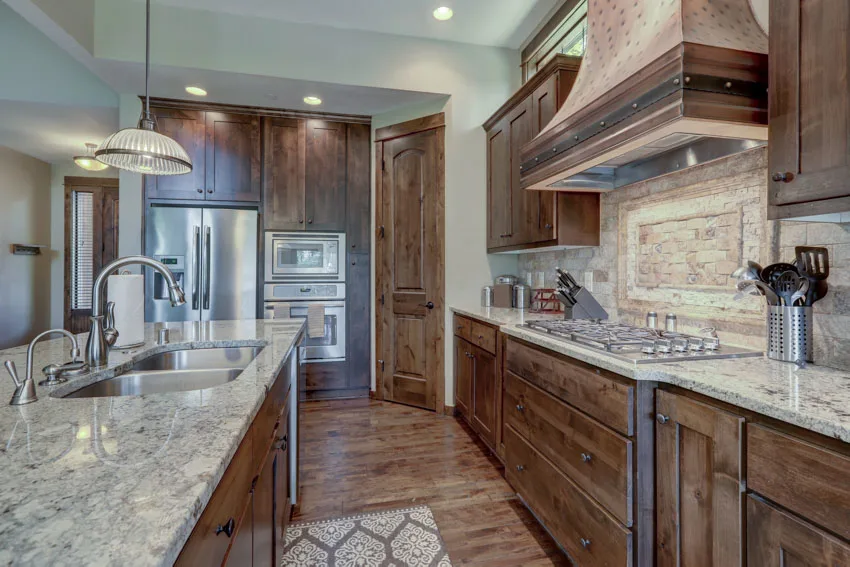 When choosing a kitchen backsplash, having a clear vision of what you want your kitchen to look like will help you decide. Travertine is a natural stone that's quite flexible and can be used both for rustic and modern aesthetics and feels.
But more than just the appearance though, there are several factors that will prove that travertine tiles are excellent materials for a kitchen backsplash.
Some advantages of travertine are the following:
• Naturally durable: Travertine is a natural stone that can stand up to moisture and heat, which are elements that the backsplash will definitely be exposed to. With proper sealing and maintenance you can have travertine flooring, backsplash and countertops that will hold up under daily use.

• A variety of earth hues and colors: There are several options when it comes to colors and finishes so you can definitely find the right fit for you.
• Easy to clean and stain resistant: The key to enjoying the advantages of travertine tiles in the kitchen is to have them sealed.
Once done, you will have a backsplash that's stain-resistant and very easy to clean, which is very beneficial since the kitchen is prone to splashes and stains.
See more related content in our article about wood tile backsplash on this page.