Here's our guide to the best wall color with travertine floors including the ideal paint hues for neutral and dark tiles, and suggested paint shades for bathrooms.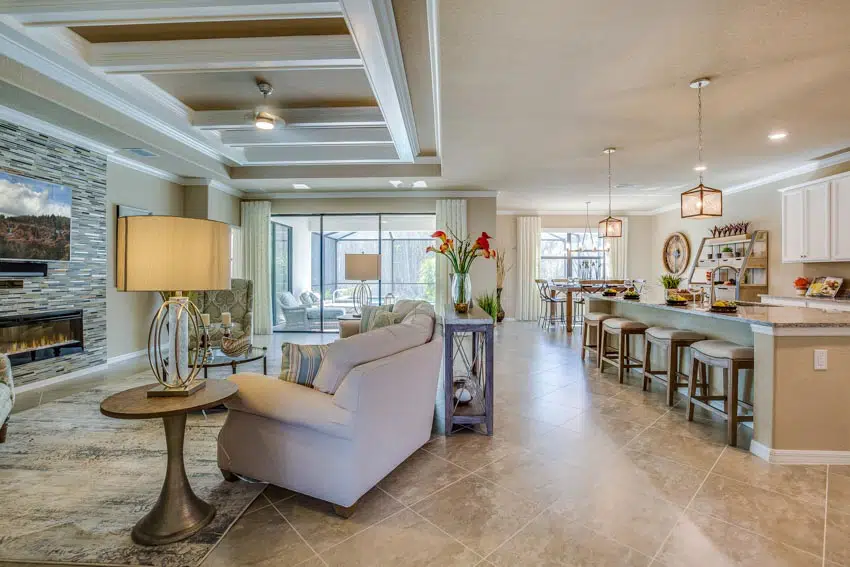 Have you ever heard of a travertine floor? Travertine is a material that stood the test of time, considering it is the material used in homes thousands of years ago, including the floors and walls of the Roman Coliseum.
If you want to feel like being in the center of the legendary coliseum, you can install this on your home's floor and just choose the best wall color to go with it so as not to go overboard.
What Colors Go With Travertine Tile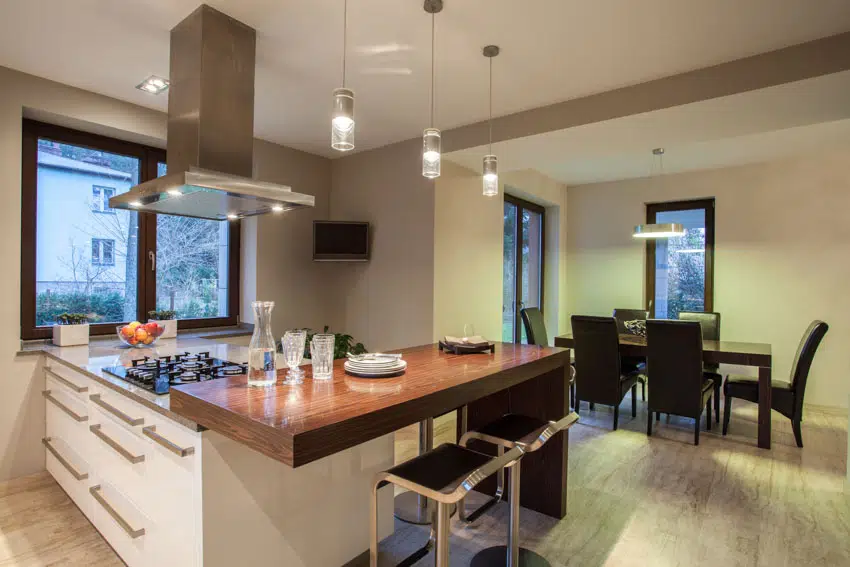 Travertine is a timeless material but you don't need to go all-out travertine in your home. There are paint colors that can match travertine floors and actually add more character to your room's style.
So yes, you can install this old-world natural stone and at the same time get a modern vibe along with it.
Travertine tile can showcase an authentic Tuscan look, which most would go for when choosing this particular material. This earth-tone natural stone can be compatible with a variety of colors and color schemes.
It would depend on the shade of the travertine tile you choose since there are now different shades offered in the market, being beige as the most common color.
In general though, here are some of the colors that go excellently with travertine.
• Warm Neutrals: perfect along with its earth tone colors
• White & Gray: showcases a Mediterranean style with its muddle color scheme
• Navy Blue & Brown Palette: cools down the warmth from the travertine tile
A versatile material to consider, travertine can be an alternative choice rather than choosing porcelain or ceramic tile flooring.
If you choose this to be the material you install for your floors, the next thing you need to consider is the paint colors that can go with it.
Paint Colors With Travertine Floors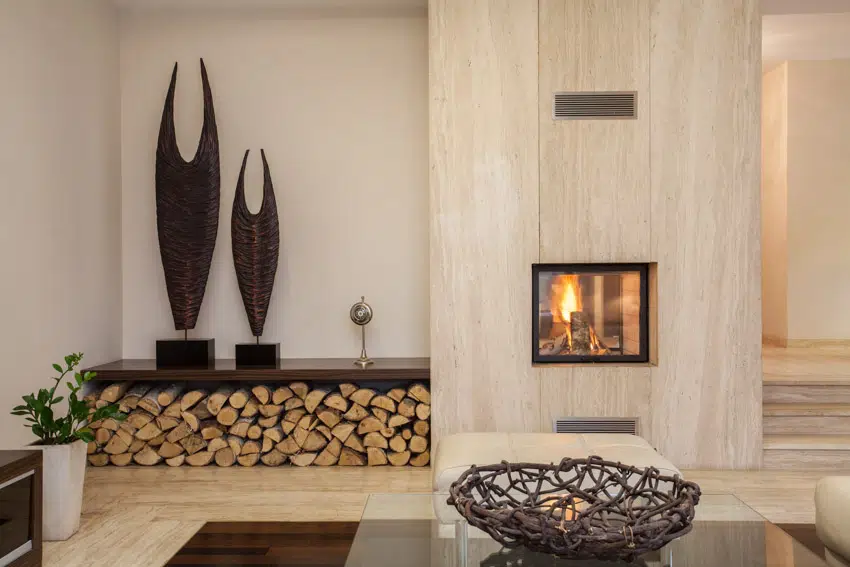 When considering paint colors that go well with travertine floors, the shades of blue seem to be a popular choice.
But one of the big factors that help identify compatible paint colors is the shade of the travertine floors you've chosen.
For example, if you choose a warm-colored travertine tile, you won't go for warm-colored paint colors since this would be too bright and overwhelming.
With its marble-like markings, the travertine is elegant to look at. And with the earthy shades that travertine tiles are available in, there are many paint colors you can use with it.
Some of these colors include the following:
• White and gray
• Ocher, yellow, and gold
• Green
• Walnut and reddish mahogany
To help you with the paint colors, here are some you can consider that will go excellently with most types of travertine floors.
Neutral Colors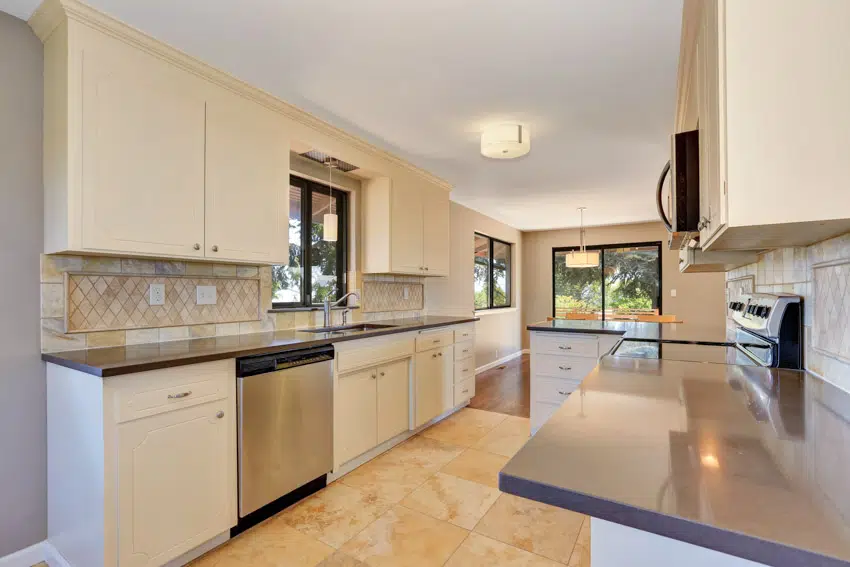 To be fair, neutral colors are compatible with everything and this also means travertine floors and every shade they come in.
And some of the neutral colors that would be great with travertine include the following.
White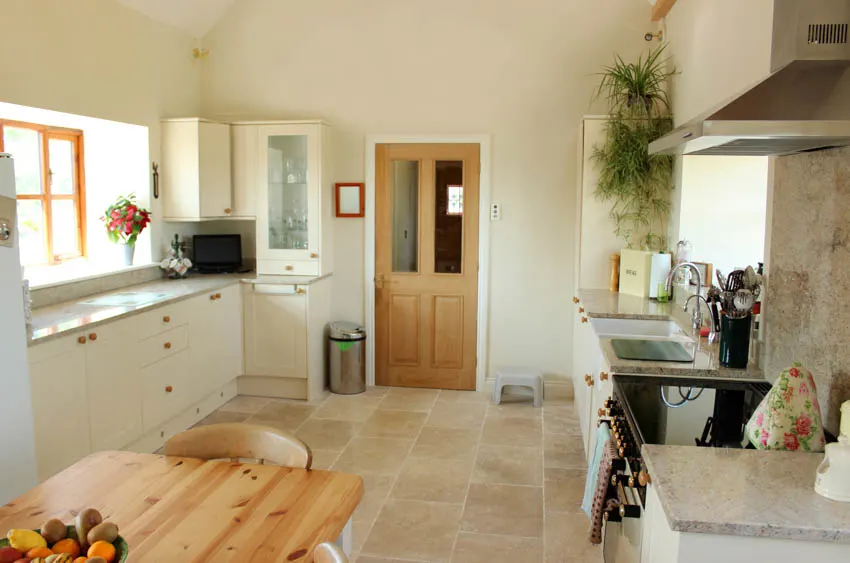 White is a classy and highly compatible color, whatever shade of travertine you use for your floors.
If you have ivory-gray travertine walls, white will provide a bright addition to the ambiance, giving it a more contemporary and sleek style.
White also looks great with mahogany and earthy travertines. Some of the white paints that will well look with any travertine are: Sherwin-Williams Alabaster White (SW7008) Sherwin-Williams Aesthetic White (SW7035) Benjamin Moore Chantilly Lace (OC-65) Rust-Oleum Linen White (301497)
Gray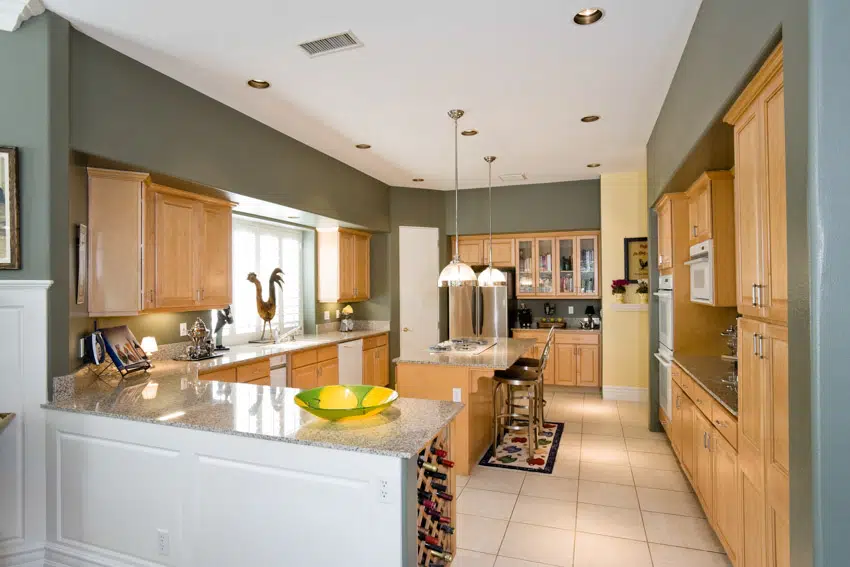 Both soft and dark shades of gray look good with travertine floors. The combination of gray and travertine floors gives a sophisticated and smart look.
Some recommendations of paints you can try include: Sherwin-Williams Roycroft Pewter (SW 2848) Benjamin Moore Stormy Sky (1616) Farrow & Ball Parma Gray (27)
Beige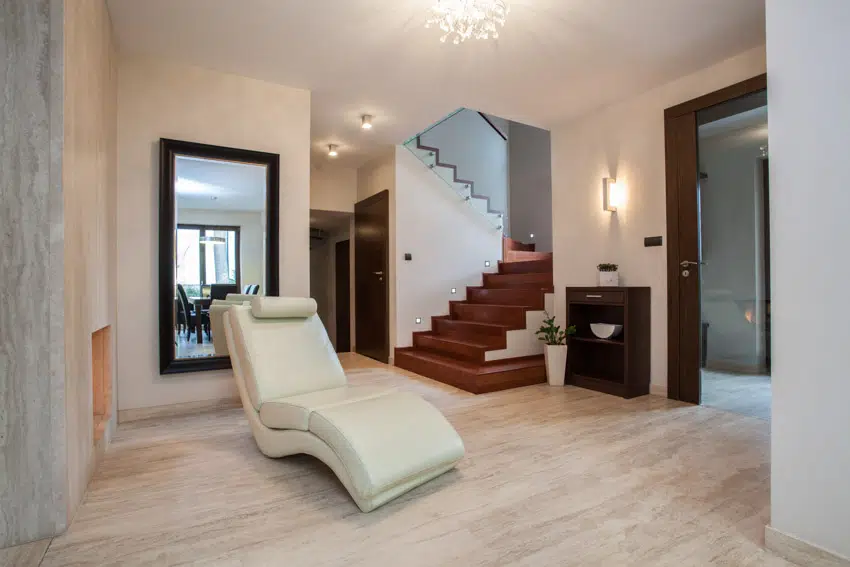 When looking for the best wall color with travertine floor, beige is a good option to consider and the Accessible Beige SW 7036 by Sherwin-Williams will work excellently for you. It will also be perfect when matched with Sherwin-Williams Aesthetic White SW 7035.

Sherwin-Williams Accessible Beige (SW7036)
Dark Colors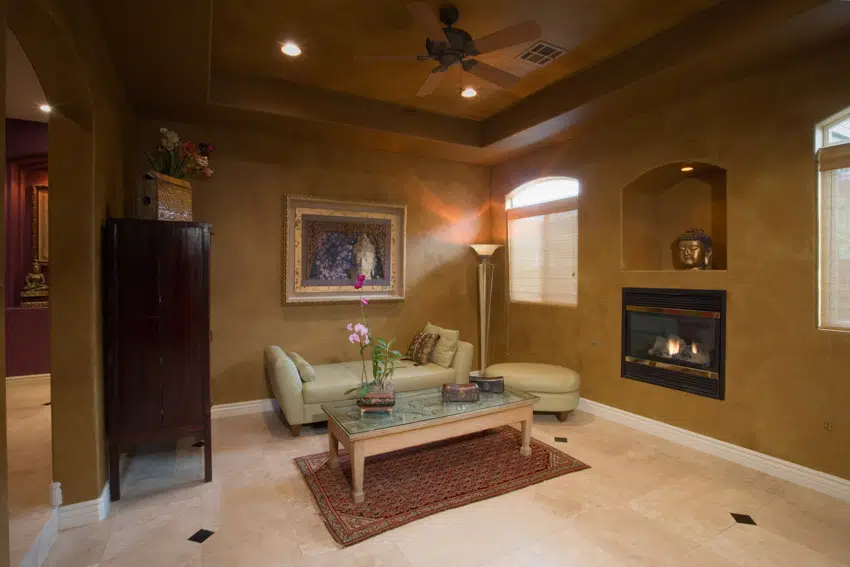 Dark colors with light-colored travertine floors deliver a dramatic vibe. To go for a dark color wall, you will need light-colored travertine floors so that the room will remain bright and functional.
Some of the dark colors that can work include the following:
• Deep Brown (Espresso or Chocolate)
• Burgundy
• Eggplant
• Forest Green
• Midnight Blue
To be more specific though, here are some colors and specific paints you can consider using with your travertine floors.
Blue
Incorporating blue with your travertine floors will tone down the brightness of the flooring. Adding cool tones will help balance the brightness that comes from the travertine. You can try out the following paint colors: Sherwin-Williams Gray's Harbor (SW6236)

Sherwin-Williams Still Water (SW6223)
Green Sherwin-Williams Blue Peacock (SW0064)
When choosing the best wall color with travertine floor, green is a cool tone that can be considered. Its strong dark shade and the light tone of travertine work well together and balance each other. Blue Peacock SW 0064 by Sherwin-Williams is a good color to consider.
Deep Brown
Deep brown is another consideration to think about, especially if you have a gold or warm yellow travertine. This combination offers an elegantly modern vibe to any room you choose to install the palette. Sherwin-Williams Backdrop (SW7025)
You can choose a paint color close to chocolate or espresso. Check out Backdrop SW 7025 by Sherwin-Williams for a specific paint you can try.
Bathroom Paint Colors With Travertine Tile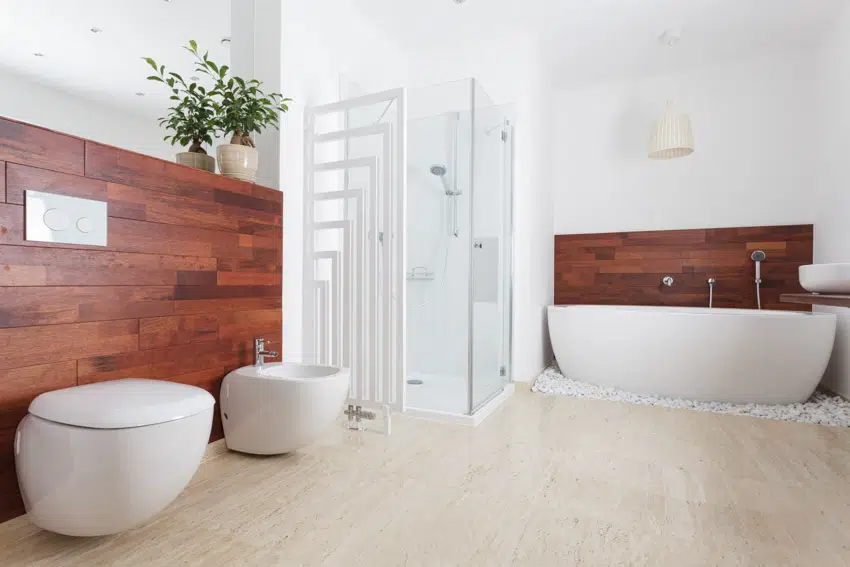 Travertine tile also looks good when installed in the bathroom and matched with compatible colors to go along with its natural stone look.
With bathrooms, make sure to choose paint colors that are comfortable and not at all intimidating. And of course, you would also need to match it with the design you have going for your entire home.
Travertine tile will look wonderful in your bathroom and can in fact make it look more luxurious and sophisticated. White will obviously look wonderful with your travertine tile since it looks clean and neat- perfect for a bathroom vibe. Read more about designs with travertine showers here.

More than just white though, you can add more colors for accents and decor so as your bathroom won't be overwhelmingly white. You can also try an off-white shade to create texture in the color palette.
If you happen to choose yellowish travertine tile for your bathroom, gray/blue and light warm gray can go well with it. Some of the paint color options you can choose from are: Benjamin Moore Stonington Gray (HC-170)
Benjamin Moore Silver Gray (2131-60)
Scared to choose a specific paint color and end up regretting it? Make a white poster board of the paint colors you consider and match them with your travertine
Before making your final paint selection, make swatches by painting a few shades of your desired color family on white poster board.
Set the swatches against your countertops and view them for several days in varying light conditions.
See more related content in our article about travertine countertops here.