These listello tile designs showcase details such as what it is, different tile border designs, where it is used in a home, patterns, and styles of listello tile trims.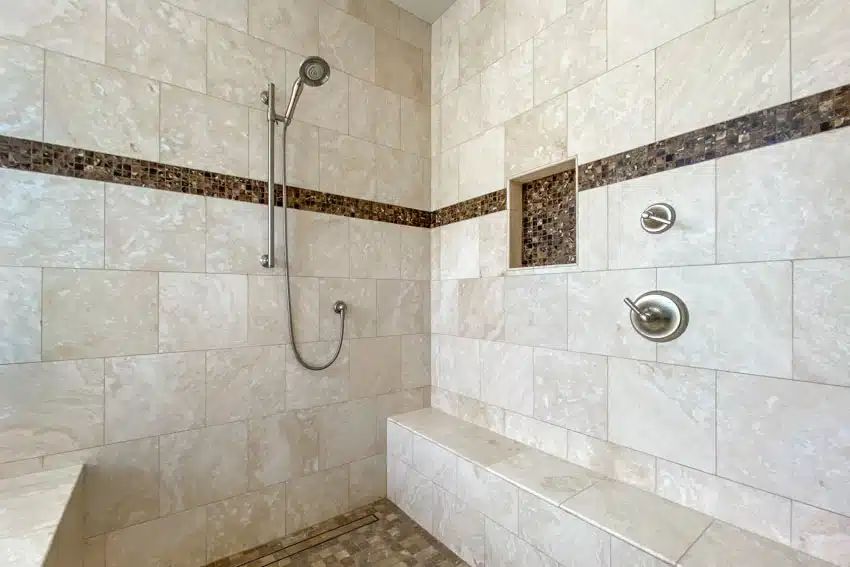 Details do matter in creating a cohesive and interesting interior, and listello tiles are one of the timeless accents that make décor an exciting endeavor.
Far from the notion of being outdated, listello tiles today have come with fresh and new designs that can effectively transcend the look and feel of a space. With various options available at your local tile shop, you are sure to find the perfect mosaics to enhance your home's aesthetic.
Bathrooms and kitchens have enjoyed the traditional listello tile for many decades, but we're now seeing stylish border tile ensembles in social spaces as well.
The newer materials, such as metallic tiles, open up a more modern design approach to the traditional patterned tiles with a sleeker and cleaner look. And with a wide range of price points and tools readily available for installation, the customization options are endless.
What Is A Listello Tile?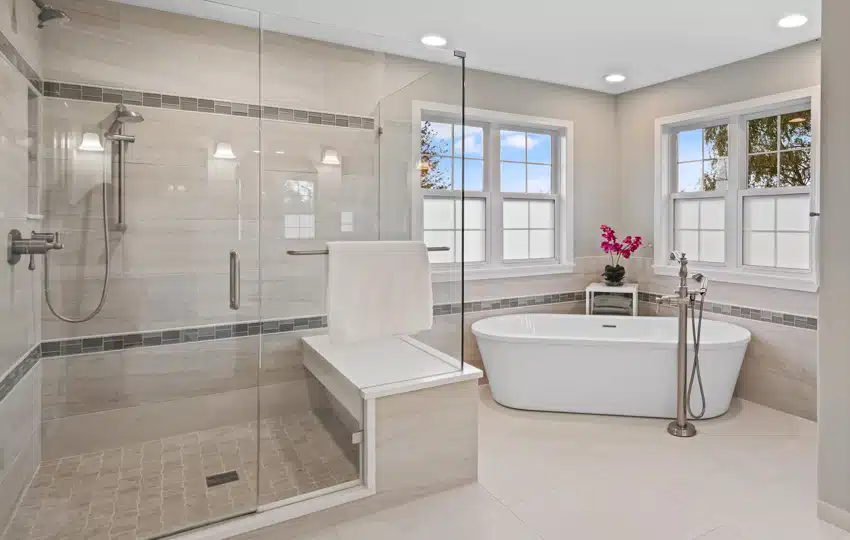 A listello tile is a type of tile insert that is arranged to create a strip or band. These border tiles are installed along with a tile installation with its main purpose as an accent element.
Listello tiles have smaller sizes, with the common size of 4" x 12" and around 3/8" in thickness. The small inserts can be installed on tile walling or flooring but are commonly found along bathroom walls, particularly the shower area.
Listello is a term to describe the set of tiles that can be oriented horizontally or vertically. The term listello comes from the Italian word that translates as a lath, a horizontal strip made from metal or wood to carry a different material, such as plaster.
Traditional listello tiles showcase elaborate designs and are usually made from quarried stone and ceramic. For this reason, it's a common notion that these tiles can make an interior look old-fashioned.
However, today's advanced manufacturing process has brought about new materials and updated designs that can even be incorporated into a modern interior.
Listello Border Tile Designs
The primary function of border tiles is to create a clean transition between materials or edges of walls, countertops, and floor tiles, such as a listello border tile. The border can hide imperfections without looking too forward.
The most common listello tile borders are:
• Radius Trim: The border has a rounded trim, creating a right-angled corner on the tile edge.
• V-cap Edging: The V-cap edging is a standard feature for traditional interiors where the L-shaped tile can hide away the outer edge of the tiled wall or flooring. This is also referred to as square cap or sink cap edging.

• Rounded Tile Edge: This type of border style has a soft profile creating a smooth lining along your accent.
• Bullnose Trim: A popular edge trim, this border profile has a soft edging. The curved area flushes on the wall or floor edge, eliminating sharp or angled edges.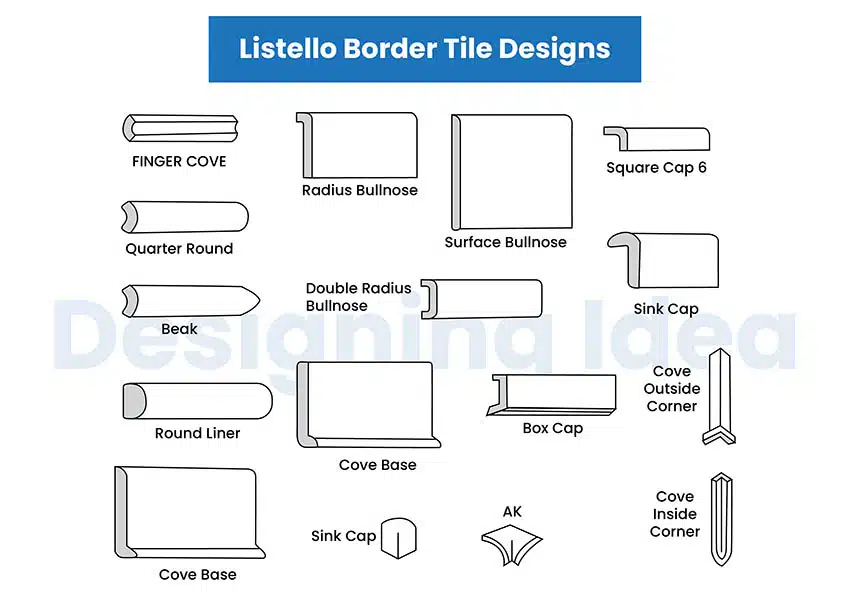 These are some of the most popular tile trim designs for listello patterns. They can be combined in different ways to create visual interest and add character to your custom tile work.
Listello Tile Patterns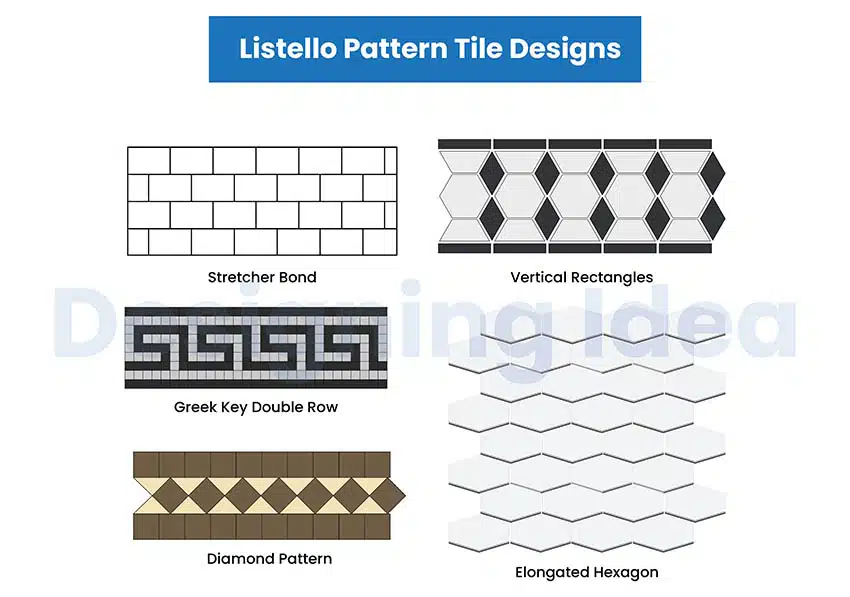 Patterns and textures add visual richness to a space. They also provide an area where the line of sight can rest and focus on. Patterns can also tie elements together and even be a source of inspiration when designing.
There is a wide assortment of listello tile patterns in the market, and one can choose for a more personalized décor with customized patterns injecting a one-of-a-kind element into one's built environment.
Here are some popular tile patterns to inspire your next renovation or newly built home, blending contemporary style with old-world charm:
Stretcher Bond: Also known as the running bond, rectangular-shaped mosaic tiles are stacked on one another with the stretcher (longer side of the tile) laid out lengthwise, with the next row overlapping midway. This pattern showcases care for detail and quality design.
Vertical Rectangles: The pattern is made by arranging small rectangular tiles in a row. The design showcases random stone tiles with different veining and color tones, offering an affordable and contemporary look.
Greek Key Double Row: The geometric squares create a dimensional pattern of a continuous interlocking pattern. The listello tile is perfect for traditional and classical interiors, bringing in old-world charm and quality craftsmanship.
Diamond Pattern: A strip of diamond-shaped listello tiles is arranged side by side, and smaller triangle tiles fill in-between spaces. Sometimes a band of small rectangle tiles frames the diamond ensemble, providing a contemporary and affordable design option.
Elongated Hexagon: A row of elongated hexagon tiles is the perfect accent for modern or transitional interiors. Choose an elongated hexagon tile in glass material bordered in black for a touch of contemporary quality. Another version of an elongated hexagon is the picket tiles.
Listello Shower
Listello has always been a favorite accent piece in showers because of the opportunity to add décor along the wall of tiles. The creative approach breaks the monotonous look of your typical bathroom interior while ensuring a personalized touch with quality craftsmanship.
With the wide range of shower tile designs, listello inserts are no longer considered a dated décor. Modern tile shapes such as scallops, penny, and hexagonal tiles are trending materials that can create a stylish and exquisite visual for your shower area.
Take the scallop or fish scale tiles. Create a striking accent wall by adding a wave of glass scallop tiles layered in a single vertical or horizontal swoop among your larger shower tiles. This technique combines quality materials with contemporary aesthetics.
Shower recesses need not be boring. Add sea shell inserts into your shower niche and match it with the similar tile material in your listello border that can run just a few inches above the niche, showcasing care for detail and coordination.
Listello Backsplash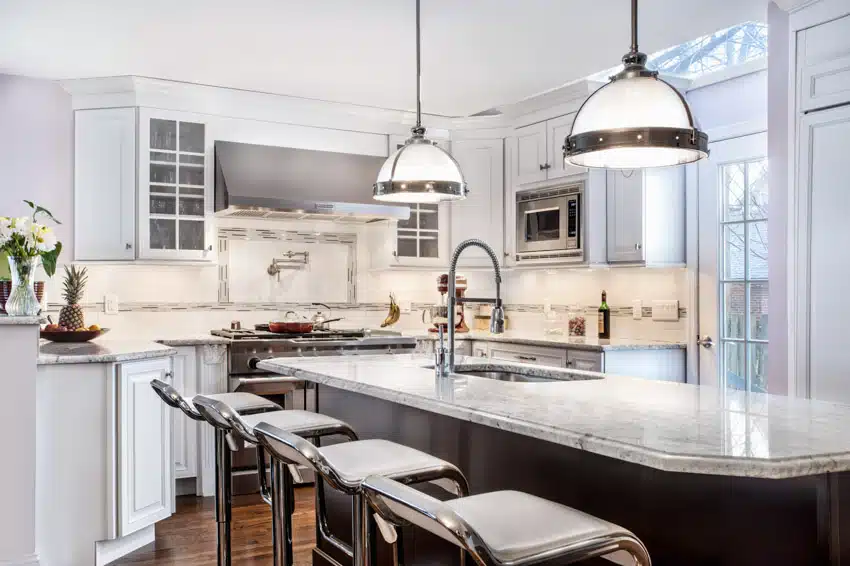 A backsplash is a perfect canvas for creativity, and there are numerous ways to give it a gorgeous update without overwhelming the space. Add a band of black penny tiles to dot along your white subway tiles for a modern two-tone look.
If you're on the traditional side, the classic basket weave and oriental tile patterns are eye-catching designs that can add dimension and richness to a kitchen backdrop. Vintage comic art prints on listello tiles are also available that create interesting scenes of the 1960s.
The classic arabesque or Greek meander key can add an opulent display of patterns in your shower area for the shower backsplash. Pair the patterned listello tiles with color-rich tiles such as travertine tiles or with a crisp white marble wall cladding.
Listello Floor Tile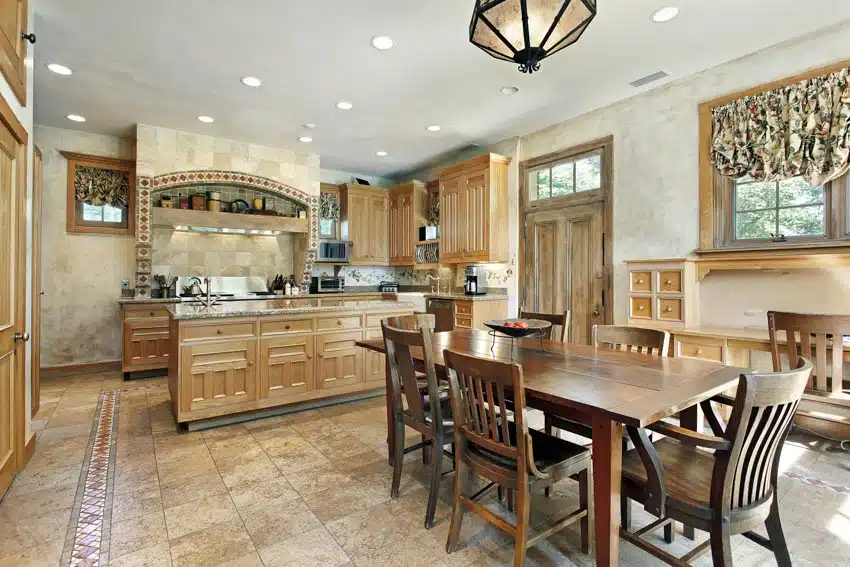 Adding a personal touch is one of the highlights of the interior design process, and a listello floor tile is the perfect accent piece to create that unique element to update a space. An entryway border rug, for instance, can be an impressive introduction to one's home.
There are manufacturers who supply unique patterns and welcome customized designs by their in-house artisans. The accent pieces can continue as a border frame along a long hallway, adding personality and interest to a rather boring space. This project can be tailored to your specific taste and experience, making it a hit among people looking for unique design ideas.
Choose eye-catching floor tiles to highlight a sculptural piece or create a grounding element for a freestanding bathtub. A listello insert can also be arranged to create a shower rug adding visual richness to the bathroom area.
Listello floor tiles can also be incorporated into staircases that create an interesting border across each side of the stairs. Choose a material to match handrails and stair rails.
Listello Wall Tile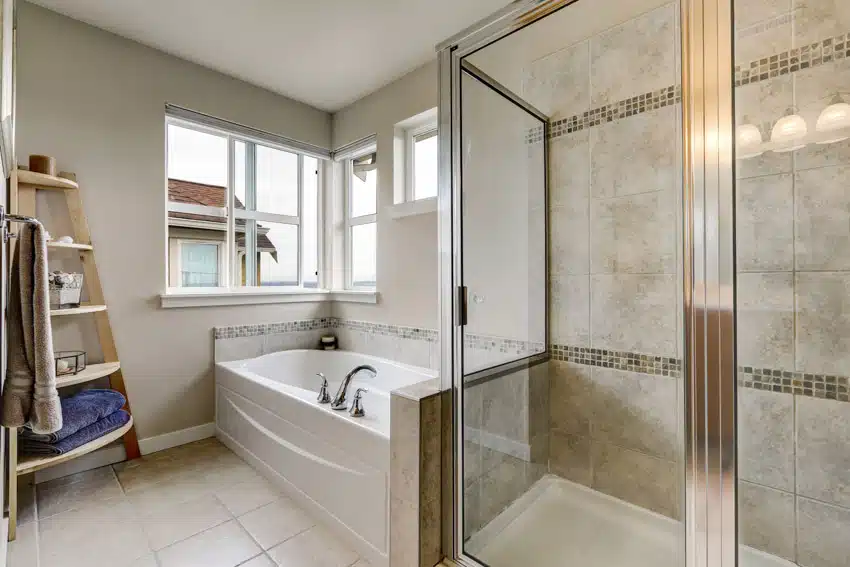 With the expansive area, a wall cladding is a perfect space to explore the unique possibilities of the listello wall tile. Break down the continuous field of large format tiles by adding a horizontal strip of aluminum listellos, elevating the project's overall aesthetic.
Create equal intervals largely spaced between the grout lines. The result is a display of striking bands of shiny tiles that will complement a white or beige-colored wall. There are also three-dimensional listello wall tiles that have a textured surface.
These wall tiles can also break a large tiled wall avoiding that monotonous and bland look. An accent need not be horizontal in orientation as it can be a practical décor in a vertical placement, as it can be a practical decor in a vertical placement.
The vertical strip can be layered, creating rows of wall tiles framing a more elaborate field of wall tile, creating an interesting focal point.
Listello Mosaic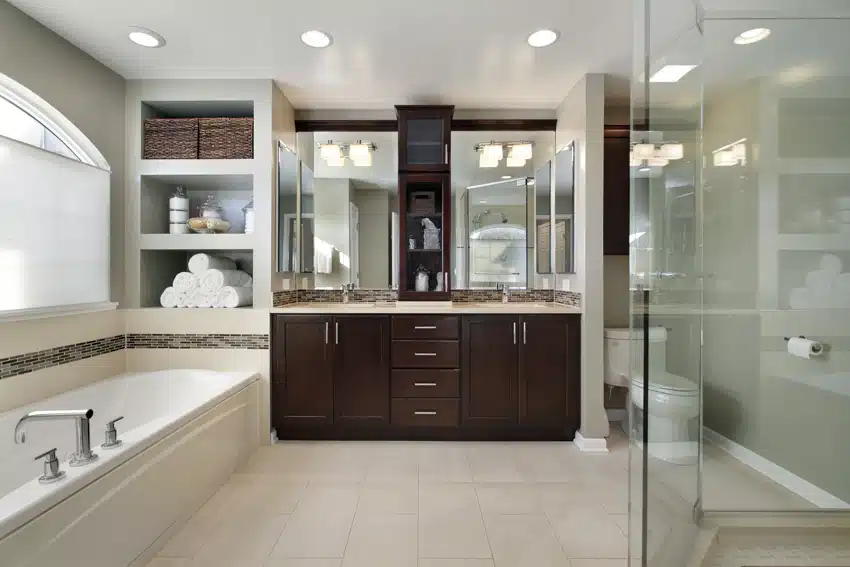 A listello mosaic tile layout can introduce exciting colors and designs into any blank tiled wall. With the smaller-sized tiles, one can create a unique and personalized accent, such as organic and geometric patterns. The mosaic patterns can even spell out text or fonts to create that customized element.
Mosaic listello comes with a wide range of design possibilities.You can use materials such as glass, marble, quartz, porcelain or ceramic tile with beautiful results.

Since they can be harder to install because of the tile size, they are considered an exquisite accent that adds value to any property.
Types Of Tile Trim for Listello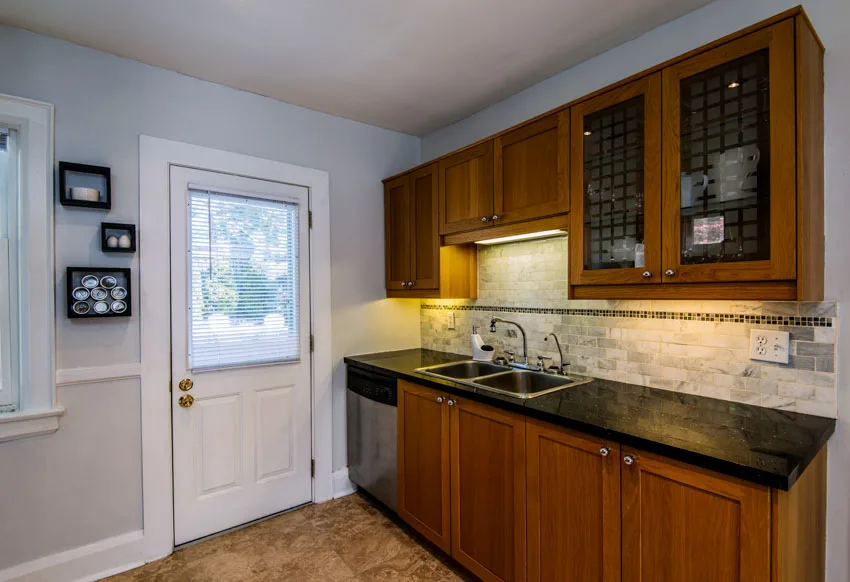 One of the exciting things about adding listello tiles is the visual effects that can come about between materials, and the tile insert provides a smooth transition. Here's a breakdown of the materials and some popular questions often asked to contractors and tile product manufacturers.

Ceramic Listello: Installing custom tiles is an added cost and can go up with the type of material used. A design made from ceramic tile is cost-effective without compromising aesthetic value and durability.
There are numerous ceramic tile wall trim and border designs readily available from most tile suppliers. From designs that simulate the look of natural stone or embossed ceramic styles to customized patterns, there's just that perfect accent to complement an existing or newly built interior.
Ceramic tile is a practical choice when adding wall trim to an expansive wall or flooring area. A local tile business can also provide information about the accessories and items you need, as well as provide the latest prices.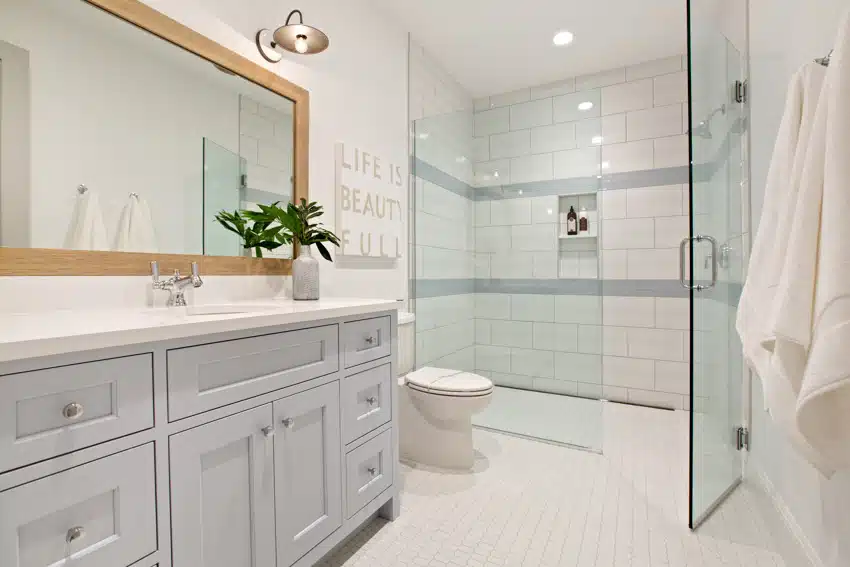 Porcelain Listello: Porcelain tile is similar to ceramic that is generally more durable and water resistant compared to ceramic tile.
With a smooth finish that has the appearance of glass its frequently used for wall tiles and other areas such as the floor where strength and durability is needed. Porcelain is easy to maintain making it an excellent choice for high traffic areas in the home.
Aluminum Listello: For a more modern accent, aluminum has those minimalistic qualities that can enhance sleeker and updated designs.
The advantage of aluminum borders over traditional tiles is that they are easier to install and can conceal installation imperfections. The metallic sheen creates an elegant touch between tiles or as a finishing edge.
Aside from its natural silver coating, aluminum materials can come in different colors and finishes, such as gold, glossy black, matte silver, and bright silver. Aluminum does corrode but does not rust easily, and most aluminum suppliers offer anti-corrosion finish products.
Copper Listello: The copper tone on tile cladding walls can look exquisite and create a modern touch to any interior. Copper materials matches well with traditional designs, especially for warm-toned natural stones.
With copper's workability, intricate designs can also be made with the material making it a great option for customized accents. Copper can be a perfect inset or outline border for stone tiles creating a rich accent.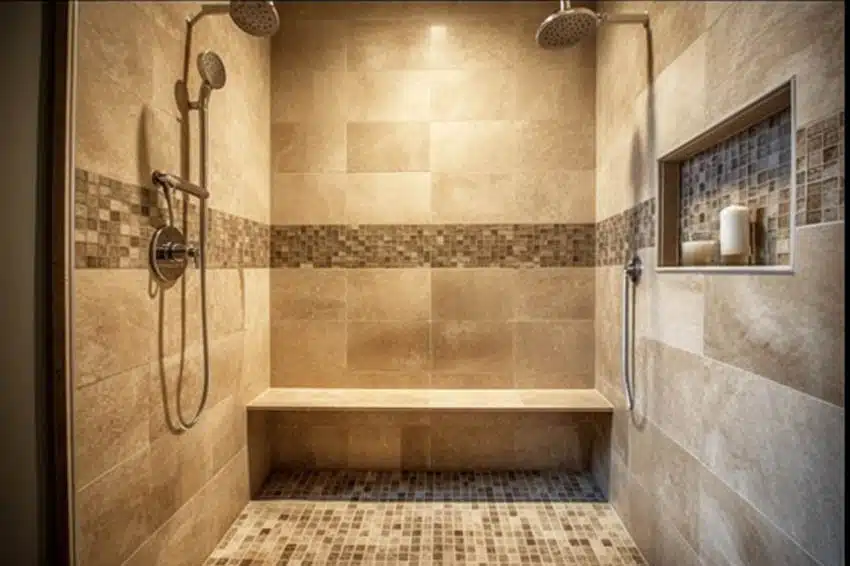 Glass Listello: Layer textures with an iridescent glass listello. The gorgeous colors are appreciated when light hits the translucent tiles creating a visual spectacle. Glass listello can also come with simple opaque colors but with the same crystal-like appearance.
Create a striking accent with mosaic glass tiles with a listello design. Glass tiles are a practical option for wet areas as the material does not stain or corrode and can last for many years with easy maintenance.
Marble Listello: Marble is a gorgeous material in itself, and when inlaid in the field of tile can transcend the look effortlessly. From the crisp white of Carrara marble to the gray tones of Statuario marble, the luxurious natural stone will surely add value to any interior.
Do note that marble falls into the high-end material and can be more expensive than most tiles.
Slate Listello: A tile made of slate is a durable material that can last longer than most natural stones because it isn't affected easily by extreme temperatures making it a great option in kitchen backsplashes or bathroom walls.
Slate usually comes with thinner profiles making it a suitable material to tile over existing tiles. When installing a slate listello over an existing tile, it is recommended to wipe away grime or any other surface particulates that might prevent the slate from adhering.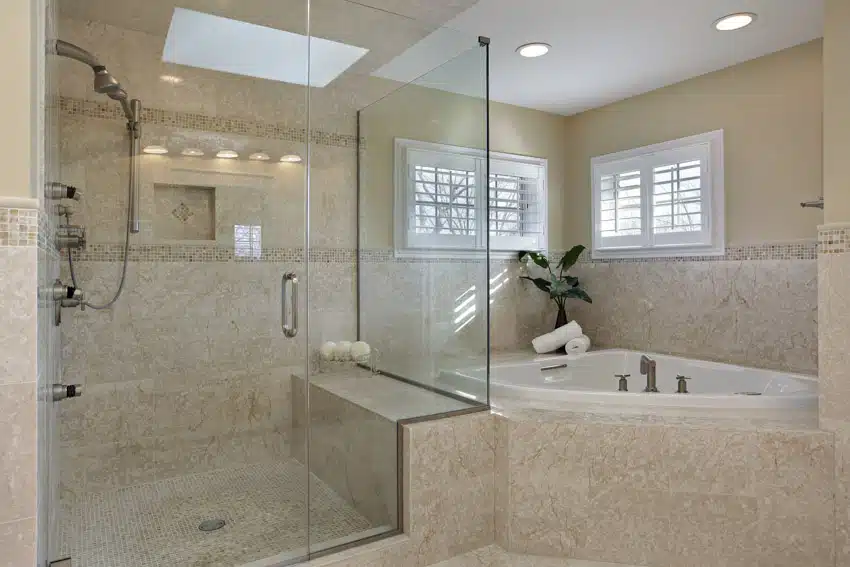 Travertine Listello: While not as hard as lother tiles made from marble, travertine is still very durable and the warm and rich colors.
What makes travertine tiles unique are the natural patina that forms over time. This darkening of the stone creates a rustic and vintage look making it a lovely accent piece for transitional and classical-themed interiors.
How Big Are The Listello And Border Tiles?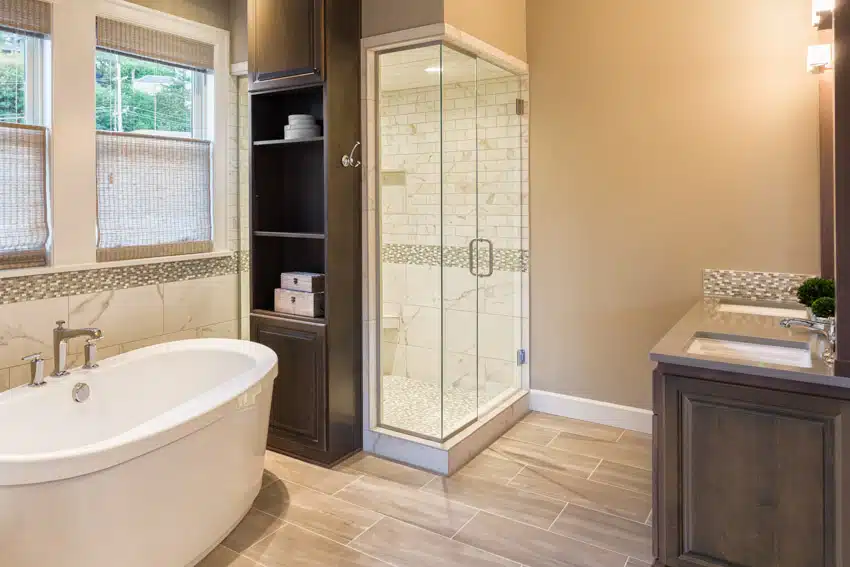 The common size for listello and border tiles is 4" x 12", but they come in many variations and can also be customized to suit one's preference. Suppliers of these materials will also have standard sizes of:
• 2" x 4"
• 2" x 6"
• 3" x 6"
• 4" x 8"
• 6" x 12"
Always consider proportion when looking for border tiles, as not all patterns look good in a certain listello tile size. For instance, a Greek key pattern looks better in a 3" x 6" tile than in a 2" x 6" size.
With countless options to choose from, don't hesitate to explore your local tile shop and find the perfect mosaics and tools to elevate your interior design. See more related content in our article about fully tiled bathroom walls on this page.