This gallery of bathroom accent wall ideas shares what it is, different materials, creative designs, and tips on which wall to use as an accent wall in the bathroom.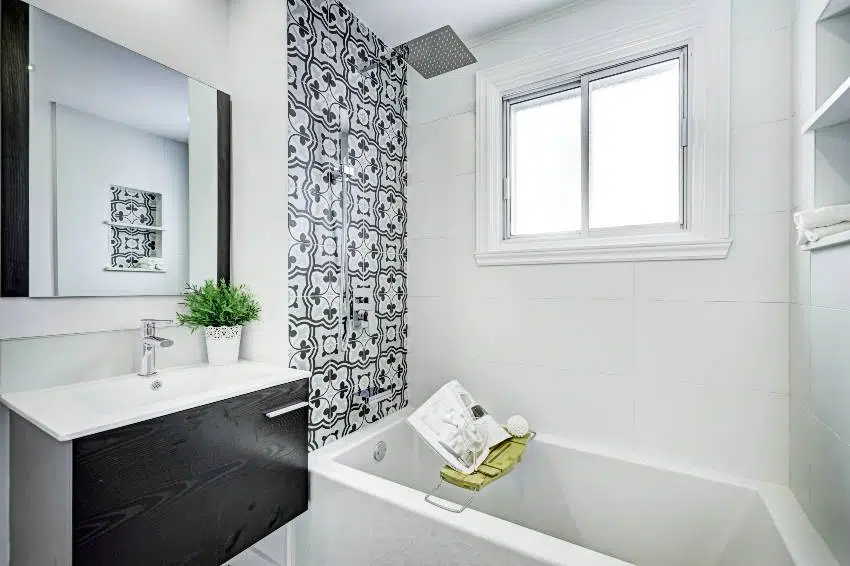 Sure, a splash of paint goes a long way, but why stop with color when you can reinvent your bathroom with accent walls that can give a more purposeful feature. An accent wall can liven up your space, and give it a refreshing feel without the need for a complete remodel.

There are a wide range of bathroom accent wall ideas you can easily incorporate into your personal space. From kit-kat tiles to living walls, and only your imagination is the limit. Get inspired by these traditional to trendy bathroom accent wall ideas.
What Is A Bathroom Accent Wall?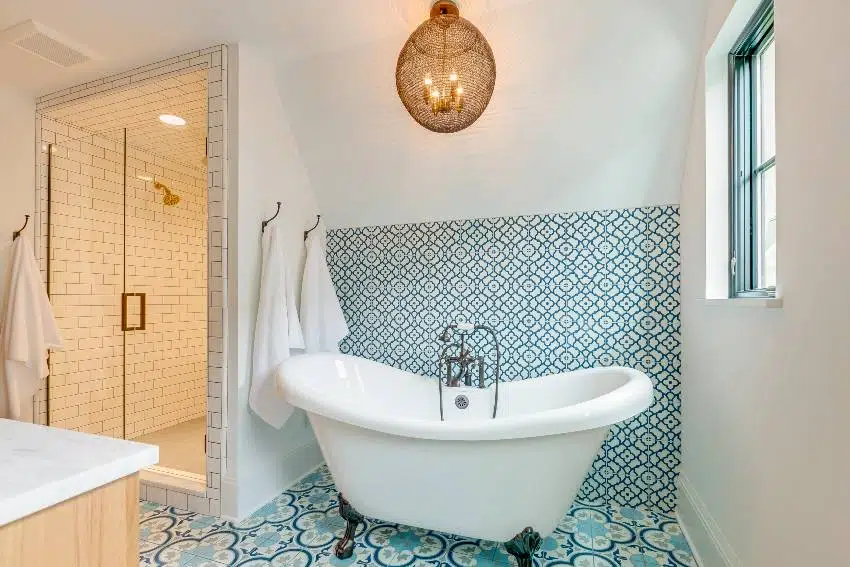 A bathroom accent wall is any part or section of your bathroom wall that stands out from the rest of your design elements using a different material, color, texture, or form.
An accent wall in general as the term implies serves mainly as a decorative element but at the same time can have the option to be functional as well.
Bathroom accent walls can serve as a focal point which is needed in any space to serve as a resting place for the eyes to gaze at. An accent wall in a bathroom can also enhance the space beautifying and adding life or setting the mood.
A bathroom accent wall can also cover a large section of the room, that can define spaces. This is especially useful if you want to highlight a focal point such as a beautiful clawfoot tub or walk-in shower design.

Accent Wall In The Bathroom Designs

Here's some of the popular materials and accent wall colors you can use for a bathroom space with great results.
Shiplap Bathroom Accent Wall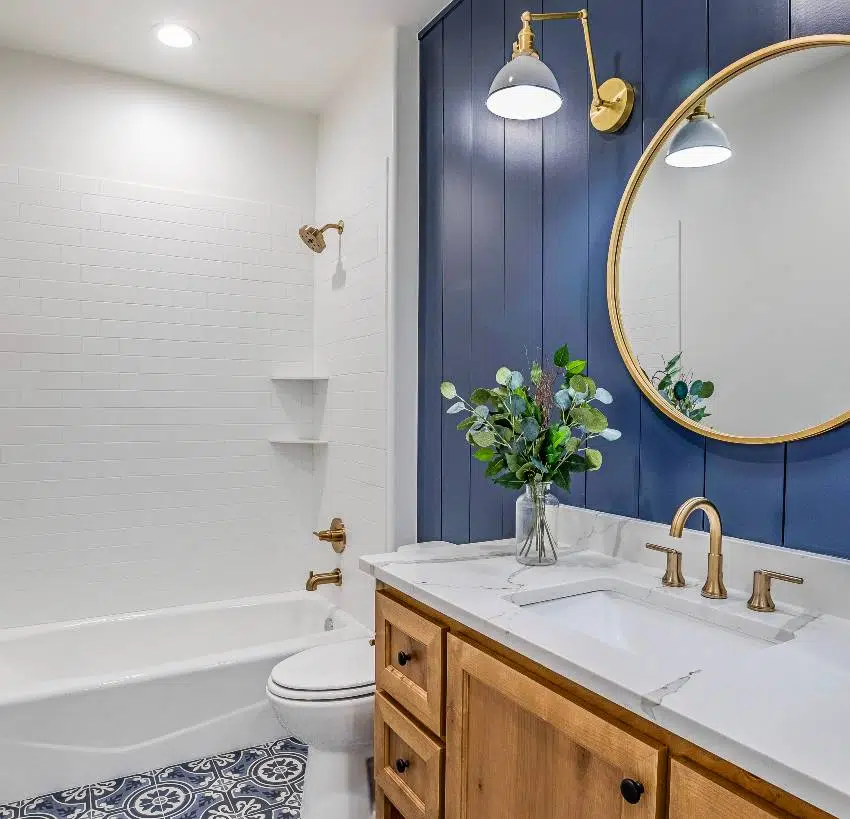 The shiplap bathroom accent wall is the perfect contrast to your glossy finishes providing a warm and cozy vibe to your space. For small bathroom spaces, a shiplap accent laid horizontally will give an illusion of a wider area while vertical panels will add visual depth to your floor-to-ceiling height.
Shiplap joints are laid out with two opposing rabbet joints, this overlapping holds each panel together while creating a tight waterproof connection. The shiplap accent is a fitting element to a room that's constantly exposed to water and moisture.
While a shiplap bathroom wall design exudes that rustic charm fit for cottage and farmhouse-inspired bathrooms, working with the color and design can make the traditional feature suitable for other themes, even for a modern bathroom.
Bathroom Wallpaper Accent Wall
A trending wall feature, the bathroom wallpaper accent wall can breathe new life and personality into any bathroom space. From floral to abstract, there are many wallpaper types, with a wide range of design choices available to fit your theme or preference. You can even request a custom wallpaper pattern as well.
3D and realistic designs seem to be the hottest options today transforming the look and feel of your bathroom effortlessly without the need for major renovations.
The great thing about bathroom wallpaper accent walls is that you can remove or cover your wallpaper anytime. You can change it to another material or replace it with another patterned wallpaper.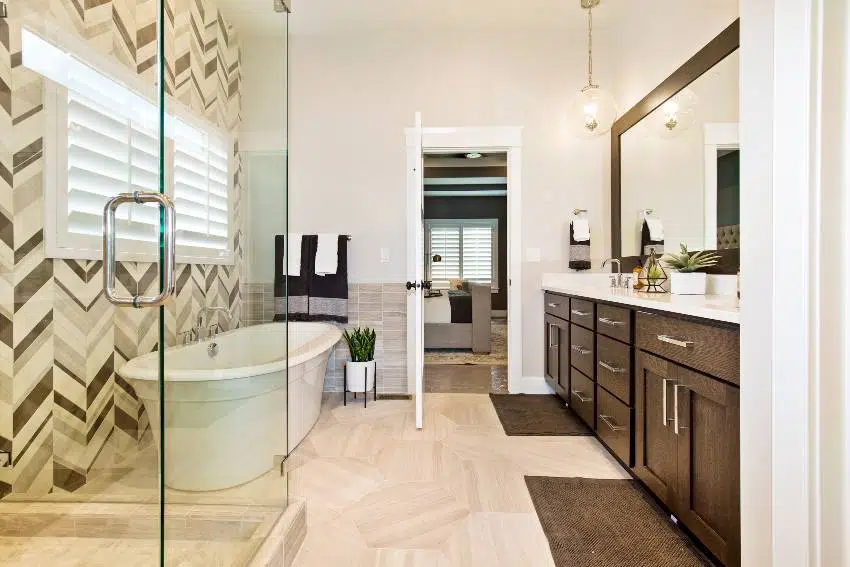 If you're worried about it getting wet, there is vinyl wallpaper available on the market. The vinyl wallpaper is durable and waterproof, so you can place it anywhere in your bathroom and you don't have to worry about splashes and splatter.
You can also waterproof your bathroom wallpaper accent wall by using water-based varnish, or primer, an emulsion glaze can also help protect your wallpaper. Though, make sure to check with your supplier if it won't degrade or damage the material.
The last trend is for those who want to add more character to the bathroom. You can highlight individual areas in the room with wallpaper with a stylish pattern.
However, be sure to use durable models. Fiberglass and vinyl wallpapers are best suited for use in the bathroom. Choose models that are washable and scrubbable because they can be cleaned with a soft brush.
Tile Accent Wall Bathroom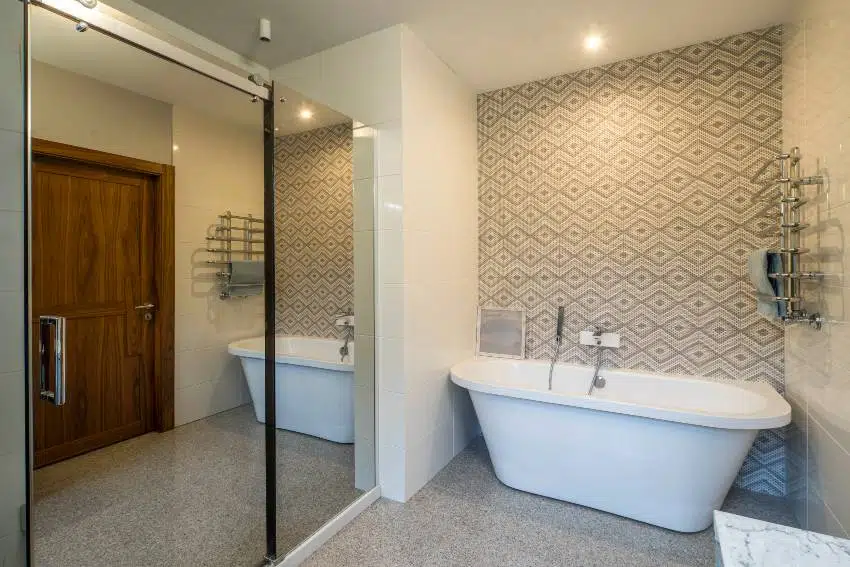 With limitless tile patterns, designs and colors, it's not impossible to get the best bathroom tile that fits your style and preference. You can make your tiles stand out by using a contrasting or bold color for your tile. Profile, shape, and texture can also make a whole lot of difference when it comes to adding an accent to your bathroom wall.
The great thing about tiles as an accent wall in a bathroom is that you can lay them on your wall in any direction, size, or shape, which means this option can accommodate any design you think of. This versatility makes it an enduring wall accent, along with its durability.
A trending tile wall accent is laying it vertically or stacking slender tiles in rows, which gives it a modern textured touch. Penny tiles are another popular tile accent wall bathroom that you can arrange to form landscapes or abstract forms. Penny tiles usually come on a sheet for easier and faster installation.
For tiles, grouting of ¼ inch spacer is recommended you can also use an inlay in white or metallic color for a sleeker and clean look.
Mosaic Tile Accent Wall Bathroom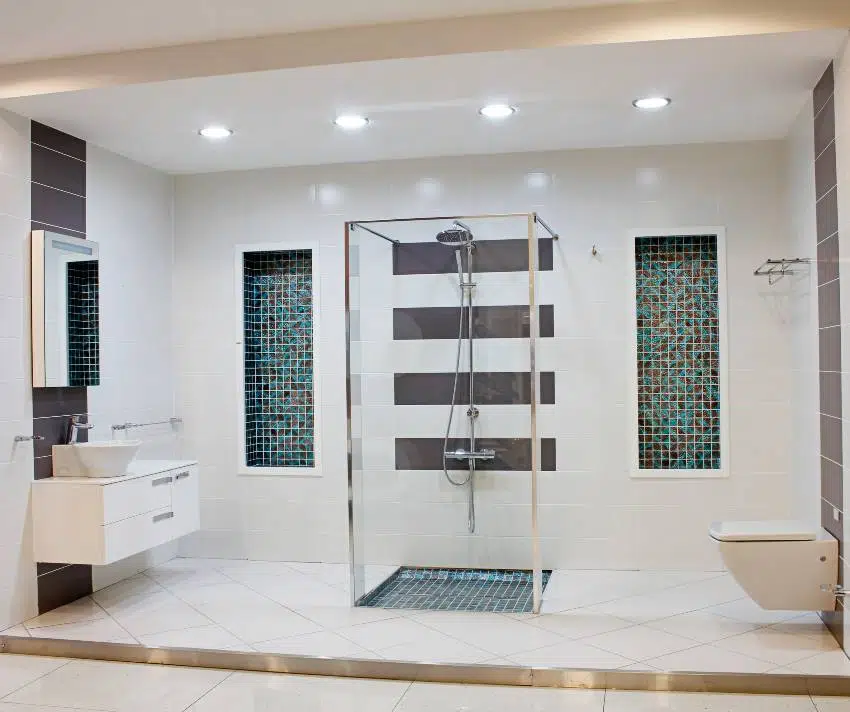 The mosaic tile accent wall bathroom is like little gems that add energy to your bathroom space. The different mosaic tiles include popular stone mosaics, medallions, murals, waterjet mosaics, octagon-shaped mosaics, and glass mosaics.
You can use mosaic tile to draw the eye to a stunning floor to ceiling tile wall, shower niche or focal point above the tub.
One of the trending mosaic tile accent wall bathrooms is the hand-painted mosaic tiles that include landscapes. The ornamental work is the perfect focal point or backdrop.
Waterjet mosaic is a relative newcomer to the tile world which is made by using a waterjet machine that references its designs from AutoCAD files. This means you can customize your mosaic tile feature wall according to your detailed specifications allowing you to have a unique and personal touch to your wall décor.
Waterjet mosaic with brass or gold accents can be more costly than your ordinary ceramic mosaic tiles. Mother-of-pearl, moonstone, glass, and natural stones in smooth and intricate curves are possible with the new-tech tiles.
Bathroom Accent Wall Paint
Keeping up with your minimalistic style, you can opt for a bathroom wall accent simply by painting a section of your wall. Use bold colors to liven up a neutral pallet or enhance a show-stopping feature such as a painting, vanity, or soaking tub.
Must-try color trends for 2023 are French vanilla that's perfect for white bathrooms; red and purple are seen to replace the soft pink; soothing greens are a popular favorite this year and will continue in 2023; jewel tones such as brass or gold are eye-catching options.
When it comes to the best paint finish for the bathroom many interior designers recommend either a satin or semigloss finish. Moisture conditions should be taken in to consideration when determining which finish is the best choice to use.

Wood Accent Wall Bathroom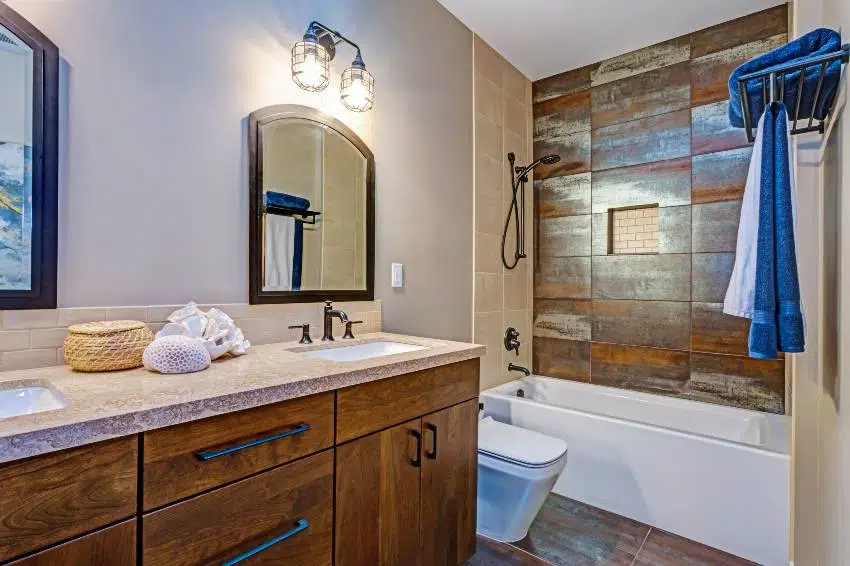 As the fast-paced tech world continues to take over our lives, the desire to bring nature into our homes is understandable, and what better way to add soothing natural textures than a bathroom wood accent wall.
Add an interesting wood accent with varying wood textures. For a DIY project, you can cut off the cost using reclaimed wood or choose a pallet wall that has a ready-made assembly of varying wood textures and colors.
Another way to get the feel of wood is to use ceramic or porcelain wood-look tiles that can hold up well to the high moisture environment of a bathroom but still resemble real wood. With high quality porcelain tiles you get a scratch resistant, stain & moisture resistant surface.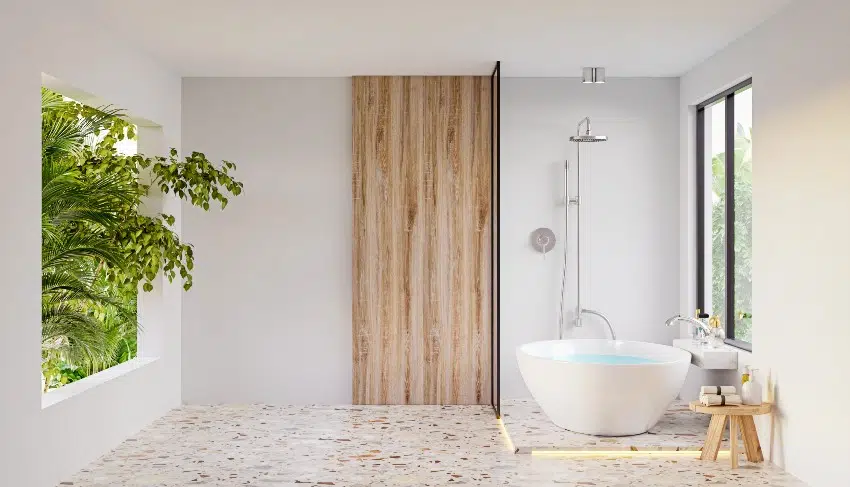 The popular wood slat wall is a modern feature that will surely revitalize the look of your bathroom space. Use it above your vanity for an attractive backdrop for your vanity mirror or use it as a divider to define spaces such as between your lavatory and bathroom counter.
Aside from slat walls, fluted panels are also modern accents you can add to a modern bathroom. The fluted panels usually have a narrower width compared to your wood slats.
Aside from your horizontal and vertical layout, you can choose to have a geometric pattern for your wood slats. Herringbone patterned wood accent also remains a favorite feature for walls. Find more about wood accent wall ideas here.
Black Accent Wall Bathroom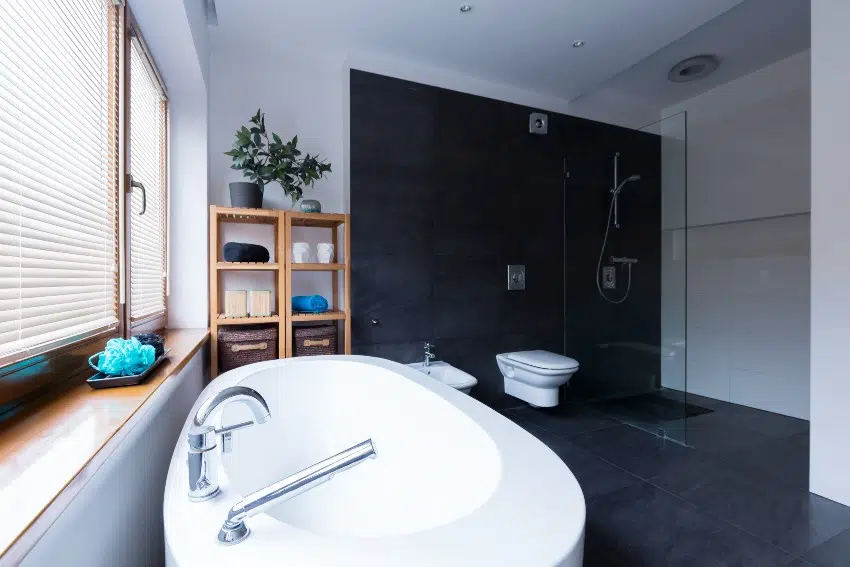 The absence of color in the space gives a moody and calming feeling and the bathroom is the perfect space to meditate and relax with a black accent wall. Since black kitchens have become popular, many homeowners are getting bolder in splashing black paint on their walls.
You can use a black accent wall as a backdrop for a more colorful element. If you're unsure to go with this bold color, you can start with a lighter-toned version such as a true gray or charcoal gray instead of black.
A Black accent wall bathroom is the perfect way to add elegance or sophistication to a bathroom space. Add metal décor such as gold that looks fantastic when placed against black. As sustainable and eco-friendly materials become even more popular nowadays, you might want to check on the latest black grasscloth wallpaper.
This wallpaper is made from hand-woven strands of natural fibers placed on a rice paper backing. They look stunning in a plain color or have undertones like metallic or in greens to have that sophisticated and moody look in your bathroom.
Blue Accent Wall Bathroom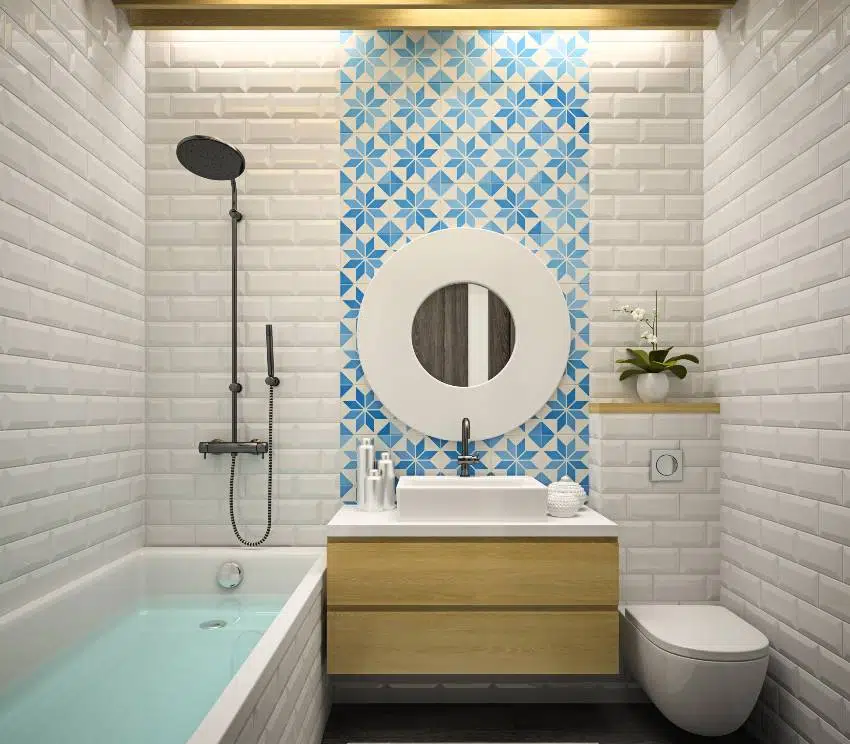 The color of the skies and seas is the perfect color for your bathroom as it is associated with calmness and cleanliness. Blue also offers popular shades and tones that work well with the common white and beige colors of your bathroom fixtures. It's a versatile hue that can provide a whole range of moods that are suitable to any bathroom theme you are going for.
A trending color combination with blue is gold and you'll see eye-catching blue tiles with gold inlays. From geometric forms to botanical shapes, there are a lot of options for your blue and gold combination. See our guide to accent wall colors here.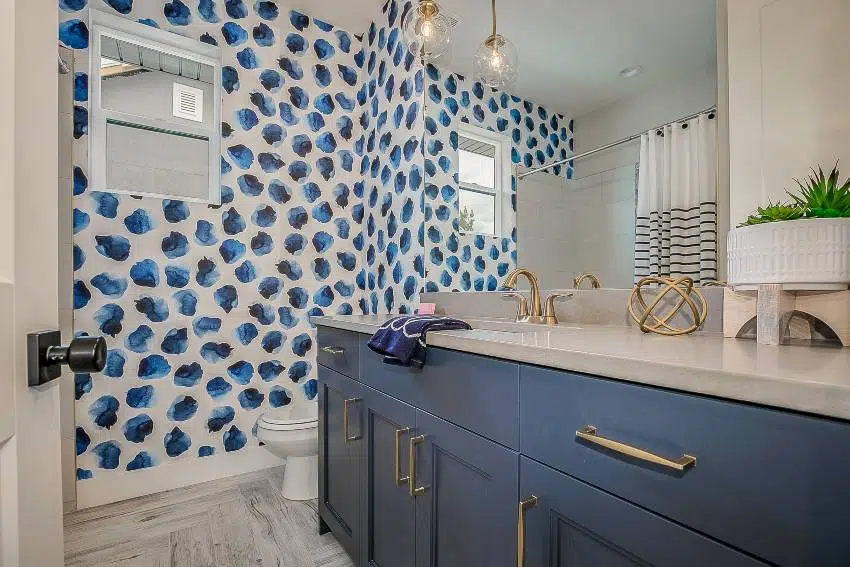 There are a lot of blue shades and tones to choose from, but the current trend sees the navy blue and blues that are near the coral shade standing out from the choices.
Another blue accent wall design worth considering for your bathroom feature is the white and blue striped pattern. This accent brings a chic and youthful vibe especially when paired with diamond tiles in black and white checkered coloring.
This means you've got peacock blue, navy blue, turquoise, blues with gray undertones, and classic blue are my favorite bathroom wall shades.
Stone Accent Wall Bathroom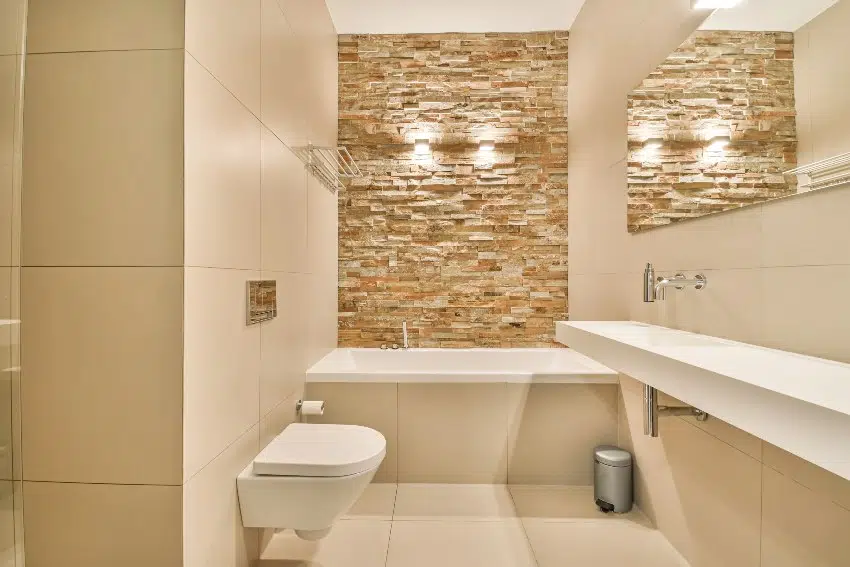 A stone accent wall bathroom is a stunning feature that will surely elevate the look and feel of your bathroom.
Juxtapose a glossy tile layout or pair it with wood paneling to have layered textures. Two or three more varying textures in your bathroom not only enhance it visually but create a warm atmosphere.
The great thing about stone accents is that it does not get easily damaged even when exposed constantly to moisture and heat making them a practical choice for your bathroom feature.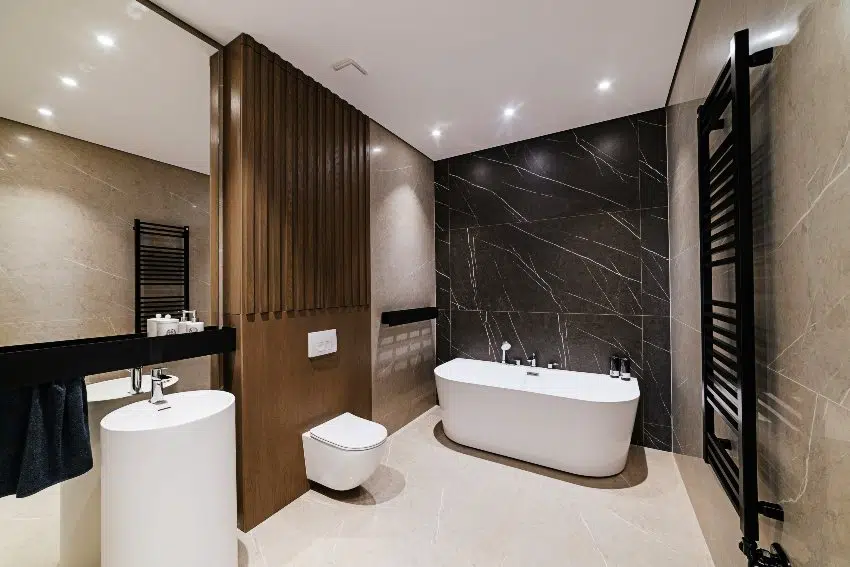 The eco-friendly option comes in a wide range of options. From the luxurious marble to the illuminating colors of travertine tiles, there's a wide range of natural stones to choose from. They can also be polished, honed, sandblasted, bush-hammered, and thermal.
A pebble wash stone can also be used to produce amazing wall art. This stone accent wall for your bathroom has a unique design with an articulated form, dramatic appearance, and startling feel. Each stone wall project entails locating the appropriate rocks and listening to nature while designing a unique wall design with a touch of old stone art.
Aside from tiles and pebble washes, you can have more artistic wall accent stones arranged in a spiral or swirling designs. This can simulate landscapes where similar stones are lined and laid to form circulating forms to create a sun.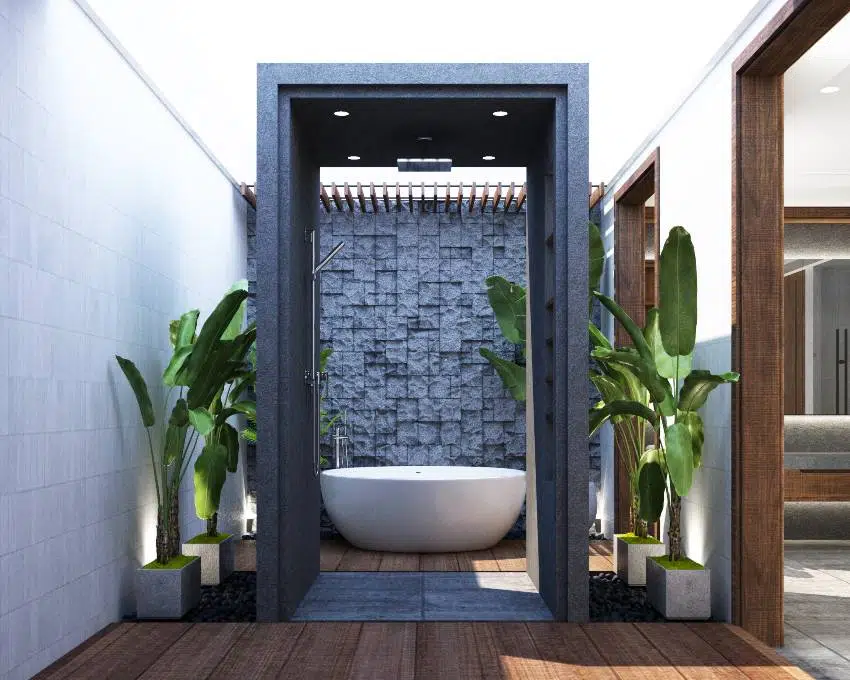 As it is long-lasting it can be argued that a stone accent wall bathroom in slab or tiles is one of the more expensive options available.
Small Bathroom Accent Wall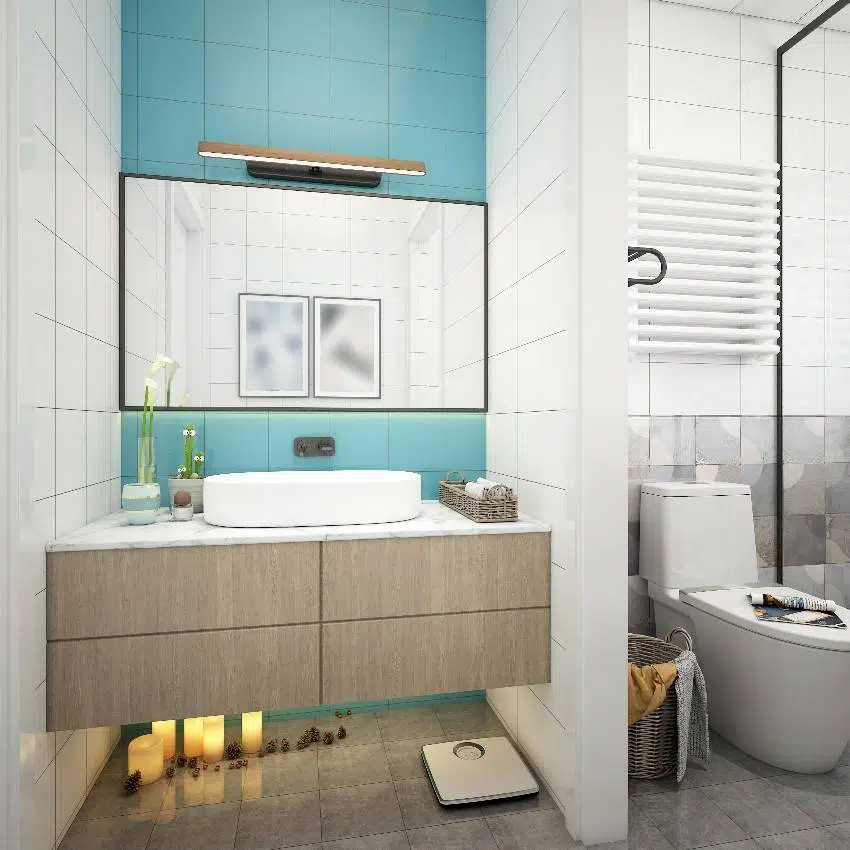 Decorating small rooms are always a challenge but not impossible to overcome. If you have a small floor area, take advantage of your vertical space.
Painting your featured wall from floor to ceiling with a contrasting color will surely make a difference, especially when using a darker tone such as black or navy blue as it adds depth to the space. Add floating open shelves above to maximize your storage capacity.
Slim finger-width tiles or kit-kat tiles Laying your tiles vertically can also carry the eyes upward creating an illusion of space.
If you have a thick substrate, you can carve out a niche, this small bathroom accent wall works well behind your lavatory or shower area. Add a featured décor such as a framed artwork. The typical depth for wall niches is 2 to 3.5 inches which is the width of a wood stud.
For high-rise buildings, the maximum depth is usually 2.5 inches which usually uses steel studs for their walls. Though it is not advisable to create a niche on walls that are adjacent to the outdoors especially for homes that experience cold weather conditions.
Modern Bathroom Accent Wall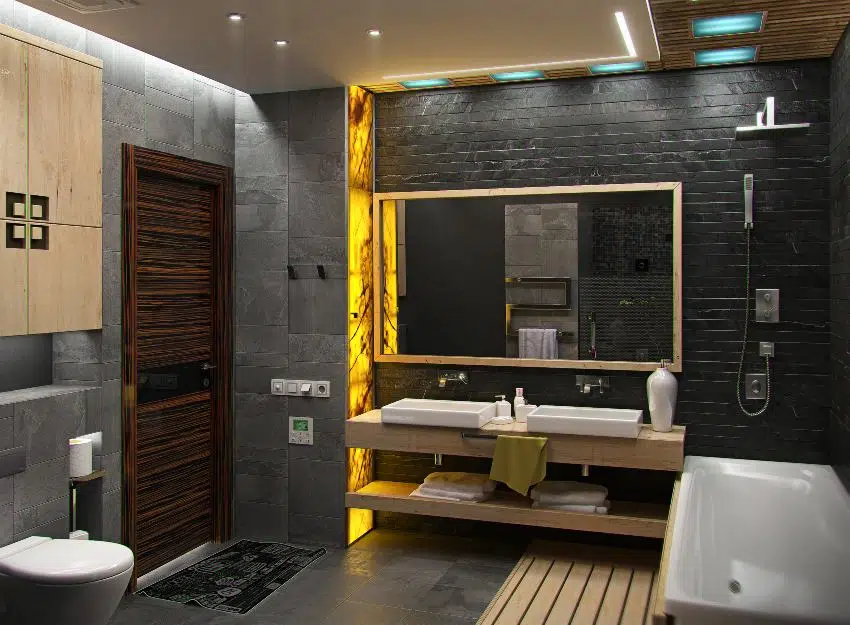 Achieving a modern bathroom accent wall is more than just using a monochromatic color palette, simple forms, and clean lines, as using natural materials and utilizing natural light are also desirable features.
Continuous textures for your accent wall will surely draw the eyes. If you're not worried about the budget you can go for a full-size natural stone as an accent. Seamless waterproof wallpaper can simulate the look of your natural stone but will not be as durable as your natural texture.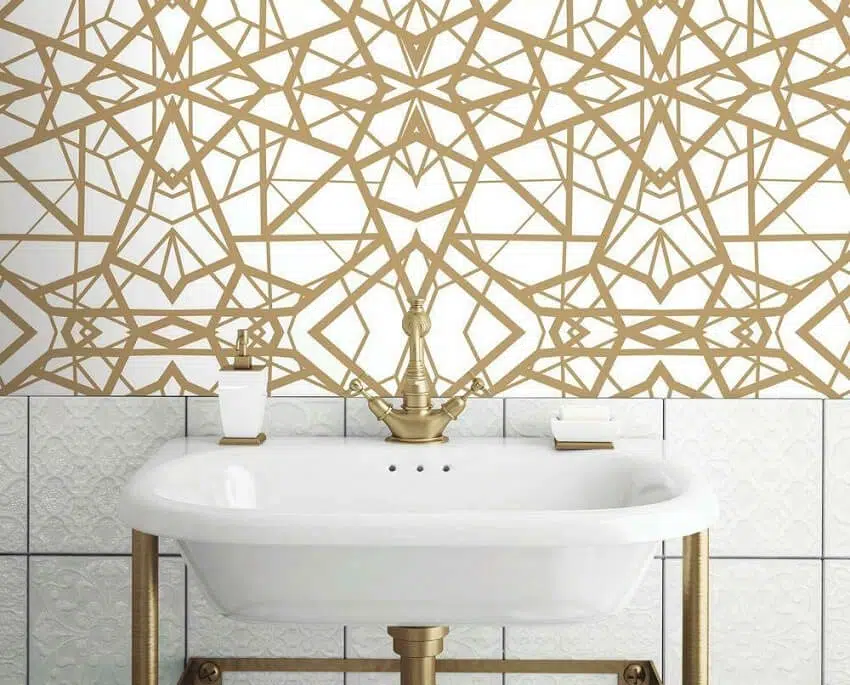 See this geometric peel and stick wallpaper at Amazon [sponsored link]
Geometric wall patterns have always been popular modern accents. Look for the art décor inspired designs such as the herringbone and the gilded glamour styles. Think of the Great Gatsby or the lines and shapes found in the Chrysler building.

The serene bathroom features a sleek freestanding tub with wrought iron fixtures. It is accented by a green living wall which creates a refreshing ambiance in the room.
Which Wall Should Be The Accent Wall In A Bathroom?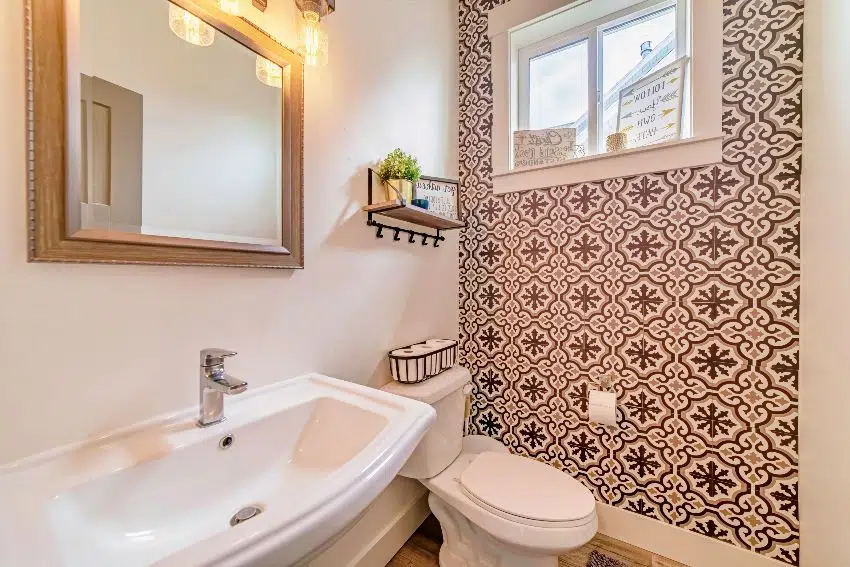 While there are no hard rules set when it comes to choosing the best accent wall in a bathroom, it is best to look for inspirations that have worked for existing bathroom designs. Every bathroom is unique so as your preferences, therefore, design approaches serve as only guides and can be customized to suit a particular taste or lifestyle.
First off, be sure to choose a wall that is worth drawing attention to. That is why a wall vanity, behind a lavatory, tub or shower is a fitting location for your feature wall. An accent wall can also fill the void, especially for large bathrooms where a spacious wall presents itself as a blank canvas to be explored.
Here are a few tips for choosing the best accent wall in a bathroom:
1. A Greeting Wall. Choose a wall that can welcome guests which is the first thing a guest sees as he or she enters the bathroom.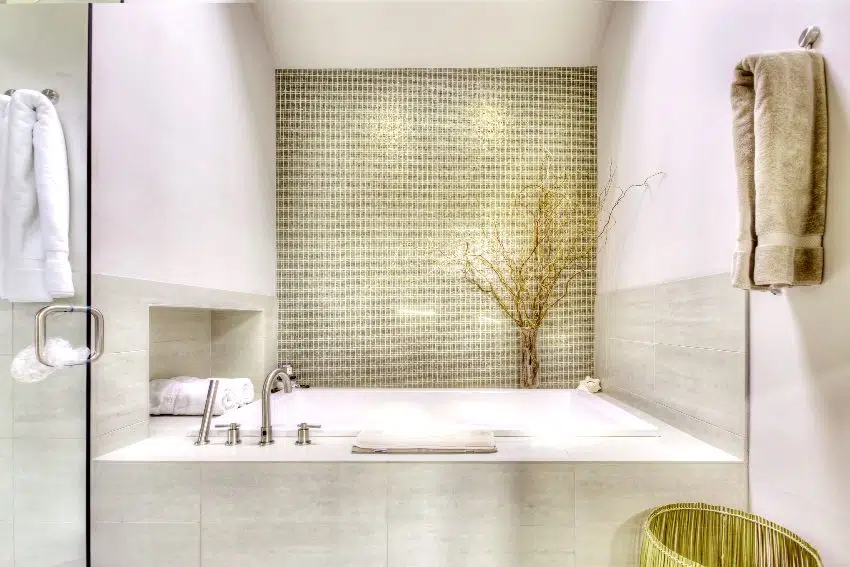 2. Architectural Cues. When you've got a recessed wall or have a small narrow bathroom, you'll tend to go with these architectural cues as it won't go against the architectural features and enhances them instead.
A recessed wall presents itself as the perfect area to place an accent wall due to the extra millimeters for an art piece or stone tiles. A narrow bathroom meanwhile is an opportunity to place your feature wall to visually expand the limited area.
3. Symmetry is King. A safe choice for a bathroom accent wall is to place it where it balances elements. For instance, placing it in the middle instead of an offset section of the bathroom. Avoid placing them on odd slopes or windows.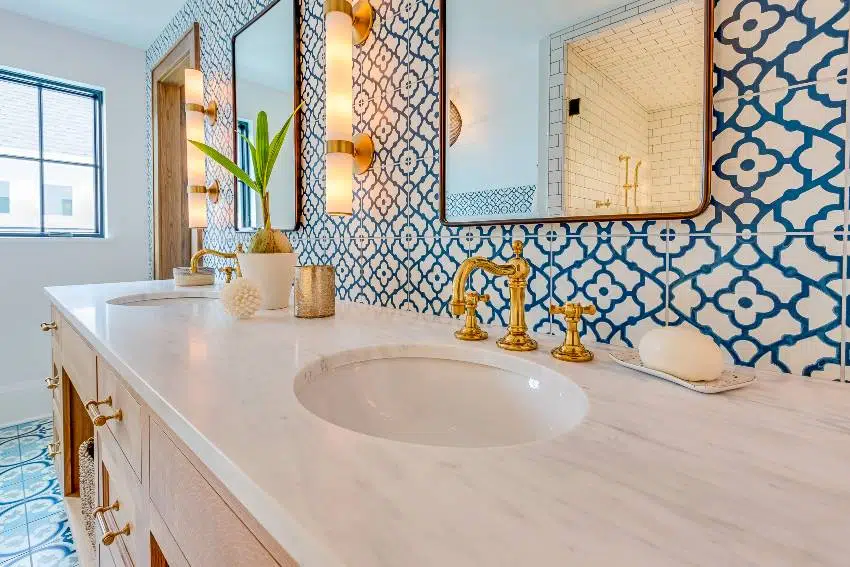 4. At Face Value. Placing an accent wall in front of you as you use the bathroom sink or bath utilizes the natural line of sight in the space this also gives your eyes somewhere to rest.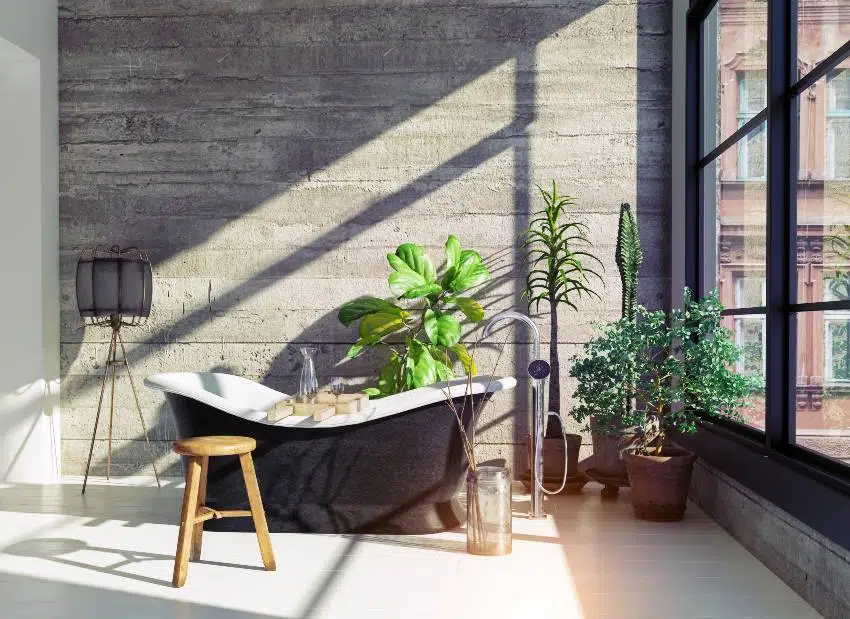 5. Choose a Solid Wall. A featured wall in a small space won't stand out if you've got other competing elements. Choose a solid wall instead without any doors, windows, or built-ins that won't distract the viewer from other forms, colors, or textures.
6. Consider the Fifth Wall. When you're out of ideas on how to enhance your bathroom space, you might want to look up an alternative. The bathroom ceiling is a great option where you can change it to a vibrant color, or add a mural painting.
For more related articles visit our guide to creative accent wall ideas.