Here's our gallery of shiplap bathroom ideas with an assortment of design styles and finishes.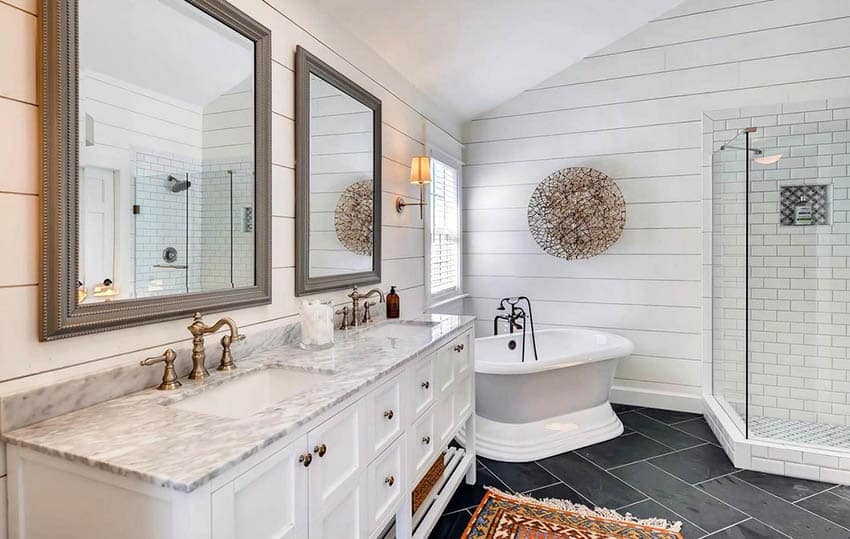 Traditionally used for constructing sheds and barns, shiplap is known for its rabbet that creates a small groove in between boards. It looks similar to tongue and groove boards, but has a tighter, overlapping fit. Because of its rustic charm and subtle texture, its has also gained popularity for decorative and aesthetic uses, and can often be seen in different applications from kitchens, living rooms, dining rooms and even bathrooms.
This country style bathroom in the picture above definitely gets a boost of that country look with the help of shiplap boards on its walls. The white, wide boards help make the space feel bigger, yet still remain very subtle, letting other accent features of the bathroom remain as focal points.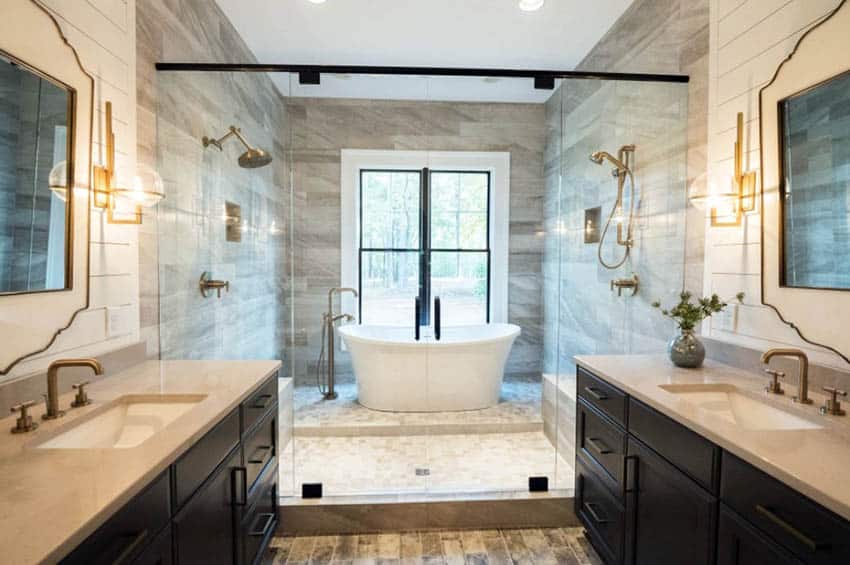 This beautiful craftsman bathroom design features his and hers matching vanities with shiplap walls. Wood look porcelain tile in the shower aand tub area provide a rustic design while providing protection from moisture.
Shiplap Bathroom Accent Wall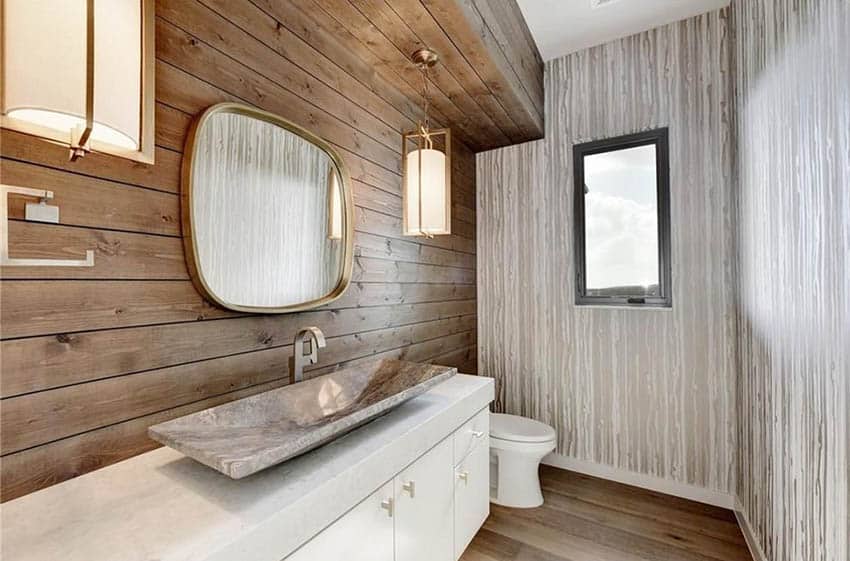 This lovely guest bathroom features a wood shiplap accent wall that is complimented by light color wall paper and a white quartz vanity top with modern cabinet doors and stone sink.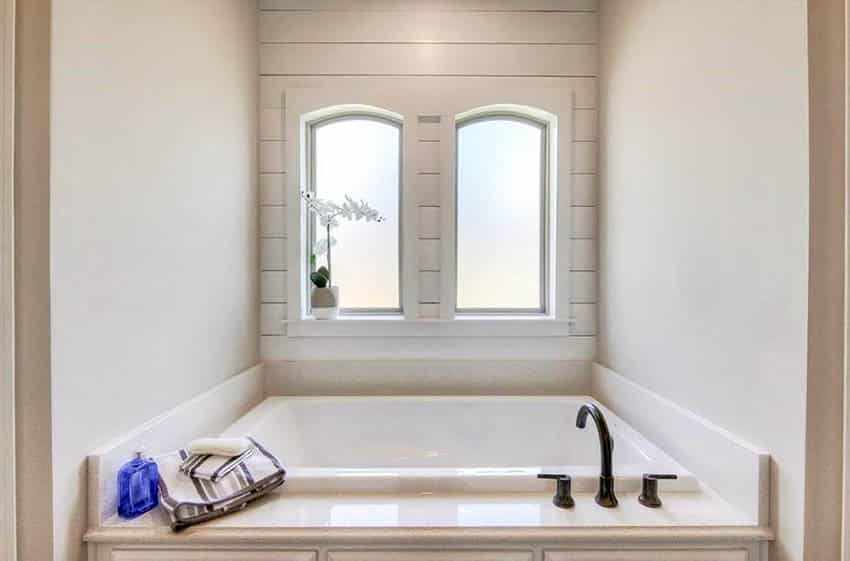 For those with a more limited budget, or a bit of a space constraint, if you just like the overall farmhouse aesthetic shiplap walls give, it would be a nice idea to just use it on an accent wall in your bathroom. Choose a wall that is visible, or a wall that you want to be a focal point – keeping in mind not to choose a surface that is going to be constantly wet.
Some common accent walls in the bathroom would be behind the water closet, or behind the vanity sink. Some also install their shiplap boards on the wall beside the shower area (make sure it's not in the shower enclosure!), as the horizontal grooves make a nice modular guide on where to install towel racks or shelves.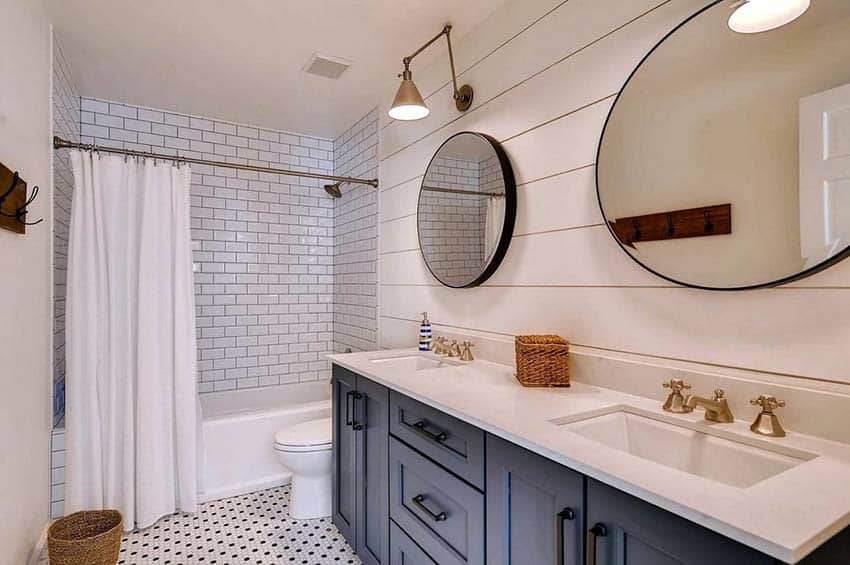 This retro style bathroom definitely looks stylish with its combination of patterns and textures – from the hexagonal mosaic floor tiles, the subway tiles on the shower area and the white shiplap board on the vanity/watercloset wall, the bold combination of different patterns uses varying pattern sizes, creating a mixture that doesn't clash, but complements each other instead.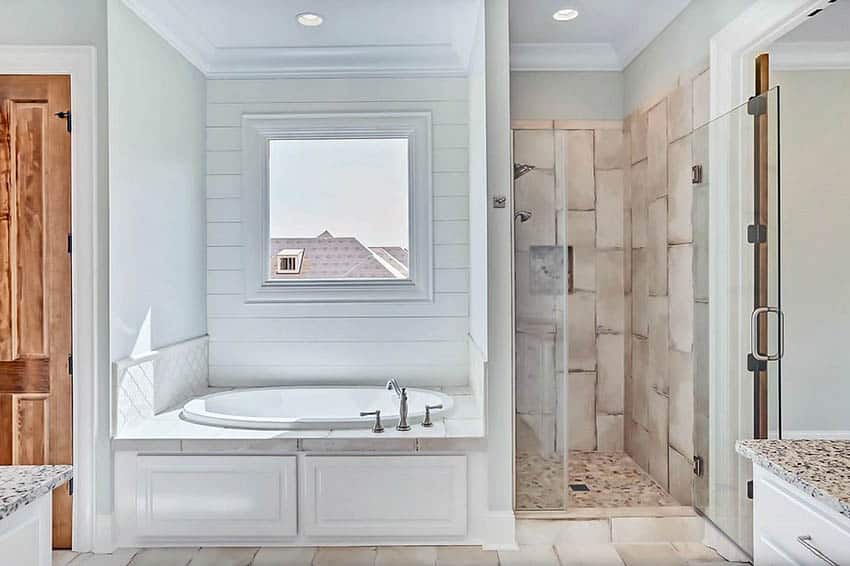 A shiplap accent wall behind the bathtub helps provide a traditional design feel to the space.
This bathroom uses horizontal gray painted shiplap behind its dual vanity to present an attractive accent wall.
White Shiplap Bathroom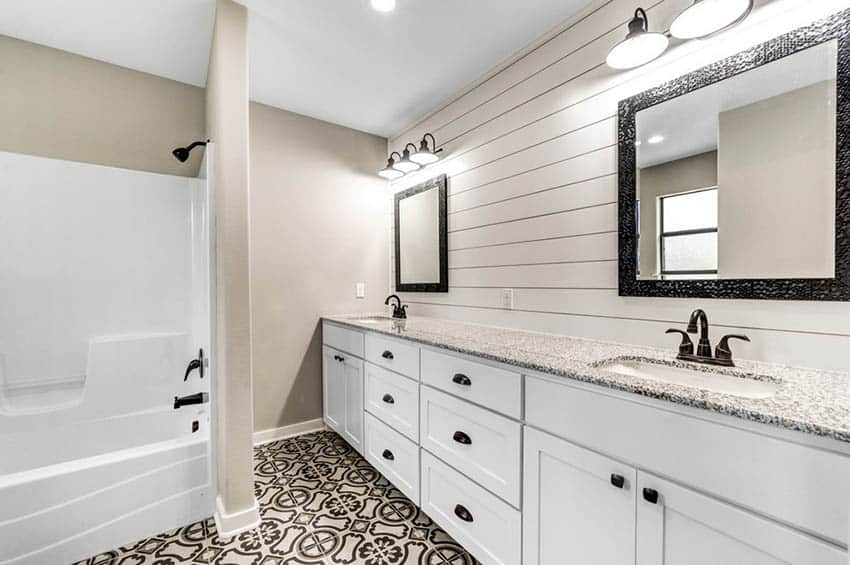 The most popular finish choice for shiplap boards would probably be white – its versatile, easy to match and very much timeless. Painting your shiplap boards white allows you to have that rustic aesthetic & subtle texture while still maintaining a more subtle appeal that allows other features of your interiors to shine.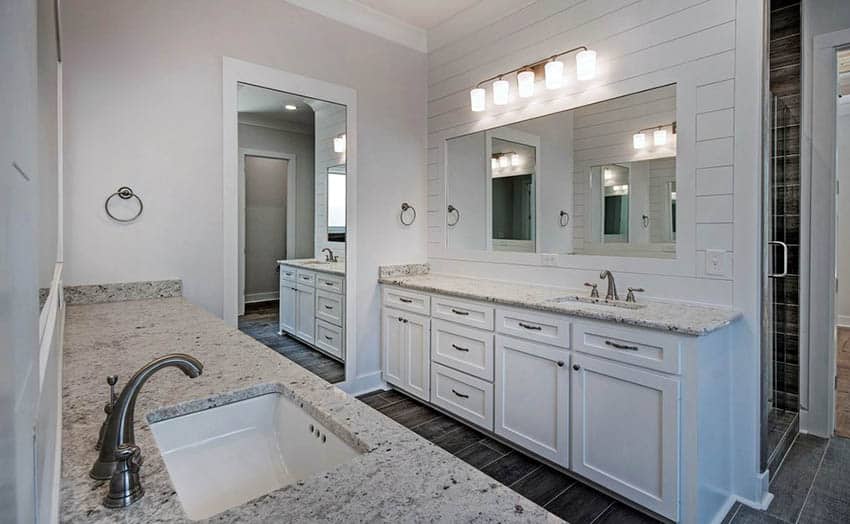 White, wooden shiplap boards were used on this country style bathroom vanity area, which definitely complements the shaker style vanity cabinets, The horizontal shiplap boards run from the backsplash up to the ceiling, and the side edge was lined with a wooden trip to help seal the edges.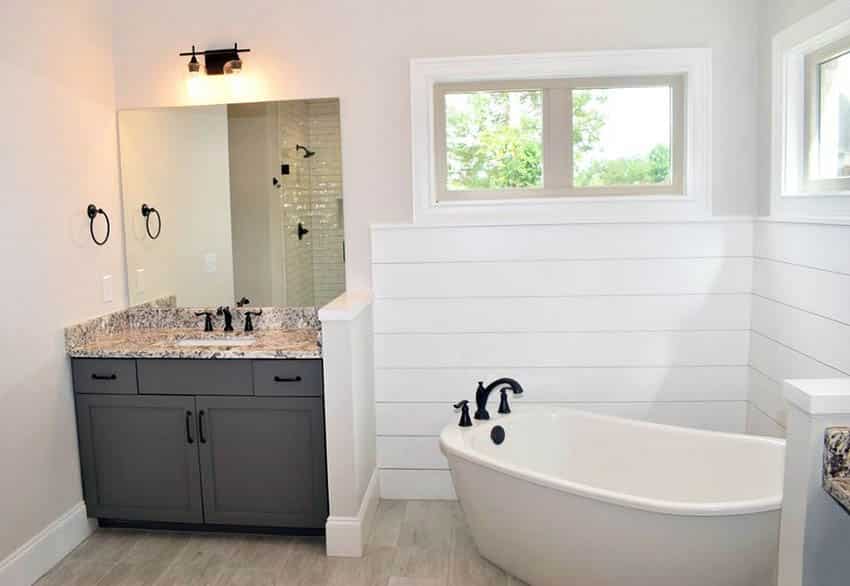 The addition of shiplap boards on the walls of this freestanding bathtub definitely helps make it stand-out more, in a stylfe that matches the aesthetic of the freestanding bathtub.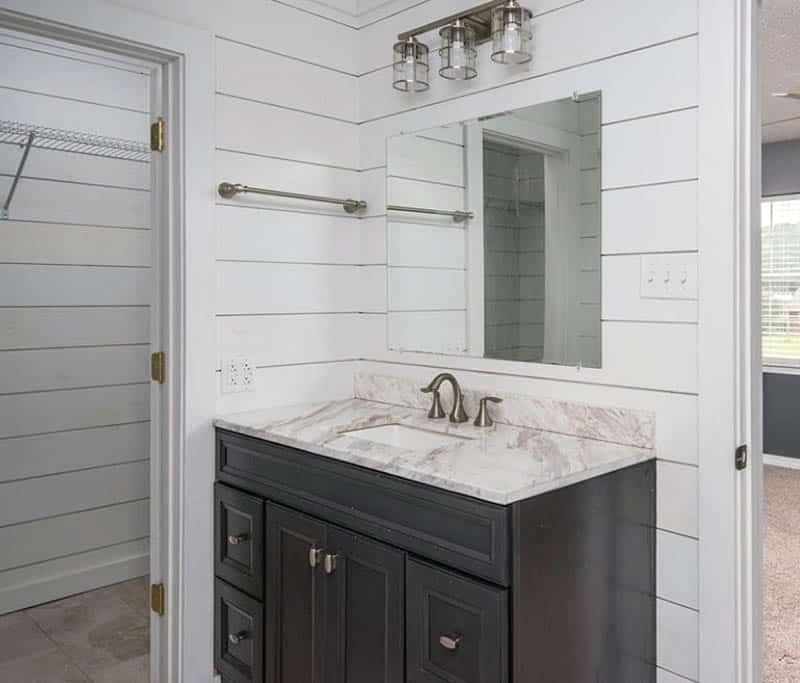 These white shiplap boards add more depth and texture to this small corner vanity and wardrobe. See more white bathroom designs here.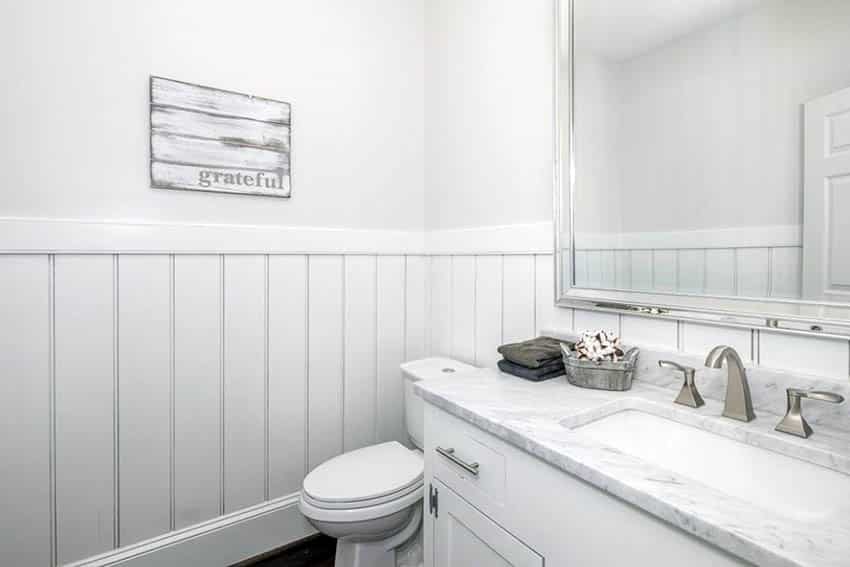 Another way to install shiplap boards is to place them vertically. These wooden boards were installed above the baseboard and topped with a molding to seal off its edges.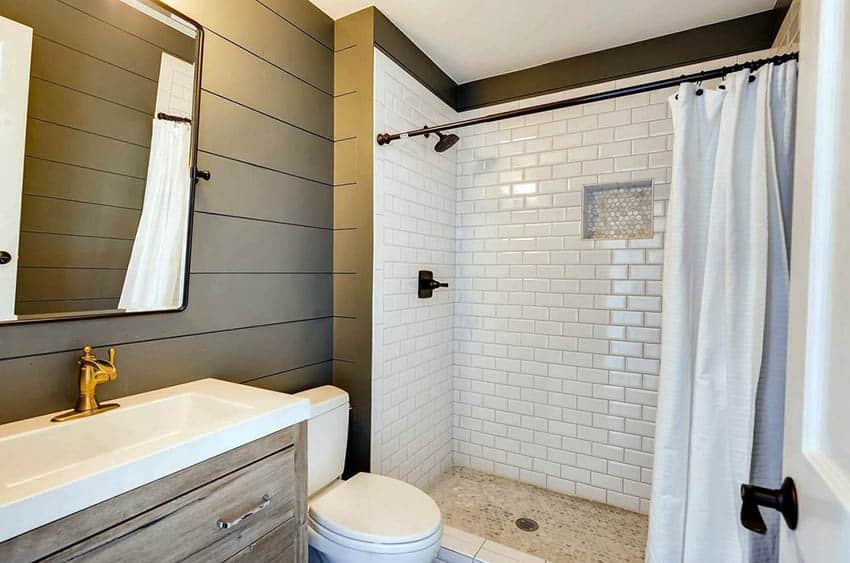 Give your bathroom a bolder look by painting your shiplap wall boards in dark gray instead of white. These especially look good when paired with white ceramic tiles, such as the subway tiles used in this bathroom design.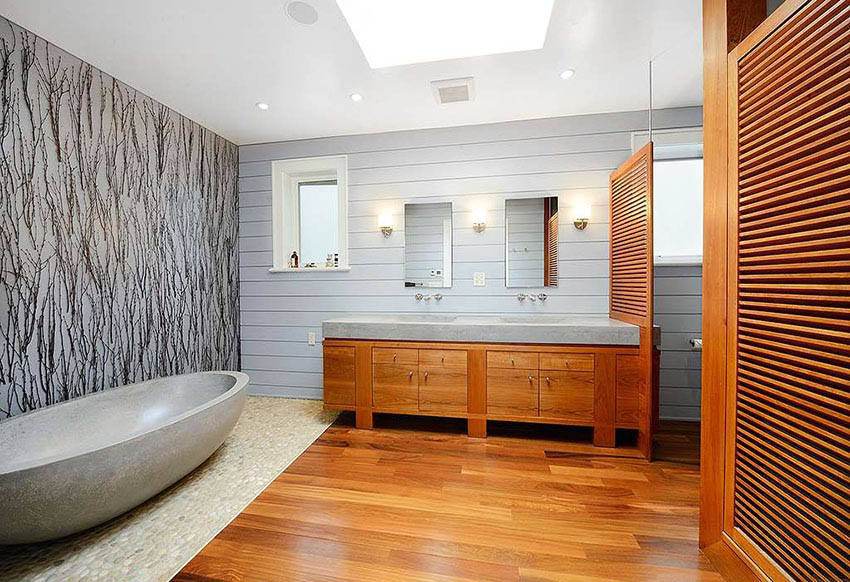 This modern bathroom designs features an abundance of natural materials with teak wood, travertine tub and river rock flooring. The gray shiplap wall offers contrast to the vertical tree limb accent wall design.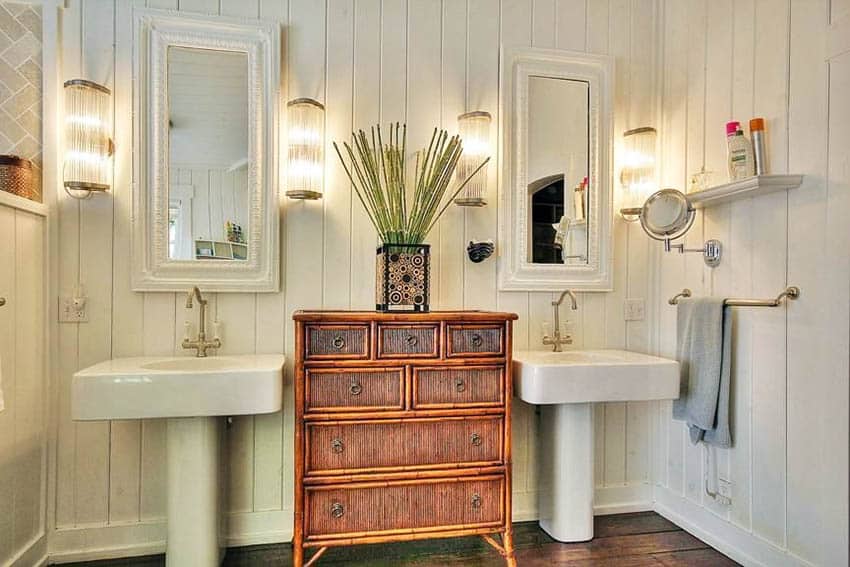 This cozy cottage bathroom provides full shiplap walls with dual mirrors and two matching pedestal sinks.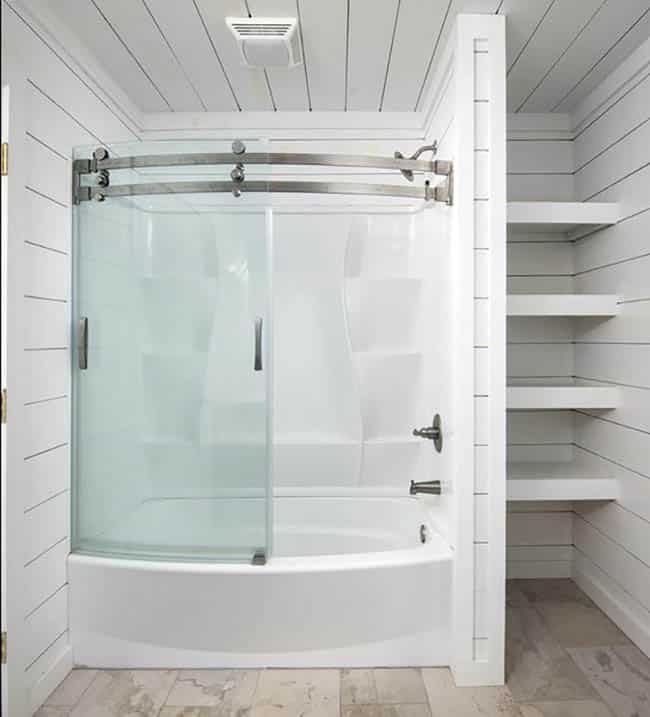 Using white shiplap boards for your walls in your all white bathroom helps add more texture and depth to your bathroom. If you feel that plain white walls or tiles look and feel too sterile, then using shiplap boards will give a more rustic feel to your bathroom shower area.
Shiplap Bathroom DIY
For those who like the look, there are many different DIY guides available online that might just match your project needs and application area. Popular materials used as shiplap boards wood be solid wood, plywood and MDF (for applications in areas without much moisture). The material used is determined depending on the area of application.
If you expect constant water/moisture exposure (such as shower walls) and you're not very confident with the efficiency of your ventilation, then it would be a good idea to skip on the wood and plywood (which both have the tendency to warp when exposed to too much moisture), and use more resistant alternatives such as PVC.
If you're using the shiplap boards in areas outside the shower, it will still be prudent to check on your waterproofing and use weather resistant boards (like marine plywood) to avoid moisture warping. A good tip for bathroom shiplap DIY is to prime and paint your boards before installation as it will be difficult to cover ever edge, nook and cranny of your boards once they're installed. Make sure all holes are sealed properly, and allow your paint to cure for at least 24 hours to ensure no moisture would seep through your paint.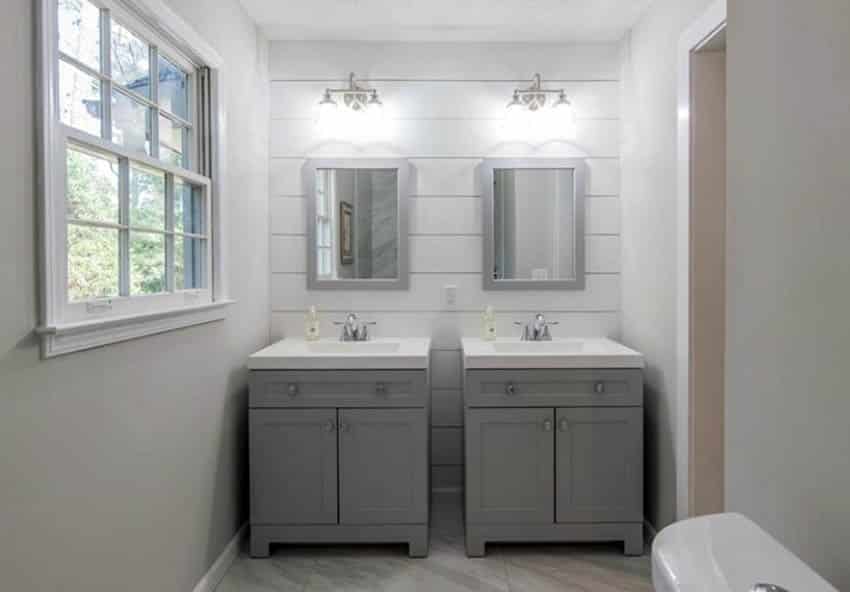 This bathroom also uses shiplap boards on its accent wall behind the vanity area. The horizontal boards help make the area look wider, and also is a good marker to align the mirrors and other wall installations.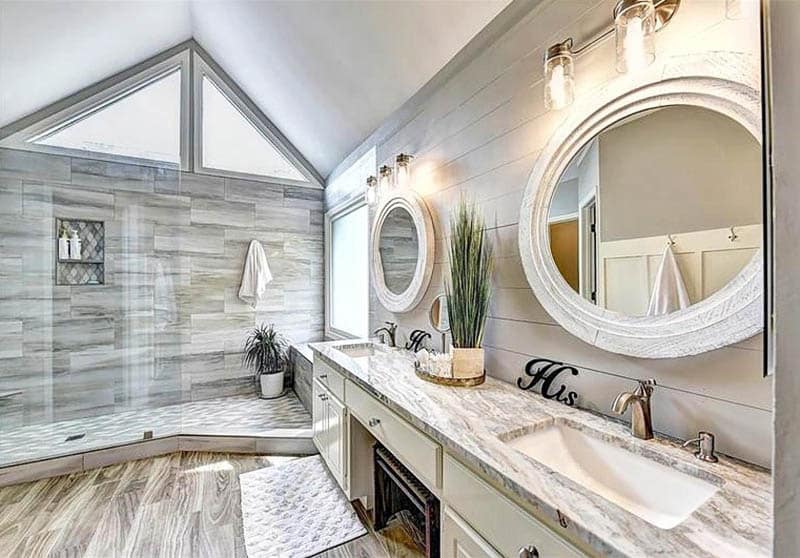 This master bathroom has a greige painted shiplap wall above the his and hers dual vanity with granite top.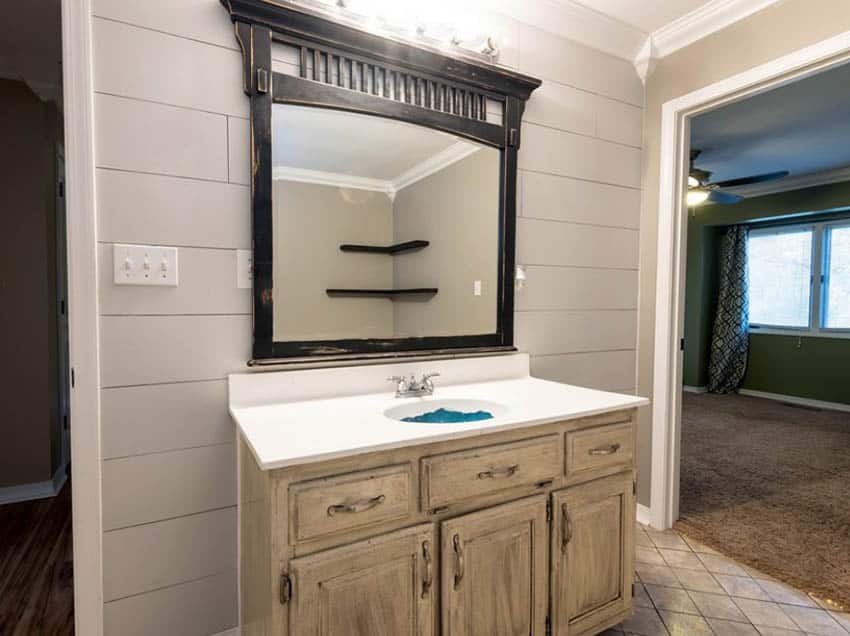 Instead of completely parallel boards, this bathroom accent wall alternates the overlap of its shiplap boards and paints it gray to match the wall paint.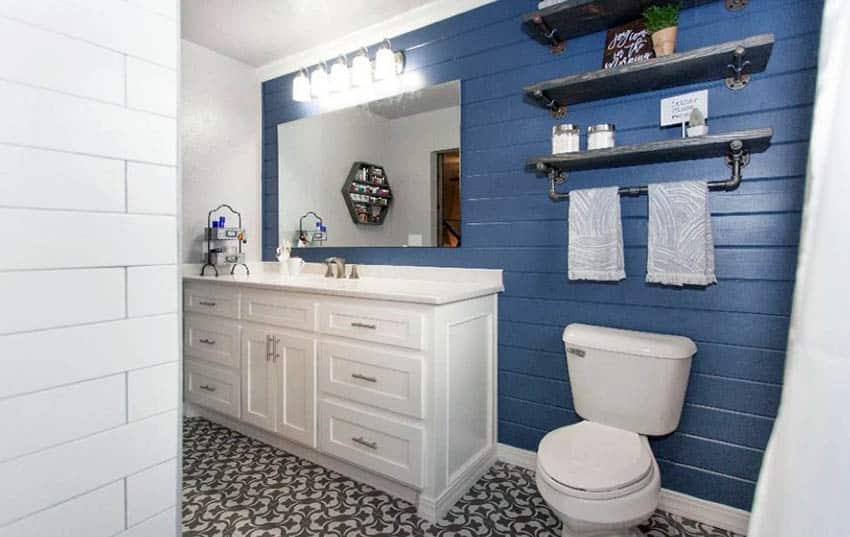 If you're going for a nautical look, why not paint your shiplap boards blue? Paired with white tiles and cabinetry, you'd easily pull off that coastal vibe!
Will shiplap in bathroom be affected by moisture?
The simple answer would be yes. This, however, is highly dependent on many factors such as:
Material – if you're using PVC, moisture isn't really a problem.
Ventilation – this also affects how you boards will be able to hold up against moisture exposure. A well-ventilated bathroom won't have much problems with warping or molds on their shiplap walls.
Seal & Finish – if you ensure your material has been properly filled, sanded, finished and sealed, there shouldn't be much problems with moisture. Choose a durable paint finish, such as a marine-grade acrylic enamel, to make sure it will hold up against moisture!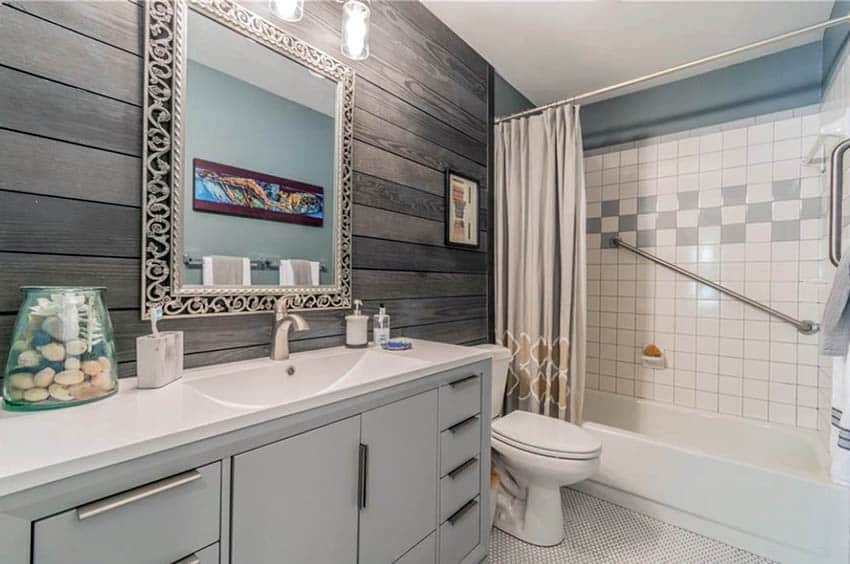 This modern bathroom uses PVC decking boards on its walls instead of using wood or plywood. PVC decks are able to mimic the color and texture of real wood (they have a variety of wood colors to choose from), but is resistant to moisture and does not warp like wood or plywood.
How to protect shiplap in a bathroom
Ensuring a proper finish and sealing of your shiplap will definitely help prolong and protect it. If you don't fill and seal your materials properly, then any effort to keep it dry won't protect it from possible mold build-up or warping, so make sure you get it right from installation.
The minimum protection should be to use a primer and a semigloss paint to cover the wood. However, for added protection against moisture its advisable to use a marine grade polyurethane.
If you're just in for the look of shiplap walls, another great and easy-to-maintain option would be to use ceramic tiles that mimic the look of wood. This allows you to get the look with more peace-of-mind!
For more related designs check out our gallery of shiplap dining room ideas here.