Here's our gallery of shiplap bathroom ideas with an assortment of design styles and finishes.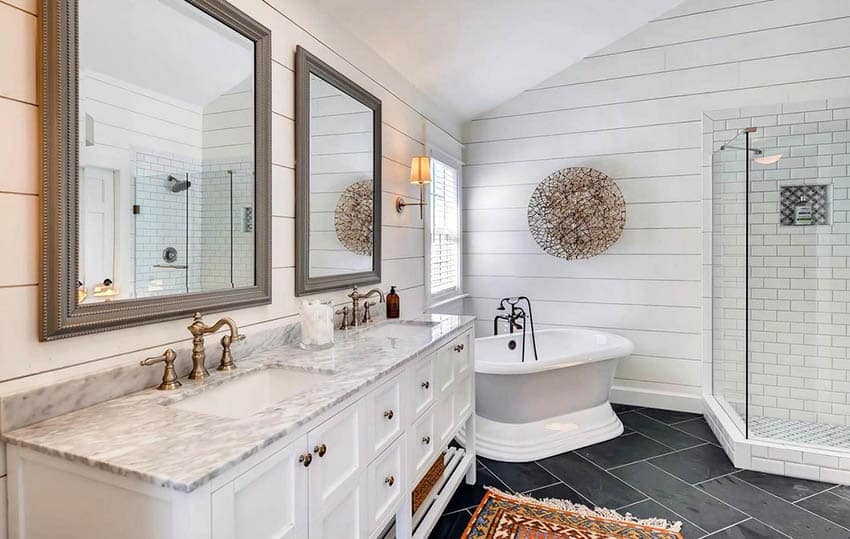 Traditionally used for constructing sheds and barns, shiplap is known for its rabbet that creates a small groove in between boards. It looks similar to tongue and groove boards, but has a tighter, overlapping fit.
Because of its rustic charm and subtle texture, its has also gained popularity for decorative and aesthetic uses, and can often be seen in different applications from kitchens, living rooms, dining rooms and even bathrooms.
This country style bathroom in the picture above definitely gets a boost of that country look with the help of shiplap boards on its walls. The white, wide boards help make the space feel bigger, yet still remain very subtle, letting other accent features of the bathroom remain as focal points.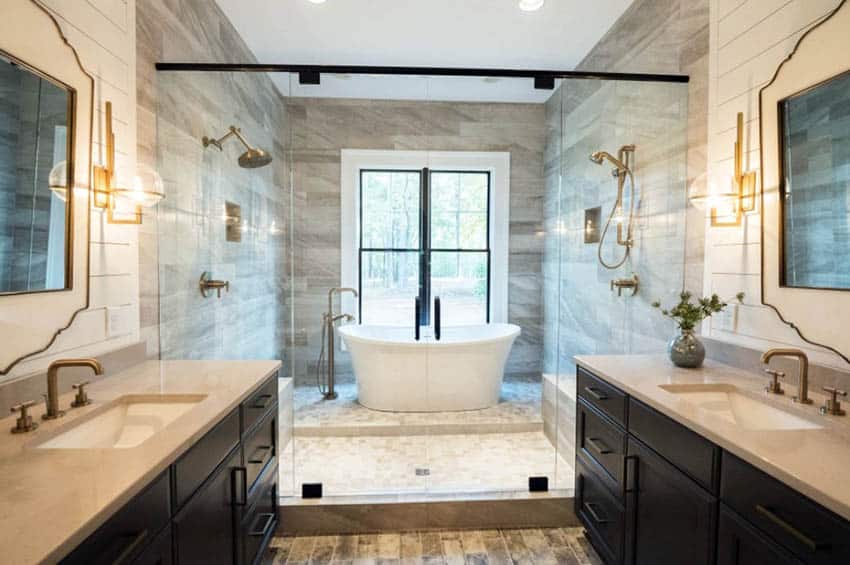 This beautiful craftsman bathroom design features his and hers matching vanities with shiplap walls. Wood look porcelain tile in the shower aand tub area provide a rustic design while providing protection from moisture.
Shiplap Bathroom Designs
Incorporating shiplap into bathroom designs has become increasingly popular for providing texture and visual interest to the space.
Here are some shiplap bathroom designs to consider:
| | |
| --- | --- |
| Traditional Shiplap Walls | Popular design feature with horizontal wooden planks with gaps between each board. |
| Shiplap Accent Wall | Installing shiplap on a single wall for a design feature (Examples – behind the tub or vanity) |
| Painted Shiplap | Use color to enhance your bathroom's design style. Can go bold or subtle depending on your desire |
| White Shiplap | A classic finish that offers a bright modern farmhouse style |
| Stained Shiplap | Provides a natural wood finish that offers a warm rustic feel |
| Shiplap Ceiling | Adds an interesting visual element to the ceiling |
| Contrasting Shiplap | Use two types of materials to create visual interest (Example pairing tile on half & shiplap on half) |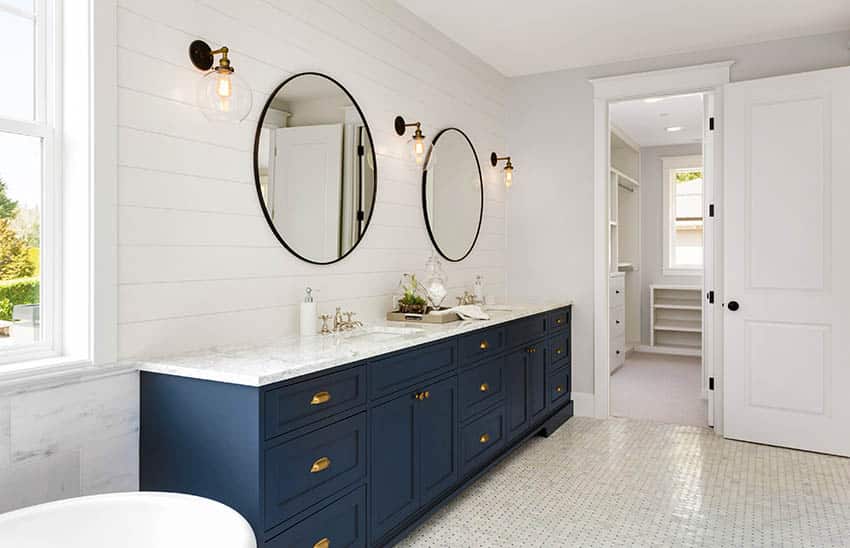 This modern farmhouse master bathroom design features white shiplap walls that provide a bright backdrop for the nautical blue double vanity with gold hardware.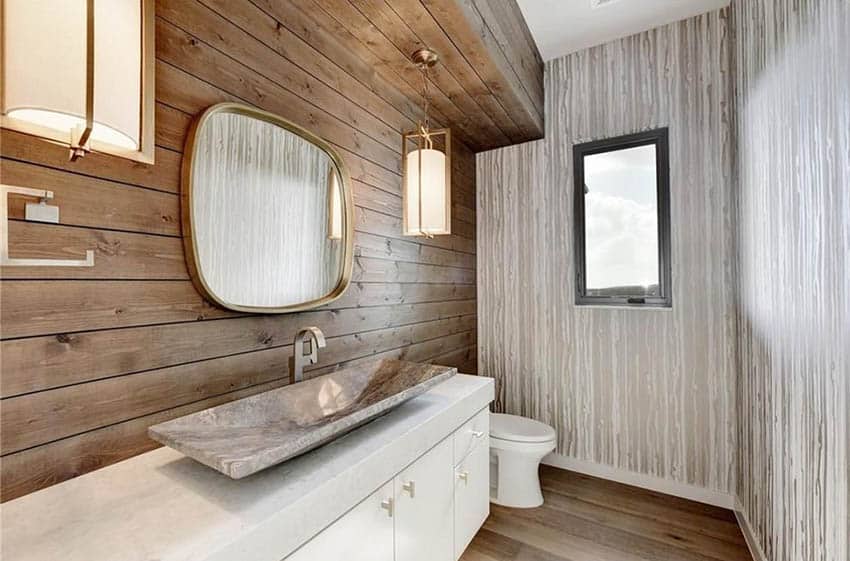 This lovely guest bathroom features a stained wood shiplap accent wall that is complimented by light color wall paper and a white quartz vanity top with modern cabinet doors and stone sink.
Shiplap Bathroom Accent Wall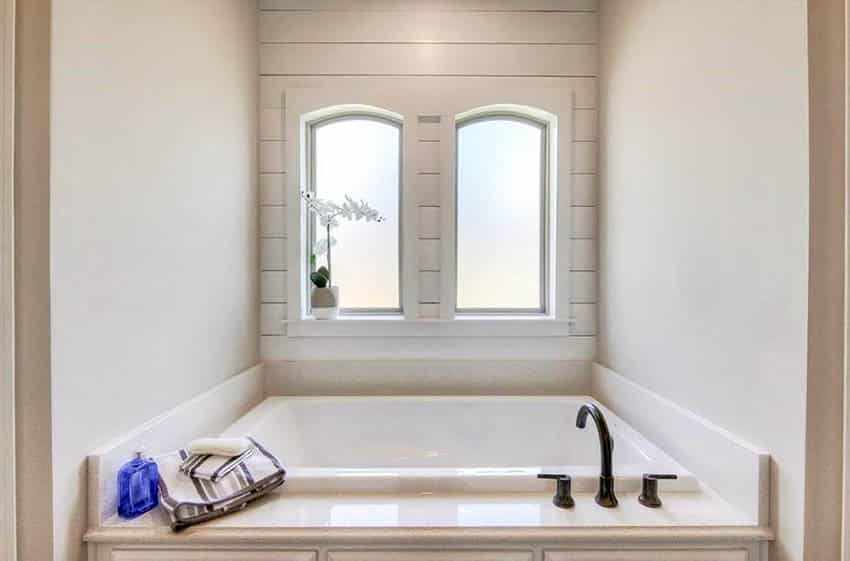 For those with a more limited budget, or a bit of a space constraint, if you just like the overall farmhouse aesthetic shiplap walls give, it would be a nice idea to just use it on an accent wall in your bathroom.
Choose a wall that is visible, or a wall that you want to be a focal point – keeping in mind not to choose a surface that is going to be constantly wet.
Some common accent walls in the bathroom would be behind the water closet, or behind the vanity sink. Some also install their shiplap boards on the wall beside the shower area (make sure it's not in the shower enclosure!), as the horizontal grooves make a nice modular guide on where to install towel racks or shelves.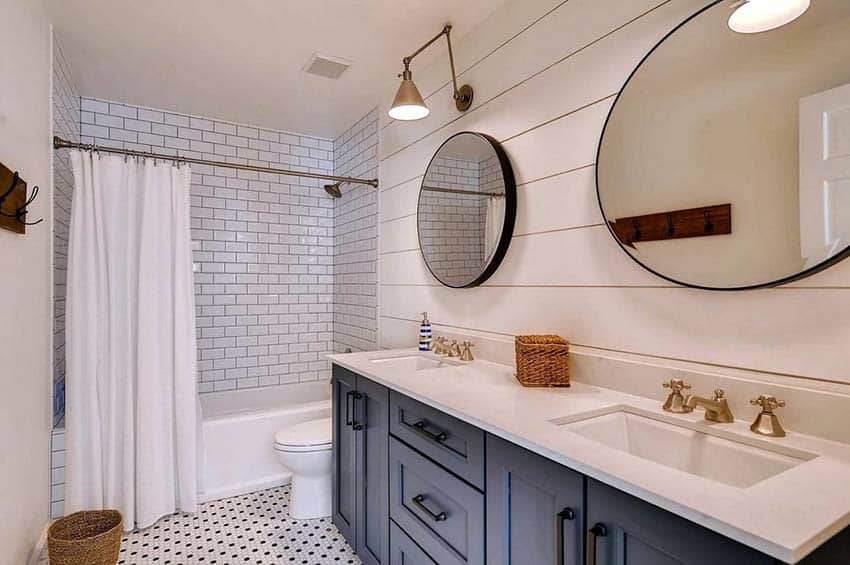 This retro style bathroom definitely looks stylish with its combination of patterns and textures – from the hexagonal mosaic floor tiles, the subway tiles on the shower area and the white shiplap board on the vanity/watercloset wall.
The bold combination of different patterns uses varying pattern sizes, creating a mixture that doesn't clash, but complements each other instead.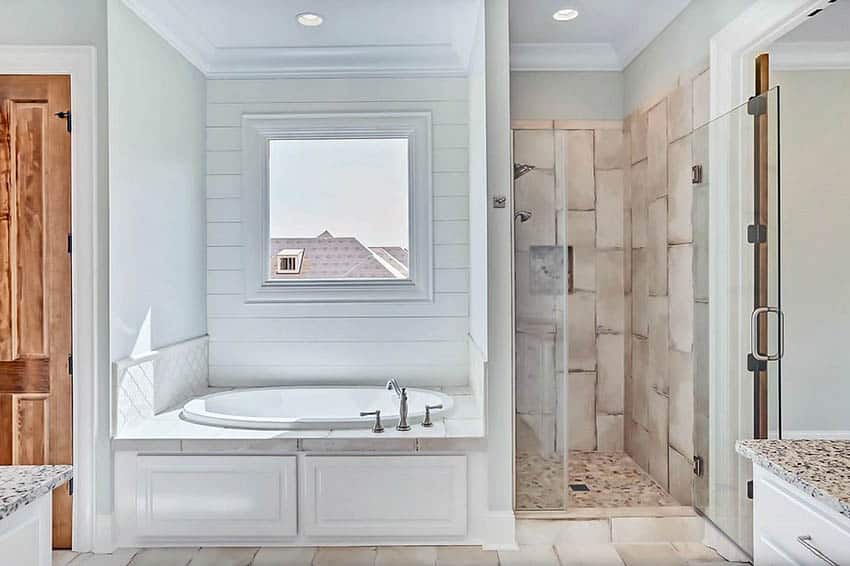 A shiplap accent wall behind the bathtub helps provide a traditional design feel to the space.
This bathroom uses horizontal gray painted shiplap behind its dual vanity to present an attractive accent wall.
Creative Shiplap Colors For Accent Walls
Bold and Saturated Tones – Red or orange hues for a feature wall. An expressive color against the neutrals gives the room a new dimension.
Paint a section in an expansive shiplap wall to create a backdrop for a statement piece, furniture, or a gallery of pictures.
Powerful Colors with Jewel Tones – Viva magenta, the color of the year for a renewed space. A surprising palette, such as a passionate magenta on a traditional shiplap wall, can energize a space.
Add jewel-toned accents or pair them with gold or silver-colored hardware for a more opulent look. A great option for shiplap walls in powder rooms or bathrooms.
Deep and Earthy Violets – The perfect alternative for black and charcoal hues. Aside from the trendy psychedelic violets, earthy violets such as the forgotten paint color violet iron oxide can give that deep yet cozy look to a bedroom space.
Violet iron oxide is one of the oldest pigments derived from the violet hermatite grounded from an iron-rich mineral.
Painted Shiplap
Painted shiplap is made up of wooden boards that are typically painted in a solid color. Painted shiplap is often used in coastal or farmhouse-style homes, but can work well in any design style depending on the color and finish.
If you're choosing colors for painted shiplap in your bathroom, there are various options to suit your preferred aesthetic and mood. Here are some popular choices:
White: This classic and timeless color creates a clean and bright space, making the bathroom feel more spacious. Additionally, white allows other elements in the bathroom, such as fixtures and accessories, to stand out.
Light gray: This neutral color complements other colors and materials well. It can create a sophisticated and modern look in a bathroom while complementing both cool and warm-toned fixtures and accessories.
Dark gray: A dark gray color can give a modern flair to a bathroom design provided its not dark and offset by lighter color choices in other parts of the bathroom. When paired with white tiles, plenty of natural light and adequate light fixtures you can help the dark elements from being too overwhelming.
Soft blue: A calming color that evokes tranquility and serenity. Soft blue can be an excellent choice for bathrooms where relaxation is key.
Pale green: A fresh and natural color that brings a touch of the outdoors into the bathroom. Pale green can create a spa-like atmosphere and pairs perfectly with natural materials like wood and stone.
Nautical blue: If you want a coastal inspired look a deep blue can look timeless and create a relaxing oasis feel. Nautical blue shades pair well with white finishes and tiles.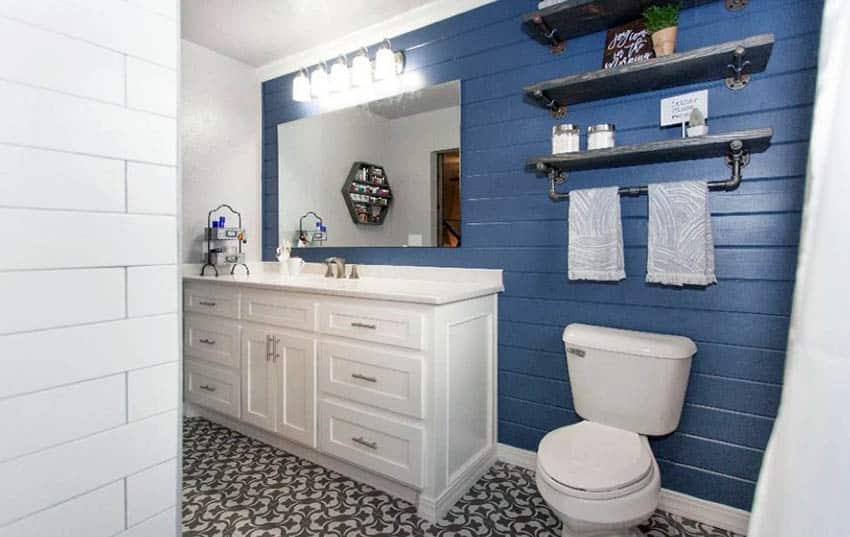 If you're going for a nautical look, why not paint your shiplap boards blue? Paired with white tiles and cabinetry, you'd easily pull off that coastal vibe!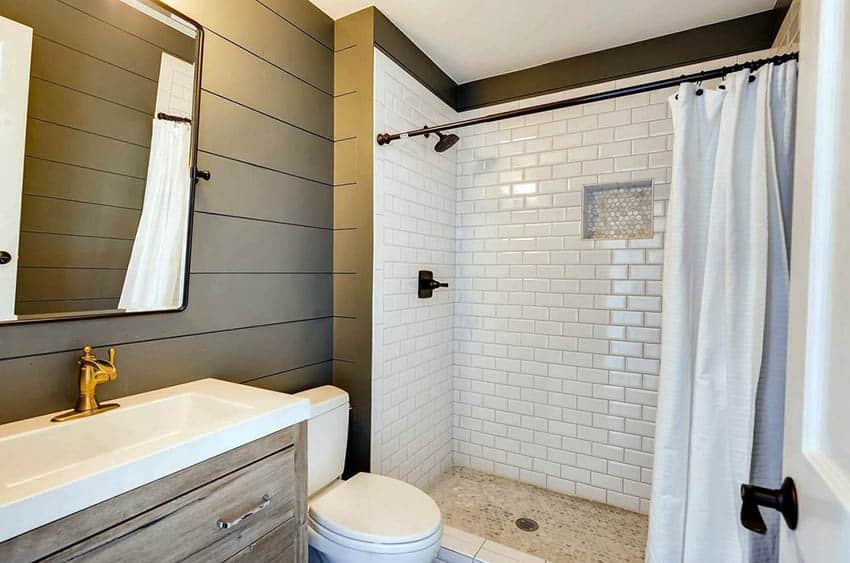 Give your bathroom a bolder look by painting your shiplap wall boards in dark gray instead of white. These especially look good when paired with white ceramic tiles, such as the subway tiles used in this bathroom design.
Here's some of the more creative styles of painted shiplap for the bathroom interior.
Weathered Coastal Hues – Use natural wood tones to create a backdrop for an beach themed wall. Create alternating hues of the coastal setting with a weathered finish or dry brushed.
Color sequence: light gray, dark gray, whitewashed green, golden brown, blue-green, warm gray, brown.
Earthy Blushes – Dusty pink and terracotta tones for a full shiplap wall. An elevated, muted tone gives your usual neutrals a tinge of softness and warmth.
The earthy tones, such as dusty pink or terracotta tones, can give emphasis to your shiplap install without overwhelming the space. It's a versatile hue that works both for modern and traditional-styled interiors.
White Shiplap Bathroom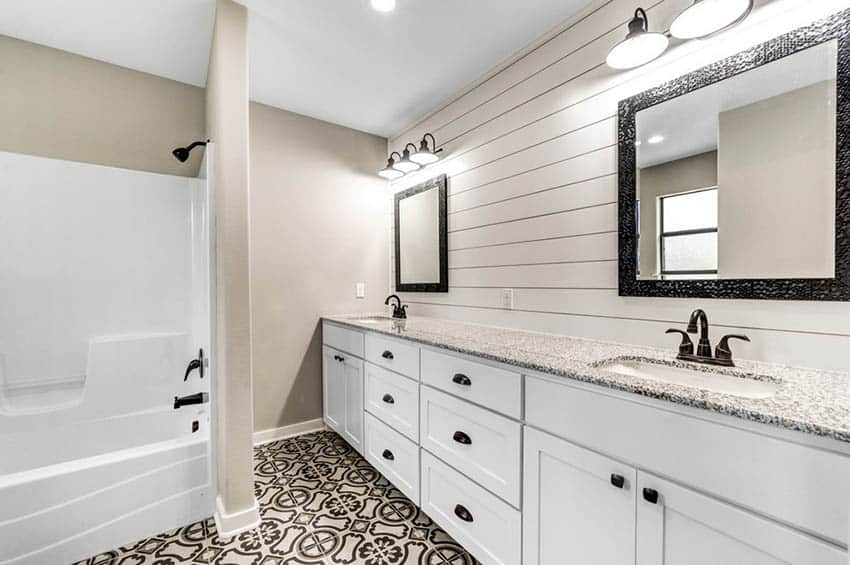 The most popular finish choice for shiplap boards would probably be white – its versatile, easy to match and very much timeless. Painting your shiplap boards white allows you to have that rustic aesthetic & subtle texture while still maintaining a more subtle appeal that allows other features of your interiors to shine.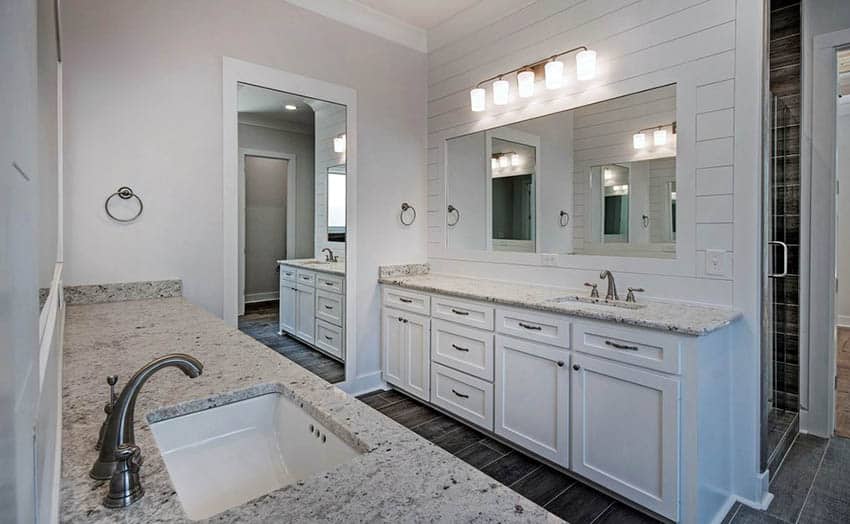 White, wooden shiplap boards were used on this country style bathroom vanity area, which definitely complements the shaker style vanity cabinets, The horizontal shiplap boards run from the backsplash up to the ceiling, and the side edge was lined with a wooden trip to help seal the edges.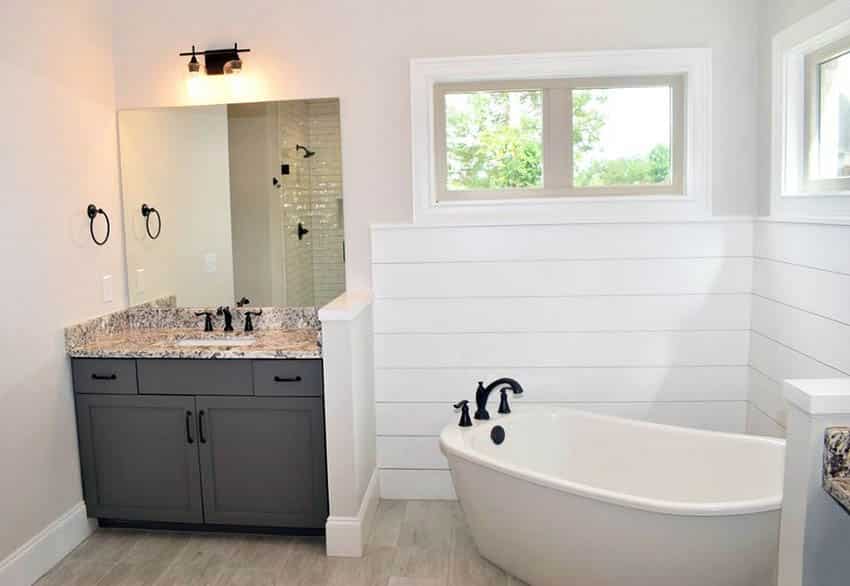 The addition of shiplap boards on the walls of this freestanding bathtub definitely helps make it stand-out more, in a stylfe that matches the aesthetic of the freestanding bathtub.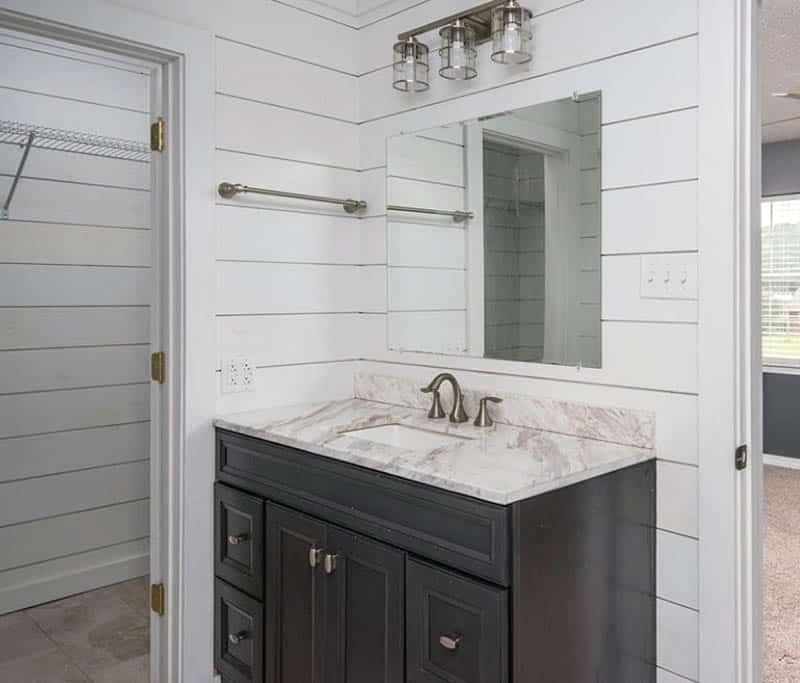 These white shiplap boards add more depth and texture to this small corner vanity and wardrobe. See more white bathroom designs here.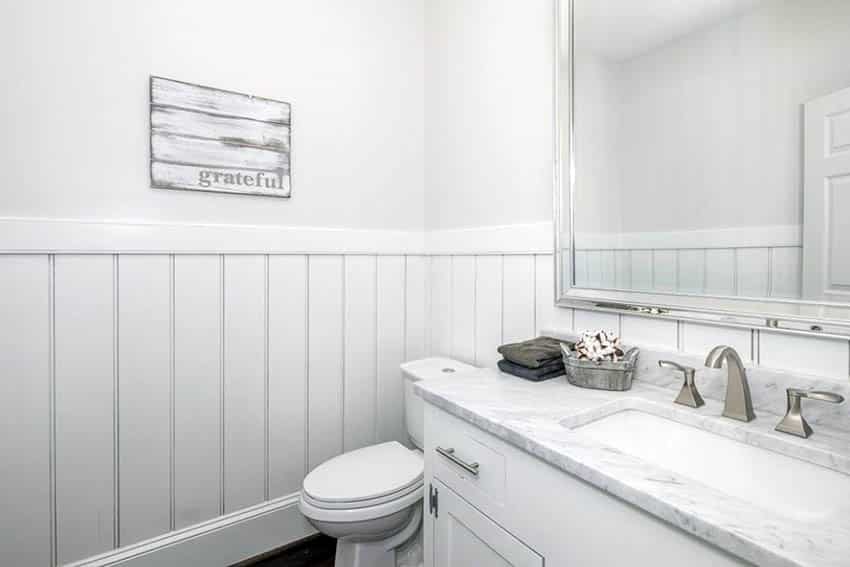 Another way to install shiplap boards is to place them vertically. These wooden boards were installed above the baseboard and topped with a molding to seal off its edges.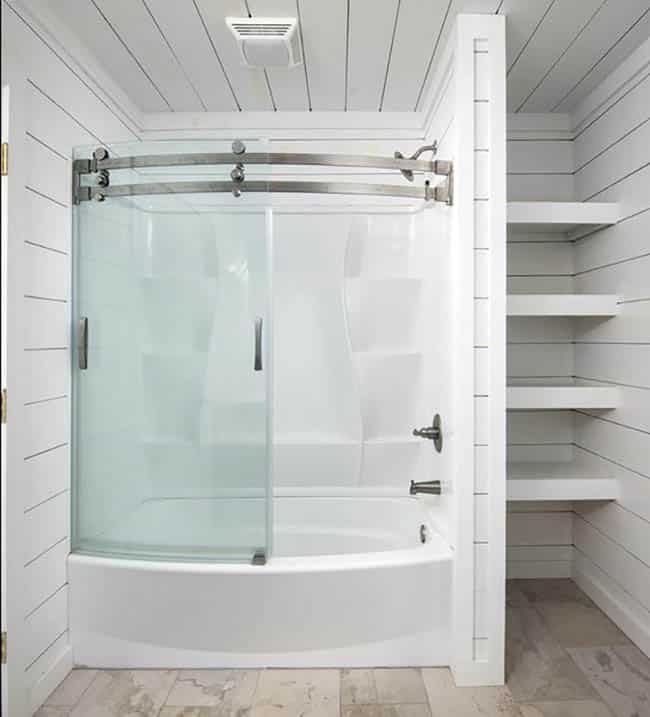 Using white shiplap boards for your walls in your all white bathroom helps add more texture and depth to your bathroom. If you feel that plain white walls or tiles look and feel too sterile, then using shiplap boards will give a more rustic feel to your bathroom shower area.
Stained Shiplap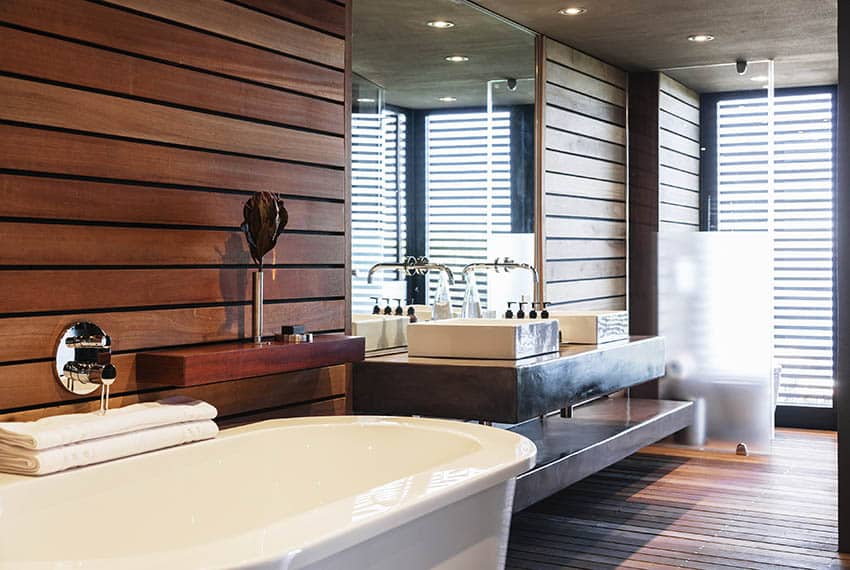 A stained shiplap enhances the natural wood finish and color and can add protection to the wood while still promoting its beauty. There's a variety of different ways to stain shiplap boards for a stylish looking bathroom design.
Whitewash – Whitewash stain creates a soft, subtle look that offers an airy look. The stain is achieved by diluting white paint or white stain, which creates a milky and semi-transparent look to the shiplap wall. Whitewashed finishes are suitable for beachy, coastal, or Scandinavian interiors.
Graywash – An alternative to your whitewashed stain, the cool grayish hue accommodates modern interiors while still showcasing wood grain which usually has white graining, enhancing the texturized look.
Ebony and Jacobean Stains – The dark shiplap stains are the go-to colors to add a strong contrast against a white backdrop. This gives emphasis to the graining of a shiplap installation.
Weathered – A weathered or distressed stain can give shiplap a rustic and vintage feel. This look is achieved by applying a combination of stains and sanding the wood to create a textured, worn effect. The worn-out look is perfect for farmhouse or industrial-inspired interiors.
Walnut Stains – When staining oak, maple, cherry, pine, or fir, a walnut stain can enhance the wood's natural grain while having a uniform coloring. Walnut stain colors range from light golden brown to a deep, almost black-brown color.
Golden Oak Stain. The golden oak stain has just the right amount of yellow and brown combination, creating a warm and inviting quality. The golden oak allows the natural graining to show off, while the stain blends well with neutral and deep blacks.
Natural or Clear Stain. When aiming to showcase a shiplap wall's natural color and graining, a clear and natural stain is a great option, as it enhances the surface while giving it a polished look. Clear finishes usually have that glossy quality, but matte finishes are also available.
Contrasting Shiplap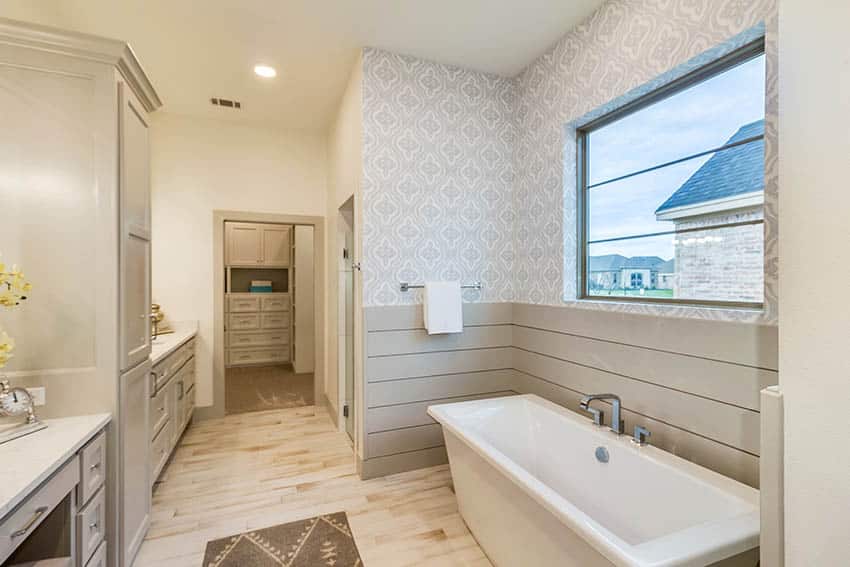 A contrasting shiplap combines a half wall of shiplap with a half wall of another material to provide an interesting contrast and provide depth of detail.
Wallpaper and Horizontal Shiplap Install – Spruce up a powder room with a wallpaper pattern and a horizontal shiplap. With the wide range of patterns available, that perfect design accommodates one's taste.
Combine the heavy patterns with a white-painted horizontal shiplap. Choose the upper third or half of the wall for the wallpaper and the rest with the horizontal shiplap. Waterproof wallpaper is available for bathrooms and kitchens.
Subway Tiles and a Vertical Shiplap Install – The classic white subway tiles combined with a white vertical shiplap showcase the textures.
Hexagon Tiles and a Vertical Shiplap Install – Install the lower half of the wall with a vertical shiplap and the upper half with hexagon tiles or glass-shaped hexagon mosaics.
White Straight Stacked Tiles and Vertical Shiplap. Surround the third upper wall with a vertical shiplap stained in red cedar or in any rich, warm wood stain. The lower half of the wall is installed with fresh white tiles straight stacked. Use 100 mm x 300 mm white tiles.
Shiplap Bathroom DIY
For those who like the look, there are many different DIY guides available online that might just match your project needs and application area.
Popular materials used as shiplap boards wood be solid wood, plywood and MDF (for applications in areas without much moisture). The material used is determined depending on the area of application.
If you expect constant water/moisture exposure (such as shower walls) and you're not very confident with the efficiency of your ventilation, then it would be a good idea to skip on the wood and plywood (which both have the tendency to warp when exposed to too much moisture), and use more resistant alternatives such as PVC.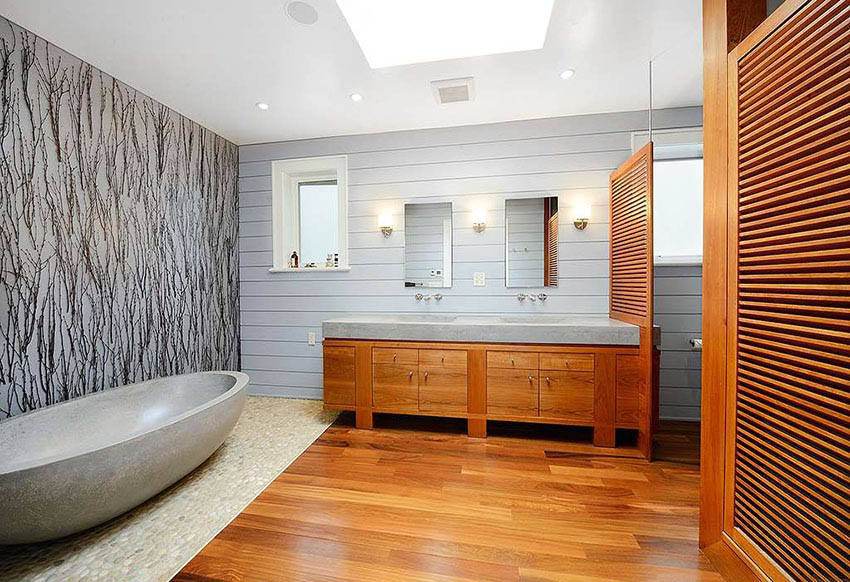 This modern bathroom designs features an abundance of natural materials with teak wood, travertine tub and river rock flooring. The gray shiplap wall offers contrast to the vertical tree limb accent wall design.
If you're using the shiplap boards in areas outside the shower, it will still be prudent to check on your waterproofing and use weather resistant boards (like marine plywood) to avoid moisture warping.
A good tip for bathroom shiplap DIY is to prime and paint your boards before installation as it will be difficult to cover ever edge, nook and cranny of your boards once they're installed.
Make sure all holes are sealed properly, and allow your paint to cure for at least 24 hours to ensure no moisture would seep through your paint.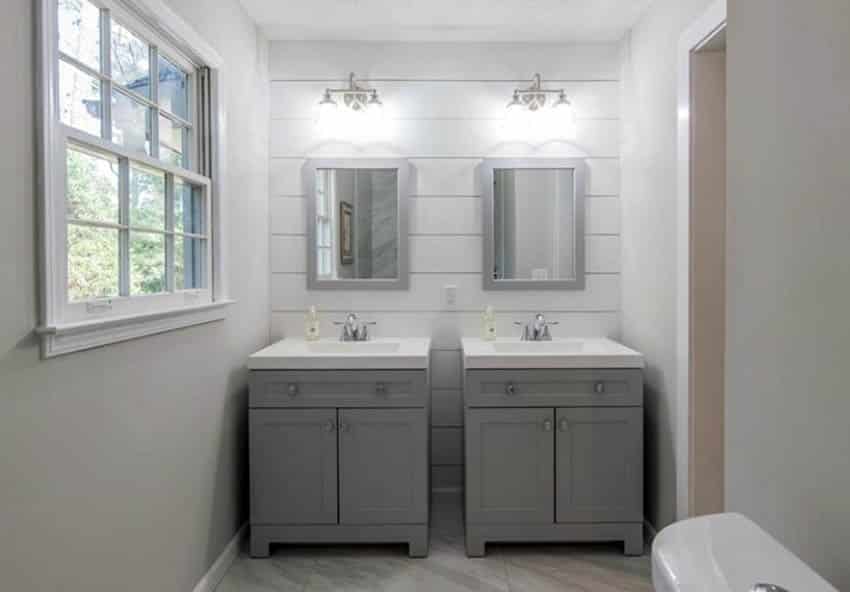 This bathroom also uses shiplap boards on its accent wall behind the vanity area. The horizontal boards help make the area look wider, and also is a good marker to align the mirrors and other wall installations.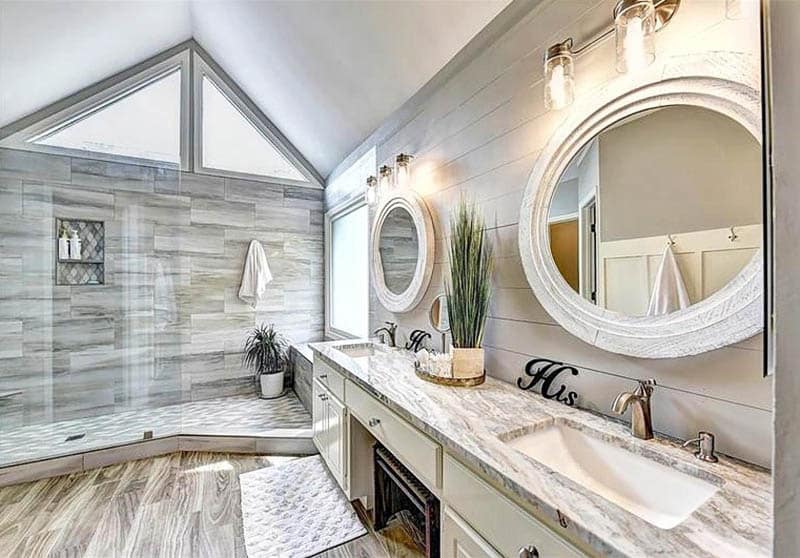 This master bathroom has a greige painted shiplap wall above the his and hers dual vanity with granite top.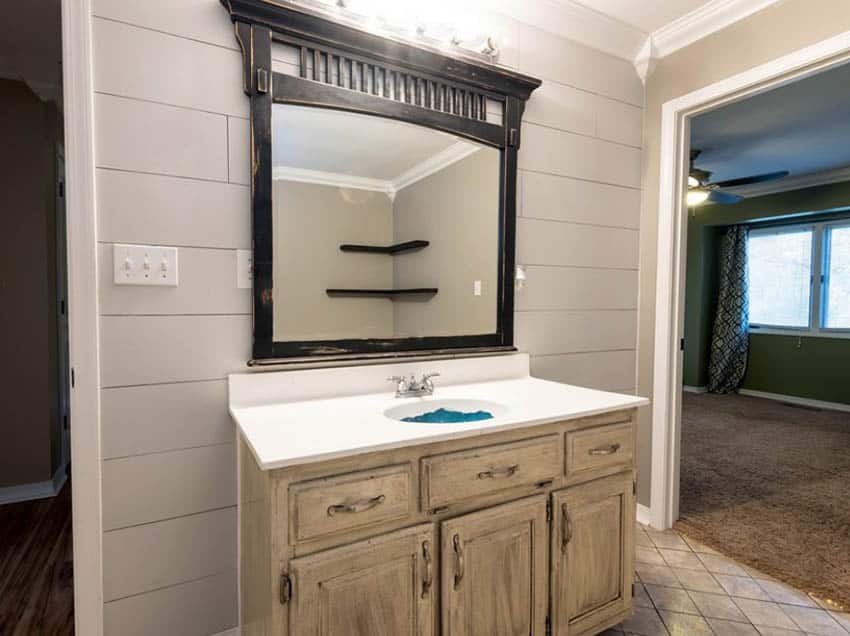 Instead of completely parallel boards, this bathroom accent wall alternates the overlap of its shiplap boards and paints it gray to match the wall paint.
Shiplap Ceiling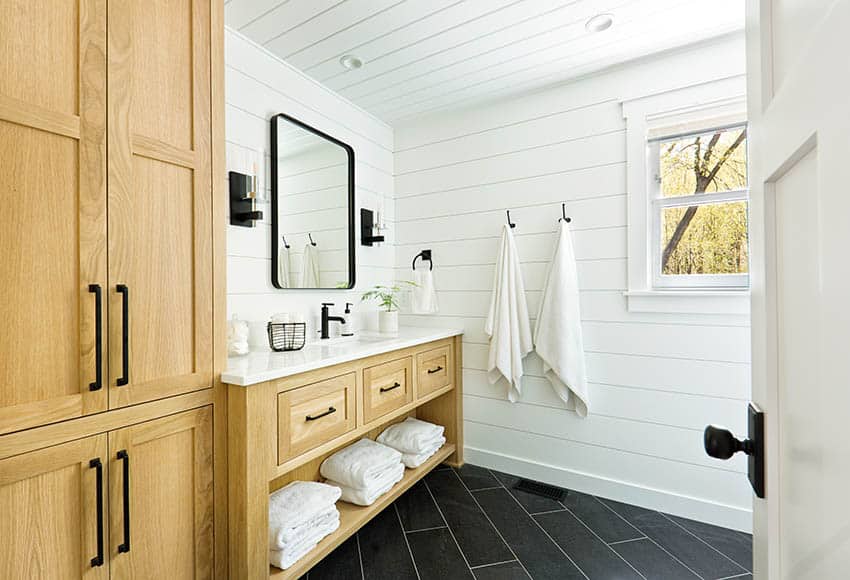 Shiplap ceiling design can vary depending on the desired aesthetic and functionality of the space. Here are some specific details that can be incorporated into a shiplap ceiling design:
Board orientation: Shiplap boards can be installed in a horizontal or vertical orientation, with each creating a different look and feel. Horizontal boards have the effect of making a room feel wider, while vertical boards can add height and make the room feel taller.
Board spacing: You can achieve different looks by the amount of spacing you have between boards. A tighter spacing creates a more traditional or farmhouse-style style, and a wider spacing creates a more modern style.
Color and finish: Shiplap boards come in various wood species and finishes, including natural wood, painted, or stained. The color and finish chosen will depend on the desired style of the room.
Trim details: Adding trim pieces around the edges of the ceiling or between board seams can enhance the design and add dimension to the space.
Lighting fixtures: Positioning lighting fixtures in your shiplap ceiling design can create focal points and highlight specific areas of the room.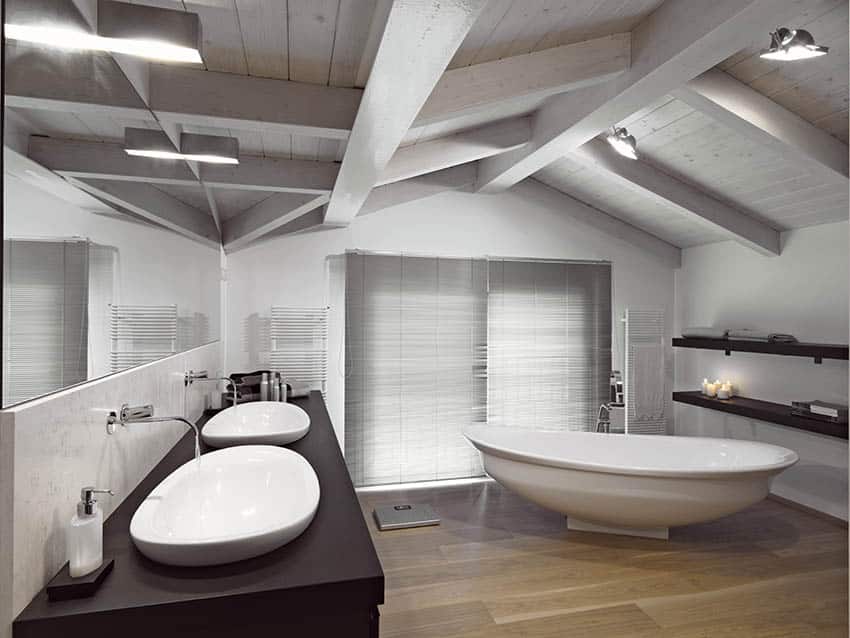 Here's a few different styles to consider for your shiplap ceiling:
Classic White Shiplap – White is a forever favorite when it comes to shiplap and is a safe and versatile choice for ceilings due to its clean look and ability to brighten up a space.
Indigo/Gray Wash Shiplap Ceiling Band- For high ceilings, an indigo-washed shiplap ceiling that continues around ¼ or 1/3 (depending on the ceiling height) of a wall.
Two-toned Shiplap – For a unique and eye-catching look, consider using two different colors of shiplap on your ceiling, creating a playful and dynamic effect.
Black and White – Contemporary, Transitional, Mid-century
Yellow and White – Contemporary, Art-Deco, Transitional
Shiplap Bathroom Design Materials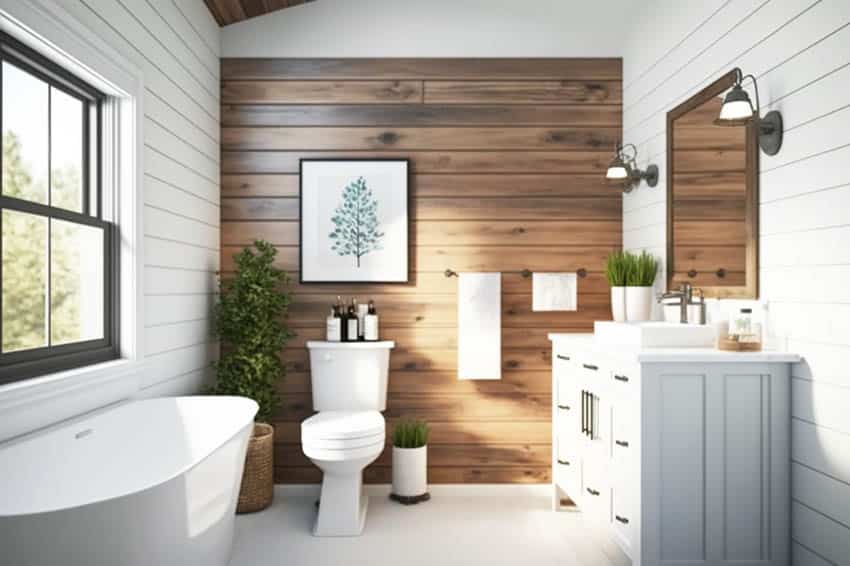 Here are the most popular shiplap materials used for a moisture prone environment such as the bathroom.
Natural Wood Shiplap – Wood is a popular choice for shiplap in bathrooms because of its natural warmth and beauty. The organic material can be stained or painted to match any design style and can be made from a variety of species, such as pine, cedar, or oak.
Cedar is one of the best types of wood for shiplap because it is more resistant to Moisture and warping than other types of wood. It's also one of the more beautiful materials, and many people simply seal it with a clear coat to keep the natural look
• Redwood.
• Teak.
To ensure longevity with any type of wood, use waterproofing sealants for wood and follow the manufacturer's instructions for maximum waterproofing protection for your wood shiplap.
• Polyurethane – When opting to showcase the wood graining, a clear polyurethane can be applied on the surface. The polyurethane finish on a shiplap will provide an added layer of protection and help fill in any hidden gaps.
Two types: Oil-based and water-based.
Oil-based polyurethane is made from natural oils and solvents and tends to be more durable than water-based polyurethane. However, oil-based polyurethane has a strong odor and takes longer to dry than water-based polyurethane.
On the other hand, water-based polyurethane is made from synthetic resins and water and is a popular choice for those sensitive to the strong odors of oil-based polyurethane. Water-based polyurethane dries faster than oil-based polyurethane but may not be as durable.
• Epoxy – Epoxy on wood is a popular way to create a durable and long-lasting finish that protects the wood from dents, stains, and water damage. Epoxy is a type of resin that is applied to the surface of the wood and then hardens to create a thick, protective layer.
• Marine Varnish – Produced from a combination of oils, resins, and solvents that penetrate the wood and create a hard, protective layer on the surface.
The varnish is designed to be flexible and able to expand and contract with temperature change and humidity, which is important for wood, especially in a bathroom where humidity and temperature changes occur.
Tip: In order to ensure that the primer and paint have seeped through the whole wood plank, it is recommended to prepaint the wood before the installation process. All the paint to cure for one day to make sure no gaps would allow water to seep through the wooden shiplap.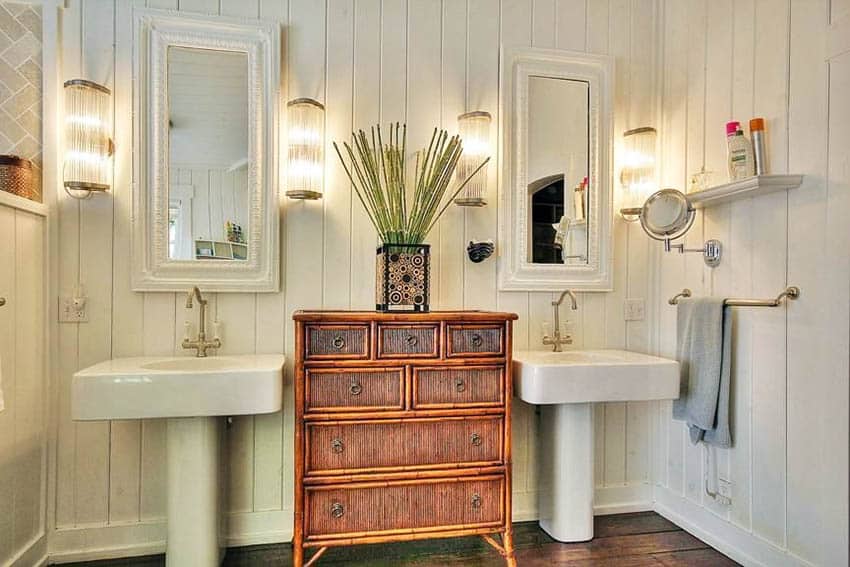 This cozy cottage bathroom provides full vertical shiplap walls with dual mirrors and two matching pedestal sinks.
PVC Shiplap – Water-resistant and low-maintenance PVC shiplap is an ideal shiplap material for bathrooms. The impervious surface means it's easy to wipe off dirt and remove soap scum, thus won't harbor the growth of mold or mildew. Moreover, insects won't be able to penetrate the non-porous surface.
Unlike wood, PVC or polyvinyl chloride shiplap will not warp or rot, making it a durable material as a bathroom finish. Any PVC cladding can last as long as 50 years with a quality-made product. However, an average of 20 years is the expected life service of PVC shiplap in a bathroom setting.
A great advantage of PVC shiplap is its versatility yet durable material that can be installed in trickier corners or angles in a bathroom. Using the usual woodworking tools, a knowledgeable DIYer is able to update a bathroom interior with a PVC shiplap.
There is a wide range of colors and styles to choose from when it comes to a synthetic material that can even simulate the look of organic textures such as wood.
However, PVC shiplap that mimics wood can still have manufactured to look and texture, so it's best to ask for suppliers' samples before specifying the product in a newly built or renovation project.
UPVC – A stronger version of PVC but without the plastic content, uPVC or unplasticized polyvinyl chloride is a great option for a shiplap bathroom.
The absence of phthalates and BPA content means it doesn't give off harmful fumes; it is also fire-resistant, durable, and recyclable.
UPVC shiplap, though, is rigid in form and not flexible like PVC, which can be a downside when installing bathrooms with complicated layouts.
But, overall, UPVC shiplap should be included in the list of choices for a bathroom shiplap, especially for owners with a bigger budget, as UPVC costs more than PVC.
MDF – An ideal material for bathroom shiplap installation that is water-resistant, like PVC and UPVC but with a relatively lower price.
An MDF with an MR or moisture-resistant property is recommended, as it is infused with resins that prevent that material from absorbing water. An MDF shiplap has been around as a building material with a wide range of colors and designs available.
Composite – These panels are made from a mixture of wood fibers and plastic and are designed to mimic the look of real wood shiplap while being resistant to Moisture, mold, and rot. They are also available in a range of colors and finishes and can be installed with a similar tongue and groove system.
Tile Shiplap – Whether made from porcelain or ceramic, tile shiplap comes in various designs. Highly durable and resistant to Moisture, tile shiplap is great for wall shiplap installation. It is also easy to clean and maintain, as it can be wiped down with a damp cloth or mop.
Will shiplap in bathroom be affected by moisture?
The simple answer to this is yes. This, however, is highly dependent on many factors such as:
Material – if you're using PVC, moisture isn't really a problem.
Ventilation – this also affects how you boards will be able to hold up against moisture exposure. A well-ventilated bathroom won't have much problems with warping or molds on their shiplap walls.
Seal & Finish – if you ensure your material has been properly filled, sanded, finished and sealed, there shouldn't be much problems with moisture. Choose a durable paint finish, such as a marine-grade acrylic enamel, to make sure it will hold up against moisture!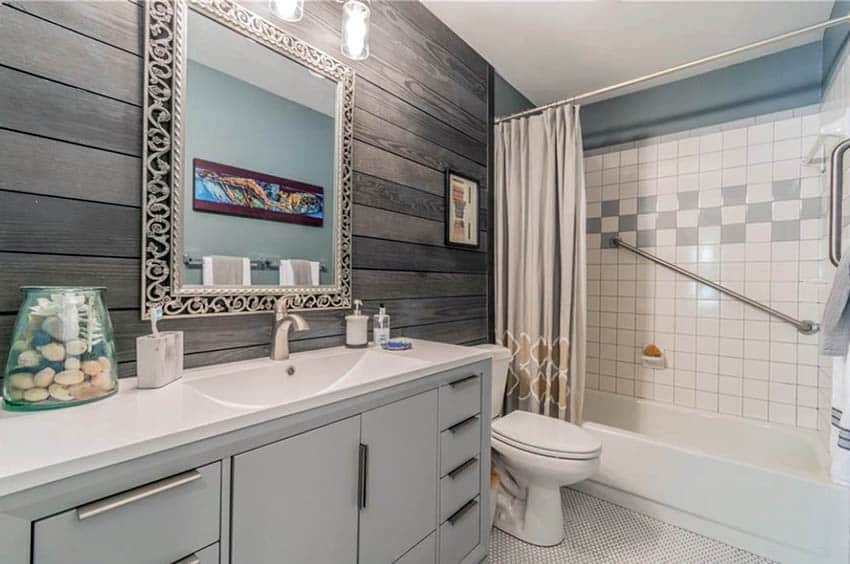 This modern bathroom uses PVC decking boards on its walls instead of using wood or plywood. PVC decks are able to mimic the color and texture of real wood (they have a variety of wood colors to choose from), but is resistant to moisture and does not warp like wood or plywood.
How to protect shiplap in a bathroom
Ensuring a proper finish and sealing of your shiplap will definitely help prolong and protect it. If you don't fill and seal your materials properly, then any effort to keep it dry won't protect it from possible mold build-up or warping, so make sure you get it right from installation.
The minimum protection should be to use a primer and a semigloss paint to cover the wood. However, for added protection against moisture its advisable to use a marine grade polyurethane.
If you're just in for the look of shiplap walls, another great and easy-to-maintain option would be to use ceramic tiles that mimic the look of wood. This allows you to get the look with more peace-of-mind!
For more related designs check out our gallery of shiplap dining room ideas here.