Get ideas for a shiplap shower, including if it's a good option for shower walls and the different types, materials, and designs used for bathrooms.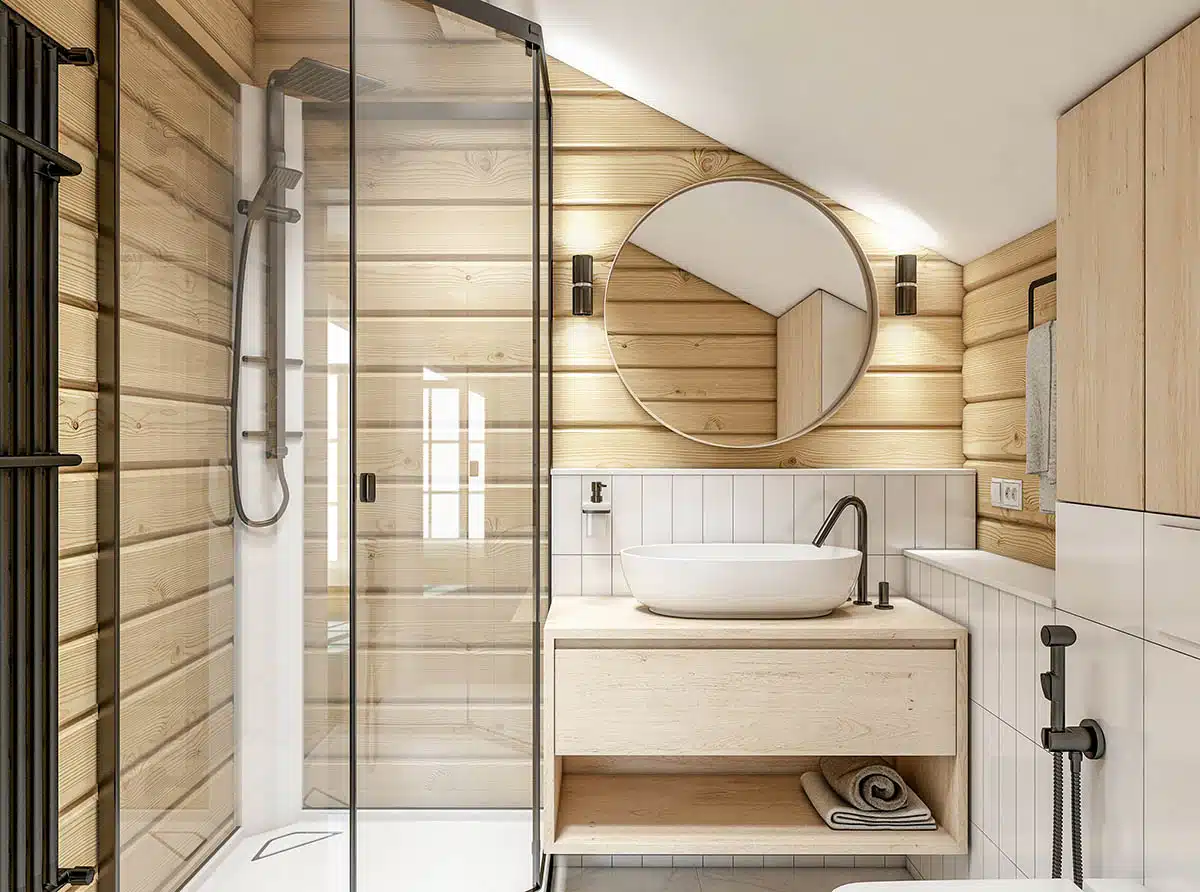 A shiplap is a long, thin board with rabbeted or carved grooves on the upper and lower end of its long sides. Shiplap wood has long been utilized as external siding, but it is progressively being employed as a wall covering in many spaces within a house.
A dull shower space can benefit from the texture added by shiplap. The wood planks are ideal for a range of designs, including modern and farmhouse styles. Indeed, shiplap is widespread because of its sleek lines, rustic beauty, and capability to rapidly modernize a room without exceeding your home remodeling funds.
No doubt about it – shiplap is having its moment right now. These long, thin boards with rabbeted or carved grooves on the upper and lower end of their longer sides have been put to good use throughout America's homes. Shiplap truly adds character to any room – especially a lackluster shower space.
Without breaking the bank, installing a shiplap in your shower can be an affordable twist to add flair to any room for a gradual yet effective modernization. After all, everyone loves shiplap for its smooth lines and classic charm. Basically, it's no wonder why so many people are opting to bookmark this cost-reduced option when revamping their space.
Have you ever come across a shiplap shower? If you've been looking into farmhouse designs recently, or binged interior design shows to your heart's content, chances are you'll have seen one.
Shower rooms can be a real nuisance. Sure, there's something really aesthetically pleasing about having shiplap in your bathroom, but you have to take special care when you're installing it. You just need to find that balance between style and safety.
Is Shiplap Good For Shower Walls?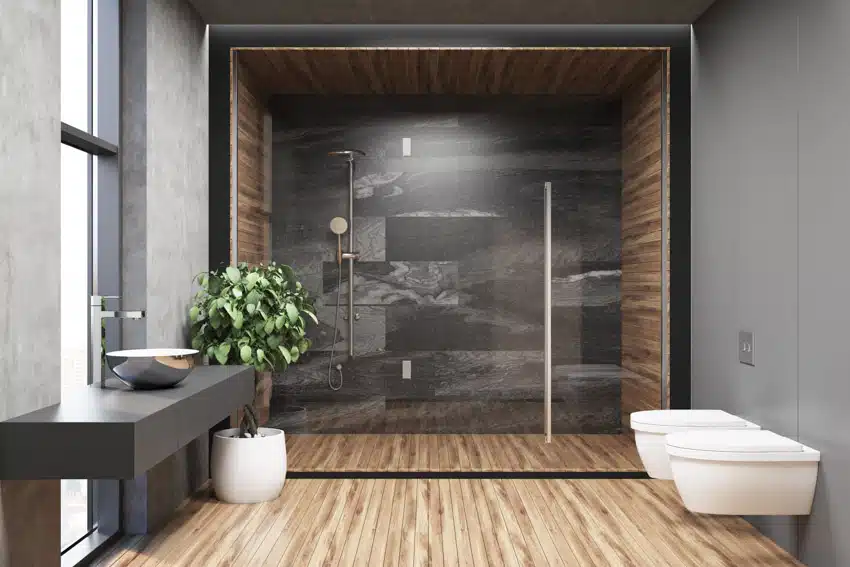 Shiplap walls can be used for showers, but there are a number of things to keep in mind before you get started building them. Shower rooms have extra moisture that's got to be taken into consideration, so make sure you factor it into your project.
Keep everything waterproof and sealed tight and remember – no matter how durable the materials may be, nothing beats staying on top of maintenance.
From its wooden planks, it's no wonder why homeowners are so keen on knowing if shiplap will make it in their shower renovation.
We all know wood has a special temperament, and you want to be extra careful with how much moisture or dampness can get in; otherwise, the risk of possible cracking, mold, and damage could ensue.
Before you give your shower a makeover with shiplap, consider a few key steps to keep it nice and organized.
Determine That Your Shower Area Has Adequate Airflow. Make sure your shower is well-ventilated – no foggy mirrors.
Shiplap in a damp bathroom needs good air circulation and an exhaust fan to really do the trick, unless you want to deal with potential mold and mildew, then PVC shiplap should be taken into account.
Consider Painting Your Shiplap Wood With Mold-Resistant Paint. Before you start adorning your shower walls with shiplap wood, consider painting it with a special kind of paint, one that can keep out moisture and mildew.
There's lots on the market these days – from moisture-resistant to high-performance coatings.
Whatever your pick maybe, be sure it is indoor-rated, and also don't forget a good caulk for those raw corners. It'll all add up when trying to save yourself from water damage in the future.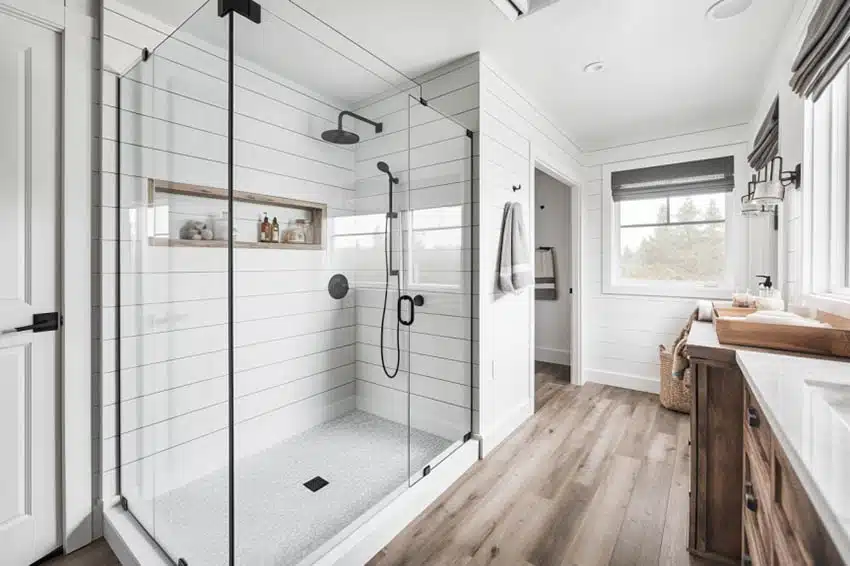 Think About Installing PVC Shiplap Rather Than Wood Planks. If you've been having moisture issues, think about getting PVC shiplap installed. It's the plastic-made equivalent of your classic wood planks – so no more worrying about mildew.
PVC is man-made in nature which makes it perfect for your shiplapping needs – there won't be any more rot or termite problems with it. Now you can rest easy knowing that nothing nasty lurks under those good looks of wood.
Although the word 'shiplap' has been co-opted to describe basically any wooden wall paneling, true shiplap is a form of construction specific to older buildings.
Real shiplap features boards joined together at their edges with an interlocking rabbet joint – kind of like pieces fitting together in a puzzle.
It's no surprise then that these snug boards, otherwise known as "shiplap," are often used to guard homes from inclement weather.
But the truth is, most of what we see in modern home design aren't genuine shiplap – although for simplicity's sake it is just easier to call them that. Other names you may come across include wood paneling, wood planking, and faux shiplap.
Well, you don't have to sacrifice on style totally – there are actually shiplap boards that aren't made completely from wood. So if you're looking to do some redecorating in the shower room, this might be a great option.
Types Of Shiplap Designs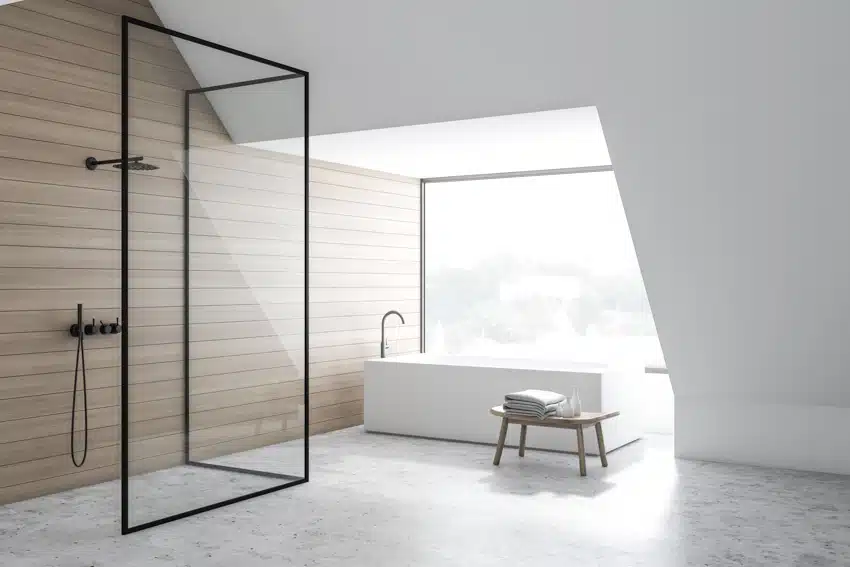 Here we share the different shiplap designs for showers.
Farmhouse-Style Walls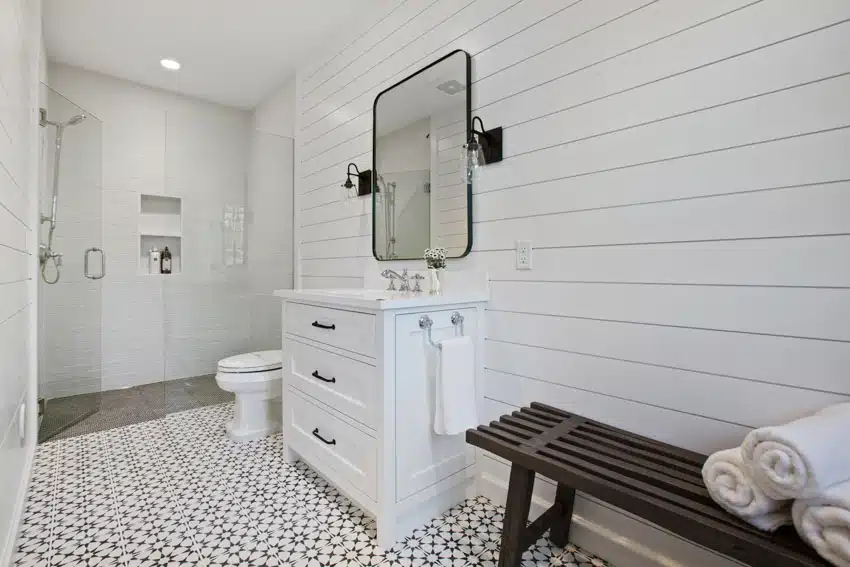 Dive into the depths of luxury with farmhouse-Style shiplap shower walls. Whether your bathroom design is modern, rustic, industrial or a combination of all these styles, adding this classic element gives it an instant boost.
A horizontal shiplap layout offers an aesthetic appeal and also provides you with a timeless look that will have guests in awe for years to come.
From bold colors to light neutrals and mixed patterns – having crafted wood planks on your shower walls is always chic and never goes out of style.
Whitewashed Walls And Ceiling
Your shower room being sparse on the décor front is no excuse because white shiplap panels, subtly laid horizontally, will give it that classic look – they make for a great backdrop to the cabinet sink and framed mirror paired with industrial-style lighting.
Using shiplap panels for the ceiling and walls can add a bit of vintage flair to your bathroom oasis. The weathered look of the panels brings pleasant, rustic vibes while giving an eye-catching visual break from all that white painting. It's quite the perfect combo.
You can create the appearance using whitewash paint as a DIY project or purchase distressed panels to get the look.
Wider Shiplap Panels For A Transitional Appearance
With their bigger size, shiplap panels add an extra touch of sophistication to your shower room's transitional design.
Plus, by using white panels, they make a dramatic contrast with the bathroom countertop, wooden-framed mirror, and fixtures – almost like a blank canvas waiting for you to add all kinds of vibrant colors and shapes.
Half-Shiplap Coverage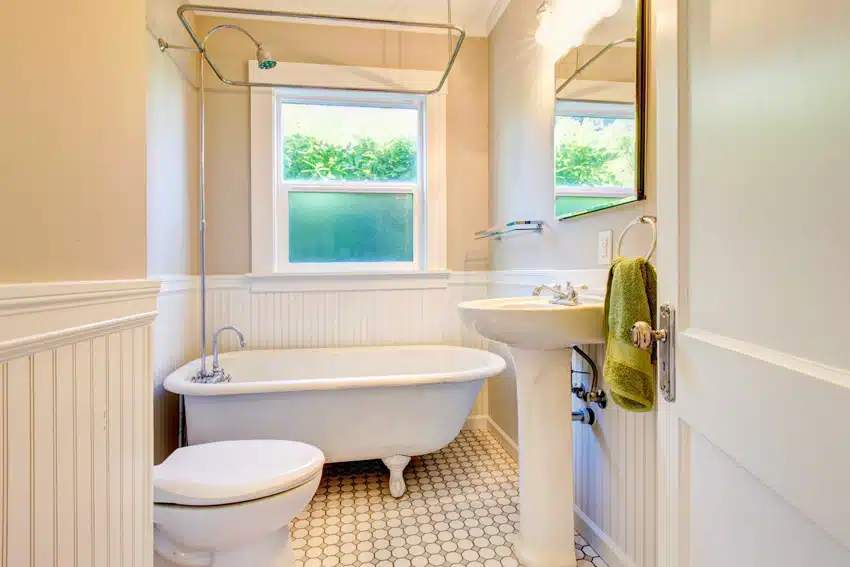 If you're ready to make a statement, look no further than half-shiplap wall panels – the perfect addition to spice up your bathroom space with an added dimension of texture.
Whether you go all out for contemporary charm or prefer something softer and homey, this item will be sure to complete any vision.
Boasting its distinctive paneled composition on the bottom, a half-shiplap wall provides an eye-catching look – accentuating the top half of the vertical area to create a perfect canvas for some stylish decorations. These funky panels ensure that your shower space has fantastic contrast and gratifying visual complexity.
Thin Shiplap For An Industrial Theme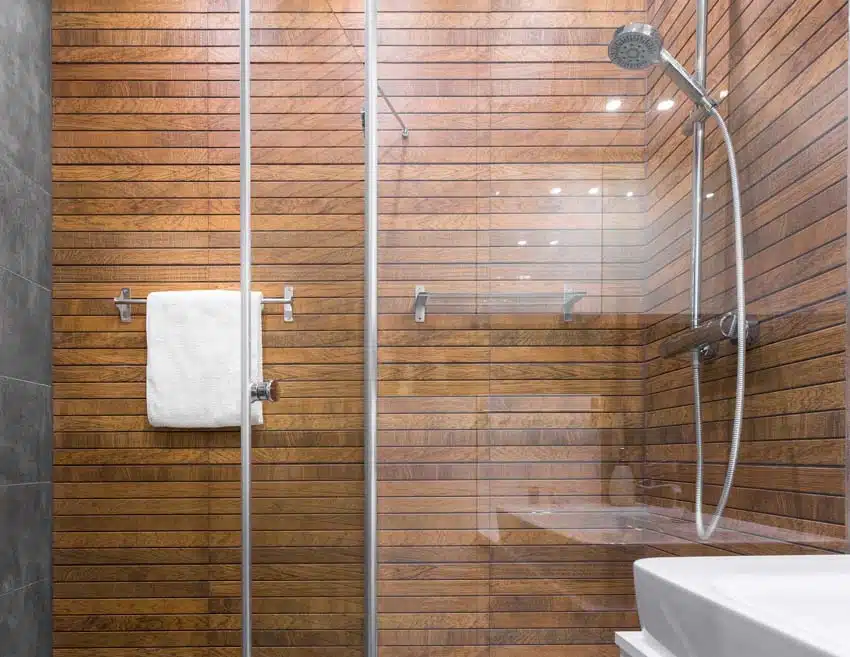 The thin lines of the shiplap accent wall provide a mesmerizing look to this industrial-style shower. Its clapboarding creates casts interesting shadows that emphasize all the other details in the room.
Shower Sidings Made Of Shiplap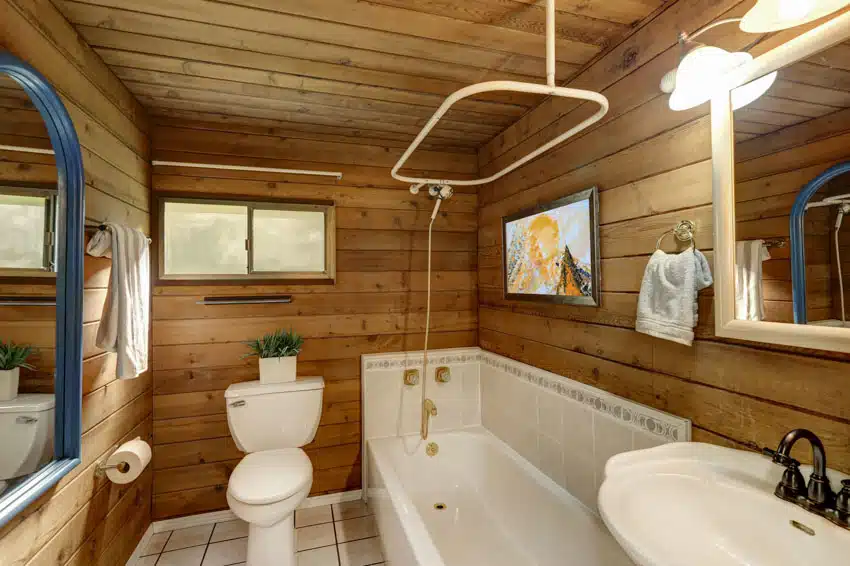 Mighty shiplap siding – shower your home with sturdy style. Weathered and weaved together undeniably well, they provide a look that bridges old-world charm with modern trends.
You can extend it all the way up the wall to create a cohesive look. Paint the wood white to help brighten the space and add contrast to the walls, floor tiles, vanity, and other hardware finishes.

Vertical Shiplap Half-Wall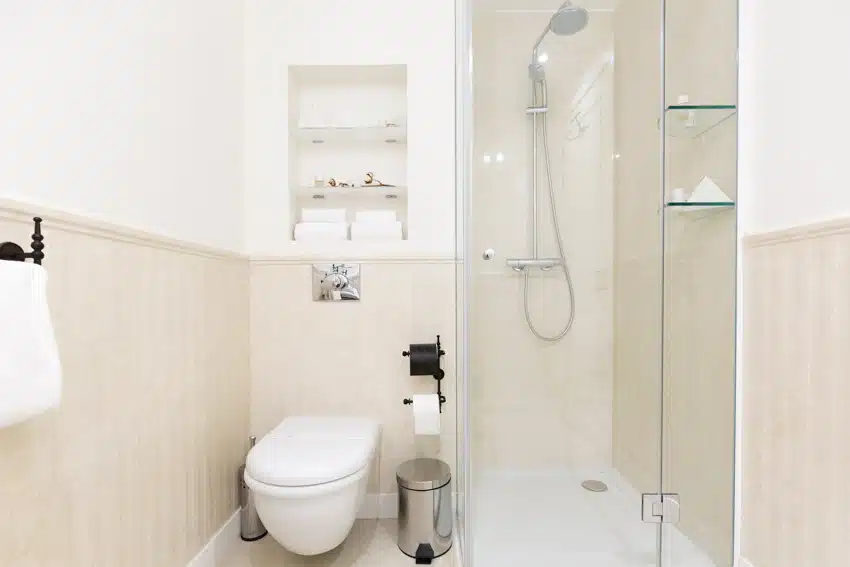 Giving your vertical half-shiplap wall a facelift is guaranteed to bring life and size to any bathroom.
As the vertical shiplap panels stretch up, it almost serves as an invisible border for that shower window – beautifying the bottom part of the room with shelves and decorations while reserving the top portion for any lights or items that'll give it all some structure.
So make sure you think outside of the box when planning out how you can spruce up that seemingly itsy bitsy space.
Vintage Shiplap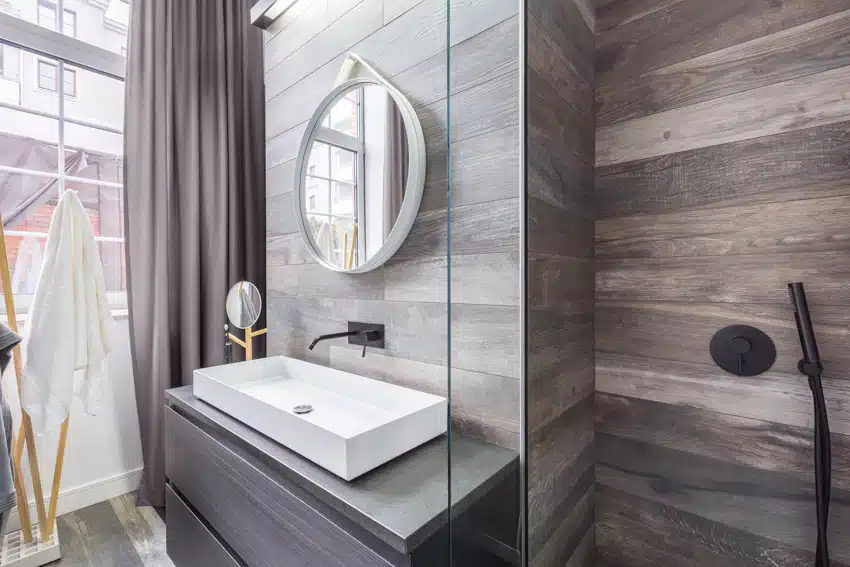 Sheathing your walls and ceiling in shiplap will completely reinvent that cramped little shower into a dreamy, visually cohesive oasis.
The white hue creates an inspiring contrast to the wooden floor, sink countertop and other rustic elements – it serves like a glowing frame around the rustic wonders already present.
Shower Layout With Staggered Shiplap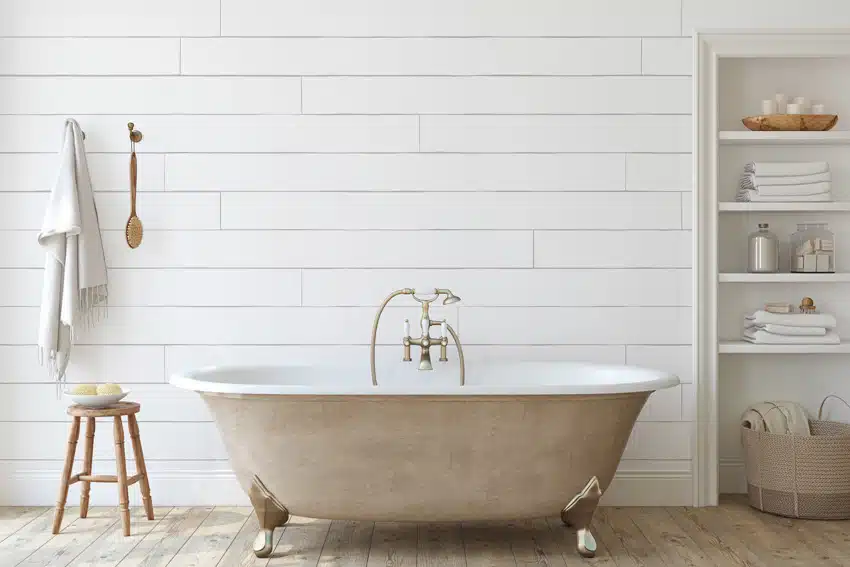 A staggered shiplap wall adds an extra bit of oomph to your shower. It creates a balanced look while also offering better durability – the joints don't match up, which lessens the chances of warping or twisting wood over time. Plus, it looks way cooler.
Shiplap In Greige (Gray and Beige)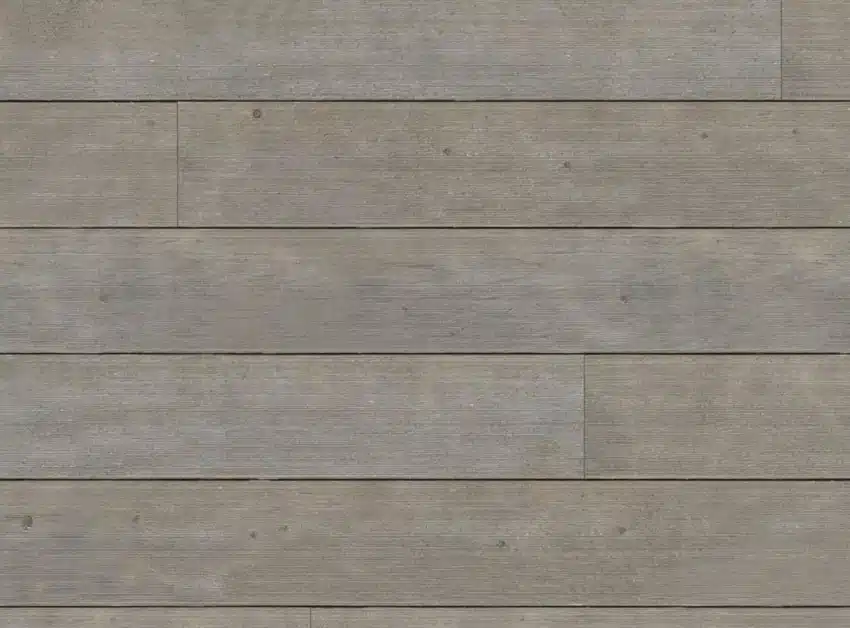 See these barnwood pine shiplap panels at Home Depot [sponsored link]
Shiplap in greige, the perfect synthesis of gray and beige hues for modern home décor. Warm tones blend together to bring an atmosphere that's both subdued and plush.
Whether you're going for a contemporary look or something more classic, accentuate your space with this unique combination of colors. From creating a subtle ambiance to putting your personality on show – give your living area the glitz and glamor it deserves.
If you're looking to add a touch of brightness to your shiplap wall and coordinate it effortlessly with the wood elements in your shower room, you can always try combining beige shiplap walls with gray undertones.
Waterproof Shiplap For Shower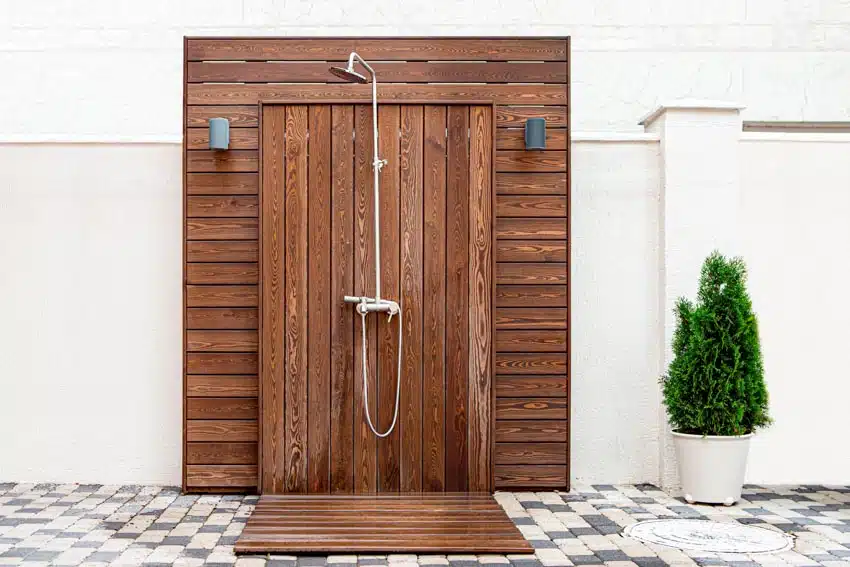 Sealing your shiplap will make it waterproof; apply a top-notch sealant around all the edges and crevices. With that extra protection, you can be sure of its durability even in showers or areas with higher moistures levels – truly an incredible investment.
Keep your shiplap panels waterproof by giving them a layer of mold- and mildew-resistant paint. This special kind of paint is ideal for battling humidity in the bathroom or any other moisture-prone area.
So, you can rest assured that it will be more than up to the challenge of handling a steady stream of water from your shower.
Cover that paint job with a clear sealer. You'll not only waterproof it, but you give your piece the appealing shiplap wood appearance without having to pull out the brushes. And don't worry – this finishing move is one of the easiest around.
Even if you're putting a shiplap up far away from your water sources, like on the ceiling, we still highly recommend slathering some kind of wood sealant on all of your boards in the bathing area to ensure it's waterproof.
No sense taking any chances when wetness is part and parcel with bathrooms since there's always potential for lasting damage to that lovely lumber.
Shiplap Tile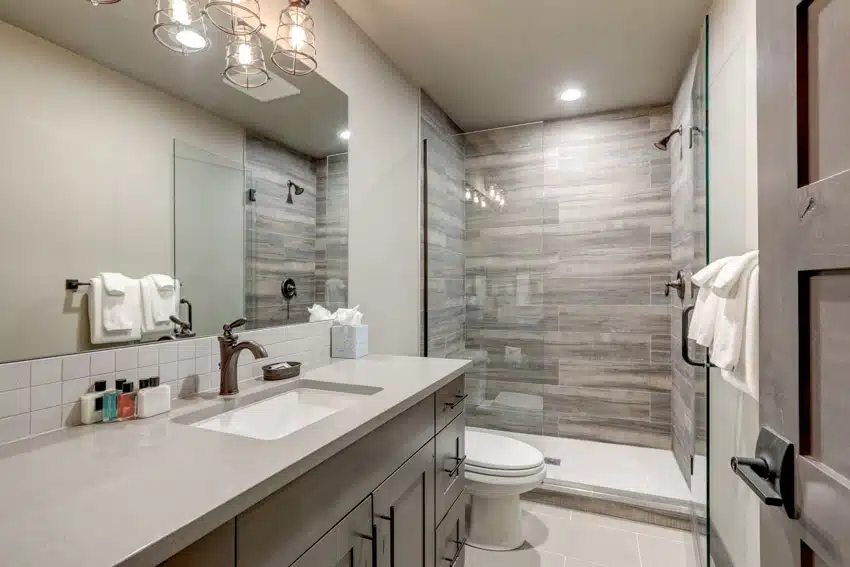 Showering never felt so luxurious. Shiplap tiles are constructed from overlapping planks, one of which has the small luxury of keeping all that water at bay.
Definitely a process to thank: for the wide edges overlap perfectly creating a waterproof and strong joint – exactly what you need in those high-moisture areas.
The workers skillfully cut grooves into the top and bottom of the shiplap shower tiles, fitting them together snugly to seal out any moisture. Such accuracy and efficiency have made these particular tiles popular amongst many designers for showers and this option counts as among the best tile for shower walls.
PVC Shiplap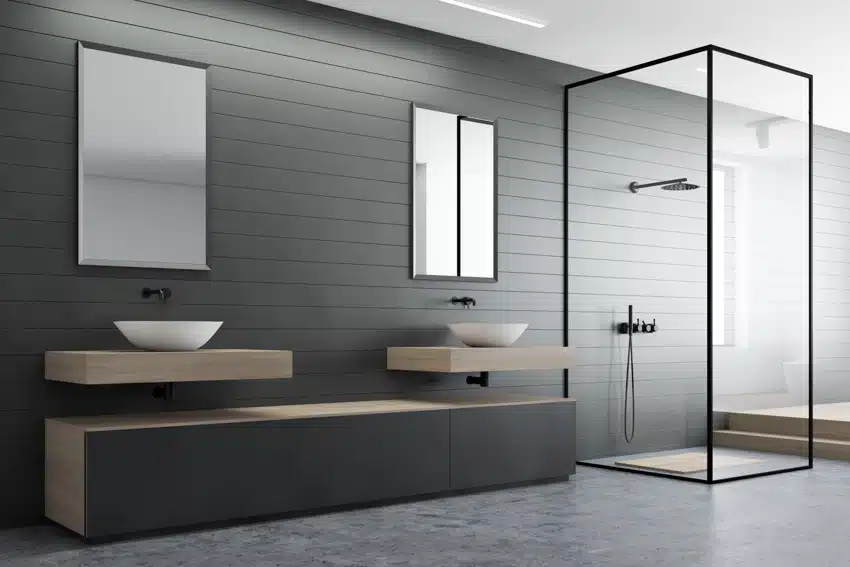 You can take your bathroom to the next level with this ravishingly-crafted polyvinyl chloride (PVC) shiplap shower. Its subtle yet bold hue will provide an understated elegance that, when accentuated by a slight glimmer of light, transports you into a tranquil oasis of calm contemplation and dreams.
Undeniably rain-safe, it creates a charming statement piece sure to take any ordinary bathroom from drab to fab.
Your bathroom won't just look like the bee's knees when you add PVC Shiplap – it'll be comfy and cozy, too. It takes practically no time or effort to give your restroom a much-needed upgrade with this water-resistant wonder. And because PVC Shiplap bends easily around different angles, achieving that perfect fit is simple as pie.
PVC shiplap makes installing a breeze – it's lightweight and pre-finished so you don't have to worry about any prep work.
Plus, maintenance is a cinch – no warping or rotting over time makes this the perfect material for shower walls and ceilings. It'll give you long lasting results that will stand tall against humidity and wetness.
If you get the setup right, your PVC shiplap can be painted to perfection. Make sure you've gone over every inch with sandpaper, then apply a primer made specifically for PVC. Once that's all dried up, go ahead and choose any shade of paint to add the final touches.
Let it be noted that PVC, otherwise known as polyvinyl chloride, is often used in pipes and fittings around the house.
That being said, it's also frequently seen in architecture too like windows and siding – though don't be fooled into thinking nothing can damage it. Direct sunlight and chemicals can still have an impact so take precautions when using them.
If you're considering painting the PVC shiplap in your shower, it's essential to use appropriate paint – a water-based latex is absolutely ideal.
A high-quality plastic paint with an effective plasticizer helps keep the color from fading or chipping, ensuring that it sticks firmly onto your shiplap. This isn't any old DIY task; you need to be precise and picky when choosing these paints for optimal results.
Shiplap Surround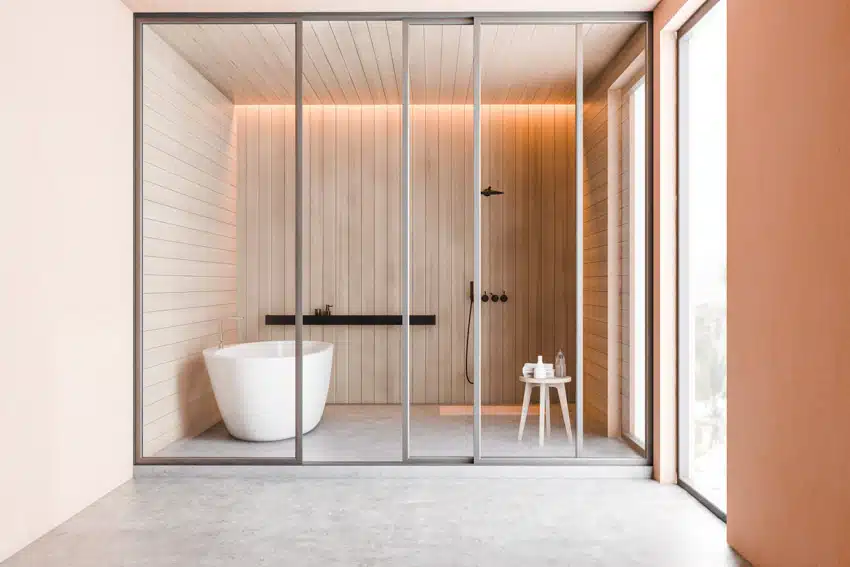 Shiplap shower surrounds offer a luxe, distinct style to any bathroom – they provide an amazing alternative to awkward-looking grout gaps and dull, everyday acrylic inserts. Keeping them pristine is easy – fungus, water and dirt don't stand a chance.
Plus their slick surfaces are a breeze to wipe down. With shiplap walls enveloping your bath area, you can be sure to step into opulence each morning after.
Moreover, shiplap shower surrounds have all the connected pieces that make a DIY shower makeover super easy.
You can even cut them to fit any irregular dimensions. Not only is shiplap an awesomely affordable design choice, but it's also sooo ready to give your shower surround all kinds of personality.
Corian Shiplap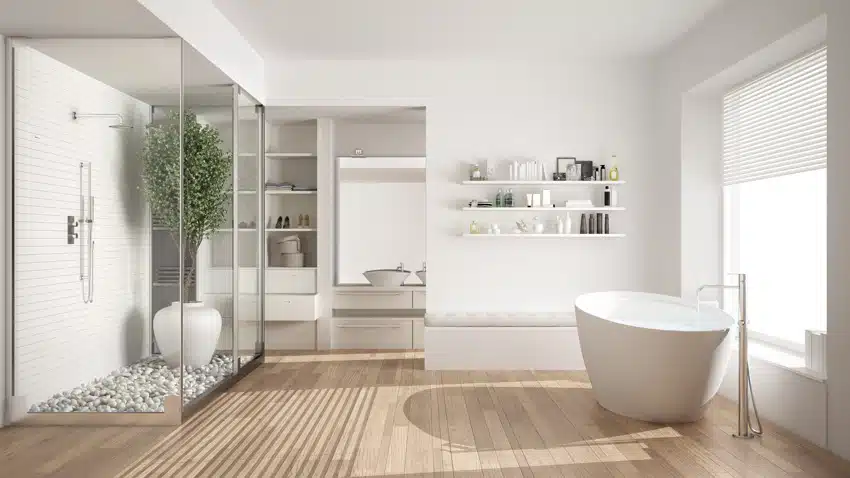 Installing Corian shiplap shower walls without using silicone joints is a cinch for any capable contractor. Not having to do extra sanding keeps the dust levels low, and with no joins in sight, this all-in-one solution guarantees your surfaces won't be collecting moisture or attracting grime.
Plus, these flexible panels can go over pretty much every kind of existing surface – talk about efficiency.
Corian shiplap shower walls are awesome for busy bathrooms because you can say bye-bye to all those grout lines and unseemly seams.
With no noticeable pores on the surface, they're super easy to clean – there's nowhere for dirt and clumpy stains to hide. Plus germs, mold, and mildew won't find a place on these wall panels leaving an easy to clean and hygienic barrier.
Also, Corian shower walls have you sorted, offering up a multitude of colors and design options fit for any royal spa.
Whether it's bold hues you seek or soft whites, these panels make the perfect shower partner – bringing in enviable texture and extending their range to accommodate any size space. In addition, you can get creative with the edging at no extra cost.
Shiplap Above Shower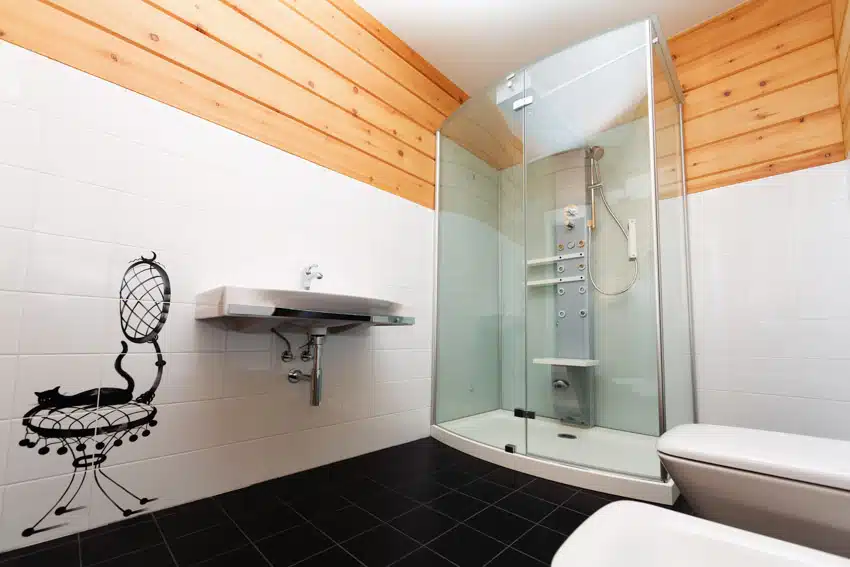 Shiplapping your shower certainly won't be any trouble – it's practically the least of your worry spots as far as water goes.
But don't just take our word for it – shiplap is a tried and true wood siding that looks great and installs real easy too. Plus, with its rustic styling, it fits right into any bathroom or shower room without missing a beat.
See more related content in our article about laminate shower walls on this page.