On this page you'll see horizontal shiplap designs including half & full wall ideas, width, installation, comparison to vertical shiplap, and mixing vertical & horizontal shiplap.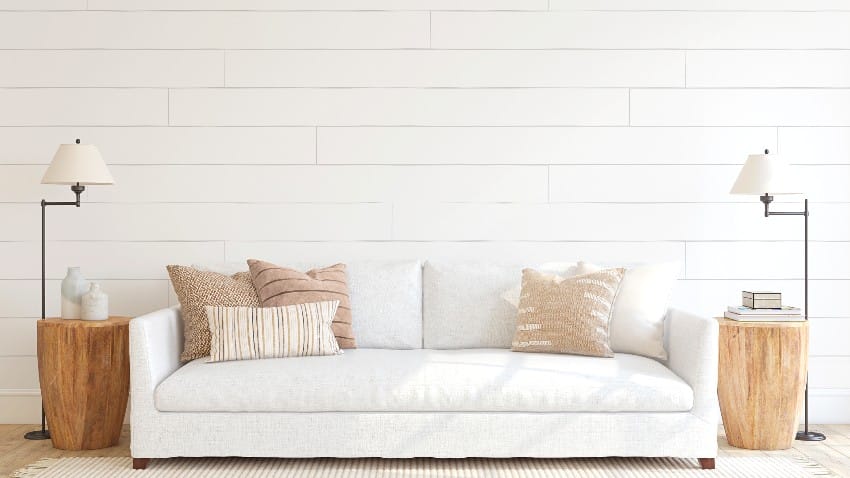 Shiplap has progressed from being just a form of timber board often used as outdoor siding to becoming a symbol of modernized farmhouse architecture.
Shiplap, whether embellished, stained or painted, offers a sleek aspect that adds charm to both interior and exterior walls as well as ceilings. Nothing tops horizontal oriented planks for a classic, farmhouse-style look.
The inclusion of horizontal shiplap walls will give the room a pleasant and earthy feel. When it comes to rustic style, it can be difficult to picture it without the application of horizontal boards.
What Is Horizontal Shiplap?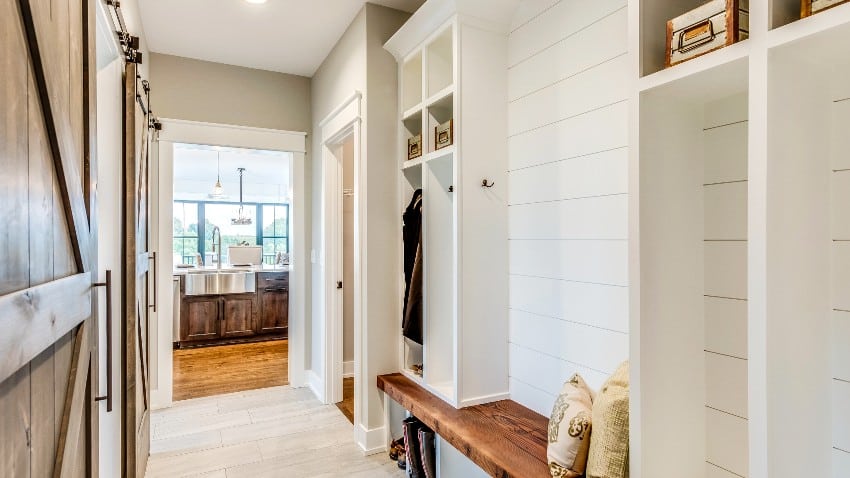 Shiplap is a sort of wood paneling that is often used to make barns, stables, and other types of rural constructions. Shiplap is also connected with the siding of a classic wooden ship, and therefore it is frequently used in maritime or coastal themed rooms, as well as rustic farmhouse and Western themes.
The nickel gaps between horizontal shiplap boards produce powerful horizontally positioned lines that make your space appear wider than it actually is. The width of your shiplap will also impact its appearance.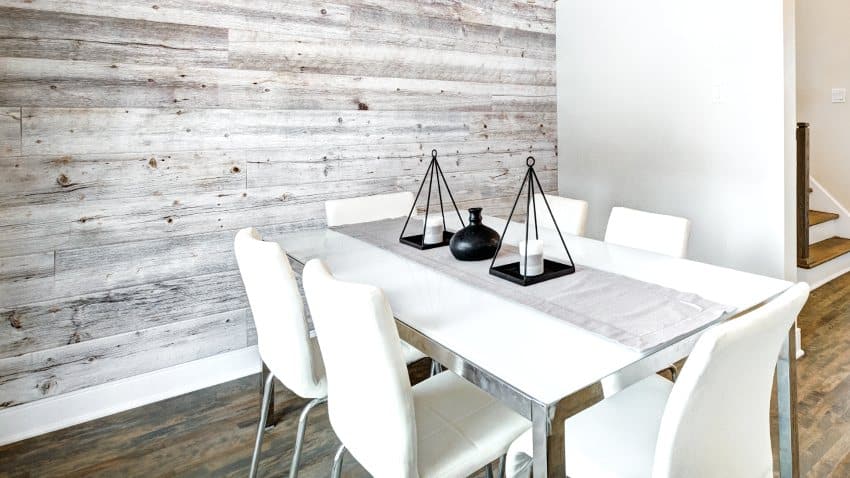 If you want to give your home a rustic look, installing a horizontal shiplap is practically vital nowadays. Horizontal positioned planks offer smooth, consistent lines can make the space feel bigger and more open. This effect is most noteworthy in hallways and other compact areas.
Moreover, horizontal laid boards may be transitioned from wall to ceiling with ease. You can consider these factors if you want your whole living space to look neat and coordinated. This style of wall paneling is a completely reliable solution for walls that require a touch of texture to genuinely appear their finest.
Fine architectural elements can lend warmth to an otherwise austere area. As a solution, you can use a shiplap horizontally to add flair to an indoor space. For a more appealing effect, you can also apply the material to an uneven or sloped surface.
Horizontal shiplap can also be utilized as a backsplash tiling material in a laundry room, bathroom, or kitchen. See our gallery of shiplap backsplash designs here.
This type of wood paneling can be installed horizontally or vertically. Vertically positioned boards are often thought of as beadboard. However, beadboard is a type of wainscoting with raised 'beads' between planks. Beadboard is usually is joined together by a tongue and groove, while vertical oriented planks are joined by an l-shaped lip on either side and cover the entire wall.
Vertical Vs Horizontal Shiplap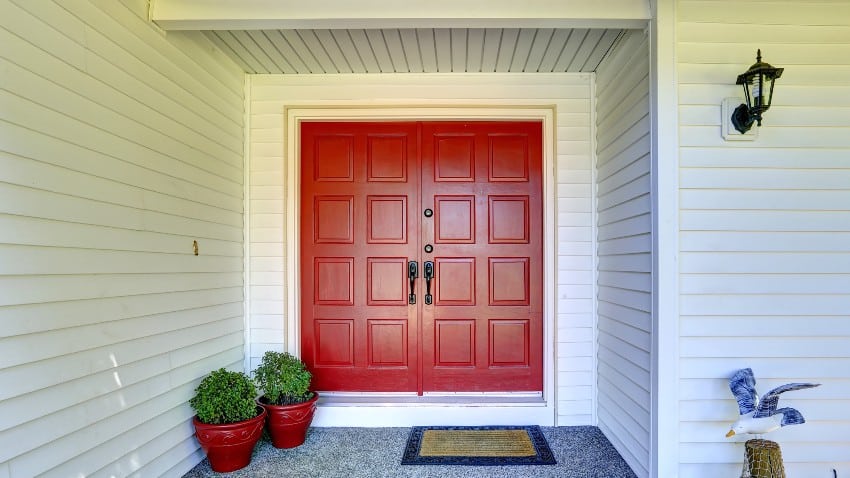 Although horizontal shiplap maintains its farmhouse attractiveness in all of its shapes, vertical shiplap can also offer a more stylish and modern appearance. Thus, vertical shiplap integrates into a wider range of décor styles than its horizontal version.
So the ultimate decision is whether to go for vertical or horizontal shiplap. Which is better when installing shiplap? Let us look at the advantages of each method so you can identify their differences.
Horizontal Shiplap Features: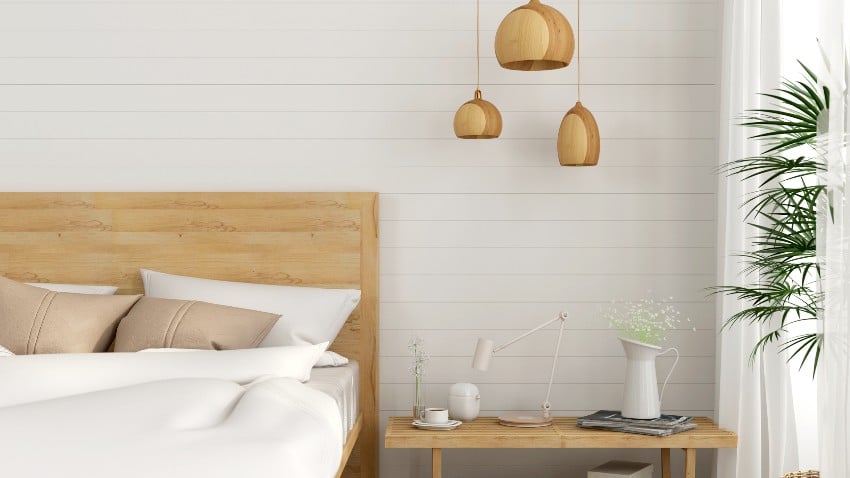 • Although vertical shiplap can make a room higher, horizontal shiplap can make a space appear wider. The horizontal treatment aims to broaden the appearance of a tiny room.
• A horizontal layout can appear more fashionable than vertical shiplap.
• Like nothing else, horizontal laid planks captures the popular farmhouse aesthetic.
If you want your home's architecture to be on the cutting edge of what's hot, particularly in the farmhouse design, horizontally applied shiplap would be the better option. Horizontal would be the way to go if you want to get the ever-popular farmhouse or modernized farmhouse look. This is a farmhouse design standard that can make your home appear more classic.
Horizontal boards, compared to vertical boards, are arguably more preferred by numerous homeowners. Thus, it is still a popular interior design element.
Installing horizontal shiplap will have provide a pleasing appearance with this structural component since it evokes the appearance of barn walls, which fits farmhouse design types effortlessly.
Vertical Shiplap Features: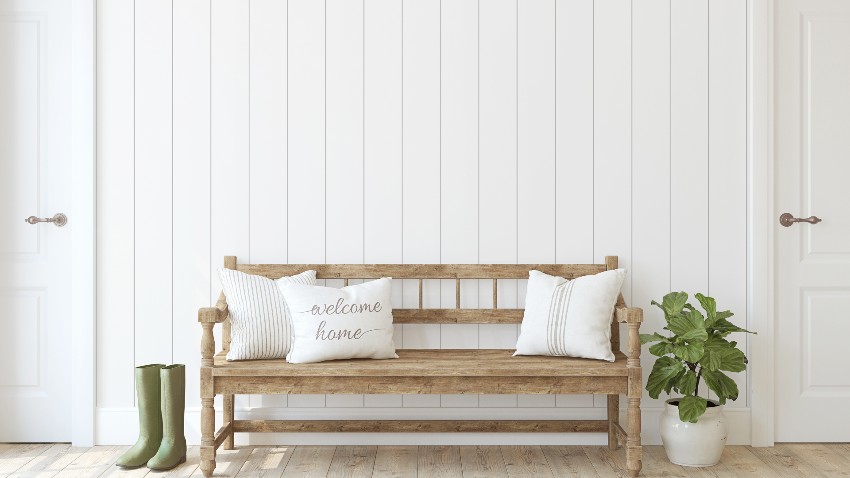 • Vertically placed shiplap boards can make a space look taller. Vertical lines will help to create the impression that your ceilings are higher than they actually are.
• Vertical shiplap, which has more of a luxurious aesthetic, can also complement rustic and antique features, the same as horizontal layouts.
• A twist from the extremely popular horizontal shiplap, vertical shiplap creates a less popular yet more timeless and newfangled aesthetic.
The vertical design could fool the eye. It makes a space appear taller, which horizontal shiplap is unable to do. If you have a room with low ceilings, a vertically laid boards would be an excellent way to create the impression of higher ceilings.
Vertical lines can also help balance out horizontal lines in a space such as shelving, tables, counters, kitchen islands, etc.
Moreover, vertical shiplap is more distinctive than a horizontal design. Therefore, if you want to incorporate something unique to your home design, the vertical option would be a smart pick.
Vertical shiplap's distinctiveness is a strong selling feature if you like to go against the trend and attempt something new. However, vertical shiplap does not have the same properties as horizontal designs. Take note that it can be more difficult to install than horizontal shiplap.
Mixing Vertical And Horizontal Shiplap
A contemporary and urban style can be achieved by combining horizontal and vertical shiplap. If your property includes dormers, a vertical orientation would be a wonderful choice for emphasizing that feature. The rest of the house can be finished with a horizontal boards, which is very popular because it looks wonderful.
Attached garages can also benefit from vertical shiplap whereas the remainder of the house can use horizontal walls. Because there is a transition between the two structural pieces, this hybrid approach has a distinct appearance.
Furthermore, some homeowners should select a separate color of paint for the vertical shiplap on the garage so that it does not conflict with the rest of the house.
It is entirely conceivable to go for a combined look alternatively. Combining horizontal and vertical shiplap can create a stunning aesthetic appeal. Many homeowners prefer horizontal shiplap on the exterior siding of their homes, with vertical boards reserved for gables and gambrels.
Does Horizontal Shiplap Make A Room Look Bigger?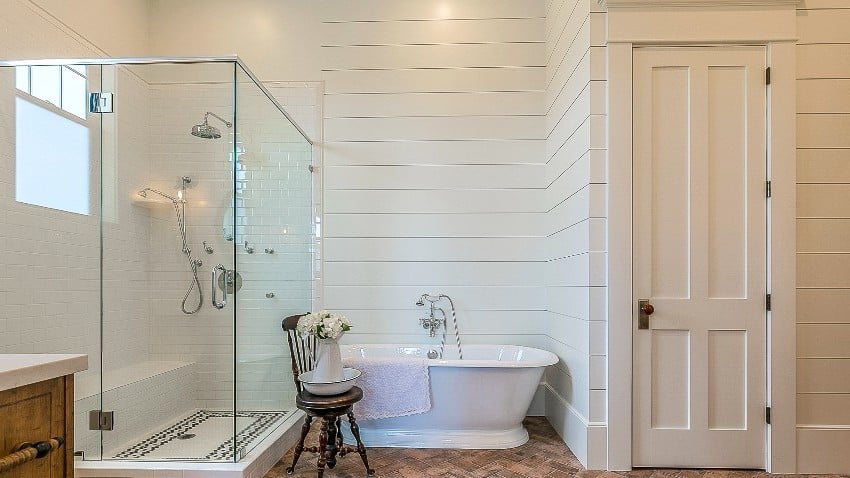 Yes. Horizontally placed shiplap, similar to vertically placed shiplap, creates a unique visual effect. Vertical laid boards makes the walls appear higher, while horizontal laid boards makes the entire room feel much bigger.
It can make a space appear wider than it really is. Therefore, if you wish to make the space seem or feel larger than it is, you should go for a horizontal shiplap.
Installing Horizontal Shiplap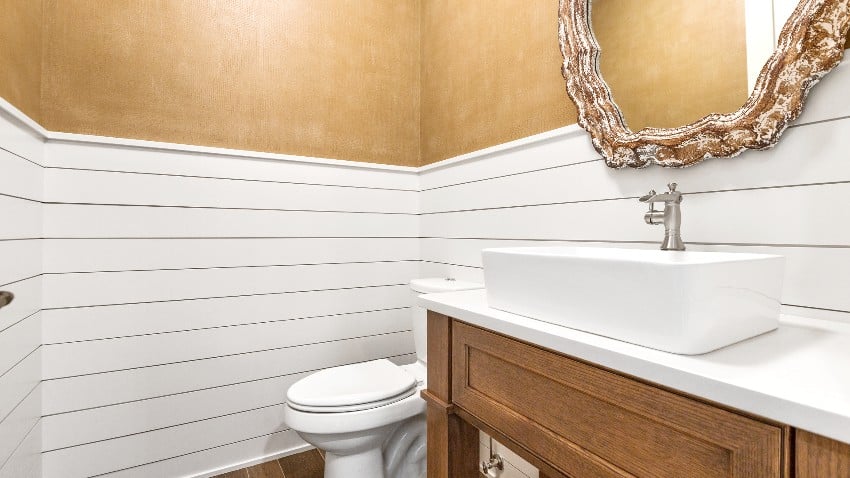 • Shiplap boards can be easily installed horizontally on walls. Just nail through the drywall and into the wall framing. Using a stud finder, find the studs in the walls.
• Start removing all nails, moldings, baseboards, trimmings, as well as wall plates from the location where you intend to apply shiplap. Take away the preexisting caulking from the wall using a utility knife at the upper end of the baseboard.
• Start at the floor and work your way up the wall with your first shiplap board. Afterward, using your level, check that the board is straight. Ensure that the board rests on or exceeds the vertical chalk lines that designate the studs in the walls.
• When installing shiplap on ceilings or other surfaces that are in excellent shape, you can use building adhesive. Simply finish-nail the boards in place to keep them in position whereas the adhesive cures.
• Caulk any holes that exist. Cover the nail holes and paint the crevices between each board using a paintbrush. The shiplap should then be painted using a roller.
Horizontal Shiplap Full Wall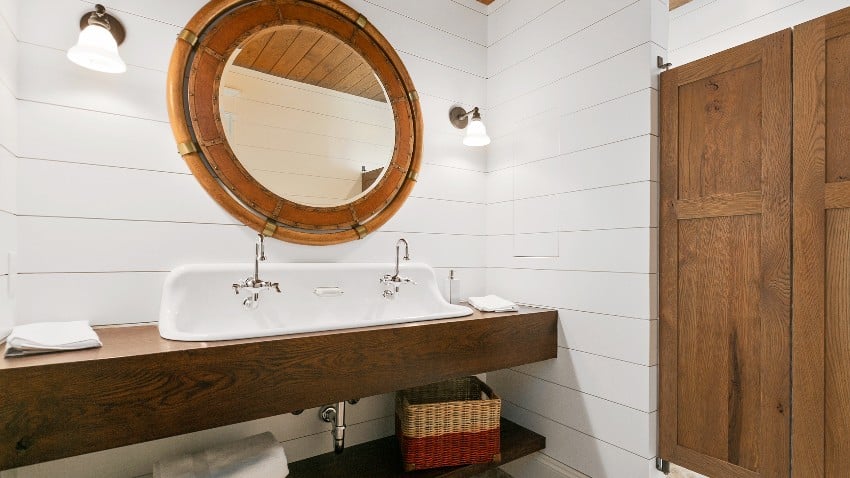 An entire room wall covered in horizontal shiplap will provide your place with the farmhouse or nautical vibe you have been looking for. You can even paint your walls in whichever shade of white you like, depending on how much natural lighting it receives.
Because of the horizontal pattern, you do not even need to display photographs to complete the look. A horizontal design on a full wall is normally seen in living rooms. Find out more ideas in our shiplap kitchen backsplash gallery.
Horizontal Shiplap Half Wall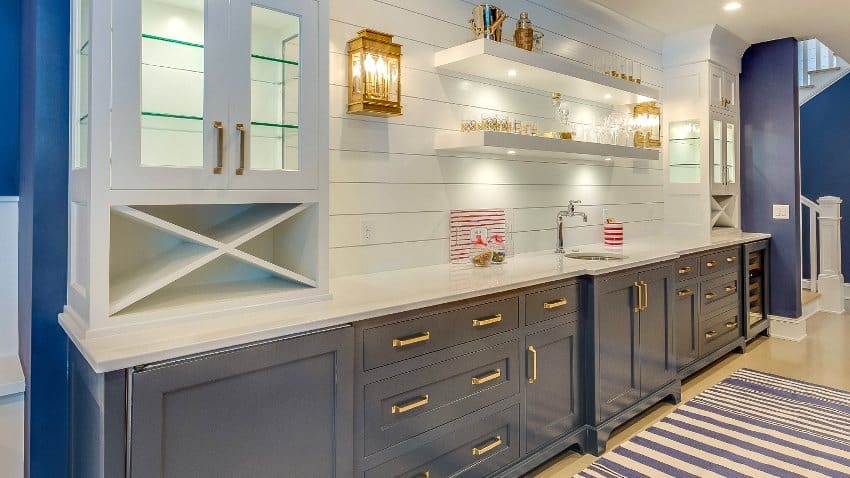 To assist in balancing out the bottom half of the wall and produce an excellent aesthetic, the upper half can also be done with a horizontal plank wall in a softer and more natural hue. You may also combine it with stone flooring to provide warmth to the space.
This looks great if your half-horizontal wall's shiplap is lighter and your stone flooring is deeper. Alternatively, you might use darker shiplap and lighter stonework. This technique usually works in kitchens, particularly on the countertop area.
What Is The Best Width For Horizontal Shiplap?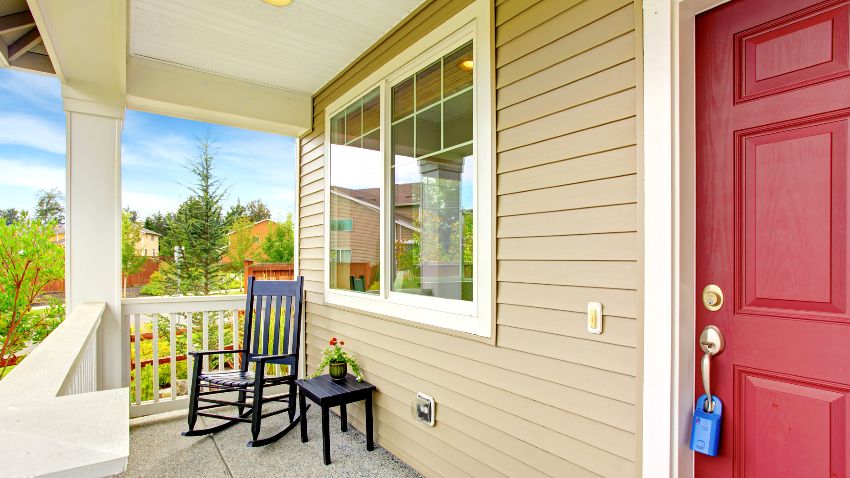 The width of the horizontal shiplap on your walls and ceilings can impact the room's appearance and ambiance. Nevertheless, horizontal boards are available in a variety of widths to complement your home's interior or exterior theme.
However, the best widths are roughly 5 and 7 inches. You can construct your home's style by using only one size width of board, or you can mix and match the widths to develop a distinctive pattern.
An approximately 5-inch horizontal shiplap provides depth and texture, converting a drab area into a focal point. When positioned horizontally, it can aesthetically enlarge an area, making a room appear longer and more spacious.
A 5-inch horizontal plank, combined with accent walls, ceilings, and wainscoting, creates a modern to classic effect in bathrooms, entryways, or any medium-sized area. Check our gallery of shiplap bathroom ideas here.
When covering huge spaces, an approximately 7-inch horizontal board would be a good choice. This horizontal shiplap has a modern farmhouse design and is suitable for large to narrow rooms, accent walls, lengthy hallways, or high ceilings. The wide face allows for speedy coverage of a big area.
See more related content in our article about shiplap dining room ideas here.