Below is our shiplap kitchen backsplash gallery including tile options that look like shiplap, sealing tips, and shiplap design ideas for kitchen backsplash.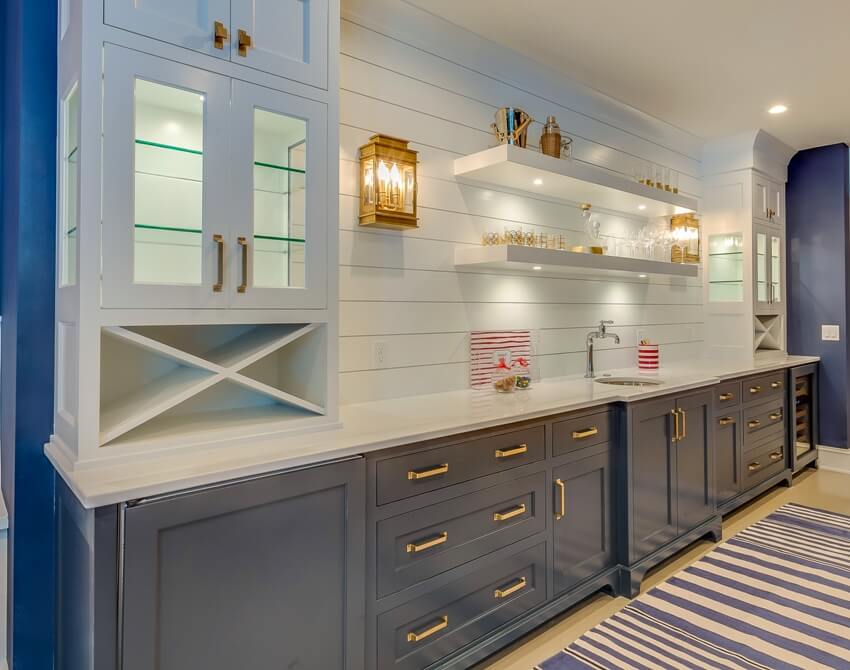 One way to redecorate and improve the overall appearance of the kitchen is through the use of shiplap kitchen backsplash. Shiplap kitchen backsplashes are charming and beautiful. They hold so much potential and they definite give your kitchen the extra touch it needs to take it to a whole new level both in functionality and design.
What Is Shiplap Kitchen Backsplash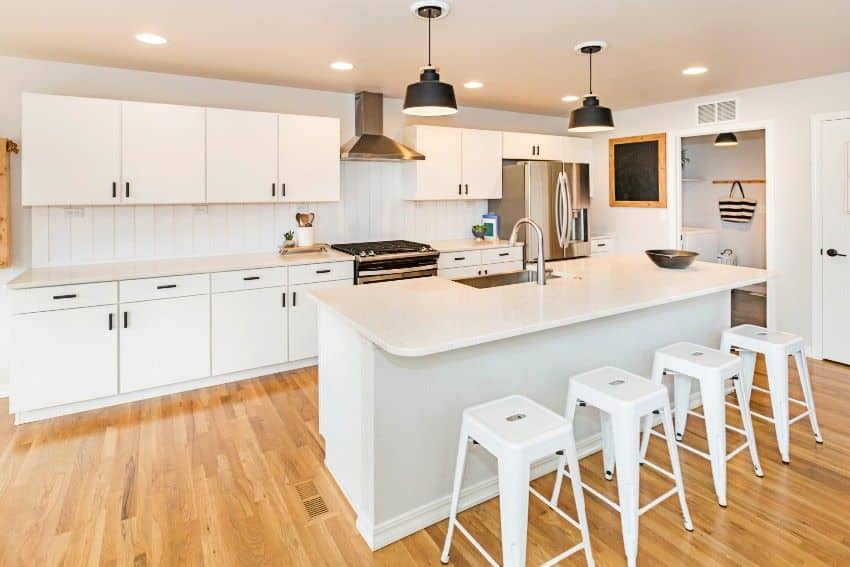 Shiplap boards were originally used to mend the holes in old ships. They prevented water from seeping in by covering the holes from the outside. As time progressed, shiplap has progressed into an actual design element.
In modern times, shiplap is oftentimes comprised of using horizontal wood pieces or planks on the wall with a small gap in between the pieces to form a simple line along the wall. This makes for a visually interesting design element and something that can add textures and shapes to your kitchen backsplash.
Typically, shiplap pieces are oftentimes mounted and installed horizontally but it's not unheard of to get them installed vertically either. This is the main reason why shiplap can be very versatile when it comes to the way that you use or set it up.
You can easily come up with a kitchen backsplash design that not only appeals to certain aesthetics but something that can really represent your own personal sense of style and character as well.
Can I Use Shiplap As A Backsplash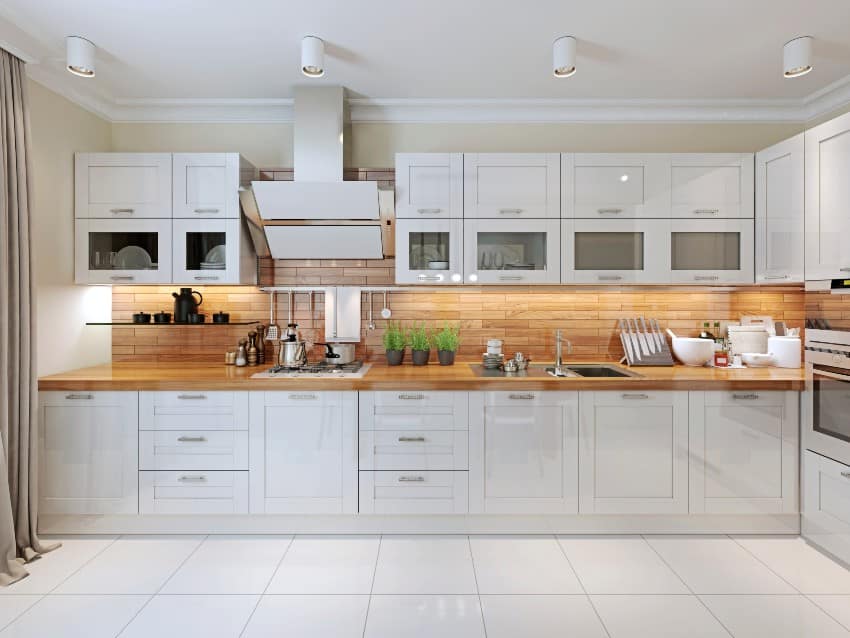 Yes, you absolutely can, although most of the kitchen backsplashes are made out of tile and other similar materials, you can actually make them out to be literally anything you could possibly want.
Any material is possible to be made into a kitchen backsplash and this is no different with shiplap. This material is a great alternative. Tile looks great but shiplap can turn out to look just as great or perhaps even better.
Some of the benefits that come along with opting for shiplap as material for your kitchen backsplash are:
The design is inspired – If you're going for a somewhat eclectic type of design for your kitchen design, shiplap can turn out to be a really great material for you to consider.
Shiplap creates a somewhat informal look, similar to a charming or ramshackle rustic kitchen that's a conglomeration of a lot of different elements while at the same time looking clean and polished as well.
Unique and one of a kind – If you're looking for something new, unique, and something that you just don't normally see in most houses' kitchen backsplashes, shiplap is the perfect material.
Most shiplap planks are arranged horizontally but you can always switch things around and opt to get them arranged vertically instead. You can often see shiplap ceilings that create an attractive design feature. The same can be said about them when applied to a kitchen backsplash area.

Great visual flow – Shiplap backsplashes in the kitchen can really open the space up because it will give your eyes something to follow, be it horizontally or vertically.
If you want to make the space look and seem taller though, you can definitely experiment with vertical shiplap. Check out more ideas about shiplap kitchens here.
Shiplap Backsplash Kitchen Ideas
Farmhouse Shiplap Backsplash
A distressed look on the shiplap planks can really tie in well with a farmhouse design theme. This is actually one of the most popular styles where shiplap backsplashes are used. The boards are normally stained or painted a certain shade of white.
Whitewashing can also be a reasonable process. When you whitewash some types of wood, they can take in grayish tones that are soft and gorgeous and definitely worth the look that you're aiming for.
The best part in a farmhouse shiplap backsplash is that you get to see the white hues but you also still get to see some of the wood material showing through. It's the perfect marriage between the paint and the actual wood material. It's very visually interesting yet at the same time, still very welcoming and cozy. See more farmhouse kitchen ideas here.
Vertical Shiplap Backsplash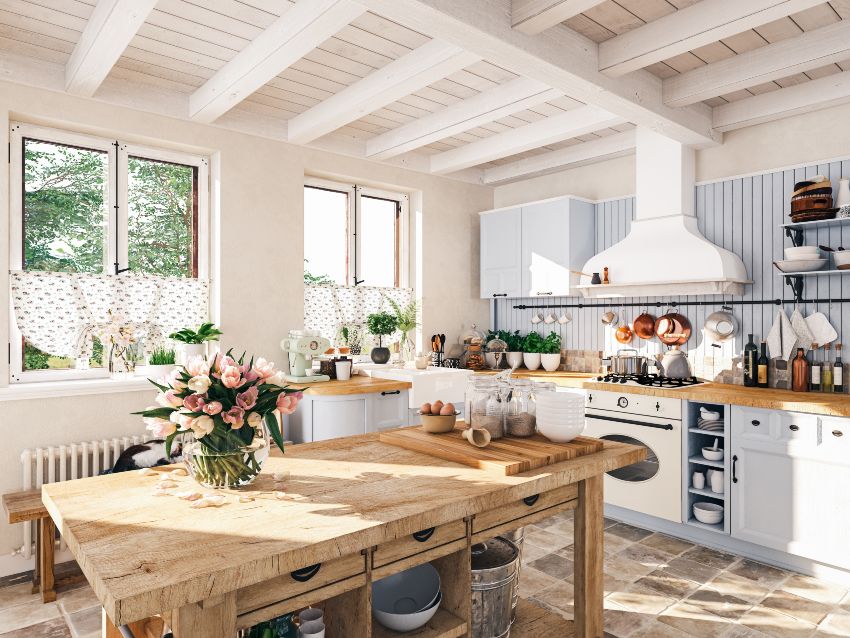 Vertical shiplap backsplashes can give you a great illusion if tricking the eye is your main goal for your kitchen space.
It can make your overall kitchen space appear so much taller than it actually is because of the way the shiplap planks are actually arranged. This is great for kitchens that are struggling with low ceilings and cramped spaces.
The lines created by this type of backsplash can provide a certain sense of balance in the otherwise horizontal lines you have in the kitchen; and you will have a lot of those. They're everywhere; from the shelves, to the countertops, kitchen islands, tables, and so much more.
Grey Shiplap Backsplash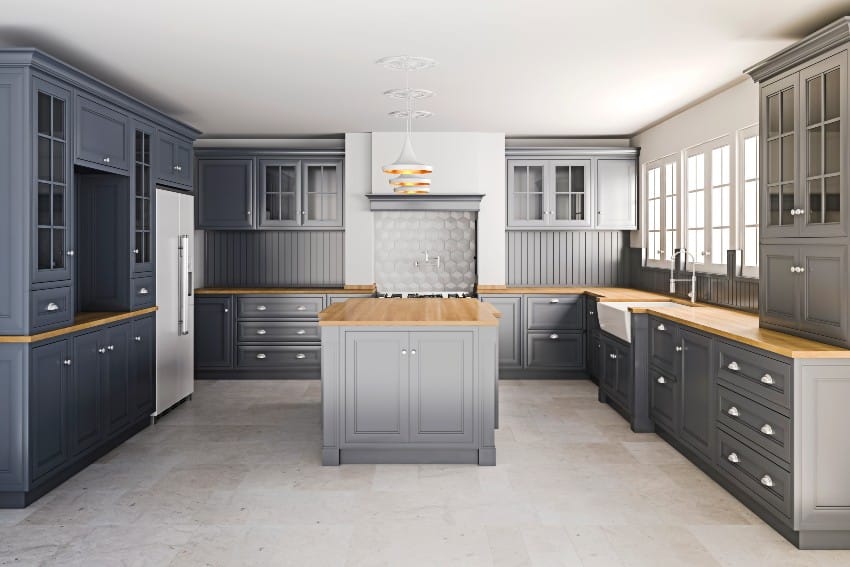 Grey is a neutral color and getting your shiplap backsplash painted as such can really make your kitchen décor ideas edgy yet at the same time safe.
If you happen to love the look of white but you aren't particularly fond of its absence of color, grey is a pretty good alternative, or even essential. It isn't as bold as the strong colored browns and blacks but it can still deliver a really modern and contemporary look without trying too hard.
A lighter grey can make your kitchen appear airier and bigger. If you need some extra space in or at least illusion of space in your kitchen atmosphere, then opting for gray shiplap backsplashes can really bring this to a whole new level.
White Shiplap Backsplash In Kitchen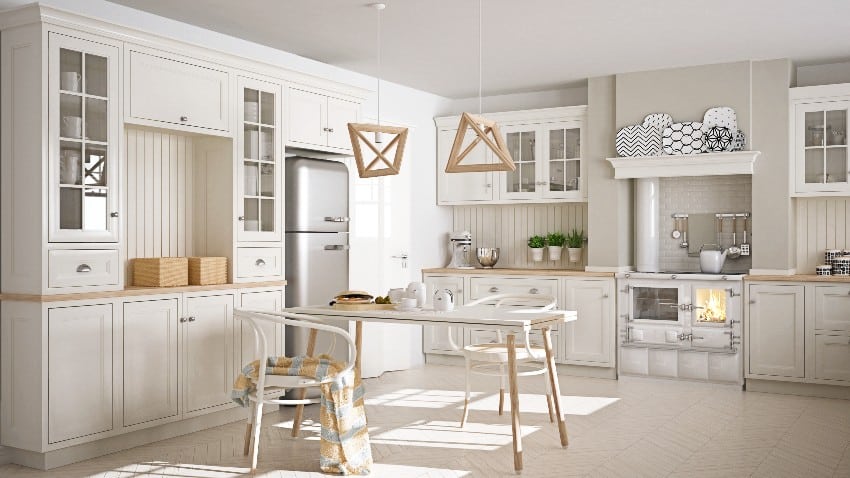 Opting for white shiplap backsplash in the kitchen is a unique design choice and a bit of a statement in the kitchen. If you haven't thought about this too much before, this is definitely something that you're bound to fall in love with.
Using white banks on the symmetry of the planks being laid out next to each other neatly and with precision. It's particularly impressive and can give a certain organized look and feel to the kitchen.
White tends to open the space up and really make everything brighter and airier. It's classic and it's bound to work with literally any design or color palette you can come up with.
Shiplap Tile Backsplash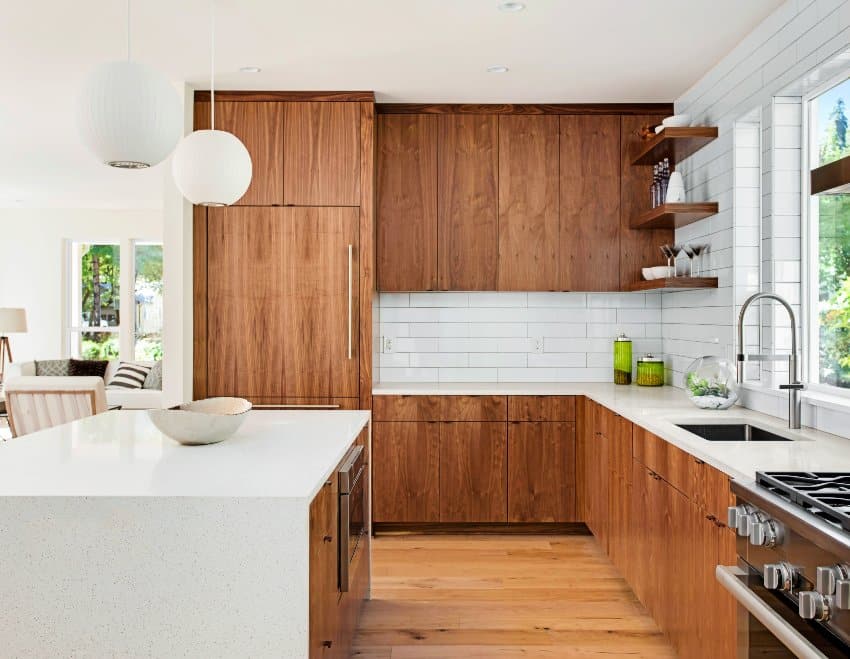 Shiplap tiles that look like shiplap can be a great alternative if you aren't too fond of the organic traits of actual wooden shiplap. If you come to think about it, it can turn out to be the perfect marriage between tiles and the design of shiplap planks.
Tiles, especially those with glazed surfaces, are nonporous. They are waterproof and are less prone to getting damaged as they're denser and far sturdier. This is something that you can definitely take advantage of if you go ahead and opt for shiplap tiles instead of the traditional shiplap planks for your kitchen backsplash.
It can make maintenance very easy. The kitchen is an area in the home where you deal with a lot of wet and dry materials and where you are usually going crazy with new or even experimental recipes.
This means that you will have to deal with the mess right after but you don't have to worry too much about it when you have shiplap tiles for your backsplash because you can easily wipe them up or clean them up with a simple solution of water and soap and a soft rag. You can even opt for some warm water or paper towels.
You also need to take note of the fact that there happens to be so much moisture behind your kitchen walls. This means that there's always the off-chance that your backsplash may be prone to a small amount of water damage.
Even the smallest amount of moisture or water can ruin the look but you don't have to worry about this if you go for shiplap tiles as they don't degrade the same way shiplap planks normally do.
It can increase your overall home value. Your backsplash in the kitchen works the same way as an icing on a cake. It holds everything together for as far as how your kitchen looks and feels like.
It can enhance your kitchen décor and really take it to a whole new level and this is something that you ought to make use of. It's durable so even if you get to a point wherein you have to resell your home, it can even tack on to your real estate value.
Backsplash Tile That Looks Like Shiplap
Peel And Stick Shiplap Backsplash
This is a great option to consider if you don't want to install any permanent décor in your home.
If you're renting and you want the material to be removable but at the same time, you want to be able to enjoy the aesthetic benefits of shiplap, a peel and stick backsplash may work.
It's an easy and quick update for your kitchen space and you get to do it on a fairly reasonable budget as well.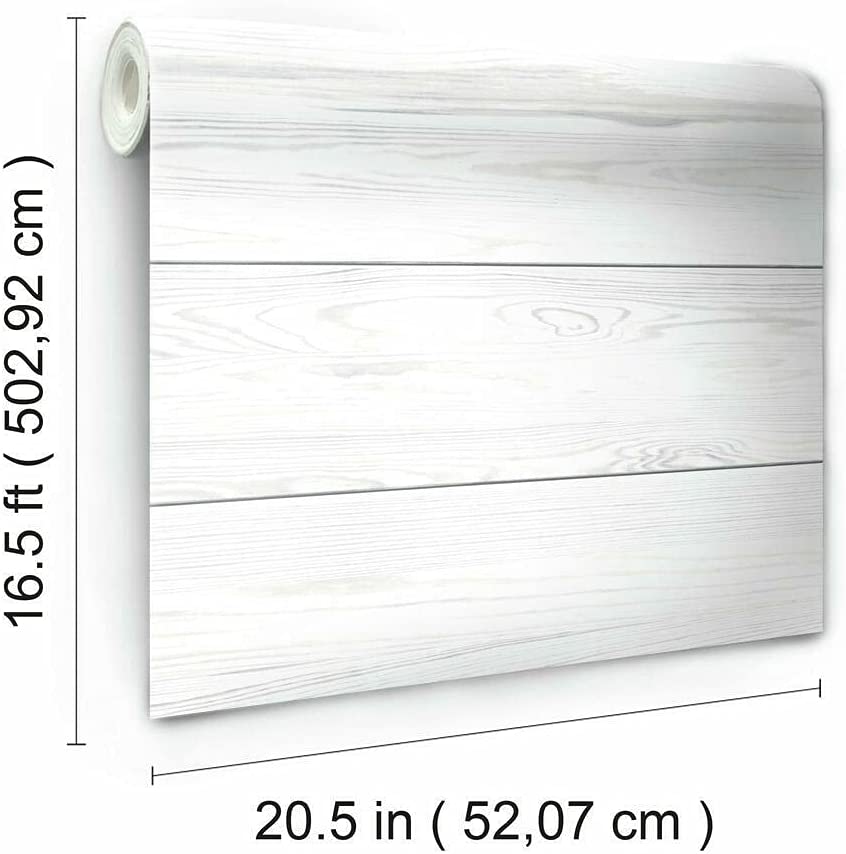 See this shiplap peel and stick wallpaper at Amazon [sponsored link]
The downside to this though is that you don't get the same multi-dimensionality and texture as with a regular and actual shiplap backsplash. You can always get kits that are of higher quality but they can easily run up to $25 or more per square foot.
Also, the adhesive can end up degrading over time, causing your backsplash to peel out. Unless it has a permanent adhesive, it's a downside you will have to deal with further down the road.
Shiplap Wallpaper Backsplash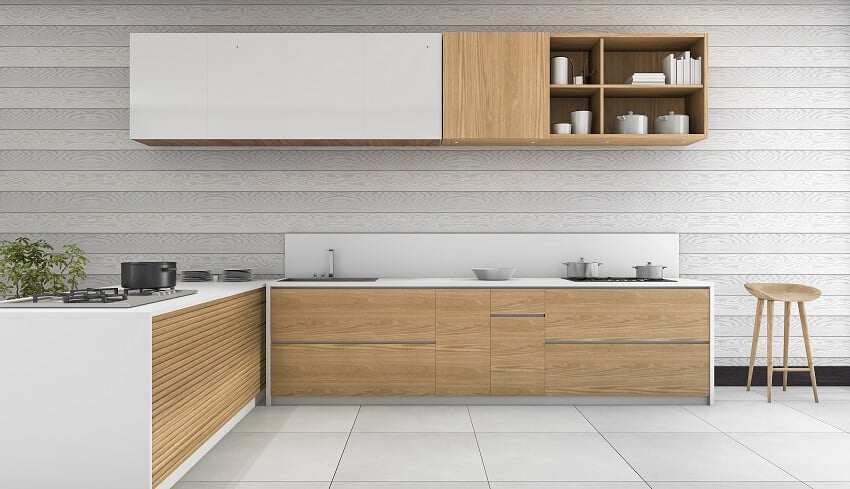 Anything that can be printed on a wallpaper can resemble anything you would like it to look like. This is the same thing with shiplap wallpaper backsplashes.
The whole point of getting a backsplash in the first place is for you to have an attractive wall to showcase your kitchen space in.
It's easy, it's cheap, and it can be done in nothing costing you more than $25 or so per roll. Some wallpapers even come with embossed textures, mimicking the overall look and feel of actual shiplap. Some wallpaper on the higher end can cost as much as $250 or so per roll.
Faux Shiplap Backsplash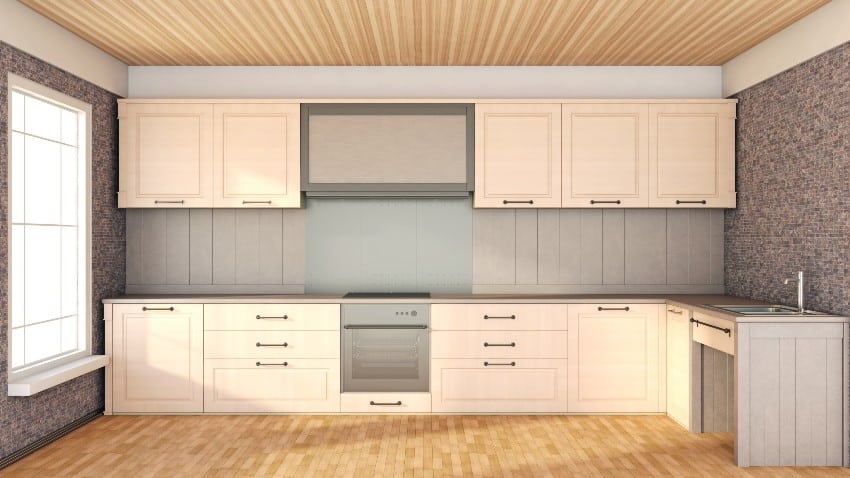 If you are feeling a bit creative, opting for a faux shiplap backsplash can get the job done for you. You can actually get a faux shiplap painted on. You get to play around with the contours, shading, shadows, and so on.
Anything is up on the table if you happen to be feeling a bit artsy. You get to select paint types and colors that can match shiplap specifically. You can even contrive the weathered look of the shiplap planks if that's what you prefer.
Vertical or Horizontal Shiplap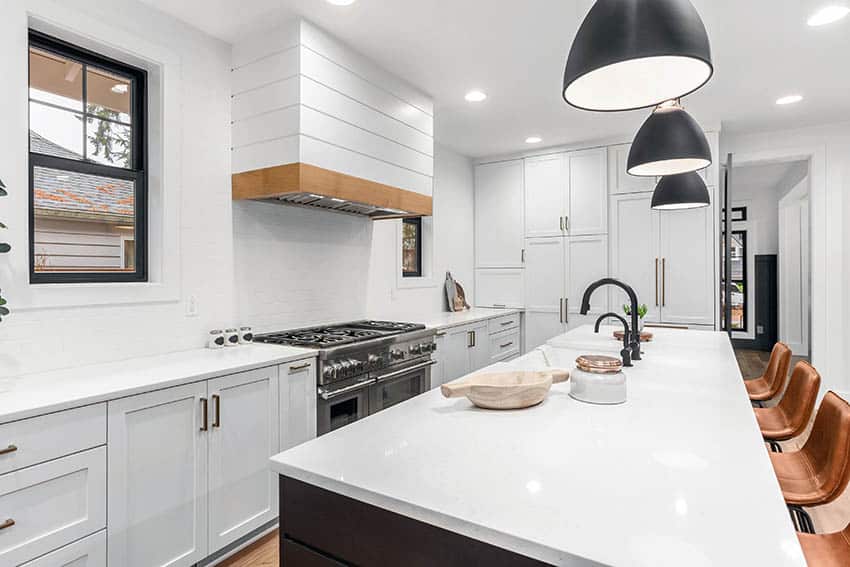 Both vertical and horizontal shiplap can look great for different settings, so the best choice will depend on your personal preference and the overall design of the space. Here's some details to help you decide.
Horizontal Shiplap
For Narrow Kitchens. Visually elongate spaces. Long shiplap installation from end to end of a backsplash wall can widen the space visually.
For Coastal and Modern Farmhouse Kitchens. Reminiscent of the look of old barn exterior walls, a horizontal shiplap can create an interesting backdrop for coastal and modern farmhouses.
Pull Together Design Elements. The continuous pattern of horizontal planks can effectively pull together the design elements and creates a sense of stability in a kitchen space.
Create a Restful and Calm Space for a Busy a Kitchen. While adding visual interest, a shiplap wall conveys that homely vibe, and with a horizontal orientation, the lines project a restful and calming element.
It can make an Architectural Feature Visually Larger. Emphasize a section of a backsplash by using a different width or orientation of a shiplap. A niched section, for instance, with an arched profile looks great with a wide-planked shiplap.
Vertical Shiplap
For showcasing architectural details or accents above the sight lines. Lighting fixtures, arches, domes, a clerestory, or any statement piece, can be showcased with a vertical orientation.
A vertical orientation is also a more modern choice that can make a room feel taller and more spacious. It can draw the eyes upward, increasing the stately presence of the wall element.
For small kitchens. Like the horizontal shiplap, a vertical shiplap can create a sense of spaciousness. A higher ceiling can is also an opportunity for a larger window, increasing ventilation and light.
Design Ideas to Spruce Up Your Shiplap Kitchen Backsplash
Shiplap Kitchen Wide Planks – Larger shiplap planks can make a kitchen feel larger while having fewer pieces to assemble. White shiplap planks with 12 inches width can be a gorgeous backdrop for a farmhouse-style kitchen.
Obscure a Rangehood Cover – While a shiplap install can emphasize architectural features, it can also help blur away an overbearing feature such as the range hood.
For instance, install the same shiplap material following the contours of the rangehood with the same orientation, color, and width of the shiplap backsplash.
The continuous lines and material project a cleaner look. Add minimal moldings or trims to follow the profile with the same color for a more polished appearance.
Is Shiplap Good For Backsplash
Shiplap definitely makes for a great kitchen backsplash. It can get the job done quite nicely if you happen to be in the market for something unique, different, and aesthetically appeasing.
A great looking shiplap backsplash is a great focal point to have in the kitchen. It brings in a huge difference to your overall kitchen décor. Here are some of the main reasons why shiplap can turn out to be a really great candidate: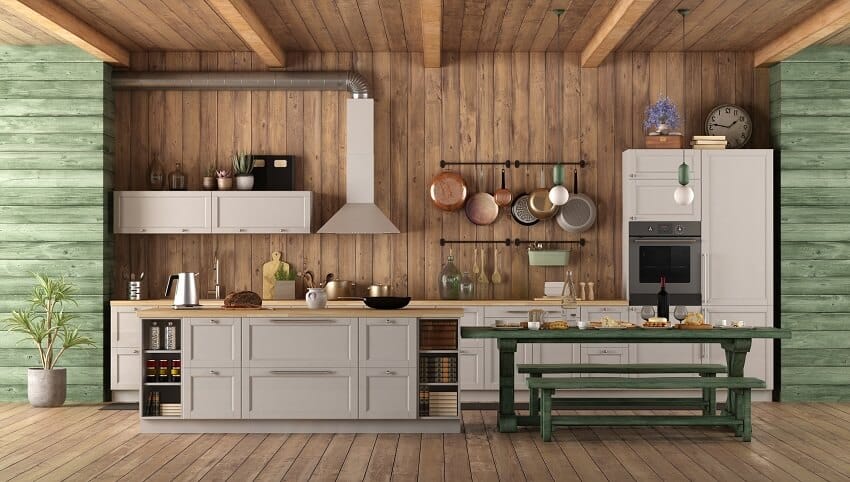 It looks very natural – Shiplap is an organic material since it's mainly really made out of wood. It's amazing and although it wasn't intentionally build out to be made into a backsplash, it tends to fit right into the kitchen décor.
You will also get to play around with the rest of the kitchen décor even if you happen to have lots of large overhead cabinets because the shiplap will still be fairly visible.
It has a huge impact on your kitchen – This is a really big deal. Shiplap can totally revolutionize the way that your kitchen looks and feels like overall. Even if you don't really do anything else other than update your kitchen backsplash to shiplap, it can get the job done without you having to try too hard.
It looks and feels high end – Shiplap added in as a backsplash for your kitchen can instantly make it look and feel expensive without actually costing way too much money on your end. The unique look on your walls can really make all of the difference in the world.
It has clean corners or edges – Because shiplap tends to overlap over each other, it allows them to meet together without being cut off. This ensures that you get to end up with clean corners and this can really bring your entire kitchen look together.
Its simplicity is appealing – Shiplap is simple and fairly free of distractions. If you want something clean and seamless for your kitchen, shiplap can interestingly deliver just that.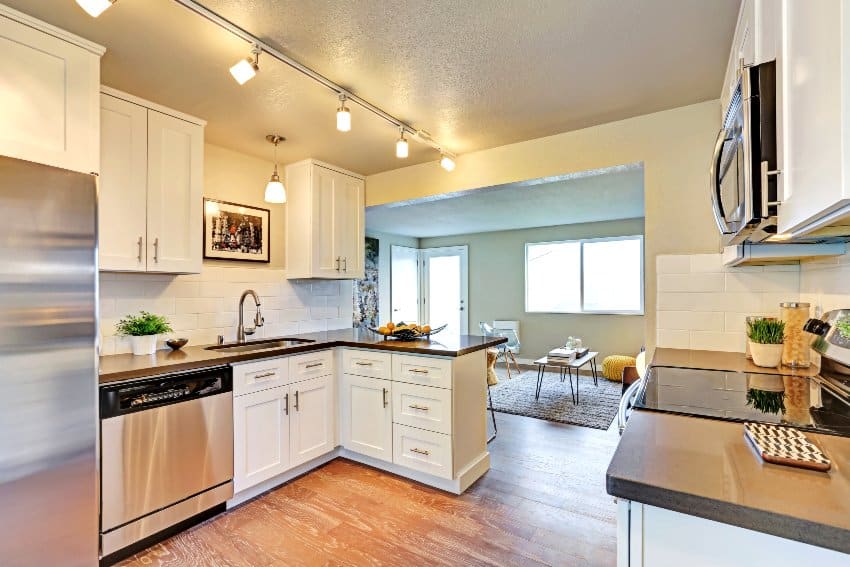 To make it fair, there are also some things that you might need to look into for as far as disadvantages with shiplap goes:
They can be expensive – This is one of the biggest cons of getting shiplap as a backsplash for the kitchen. The thing is, more often than not, you will have to more or less pay double to get shiplap as a backsplash for your kitchen.
An average backsplash has a square footage of 5 to 10 square feet. Shiplap may cost around 5 to 10 times more money than any other regular type of backsplash material.
They can be hard to install – This is particularly challenging because the kind of planks you need to be using should be the types that are longer and they also need to look symmetrical. This means that shiplap is harder to install compared to the others because of the amount of technicality it actually needs for the installation.
Still, the pros far outweigh the cons and the slight inconveniences are really nothing compared to the overall look and feel you can achieve when you opt for a shiplap backsplash in the kitchen. It's really worth all the trouble you go through with to get it.
How to Protect Your Shiplap Kitchen Backsplash?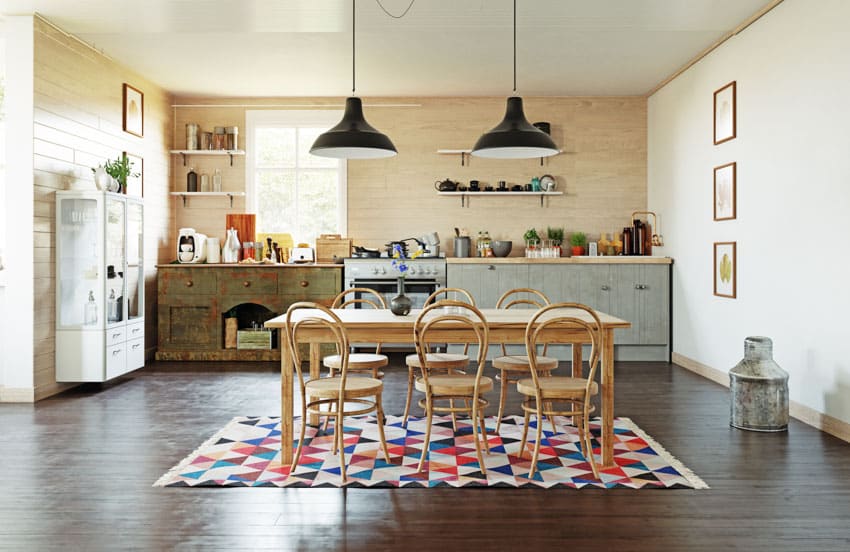 While regular maintenance, such as wiping off grease or dirt from the shiplap surface, helps in keeping the backsplash pristine, proper waterproofing is important, particularly for shiplap backsplash made out of wood.
Waterproofing Methods for Wood Backsplash
Waterproof membrane – A waterproof membrane can be installed before placing the wooden slats. This continuous layer creates a barrier between the wall and the tile, protecting it from water damage. Waterproof membranes are available in almost any hardware or home improvement shop.
Waterproof backer board – Basically, a board that is designed specifically to be used in wet areas, such as bathrooms and kitchens. This material is designed to resist water and moisture, making it an ideal choice for use behind a shiplap backsplash.
Apply a Sealer – Polyurethane, tung oil, and wax-based sealers are common waterproofing treatments for wood surfaces. Shellac is a natural resin-like tung oil that provides a water-resistant surface and is available in matte, semi-gloss, or glossy finishes.
How To Seal Shiplap Backsplash
A kitchen backsplash is definitely a beautiful and practical feature to have at home. It's great when it comes to protecting your kitchen walls from water and other splatters such as oil and food related spills that might end up ruining the overall look and feel of the home.
Although the main goal of a kitchen backsplash is to provide a layer of protective feature, they have ever since evolved into something so much more than that. Kitchen backsplashes these days have become integral when it came to the concept of kitchen design.
Backsplashes these days are meant to be cohesive with the overall design of the kitchen. They usually complement the color palette of the place, or even the colors of the walls and all of the other furnishings and elements that came along with it.
Putting a shiplap backsplash on isn't enough though. You need to make sure that on top of getting the backsplash installation, you also need to know that it's properly maintained and protected. Shiplap should always be sealed at all costs and no matter what happens.
Wood is porous and this isn't a good trait to have in the kitchen, where it will be exposed to a lot of heat, moisture, and so much more. Sealing your shiplap backsplash will ensure that it has an extended lifespan and that you get to enjoy it for more years to come.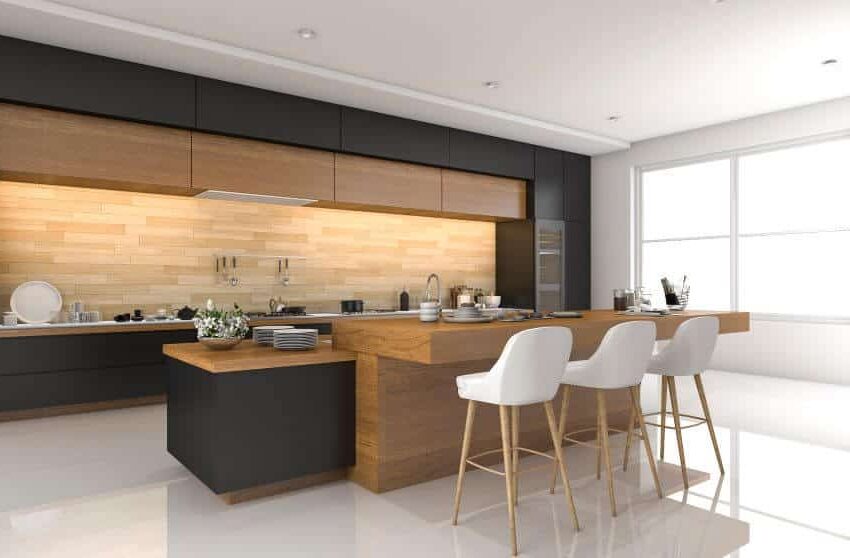 Here are the things you will need:
Clean your shiplap backsplash by using an oxygen bleach solution. Most of the shiplap material can be weathered or even a little dirty especially if it's salvaged material. This step is particularly important. Preparing the solution is easy.
All you need to do is mix 6 ounces of bleach to a gallon of water. Once you have this solution ready, transfer the solution to a hand spray and spray it all over the backsplash.
Allow it to set for about 10 minutes or longer, depending on how deep a clean you would like to get. Using a rag, scrub the wood gently. With the use of another hand sprayer with nothing but water in it, spray it down some more so you can rinse off the bleach solution.
You need to make sure that you wipe everything down. On top of all of this, you also need to make sure that you allow the shiplap backsplash to completely dry off before you proceed with the actual application of the sealer. You might need to give this a little bit of time, perhaps a day or two.
There shouldn't be any amount of moisture left at all in the wood. Bring an industrial fan in for added air circulation in the kitchen area if you have to.
The next thing you need to do is for you to pick out the sealer you're going to use that's specifically designed for the wood type of the shiplap material you picked out. For example, certain woods have certain types of wood sealers applicable to them.
Use a clean bristled brush to apply your sealer. Start with a thin coat for the initial layer. Make sure that you go ahead and work in long brush strokes. Make sure that you also do it against the wood grain for total and complete coverage.
After the application, you need to make sure that you allow the sealer to dry completely. Read on the instructions in the can or in the package. Some would require only a few hours while some might take a day or two.
You might need to layer a second coat on your kitchen shiplap backsplash if you want it to be really comprehensive. Make sure that you let the layers dry out in between coats.
This is a fairly easy application process and something that you can easily do all by yourself. There certainly isn't a need for you to get the job done professionally which means that it can be practical and that you get to save a little bit of money as well on the side.
For more articles like this, visit our gallery of shiplap bathroom designs here.