This gallery of shiplap backsplash designs includes what it is, how to use this material, different types & styles, and creative shiplap backsplash ideas.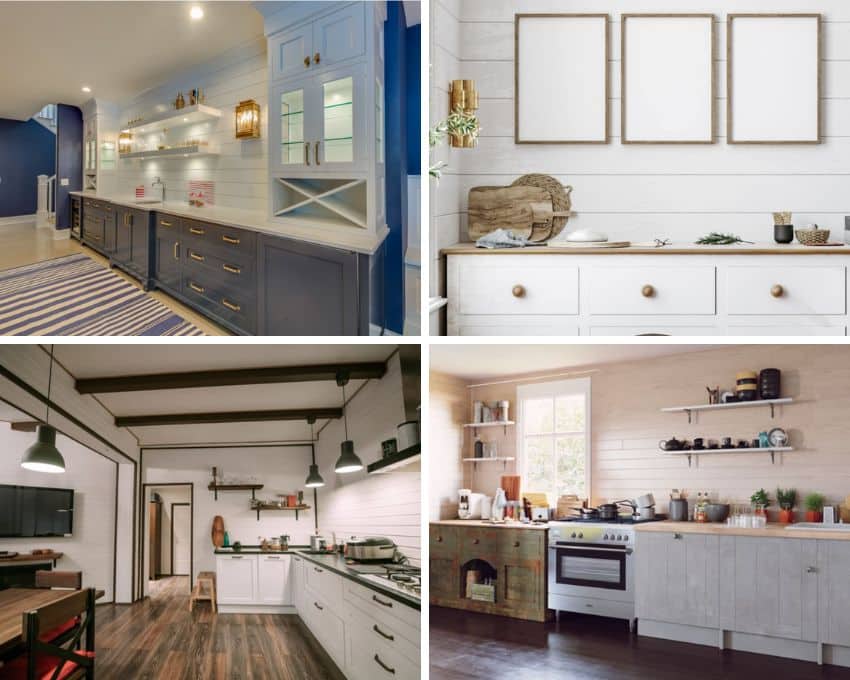 A shiplap kitchen backsplash is an interesting kitchen feature that you should discover. As per the National Association of Homebuilders, the kitchen is the most frequent area to be redesigned. Thus, if you are going to renovate a room, it would probably be your kitchen.
Adding this type of backsplash is a simple way to update your kitchen. It is one of the most ideal ways you can achieve with your kitchen is to revamp its aesthetics and functionality. It not only looks great, but it may significantly increase the value of your house.
However, what exactly is this backsplash type? How can you use this material as a backsplash? We will discuss these questions in this article.
Quicklook: Different Shiplap Types For Kitchen Backsplashes
• Tongue And Groove
• Tile
• Peel And Stick
• Waterproof
• Wallpaper
What Is Shiplap Backsplash?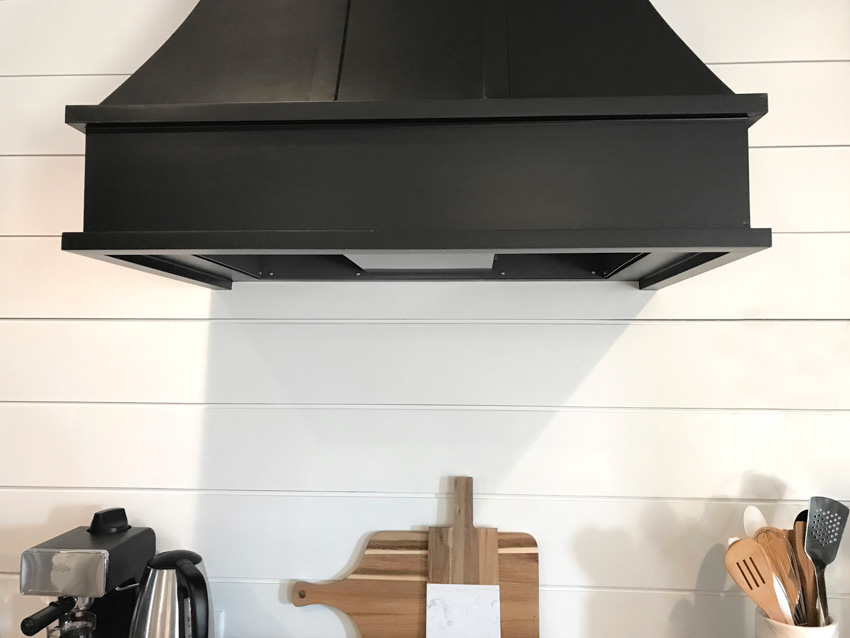 Although most types of kitchen backsplash are constructed of tile, they can be constructed of anything you desire. Fortunately, it is a terrific substitute for a tile that appears quite as wonderful, if not better in certain applications.
Shiplap is an excellent way to bring personality and elegance to your kitchen. It can be very simple to attach over your pre-existing backsplash tile, and it can add interest while keeping the design pristine and precise. This backsplash appears wonderful behind open-shelving or under cabinets. It is adaptable and timeless as well.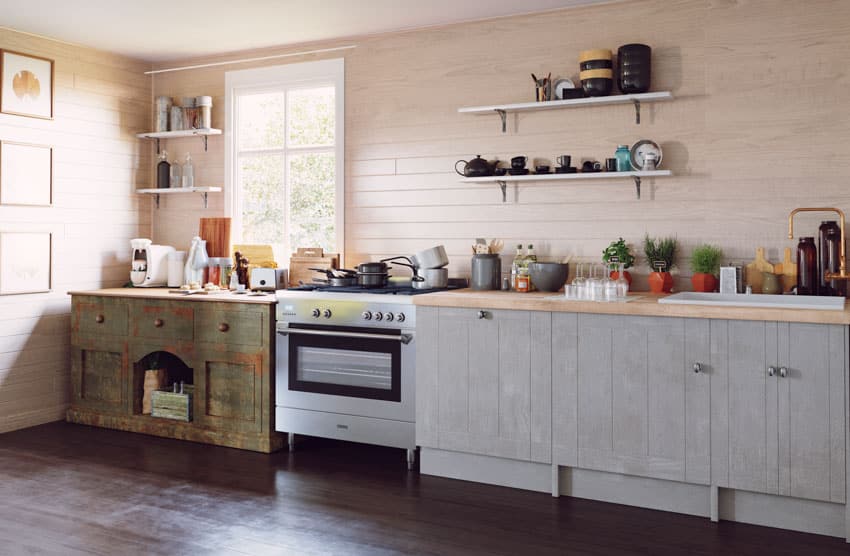 Genuine materials were initially employed in old ships to keep water out. The design has evolved with the progression of time. It is typically associated with modern farmhouse design nowadays. It can be found in numerous classic wooden houses as well as mid-century modern residences.
It is most commonly defined these days by horizontally designed planks of wood that are laid on the wall with a little bit of space between each wall panel to produce a basic line across the wall, which contributes to making an eye-pleasing backsplash.
While the material is normally installed horizontally, it is also utilized vertically in various areas, making it an extremely adaptable way to add elegance and personality to any space.
Shiplap is easy to combine with more contemporary styles because it's subtle enough to blend in and offers a distinct look that can easily be associated with farmhouse & rustic style interiors. – interior designer, Giezl Clyde Ilustre
How To Use Shiplap As Backsplash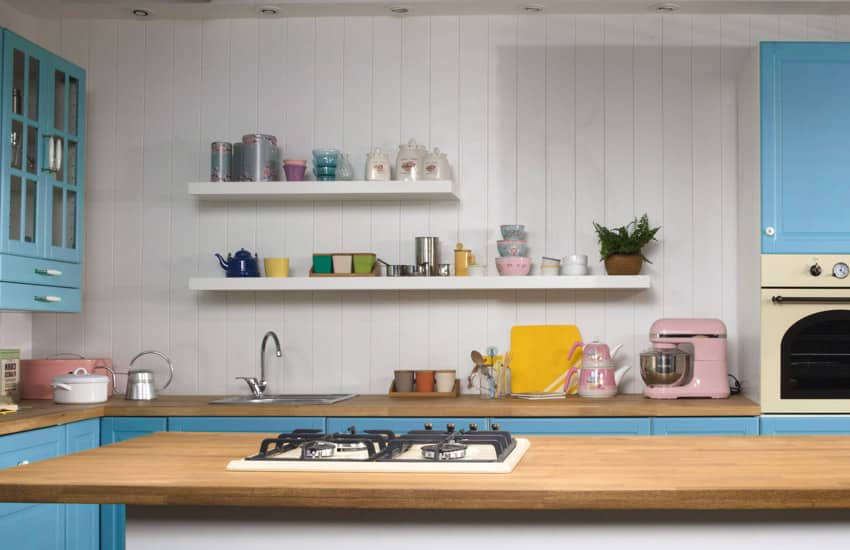 There are numerous methods to use shiplap as a kitchen backsplash. However, there are a few important areas to consider while selecting your design. These ideas are excellent sources of inspiration for these backsplashes.
Using it as a Continuing Shiplap Kitchen Backsplash: The continuing backsplash is very prevalent and renders a big impact. You may put it on your kitchen walls and as a backsplash. However, you just have to make sure that the two of them will continue rather than cut themselves off. You will want a steady progression.
It is indeed a terrific idea to do your shiplap kitchen designs in this manner. It appears to be quite natural and as if it was originally designed to be constructed this way. It also allows for enough space for enormous cabinets since the material remains visible.
This will have a significant influence on the appearance of your kitchen. Even if you will not do anything more to it, it will drastically revolutionize your kitchen.
If you apply this to your kitchen, it will look a lot more upscale. Installing the backsplash is one point, but extending the appearance to the walls will increase the appeal and value of your home. You can ensure tidy corners by ensuring that the material connects and overlaps rather than being chopped off as the wall changes. This will bring everything in the kitchen together.
Shiplap Kitchen Backsplash in White on White: If you do not like being associated with the farmhouse design aesthetic, you can go with white-on-white kitchen backsplashes. Even though it is generally used for a farmhouse aesthetic, this would be a unique way to utilize it.
Including Diversity in Your Shiplap Backsplash: If white on white is not really your thing, you can always try a minimalistic backsplash as well as a variety of additional features in your kitchen. The backsplash does not have to dominate the kitchen; rather, it can complement it.
If you go with this method, you may decorate it in any way you desire, with photos, bright cabinets, and contrasting flooring. This is entirely configurable; there are no limits.
You can not just only personalize a kitchen with this backsplash, but you can also allow your personality to take the center stage. You are free to incorporate small pieces of your personality into your kitchen.
Installing Your Shiplap Backsplash Vertically: Most homeowners will never consider installing this material vertically. You can, however, execute it. It renders the kitchen appear taller and more unique, which fundamentally changes the role of the backsplash.
This sort of backsplash appears avant-garde since it is unique. However, the phrase avant-garde refers to anything that is a bit of a mishmash of designs from diverse sources.
There is not much more distinctive than changing things up. Even though most people believe that a horizontal variant looks nicer, you can be the one to stride out of the normal path and install it vertically.
Vertical shiplap has the potential to have a superior flow to horizontal type. It leads the attention upward and might help to open up a space. It makes the room appear taller, which is beneficial if you have high ceilings.
Integrating The Ceiling with your Shiplap Backsplash: Integrating the ceiling in your backsplash layout might have an even greater emphasis than integrating it with the walls. Ceilings are frequently overlooked and ignored. However, if you utilize the material on them, you could modify this.
Adding something distinctive or quirky to the ceiling is one method to draw your attention to it. Shiplap would be an excellent choice for this. You can begin with the backsplash and work your way up until the whole area is coated.
It can be difficult to take advantage of your ceiling space. Several people finish it white and then overlook it afterward. Rather than attempting to make it vanish, you can use this backsplash design to bring it back to life. See more shiplap ceiling ideas here.

This method is truly one of the greatest methods to end up making your ceiling appear luxurious. It can be difficult to make a ceiling appear pricey, but there is one point on which we can all concur. A beautiful backsplash made of this material that connects with your ceiling always appears high-end.
Types Of Shiplap-Style Backsplashes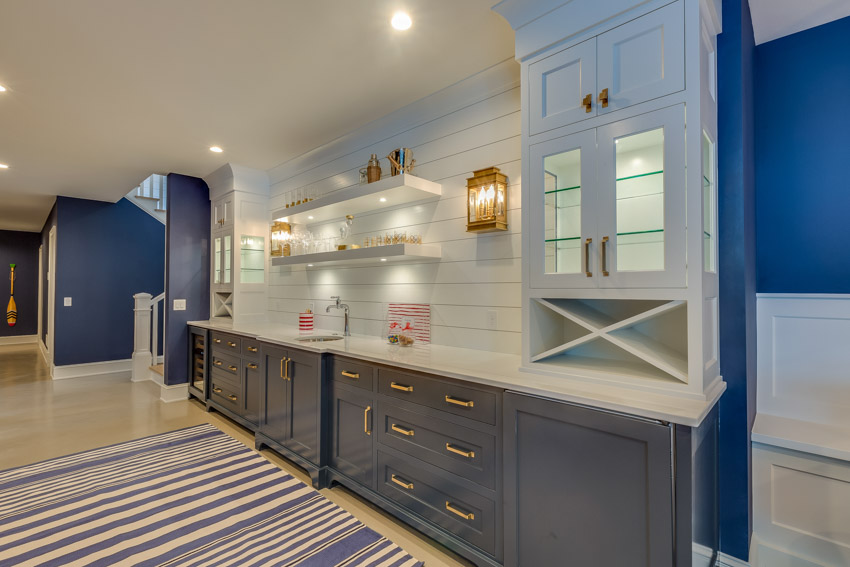 Here we share the different types of shiplap backsplash.
Tongue And Groove Backsplash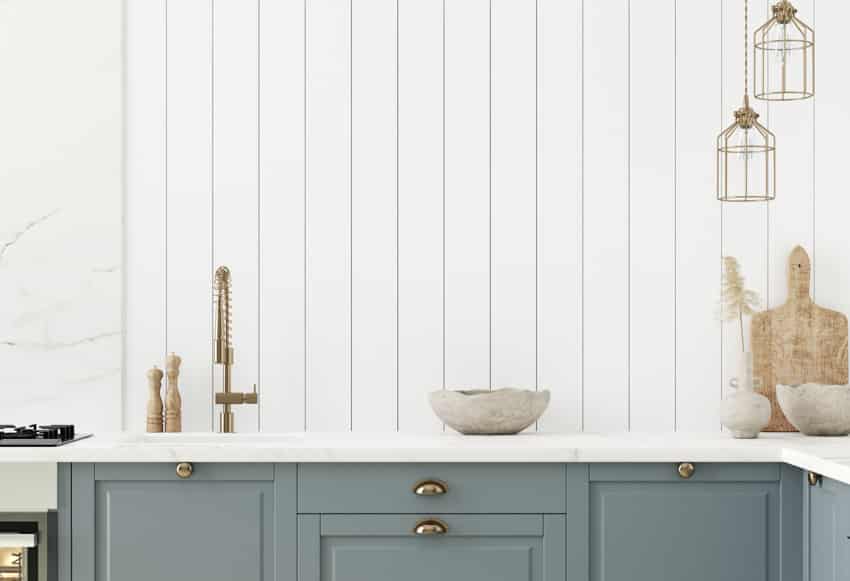 Tongue and groove backsplashes have a striking similarity with shiplap backsplashes. The only variation is in how they are placed. It is bonded together with rabbet seams. A tongue and groove board, on the other hand, necessitates a distinct installation approach.
Tongue and groove connections were once often employed in woodworking manufacturing activities. Tongue and groove boards have a little projection that extends from the center of the margin on the other side. The opposing side, however, merely has a small indentation.
Shiplap Tile Backsplash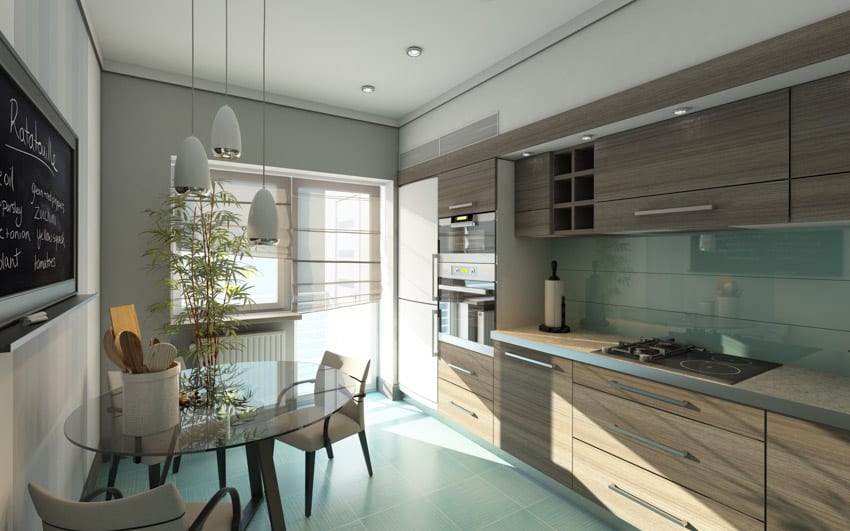 Shiplap tile backsplashes use these materials that often fill the spaces between cabinets and a counter on a kitchen or bathroom wall, covering the extent of the countertop. These tile backsplashes are a fantastic addition to any kitchen when done correctly. They combine modern with rustic design.
These tile backsplashes can readily boost your home architecture, whether you want to accentuate your rustic or farmhouse kitchen with backsplashes beneath the oven hood or you want to upgrade your bathroom sink area.
Peel And Stick Backsplash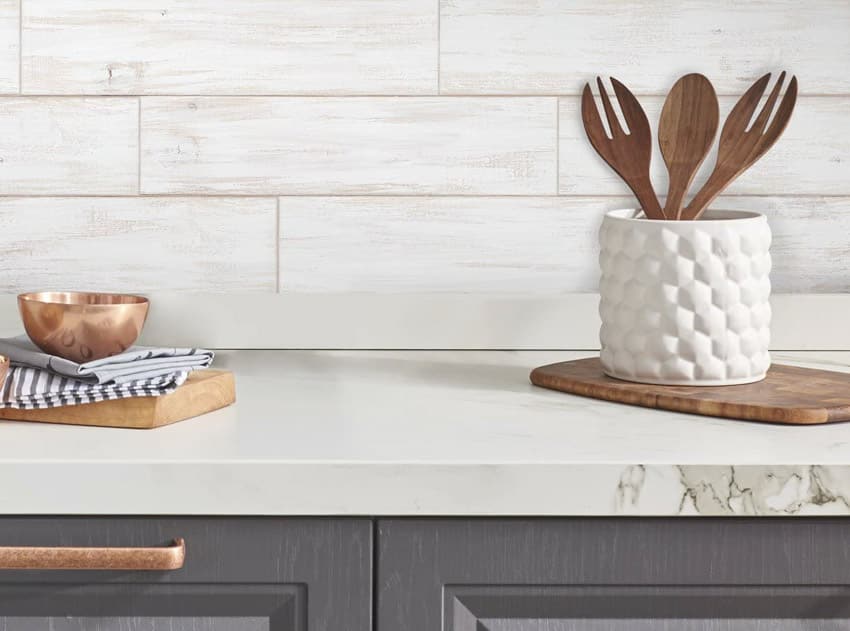 See this peel and stick shiplap backsplash at Amazon [sponsored link]
When your kitchen or bathroom demands a renovation but you do not have the funds or resources to install genuine shiplap, you can take into account applying peel-and-stick backsplash.
The installation method is simple enough that most do-it-yourselfers can handle it rather than hiring an expert. You can achieve the look of this material by just peeling and sticking it.
Peel-and-stick backsplashes feature a sticky backing that adheres to a multitude of surfaces, allowing for a rapid and easy backsplash makeover.
Nevertheless, if the surface is not adequately prepared or the area is not measured and prepared correctly, the robust adhesive on the backside of the shiplap might cause some issues. Cracked and misaligned patterns are examples of these problems.
Waterproof Backsplash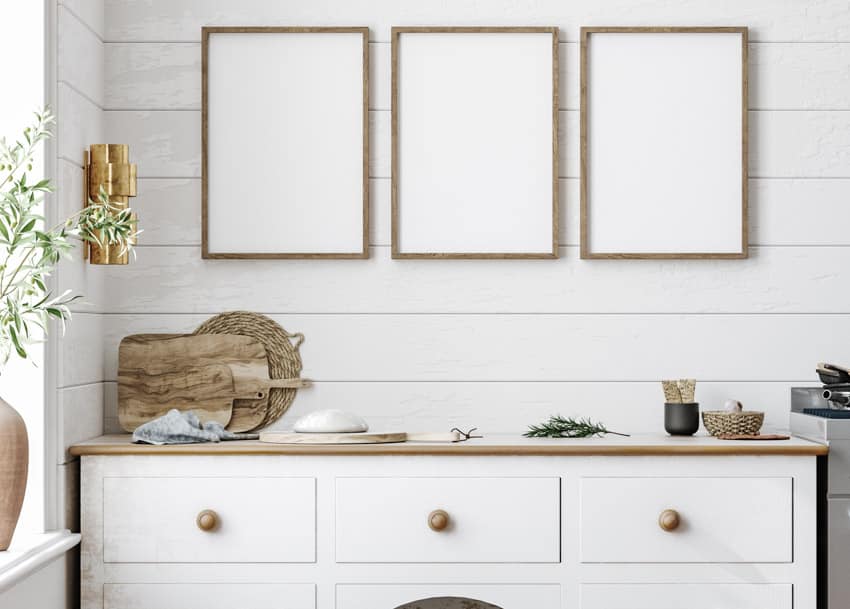 Shiplap gets wet in the kitchen from time to time, and it swells over time when persistently moistened. Nevertheless, in today's marketplace, householders can choose waterproof and mold-resistant PVC backsplashes.
Backsplashes using this material can be waterproof, but only if constructed correctly. You can do that by utilizing high-quality wood and sealing it with a layer of mold-resistant paint or semi-gloss paint, which is very waterproof.
Nonetheless, since it is not intended to be employed as a shower enclosure, a wooden shiplap should not be placed in areas where it is constantly subjected to water.
Shiplap Wallpaper Backsplash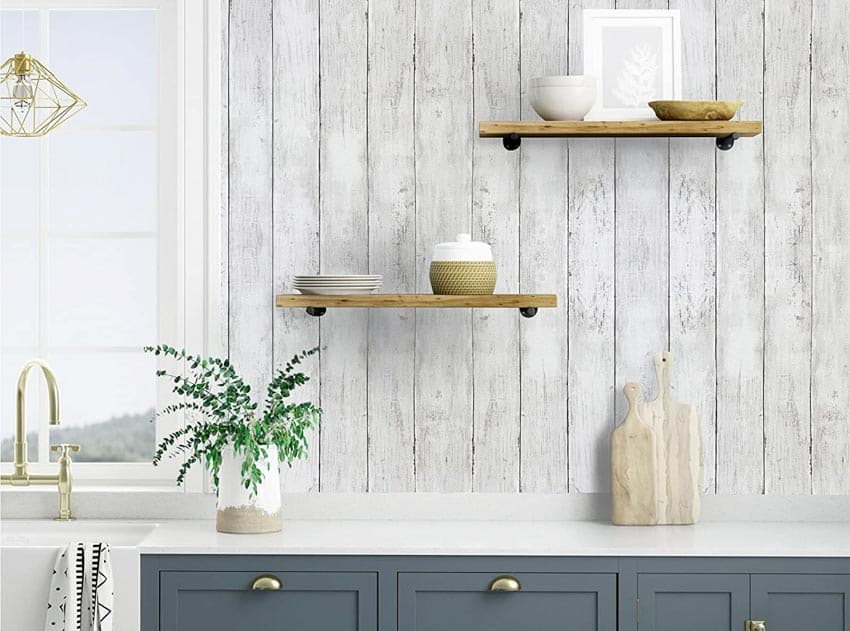 See this shiplap wallpaper backsplash at Amazon [sponsored link]
When looking for detachable wallpaper with shiplap patterns, it is indeed easy to become perplexed. Low-end vinyl alternatives may look fine on your mobile screen, but in reality, they look unsightly to look at. Fortunately, realistic wallpapers that look like genuine shiplap backsplashes are available.
Wallpaper backsplashes that use this design are often made of sturdy material. Talking about the finish, this guarantees that every simulated shiplap design's high-quality printing looks authentic.
In regards to functionality, this maintains your kitchen devoid of PVC and chemicals while also allowing you to apply and uninstall the wallpaper as needed without ruining your walls.
Shiplap Ideas
Here we share the best backsplash ideas using this material.
Shiplap Kitchen Backsplash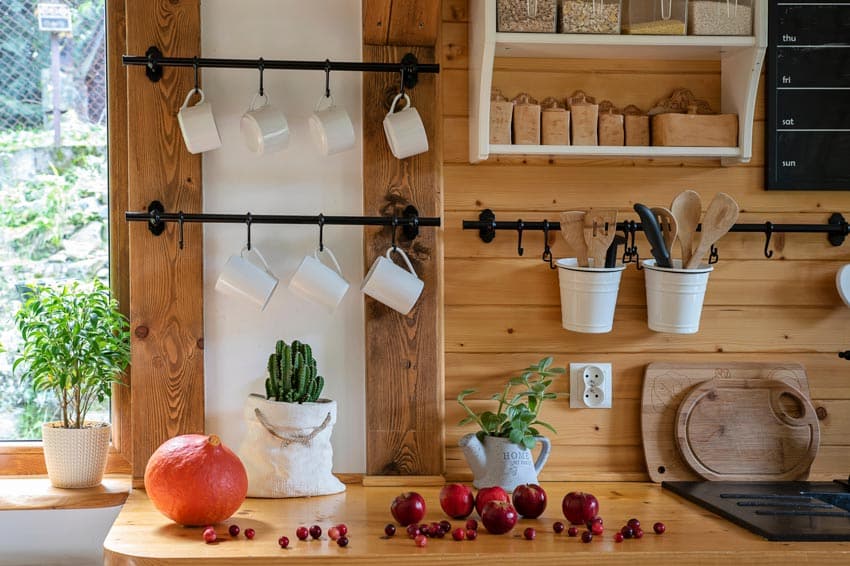 Shiplap is a widely known material for kitchen backsplashes. It is prevalent nowadays, from the bathroom to the kitchen, and kitchen backsplashes are one of the best places to employ it.
It is commonly used in stables or barns. The snazzy and basic appearance of this material lends itself to a variety of design themes, from contemporary to farmhouse, vintage to rustic. It is also less costly than some of the other popular backsplash materials.
You should anticipate paying around $3 to $10 per square foot using this material. The most essential factor to remember about shiplap backsplashes is that they, like some other wood varieties, necessitate a protective sealing layer to avoid grease stains and water damage. Otherwise, wooden planks might be quickly destroyed.
This backsplash can add a comfortable vibe to your modern cabinetry or enhance the pleasant and inviting ambiance of your farmhouse kitchen. Whatever your personal taste is, a shiplap backsplash could be an excellent accent to your kitchen.
With all of these advantages, this option would be a terrific option to tile backsplash, and you should think about placing a shiplap backsplash in your cooking area.
Vertical Backsplash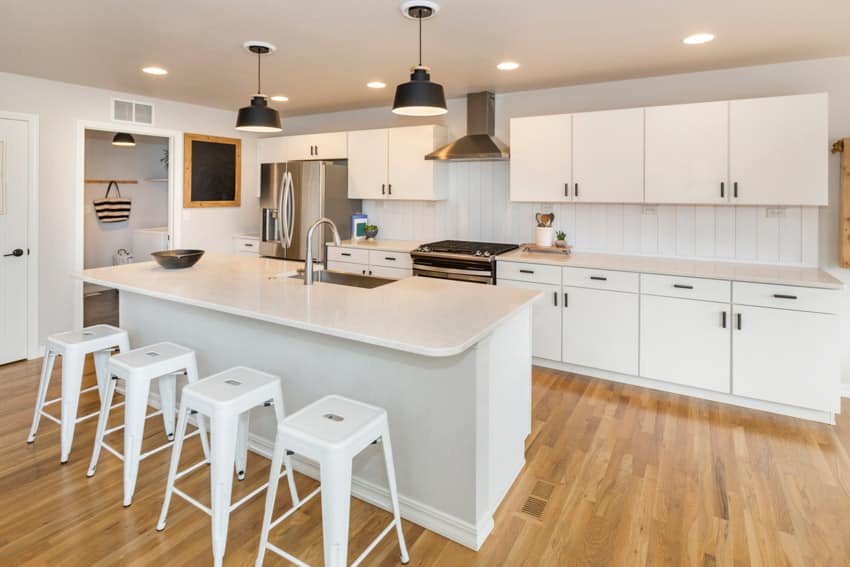 Vertical shiplap has the ability to outperform horizontal types in terms of flow. It draws the eye upward and may assist in opening up a space. It makes the area pop up taller, which is useful if your ceilings are high.
Vertical shiplap backsplashes make the kitchen appear larger and more interesting, which strongly influences the backsplash's functionality. Because it is distinctive, this type of backsplash seems avant-garde, as previously mentioned.
Tongue And Groove Kitchen Backsplash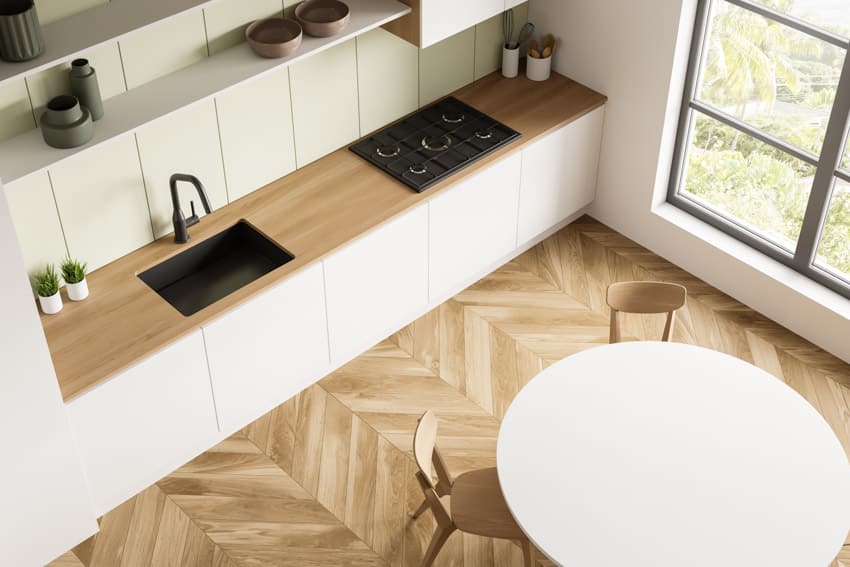 The tongue-and-groove backsplash is simple to configure since the boards already have bulging (tongue) and concave (groove) components that match together just like jigsaw pieces. The boards contain tongues and grooves on all four corners.
Tongue and groove backsplashes are frequently utilized with wood flooring, sheet panels, wainscot, and a variety of various materials where a compact, robust connection between individual parts is necessary.
One tongue conforms snugly to the adjacent board's groove. The goal is to limit vertical movements between adjacent boards. Horizontal movement is still permitted to a limited extent and, in actuality, is desired because the wood backsplash will swell and compress.
Farmhouse Backsplash
Classic farmhouse designs continue to make a trend due to their timeless charm. Its rustic charm is distinguished primarily by wood as it contains earth tones. These compositions are responsible for the sturdily attractive aesthetics. It is the simple beginnings of farmhouse backsplash before it develops into more sophisticated patterns.
These backsplash designs can be used to complement your kitchen and bring symmetry to the space. It is widely known in numerous kitchens nowadays due to its capability to give the space a distinct flair. Select patterns that are visually pleasing and a little flowing for your farmhouse backsplash.
Shiplap Bar Backsplash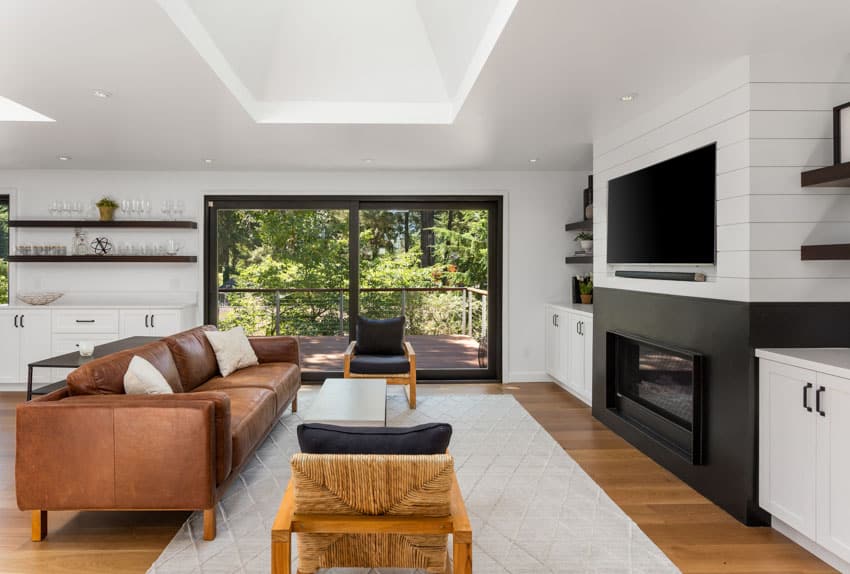 A shiplap bar backsplash is normally a repurposed wood bar composed mainly of gray-hued shiplap and herringbone wood patterning. This is ideal for either traditional or modern kitchen designs. It is also excellent for kitchens that feature a minimalist design.
Shiplap Bathroom Backsplash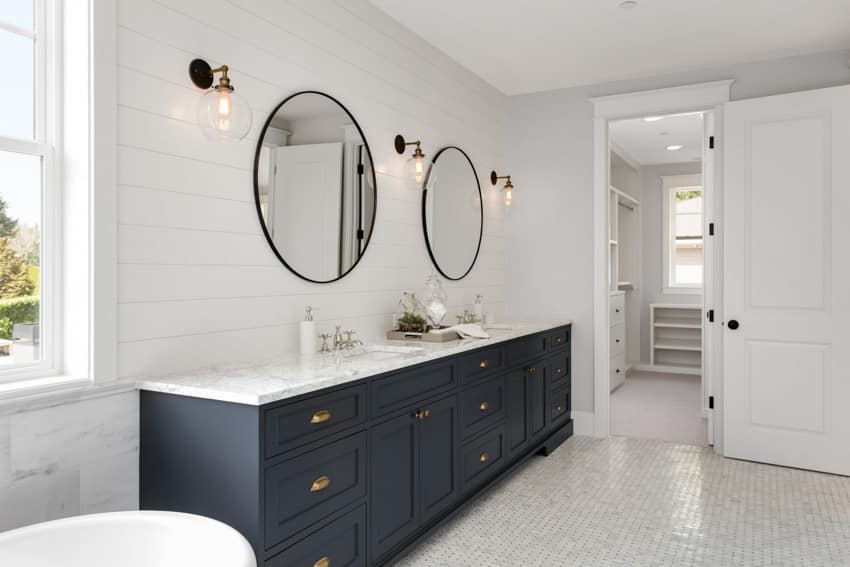 Shiplap is suitable for use in bathrooms as long as it is not installed in a location that is consistently subjected to water like a shower partition.
We suggest adding a layer of mildew-resistant paint to shiplap bathroom backsplashes. You can also use a transparent coat sealant to add an extra layer of water resistance to the planks.
To enhance water resistance, you can add wood sealer to any uncovered edges or gaps of shiplap bathroom backsplashes. It is critical to ensure that your bathroom is adequately ventilated to prevent damage.
DIY Shiplap Kitchen Backsplash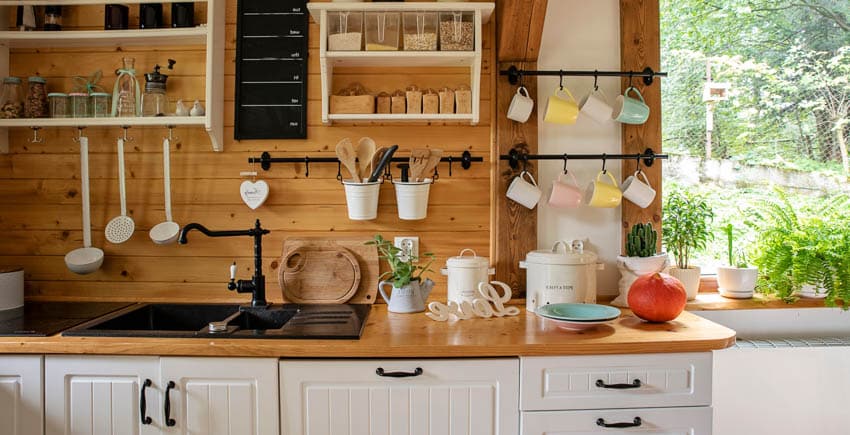 You can always perform a DIY shiplap kitchen backsplash installation. It is necessary to have certain skills and understanding of power tools for a DIY kitchen backsplash construction. A table saw, handsaw, and finishing nailer are required for the optimal outcome. Use the appropriate tool for every job.
Do the mathematics beforehand to establish how many boards you will need for your project, and account for a few blunders. Any uncut content can be returned for a refund.
After your boards have been trimmed and dry-fitted, add a drop of liquid paneling to the backside of the panel that will be installed initially. Only enough to keep it in position until you take your nail gun. Having an additional set of hands comes in handy during this procedure.
Place each board gently on top of the others. Since the boards are constructed to fit exactly together, there would be no need for a gap. To achieve a flawless and neat appearance, fix the holes with wood putty before painting it. However, if you enjoy the rustic aesthetic, leave them alone. This would also give a natural aesthetic.
White Backsplash Kitchen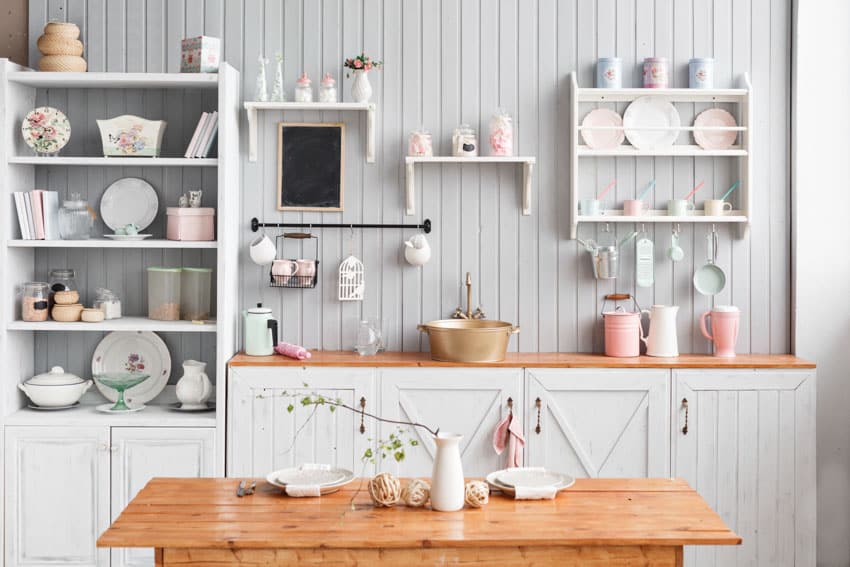 Nothing appears more pristine than the white shiplap backsplash kitchen. Installing a white backsplash can make your entire kitchen appear tidy and organized.
White appliances, as well as white counters, can focus on completing the white and neat kitchen appearance. A simple white design has something special about it. It is uncomplicated, calm, and devoid of distractions.
Black Backsplash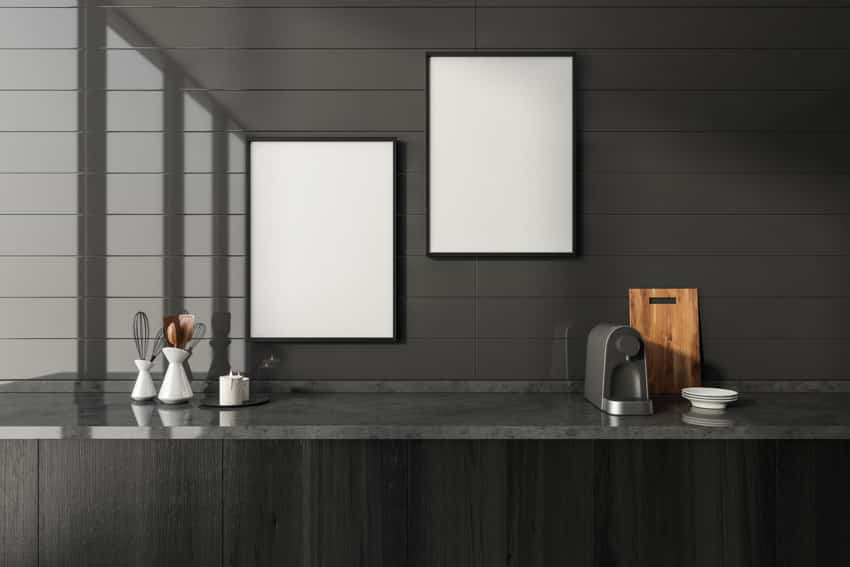 Black is an ageless color that will not go out of fashion, and it may lend a sophisticated vibe to the area as well as assist in producing a melancholic atmosphere or a contrast.
A black shiplap backsplash would be a great way to finish off a gloomy space or provide a dramatic accent to a pastel or neutral-colored kitchen. You just have to paint your backsplash black and seal it with a waterproofing sealant to increase its longevity.
How to Install Shiplap-Type Backsplashes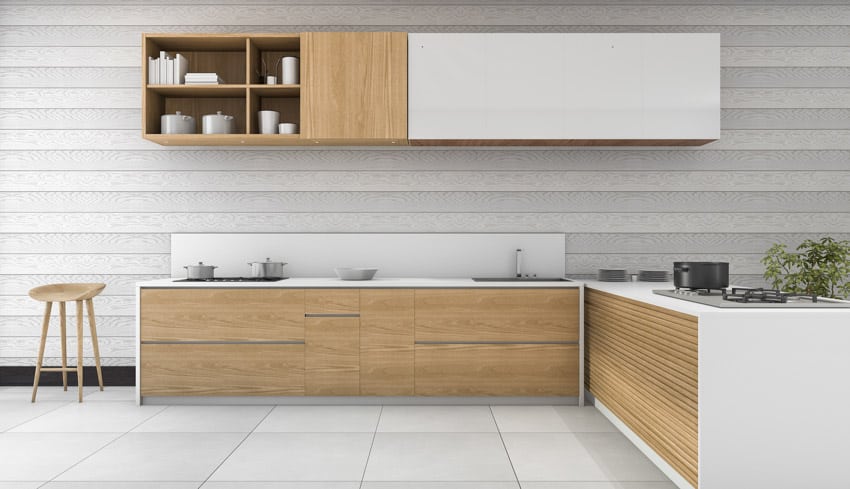 • Get your wall ready: Shiplap can be used as a wall covering or installed atop a pre-existing wall covering such as drywall. If you do have a pre-existing wall, clean it thoroughly and eliminate all trimming and molding.
If your walls are not white, you will have to paint them because this material has a gap that allows the color to flow through. To prevent bright colors from popping out, paint it in the exact color as your shiplap.
• Measure the area: The best approach to determine the necessary size of the backsplash is to measure the area after removing any trim. Determine the area's square footage and then add roughly 10% to ensure that no excess space is required.
• Locate and label studs: Although typical studs are 16 inches apart, this might not always be the correct measurement. Alternatively, you can purchase a stud detector or search for visible studs. If this is your wall cover, you will already be aware of the studs' location.
• The first board should be leveled: It is critical that the first board that you will lay be level. Utilize a good level and double-check it before moving on to another one. Repeat with the first several boards. The topmost board is the only one that you will not apply the process with.
• Get the boards secured: Gluing the first board down is the simplest way to start securing them. This is not needed if you have a companion. They can support the board as it is being screwed into the stud. If you are doing the task alone, you can create a realistic look by using spaces as the shiplap must not be "sandwiched".
Rather, it must be moderately spaced. To accomplish this, employ coins or any spacers. Furthermore, ensure that the boards are staggered. One board should be split in half and used for the second row.
Does Shiplap Go Vertical Or Horizontal?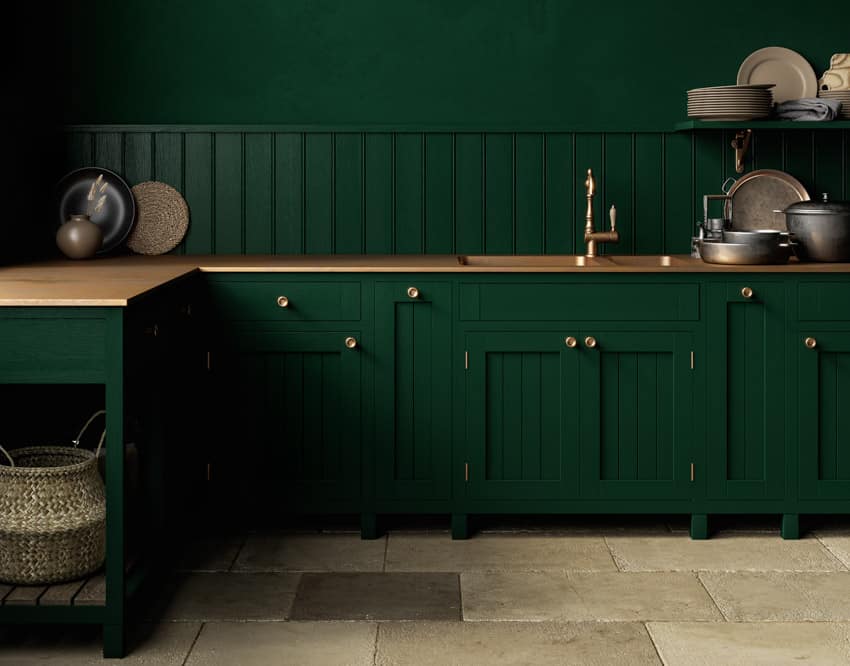 Depending on the design aesthetic you want to accomplish, you might want to think about the shiplap orientation. It is often put horizontally as it looks better, though it can also be placed vertically or in a distinctive pattern.
Although horizontal shiplap is the most common, vertical types can also be done in backsplashes as they also share their advantages.
Should I Nail Or Screw Shiplap?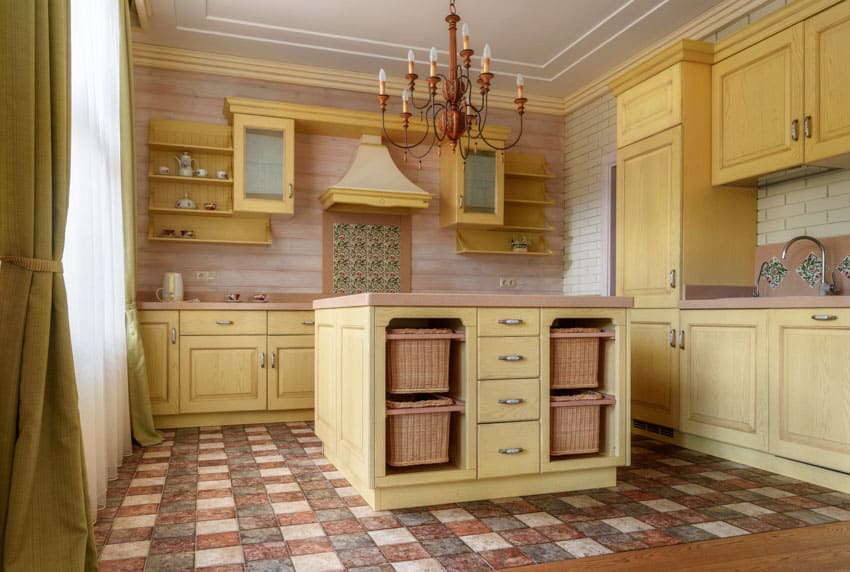 When it comes to installing paneling on your backsplash, nails would be the finest alternative. Trimming nails are quicker to attach than screws as they do not require pre-drilling and do not risk generating unsightly splits. They are also readily concealed or touched up if necessary.
Is Shiplap Durable As Backsplash?
Arguably, yes. It is as durable as tile, yet it provides the space with the warm feel of natural wood. They are simple to wipe away, thus they are no more difficult to maintain than tile. You just have to seal it with a protective waterproof layer to make it even more durable.
Can You Put Shiplap Behind A Stove?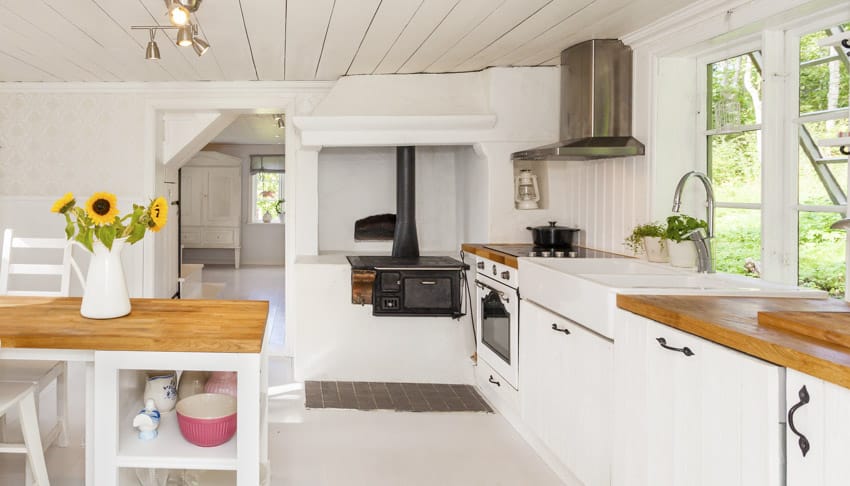 Yes. Shiplap can be safely put behind and used as a stove backsplash as long as you seal it properly and use the right painting products and compositions.
See more related content in our article about the best granite backsplash ideas on this page.