Here we share our backsplash behind stove ideas including the best backsplash tile materials like marble, ceramic, granite, stainless and pearl & shell.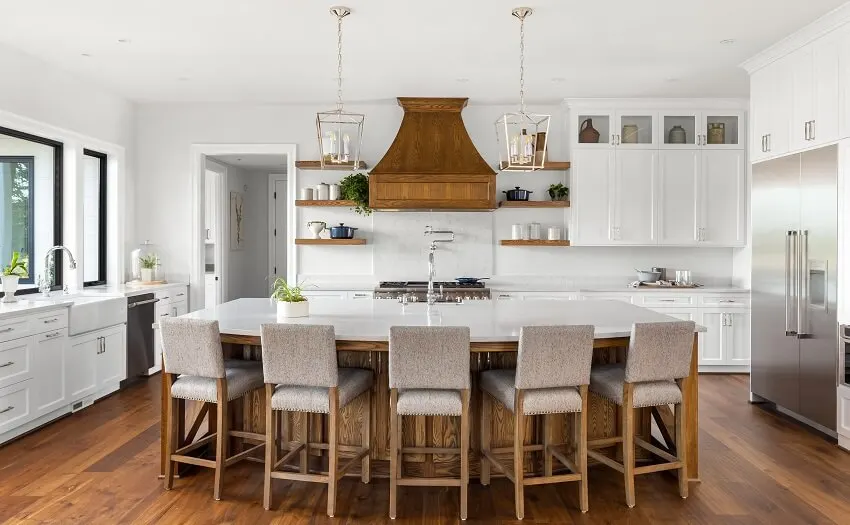 Laying backsplash behind the stove is a worthwhile option to promote the longevity of your kitchen. Not only can an easy-to-clean tile backsplash save the need for scouring, but it can also create the ideal aesthetic for your kitchen design.
A well-selected behind-the-stove backsplash will serve two functions: it will shield your walls from stains and spills while also making a statement in your kitchen area.
When selecting tiles for a stove backsplash, the possibilities are nearly limitless, but you will want to weigh a few critical evaluations before making your ultimate choice. Kitchen backsplashes must be both functional and aesthetically pleasing.
The backsplash must be easily cleaned during the clean-up phase of dinner preparation, and should also complement the general style of your kitchen.
Can You Put A Backsplash Just Behind The Stove?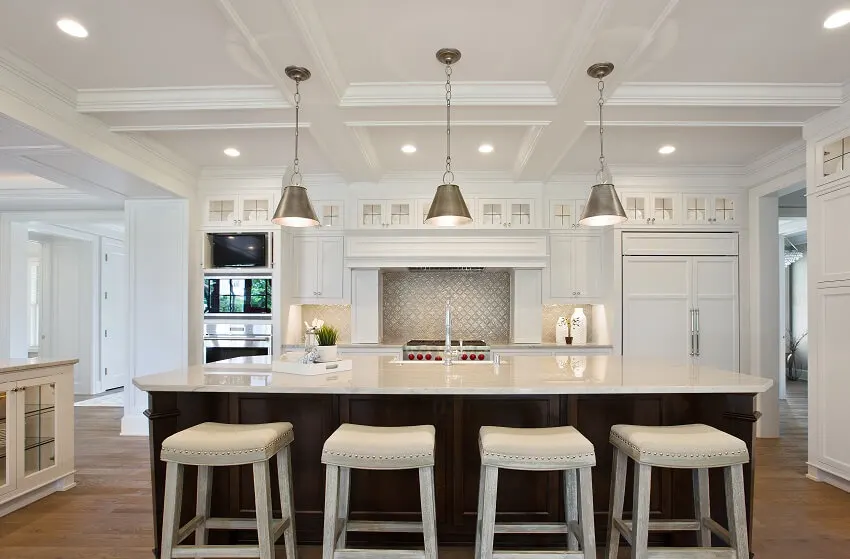 If you are on a limited budget but still want a gorgeous backsplash, you can always install it behind the stove exclusively. When it pertains to efficiency, the backsplash materials you select must effectively prevent food stains from ruining your wall.
Ideas For Backsplash Behind the Stove
Here are a few kitchen behind-the-stove backsplash ideas that can improve the overall attractiveness of your kitchen. Each has its distinct flair, and some can only be used in a particular design.
Tile Backsplash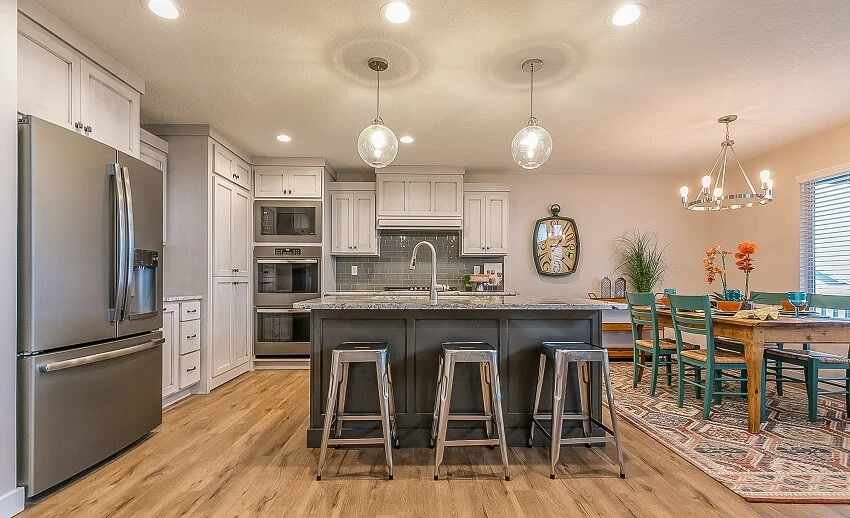 Using a tile backsplash for directly behind your stove only can be used as a type of accent wall. This is a good idea if you love a tile but don't want to overdo it or if you want to bring in a touch of a color without it being overwhelming.

Ceramic Tile Backsplash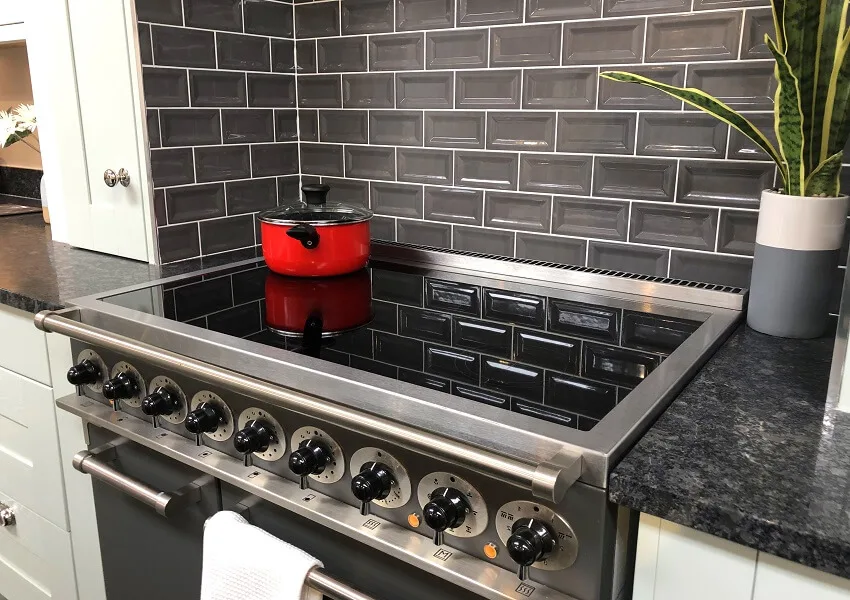 Behind-the-stove ceramic tile backsplashes give a long-lasting, heat-resistant layer that protects against frequent oil spills and sauce splatters, while also leaving plenty of space for unique kitchen wall décor.
With a reasonable cost per square foot and a wide range of colors and patterns, these behind-the-stove backsplash tiles are one of the greatest low-maintenance solutions if you're aiming to make matters a lot simpler in your kitchen.
Marble Tile Backsplash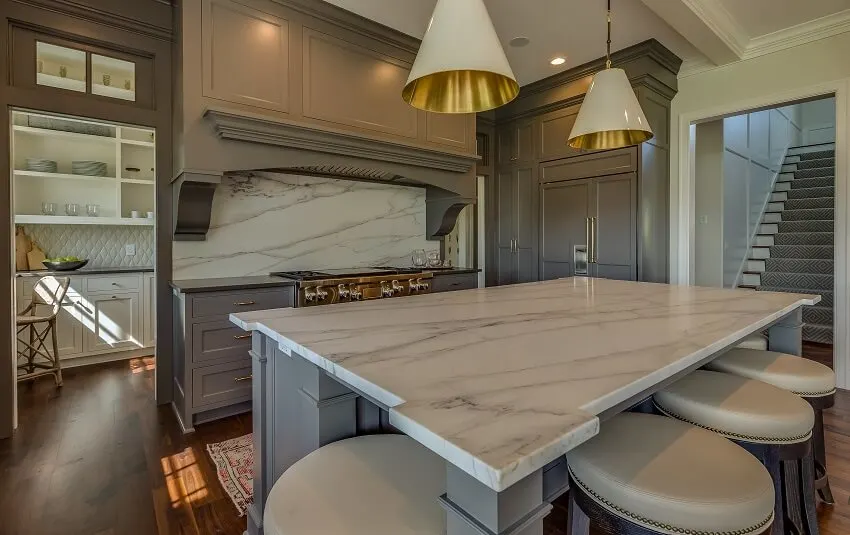 Marble tiles are an appealing selection for a gorgeous backsplash design behind a stove, with a robust surface that is inherently resistant to heat. Nothing makes a more lasting impression than a magnificent marble and natural stone backsplash, but its genuine grandeur must be preserved and protected.
Grease and grime are more inclined to penetrate the corners and crevices in your tile backsplash the more "natural" your stones are – such that, the more grainy and gritty they are. Stone tiles with a polished appearance, rather than rough stones, are a great option.
Since all-natural stone tiling options are porous, even if you have marble, travertine, slate, or any other natural stone, you must ensure that your tiles are sealed on a frequent schedule to prevent stains from being collected.
The classy aesthetic that a marble backsplash brings to any kitchen aesthetic is worth having. There are countless and gorgeous possibilities to achieve the ultimate appearance for your kitchen, whether you like a traditional marble subway tile design or a creative twist with a marble mosaic arrangement.
Pearl and Shell Tile Backsplash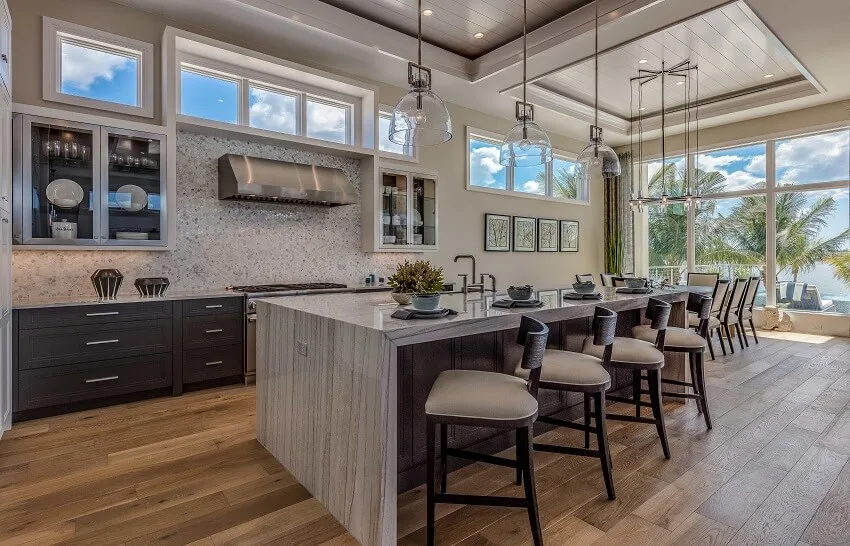 Pearl and shell tiles are becoming a must-have for luxurious interiors. Notwithstanding their exquisite and radiant sheen, they are a remarkably long-lasting tile material, especially behind your stove.
This gorgeous natural material is cut from the internal layer of shells to give the backsplash tiles a pearly sheen. They look great with other materials, but they also look great on their own.
Even though the pearl surface is incredibly durable, a perfect choice for heavy-duty scouring after cooking, it does necessitate some maintenance. It is always suggested that you seal your stunning shell tiles to ensure that they last as long as necessary.
Once you decide to apply this material on your behind-the-stove backsplash, you should also prevent applying harsh chemical-based cleaners to avoid ruining the surface and ensure the luster remains gorgeous. If your pearl and shell backsplash tiles have been correctly sealed and maintained, you must be able to quickly wipe up spillages with a wet towel.
This tile selection comes with a plethora of groutless tile selections. With minimal grout lines, there is even less to scrub, which is a win-win situation. Although a little quantity of grout might be required to fill in between mosaic layers, these tiles offer an overall seamless finish on your behind-the-stove backsplash.
Stainless Steel Backsplash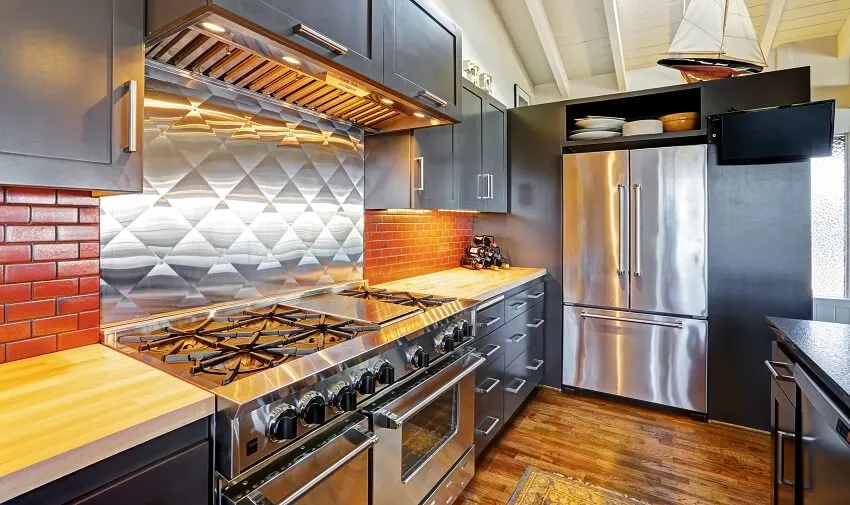 Stainless steel behind-the-stove backsplash is functional and cost-effective for a variety of reasons. It is simple to clean and extremely resistant to heat and water, thus it will not be affected by temperature or spraying water from the faucet.
Stainless metal materials also last for years since it does not need to be re-polished, and it is sanitary enough to avert bacteria from filthy kitchen items from spreading.
Type 304 is the most adaptable and commonly utilized of all stainless steel types. Because of its chemical structure, mechanical qualities, and corrosion tolerance, this backsplash material gives the highest all-around functionality. Stainless sheets are available in a wide range of sizes, diameters, and finishes.
Light is absorbed and reflected by stainless steel backsplash. As a result, the stove area appears greater than it is. This approach not only produces such an appearance but also provides the entire kitchen with a high-end feel. Your kitchen becomes more modern-looking with a stainless steel backsplash.
Accent Backsplash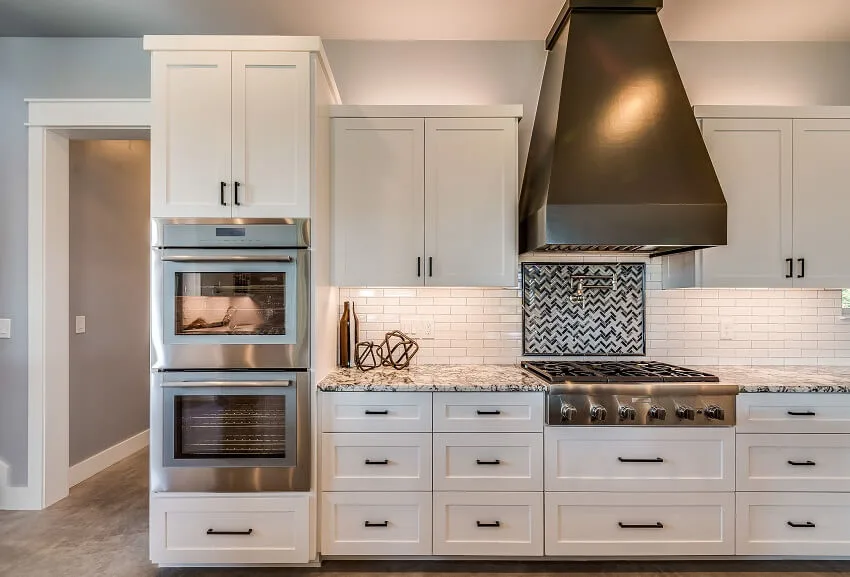 You can establish a centerpiece by using various materials behind the stove. You may create an accent wall behind the stove in your kitchen by placing a complementing tile all the way to the ceiling. In a kitchen with high ceilings, an accent wall can add a stunning impact.
Accent walls offer interest, delight, and even beauty to a plain kitchen backsplash through the application of contrast. Whether you prefer to emphasize the color, pattern, size, shape, or surface of the tiles, the arrangement of the accent walls in your behind-the-stove kitchen backsplash influences how striking the transition is.
Long and rectangular accent walls behind the stove work really well borders along with the corners of the backsplash. Such borders can be placed on the behind-the-stove backsplash's outer edges or an inch or two within the edge.
The border can be as small as one tile or as big as you like, and it can run along the upper, lower side, or both sides of the backsplash.
By integrating accent tiles into your behind-the-stove backsplash layout, you can properly combine them into the overall aesthetic. Installing four square accent tiles diagonally in the backsplash generates a place for a tiny square tile in an accent piece.
Texture, rather than color, is a simple yet effective technique to provide variation in accent tiles. Whether you use polished tiles against coarse, unglazed ones or use ceramic tiles as a border, complementing accent finishes give a good contrast.
Fireproof Backsplash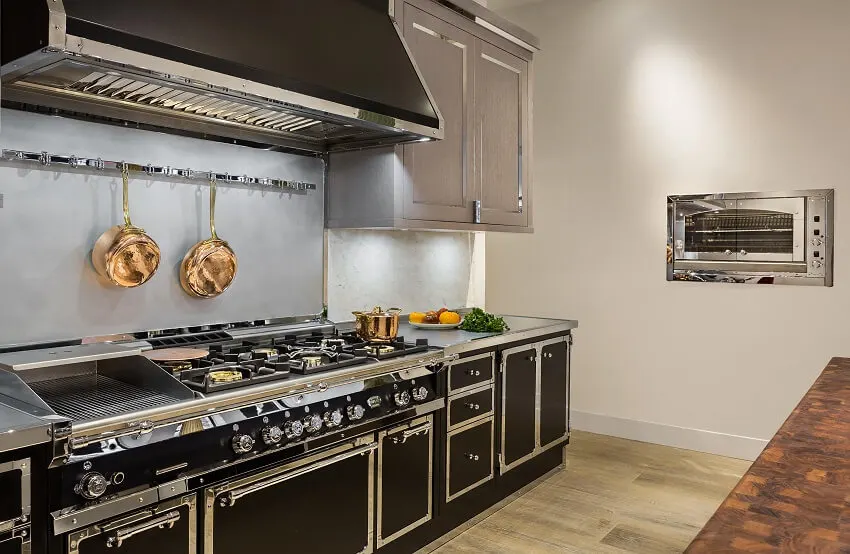 The two entirely fireproof backsplash materials are glass and concrete. Let us talk about these two fireproof behind-the-stove backsplash materials:
Glass Backsplash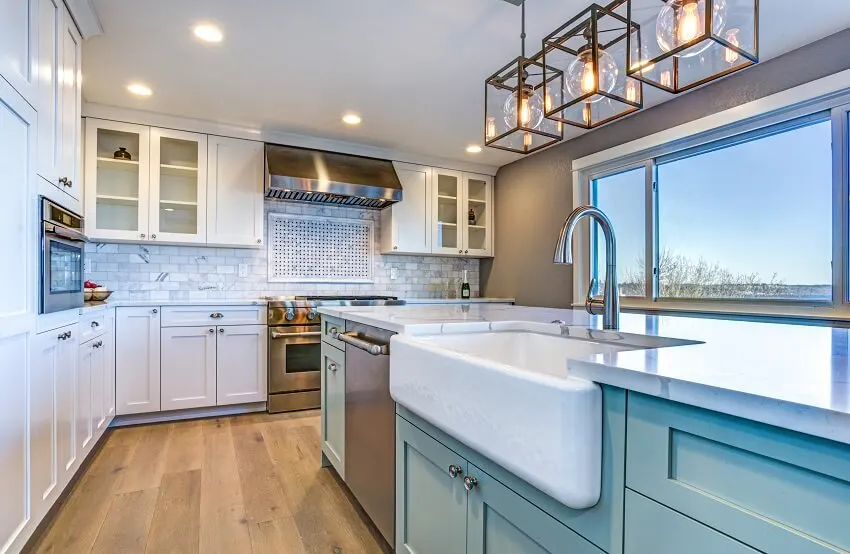 Glass is indeed a wise option for a behind-the-stove backsplash, particularly if you are using a gas-powered stove. This is because glass is entirely fireproof.
On the other hand, a glass backsplash is not as prevalent as the other options, but given how stunning it can appear, you can argue that it is still a very prudent selection.
Thus, a glass backsplash could be a wonderful addition to contemporary and modern kitchens for several purposes, beginning with the appearance.
The appearance of a behind-the-stove glass backsplash is arguably the most noticeable feature. Glass backsplashes are appealing due to their modern and trendy appearance. They are stunning, and they enhance the overall appearance of the stove area.
Glass backsplashes are also quite customizable. They look fantastic in minimalist kitchens, but they are also highly versatile.
One other benefit is efficiency. Glass backsplashes behind the stove keep your walls spotless by capturing stains and keeping the kitchen looking great.
Plus, a glass backsplash is much easier to clean than a backsplash built of marble or other stones. Yes, spills and stains are visible on glass, but they are also quick and easy to remove, allowing you to keep your kitchen clean and appealing at all times.
Concrete Backsplash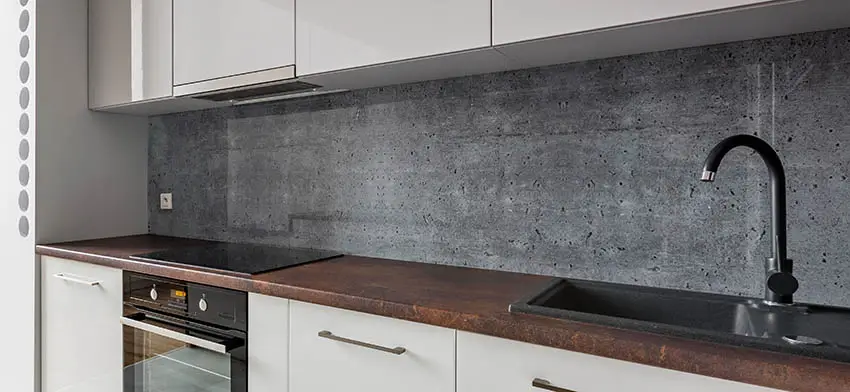 Concrete backsplashes can be produced to match your concrete-made countertop precisely, or they can be of a different pattern, style, shape, or quality. Vertical concrete coverings can also be used to conceal outdated tile backsplashes.
Concrete is completely fireproof, making it a very ideal option for your behind-the-stove backsplash. It does not look that appealing like marble or granite, but its affordability and versatility are what make it a great option. Plus, if you are not satisfied with its look, you always have the option to paint it.
Granite Backsplash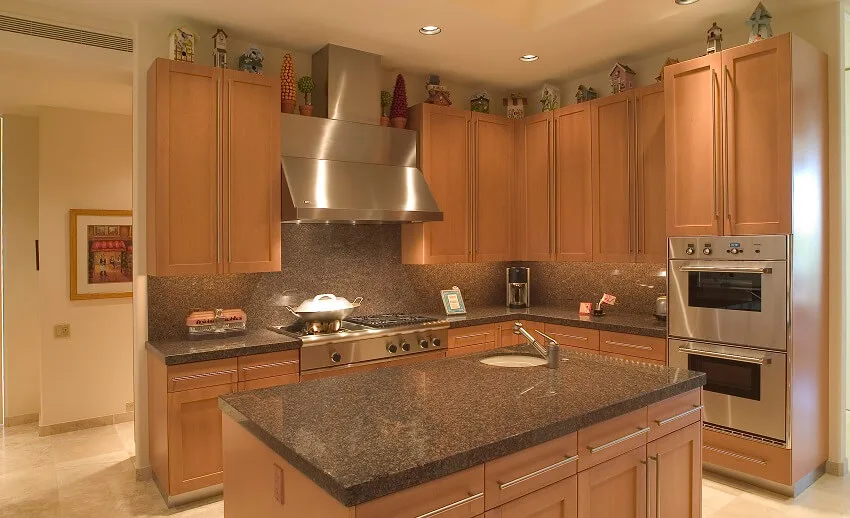 Indeed, granite is one of the most popular backsplash materials for kitchens, specifically in the stove area. Granite backsplashes are frequently produced from the very same piece as your countertops. Granite is another high-end alternative for your behind-the-stove backsplash.
Granite backsplash, as previously mentioned, are generally cut from a similar slab as granite counters, and that is to ensure a right blend.
Even when the countertop has a rounded border, a granite backsplash would usually be 3 centimeters thick and have a square border at the top. The backsplash adheres to the wall with silicone glue, and any crevices are closed with grout.
Granite is easy to clean since it is heat-resistant and stain-resistant, hence splashed substances and spraying frying pan grease can be readily wiped, unlike tile backsplashes where debris gets trapped in the grout lines. Granite is an excellent choice for a gorgeous and easy-to-clean behind-the-stove backsplash.
For ages, granite has been employed for kitchen backsplashes. This classic material maintains a contemporary appearance unlike glass tiles and mosaic tile backsplashes. Installing a granite backsplash behind your stove safeguards your wall from food and grease.
Quartz Backsplash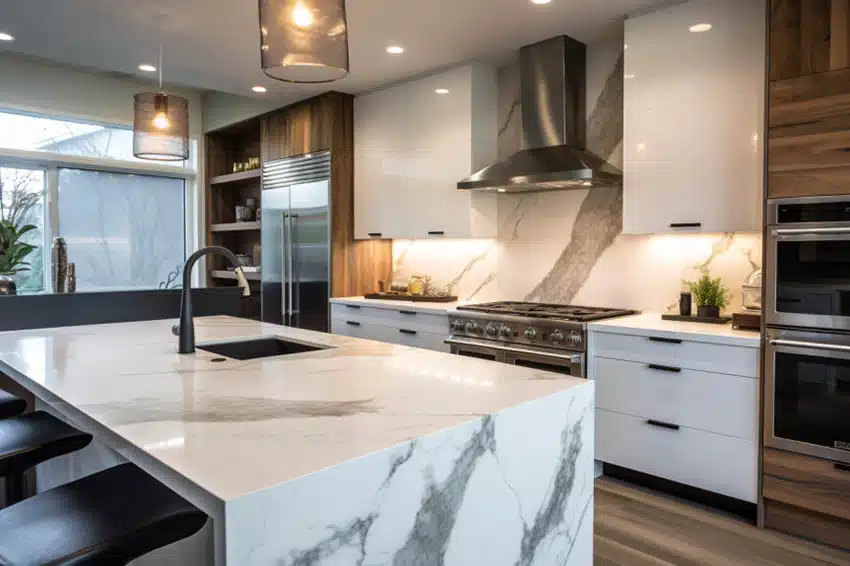 A quartz backsplash is an attractive and durable solution to use behind the stove. One can opt for a solid slab, tiles, or tile combined with other materials with excellent results. Its non-porous nature makes it easy to wipe down and clean without hassle.
Quartz is heat resistant and is generally safe to be placed within close proximity to a stovetop. However, it may be damaged by a high-power stove that produces too much heat over a long period of time.
It's important that quartz is not positioned too close to gas burners which may start to damage the surface. In addition, it may be susceptible to splashes from hot liquids or grease.
Mirror Backsplash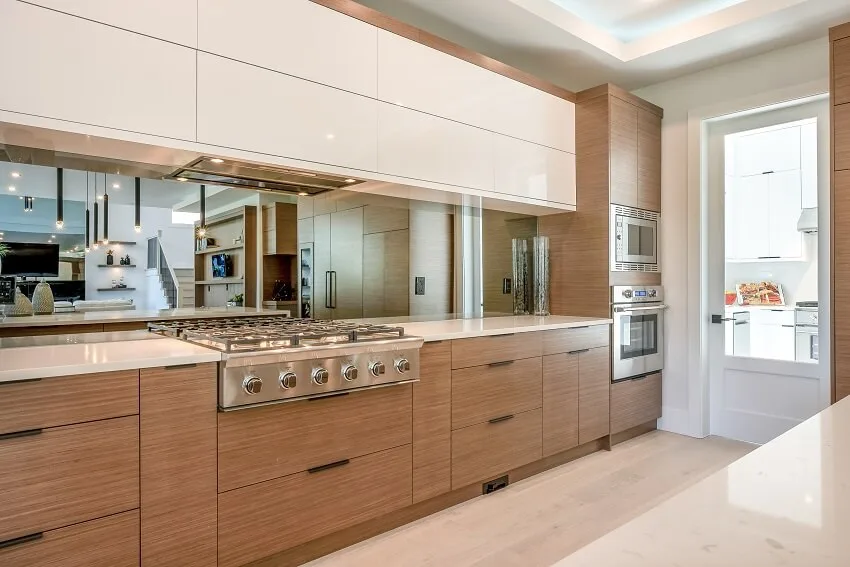 If you are renovating your kitchen, you might want to consider installing a mirror backsplash. It can range from a solitary piece of mirror to multiple mirror tiles. It has the potential to radically remodel one of the most crucial areas in your home, specifically the stove area.
Mirrored backsplashes are a popular choice in home design. It not only makes cleaning the wall behind your counter quicker, but it can also make your kitchen appear larger.
However, mirror backsplashes are not always reflective. Though not a standard mirror, a window-type mirror backsplash performs all of the purposes of a mirrored kitchen wall. It is simple to clean and brightens up the space. It does, nonetheless, present the homeowner with a lovely sight of the entire area.
It is not obligatory to make your backsplash out of a regular fashioned mirror. The ideal behind-the-stove backsplashes are often colored.
By integrating a golden, pink, or royal blue backsplash into your stove area, you can bring some brightness to your kitchen. You may also match it to the floor tiles, cabinets, and wall paint to achieve a uniform and seamless aesthetic.
Mirrored tiles in small sizes can also be utilized for mosaic backsplashes. This gives your kitchen stove area a stylish and contemporary look.
Antique tiles can also outperform new models in terms of appearance. This sort of tile is shaded with a foggy filter, giving it a primitive and ancient appearance. Antique mirror tiles will surely add a touch of artistry to your stove area.
Wood Backsplash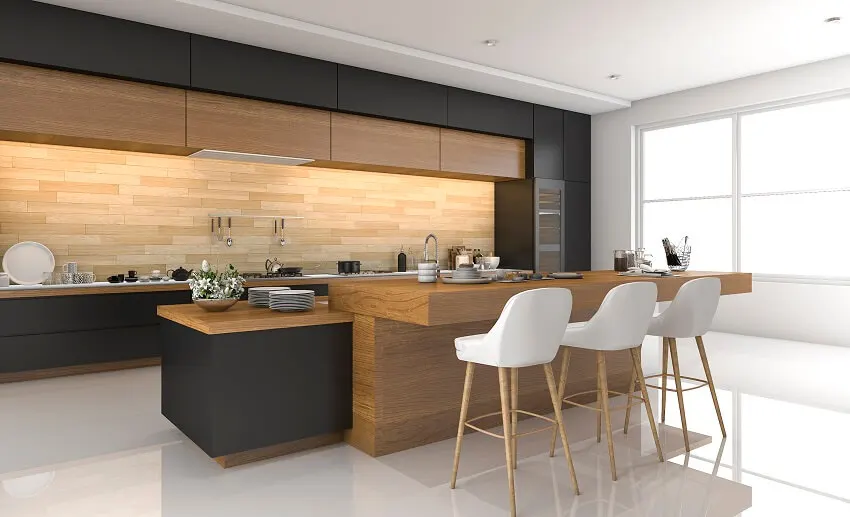 Although wood is not the most robust material on the market, wood kitchen backsplashes are a growing craze that incorporates distinctive hardwood and repurposed wood into kitchen design concepts you have never seen previously.
A wood backsplash can render an outstanding contribution to the wall behind your kitchen stovetop if you pick your kitchen backsplash carefully, but there are a few detailed tricks of the trade required to keep this durable material looking presentable when used as an alternative to a stone or tile backsplash.
Wood can be used for backsplashes; components such as marble, stainless steel, and ceramic are more typically employed because of their adaptability and longevity.
Wood can be applied to your kitchen walls in this approach, but it has various disadvantages. If you do not routinely clean and manage your wood backsplashes, they will become moldy and dirty. Therefore, if you want this one-of-a-kind aesthetic, you have a variety of woods to pick from.
Unlike standard kitchen backsplash elements like tile, wooden backsplashes occur in a variety of shapes, appearances, and styles.
The pattern and type of wood you select will be heavily impacted by the aesthetic of the kitchen style you want to achieve — a rustic-style kitchen involves distinct wooden pieces than a contemporary kitchen.
The following are the most frequent types of wood used for backsplashes:
• Plywood
• Shiplap
• Repurposed Wood
• Beadboard
• Barnwood
Each of these wooden boards boasts a distinct appearance and style, and they are available in a selection of colors and treatments to suit the walls in your stove area.
Consider your kitchen environment, how you utilize the area, and how hot your stove area gets when selecting the material for your wooden backsplash.
Wood Look Tile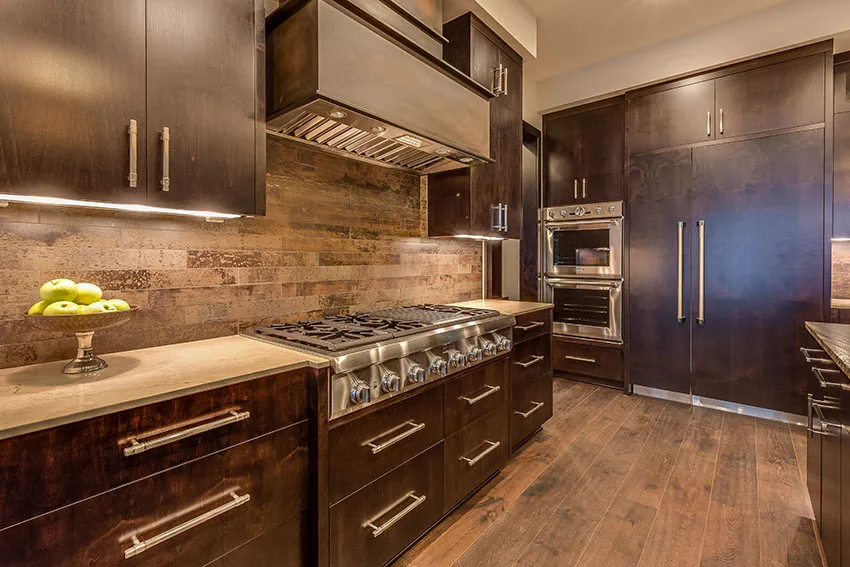 Using a porcelain or ceramic wood look tile is another alternative to using real wood that has some benefits. Tile is generally more durable and easier to clean compared to wood. By using a tile that closely resembles the look of wood you can get a similar look with lower maintenance.
Peel and Stick Backsplash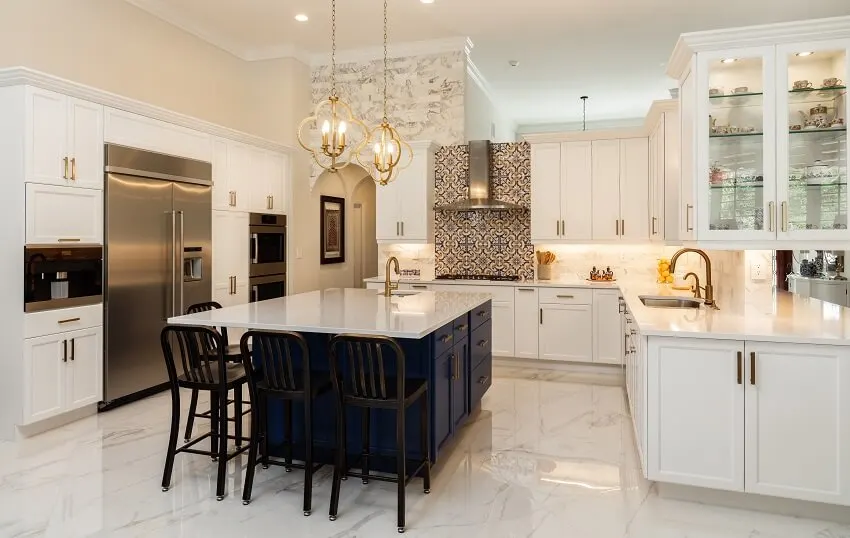 Some variants used are water-resistant vinyl with realistic 3D pictures, solidified silica gel tiles that appear and feel like a patterned tile surface, and even genuine mosaic tiles produced from lightweight natural materials like mother-of-pearl to make peel-and-stick behind-the-stove backsplashes.
They are available in a myriad of appealing styles that nearly replicate their natural tile contemporaries. Furthermore, they are completely a do-it-yourself candidate: simply peel off the backing and stick the peel-and-stick backsplash to the wall around your stovetop.
The highest-quality peel-and-stick backsplashes are also extremely low-maintenance. To clean it, simply wipe it with a moist rag. They will not get damaged as the surface is generally waterproof.
Installing a peel-and-stick backsplash to the wall behind your stove is a straightforward way to change your kitchen's overall design and ambiance. Aside from that, it is also considered cheap.
A peel-and-stick backsplash is typically installed on the wall just above the stovetop. Nevertheless, starting at a single end of the counter and making your way to the other might not always yield ideal outcomes.
Generally speaking, peel-and-stick backsplash materials are easy to cut with scissors or a rotary cutter, but it would be a much better idea to make a template before trimming a piece to fit it near your stove area.
When choosing this type of behind-the-stove backsplash, consider the colors and styles utilized throughout the kitchen. There are several tile-look backsplash alternatives available, like subway tile and mosaic tile, but you can also get stone-, brick-, and wood-look backsplashes.
Be sure that the design you choose matches the other home adornments in your interior. Select a backsplash after thinking about how it will appear along with the rest of the kitchen's objects and décor.
Wallpaper Backsplash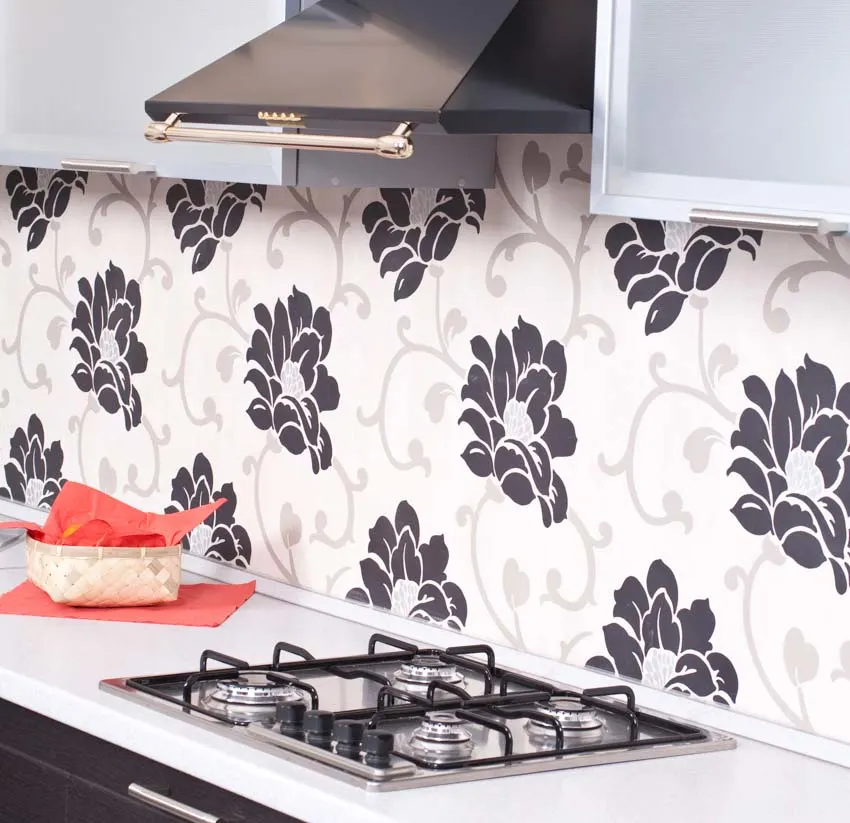 Splash-proof vinyl wallpapers are available in a multitude of designs to complement your kitchen, specifically your stove area. Splash-proof wallpaper is resistant to moisture and mold growth and can withstand scouring.
Since vinyl wallpaper is not thin, it is simpler to install than other wallpapers, especially peel-and-stick varieties. The majority of vinyl wallpapers necessitate the use of a premixed vinyl adhesive.
A heavy-duty clay-based solution, which is obtainable at any wallpaper shop, can be used. Before you begin, be certain that your wall has been prepared with a high-quality primer.
Wallcovering companies have witnessed an increase in requests for commodities for application in kitchens as more individuals make design modifications to their homes in the past few decades.
Wallpaper is a great way to add character to your kitchen because they are versatile and they come in many different styles. Furthermore, they can be modified and replaced more easily than tile and stone backsplashes.
When using wallpaper as a kitchen backsplash, some people believe it is critical to shield it from heat and humidity using tempered glass. They think wallpapering the kitchen's behind-the-stove backsplash will only become completely functional once sealed with glass.
Best Material for Behind the Stove Backsplash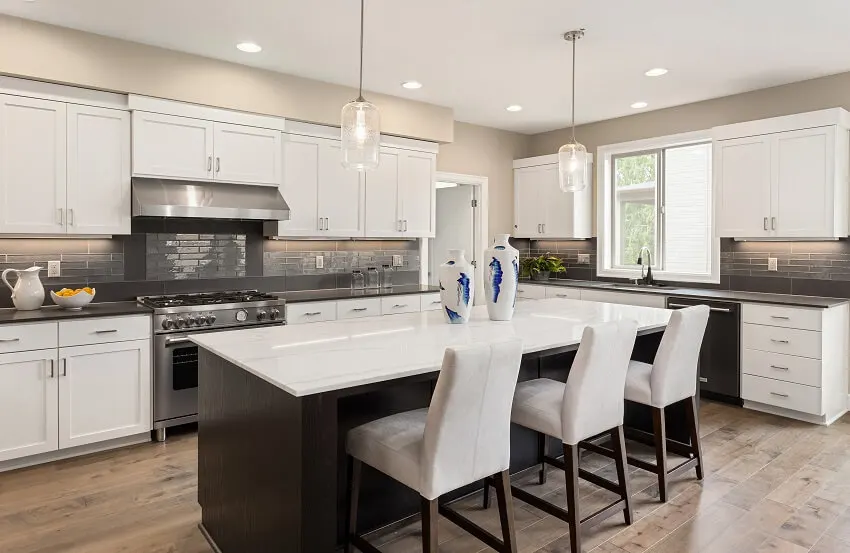 Backsplashes are normally disregarded in new home construction and renovation projects. However, if you are going to observe their function thoroughly, they play a major role in your kitchen, especially when you are cooking. They protect your walls from splashing food and grease.
Therefore, you doubtlessly need a backsplash material that is durable, waterproof, heat-resistant, easy to clean, and long-lasting. If you rigorously review all the types of behind-the-stove backsplashes previously mentioned, you will see that ceramic and pearl and shell tile backsplashes give the most promising qualities.
They are also easy to clean, durable, fireproof, and waterproof. These materials work even more practical if they are groutless so that the dirt and mold will not seep into the gaps.
Where To Stop the Backsplash

Your decision about how high your kitchen backsplash you want it to be is entirely up to your decision. Most homeowners stop their backsplash level at the underside of their upper cabinets (the ones above the stove). Some people, meanwhile, prefer to extend the tile backsplash all the way to their kitchen ceiling.
This can give the impression that the kitchen is higher by moving the eye up the wall. Depending on the type of backsplash you choose, it might also draw attention to open shelving and other elements. Extending the backsplash all the way to the ceiling creates a more 'high-end' illusion.
However, since this article is about behind-the-stove backsplashes only, the most practical thing you can do is stop your backsplash either under your upper cabinet or just within the scope of the stove.
Should Backsplash Be Different Behind The Stove?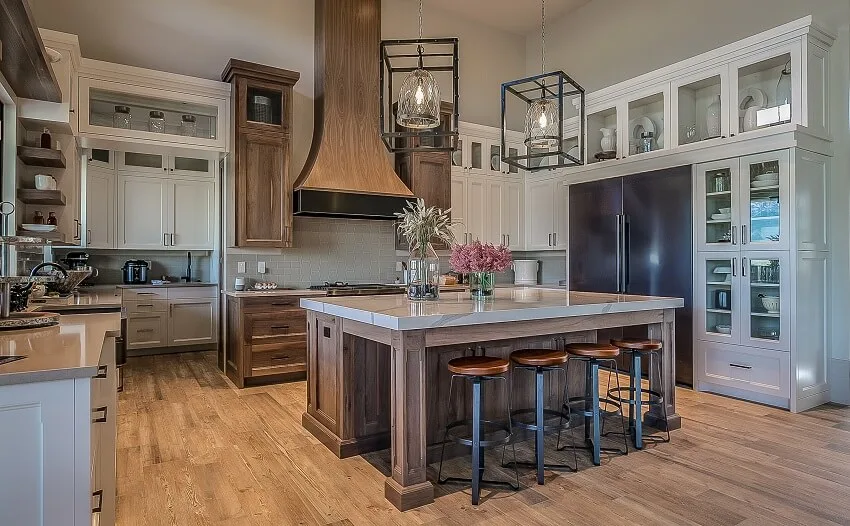 The section behind your stove is the most disastrous area to clean oil marks, food spills, and any other type of residue that is tough to clean.
That's why choosing the most water-resistant, fireproof, and easy-to-clean backsplash behind the stove would be wise. If that means changing the type and design of your backsplash, it makes sense

For example, if the backsplash you installed on top of your kitchen counters are just thin peel-and-stick wallpapers or low-quality wood backsplashes, then it's a smarter idea to change them out.
Backsplash materials behind your stove such as ceramic, glass, marble, or anything that is more heat-resistant, waterproof, easy-to-clean, and durable than peel-and-stick or wood backsplashes are a good choice.
Is A Backsplash Behind The Stove Only A Good Idea?
If you are on a limited budget but still want an attractive backsplash for your kitchen, you can always place it directly behind the stove. It will still be a good idea, you just need to ensure that it can effectively protect your wall, as the stove area can be prone to grease and food splatters.
Visit our ultimate guide to the different types of kitchen backsplash for more related content.