Here's how to choose a backsplash with quartz countertops including the basic design rules and color combinations to help you match backsplash and quartz countertops in your kitchen.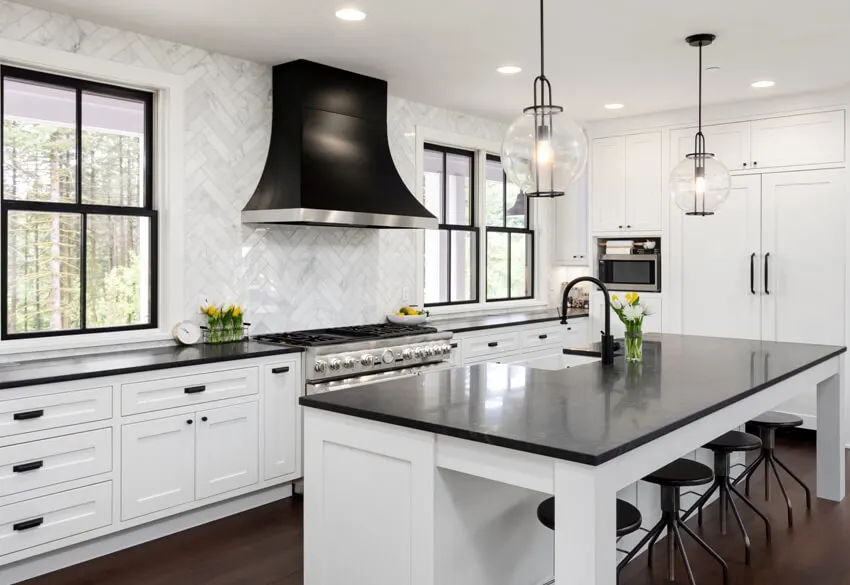 So in the process of designing your kitchen, you've decided to go for quartz countertops. What's the next step? There are other sections you can work on next, like the curtains or kitchen cabinets.
But what about working on choosing a backsplash next? This is actually a good move, especially since backsplash is usually overlooked in the process.
The backsplash you choose should also be cohesive both with your quartz countertops and the entire kitchen design in general. Let's start with the factors you have to take into account when matching the backsplash to quartz countertops.
Quartz Countertops And Backsplash Pair Rules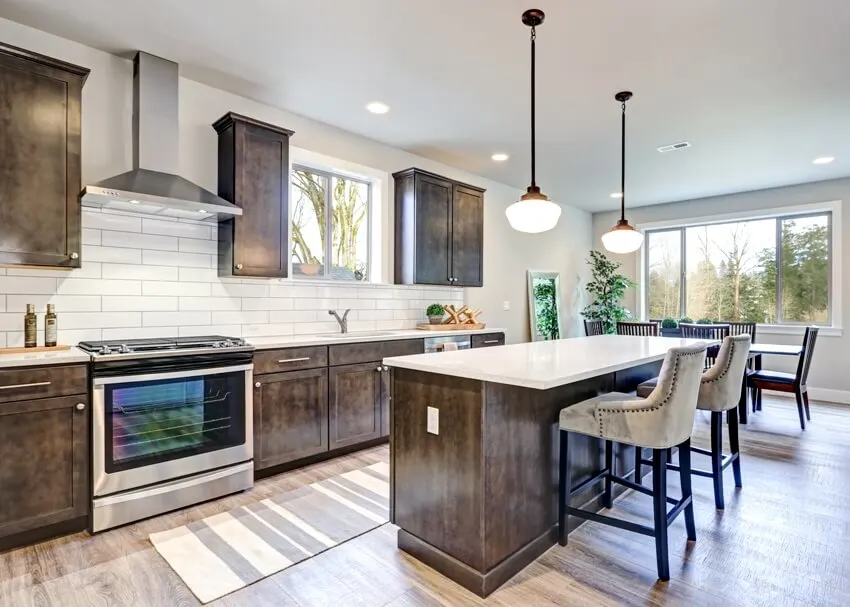 Your backsplash is your kitchen's defense against ugly stains and oil spills. While it may be a practical addition to a kitchen, it is often forgotten and placed as the last priority in kitchen design.
The truth though is that it is an opportunity for you to dig deep in your creativity and be playful in adding aesthetic value to your kitchen through the backsplash. And yes, it's possible!
When choosing the backsplash to match your quartz kitchen countertops, you don't need decades of experience to do so. You just need a guide to help you along the way. And this is exactly what you need.
Make sure to visualize your quartz countertops as you select the backsplash to install in the kitchen. And here are the basic steps to follow in choosing a backsplash that can match your quartz countertops.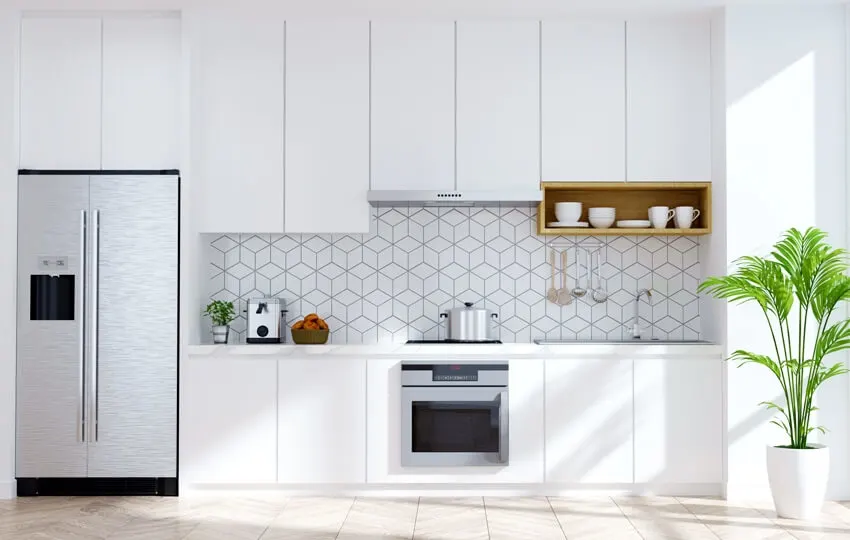 1. Specify the coverage of walls you want to be installed with a backsplash.
2. Meticulously plan your budget for the backsplash – you can either skim the market for prices (including installation services) or DIY
3. Make a decision on the following elements of your backsplash:
Material

Shape

Color

Pattern
Note: Quartz countertops are easy to match and can seamlessly blend with a wide range of color palettes.
4. Dig deep into your creative side and start designing and matching – don't rush in getting the first backsplash you see on the market or the most affordable. You can even pick tile samples and check out their compatibility with your quartz countertops and kitchen design in general.
Read more about matching kitchen countertops and backsplash on this page.
Quartz Countertops And Backsplash Combinations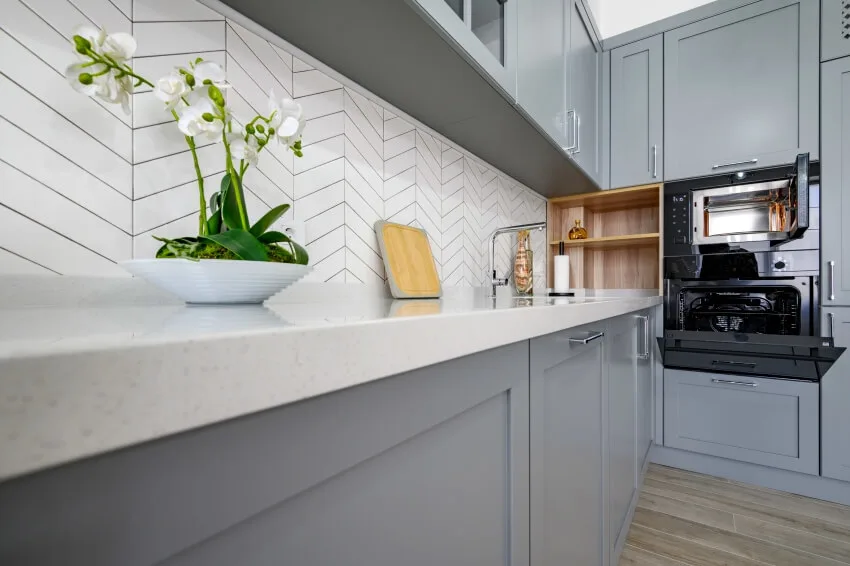 Quartz is also easy to maintain, making it a viable option for people who don't want to put much effort into keeping it in good condition. It is man-made and known to be more uniformed in terms of color palettes and patterns.
This makes quartz a great material to consider for countertops. Read more about quartz kitchen countertops' pros and cons here.
Matching your quartz countertops with a backsplash requires more experimentation and elements to consider. It is important to know the interconnection among your kitchen design, quartz countertops, and the backsplash you choose.
Now, if you don't have any idea where to start and what combinations can actually work, here are some options to check out.
Go for All White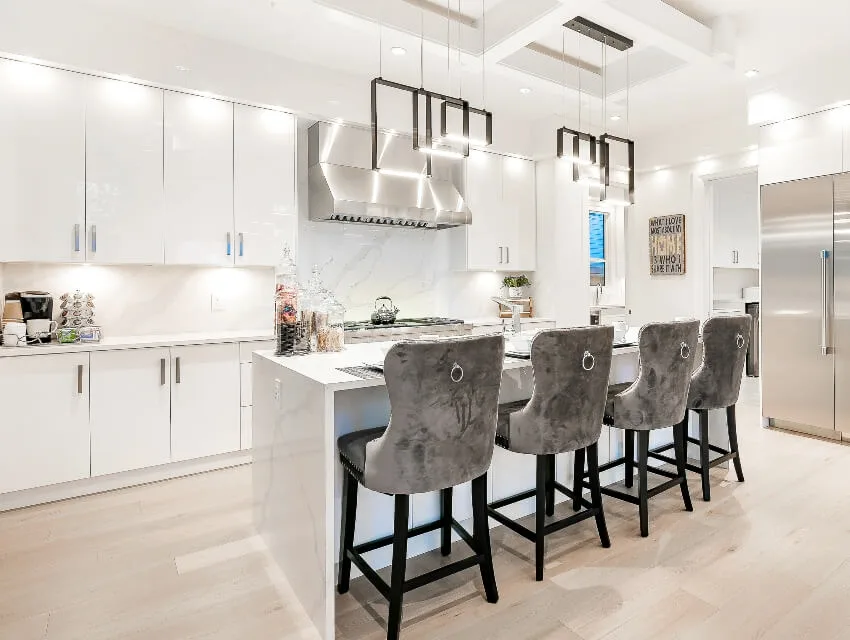 If you have white quartz countertops and matching white cabinets, you can always choose to go for all-white.
An all-white kitchen is a classic, so if you also have white flooring and walls, this would definitely work. Visit our gallery of modern white kitchen design ideas with both style and functionality here.
On the contrary, you might also want to choose a bold color to pop in your kitchen. You can use your backsplash to be the artistic factor in your kitchen.
Play with Different Materials to Match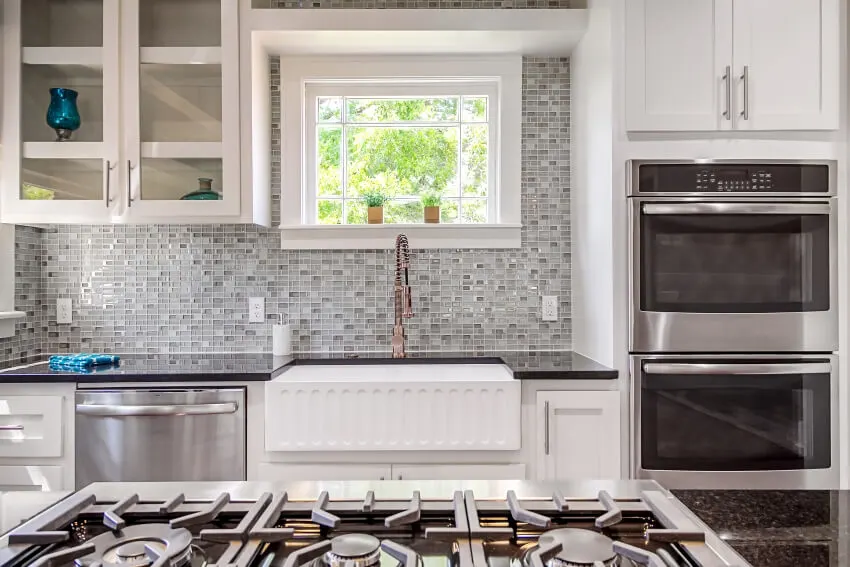 One thing you can do is to play with different materials that you think can match your quartz countertops.
You can mix and match different materials to quartz and check out what you think reflects your personality more and adds to the ambiance you want your kitchen to have. You can consider the following materials and products:
Marble or Glass – adds dimension to your kitchen. See our gallery of white marble kitchen ideas here.
Natural Stone – showcases a modern look to your cooking space.

Try out Different Shades & Hues of the Same Color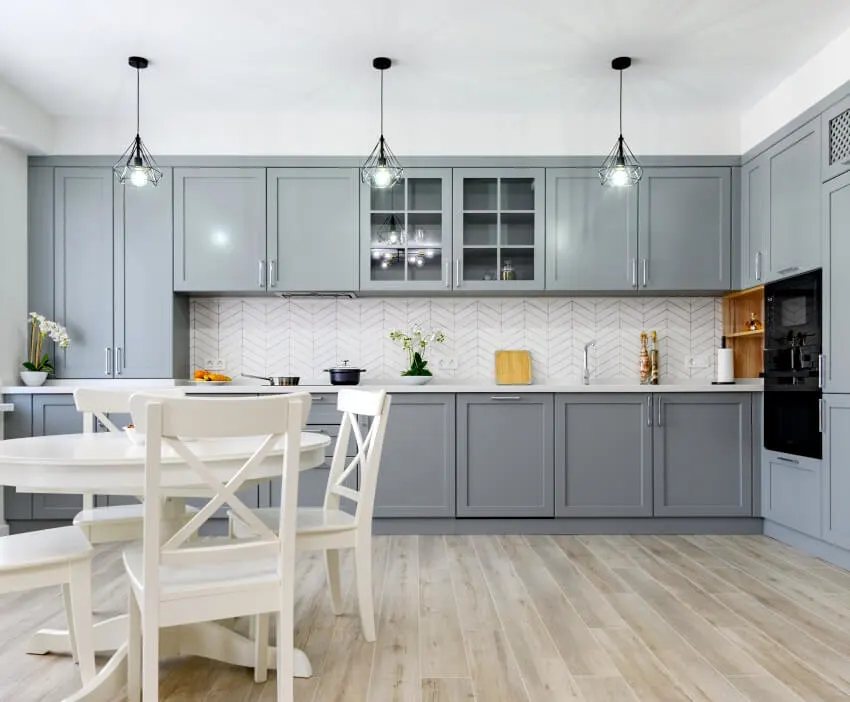 You may also want to try tone-on-tone matching, using one single color palette in different shades. Choose a backsplash with the same color as your quartz countertops but only in a different shade, either lighter or darker works.
Choose Neutral Colors Complementing Your Quartz Countertops' Veining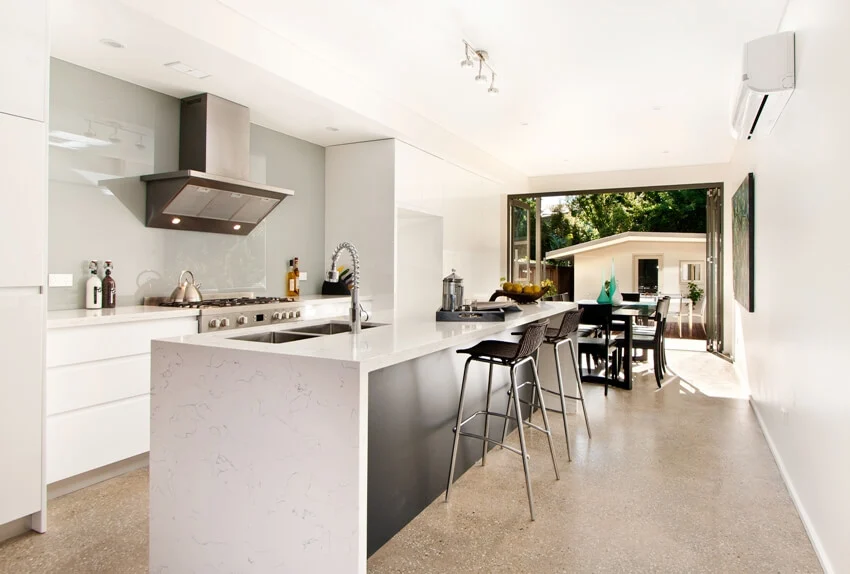 Another option you can do in matching a backsplash to your quartz countertops is to choose a specific neutral color that can complement your quartz' veining. Most neutral tones complement quartz veining excellently.
Incorporate Matte Finish on Your Countertops & Backsplash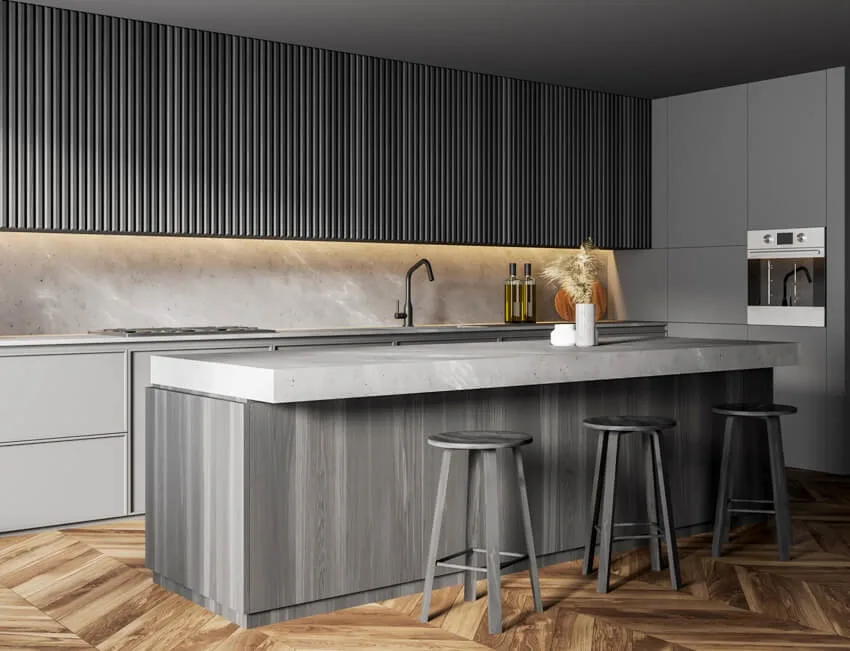 If you don't have the time to mix and match the colors, materials, and patterns of your quartz countertops and a backsplash, you can just incorporate a matte finish to both.
You can use your new backsplash to be the finishing touch, the cherry on top, for your kitchen's design. Be creative in choosing your kitchen's backsplash and make sure that whatever material you choose, is of high quality and from a legit company.
Get to know more about quartz countertops by visiting our ultimate guide of quartz countertops including the pros and cons, pictures, kitchen design ideas, and much more.