See if a kitchen island with stove is a good idea, including its pros and cons, best type of stove to use, and suggestions for kitchen islands with ovens & stovetops.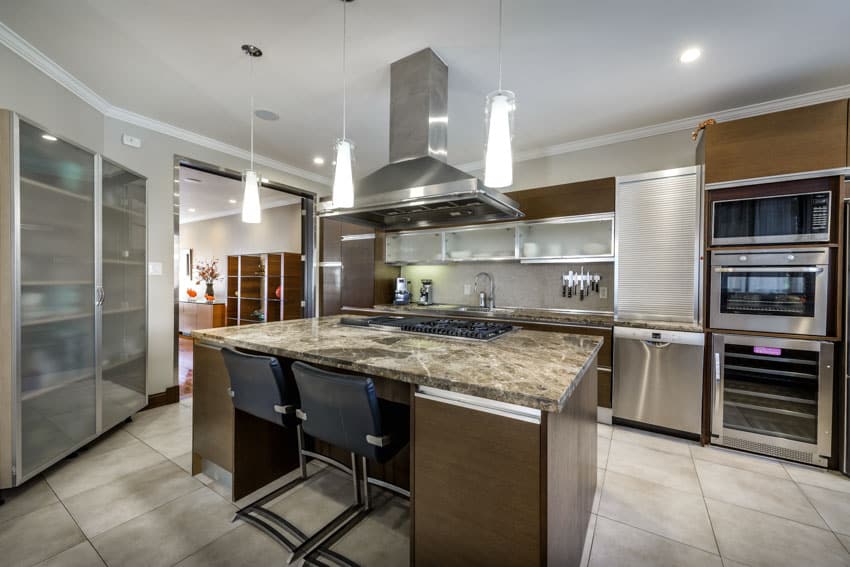 Chefs and food enthusiasts appreciate having a cooking stove on the kitchen island since it provides more cooking and food preparation space. In addition, centralized stoves create a more conversational ambiance, particularly when bar stools are placed around the island.
Nevertheless, you must think about whether you are ready to separate your cooking zone from the periphery. Several cooks who have been regularly exposed to a compact, integrated sink-counter-stove traditional kitchen triangle workspace may be frustrated by this across-the-aisle back and forth.
However, there are pros and cons you should consider before placing a stove on your kitchen island. Let us talk about these things in this article.
Kitchen Island With Stove Pros and Cons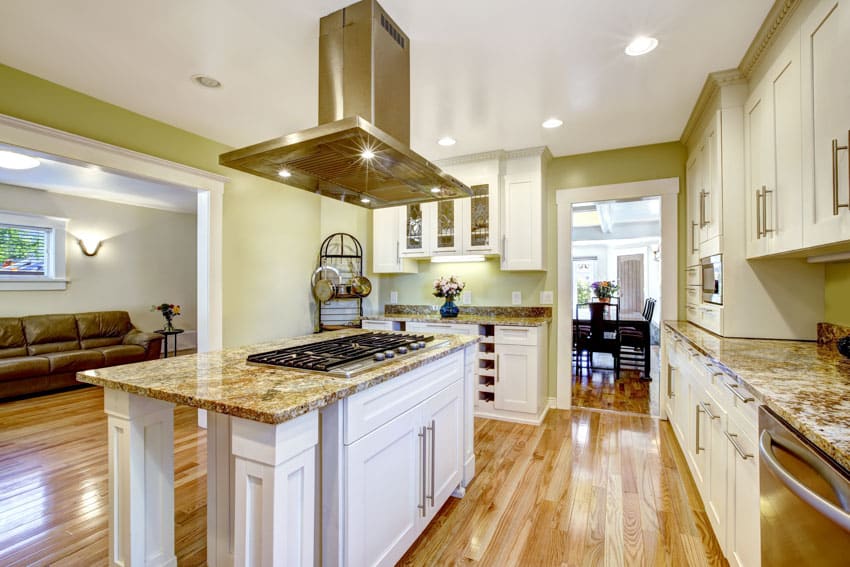 Although putting a stove on your kitchen island may seem like a crazy concept to others, there are several excellent reasons to do so. Here are the pros of a kitchen island with a stove.
Pros Of Kitchen Island With Stove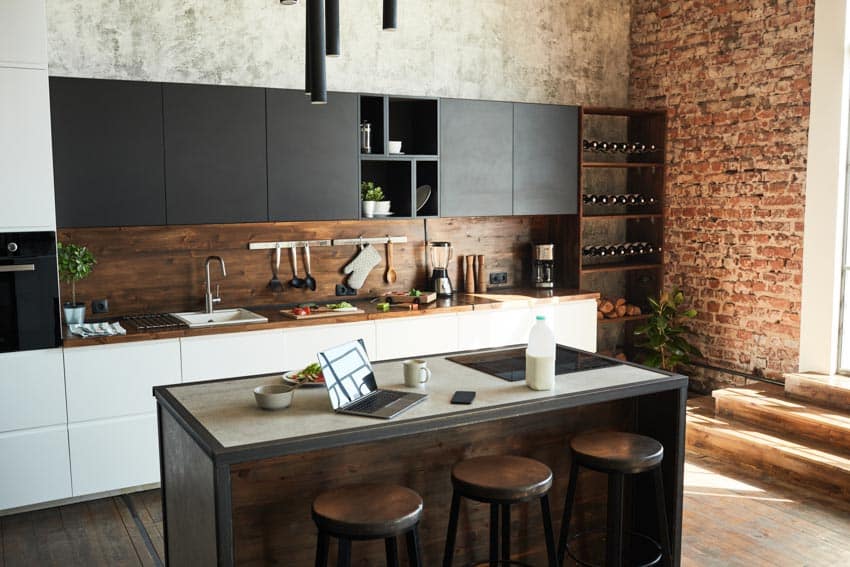 Cooking While Socializing with Others is Achievable: If you enjoy entertaining your family members and friends at gatherings, get-togethers, or special events, you will understand how inconvenient it would be to socialize and cook simultaneously. Nobody likes to turn their back on all the excitement that is going on, even in their own home.
This concern is simply solved by placing a stove on your kitchen island. Meal-preparing and socializing can become a regular aspect of your cooking routine.
If spending time with your family and colleagues is important to you, and you prefer cooking to be a part of that, this would be the most ideal option for you.
You Have Extra Space in your Kitchen: An island in your kitchen provides more cooking and preparation area. Placing a stove on the island would be an additional benefit for those who require more stoves to prepare food on.
This would be useful for individuals who cook in huge amounts or who frequently have two individuals cooking simultaneously.
Many people prefer having a kitchen island with a stove as they prefer to cook in a less congested area. Getting every stove occupied can easily get filthy and stressful, particularly if you are attempting to keep all of your needed ingredients nearby.
Nonetheless, with a kitchen island with a stove, you can effortlessly split your cooking tasks between your main stove and your island with the stove.
Choosing Between a Gas or Electric Stove Will Not be an Issue: Some people find it difficult to choose between a gas and an electric stovetop. Fortunately, you do not have to pick between them when you have a kitchen island with a stove: simply possess one of each!
Both gas and electric stoves offer benefits: gas is superior in terms of searing, whereas electric is excellent for baking. If you enjoy cooking, getting both of these is frequently preferred.
A kitchen island with a stove can make that dream happen. This also reduces the cost and ease of installation, making coordinated stovetops a viable choice.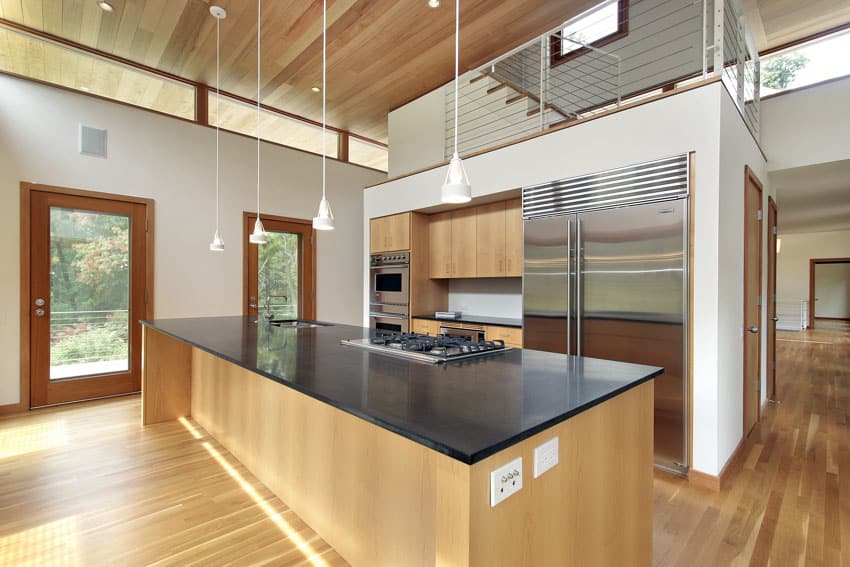 Provides Your Home with a Modern Appearance: Homeowners have many diverse perspectives on a kitchen island with a stove, but one thing is certain: an island stove adds a distinctive and elegant aesthetic. Incorporating more contemporary features into your kitchen keeps you up with trends and gives you something to be excited about.
Adding a stovetop to your kitchen island, particularly an electric version, gives a little visual flair to the ambiance of a kitchen. With an extremely modern look, the streamlined design merges seamlessly with the island and captures the eye.
Cons Of Kitchen Island With Stove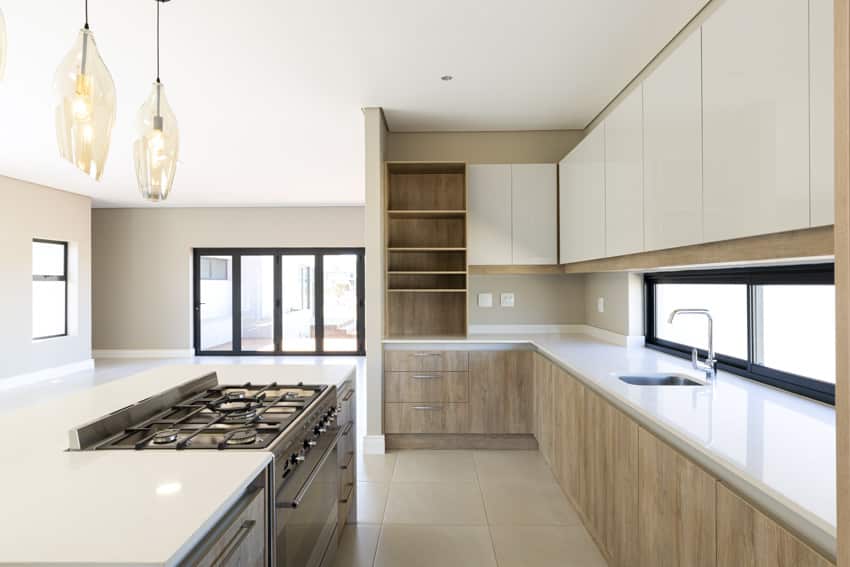 Although a kitchen island with a stove creates an intriguing and enjoyable kitchen layout, there are certain disadvantages to remember. Here are the cons of a kitchen island with a stove:
An Expensive Remodel: The price of this remodeling project will turn many consumers away. Kitchens are quite costly, especially if you're adding a kitchen island with a stove in it.
Incorporating an extra gas or electric line, as well as adding the appropriate types of kitchen countertops and ventilation, will dramatically increase the cost. That also includes elements like lighting, piping if you want a sink, or employing more costly materials.
It Necessitates A Lot Of Space and Extra Ventilation: Because specific measurements must be achieved, certain kitchens cannot even have an island in the first place. If your kitchen is compact, it might not accommodate a kitchen island.
The smallest kitchen island size is roughly 4 square feet, and most individuals who want a kitchen island are considering the larger ones. It is critical to leave enough space between the island and the countertops. Otherwise, very limited kitchen space might pose a safety hazard.
Furthermore, even if you have an island, you may also require additional ventilation above the island stove, which may discourage some individuals.
Additional vents, electric fans or range hoods might not be a desirable feature because they might obscure your view of adjoining rooms and detract from the aesthetic appeal of the kitchen.
Takes Countertop Space Away From food Preparation: Most people spend most of the time in the kitchen preparing food and a smaller amount cooking. The kitchen island is a valuable piece of real estate when it comes to food prep space. By installing a stovetop, one may negate much of this space.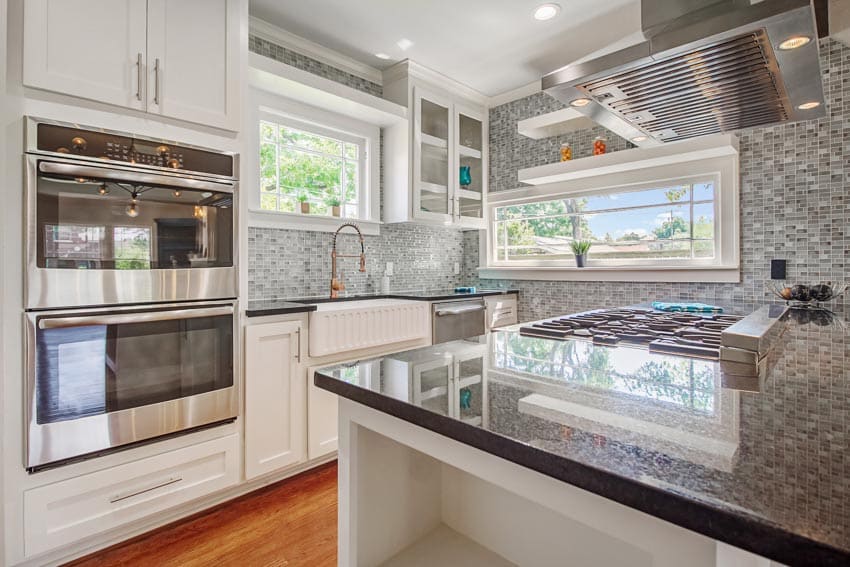 Limited Material Choices: Certain material choices are instantly ruled out if you want a stove on your island. This could be a major issue for individuals who want to match the design of their island to the remainder of their kitchen.
Inexpensive materials are frequently incompatible with kitchen islands with a stove. For apparent factors, wood-based components are out of the picture.
Kitchen islands must complement the remainder of the kitchen in any way, whether by completely coordinating the adjoining cabinets and countertops or by at least complementing it in some way. Unfortunately, adding a stovetop may deviate from the design you have in mind.
You Cannot Install a Backsplash: If you are used to preparing meals with a protective backsplash, you may not realize how vital it might be when it comes to preparing particularly hot dishes. Grease, for instance, has a terrible tendency of splashing around and attempting to fall on the skin.
However, there are mountable backsplash substitutes, but they might add to the expense and are not necessarily the nicest looking.
Kitchen islands with a stove are often complimented for their streamlined and modern appearance, but installing a partition can detract from the overall aesthetic. Read more about a kitchen backsplash behind stove here.

What Type Of Stove Goes On An Island?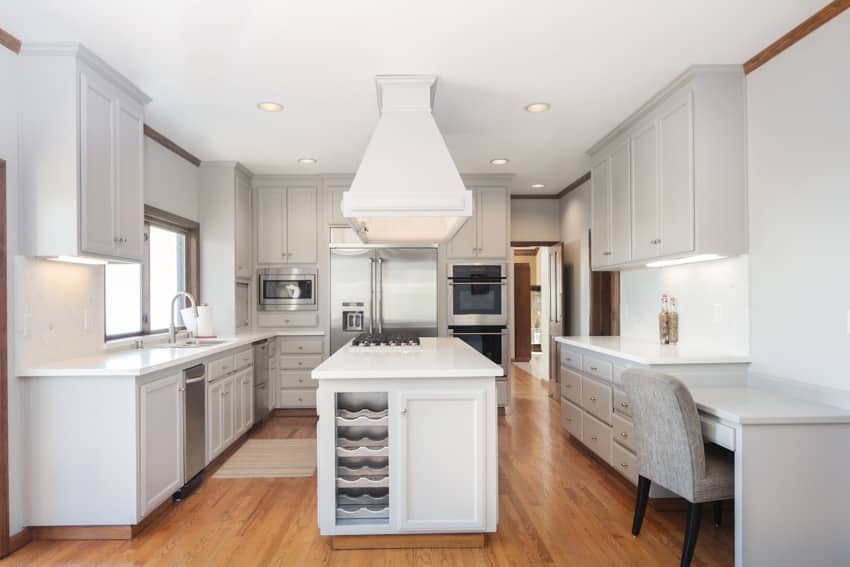 A downdraft stovetop or burner could be the ideal solution for your kitchen island if you want to keep things simple. Such appliances have a downdraft ventilation mechanism built into the heating surface, removing the need for a dedicated vent.
This coordinated ventilation system is constantly ready to operate and does not necessitate the installation of a secondary venting device, including an overhead hood or movable downdraft venting.
If you wish to save money on two individual devices and setups, or if you want more clear sightlines in your house, take into account a downdraft stovetop.
Nonetheless, if you want the savings and convenience of a stove for your kitchen island, you may pick between gas, electric, induction, and downdraft alternatives depending on how you cook.
If you want the design versatility and burner selections of a cooktop with oven range, you must be able to choose from gas, electric, induction, and electric downdraft selections.
You may complete the transformation of your kitchen by adding cordless equipment for even more flexibility to create as you choose. Start by looking at a kitchen island with provisions for standard stove dimensions or cooktops and getting inspired by the options.
Kitchen Island With Stove And Oven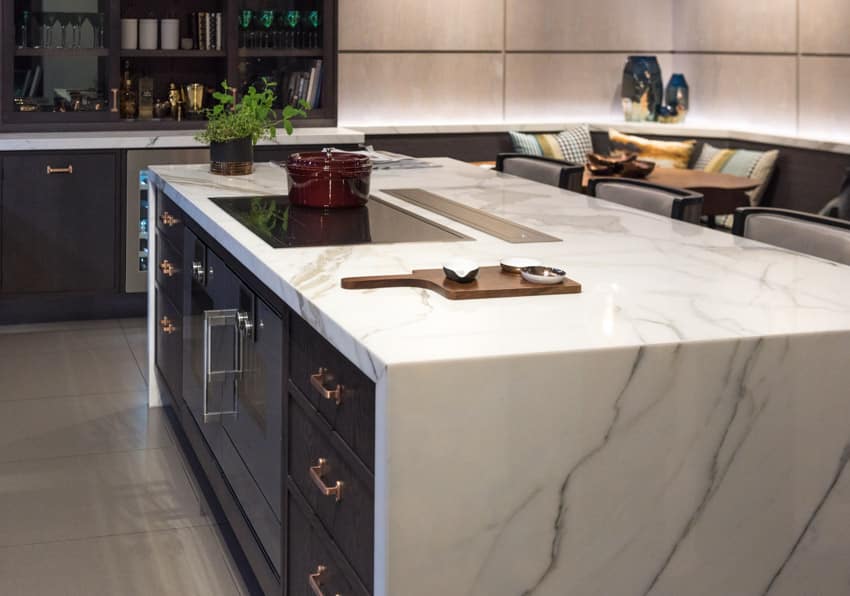 If you choose a cooktop with a wall oven combination, kitchen islands with a stove separate preparation tasks into two locations: one at the stovetop for simmering, sautéing, and steaming, and the other at the oven for roasting and baking.
For irregularly shaped kitchen islands, those with a stovetop and a different wall oven are ideal. Standardizing your cooking area by incorporating a stove into your kitchen island improves the movement of your compact or odd kitchen layout dimensions.
When you select a cooktop with an oven design, you have the option of adding more roasting and baking area with a double wall oven. If movement is a problem for you, adding a wall oven to your kitchen island allows you to roast or bake without needing to constantly bend.
Kitchen Island With Stove Top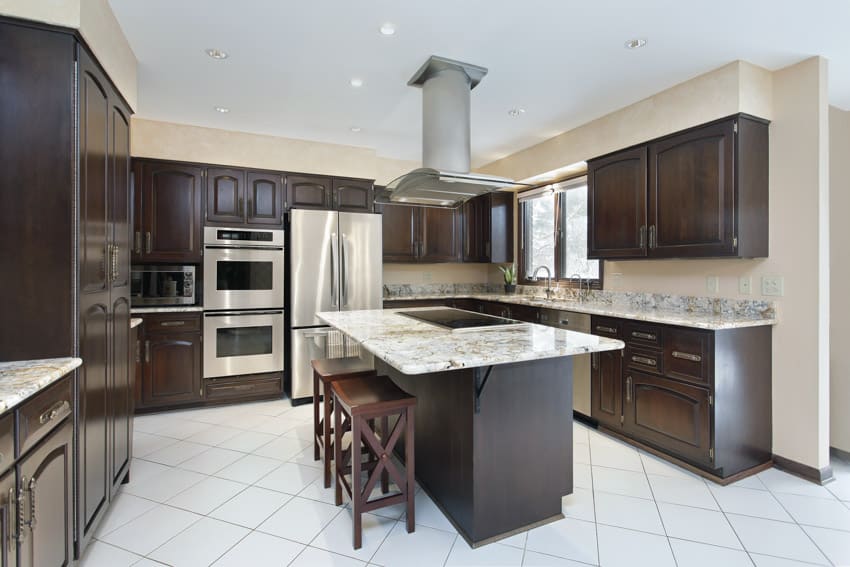 A kitchen island with a stove top can serve as a supplementary, backup way of cooking as per professional cooks. But, the main stove would remain in the perimeter counter space.
Furthermore, if you want a stove top on your kitchen island, electric or gas connections should be conducted up from the crawlspace below the flooring. If your house is constructed on a concrete foundation, the slab should be broken up as well as the pipes installed beneath it.
Is Stove On The Island A Good Idea?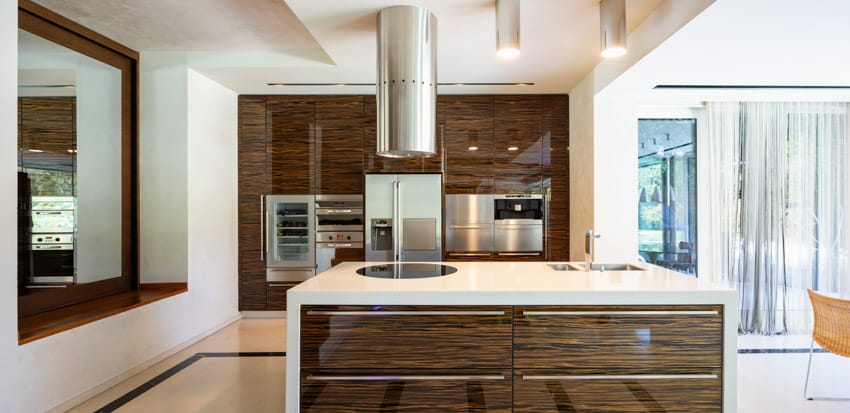 Placing a stovetop or cooktop in your kitchen island would be a good idea as it helps in freeing up space and providing a centralized location to prepare food while assisting your children with schoolwork, catching up with friends and family, or socializing with visitors.
Furthermore, if your kitchen island has seating, it will be significantly simpler to serve meals as soon as they are ready.
It may be a bad idea if you like to use your kitchen island primarily for meal preparation, as the stovetop may take valuable countertop space. In addition, some like to have uninterrupted countertop space for their island as a style choice.
Depending on your present arrangement, a centralized stovetop can optimize the working triangle in your kitchen.
An effective layout can ensure that your sink, refrigerator, and stove all coordinate to form a triangle that supports quick and easy meal preparation. Whether a kitchen island stovetop is right for you will depend on your individual needs and preferences.
See more related content in our article about standard stove dimensions on this page.