Here we share the most popular types of kitchen hoods with a variety of design ideas for inspiration.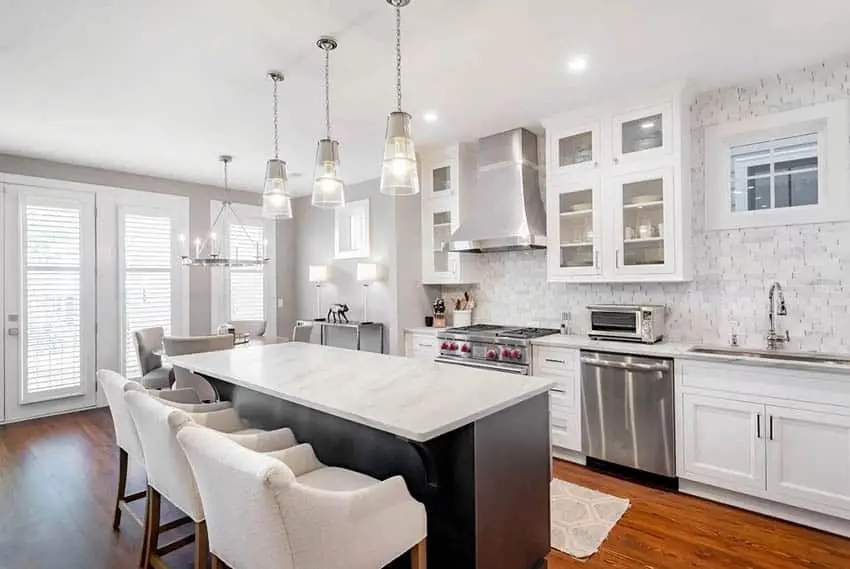 Kitchen range hoods improves air quality in your kitchen and help to clean the environment in your home. Range hoods reduces excess kitchen heat, thus staying in the kitchen is more comfortable and cooler.
Grease residue and smoke can build up on any surface in the kitchen and can grow bacteria and mold; kitchen range hood makes clean-up easy since its filters traps grease particles and absorbs excess moisture and prevents greasy build-up and prevents growth of bacteria and mold.
The range hood light provides more illumination while cooking, which helps see the color and texture of the food while cooking thus, prevents over or under cooking your meals.
Most kitchen appliances produce carbon monoxide, this gas is odorless and is a combustible gas which can cause health problems. Kitchen range hoods, help reduce carbon monoxide in your kitchen by drawing out of the air through its motorized fan and making it safe for everyone in the house.
Not only does installing a kitchen range hood properly creates a safe and comfortable environment for you and your family, it is also considered as a stylish upgrade to your kitchen. Choosing the right range hood for your kitchen makes a big difference and can be a good investment especially when you are trying to sell your home.
According to real estate experts, the kitchen is considered by 80% of potential home buyers as one of the top three rooms in a home. Its modern appliance includes the kitchen range hood makes the space more attractive and adds a major resale value and quicker sale for the property.
Types of Kitchen Exhaust Hoods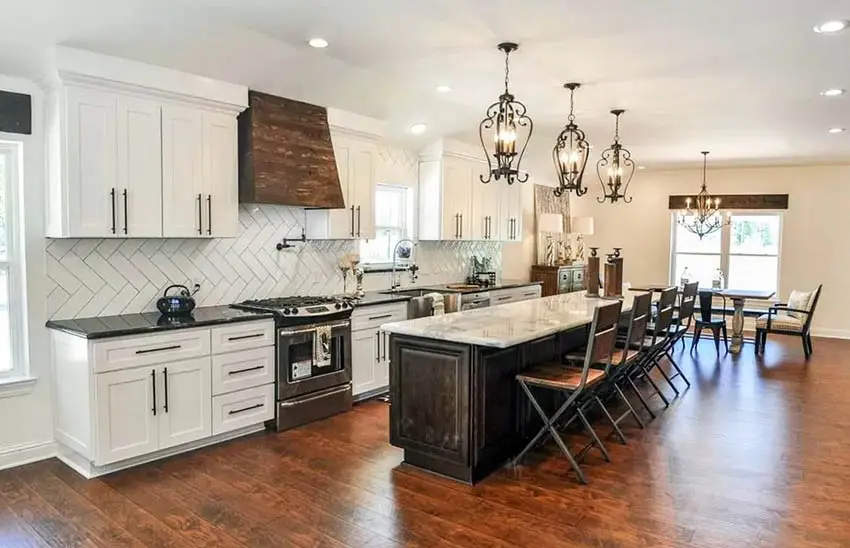 If you care about venting unwanted smell from smoke and fumes and want the best solution for moisture and heat from cooking, then it is wise to invest in a good kitchen exhaust hood which will provide the proper ventilation. It is very important to consider and determine the type of range hood you need; take note of the size, shape and mounting type before buying and install a hood.
Wall-Mounted Range Hoods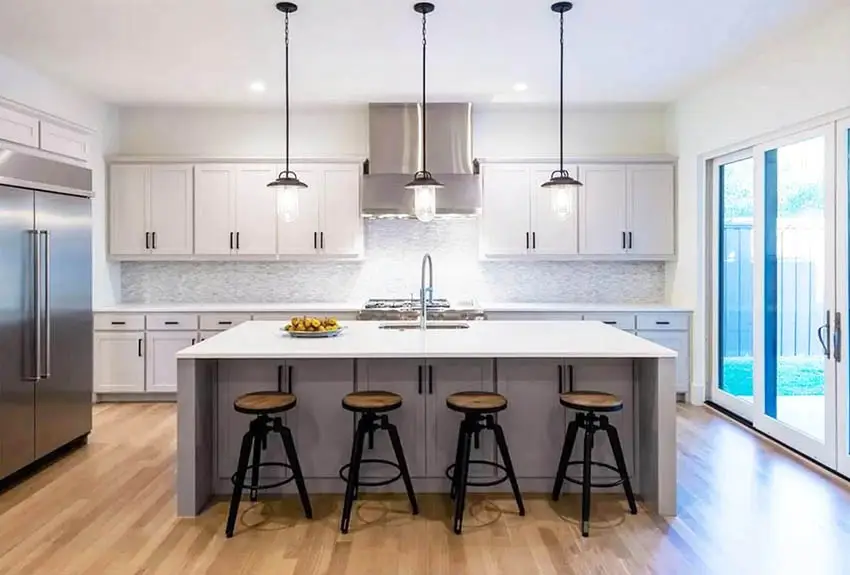 Wall mounted hoods are the most popular type of vent hood which are installed directly in your kitchen wall and over the cooking range. Recommended height needed to install wall-mounted range hoods should be 28" to 36" above the cook top for effective capture of smoke and fumes.
For a proper ventilation, these hoods are connected in your kitchen's pre-existing duct system. Sometimes, these wall-mounted range hoods come with an optional chimney piece.
These wall-mounted range hoods can completely absorb all the smoke and fumes in the kitchen because they come in quite large sizes. Because of their large sizes, your kitchen must have a larger space provision as well.
Typically, these wall-mounted range hood vent air out through an exterior wall behind them; so, it is best to use the wall-mounted range hood if your cooking range is installed on an exterior wall. These types of hoods sometimes come with a chimney which helps with the ventilation.
Under Cabinet Range Hoods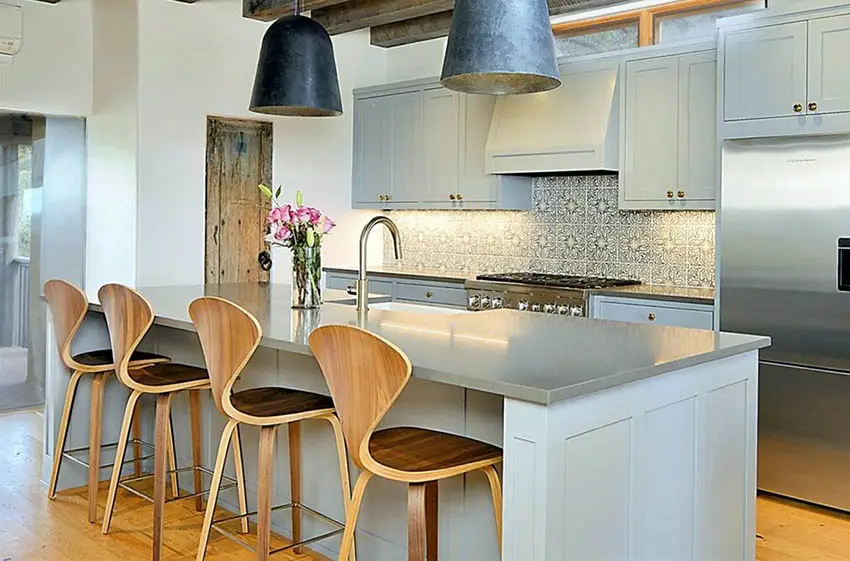 Under cabinet range hoods come in a compact size and are the most regularly used range hoods. It is a more traditional type of range hood, yet it comes in different elegant designs and are mounted underneath the kitchen cabinets positioned directly above the cook top; so, you don't need to remove any cabinets before installing this type of kitchen range hood.
However, you need to give enough space between the kitchen cabinets and your stove or cook top; ideally, the cabinet range hood should be 28" to 36" above the stove or cook top.
Cabinet range hoods can be ducted out of an exterior wall or up through the cabinet above the hood; or it can be a non-ducted type as well. Since these hoods are of a more compact size, it is used more for smaller kitchen space.
Ceiling Mounted Range Hoods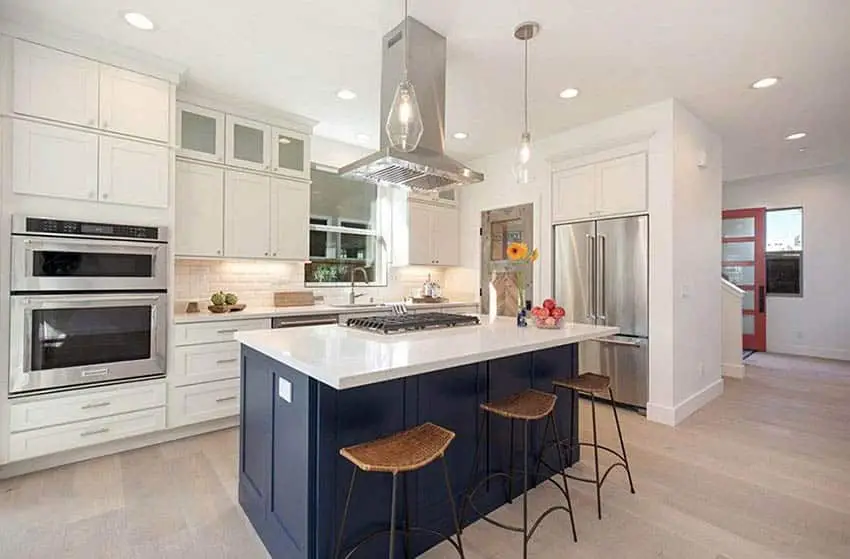 Ceiling mounted hoods are used for cooking ranges that are not located against a wall or for cook tops which are placed in the middle of the room. These are often positioned directly above a kitchen island to provide an effective kitchen work triangle. Ceiling mounted range hood features a vent which attaches to a duct inside the ceiling.
Kitchen Island Hood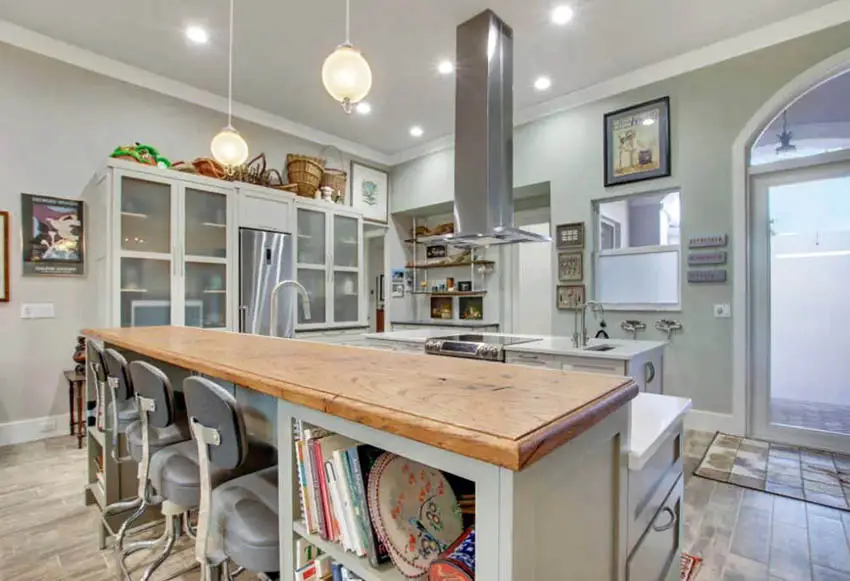 Kitchen island hoods are installed on the ceiling over a stove or cook top. These hoods come in many styles aside from the traditionally styled hoods, such as glass canopies, curved metal, copper and ceramic.
These kitchen island range hoods are mounted on the ceiling and vented through a ductwork in the ceiling and out through the roof either with a roof cap or through an exterior wall.
Downdraft Ventilation Hoods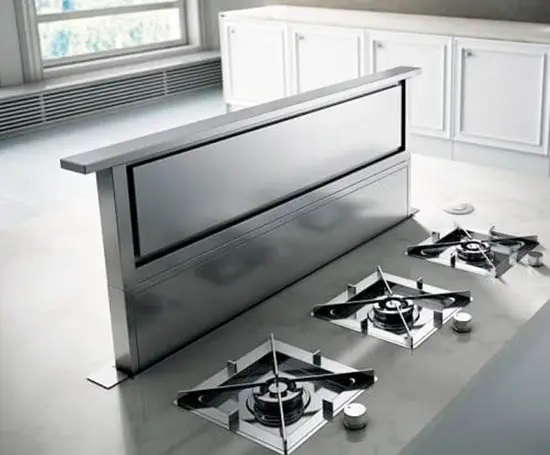 This is a less common ventilation system since these downdraft hoods try to reverse the direction of rising smoke and fumes and draw them through ducts running beneath the floor.
This type of exhaust fan is kept inside the cooking range and when you need to use the fan, it pops up along the back of the range. The downdraft ventilation hood can be a good option for small kitchen designs with limited space for a separate range hood.
Wall Ventilation Fans
These fans eliminate fumes, odor and humid air from the kitchen as well as some of the more common range hoods variety.
Wall ventilation fans are much cheaper option than installing a whole range hood and are easily installed on kitchen walls or against a window near your cook top. All you need to do is plug it to a power supply outlet. But it has a quite limited performance since it is only effective against the smoke which comes from the cook top and cannot be effective against humidity in the air and the grease in your walls.
Ventilator Power Pack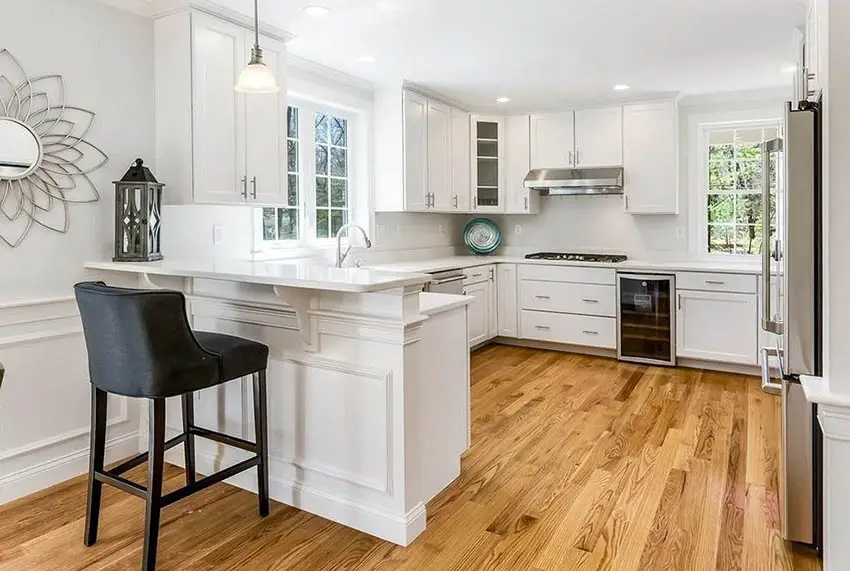 A ventilator power pack is an integrated range hood which has a seamless style type hood and is built into the cupboard above your cook top. This type of hood is used where ducting of the house is not possible. Ventilator power pack are designed with CFM blower, lighting and filters.
Ductless Kitchen Hood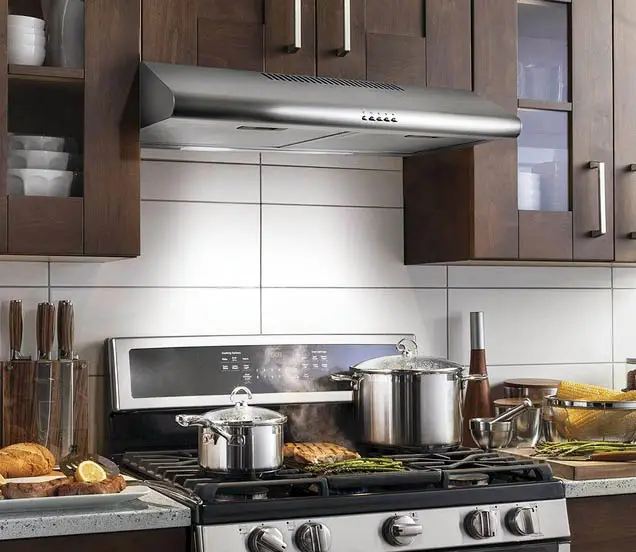 A ductless kitchen hood is a typical option for cabinet range hoods, wall-mounted or island range hoods. Ductless kitchen hoods are ideal for medium-sized kitchens with moderate cooking.
This type of range hood when installed, directs smoke, fumes, odor, steam and heat away from the stove or cook top but just disperse them throughout the kitchen and even to the rest of the house.
Although the main filters of this ductless kitchen hood can trap oil and grease droplets and its carbon filter reduces unwanted odors and clean it; a ductless kitchen hood, still release the same air back into the kitchen. Make sure that if you are going to use a ductless kitchen hood, your kitchen needs to have windows or else, your kitchen can become humid.
Custom Kitchen Hoods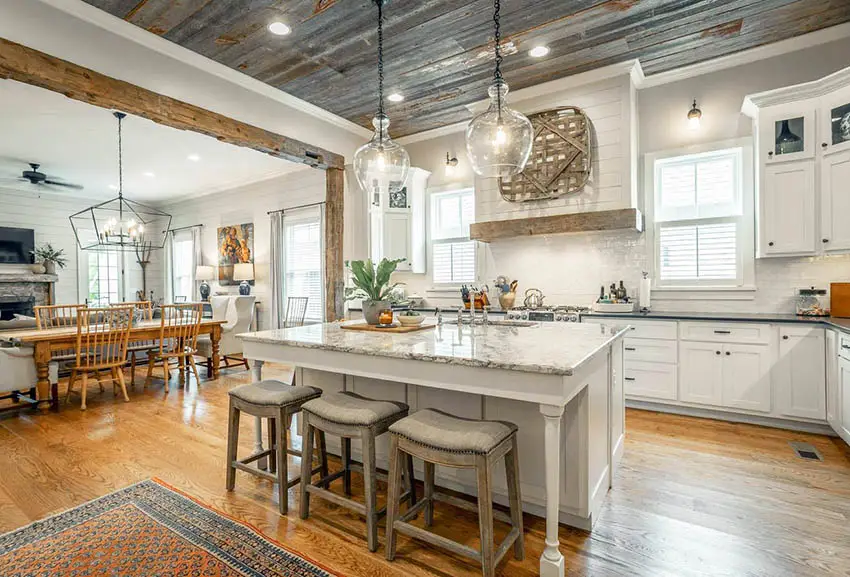 Custom kitchen hoods are great options for homeowners who wants a range hood with a more powerful design punch since they are customized to fit the overall kitchen design theme.
The shapes, material and styles of custom kitchen hoods can be tailored according to the preference and requirements of the designer or homeowner thus, having a unique and personalized look all over. There is an endless choice in the materials you can use for custom range hoods and unique selection of custom finishes as well; such as wood and metal.
Wood Kitchen Hoods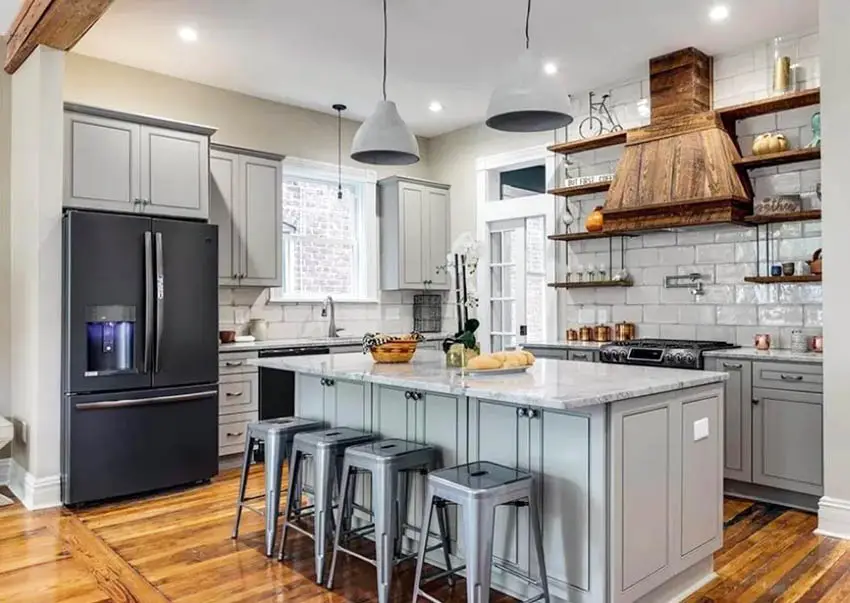 Wood kitchen hood designs can be simple or ornate and there are is a wide range of styles and colors to match your interior design scheme. A wood kitchen hood is used to cover a metal exhaust hood especially for many traditional, old world and Tuscan kitchen design theme.
The best wood types to use when it comes to wooden kitchen range hoods are hard maple, red oak, cherry and even reclaimed wood paneling works perfectly because it increases the aesthetic appeal of the kitchen and highlights the artistic design scheme.
Custom made wooden range hood includes details such as soffits and simple to intricate wood carvings. By adding elegant details on the wood and applying different types of wood finishes and stains, these custom kitchen range hoods could look so stunning and can be integrated into the kitchen cabinetry for specialty cabinet lines or ornate cabinet lines.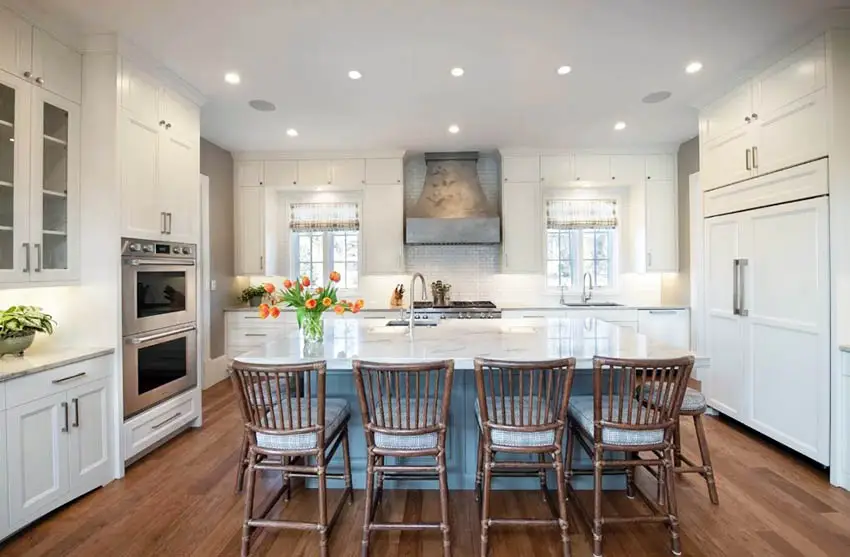 Wood type kitchen hoods are also often use to "disguise" an exhaust hood such as a "fake stone kitchen hood".
Carved stone hood are expensive and very heavy; and so if your kitchen design scheme calls for using a real stone hood but isn't feasible for your kitchen, a wooden hood faux painted to look like that of a limestone, granite or rough-hewn stone can be the answer.
A wood type kitchen hood can be a design element that can be the finishing touch for your kitchen from a simple design painted in a coordinating color for a classic look to a more decorative design such as a stencil or a mural painting.
Wood type kitchen hoods not only remove unhealthy smoke, fumes and unpleasant odors, but also serves as a focal point in your kitchen and one way of showing your personality and complementing your lifestyle.
Metal Kitchen Hoods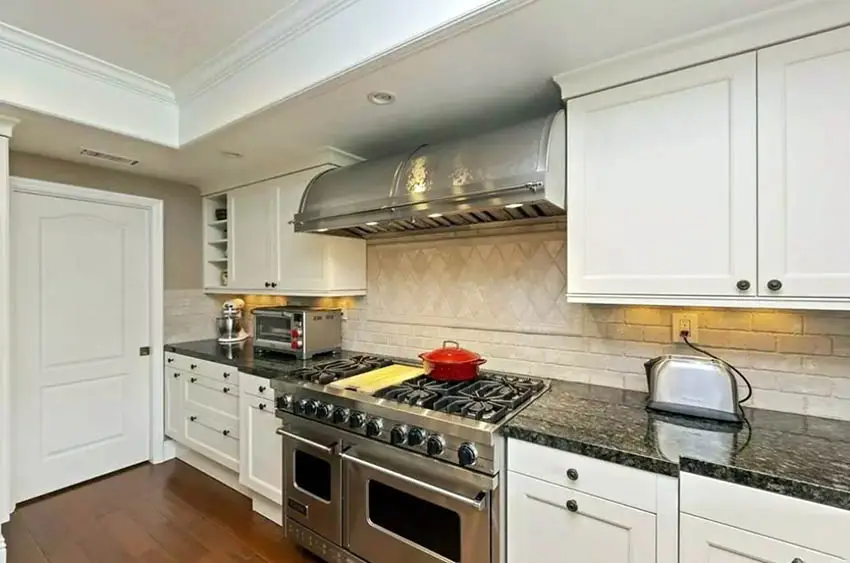 Metal kitchen hood designs are currently one of the newest and biggest kitchen design trends for those wanting a customized interior design. When it comes to metal range hoods, copper and stainless there are quite popular in the market.
Custom made copper range hoods are best used in rustic and "old world" design scheme.
Copper range hood can have patchwork design with custom welded copper molding or can be forged with iron straps or burnished pewter strapping with decorative rivets. Regular care and waxing slow down copper's aging process and eventually will have its patina shine through.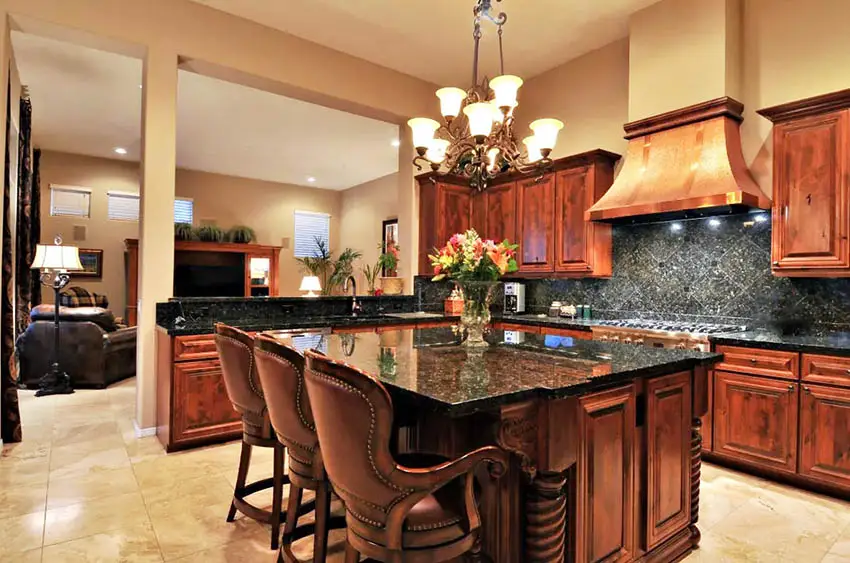 Kitchen hood designs made from stainless steel gives you a timeless and forever young style because it looks great in traditional, modern and even in a rustic design scheme and can be enhanced by the color of the finish applied on the metallic surface. Stainless steel has an easy-to-care property which makes it even so popular.
Zinc kitchen hoods are also gaining popularity. Zinc type hoods starts with a shiny finish just like its counterpart, the stainless-steel hoods and then ages to a patina that turns into a rustic charm and eventually oxidizing to a pewter finish. There can be a range of finish which can be done with zinc type hoods, and it can be manipulated through staining and polishing process since it's a highly flexible type of metal.
Regardless of what type of metal you choose for your dream kitchen, a metal type kitchen hood is an investment décor piece, and so make sure that is built and installed properly in order for you to enjoy it for years to come.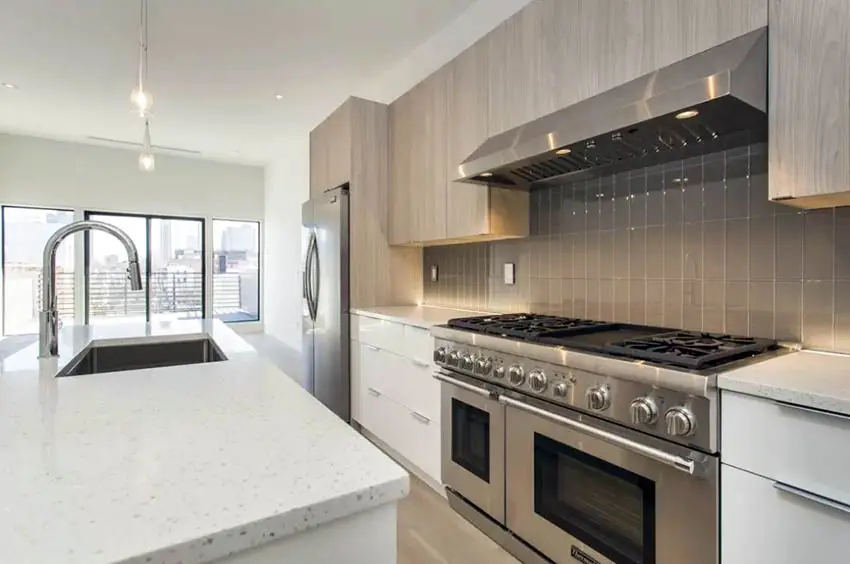 There are a variety of choices available in the market for kitchen range hoods and before deciding on any types you need to consider the kitchen size, style and structure of the range hood. Keep in mind that each type of hood has its own advantages as well as disadvantages. Select to purchase kitchen range hood from professional brand shops that can produce good quality range hood products and can provide high quality service team.
Make sure that the range hood is efficient enough to eliminate all unpleasant smell, fumes, smoke, airborne grease, toxic pollutants and remove excess heat generated from cooking on the stove.
A good kitchen range hood must have good performance parameters in terms of electrical power usage, exhaust volume capacity and oil absorption width. It must also have large suction capability, less noise and make sure it has no air leakage.
Also, take into account the layout of your kitchen, design scheme, and other appliances being used in the kitchen. Kitchen range hoods are as important as the rest of the appliances in your kitchen such as the refrigerator, stove and oven. Kitchen cabinet remodel software can help you visualize the addition of a hood to your design.
"There is a peculiar burning odor in the room… the kitchen fills with smoke and the hot, sweet, ashy smell of scorched cookies…" – Alison Lurie