Here we share some shipping container house design ideas including their primary benefits and features.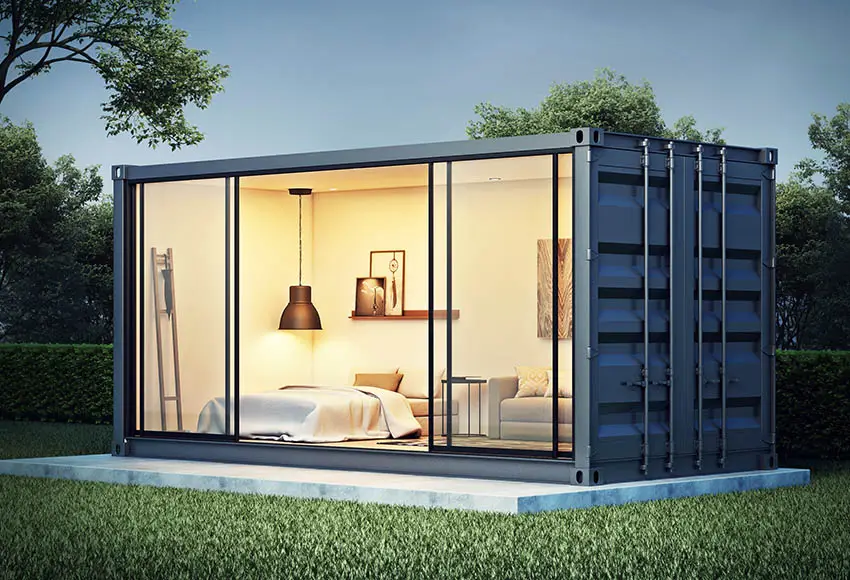 There are thousands of surplus shipping containers around the world which sits on docs and will never be used for cargo again; thus "one man's retired shipping container is another man's elegant modular home".
By recycling shipping containers that are no longer usable for shipping purposes into container houses, this concept reduces sources of pollution which are also source of a blot on landscape in local ports.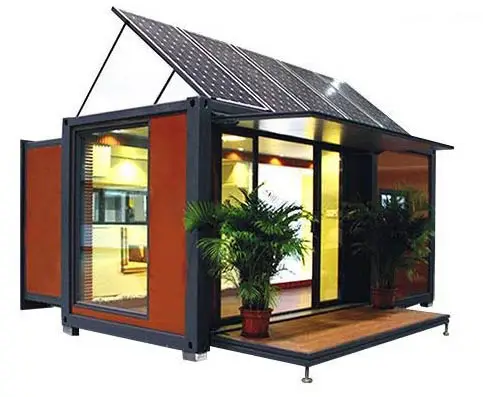 Modern times require state of the art approach to construction systems which can improve time, increasing the speed of construction and cost management because shipping containers is already a shell in itself – meaning it already has walls, floors and ceiling.
Made from surplus containers, these shipping container houses can be the next eco-friendly alternative to conventional building materials.
Architects and designers are getting incredibly creative with these shipping container houses offering a stylish interior and exterior transitions which incorporates the use of these shipping containers into impressive structures.
These shipping container houses are perfect for either permanent or holiday living since they are made not only to be durable, resilient against typhoons and strong winds; they can also be made fully transportable making relocation quick and stress-free.
Typically, containers come in either 20 feet by 8 feet size (6 meters by 2.4 meters) which can allow about 160 square feet of living space or the larger container which is 40 feet by 8 feet (12 meters by 2.4 meters) and will get you around 320 square feet floor area.
Regular containers have a height of 8.5 feet (2.5 meters); you can also combine containers to create a much bigger living space. Shipping containers can cost anywhere from US$ 2,000 to US$ 4,500 these prices will vary based on the age and condition of the containers, size, delivery fees and the supplier.
Benefits of Shipping Container Houses
Shipping container houses have a lot of great qualities which one can find to be advantageous. Here are some benefits homeowners can consider in choosing shipping containers for their houses:
Shipping Container Houses are Affordable – As mentioned earlier, building a house using shipping containers does save money than traditional types of construction due to combination of factors and the extent of DIY labor in fabricating and assembling shipping container houses.
Shipping Container Houses are Sustainable – Shipping container houses are great example of "Reuse and Recycle" as it gives another life cycle to a run-down shipping container, no longer suitable for its intended purpose.
Shipping Container Houses are Strong and Durable – Since shipping containers are made of steel and built extremely strong to withstand any forces of mother nature and handle extreme loads during its long journey across the open ocean; you can be assured that it will be a home which will keep your family and possessions safe and will last for generations.
Shipping Container Houses are Unique and Flexible – There are endless possibilities and unique design modification which can be done with shipping container houses even if these containers are made exactly the same size and shape. These shipping containers have an in-built flexibility in how they are built, moved and used.
You may also want to consider requirements in obtaining proper permits in building your shipping container houses since locations throughout the U.S have different building regulations and not every location allows for this type of dwelling.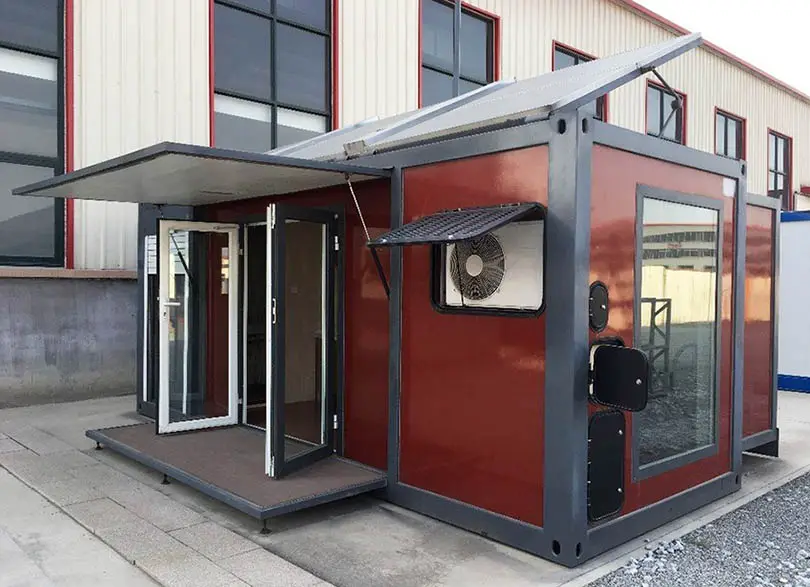 See this container house on Amazon
This prefab expandable container house uses hydraulics to open up to provide more living space. In addition the model can generate power from both solar panels and wind turbine.
If you want to have an actual tiny house that is the size of a shipping container there are many premade models to choose from.
These are fitted out in a factory then shipped to you on site ready to assemble, you can find one product which is the Allwood Sommersby Garden House from Allwood; patterned from a shipping container house.
It is a 174 square feet Garden House Kit priced at $8,560.00. This item is shipped from and sold by Allwood Outlet.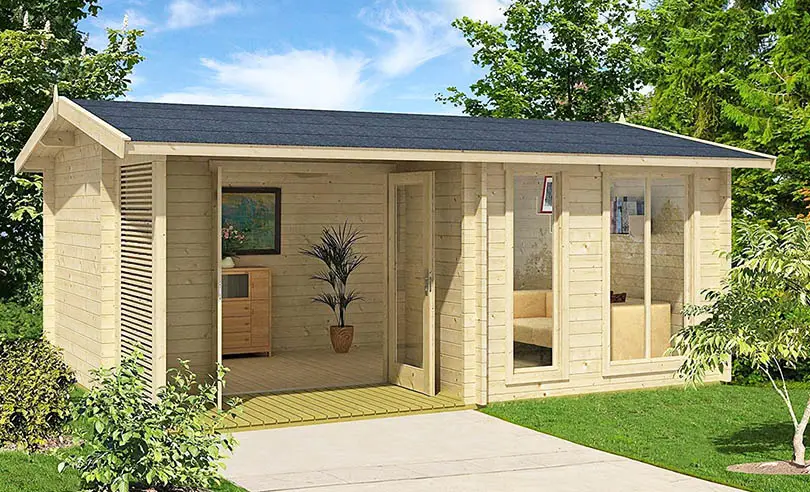 See this tiny house kit at Amazon
This Garden house is made from durable Nordic Spruce wood having a 1-3/4″ thick double tongue and groove WindBlock wall planks.
Its roof and ceiling boards are made of ¾" T&G as well as its flooring boards. Installed with a double door which measures 62-3/8″ x 77-3/8″ and two built-in windows measuring 22-1/8″ x 70-3/4″ and the other having dimensions of 39-3/4″ x 70-3/8″.
This Allwood Sommersby Garden House has a total floor area of 176 square feet with dimensions of 19′ wide x 14′ 1″ deep; ideal for a home office or for a multi-purpose recreational space.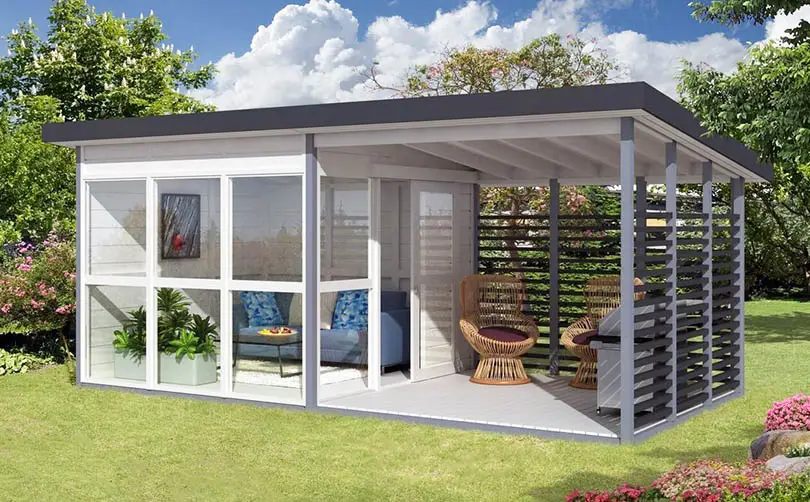 See this tiny house on Amazon
The Allwood studio cabin kit is another model that is close to the size of a shipping container and offers a small patio area. This has 172 square feel of space and would make a great man cave, pool or guesthouse.
From the basic to the luxurious designs, the shipping container house offers the benefit of a ready-made shell. We hope that through this article, we have given you some reasons to appreciate and love shipping container houses, because we sure do love them!
For more related content check out our gallery of tiny home designs here.