These pictures of ranch style house types also include what the style is, characteristics, different designs, interior & exterior finishes and the benefits or ranch style homes.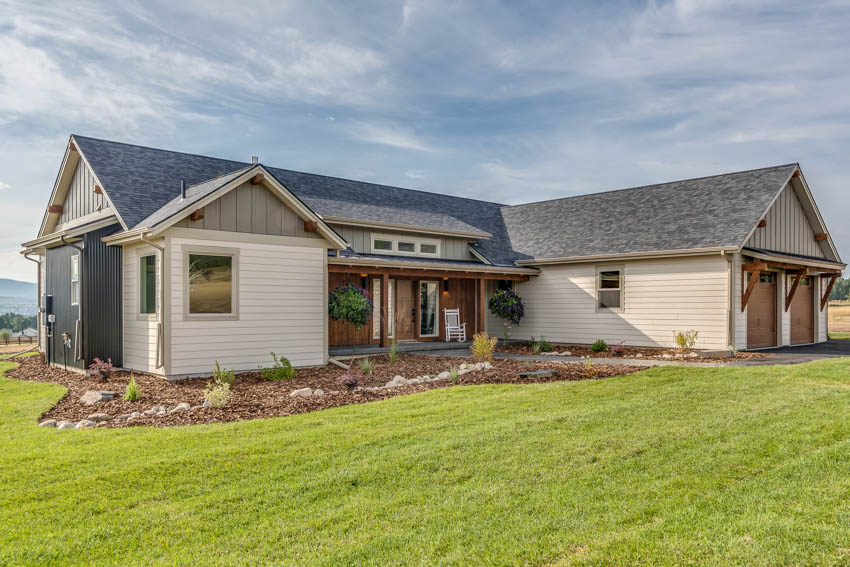 Ranch style house types have remained a preferred option for first-time homeowners as well as those wishing to reduce the size of their houses because of their ease of maintenance, low cost, and iconic mid-century design. Indeed, they are now garnering the attention of purchasers looking for a more simplistic lifestyle.
Ranch-style houses are currently the most often searched-for home type in various countries, particularly the United States. However, what exactly is ranch-style design? What are some of its distinguishing characteristics and benefits?
What Is A Ranch Style House?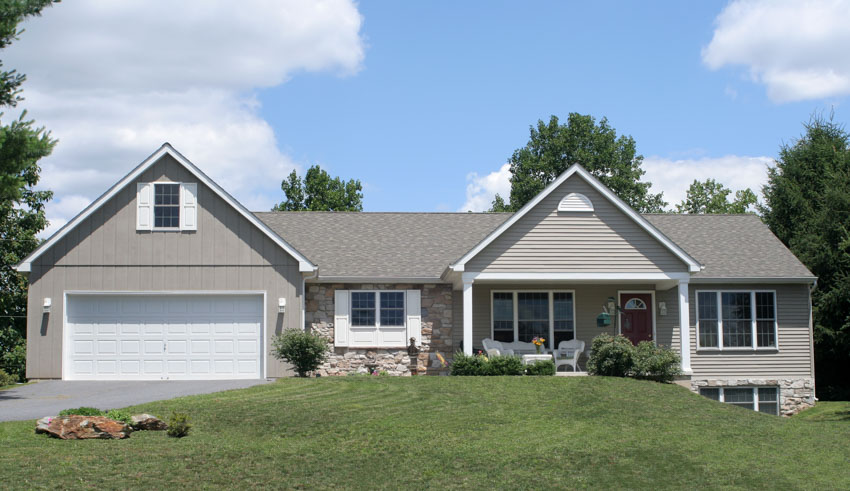 A ranch-style house is usually a single-story residence with an open floor plan as well as a dedicated patio space. Broad, low-pitch roof lines and large-sized windows across the front of the house are common features of ranch home styles.
A ranch-style house's shape might vary. The majority are rectangular, although they can also be constructed in an "L" or "U" shape. Normally, ranch-style houses feature sliding glass doors that open onto the porch or backyard, a broad roof overhang, as well as an attached garage.
Although most ranch style house types do not include a second floor, a lot of them do have fully finished basements. The basement, which serves as an additional floor, expands the overall area usable in the house and is ideal for a home entertainment system, a private gym, or extra bedrooms.
Brief History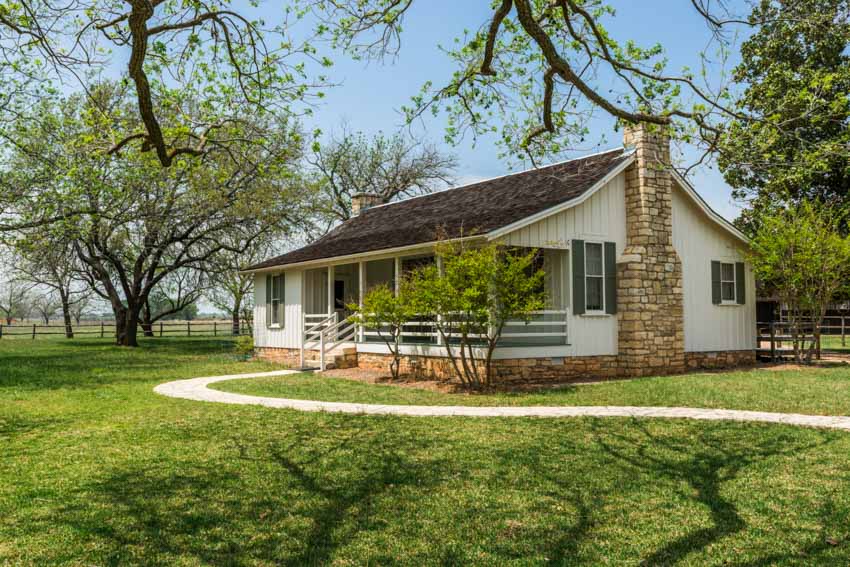 Ranch-style homes had a popularity surge following World War II when their convenience in terms of construction, as well as customization options, made them appealing among returning servicemen who desired to settle permanently with their families.
The ranch-style fever had reached a peak level by the 1950s. This style of the house was found to be responsible for 9 out of every 10 new homes built in America, with each region putting its twist on the appearance.
Ranch-style homes, as we currently know them, were inspired by North American Spanish Colonial design. Ranch-style houses, however, originated in the Southwest but are now widespread throughout the United States, with distinct types notable in different regions. Ranch-style homes are also common throughout the North, West, Southwest, Northwest, and Midwest.
Numerous raised ranches with finished basements may be found in the northern United States and the Midwest. Ranch homes on foundations are primarily prevalent in warmer climates such as California as well as the Southwest. Ranch-style homes are also encountered in Columbian District, New Jersey, Maryland, and Florida.
Ranch Style House Characteristics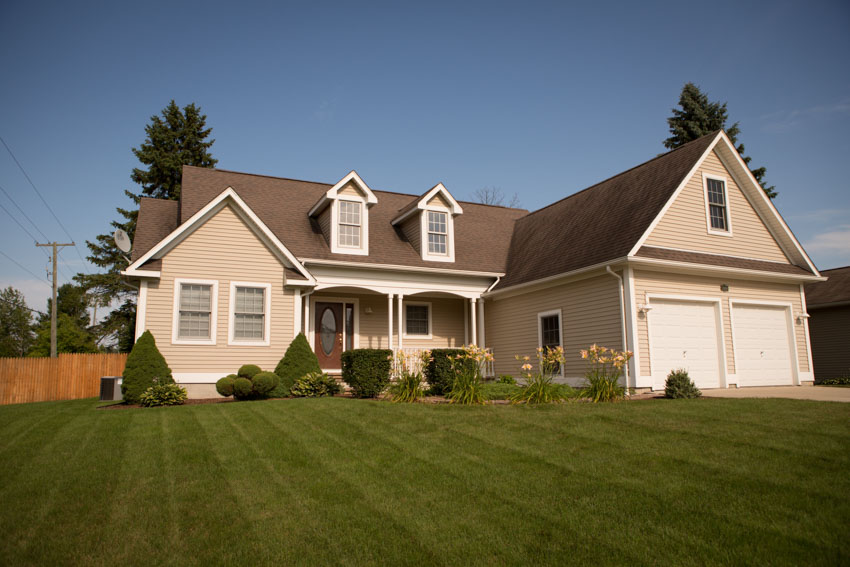 Although not every ranch-style house is built similarly, they always have a few traits in common that characterize the design. Almost all ranch homes have a single-story design layout with open flow between rooms and quick access from the primary living area to all parts of the home.
Ranch style house types, regardless of size, always include some form of exterior space, whether it is certain types of patios, porches, or gardens.
The ranch roofs are low-pitched with broad eaves that reach beyond the external walls of the house. Here are some of the fundamental characteristics of a ranch-style home, categorized into interior and exterior.
House Interior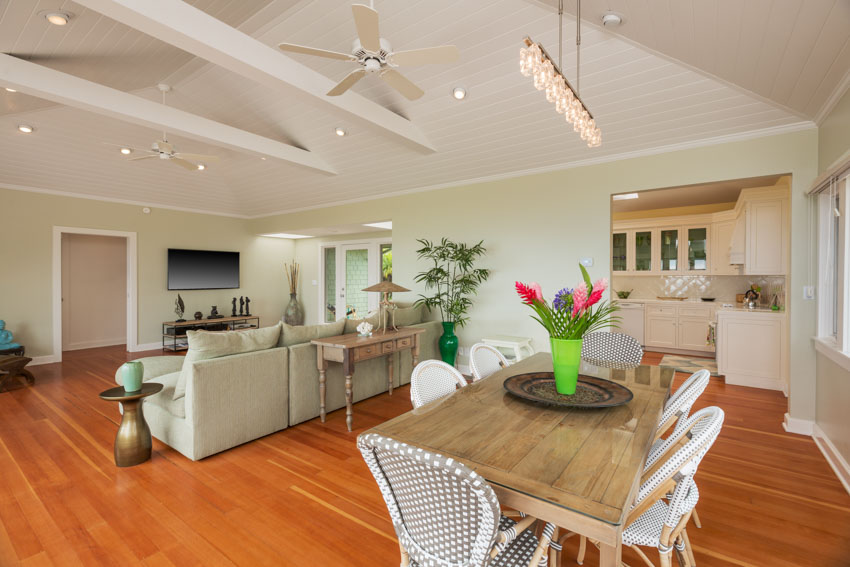 Here are the common characteristics of the interior of a ranch-style house:
• Has single-story living spaces
• Floor plan with an open concept
• Minimalistic design features
• Separated bedrooms
• A basement that can be used as a living space
House Exterior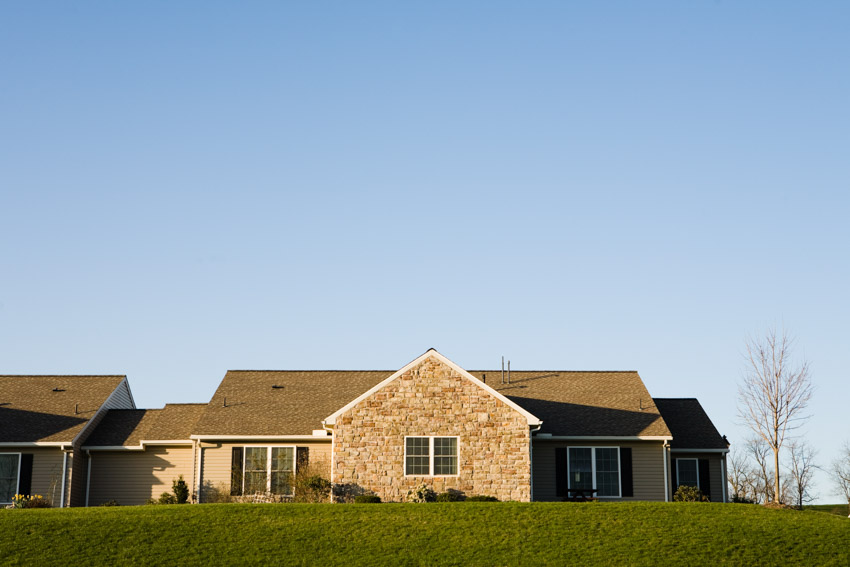 Here are the common characteristics of the exterior of a ranch-style house:
• Large windows are found in major areas
• Includes a variety of exterior materials such as brick and siding
• Low-pitched roof lines
• Sliding doors leading to a back garden or patio
• Frequently includes an attached basement and/or garage
• Eaves with a deep overhang
Styles Of Ranch Houses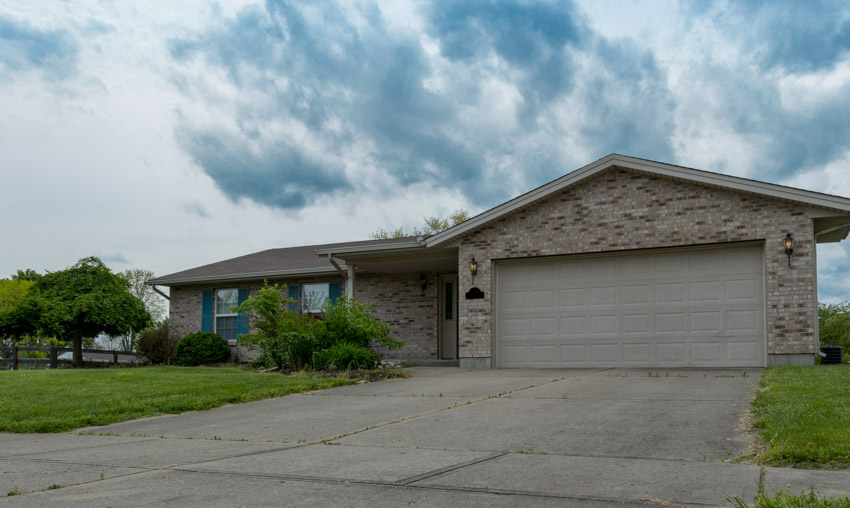 Ranch houses come in a variety of styles that apply different touches on similar themes or combine them with identical architectural designs. While numerous ranch home types share common characteristics, there are also crucial features that can distinguish them.
Listed below are several distinct ranch home styles that cater to various homeowner requirements.
Traditional Ranch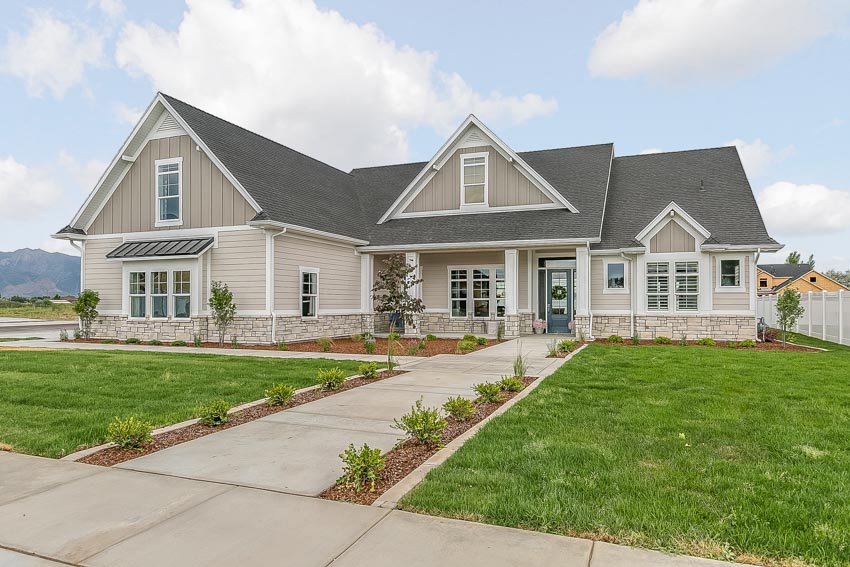 Traditional ranch-style homes, often known as ramblers, are noted for their straightforward, zero-frills design characteristics. A single-story floor plan with wide, low-pitched roof types and profound overhanging eaves that stretch past the house's outer walls creates their trademark low-slung framework.
A traditional ranch-style home is typically rectangular in design, although many of them are constructed in a U- or L-shape. Moreover, the traditional ranch-style homes' exteriors can be composed of a variety of construction materials such as brick, masonry, wood, and stucco, or they can be wrapped with siding.
Several traditional ranch homes may feature diamond-paned windows or Dutch-style doors with a swinging upper half, and all have wide windows throughout. Ranch houses frequently include a finished basement and a front-facing attached garage.
The open-concept design of a traditional ranch house typically includes a designated outdoor space, such as a porch, balcony, or garden, which is accessed by big sliding glass doors that easily open from the living space.
California Ranch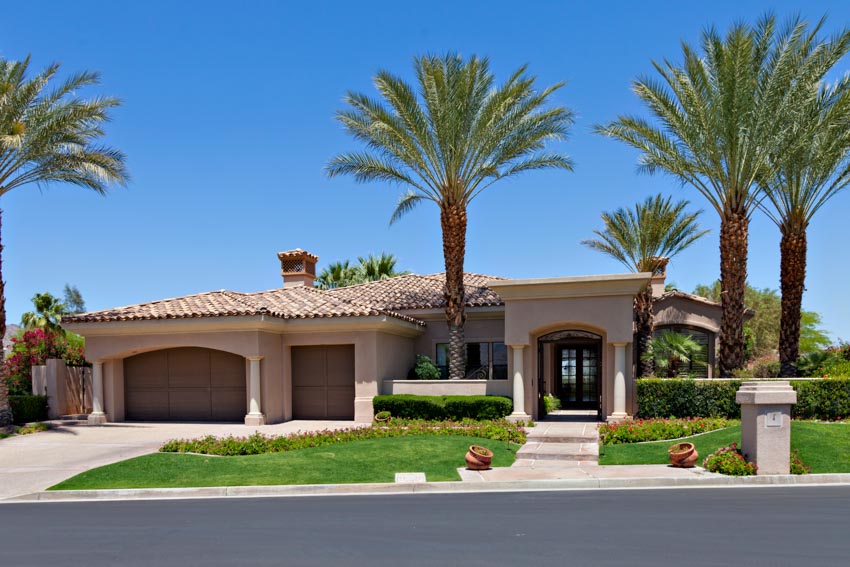 This Spanish Colonial-style ranch house is built low yet expansive. During the 1930s, an architect named Clifford May created this design for several residences in Los Angeles and San Diego. He had the idea to blend the house with its surroundings by integrating floor-to-ceiling windows.
With his constructed ranches, entire villages grew after World War II. Within these areas, the California ranch is commonly referred to as a rambling ranch. They often feature an open floor plan and are "U" or "L" shaped. Off the back, they frequently feature spacious decks or patios.
Modern California ranches are generally constructed of stucco, hardwood, or stone exterior facades that use a rich nature theme to fit the property into its environment. The naturalistic concept is frequently carried indoors, with bare wood beams, high ceilings, and plenty of windows, particularly in the main area.
Moreover, California ranch homes are well-known for their distinct aesthetic. Regarding their interiors, the homes frequently appear to be larger than their exact square footage.
Their vast open floor designs with large windows include great spaces that extend out to the patio or deck, which make the home feel larger. Certain types of garages that can accommodate three cars are common on modern California ranches.
California ranches, on the other hand, can be more expensive to acquire or construct. The spacious floor plan needs additional space. They are frequently found in locations with beautiful vistas, which might add to the cost. Natural building materials such as stone, log timbers, granite or marble counters, and large windows can raise expenses.
Contemporary Ranch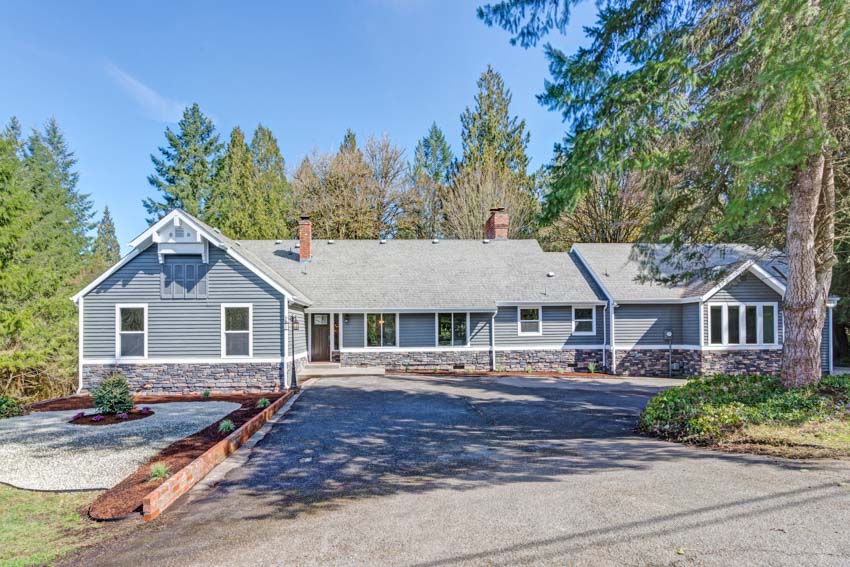 Both indoors and outdoors, contemporary ranch homes incorporate clean, sophisticated design concepts, with an abundance of windows and alfresco living spaces.
Single-story house plans are ideal for senior homeowners who want to settle in their homes permanently, but they also appeal to families and couples of all ages. Contemporary ranch designs are typically one-story, stair-free living, minimalist appearance, and feature one-of-a-kind modern architecture.
A contemporary ranch-style home usually includes a flat roof and huge rectangular windows that provide an industrial atmosphere. The use of wood and stone elements serves to balance the area and connect it to the exterior. Furthermore, the U-shaped contour allows for distinct, contrasting design components while maintaining a harmonious appearance.
Modern Ranch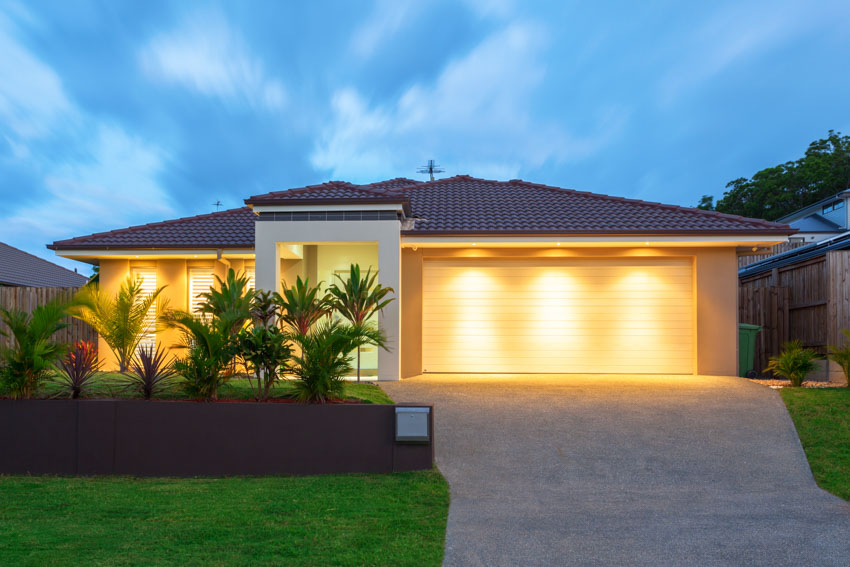 The modern ranch home is comparable to the California ranch home in that they both incorporate a large number of natural building elements including stone, raw wood, and huge windows. It does not have that Spanish Colonial appearance.
Numerous modern ranches are simply referred to as California ranches provided they are located in California, New Mexico, or Arizona.
Professionally constructed modern ranches feature a unique appearance that provides a sense of hospitality. The modern ranch is among the most prominent new home styles from the 1990s to the 2000s.
These homes include properly designed kitchens that normally include huge stainless steel refrigerators, cooktops integrated into a kitchen island, seats on the island with clear views all over the open floor plan to the main living room, and perhaps a formal dining space.
Furthermore, modern ranches commonly include an elegantly designed bathroom in the master bedroom, equipped with a dedicated toilet area. They may feature a separate shower in addition to a larger bathtub.
Modern Farmhouse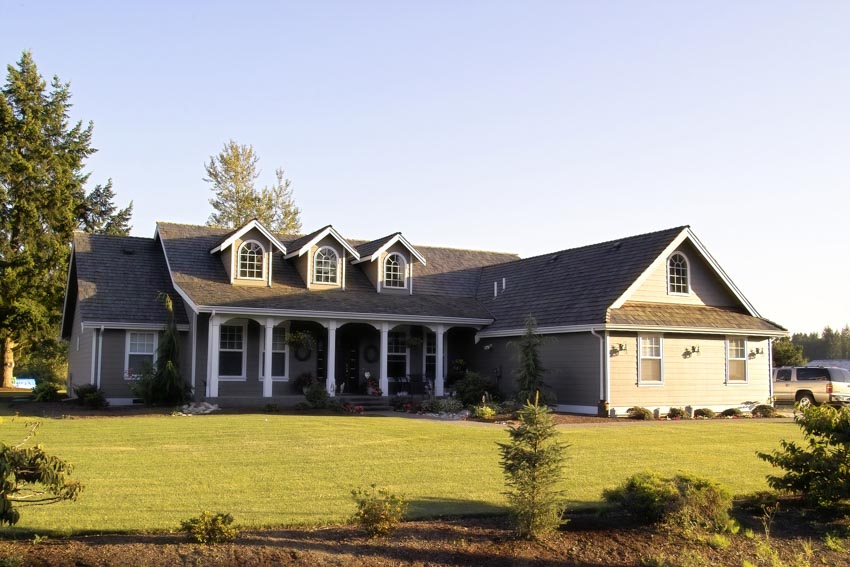 The modern farmhouse Ranch is widely known in modern housing developments with bigger lots. These ranch homes have an open floor design with large rear windows that flow to the outdoors or patio living areas.
Moreover, these homes feature a rustic feel with vertically placed wood siding and brick exterior walls as well as long-covered front porches. In addition, the modern farmhouse ranch is typically built on a large lot with multiple upgrades.
These houses are warm and inviting. They have plenty of space inside for large family meetings or when all of the college students and friends get along. However, modern farmhouse ranch-style homes are more expensive and can feel large and empty when the house is not occupied by a large household or group.
Mid Century Modern Ranch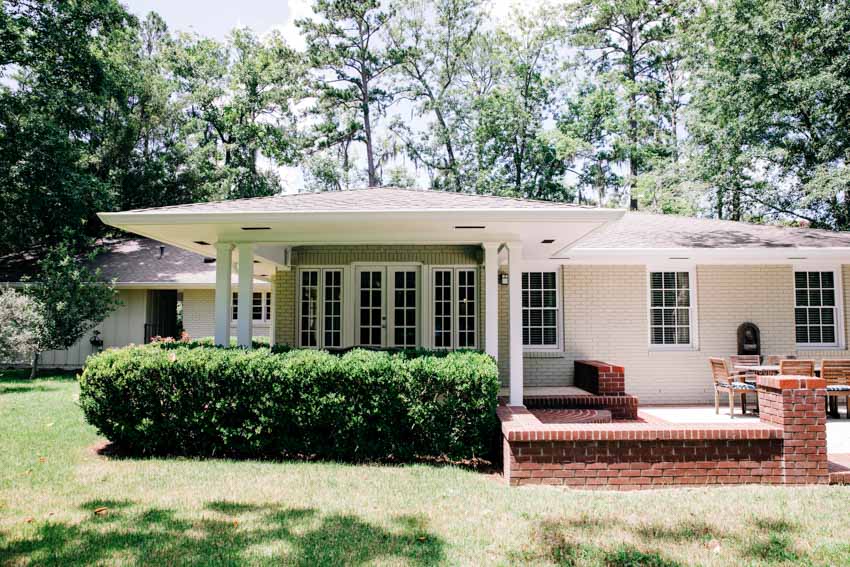 Because of their massive, clear windows and minimalist, open layout, mid-century modern ranch-style homes are also appealing to homeowners. Ranch houses from the 1950s and 1960s are constructed close to the ground and feature a low-pitched hip or gable-style roof. The Prairie design, which arose in Chicago around 1900, guided this design.
Attached garages are frequently incorporated into these house designs. Mid-century ranch-style residences grew in popularity because of the large amount of land.
The style of mid-century modern ranch homes is wide-ranging, maybe more distinctive than other home types that originated in the United States. Following World War II, the appreciation for mid-century modern houses increased.
Suburban Ranch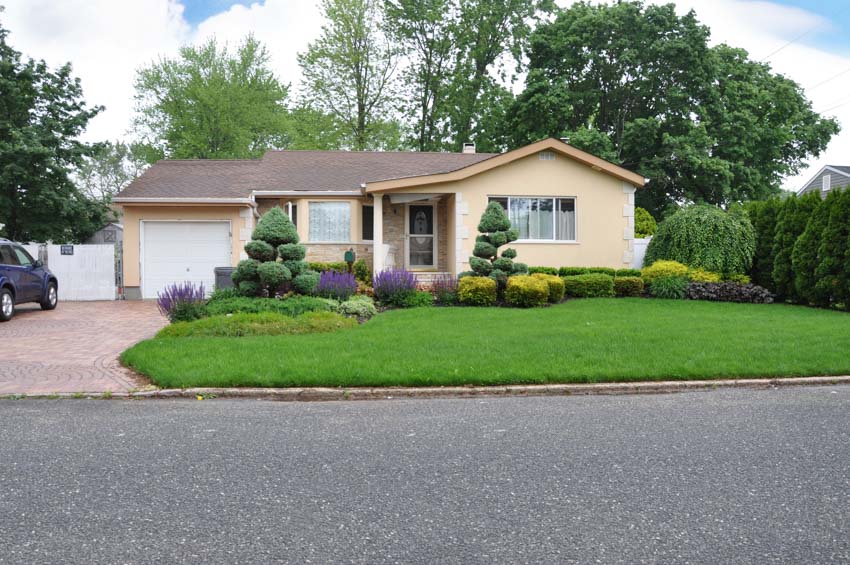 The suburban ranch is a rectangle-shaped variation of the L-shaped California ranch. They represented the entire suburban neighborhood in many cities, all practically the same, constructed on a concrete slab, with brick facades, no garage, and a plain concrete patio.
Several homeowners, on the other hand, may have selected a suburban ranch with an enhanced floor plan that includes a one-car garage, a detached two-car garage, a picturesque patio, or a half-finished basement.
The basement with an attached two-car garage gained more popularity in a suburban ranch in the late 1960s and early 1970s.
Furthermore, suburban ranches are still built today, with most having a two-car garage and undecorated basements. The ranch's minimalistic appearance with practical finishes keeps it inexpensive.
As a downsizing or beginner house, a suburban ranch with a single story and an open floor layout is common. Suburban ranches, on the other hand, frequently feature smaller bathrooms, and early ranch houses may not feature a master bathroom.
Craftsman Ranch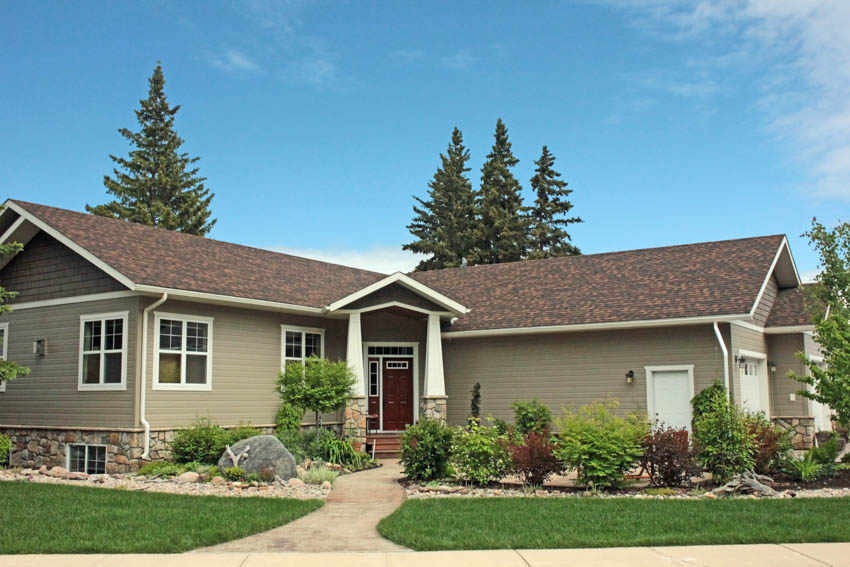 The Spanish Colonial involvement in the California Ranch was updated through the Arts and Craft Movement architecture. Craftsman ranch is the appellation given to these houses, although the term was initially used to describe the furniture pieces made by an American interior designer named Gustav Stickley.
Craftsman ranches frequently include stone and bare wood beam exteriors as well as roofing over the front entrance and a completely covered front porch. Talking about the interiors, there are elegant metal brackets, uncovered wooden rafters, and various handmade finishes.
Furthermore, the Craftsman style remains prominent in architecture and interior design communities. These ranches appear timeless, but this also implies they are frequently in demand and expensive. Craftsman types of furniture can be costly, thus preserving the design inside can raise the cost of the house.
Split-Level Ranch
From the outside, the split-level ranch might resemble a suburban ranch, but when you enter the front door, you are immediately in the living room, with the dining room and kitchen directly ahead. This is a vast area. In the 1970s, these houses became increasingly widespread.
Half stairs will go to the bedrooms on the lower level of the split-level ranch home's remaining space, and half stairs will continue flowing to the remaining living area, which frequently contains the laundry and storage. On the bottom level, some residences have a garage, whereas others do not.
The primary benefit of a split-level ranch house is that a larger living area can be compressed into a smaller footprint, enhancing the home's quality and cost. A lot of people admire the small size of the house. Some people, on the other hand, consider compactness to be a disadvantage, and some individuals struggle with the stairs.
Raised Ranch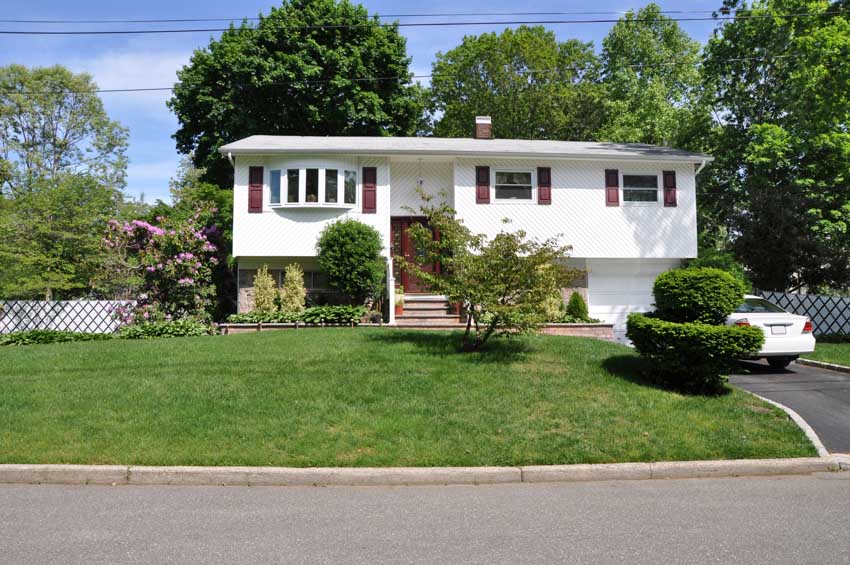 The raised ranch-style house is related to the split-level ranch, although it only has two levels as contrasted to the split-level's three levels.
Rather than entering the main living area, you will be entering a foyer with a staircase that leads up to it or down to the laundry area, garage, storage room, or private office.
A raised ranch has a small footprint, which keeps costs affordable. All of the living areas are located on the upper floor, which provides better viewing angles as well as a more spacious atmosphere. The drawbacks, however, are the same as those of the split-level; the space is a bit tight and there are too many stairs.
Storybook Ranch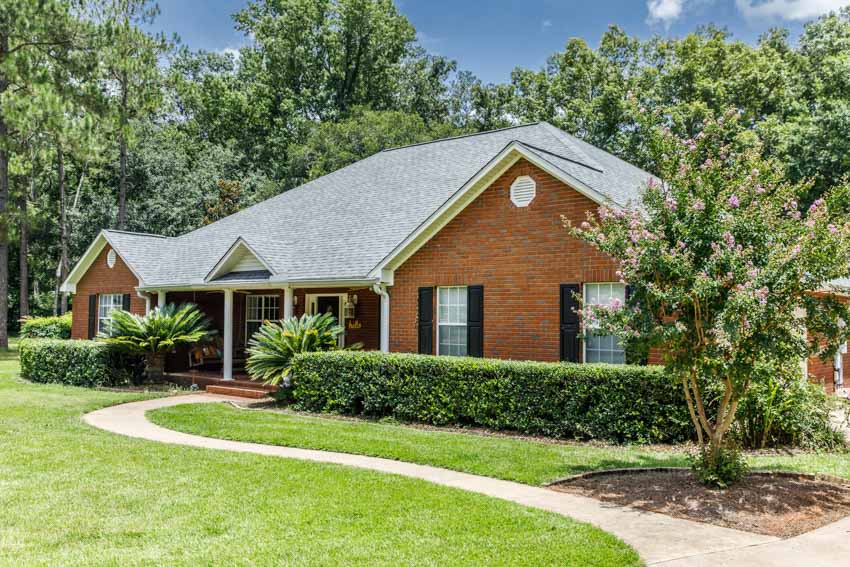 The storybook ranch is another relative of the suburban ranch that usually features eye-catching rustic wood-shake shingles and distinctive windows that are typically round.
These features are normally found in the corridor from the attached garage, and the irregular front with the living room's façade potentially extending out beyond the home's footprint. Over the living room, the roof is frequently gabled.
The storybook ranch is attractive and has an open floor layout. All of the bedrooms located across a hallway from the living area contribute to the home's cozy atmosphere.
However, the unique storybook details, such as the wood-shake shingles, the various shaped windows, and the façade expansion, raise additional maintenance issues, particularly about potential water leaks.
Estate Ranch
The estate ranch is basically a modern California ranch on a huge portion of land with a huge lawn going up to the house. Estate ranches are usually encountered on lakes or with stables and enclosed land for horses near the area.
Moreover, estate ranches normally have a driveway that leads to the garage and across the noticeable front door with double doors. In this front entrance, the roof may stretch over a stone porch.
An estate ranch is indeed the home style for you if you enjoy hosting visitors. Within the front doors, they frequently include an open foyer with distinct spaces adjoining the foyer for a formal dining area, library, or perhaps both. Floor-to-ceiling windows are common in the main room.
Along with the master bedroom, estate ranch homes typically feature three to four standard-sized bedrooms. Spacious bathrooms and walk-in closets would be featured in most bedrooms.
They normally have their laundry area, which may include a built-in table and cabinet. An entertainment or game room with comfy seats around a large flat-screen TV is normally located at the end of the bedrooms.
Rustic Ranch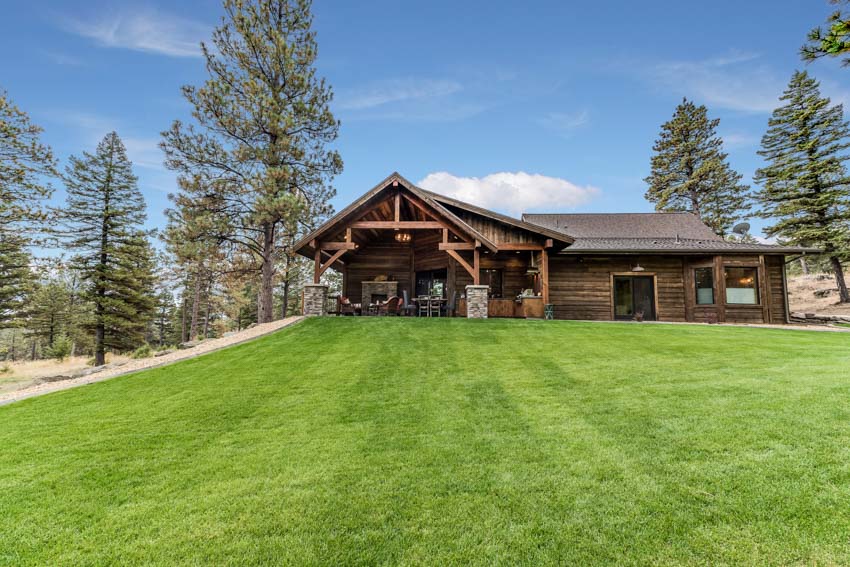 A rustic ranch-style home beautifully integrates indoor and outdoor living with many dual sliders to different seating spaces, a fireplace, and an in-ground pool. Additionally, the huge windows let in natural lighting, and the enclosed patio serves as an extra living space outside.
Rustic ranch homes can be seen in both rural and suburban regions. With its usually textured wooden walls, high roofs, and hardwood flooring, it frequently mimics a wood cabin. It might, nevertheless, have brightly colored walls and wide windows that let in an abundance of sunlight.
Therefore, the rustic ranch style is easily adaptable to your needs. You can typically find a ranch design style that matches your needs, whether you desire an open floor plan or a lot of bathrooms and bedrooms. These houses would appeal to anyone looking for a comfortable and pleasant location to live on a budget.
Bungalow Ranch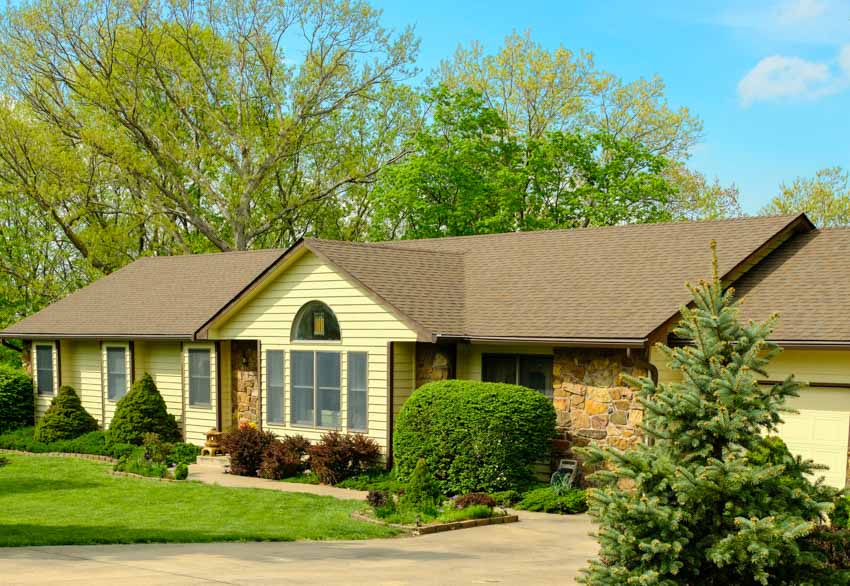 A bungalow ranch typically has wide windows, which are common in traditional ranch-style homes, along with a façade painted in dark colors. Furthermore, wood pillars and a stone pathway are commonly used to help the residence merge into its natural environment.
Certain bungalow ranch-style homes, on the other hand, feature a modern redesign with huge windows, an open patio, as well as a glass-paneled door with lights.
A separate garage might also be installed to fit in with the surroundings and keep the focus on the home's main feature, which is the welcome porch and the main outdoor lighting.
Spanish Style Ranch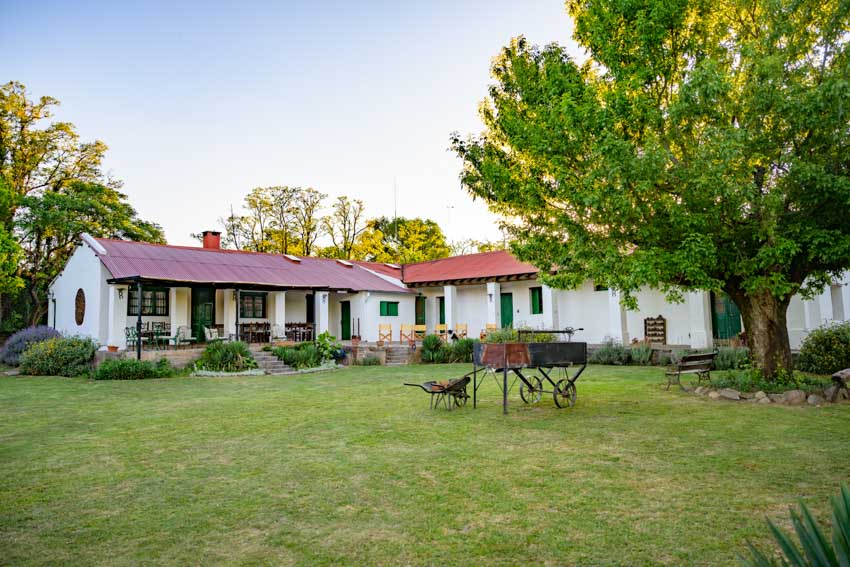 Many fundamental design features, such as stucco and terracotta roof tiles, are used in Spanish-style ranch homes, which are influenced by colonial construction under Spanish authority.
They are particularly widespread in areas governed by Spain within the United States, such as California, Florida, and other Southwestern locations. Spanish-style homes vary greatly, but they have a few characteristics that make them unique from other ranch home designs.
Many practical components intended to keep houses cool in hot climates, such as stucco walls and terracotta roofing, have become treasured characteristics of this Spanish architecture style.
Other components that were previously uncommon in Spanish-style construction, such as bay windows and brick, can be encountered as well.
Home Benefits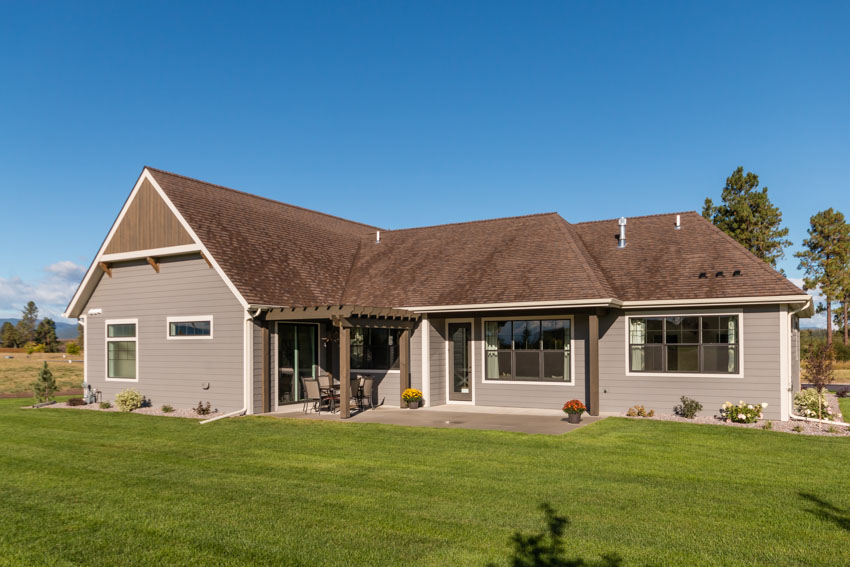 Here are the benefits of ranch-style homes:
• Easy to Design: For a wide range of reasons, one-story houses are among the most appealing residences on the market. Efficiency improves because everything is on the same level.
Ranch-style homes are also popular for their ease of movement, which is ideal for homeowners who want to build a home that would allow them to age at home.
• Maximized Living Space: Two-story houses are generally more cramped, with stairs extending up and down to add extra space. However, no space is wasted in a ranch-style house. Simply installing a doorway allows you to effortlessly shift from one room to another.
• Easy to Maintain: Your house care duties will be easier than ever before, both inside and outside. Painting, cleaning, sealing, and other house maintenance activities will be a piece of cake. There is no need to clean the stairs or windows on the second or third floor.
• Very Safe to Navigate: Since ranch-style homes are one-story, navigation will be a breeze. There is no need to worry about slipping or falling from the stairs. Everything you own can only be found on the ground level or basement.
• It Makes it Easy for the Homeowners to Evacuate: It is always a good idea to consider safety and evacuation when deciding where to build your house. In the event of a disaster, it is simple to open a ground-floor window in your ranch-style house and escape for safety.
See more related content in our article about parts of a house exterior on this page.