Here's the types of bay windows including what they are, different design configurations, materials, styles, cost and if a bay window is worth it for your home.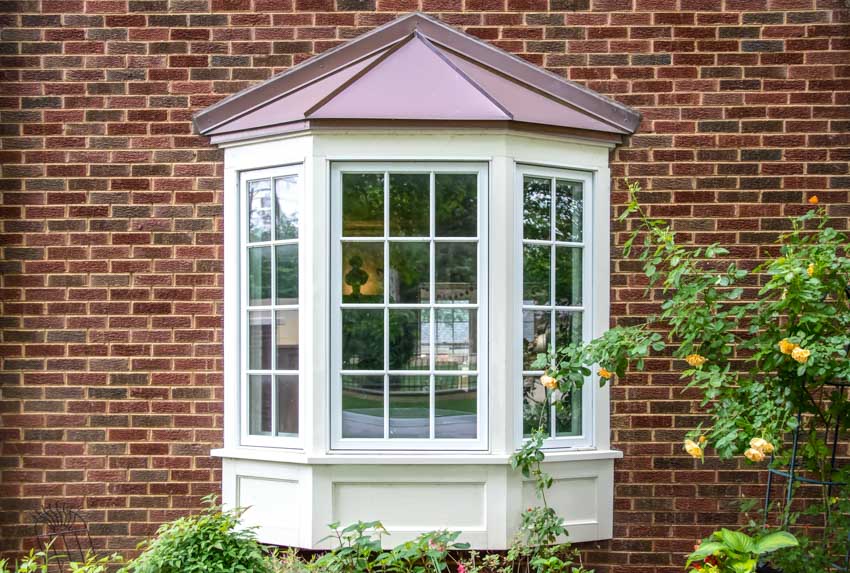 There are some home design ideas that arise and pass, but one that has remained consistent is the bay window. Bay windows have been used to add grandeur and aesthetic intricacy to homes of all designs ever since the 15th century.
The earliest bay windows were mainly decorative. Designers discovered that they could do a lot more over the ages, such as filling a room with natural light, clearing out extra space, and improving ventilation in your home. With all of these advantages, bay windows eventually found their way into homes all around the globe.
A bay window is a functional feature of any home. It gives elegance and style to the façade of the property while also adding more lighting and space to the interior. In this article, you will discover the different types of bay windows as well as the other key information about them.
What Are Bay Windows?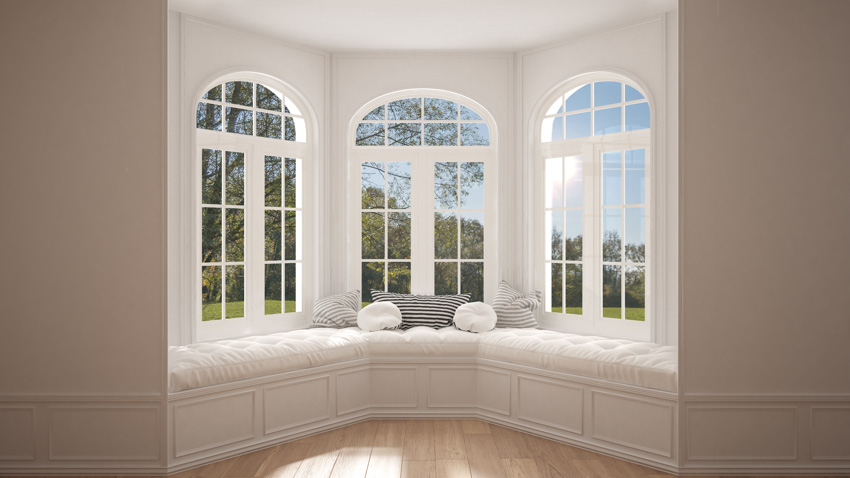 A bay window is a window opening that projects outward from a structure's primary walls, making a bay in a room. It is a three-sectioned bowing outward window. The central window is a picture-type window, while the windows on either side are different styles. Typically, the lateral windows are the same form of window.
Bay windows are generally inclined at an angle, normally at 45 or 90 degrees. These types of windows offer square footage, great value to your home, a lot of natural sunlight, and proper ventilation, Plus, they can be used for a variety of purposes such as a daybed, reading nook, bookshelves, and many more.
Furthermore, bay windows could be customized to reflect the style of the house and practically always appear pleasant as long as they are appropriately constructed. Additionally, because bay windows have three sides, natural light can enter your home from three different angles.
Bay windows, on the other hand, can be costly to set up, and they occupy space outside the window. They can also be challenging to find coverings for, and are too narrow for anything essential other than pots and plants. To make use of a bay window, you will need some room as well as a budget.
Oriel Bay Windows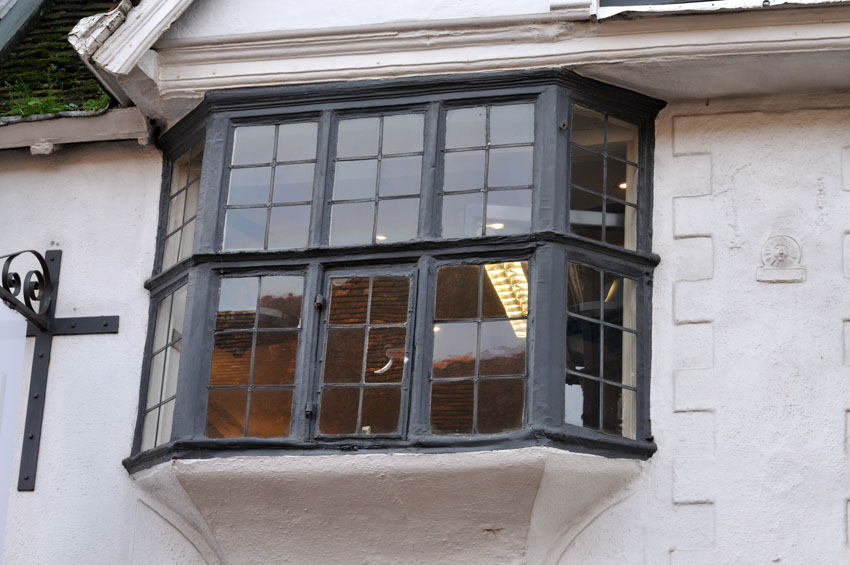 Oriel bay windows are the most traditional type of bay window, originally appearing in luxury homes during the English Revival. They are constructed into the side of a house and never contact the ground, allowing them to be found on any level of a house or building.
An ornamental bracket or cornice of wood, masonry, or stone is generally seen beneath an oriel window to offer structural stability.
An oriel window expands the size of a room at a minimal expense, allowing for the best use of limited space. These windows are useful for enhancing a view that is not particularly noteworthy but where the neighborhood offers an excellent vista towards the opposite end.
Canted Bay Windows
Canted bay windows have the authentic shape of a bay window. They have got a flat front and slanted sides. Furthermore, such windows are designed for the first floor of residences or industrial buildings, thus you will not see them on third floors or higher.
Furthermore, canted bay windows are an excellent choice if you require a huge bay window on the first floor that allows a massive portion of natural light.
This window's front panel is straight and parallel to the home face, while the side panel slants out. A canted bay window features at least three, and often four, separate windows.
Box Bay Windows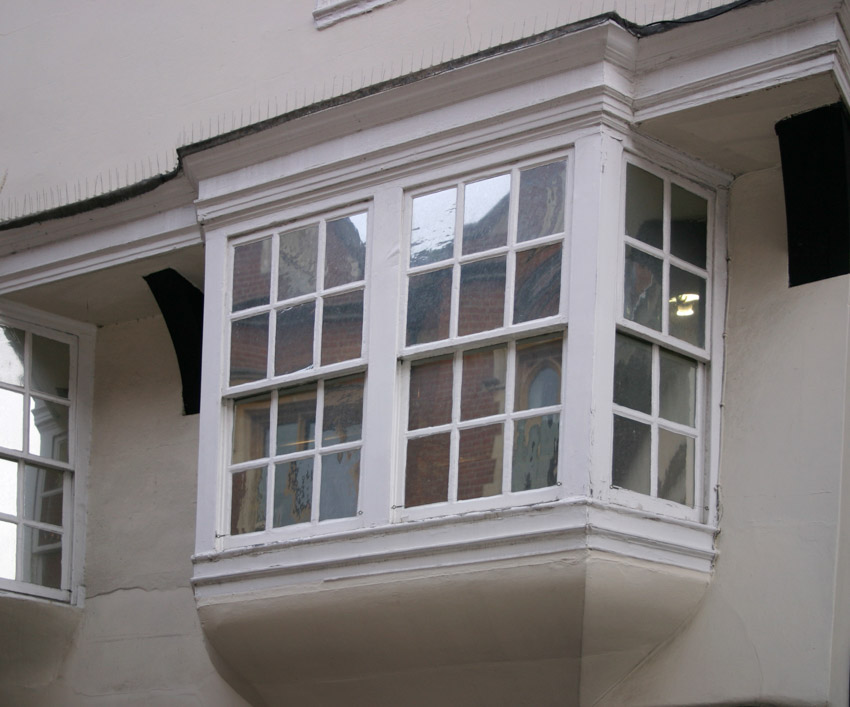 Box bay windows are a substitute for the conventional canted bay window. When compared to the conventional canted bay window, this bay window features multiple windows that are oriented at 90 degrees, giving a box-type shape. Because they are incorporated into the construction of a home, such types of windows are not regarded as window 'replacement' projects.
Moreover, box bay windows are commonly utilized to display decorations or plants. The box is normally situated below your head level, although it is sometimes placed in a kitchen to deliver vision and illumination while not affecting the design of the house.
These windows are a less expensive option than other bay window types. Therefore, if you want a bay window with a more streamlined, more sophisticated style and are considering rebuilding, this is the type to go with.
Bow Bay Windows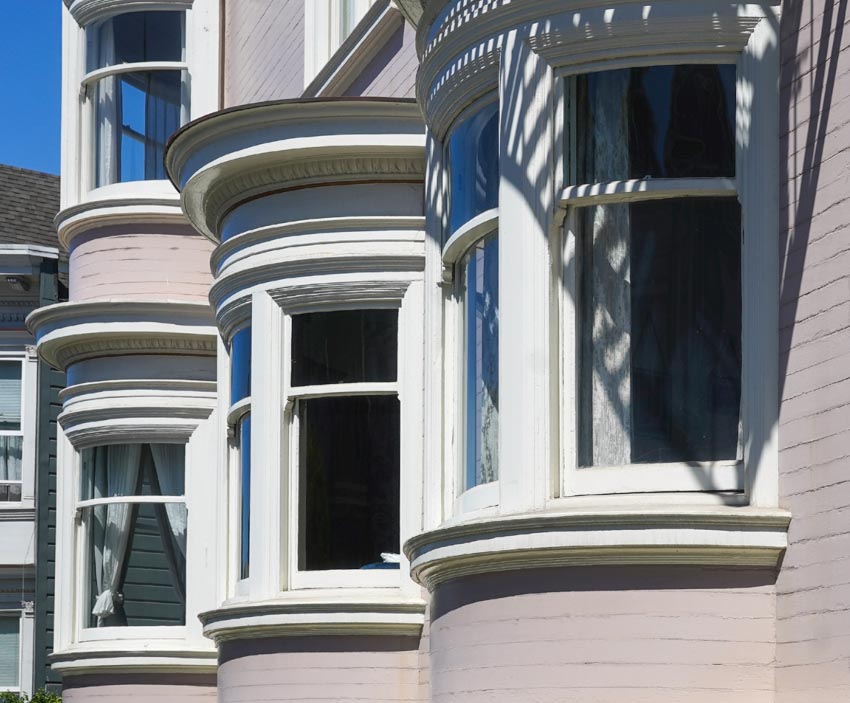 A bow bay window is an arc-like shape of a window that normally features four casement windows. They include all of the perks of bay windows: extra room, a variety of uses, incredible lighting, an enhanced view, and higher property value.
Bow windows are an excellent choice if you want to enhance space, maximize your vista, optimize your natural lighting, contribute to the design of the house, or establish a space for a particular purpose – seating, accenting a room, or adding a storage area.
Furthermore, bow windows are preferable to conventional bay windows, especially when you want more light, to make the space appear bigger than a regular bay window, and to have various window pane sizes.
Circle Bay Windows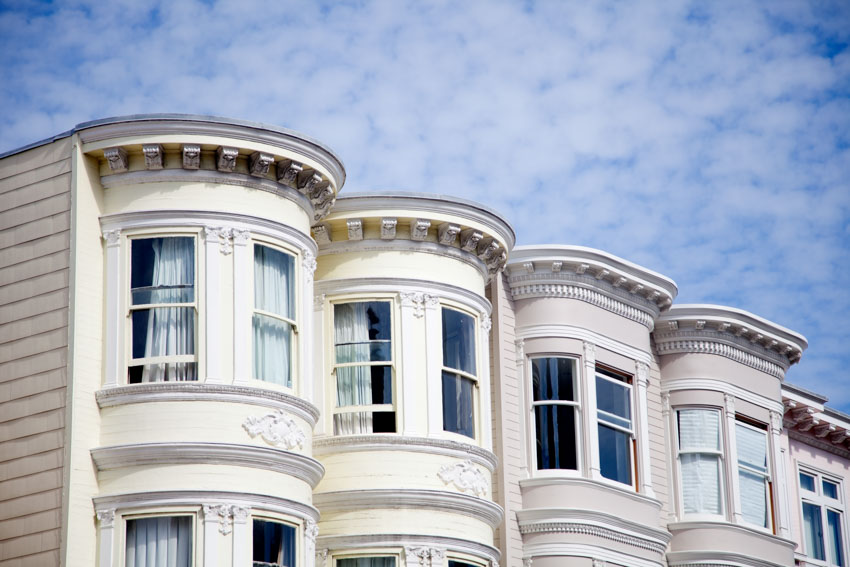 Circle bay windows are less prevalent, yet distinctive enough to establish their classification. Bigger panes of glass on three sides of the bay and extra panes just above windows distinguish them. Circle bay windows, more than any other form of bay window, have the most complex moldings and decorative features.
A circle bay window is occasionally referred to as a newer variation of a bow window since it connects several windows into a seamless circular location. They are frequently encased around house corners. During the Gothic epoch, the circle bay windows became prominent in master bedrooms, guest room suites, and dining corners.
Bay Window Design Configurations
Since a bay window is not a solitary window, you have a few selections regarding how you wish to arrange it. Several homeowners seek increased features in their windows and wrap a picture window with additional movable flanking windows.
Whenever you open the side windows, airflow is captured at various angles, increasing ventilation in your house or bringing in a refreshing breeze for enhanced comfort. However, here are the three different bay window design configurations you can choose from:
Casement Windows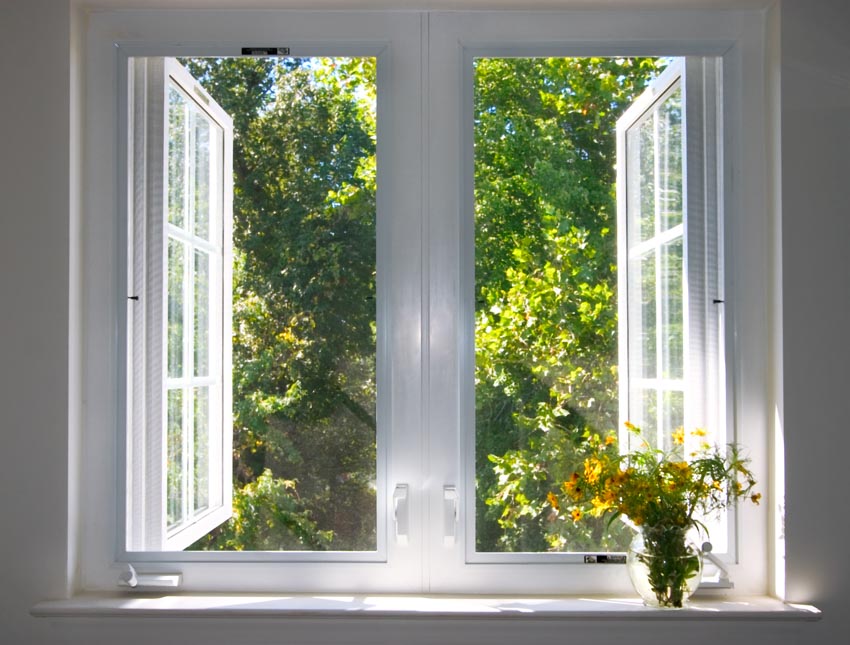 Casement windows are a common alternative design option since they are hinged across one side and open outward with the turning of a handle. Their clear vistas and outward extending architecture enable plenty of natural lighting and air circulation.
Moreover, casement windows have a movable sash that goes open to the exterior. The "crank" lever system is used to control these windows. With the turning of this specific crank, they open and close. Plus, casement windows are vertically hung and hinged.
To provide ventilation, adjustable casement windows extend the entire section. Contingent on where the window is located, the opening panel can frequently capture a traveling airflow and send it into the house. These windows provide clear and uninterrupted views because there are no supporting strips.
Picture Windows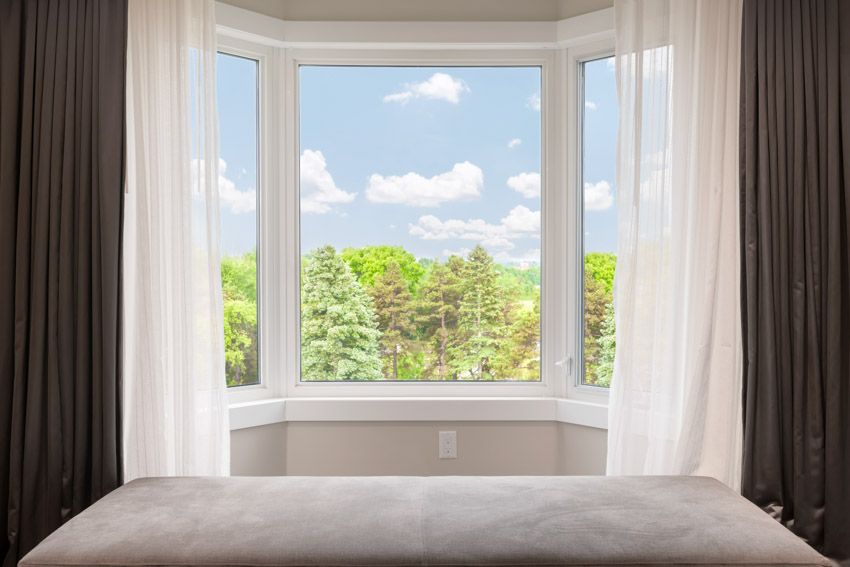 When picture windows are fitted in the right house, they can truly create a magnificent and larger-than-life space. Selecting the ideal material, glass selection, and improvements can enhance the advantages of installing a picture window in your house, namely energy efficiency.
Picture windows, whether in your dining or lounge room, can provide the appearance that your space is bigger than it is. To completely take advantage of this feature, you must decorate and utilize your area appropriately.
Furthermore, picture windows enable you to draw in a lot of beautiful natural sunlight from the outside. Hence, you should select the appropriate sort of glass since it will allow you to reap the perks of more ambient daylight while also boosting sun protection around your house.
There are several ways to make the most of your picture window while remaining stylish. Huge windows can contribute to the creation of a gorgeous, natural scene.
Oversized windows also allow you to enjoy the beauty of everything that is beyond your home without being obstructed by barriers. There are numerous modifications available for any huge picture window.
Double Hung Windows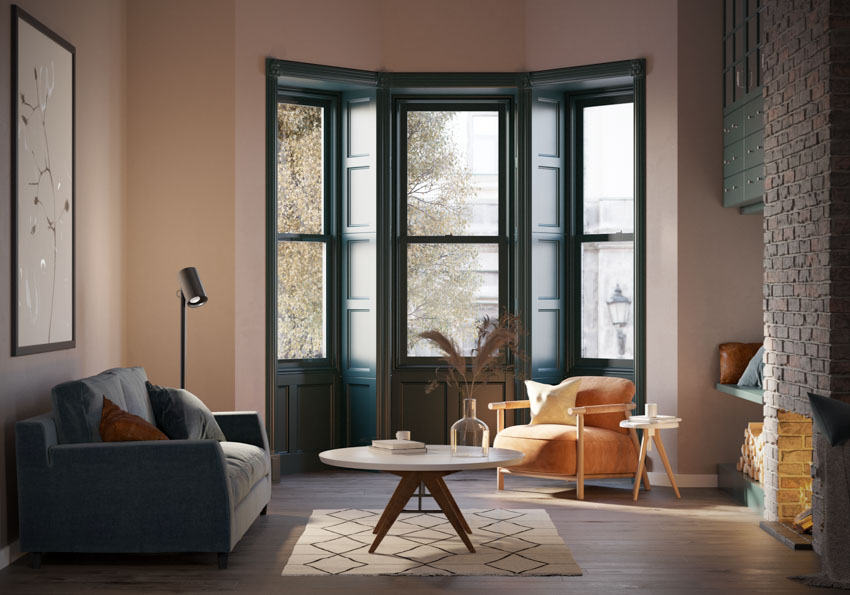 For efficient airflow and maintenance, double-hung windows, sometimes referred to as sash windows, could be lifted from the bottom or descended from the top.
Double-hung window designs are the most common type of window seen in American residences. This design has two operational sashes that travel vertically inside the framework and can be lifted or lowered from the bottom or top, allowing for proper ventilation and circulation.
Double-hung windows are distinguished from single-hung windows by the operation of both sashes, while single-hung windows are exclusively open from the bottom most sash. Furthermore, their sashes tilt in for simple cleaning of the window's outer surface.
Bay Window Materials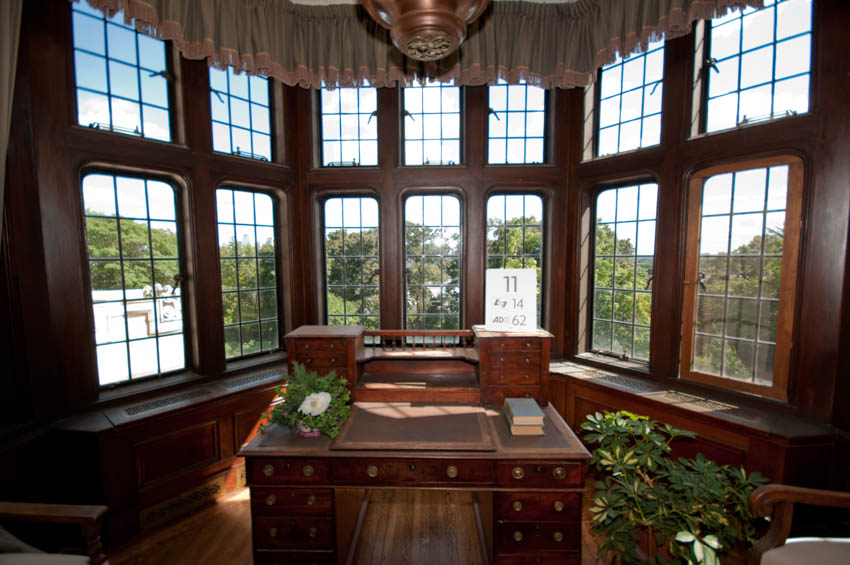 Wood: Hardly anything surpasses the beauty of genuine wood. It not only has insulating capabilities, but it also performs well in most temperatures.
Wood windows, however, do necessitate a bit more maintenance in the form of occasional topcoat treatments, and they are normally more expensive than vinyl windows. Wood bay windows cost around $2,000 to $4,500, although prices vary based on the type of wood you select.
Vinyl: Due to their robustness, weather resistance, and reduced cost, vinyl or PVC windows are frequently used for bay windows. Vinyl is low-maintenance and resistant to corrosion, molds, and pests, unlike wood windows.
Although they are resistant to extreme weather, their life expectancy is normally 20 years, which is often less than that of a harder material such as metal. They are normally pre-made and cost around $1,000 to $3,000.
Aluminum: Aluminum is a lightweight yet robust material, but it can be also susceptible to corrosion, making it a tough choice for homeowners in humid regions.
Although aluminum bay windows are low-maintenance, they might not insulate effectively and may necessitate insulation materials. You should anticipate paying around $1,000 to $2,000 for aluminum bay windows.
Clad: Bay window cladding is a covering made of vinyl or metal that goes over a wooden frame. The clad can be located on the side of the bay window that faces the outside of the house. Window cladding aids in maintaining the wood and enhances its weather resistance.
The wood is uncovered and apparent inside the house, whereas the window is shielded and safe from the harmful factors outside the house.
Window cladding allows you to enjoy wooden windows without having to maintain them continuously. Cladding does not need to be painted, sealed, or stained to appear at its finest.
It keeps water, wind, and other factors from getting through the underlying window material. Clad wood bay window installation would cost around $1,000 to $2,000 per window, depending on the type of clad wood you choose.
Steel: Steel is a durable metal that could be utilized to provide bay window frames with both protection and a streamlined modern style. It is indeed worth mentioning that not all steel windows are totally made of steel. In many situations, they have a timber foundation that is covered in steel.
Steel is the hardest material for bay window frames, and it is also the most sturdy. Steel windows will not need to be changed periodically. Depending on the brand, steel bay windows could be a permanent fixture in your home for at least 20 years. Steel windows require minimal care other than a gentle wipe every once in a while to keep them clean.
Furthermore, steel is energy-efficient and can be custom-designed to fit almost any space. The average price variation for steel bay windows is around $1,600 to $5,400.
The cost of installing these windows ranges between $2,000 and $6,800. Steel windows, nonetheless, are less prevalent than other types of windows.
Bay Window Styles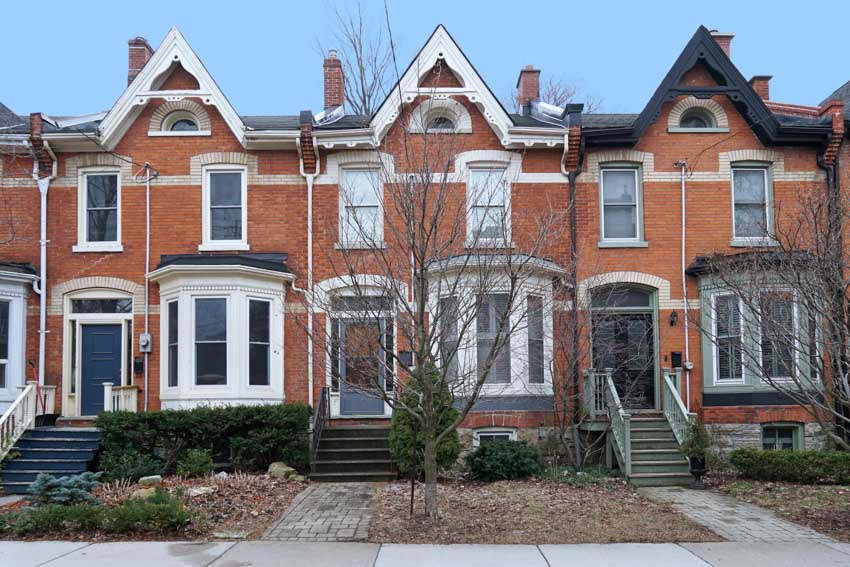 If you go to a historical site in your city, you are likely to see bay windows prevalence included in the design of antique residences. Although they have profound roots in ancient architecture, they are also much sought after in contemporary home construction.
With a variety of bay window designs and configurations obtainable, you may create a bespoke bay window to complement the design aesthetic of your house. Here are the different styles of bay windows you can choose from:
Craftsman: Bay windows became prominent in Craftsman bungalows because of their capability to maximize space in a small dwelling, rather than for their appearance. Bungalow-style bay windows make the most of the window area by serving as extra seats or a ledge for displaying ornaments.
The variety of architectural styles does not stop there. Bay windows can be seen in Queen Anne, Georgian, modern, and a variety of other architectural styles.
Whether it is a style you wish to complement or one you want to acquire, a bay window's unrivaled flexibility and practicality make it a magnificent addition to both vintage and modern homes.
Victorian: Oriel windows with intricate embellishments can be found in some Victorian residences. The typical canted bay window, on the other hand, is a distinctive element of Victorian design.
Ever since the building standards evolved in the 1800s, enabling residences to extend windows outward past their walls, the straight front and slanted sides gained attention.
Tudor: Small-sized oriel windows can be seen on one or either level of Tudor-style two-story residences. Tudor bay windows are frequently reinforced by wood frames that complement the uncovered timbers on the remainder of the façade.
Casement windows became popular in Tudor homes and were frequently utilized in sets of two or three. Tudor architecture could benefit from a casement bay window.
Mid-Century Modern: The very same pristine, minimalist-looking bay windows can be found in mid-century modern construction. In mid-century modern home designs, picture windows and casement windows are prevalent.
Integrating them into a mid-century modern bay window can improve the sleek appearance of a Ranch or split-level structure while emphasizing the beauty of the outdoor surroundings.
Modern: Bay windows in the classic style are elegant and beautiful. However, this bay window style is equally perfect for modern design. Compact frames with broad panes of glass characterize modern bay windows.
To enhance natural lighting, the panes are clear and uncluttered by grilles or bay window embellishments. For a modern design home, a circle bay window with towering panes of unimpeded glass may carve out a wide projecting glass wall.
How Much Is A Bay Window?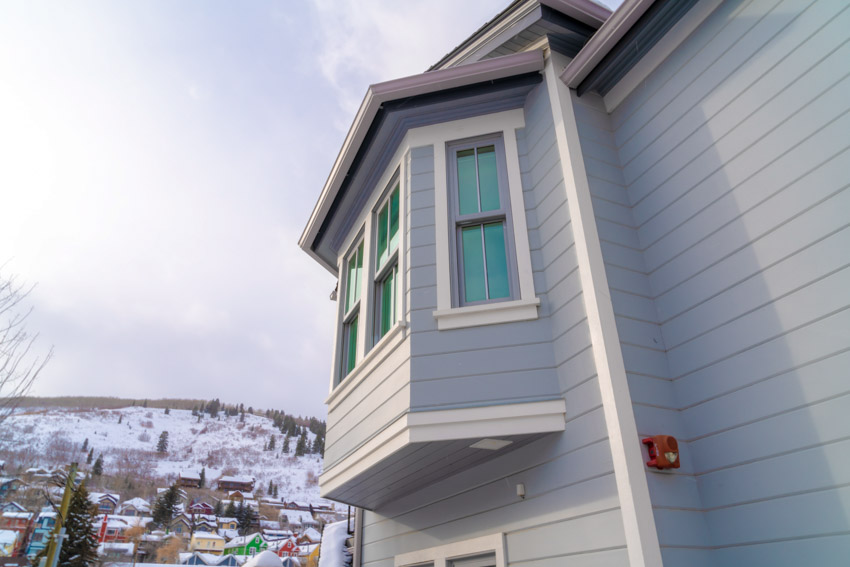 The approximate cost of installing a vinyl, medium-sized, three-panel new bay window ranges from $1,200 to $3,600. Labor and installation charges can range from around $300 to $500.
Costs will vary depending on the style of bay window you select and the relevant installation costs in your location. The cost of upgrading or rebuilding a window will always vary depending on where you live and a few other cost factors.
Bay windows are commonly available in vinyl, wooden frames, clad, and several other materials. The final cost will be determined by the size of the bay window and whether additional labor is required to build a new rough-cut aperture.
Here are some of the different bay window brands along with their short descriptions and average costs:
Andersen: Andersen is a renowned maker of bay and bow windows and is also one of the most inexpensive. The E-series, as well as the 400 series, are two of its most recognized models, with double-hung or casement windows and timber covered by a vinyl coating.
Andersen exclusively supplies to approved installers, although you may locate some of their products at huge home improvement shops such as Home Depot. The cost of Andersen bay windows ranges from $200 to $500 each window and $1,500 to $1,700 each unit.
Alside: Alside offers a wide range of vinyl-made bay windows, but they also manufacture aluminum and wooden bay windows in casement, double-hung, and stationary window designs.
Alside comes with a fixed lifetime transferable guarantee that involves the repairing and replacing of damaged materials such as the primary frame, sashes, mechanical parts, fiberglass, or screen panels.
The costs for Alside windows normally run from $200 to $800 per window, contingent on the style, quality, and the number of windows required.
Milgard: Milgard is among the most reputable window manufacturers. This leading brand has three distinct categories of bay windows: the Ultra series, the Aluminum series, as well as the Tuscany series, which are made of fiberglass, aluminum, and vinyl, correspondingly.
Milgard is also less costly than some other manufacturers and comes with a lifetime warranty coverage, which is an appealing selling factor.
Furthermore, their bay windows could cost between $900 and $1,500, not including installation. Milgard also sells bow windows, which are comparable in price; both window types should cost roughly $1,800 to install.
Pella: Pella is a notable designer of bay windows, providing a wide range of wood, fiberglass, vinyl, as well as aluminum-made materials. Pella offers 5 distinct bay window varieties, each with specific pricing and capability. You can anticipate paying around $400 to $900 per window for less expensive models, such as the Pella's 250 series, and more than $1,000 for more costly models.
Marvin: Marvin manufactures and sells bay and bow windows at reasonable prices, with prices starting from $350 to $550 for each window and up to $1,300 for every unit.
Marvin offers two bay window versions – the Elevate Bay and Ultimate Bay, which are both Energy Star-approved as they use a wood-fiberglass composite material.
Aside from that, you will be allowed to personalize your windows at every phase, selecting from a variety of finishes, combinations, glass selections, screens, and accessories.
Jeld-Wen: Jeld-Wen is yet another leading bay window maker that is more readily distributed in retail outlets. Jeld-Wen primarily manufactures wood and vinyl windows for residential construction or refurbishment.
Moreover, Jeld-Wen features a vast array of indoor and outdoor paint treatments, as well as various energy-efficient glass alternatives. At Lowe's or Home Depot, you may anticipate paying $300 to $800 for each window or $1,000 to $1,500 for each unit.
Types Of Blinds For Bay Windows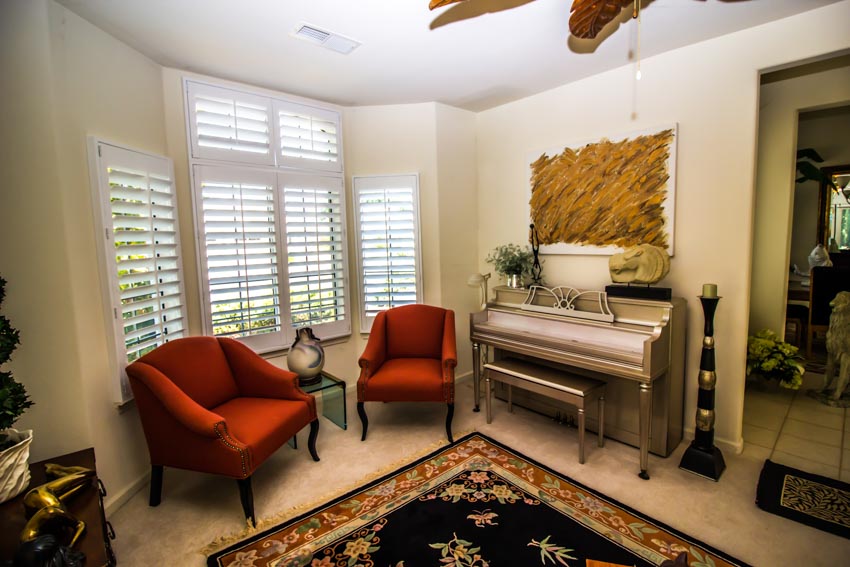 Cellular Blinds: Cell or honeycomb blinds frequently have very minimal depth specifications. Cellular blinds almost appear invisible when fully lifted. The accordion-pleated cloth folds up so compact that the shade barely takes up little inches of window space. They will also overhang slightly from the wall or window, giving you superior lighting distribution.
Cellular shades are also highly insulating, energy-efficient, and available in a range of tones. Others are even constructed from repurposed plastic water containers. Usually, cellular shades are white on the backside hence they will not detract from the outer appearance of your house.
Wood Blinds: Wood blinds (1-inch) are the fashionable counterparts of small aluminum blinds. Such blinds are lighter than replicated wood blinds. Because of the narrow 1-inch slat, they need less depth than a normal 2-inch or 2.5-inch wood blind.
Although they have a higher stack height than cellular blinds, the range of paint treatments and stains offer a sense of refinement to a room and can match trimming or woodwork accents.
However, with replicated (faux) wood types of window blinds, you may also have the classy look of genuine wood blinds without the maintenance of genuine wood blinds. The PVC material of the 1-inch imitation wood blind makes it an excellent choice for damp or humid areas such as restrooms.
Roman Blinds: Roman blinds could offer your bay windows the texture and elegance of a roller shade without the wide light openings at the edges. They are extremely simple to install and typically necessitate less depth than roller shades.
Furthermore, there are an enormous number of possibilities to pick from. Roman window shades are available in a wide range of colors and designs, making them suitable for any décor.
Just select a flat fold for a more modern, sleek appearance, or a staggered fold for an exquisite, conventional appearance. You can add a lining to get the desired level of lighting control, or you can use a thermal liner to increase insulation.
Woven Wood Blinds: Woven wood blinds, which are related to Roman shades, come in a range of patterned grass weaving and wooden reed patterns. They have the same depth specifications as Roman Shades and are just as simple to set up.
Types Of Curtains For Bay Windows
Here's the most popular types of curtains that work with bay window designs.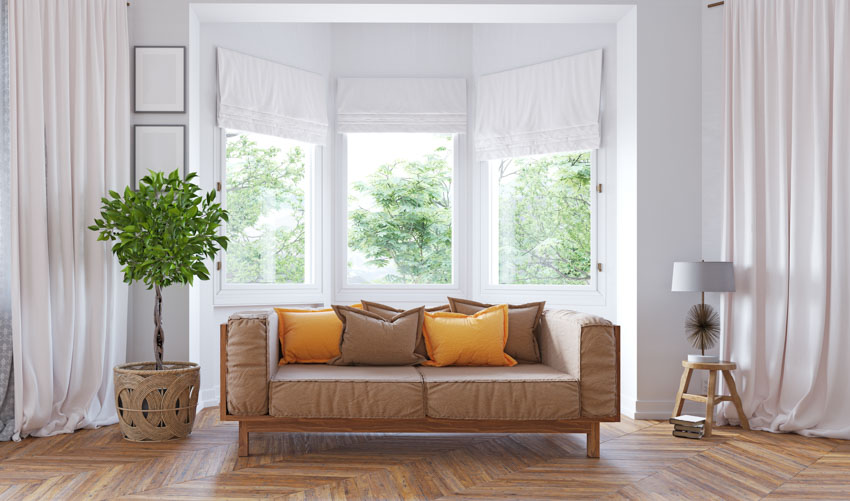 Soft Silk Curtains: Bay windows benefit greatly from the use of soft silk curtains. They improve the aesthetic of bay windows of any size or length. To render your windows appear more striking and modern, you can gather the curtains midway down with fabric tape or braiding.
Your bay windows will be of classic design and will allow a vista of the environment outside without compromising the interior.
Drapery Screens: Drapery screens are installed along the window's return walls, stretching in extended flowing lengths from the ceiling to the ground. When necessary, these must be able to close quickly. They should be able to surround the bay windows and provide an uninterrupted view.
Valances: A stately valance is simple to install and creates a lovely uppermost frame for bay windows. This works nicely in both tall and short sections and is ideal for bay windows with shutters.
If you are setting up your bay window area, you can choose color-coordinated materials with other design components in the room such as pillowcases, carpets, and bedding.
Flat Roman Curtains: You have the option to hang flat roman shades to accent the bay window while still providing seclusion.
Roman curtains are very simple to set up and maintain. You can also buy roman curtains in a variety of colors, patterns, and sizes to fit any width or length of a bay window in any space within the house.
What Is The Difference Between A Bay And Bow Window?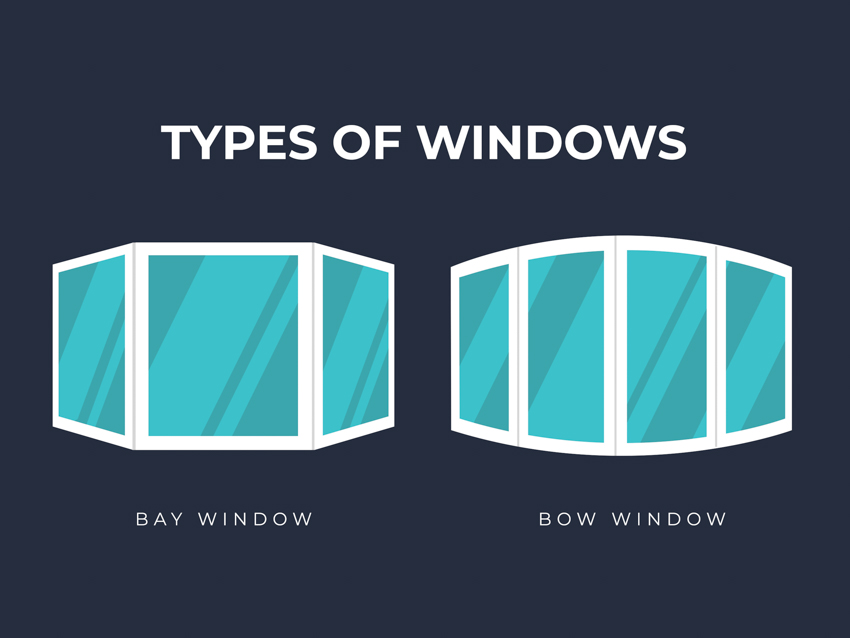 Bay and bow windows might appear similar at a first impression. Both will help broaden space and allow it to breathe, creating the illusion of increased space and bringing in more lighting while imparting a touch of elegance to any setting.
Here are the main differences between the two window types:
• Bay windows extend further from the wall into the outer space, creating a bit of extra interior square footage.
• Because they feature more glass panes than bay windows, bow windows usually provide more lighting into the space.
• Bay windows are rarely as broad as bow windows as they generally have only three panels.
• A bay window features three apertures, which can be angled. A bow window often has 4 or 5 windows.
• The general structure of a bay window comprises a picture window with two small-sized windows on either side. The framework of a bow window is rounded, giving the home a curved image from the outside.
• Bow windows can be encased around a building's corner, creating a distinctive tower shape on the exterior and an inviting hideaway on the inside. This favorable alternative also offers a view from both sides of the house.
• A modern bay window's angular linings and flat surfaces are frequently deemed more acceptable for modern-day residences, but the bow window's slightly circular exterior structure is appropriate for Victorian architecture. In fact, any type is suitable for almost any form of house.
What Is A Flat Bay Window Called?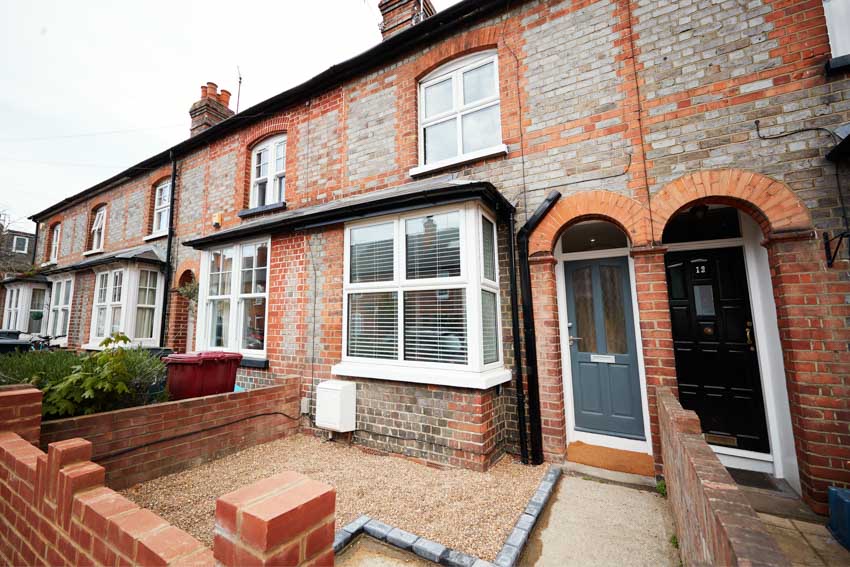 The canted bay window, often known as a "flat bay window," is the traditional configuration that most Columbus residents envision when they picture a bay window. The front pane of the window is completely flat and adjacent to the home's façade, while the sides slant out.
A flat or canted bay window has at least three or four separate windows. Canted bay windows are common in Victorian homes, but building standards shifted in the 1890s, requiring windows to be level with the home's façade.
Do Bay Windows Add Square Footage?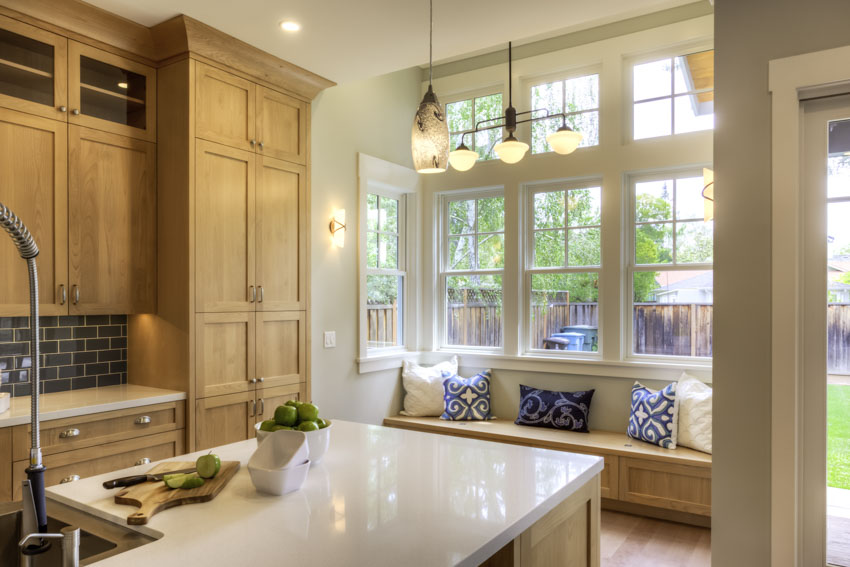 Yes. Incorporating bay windows can expand interior square footage and thus home value. The interior of a space is expanded minimally when a bay window is placed. This is very useful in compact spaces.
Bay windows have an outward bulging shape, which increases the floor area of the room they are situated in by several feet in length. Indeed, putting a bay window adds square footage to your home, providing additional space to a small and congested area.
Are Bay Windows Outdated?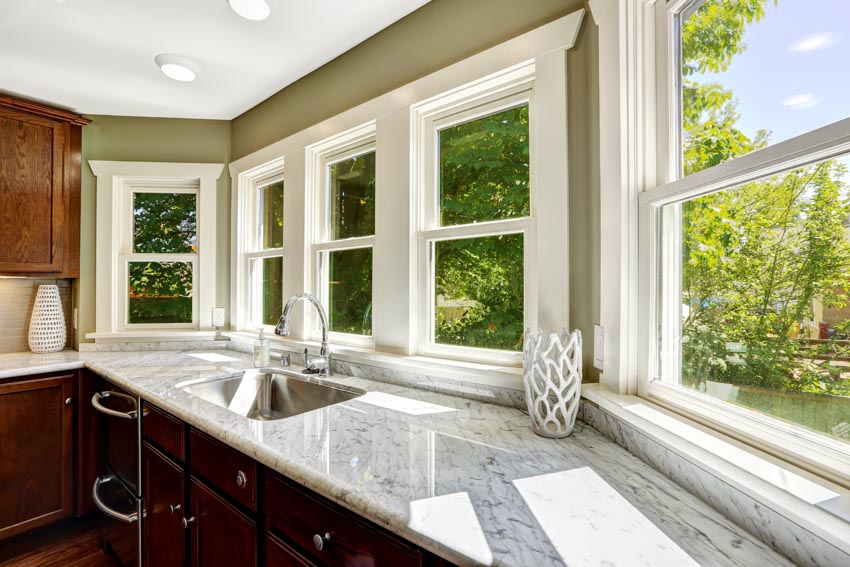 Generally speaking, no, they are not outdated. Bay windows are still a practical home improvement idea for a variety of reasons. Several people tend to view them as old and out of fashion, but we believe their numerous benefits make them worthwhile to evaluate even today.
Is A Bay Window Worth It?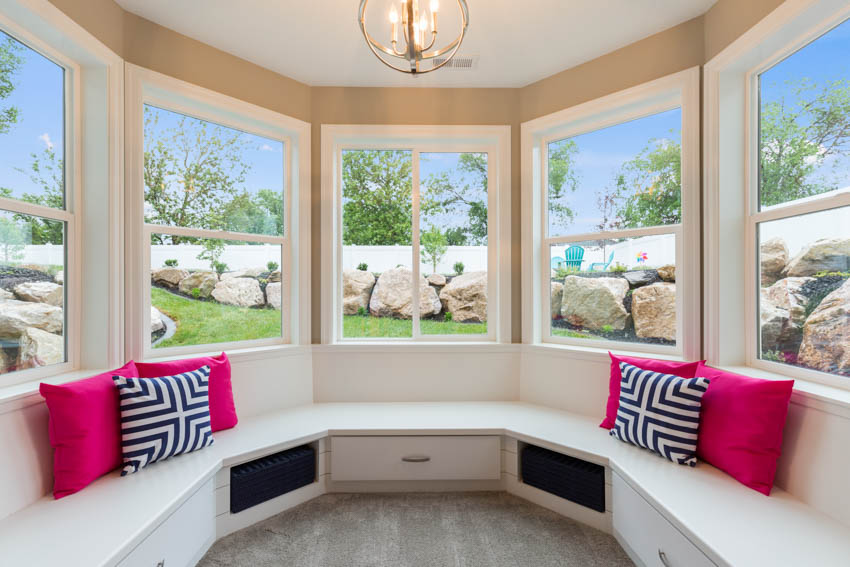 Arguably, yes, adding a bay window to your house is worth it. And here are some reasons why:
Bay Windows Can Give a Space a Striking Architectural Appearance: A bay window can effectively draw attention to a room's distinctive structural and architectural components.
When dealing with a visually appealing space, it is indeed critical to examine how the bay window layout may impact or significantly improve the room.
When in uncertainty, you can try to consult a free online room designer to see different bay window arrangement alternatives and select the best selection for your room.
Bay Windows Have the Potential to be the Central Focus of a Space: The ideal bay window can catch the attention of its cozy niche. Individuals are drawn to cocoon-like environments.
To make the most of a bay window's central focus, you can take into account employing bold colors, textured fabrics, as well as an abundance of pillows to entice lounging.
Bay Windows Could be an Excellent Location for Incorporating Storage: Truly, you can make use of the empty space in the bay window arrangement to incorporate hidden storage.
Open shelving is popular, but it can accumulate litter and dust. Cabinets or drawers with doors provide ample storage while retaining a neat and uncluttered appearance.
Bay Windows Can be Customized and Accessorized to Accentuate the Room: Indeed, you can make use of attractive colors, motifs, patterns, and textures that complement the remainder of the area. Appropriate light fixtures, pillows, a modest tray, a side table, or elegant window treatments are all fantastic additions to the area.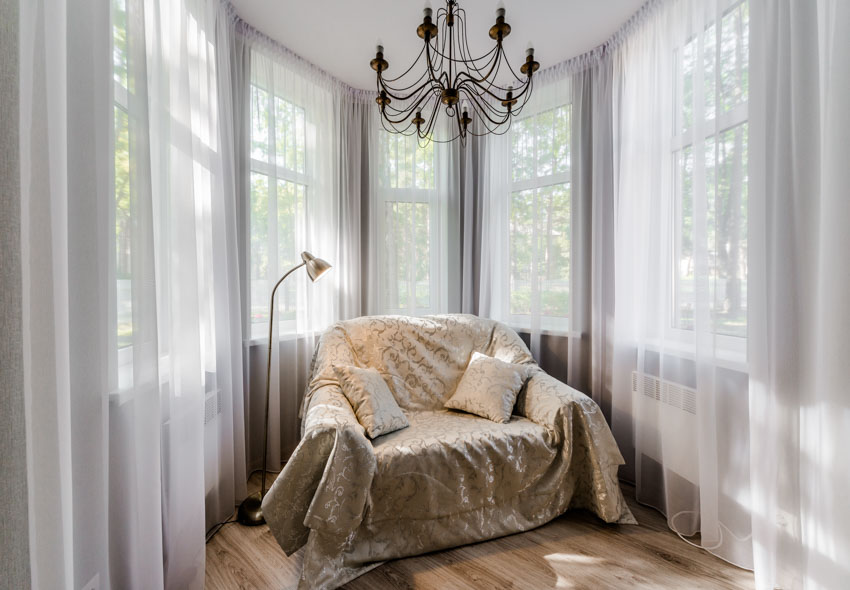 Bay Windows Do Offer Pure Minimalism and Modern Aesthetic: You can try to employ a simple, plain, and minimalistic design when installing a bay window in your space. Neat lines and angles seem more modern and are simpler to deal with than rounder or octagonal bay window forms.
Conceal hardware and use European concealed hinges to make storage and cabinets modest. You can select the most modern materials and accessories to decorate the area elegantly yet minimally.
Bay Windows Can be a Relaxing Location to Unwind: You can consider purchasing soft and long-lasting fabrics, the highest-quality padding you can buy for the couch cushion, and enormous, plush goose-down pillows for the maximum sensation of opulence.
Round bolsters are another modern component that can be used to create comfortable and supporting pillows for your bay window seating area.
Bay Windows can Gorgeously Highlight the Outside View: A bay window would be ideal in a location with a magnificent vista. Because of the vast width of the glass, they open up the area in all directions.
A carefully positioned bay window can encompass your view in the same way that a great frame accentuates a work of art — not to forget the added benefit of providing a comfortable vantage point from which to observe the scenery outside.
See more related content in our article about jalousie windows on this page.