Below we compare the differences between a farmhouse vs. modern farmhouse including their styles, furniture and other interior design elements.

The farmhouse home design has endured the test of time and developed into today's contemporary style, which is warm, inviting, and always fresh.
Whether classic or modern, the farmhouse style has a long history in America. Inspired by early settlers, farmhouses recreate the appearance and feel of those times.
It integrates the rural dwellers' demand for durable, practical items with their surroundings' simple, minimalistic décor. Many of the essential characteristics of today's farmhouse are comparable to those of the past.
What Is Farmhouse Style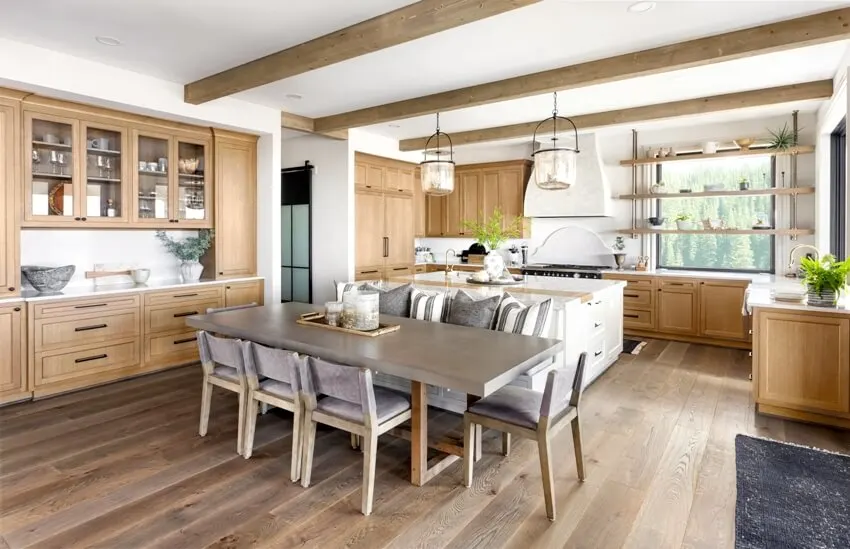 Farmhouse style is an interior design that emphasizes simplicity, functionality, and rustic design. Whether you live on a farm or in the heart of a busy metropolis, you may enjoy the welcoming aspects of farmhouse design.
It entails creating a welcoming, pleasant, and clean environment. Vintage elements, refurbished furniture and timber accents stand out in a farmhouse design home.
Designers emphasize the significance of accessibility and utility in a farmhouse-style home. The farmhouse serves as a primary meeting place for family and friends. Practicality and comfort characterize its interior design, which relies on easily accessible materials and colors.
Wood features and white tones characterize farmhouse design. It incorporates knickknacks, antiques, or matching an old chair with a modern couch. The appeal is in the utility, with hints of personality and history thrown in for good measure.
Classic Farmhouse Style Design Elements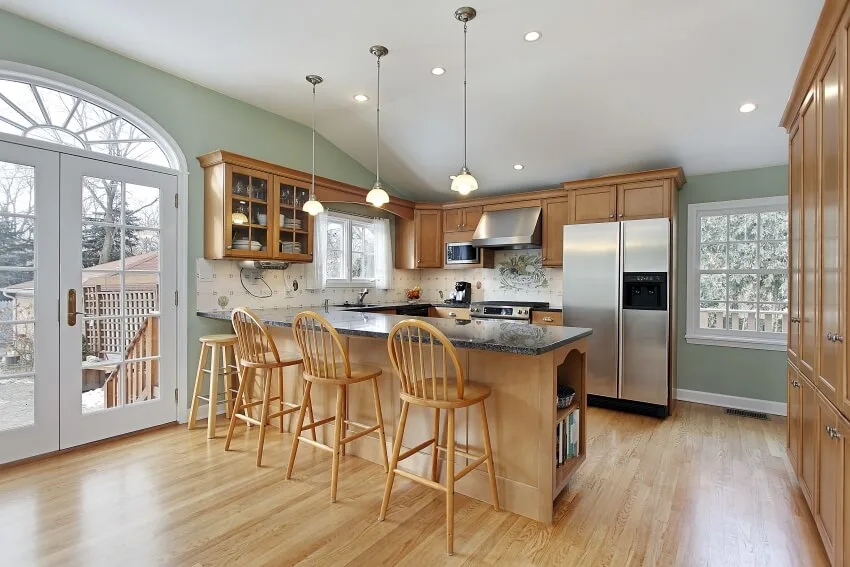 These are the design elements of a classic farmhouse style:
Natural wood accents: In a classic farmhouse style, wood is the natural construction material. It can be wood walls, exposed wood beams, and wide-plank flooring. Barn Board accent paneling and butcher block counters are also prevalent.
In an all-white setting, exposed wood softens and grounds the décor. A single piece of wood may make a huge impact.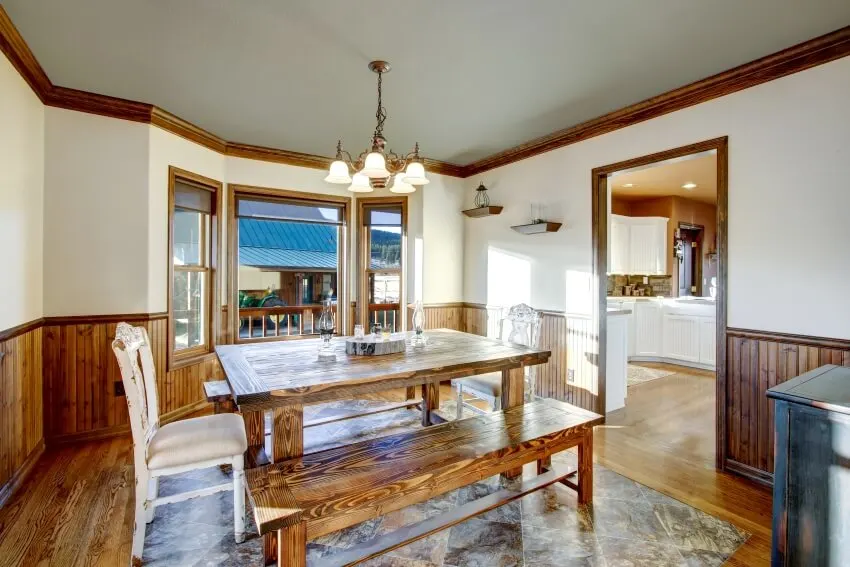 Old furniture and accessories: Using vintage furniture and furnishings is a simple design method in a traditional farmhouse style. It is preferable if they are not in pristine shape and have aged finishes.
Also, vintage-inspired lighting is excellent. Chipped paint and damaged surfaces are ideal; the older, the better! Vintage elements add to the farmhouse style's personality.
Traditional textiles: Floral and paisley patterns dominate decorating materials, and slipcovers breathe new life into old furniture. Due to their longevity and ability to adapt seamlessly from season to season, lightweight materials like cotton and linen are standard features in practically every farmhouse-style dwelling.
White walls: White walls offer a clean palette that is traditional to this design. Many homeowners go for black and white for a more contemporary farmhouse effect, while others opt for the typical country cottage style with blue, green, red, and even yellow splashes. See our farmhouse wall colors design guide here.
Open shelves: You can use it throughout the farmhouse, from the kitchen to the living room and everything in between. Open shelving is a simple and enjoyable way for farmhouse owners to display their unique collections.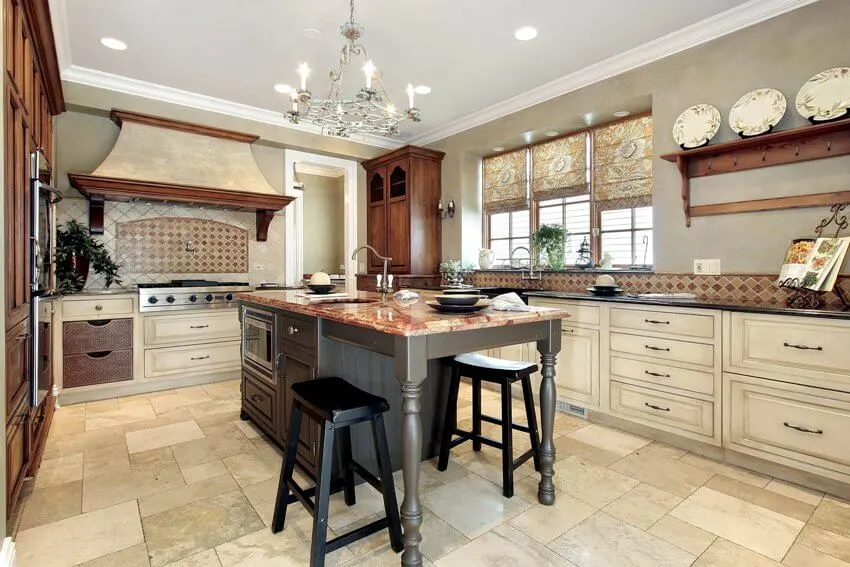 Pattern pops: Patterns are a great way to add additional interest to a farmhouse without going crazy. Choose unusual black-and-white floor tiles or replace bottom cabinet doors with a gingham cloth cover—the possibilities are unlimited and may be combined to create any design.
What Is Modern Farmhouse Style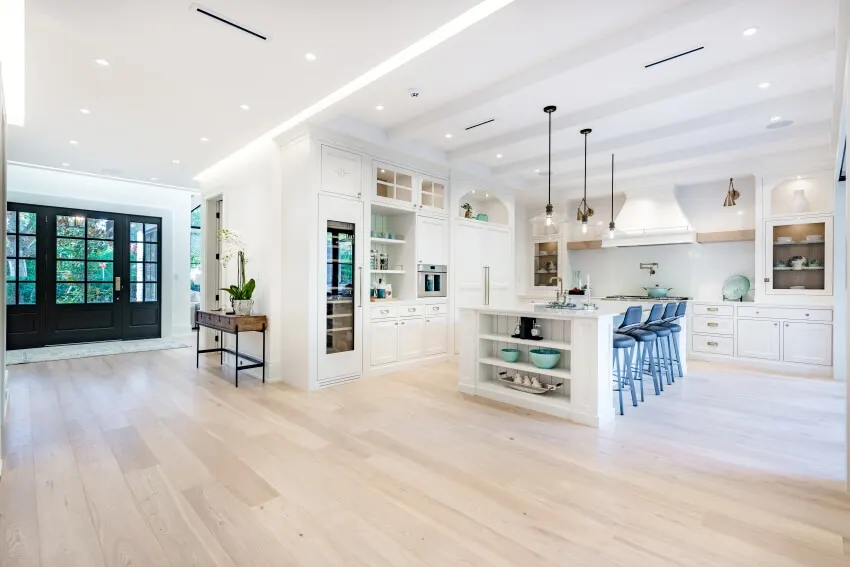 Modern farmhouse style incorporates modern elements such as clean lines, neutral color palettes, and glossy accents. It is less rustic and elegant, with stainless steel appliances, granite worktops, and streamlined lighting as crucial design components.
The modern farmhouse style is the ideal combination of classic rural style and more minimalist contemporary design. For a long time, clean lines and a sleek aesthetic have been the go-to interior design, but with so much going on in the world these days, we're yearning for a little more comfort and coziness.
The modern farmhouse also honors the past by reminding us of simpler times without requiring us to forego any of the modern lifestyle components we have become accustomed to. The modern farmhouse is a tribute to the traditional shape, with interiors that reflect a contemporary design viewpoint.
Modern Farmhouse Style Design Elements
These are the design elements of a modern farmhouse style: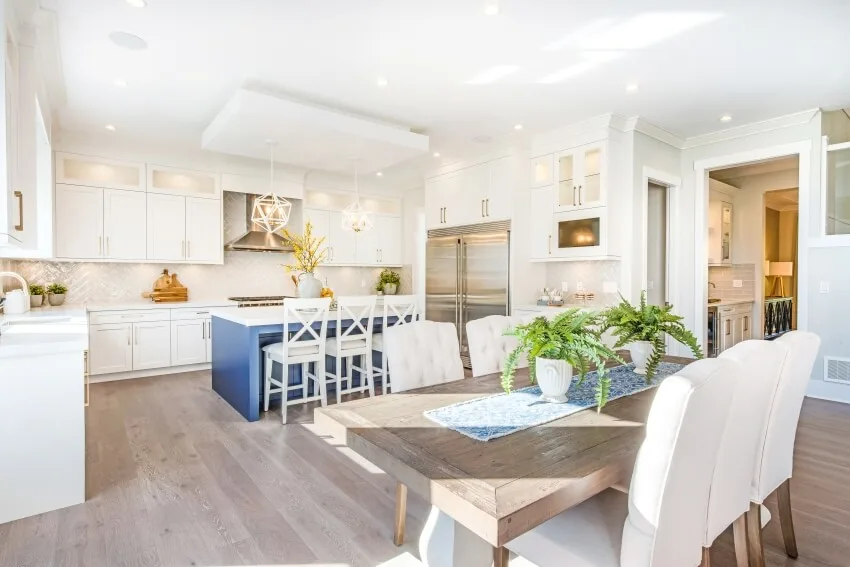 Simple walls: Comfort and practicality are essential in a contemporary farmhouse kitchen's walls, furnishings, and accessories. They should greet you as you enter the room; nothing should be too valuable to use regularly. Shiplap, batten, and barn doors are excellent starting points.
Shiplap and other drywall alternatives respect rural life without becoming the main point of a contemporary farmhouse. Limewashing a brick fireplace brightens the area while preserving the texture and function of the age-old material.
Neutral colors: Choose a neutral color scheme to make the area look lighter and more open. Cream, beige, silver, and gray are all neutrals that work well and complement natural components.
Keep patterns basic and modern, and use a range of DIY textures to provide depth to the neutral palette. A neutral color plan also makes it simple to add décor, appliances, and furnishings as the contemporary farmhouse design of the home grows.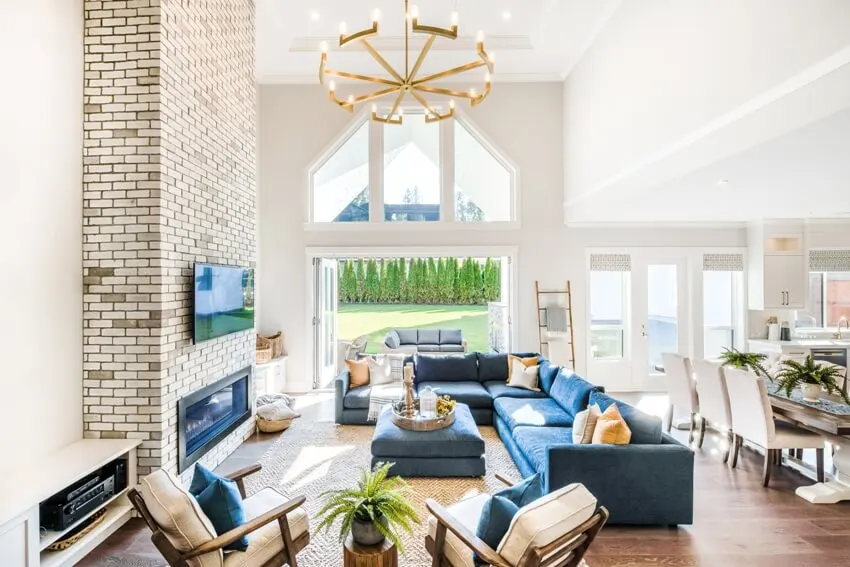 Vintage and modern pieces: Vintage craftsman furniture is classic, but contemporary furniture adds comfort and flair. Combine classic natural components like wood with more modern ones like stainless steel.
Or you may use an heirloom coffee table in conjunction with minimalist art. Combining old and new goods is to strike a balance between the number of antique items and contemporary embellishments.
Natural materials: As much as possible, use natural materials. Continue the traditional farmhouse design theme by using distressed wood in architectural elements or furniture and natural fibers like cotton, sisal, rattan, wicker, and natural stone.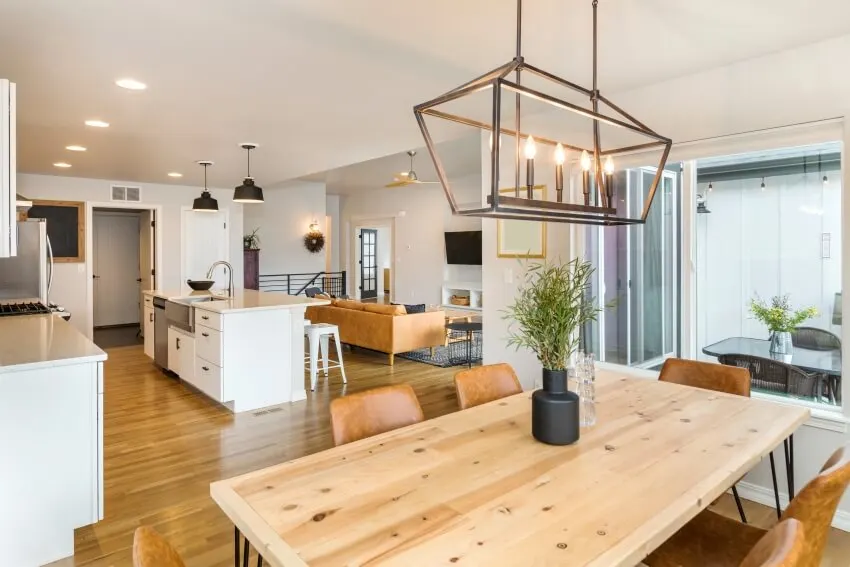 Modern and industrial touches: In modern farmhouse home designs, the apron sink and appliances are more likely to be stainless steel.
For a minimalist appearance and feel, use industrial-style metal things like contemporary lighting fixtures in living rooms and mid-century modern-style furniture like a teak dining set.
For example, a butcher block island constructed entirely of reclaimed wood may be included, with polished white marble counters around it. A vaulted ceiling creates space and a sense of clean modernism, while exposed wood beams emphasize function and offer warmth.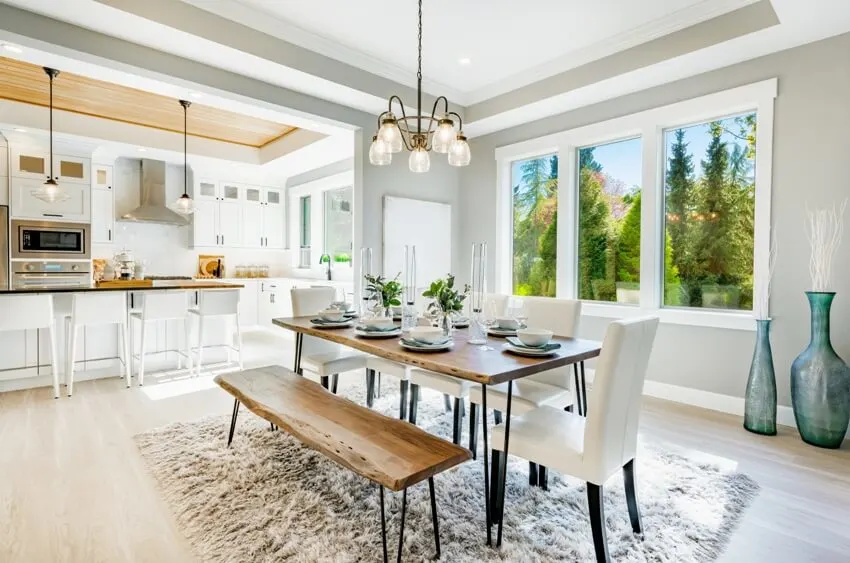 Minimal accessories: Keep decor and accessories to a minimum if you want to create a warm, not congested, space.
Remember that contemporary or industrial accents may help keep farmhouse design modern! Try frames with metal finishes and sinks with pewter hardware.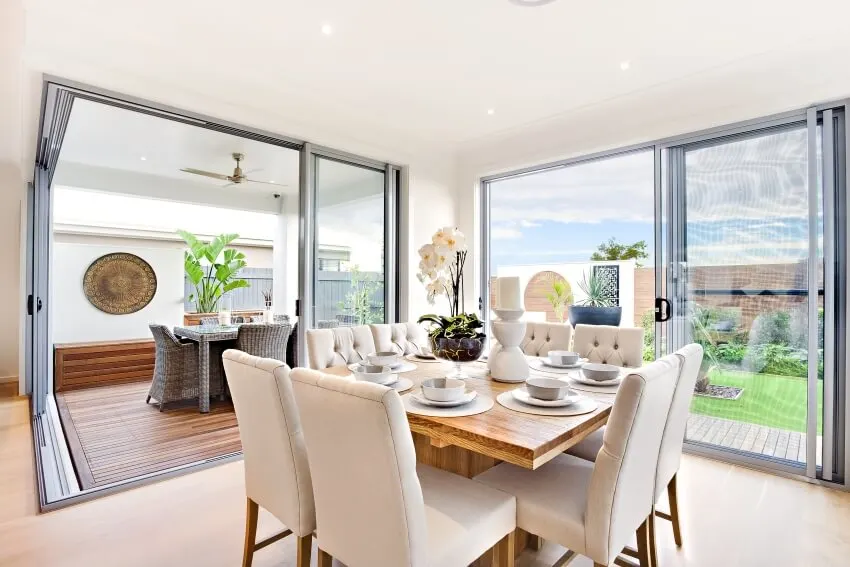 Open and airy: Modern farmhouse design frequently incorporates an open plan with vaulted ceilings, adding space to traditional farmhouses' pared-down, functional notion.
Another feature that helps bring in more natural light while seemingly expanding the limits of spaces is the lack of window curtains.
The necessities are put away in cupboards and drawers, while a few purposeful old items on show add to the comfort. Visit our gallery of homes with modern farmhouse designs here.
What Is The Difference Between A Farmhouse And A Modern Farmhouse?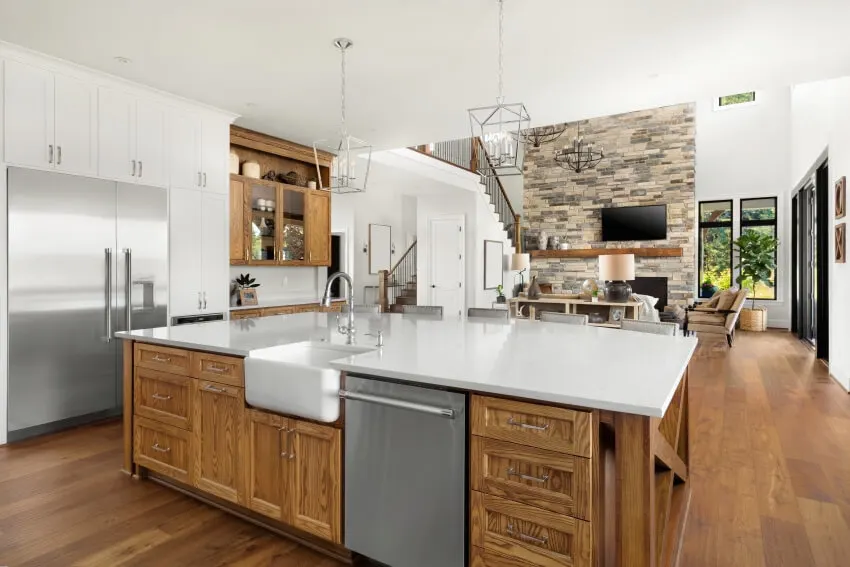 With simple flourishes and a weathered, aged aesthetic, the farmhouse style is functional in both design and function. For a modern farmhouse, expect to find a lot of natural materials and textures, clean lines, warm neutrals, and antique accents.
A few methods exist to get the modern farmhouse appearance without being too traditional. Layers, patterns, and colors create a warm environment in modern farmhouse design. Opening up ceilings to reveal the rafters and maximizing the height is one way to get this appearance.
Alternatively, cladding walls and ceilings with lime-washed wood cladding may instantly change a space. Mix and match patterns and textures in textiles, such as thick linen with silky velvet in a similar color scheme.
Fabrics and materials follow a pretty rigid color scheme, which keeps the design from becoming too eclectic and rustic, and instead seems curated and thoughtful, as one would expect from a modern house.
Is The Modern Farmhouse Out Of Style?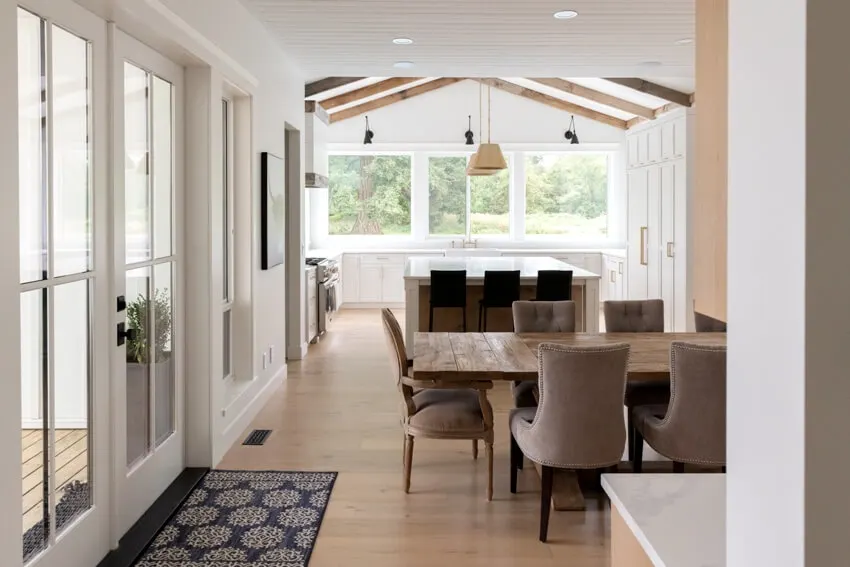 The farmhouse style became a popular decorating trend in 2015. Its cozy sentiments and white-washed furniture seemed like a fresh, less frilly progression of another popular design, the shabby chic/French country aesthetic.
Farmhouse style blossomed because it appealed to many individuals who appreciated the shabby chic, rustic, or industrial aspects as a way to freshen up their houses. However, just because it is ubiquitous does not mean you are out of date if you enjoy the design.
At the same time, all decorating styles change. Every decade or two, particular designs and colors become popular in traditional décor. Five or six years ago, much of the fashionable farmhouse décor appeared antiquated and somewhat cliché, but the design may still feel fresh with a few tweaks.
The core of farmhouse design is still the same: practicality. These houses are for working families that spend almost every day in and out of their homes.
These structures were to serve as both a work environment and a getaway. Practical considerations were paramount back then, so farmhouse design still appeals to many homeowners today.
See more related content in our article about modern farmhouse bedroom ideas on this page.