One of the most classic architectural elements inside our beloved houses is the crown molding. However, there are many alternatives to crown molding including plasterwork, painted border, wood trim, picture, and ceiling medallions.
Although crown molding is not among the most observed elements in our houses, it still plays a crucial part in terms of adding a sense of elegance and grandeur to any room type. Indeed, it has been revered for its ability to low-key revamp the interiors.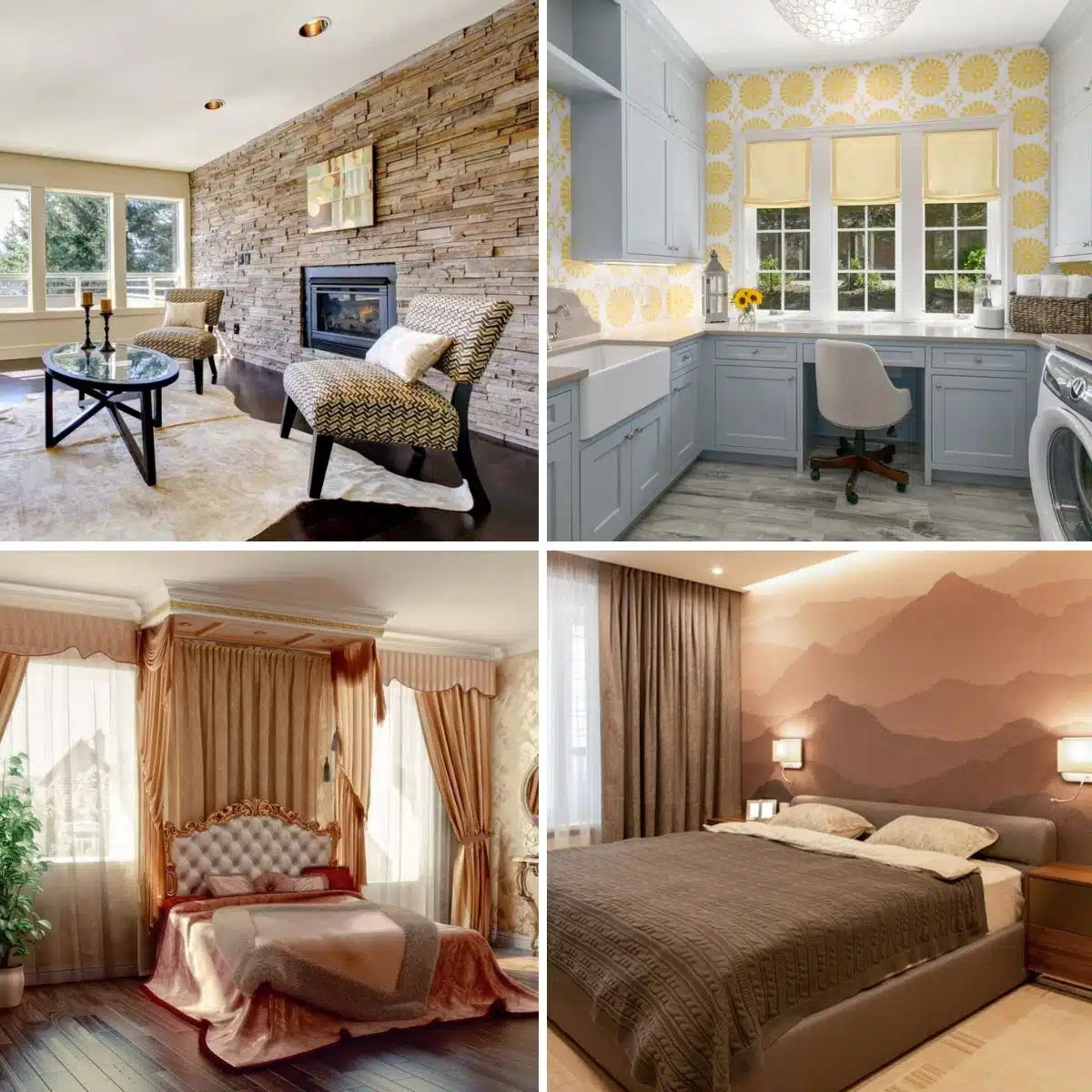 On the other hand, as the preferences when it comes to interior design are gradually evolving, countless interior designers have eye-witnessed the resurgence of innovative as well as stylish crown molding alternatives.
Thus, below we present to you a curated selection of alternatives to crown molding that would bypass the traditionalism whilst maintaining the essence of streamlined, eye-pleasing interior aesthetics. Hopefully, these alternatives can still help you in achieving that unique living space transformation.
Fresco Or Plasterwork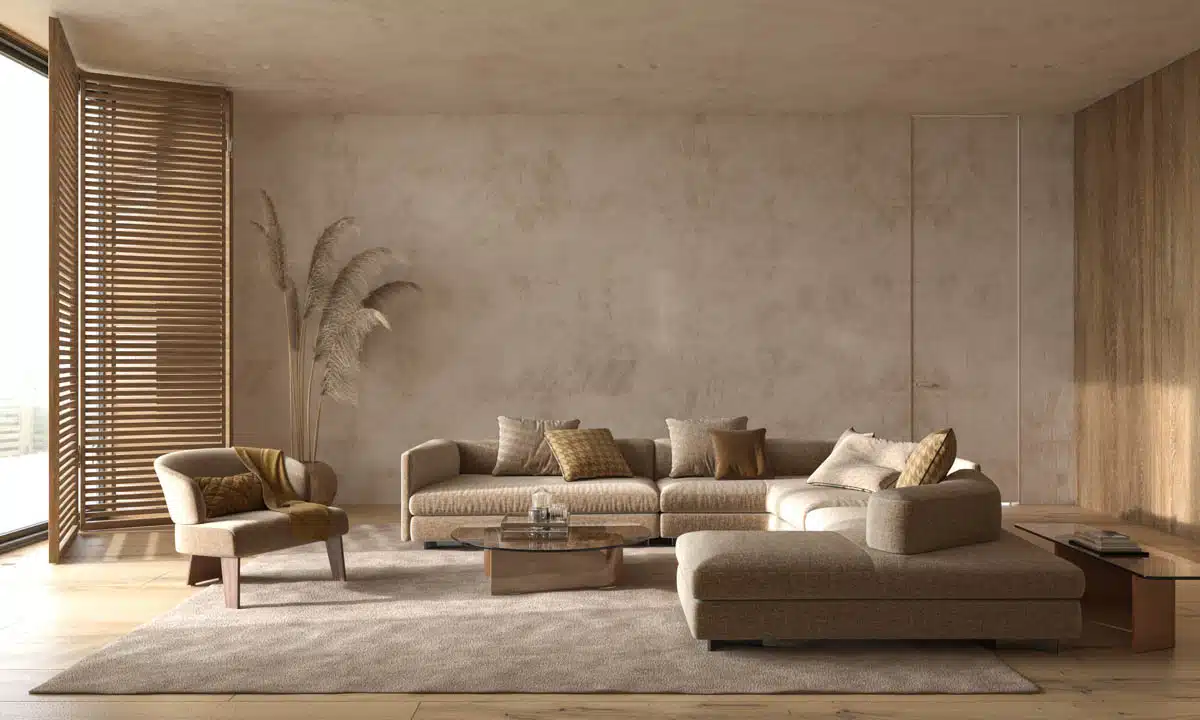 Fresco or plasterwork is both a testament to the allure of do-it-yourself creativity. Both of these alternatives are quite accessible – their simplicity of installation and very lightweight structural composition make fresco and plasterwork one of the top choices in terms of ornamenting the interiors of your room. Choosing this alternative is ideal for those looking for a hands-on approach.
As aforementioned, these crown molding alternatives promote easy installation as they can be mounted using easily accessible tools such as a glue gun or hand miter. Even non-experts can customize the lengths of the fresco or plasterwork and seamlessly install these strips to the edges and corners of your room.
Aside from that, the fresco's cost-effectiveness and low cost make it a great choice for homeowners on a tight budget – you can enhance your interiors without straining your finances.
Its flexibility to paint strips before the installation also ascertains a smooth finish. Hence, if you want to elevate your interiors with only minimal hassle yet have a powerful impact, avail yourself of the convenience and beauty fresco and plasterwork offer.
For a plaster solution, you can add cornice features, giving the same effect as crown molding with their raised designs. Cornices made of plaster or wood are installed at the top of walls surrounding the ceiling and can be dramatic or simple, depending on the design.
Painted Or Stencil Border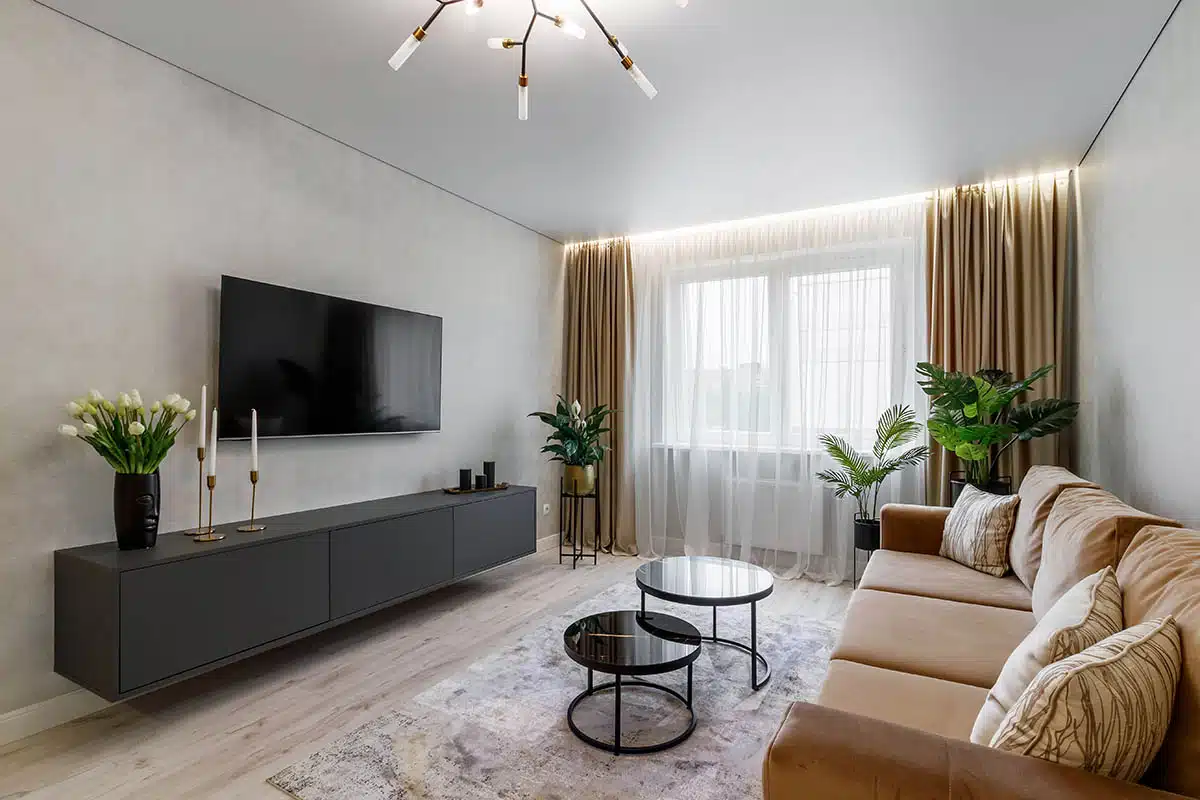 If you are a homeowner who has a penchant for fashionable design and creativity, you may find painted borders or stencils to be an ideal option. Whether opting for ready-made stencils or personally crafting them, this unique crown molding alternative imparts a very stylish and distinctive personality to any room.
Unlike the freehand style of painting, stenciling does offer a user-friendlier approach, which can help you achieve a more consistent set of results without committing design errors.
Both painted borders and stencils enable homeowners to express their style and unique flair whilst infusing their interior spaces with charm, whether they are remodeling a living space or accomplishing a creative undertaking. Moreover, this crown molding alternative's capability to transform the beauty of your walls can translate into enchanting canvases.
Cove Molding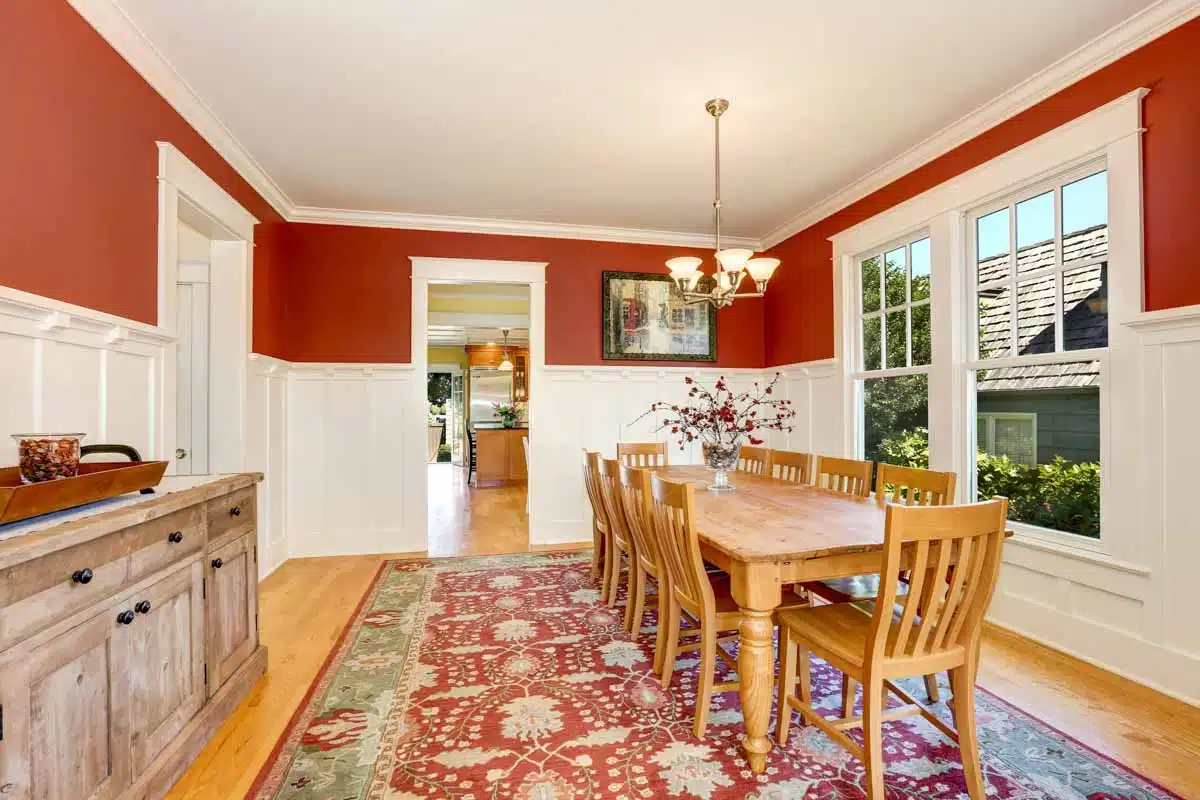 Adding to the picture is the cove molding, proving its worth as another ideal crown molding alternative. This offers both decorative and utilitarian benefits to a vast spectrum of interior design schemes. The distinct element of the concave profile of cove moldings elegantly connects the transition between most wall and ceiling design types, which ascertains smooth edges.
Any molding with a hollowed- out curve is called cove molding. – Trim Carpentry and Built-ins: Expert Advice from Start to Finish, Clayton DeKorne
According to professional designers as well as builders, cove moldings that are normally used in different homes are generally composed of particular construction materials like PVC, wood, and MDF. Thus, this alternative can adapt to a broad array of home design ideas.
Apart from that, the usage of cove moldings isn't solely focused on smoothing the transition of your design, henceforth it functions as a useful, artistic element that can embellish your interiors.
Boxed Molding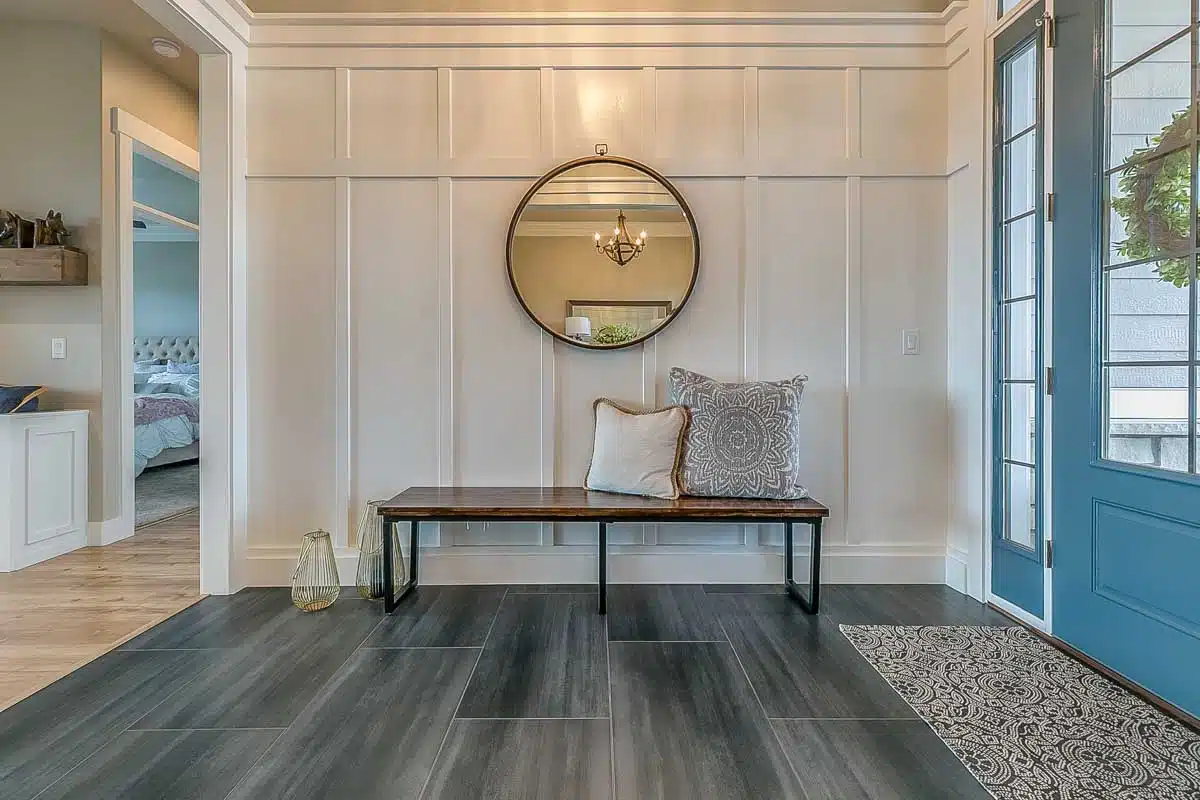 If you are into using a crown molding alternative that can mimic the artsy vibe of photo frames, you may want to opt for boxed molding. This option is one of a kind as it has an immense potential in terms of improving the catchiness of your home interiors. But how can it contribute to the general decor?
Well, these boxed moldings are basically square boxes that have the capability to divide your walls into pleasing sections, which attracts homeowners who aim to achieve a fresher take on modern interior design scheme. Expert designers love using this when it comes to augmenting the interiors of a foyer, living room, or kitchen.
If something unique or avant-garde piques your interest, this crown molding alternative might be the answer in terms of infusing peculiar character into your walls while retaining a neat appearance at the same time. You can also rely on this molding option if you wish to combine the traditional with modern design.
Simple Wood Trim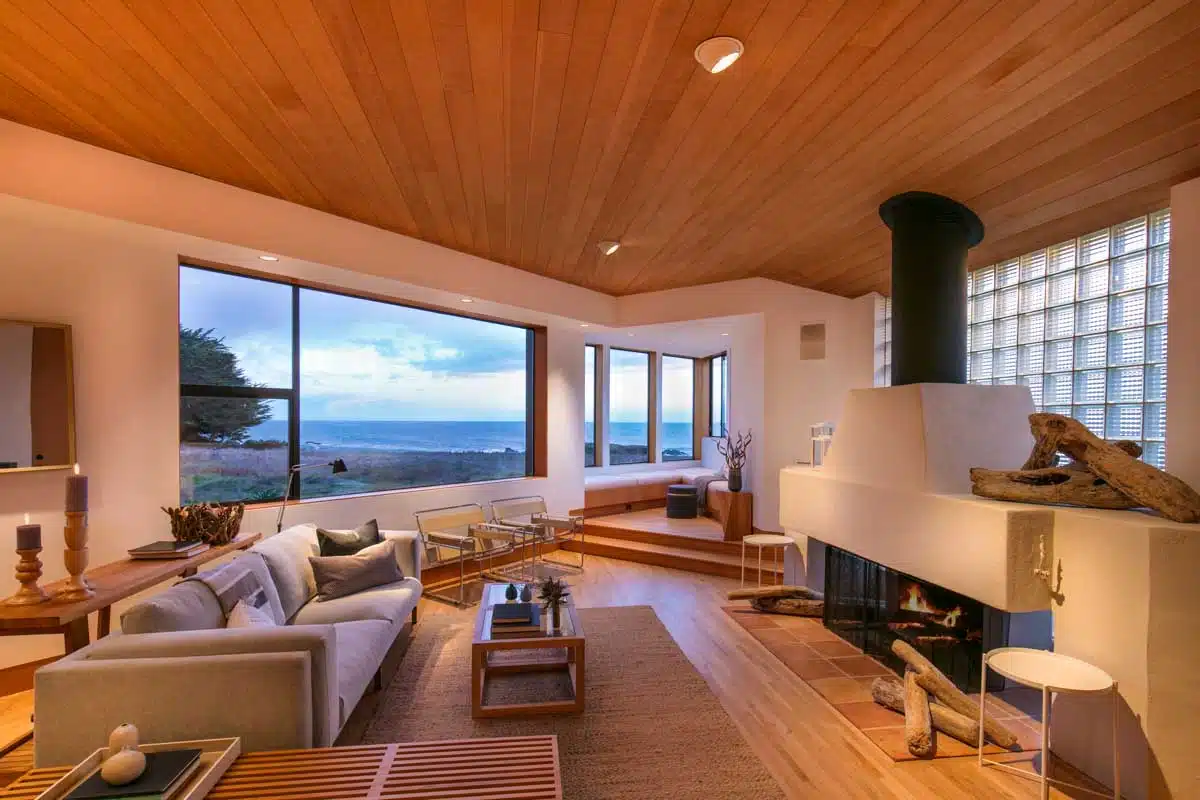 In contrast with the boxed molding that focuses on bringing artsy, eye-catching elements to your walls, the focus of simple wood trim is to simply low-key enhance the walls and ceiling. Using simple wood trims, you can unobtrusively upgrade your interiors. It is a minimalistic and organic way of concealing the imperfections on your walls.
Furthermore, simple wood trims can facilitate seamless transitions between the rooms in your house. Are you a homeowner who adores minimalist and rustic vibe at the same time? Indeed, simple wood trims that are installed around doorways or ceilings can help you achieve those two design styles.
These crown molding alternatives, although termed 'simple', have the capacity to add a supplementary layer of sophistication and nostalgia to the sides and corners of your house. By amalgamating functionality with form, simple wood trim can convert mundane areas into enhanced centerpieces.
Picture Rail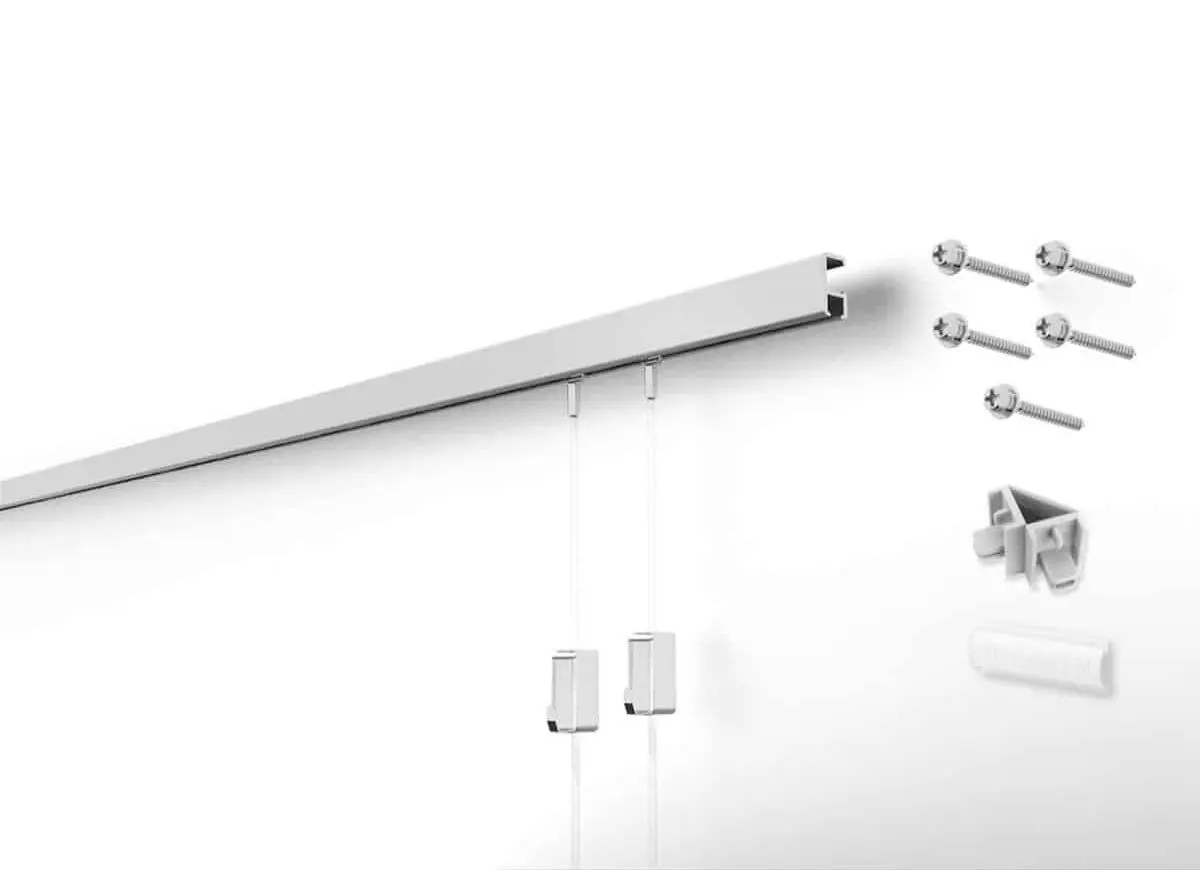 See this picture rail set at Amazon [sponsored link]
Picture rails may not be your ordinary crown molding alternative, but keep in mind that they can be a competent choice. Long-time interior designers normally pick picture rails as crown molding alternatives due to their massive impact when it comes to practically accommodating artworks and other artistic elements.
Builders customarily install picture rails on the walls near the ceiling and they act as a horizontal ledge that can expedite the process of hanging paintings, picture frames, or portraits without the fuss of wall-drilling.
This ascertains ease of installation, arrangement, and incredible flexibility.So instead of installing old-school crown moldings, you can maximize the usage of picture rails by generating a dynamic art exhibition atmosphere.
With the huge assistance of adjustable chains or hooks, positioning your art elements becomes a snap, which can accommodate a plethora of decor tastes. Picture rails are not obtrusive; again, they concentrate in allowing your decorative pieces to pop through.
A matching chair rail may also be used at the half-way point up the wall for a cohesive look. These horizontally placed trim rails are frequently used in dining rooms and help keep chairs from rubbing on the sides of the wall. They are also used as decorative pieces to add character and a touch of formality to a room.
Ceiling Medallions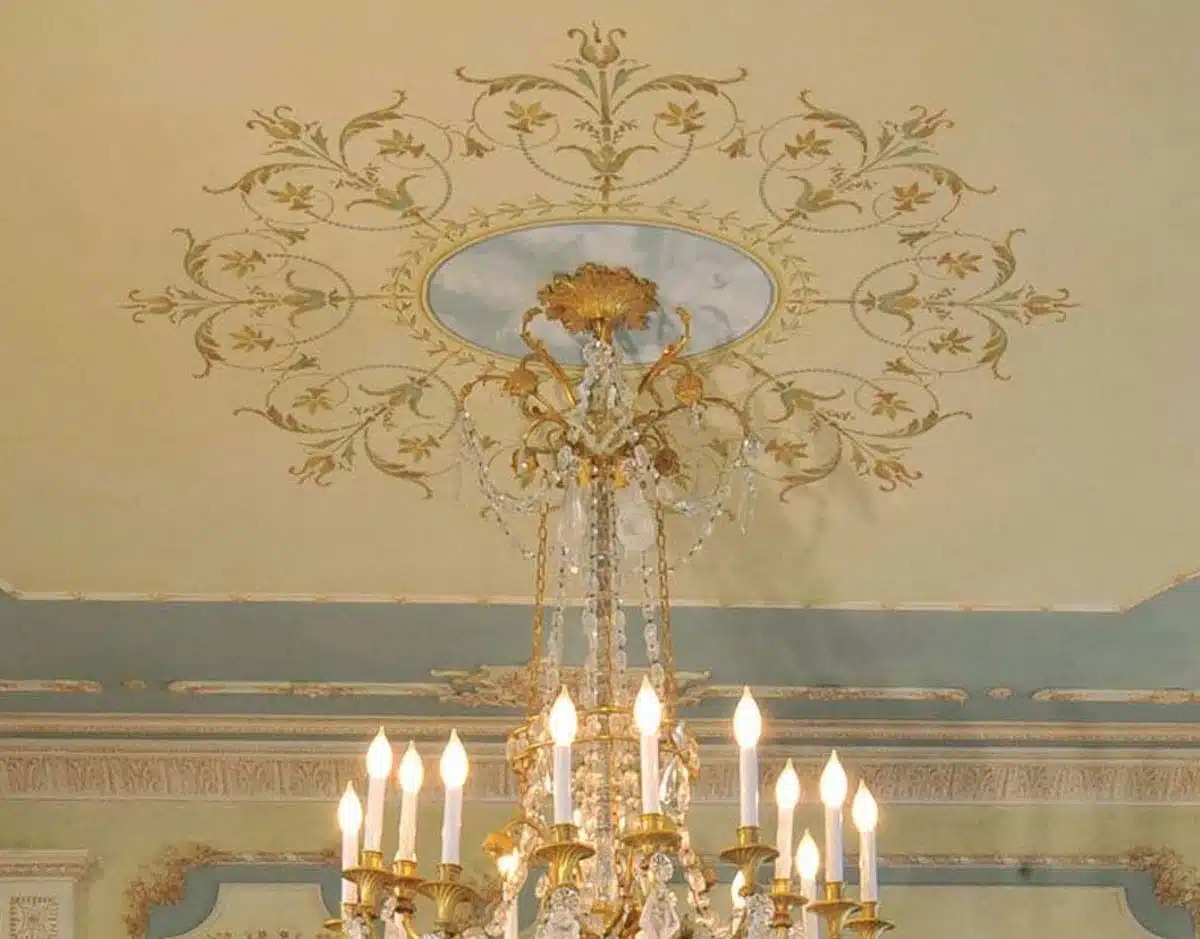 See this ceiling medallion set at Amazon [sponsored link]
Are you in awe that ceiling medallions are in this list? Well, there is no way that this classic interior design element won't be a member of crown molding alternatives – ceiling medallions enormously revamps the interiors due to their ornate impact and centerpiece potential. These eye-catching elements are normally situated nearby chandeliers or any type of hanging light fixtures.
From Baroque, traditional, to minimalist modern, the vast categories of ceiling medallion has got you covered. Indeed, ceiling medallions can hugely transform your ceilings into more alluring canvases – making use of these crown molding alternatives can break the idea of monotony, and instead, enrich the aesthetic appeal.
Ceiling medallions are normally preferred by interior designers who are assigned to work with homeowners living in mansions or massive houses with historical themes.
Beadboard Or Wainscoting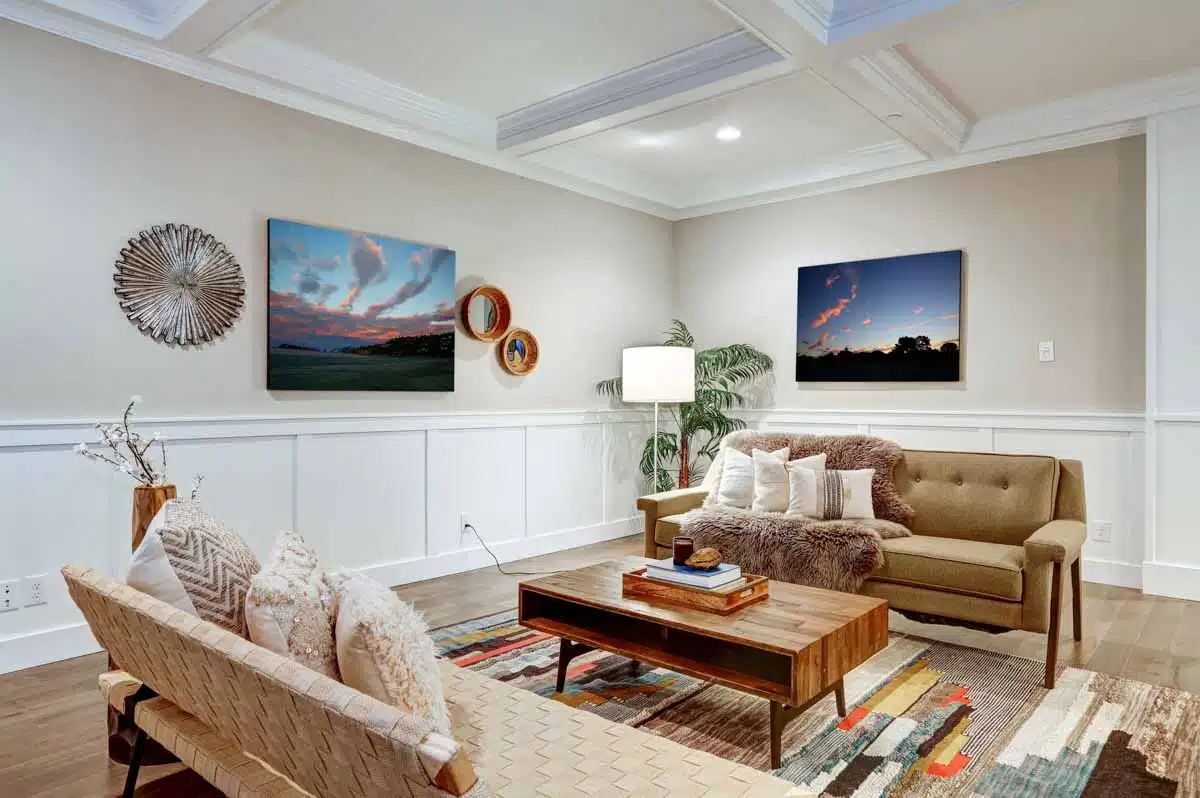 Whether exuding eternal chicness or achieving a hint of nostalgia is your primary objective, installing beautiful wainscoting or beadboard may satisfy your needs and desires for your beloved home. The origin of beadboard or wainscoting started as wooden panels that are framed by rails and stiles. However, they have evolved to complement modern interior design.
Nowadays, these are installed atop interior walls, and the vertical ridges as well as the vertical grooves between each panel produce an eye-pleasing beaded effect that can greatly add depth, complexity, and texture to your interior atmosphere.
Unlike the long-established crown molding, the edge of beadboard is that it can cover vertical surfaces, which is useful when it pertains to converting the walls into pure visual statements. It is true that beadboard or wainscoting isn't just focused on improving the aesthetics but to provide protection to your walls as well.
Wainscoting also incorporates framed panels or random decorative elements within your home – this allows homeowners to achieve unlimited creativity and revamp rooms with intricate art details. Ultimately, beadboard and wainscoting connect the gaps between functionality and form.
Wallpaper Border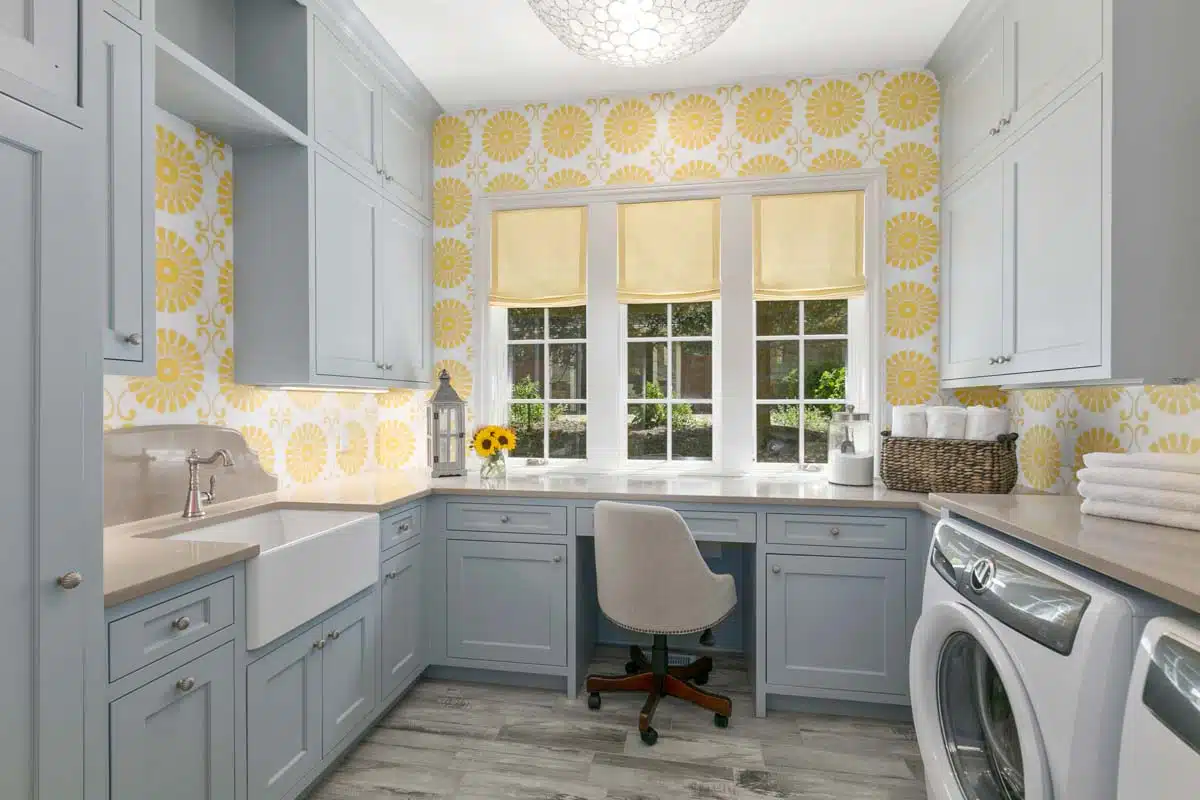 Can't decide whether to install a permanent or temporary border on your interior walls? Well, this issue won't be a bother with wallpaper borders as they act as a versatile, removable crown molding substitute. Yes, a wallpaper border can offer artistic appeal that can complement different interior design themes and different style preferences.
Crown molding involves virtually inevitable changes, whereas wallpaper borders allow homeowners to embrace their personality without long-term commitments that may cause you to regret later on.
Professional designers normally recommend installing wallpaper borders to homeowners who live in rental houses or those opting for temporary interior renovations only.
Wallpaper borders are available in three categories – classic, vinyl, and peel and stick wallpaper. Respectively, classic wallpapers are usually made out of top-quality paper that has patterned elements.
Peel-and-stick wallpapers are made of sticker papers (normally waterproof) that greatly offer convenience. Vinyl wallpapers are quite long-lasting and boast realistic patterns, celebrating creativity.
Shiplap Or Planked Ceiling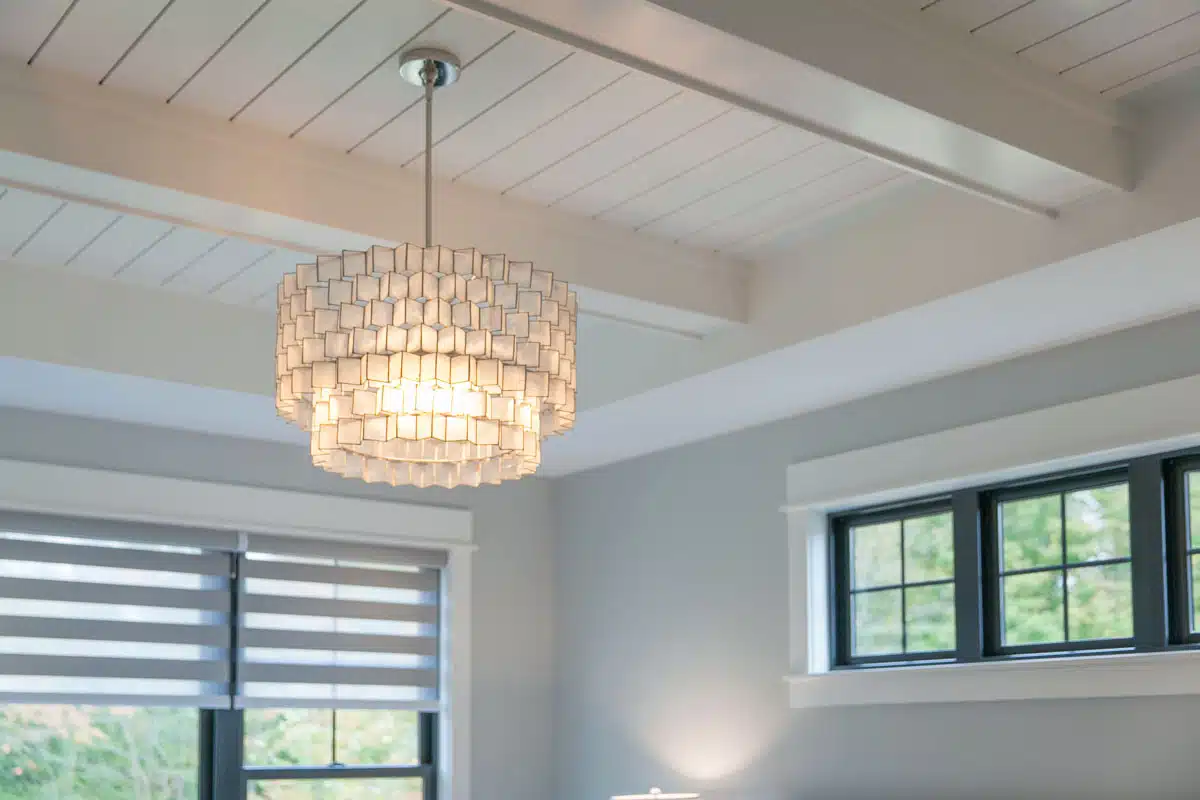 Shiplap or planked ceiling panels are a rustic-looking crown molding alternative. The representation of shiplap is the horizontal arrangement of long wooden planks. Interior designers typically paint such planks in pure white, hoping to achieve a charming, neat, and organic appeal inside the house.
The natural, distinctive, and eye-pleasing grooves of a shiplap ceiling adds a hint of texture and rhythm, which efficiently replace the ordinary decorative aspect of standard crown molding.
The advantage of this natural interior element is it can deliver that pleasing, cozy cottage or farmhouse vibe while adding a utilitarian wall covering. The self-spacing capability of shiplap also allows interior designers and builders to install the boards in a breeze.
Tin Ceiling Tiles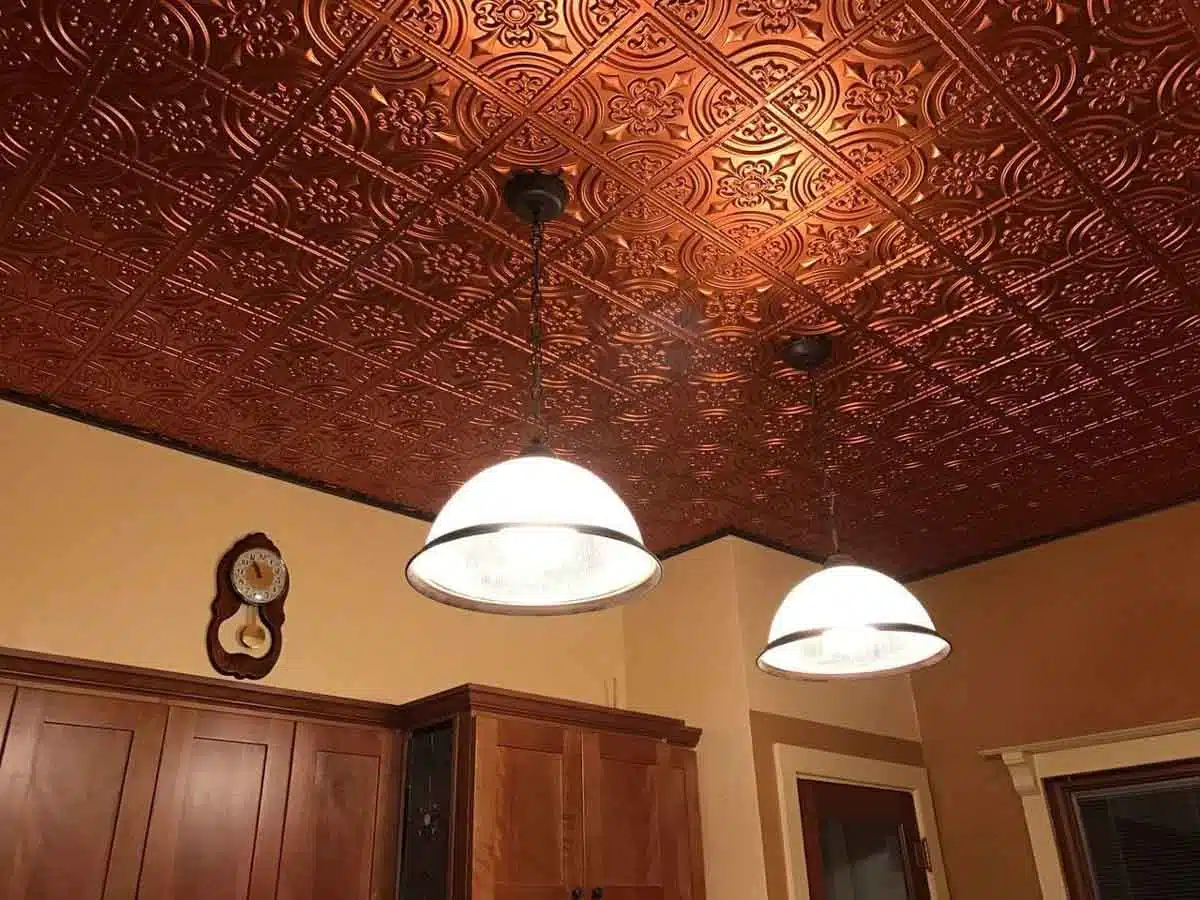 See this tin ceiling tile set at Amazon [sponsored link]
Tin ceiling tiles are normally found in grand, opulent home designs – they stand as a grandeur alternative to regular crown molding. Tin ceiling tiles are usually embossed with complex, lifelike patterns that immensely add a vintage vibe that makes homeowners reminisce history. Each ceiling tile consists of plates of tin with catchy designs pressed into them.
Each ceiling tile easily makes a distinct, artsy mosaic. The creative fusion of finishes as well as patterns grants both designers and homeowners to effortlessly transport each room into a haven of elegance and luxury.
Architectural Beams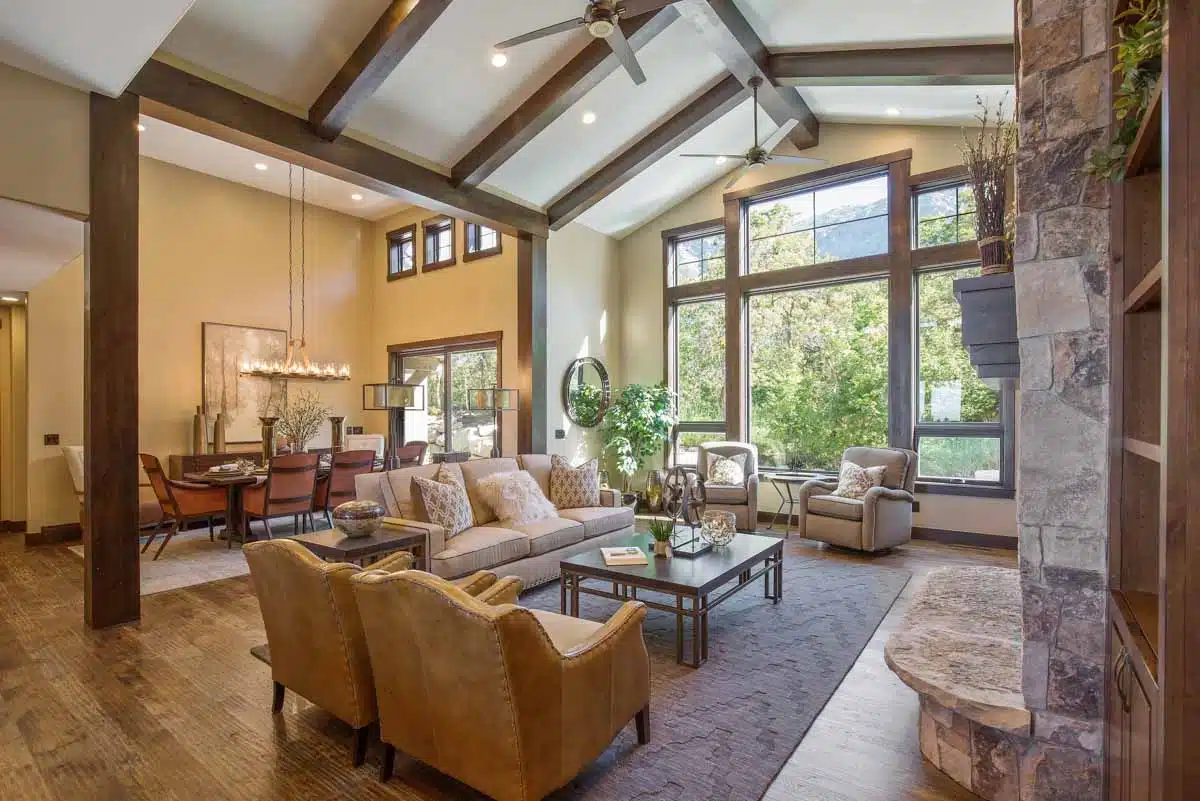 Is the design of your house currently traditional, rustic, or farmhouse-style? Well, we're sure crown moldings won't do the trick, but architectural beams will. Architectural beams are left untreated – they showcase the raw attractiveness of natural structural elements. Instead of painting or completely concealing your wooden beams, leaving them bare can showcase their innate beauty.
The authentic and organic presence of architectural beams can help you accomplish a bold statement within your house as it can help expand the heights of your interior visually, which helps in producing a more expansive illusion. Beams are excellent options for drawing attention toward a vaulted or cathedral ceiling and adding an extra touch of style.
Rope Lighting Tray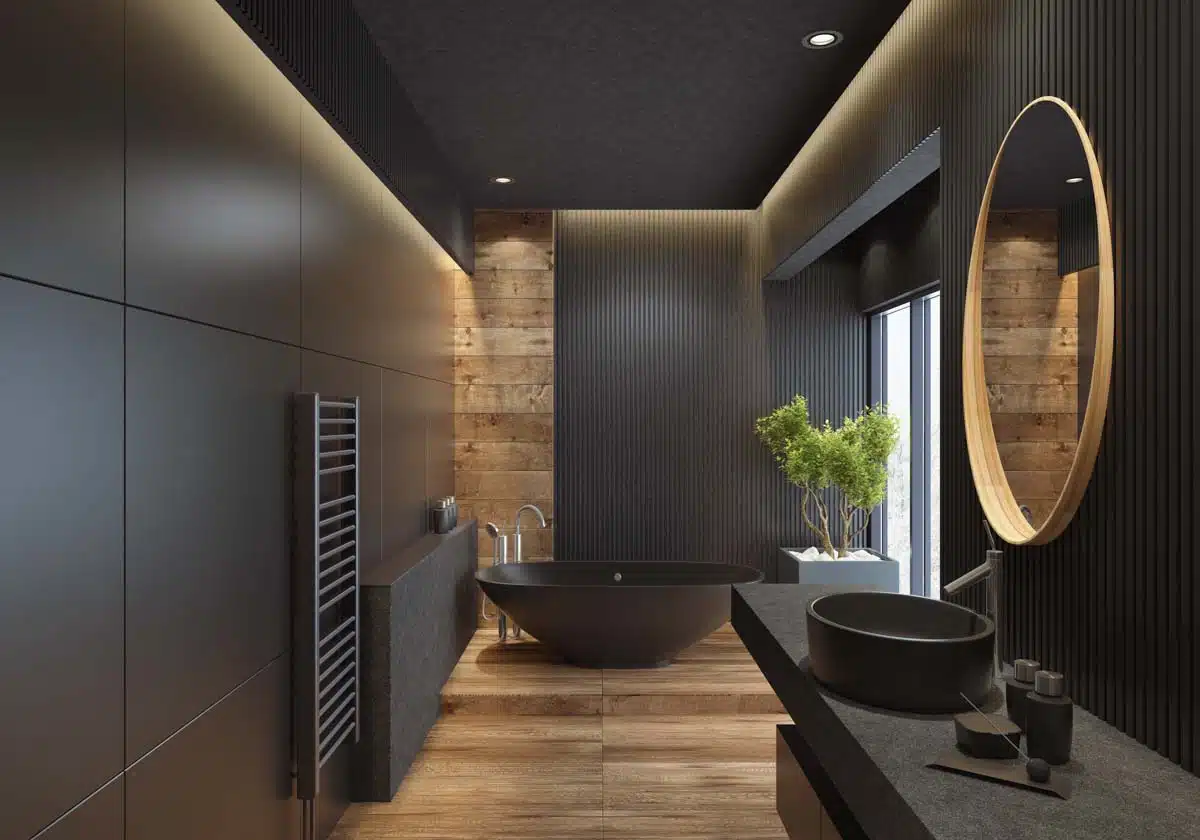 Aiming for a well-lit, aesthetically catchy interior home design. Rope lighting tray is the key. This modern crown molding alternative is very innovative and can help you transcend sole aesthetics. These elements are generally located along a tray ceiling, and the lighting surface produces a glowing ambiance.
Crown molding merely provides simple aesthetics and wall-to-ceiling protection, whereas rope lighting tray focuses on giving a luminous effect to the interiors that can adapt to a wide array of occasions and atmospheres.
This crown molding alternative may not be common, but it can serve both functional and ornamental purposes, which can ingeniously define the parameters of your ceiling.
Tile Or Stone Border
Interior designers opt for installing tile or stone borders, especially when they are assigned to work for homeowners living in mansions and ancient-themed houses.
These natural borders have the utmost capability of providing a very tactile and visually engaging aesthetic element on your walls and ceiling. Purely made out of tile or stone, these elegant borders totally redefine the boundaries of interior design and can transcend the simplicity of crown molding.
Tile or stone can offer textural opulence. The interplay of such natural, expensive materials incorporates a multi-sensory sensation that can impeccably add dimension and depth to your interior walls. Tile or stone borders are also a versatile option as they can seamlessly blend with a myriad of home design schemes.
Fabric Or Drapery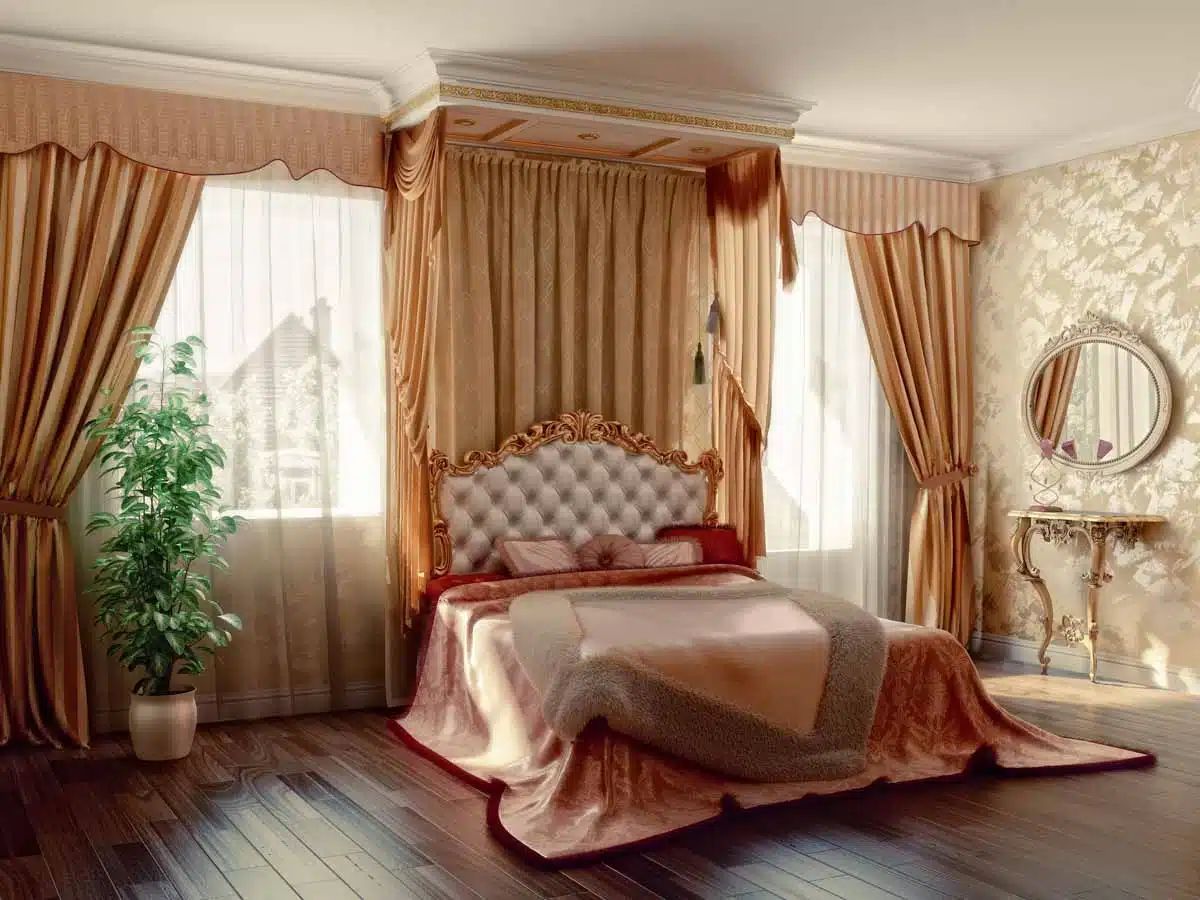 If comfort, luxury, and style is your ultimate goal, you may choose fabric or drapery as your crown molding alternative. These treatments can effectively frame your windows and walls.
In turn, they can help you create a very graceful transition that exudes that romantic ambiance. Fabric or draperies are also easy to attach to the walls, which is ideal for homeowners who are not a fan of hasslesome interior design projects.
Reclaimed Wood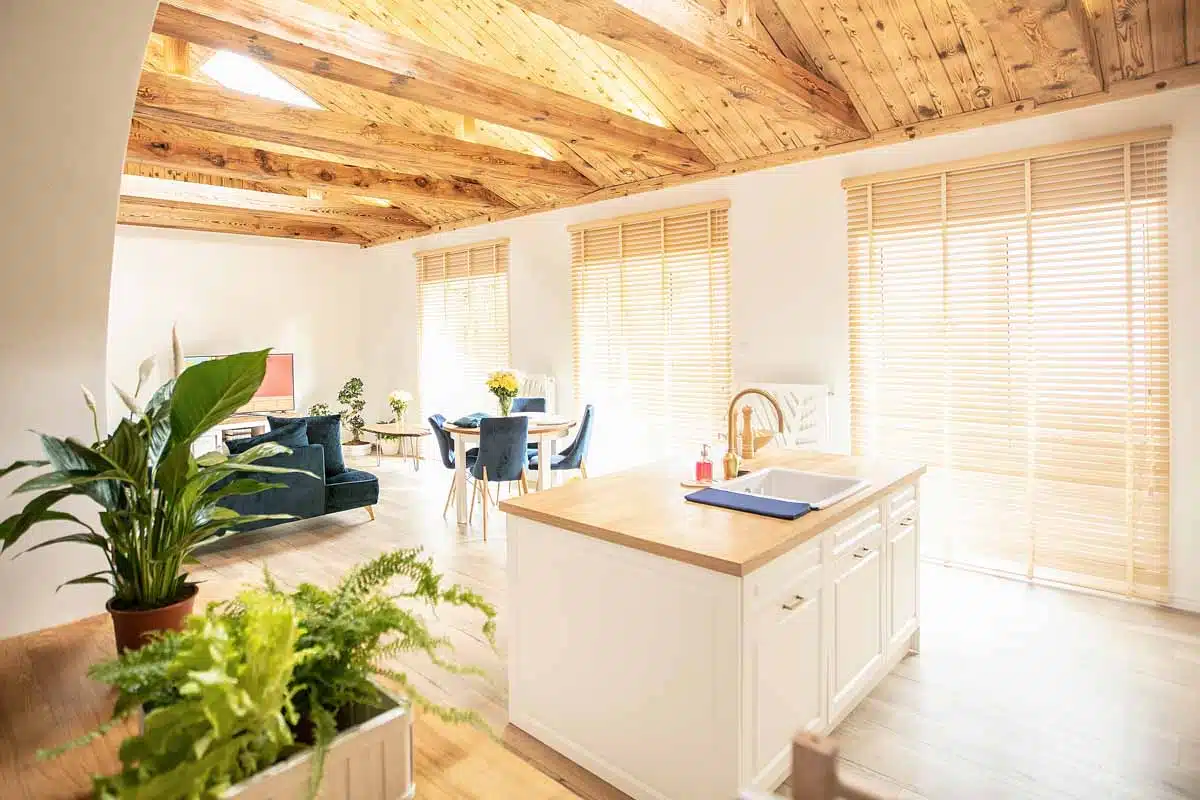 Revamping your interiors doesn't always have to be pricey – reclaimed wood, despite being low-cost, can still act as a character-rich alternative to regular crown molding. Reclaimed wood panels or boards are customarily salvaged from old houses or buildings. They evoke a sense of history, enriching your home interiors with an eco-friendly vibe.
Soffit Ceiling Feature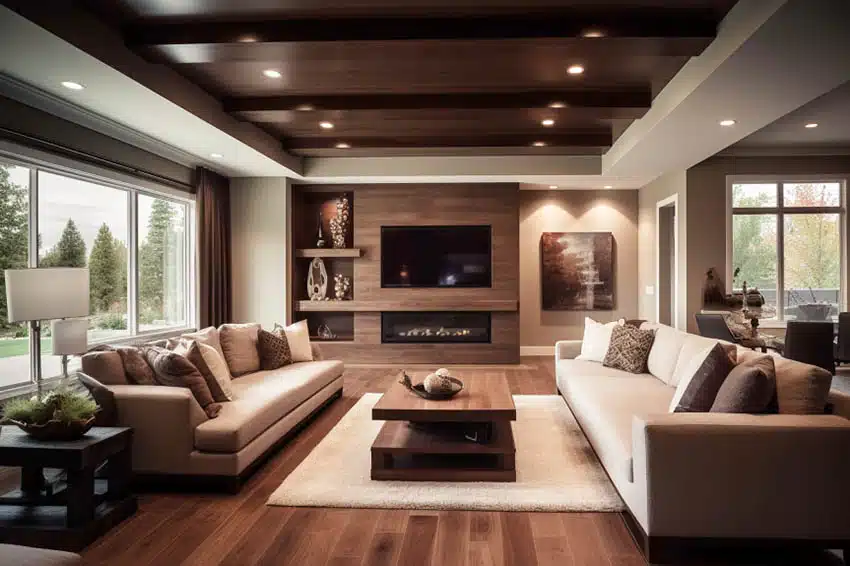 A soffit wall feature is similar to a second ceiling suspended at a lower height. These can be used to conceal pipes or ductwork or purely decorative to help realize an interior design style.
Some custom designs are used to highlight a specific area, such as an arched soffit over a window seat. In the kitchen, they are used for the space between the upper cabinets and the ceiling to fill in the space.
Soffits are generally constructed from drywall and are painted to match the rest of the walls or given a lighter color to help lighten the space.
Carved Or Scrolled Woodwork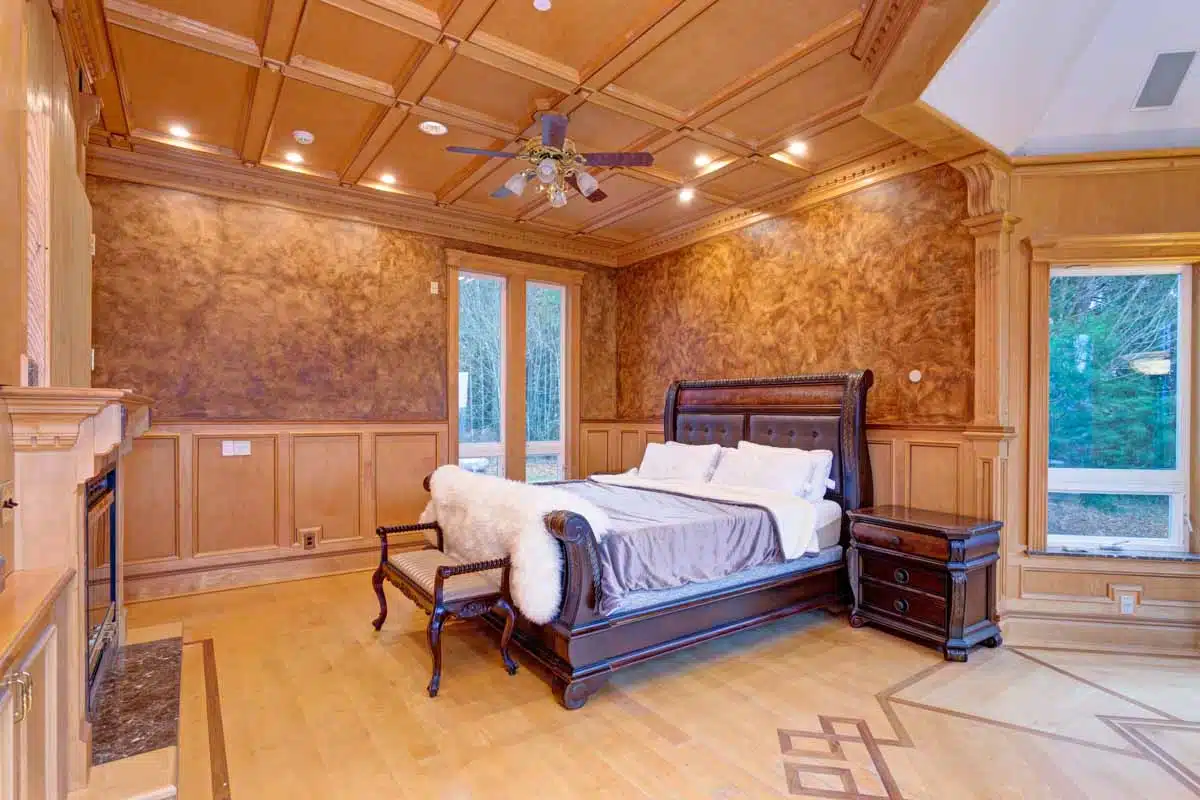 Carved or scrolled woodwork is the complete contrast of reclaimed wood – these crown molding alternatives act as a very intricate and ornate element that can fully elevate your wall-to-ceiling spots to a whole new level of elegance and authenticity. These interior elements are indeed crafted with thorough, artistic detail, and they normally serve as design masterpieces.
These one-of-a-kind crown molding alternatives capture the interest of traditional interior designers who love infusing the beauty of nature and art into homes. Carved frieze ornamentation or scrolled millwork definitely transcend the mere simplicity crown molding offers.
For an even more elegant and traditional design, you can add wood baseboard with matching trimwork. Tone down the intricacy of the design for a more modern look.
Pipe Or Conduit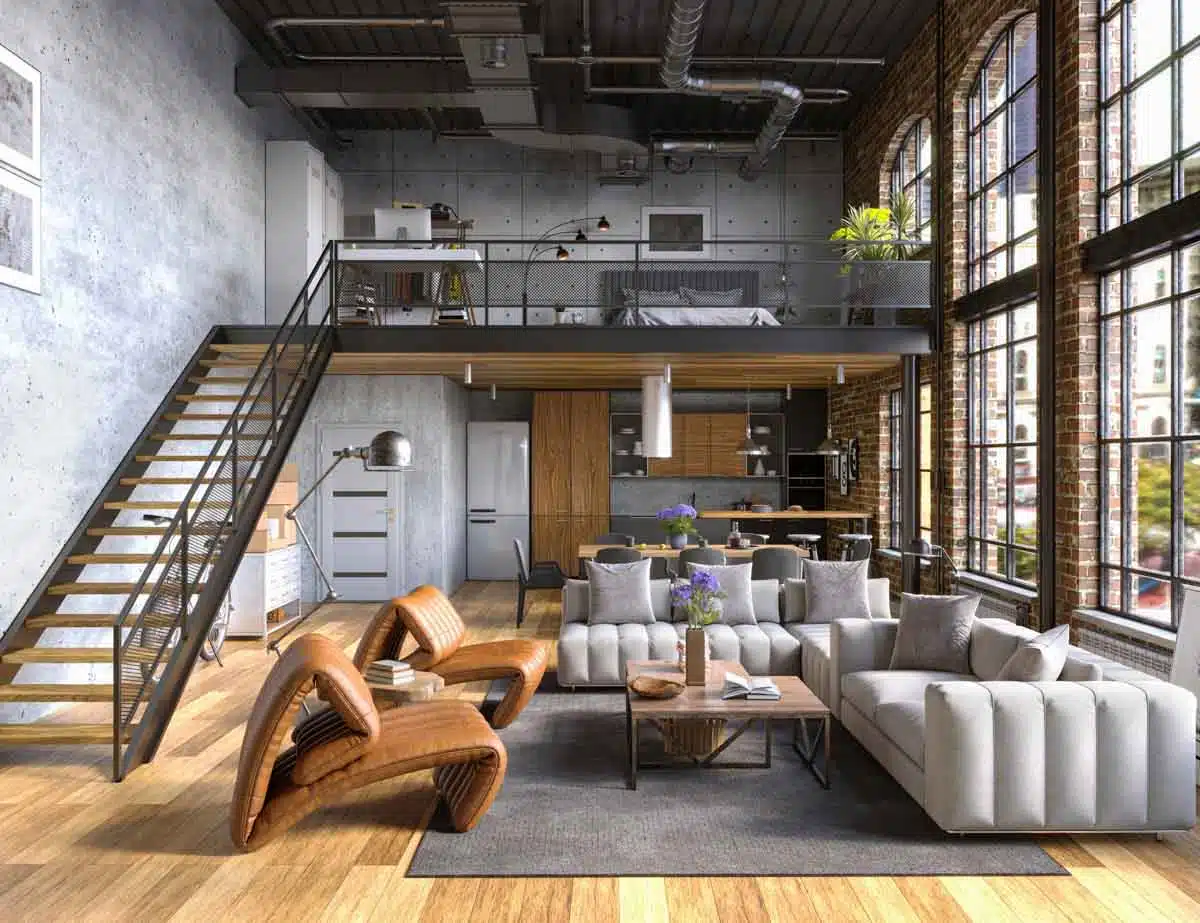 Are you surprised that pipes or conduits are on this list? Well, although uncommon, these wall decoration elements can pique the interest of those homeowners who are a fan of industrial design.
Pipe or conduit is an industrial-themed, metal-made crown molding alternative – it can be left exposed and then installed along the walls and ceilings to impart a contemporary and industrial theme that breaks the laws of minimalist, traditional, and nature-inspired design.
Mural Or Hand-Painted Designs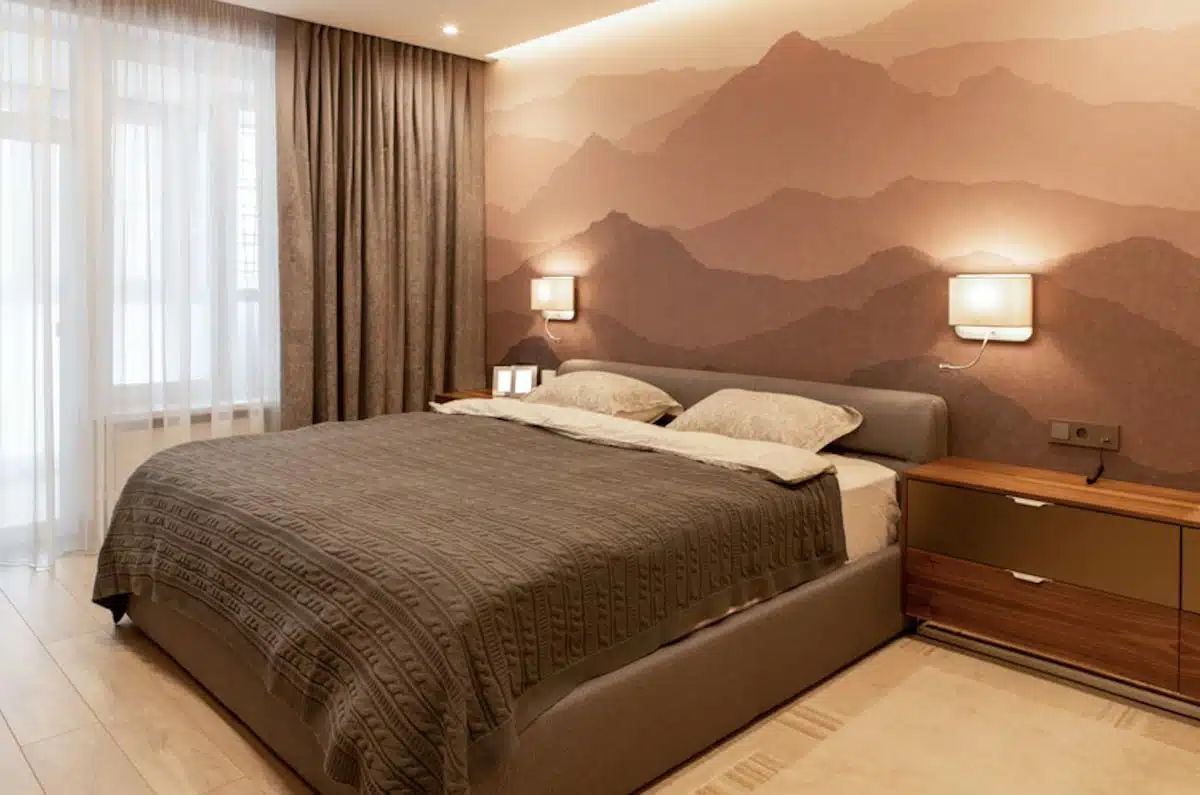 If complicated, catchy, and wow-factor-boosting wall-to-ceiling coverings are your best friend, no wonder mural or hand-painted designs would be your way to go. These design elements flawlessly grace your walls with eye-catching scenes that would instantly convert your walls into a focal point.
These murals or hand-painted designs boast that interesting story and showcase the impact of artistic expression. These crown molding alternatives allow the homeowners to express their personality, narratives, and interests into their living spaces.
Mirrored Or Reflective Borders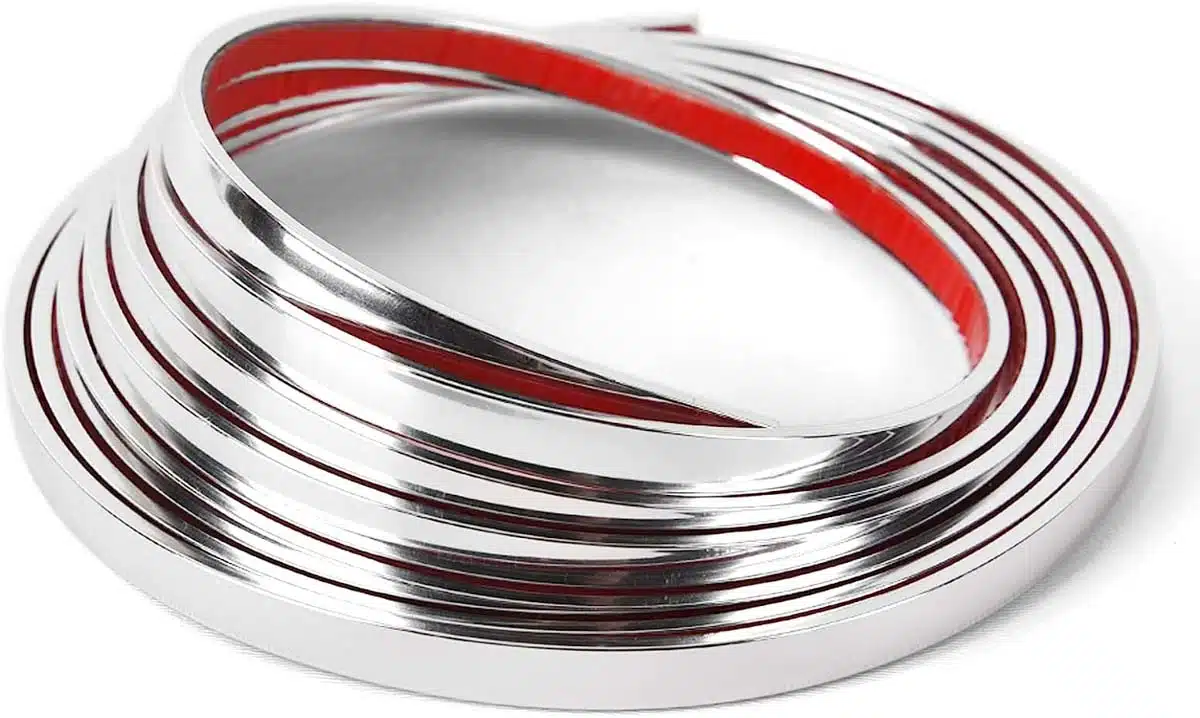 See this reflective trim set at Amazon [sponsored link]
Mirrored or reflective borders are perfect for small or light-insufficient houses – they add great depth, light, and an illusion of expansive space. This crown molding alternative can help multiply the illumination within your house and foster a sense of openness by using certain types of mirrors.
Pallet Wood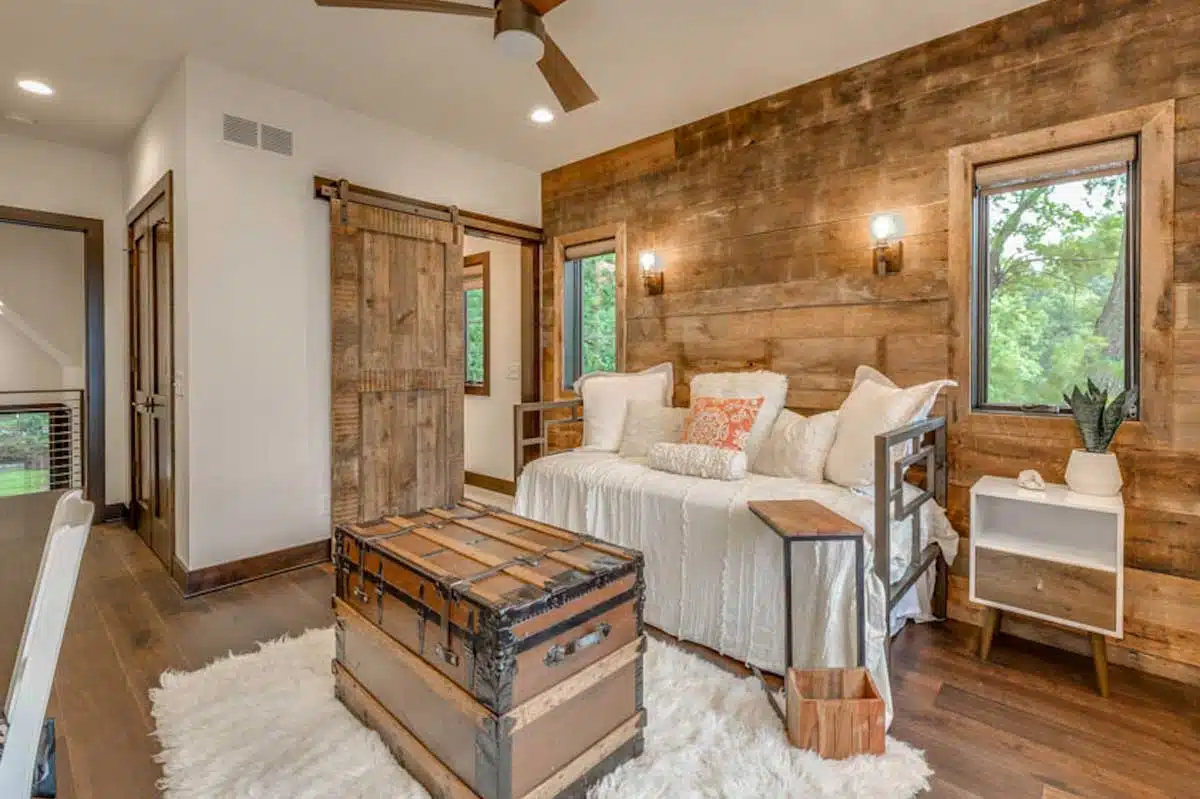 Lastly, for eco-conscious homeowners, installing pallet wood paneling on their walls near the ceiling may be a smart option – pallet wood is a rustic-style, sustainable element that can help you evoke a sense of authenticity.
Pallet wood panels or boards are usually salvaged from shipping pallets, and unlike the original crown molding that boasts simplicity, beauty, and neatness, pallet wood celebrates natural flaws. It boasts natural color patinas and aged patterns that produce a genuinely organic and lived-in allure.
Did you have any questions, or are there any DIY solutions we missed? Please share your favorite products or wall options in the comment section. See more related content in our article about crown molding sizes on this page.