These corner refrigerator placement ideas share what this appliance placement is, the pros and cons, layout tips, and how to integrate a cabinet to it. Corner refrigerators are best known for being great space savers, but aside from that they offer numerous practical benefits which make them a worthy investment for your home. The corner of a kitchen is perhaps one of the most uncommon places to put a refrigerator, but also has some unique advantages.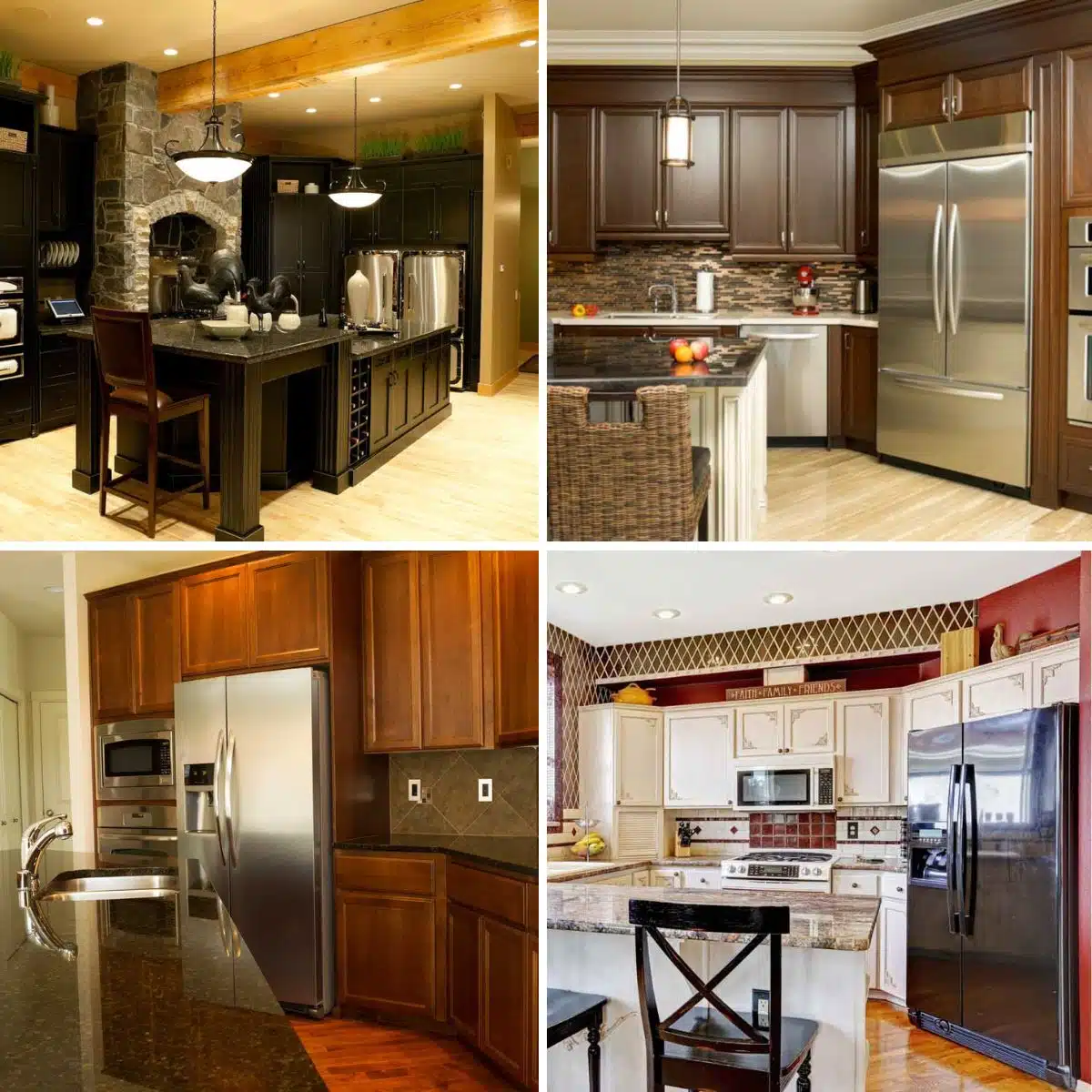 Below, we give you our very own guide on corner refrigerator placement, along with some of the best design tips from one of our in-house designers, Rachel Razal Padilla. Read along to get more design ideas on corner refrigerators.
What Is A Corner Refrigerator?
A corner refrigerator, as its name suggests, is a refrigerator that is designed to fit into a corner. It is also sometimes referred to as a diagonal refrigerator or a triangular refrigerator. These are actually quite rare to find and expensive to purchase.
More often a homeowner wants a corner refrigerator placement. This can be placing the appliance up against a wall corner next to the kitchen cabinets on one sie, or in the center of the room where two walls meet with cabinets on either side to create visual balance.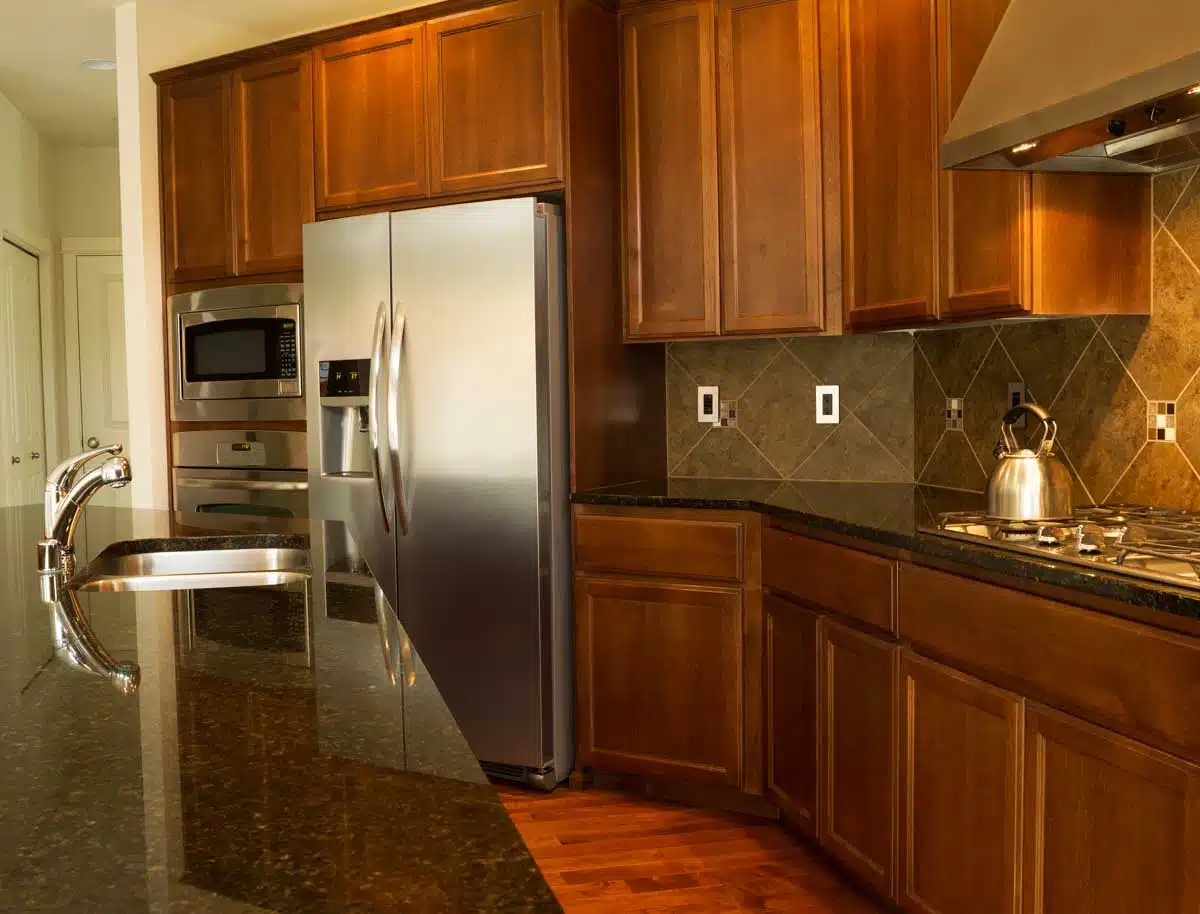 Below are some of the advantages and disadvantages of a corner refrigerator placement:
Pros and Cons of a Corner Placement for Refrigerators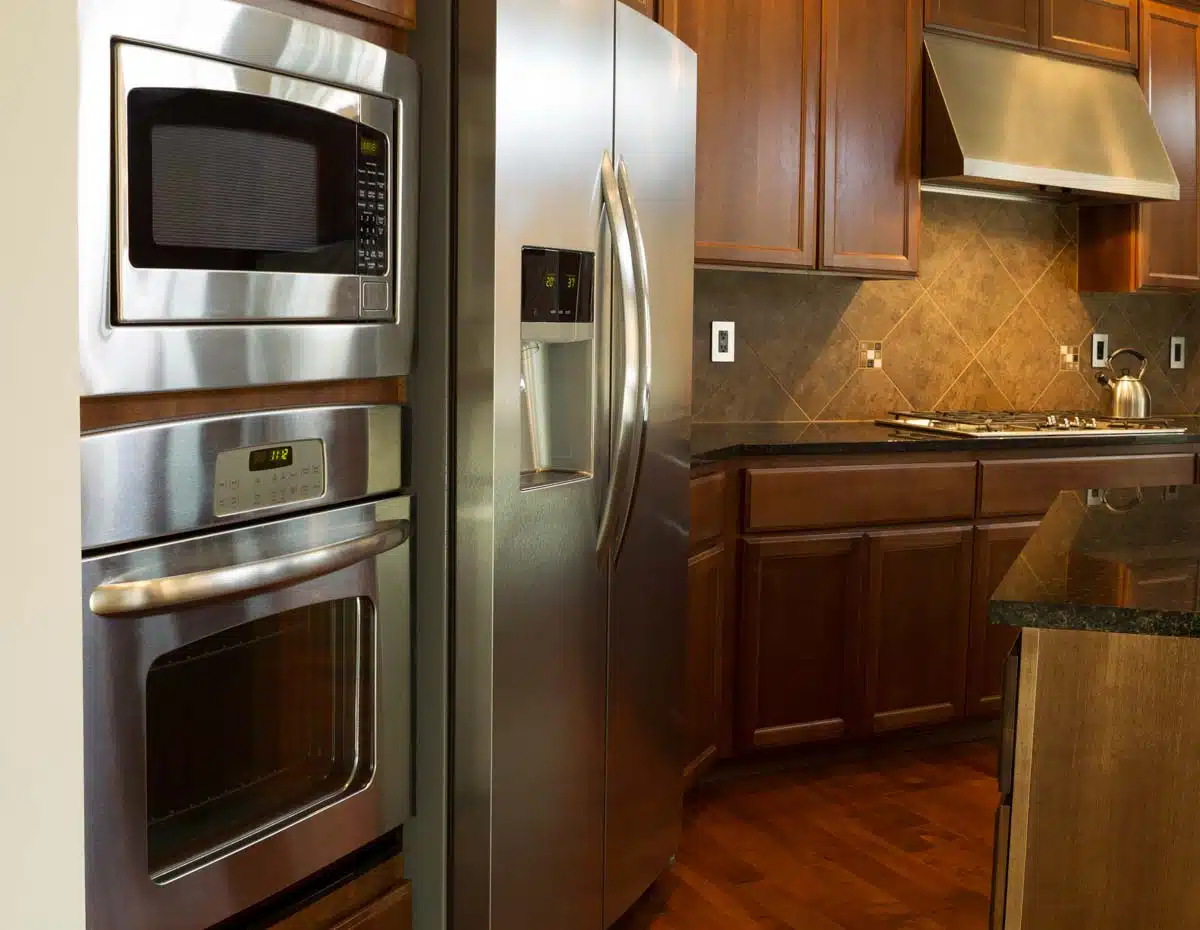 Pros:
• Great space saver: A corner refrigerator allows you to take advantage of awkward corners in a kitchen. It is a space saving option, making it an ideal choice for small kitchen layout dimensions.
• Can Choose a Larger Fridge: An exact corner placement may allow you to choose a traditional depth refrigerator over a counter depth appliance. The downside is that the cabinets on either side may be obstructed and doors and drawers may have compatibility issues.
• Unique Design: Corner refrigerators offer a more unconventional look compared to regular refrigerators. Its design is more sleek and modern, giving your kitchen a unique stylish element.
• Offers more storage: Most corner refrigerators are larger than standard refrigerators, thus they offer more storage. The designs typically have more shelves and enhanced storage systems.
• Can be customized: Most corner refrigerators can be customized according to your requirements and needs. You can match them with your kitchen's existing decor and design. And since they are also paired with custom cabinetry and cabinet hardware, the resulting look is more seamless.
• Ergonomic design: The unique design of a corner refrigerator allows you to access the fridge contents without fully extending your arm, thus it is easier on your arms and back.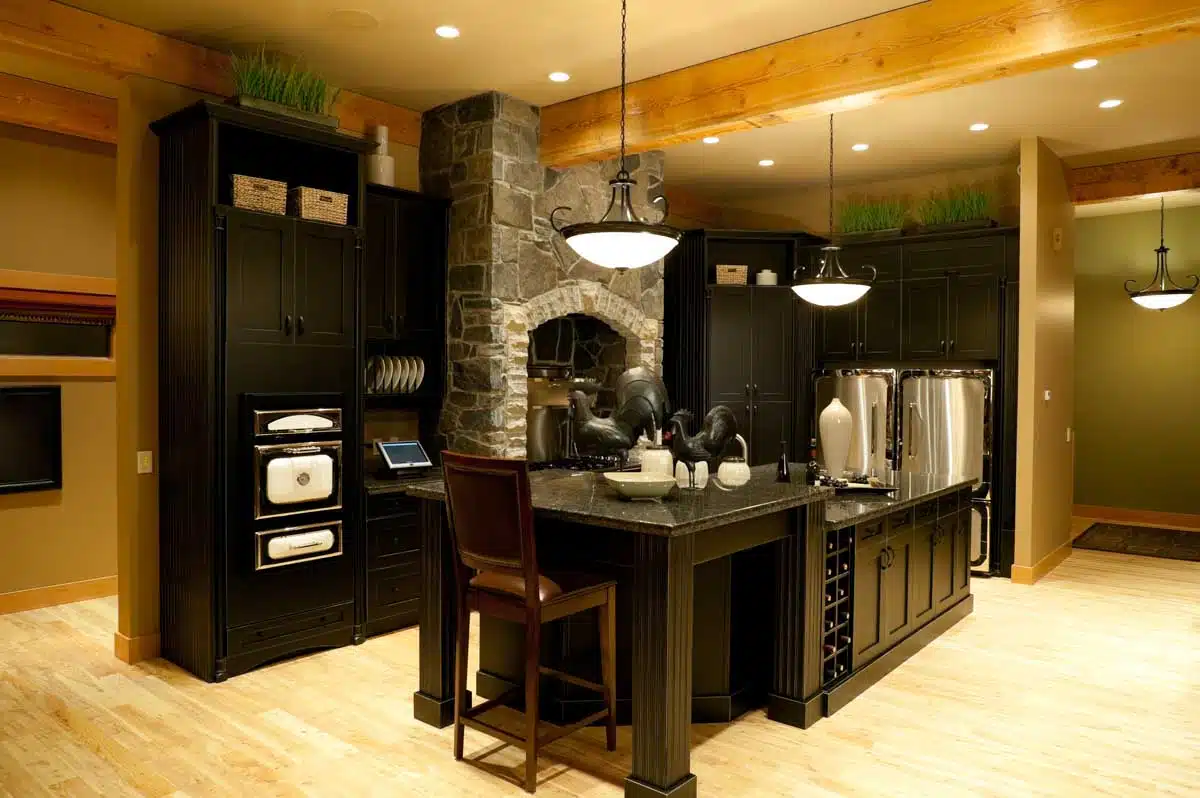 Cons:
• Expense: Corner refrigerators are more expensive than standard refrigerators. Because of their unique design, services and repair can also be quite costly to the budget.
• More challenging to install: Corner refrigerators are more challenging to install and typically need custom cabinetry for a perfect fit.
• Limited door swing: A corner install may pose difficulties with door configurations and openings when it comes to both the kitchen appliance and the cabinet doors. For instance, the oven may not open at the same time as the fridge or vice versa.
• Crisper bins and drawers may not open all the way: With some limitations on door extensions, one may find limited accessibility to the interior of the refrigerator.
Corner Style Refrigerator Layout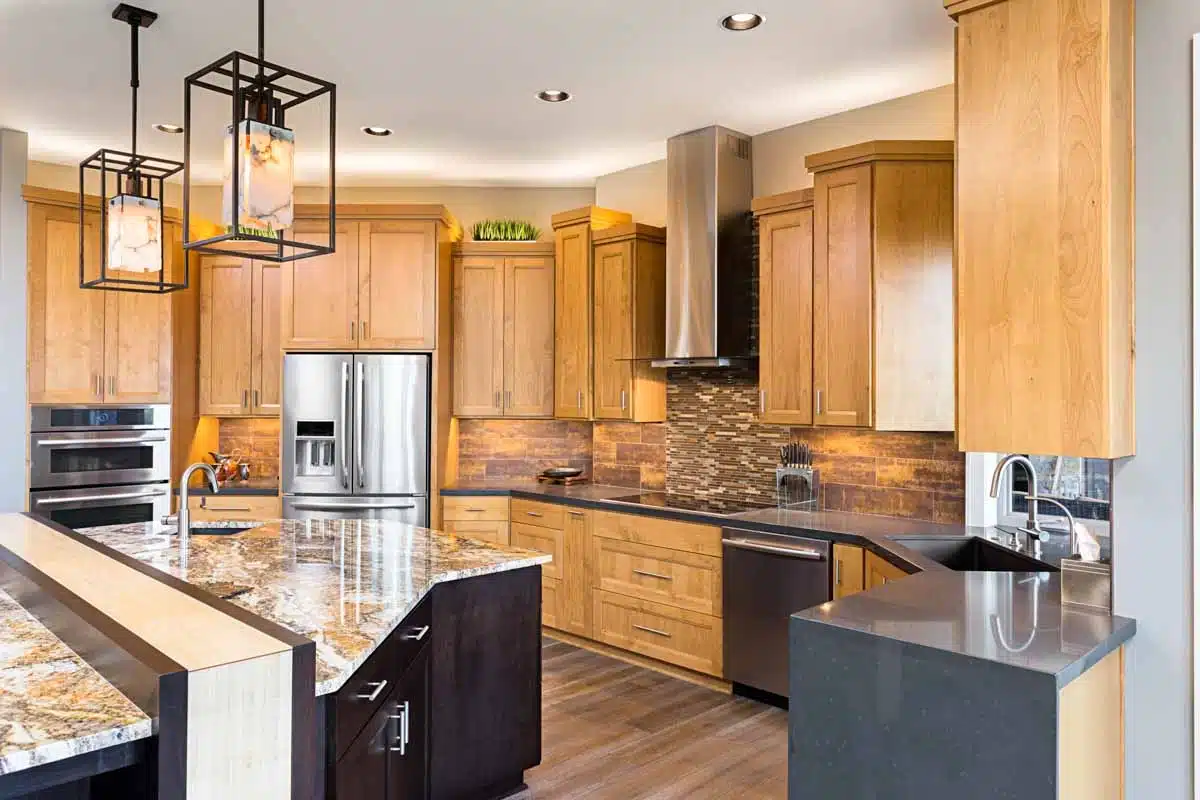 As a general rule, the placement of your corner refrigerator should allow an efficient work flow. It should follow the kitchen "working triangle" — a lay-out which consists of the three main workstations namely the range, sink and refrigerator.
Refrigerators, which form the third part of the kitchen triangle and are therefore frequently used, are more comfortable when positioned at waist-height in a tall unit if space will allow. – Architect's Pocket Book of Kitchen Design, Charlotte Baden-Powell
Some other design considerations that need to be followed in deciding on your refrigerator's placement is an unobstructed traffic flow in the space, a clear line of sight and the proximity of the workstations. Your corner refrigerator must also be well ventilated, accessible and close to a convenience outlet.
Refrigerators are typically placed in a corner so it does not get in the way when there are multiple users in the kitchen. Even if the door of your corner refrigerator is opened, it will not affect the traffic flow in the space — you can easily grab what you need then transfer to the prep or cooking stations.
Here are some of the corner refrigerator layouts our in-house interior designer recommends for different types of kitchens:
• L-shaped layout: For an L – shaped kitchen layout, you can set the refrigerator diagonally in the corner, put the sink on one side of the "L" shaped counter and then place the range on the perpendicular side. In this way, you still follow the kitchen working triangle.
• L-shaped lay-out with island: If you have a kitchen island, you can follow the placement we recommended above and keep the island open so you can utilize it as a preparation counter. Another option is to place the sink in the island, the range on one side of the L shaped counters, while keeping the refrigerator in the corner.
• U-shaped layout: U-shaped layouts allow for more counter space and are great for spacing out your corner refrigerator, range and sink. If you have this type of kitchen, you can set your refrigerator diagonally in the corner and place your sink and range on any of the sides provided that they still follow the working triangle.
If you're planning a kitchen remodel with appliances it's a good idea to get the exact measurements of each product. then create cardboard cutouts of the sizes and place them on the kitchen floor exactly where you want them to help visualize the layout and determine if there is adequate spacing for your needs.
Corner Cabinet for Refrigerator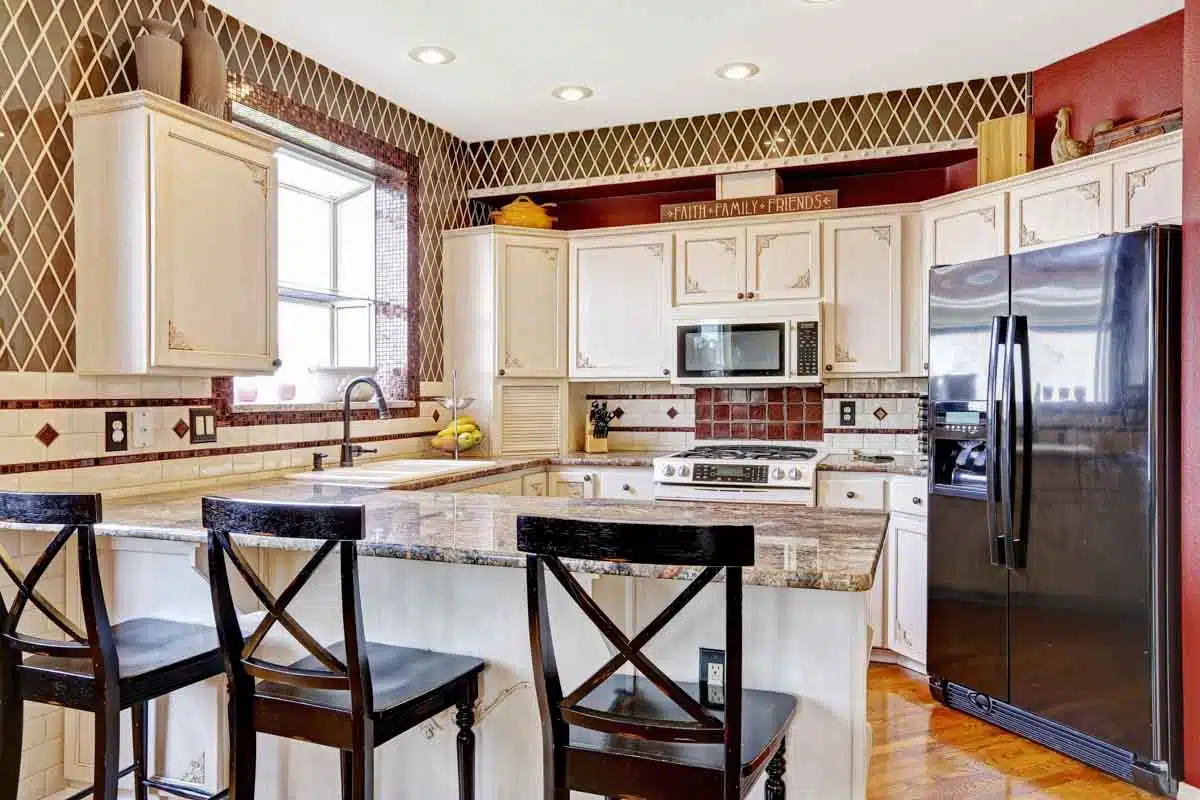 If you plan on integrating a corner refrigerator into your kitchen storage system, custom cabinetry is your only choice. Custom made cabinets will ensure that your corner refrigerator fits seamlessly into the space, while utilizing the space around it for additional storage.
Often, a corner refrigerator is incorporated with custom overhead cabinets which you can use to store a variety of items — from dry ingredients to different types of plates. However, if you want to keep the plan open, you can opt for open shelving instead of cabinets with doors. Another option is to put a custom made wine rack on top of your corner refrigerator.
Ultimately, the design will rely on your personal needs and preferences. The only thing that you need to consider when choosing your corner refrigerator cabinet is the standard clearances. There should be enough space between the top of the refrigerator and the overhead cabinet to allow for proper airflow and ventilation.
The standard clearance for both sides of the corner refrigerator to the cabinets on its sides should be one half inch to one inch. For the rear clearance, make sure that there is around one to two inches of space between the wall and the corner refrigerator.
While for the top clearance, there must be at least one half inch to one inch of clear space between the top of the refrigerator and the overhead cabinets.
Caddy Corner Refrigerator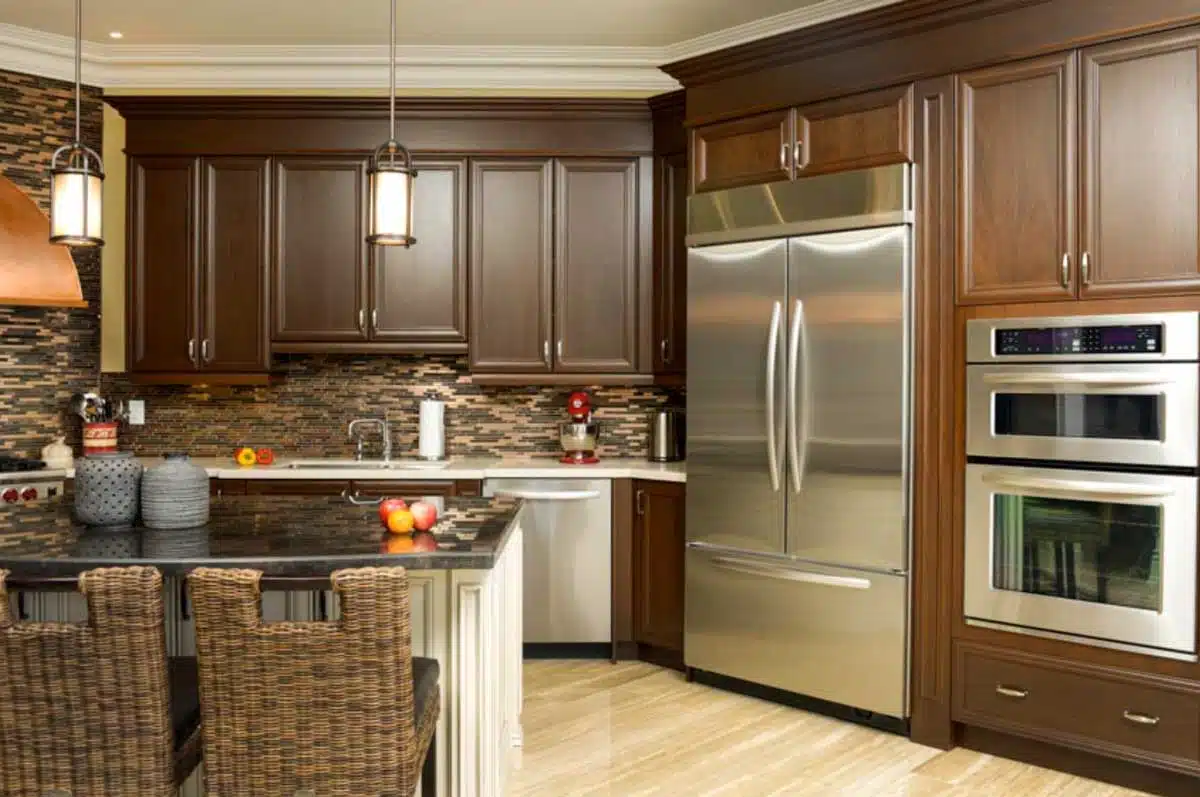 Although there are refrigerator models specifically made for corners, you can also use a standard refrigerator model and place it in a caddy corner position. Also sometimes referred to as a kitty corner placement, the caddy corner position refers to placing a refrigerator diagonally in a corner.
Depending on the size of your kitchen, both single door, side by side or double door refrigerators can be used in a caddy corner placement. Just remember to follow all recommended standard clearances between the refrigerator and the wall or built in cabinet to ensure good ventilation.
Placing a refrigerator in a caddy corner position works for both small and large spaces. Similar to a corner refrigerator, placing a standard refrigerator diagonally will help maximize any awkward corner in your kitchen.
Storage Racks for Refrigerators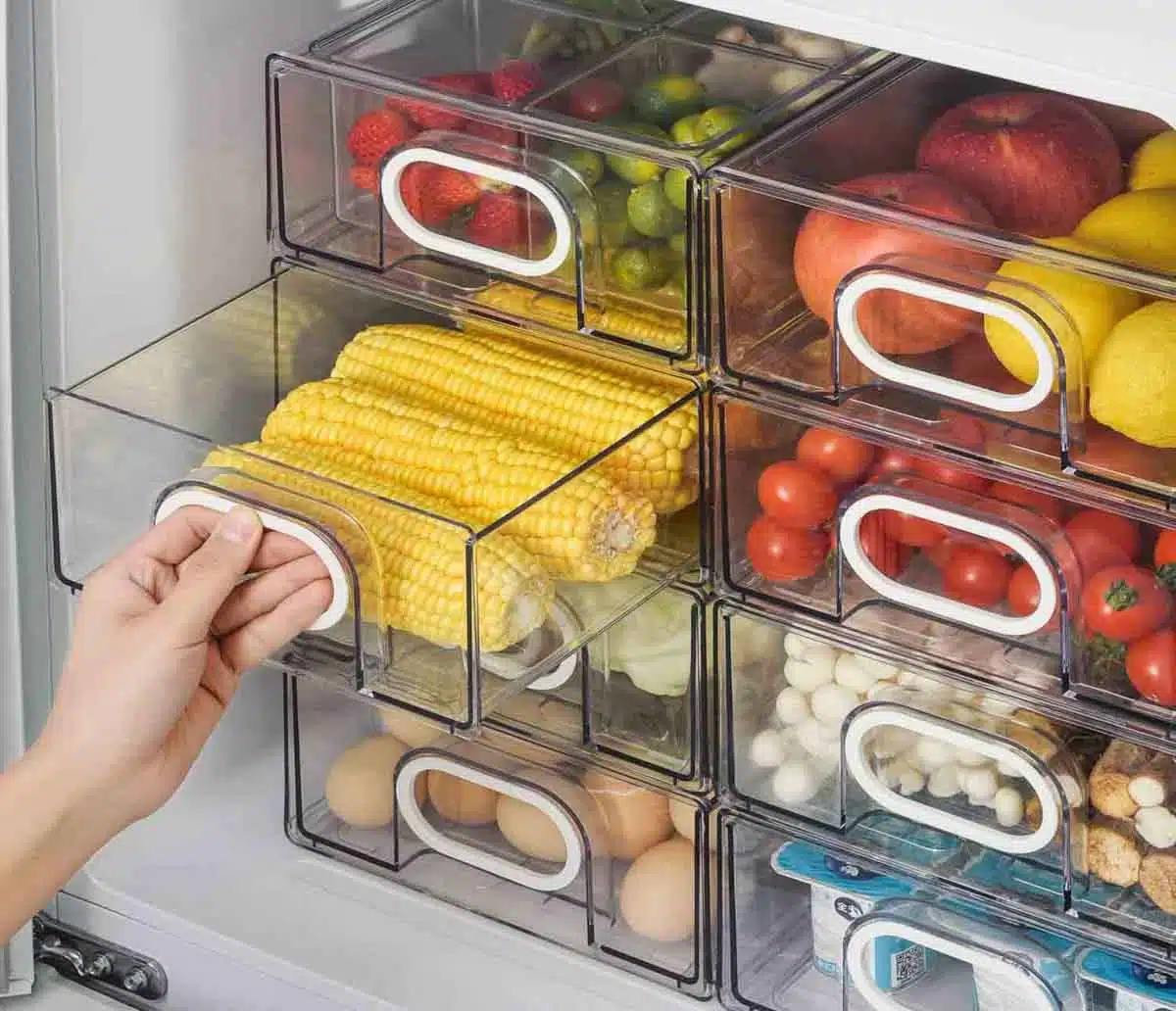 See this storage container set for refrigerators at Amazon [sponsored link]
There also options for built-in storage cabinets which are specifically made for corner refrigerators. However, the regular organizers for standard refrigerators can be used inside these special models.
Storage racks help organize the contents of your corner refrigerator while helping maximize the space. It lessens the need to dig over your fridge contents and keeps everything visible and accessible. Not only is it practical, a corner fridge with storage racks is also aesthetically pleasing and oddly satisfying to look at.
Acrylic organizers and caddies for ref essentials and other fridge staples can be readily purchased online and in home stores. You can find bins that are specifically made for bottles, canned beverages and fresh produce.
When choosing the right compartments for your corner refrigerator, opt for acrylic containers because they are lightweight yet very durable, easy to clean and offer a lot of visibility.
Also, look for designs that have adjustable dividers and compartments so you can easily modify it according to your needs. Some racks, like those from YouCopia, are equipped with wheels which allow you to slide them out easier than grabbing out at the back of the fridge.
If you need containers, make sure that they have airtight lids so your goods are kept fresh and secure.
See more related content in our article about refrigerator dimensions on this page.