Find the answers to what color cabinets go with black granite countertops with popular kitchen paint colors to use such as, white, gray, wood, black and design options.

Nothing quite sparks the imagination in the kitchen like sleek and chic looking black granite countertops. They're ubiquitous in home design magazines, TV shows, and even in showrooms all over the country.
However, this is still a daunting choice to take on for most homeowners because it seems too bold and you seem to have either limited options or overwhelming ones but never the right or perfect one to go along with it.
Still, black granite countertops are a force to be reckoned with in the kitchen and there really is no reason for you to be afraid of them. We've done the hard work for you. Read on below to find out what the popular color combinations for cabinets go well with black granite countertops.
The rule of thumb is for you to know what your main preferences are and ultimately take it from there. Here are some of the most popular cabinet color choices and why they work well with black granite countertops.
Quicklook: What Color Cabinets Go With Black Granite
White
Cream
Gray
Beige
Brown
Wood
Black
White Kitchen Cabinets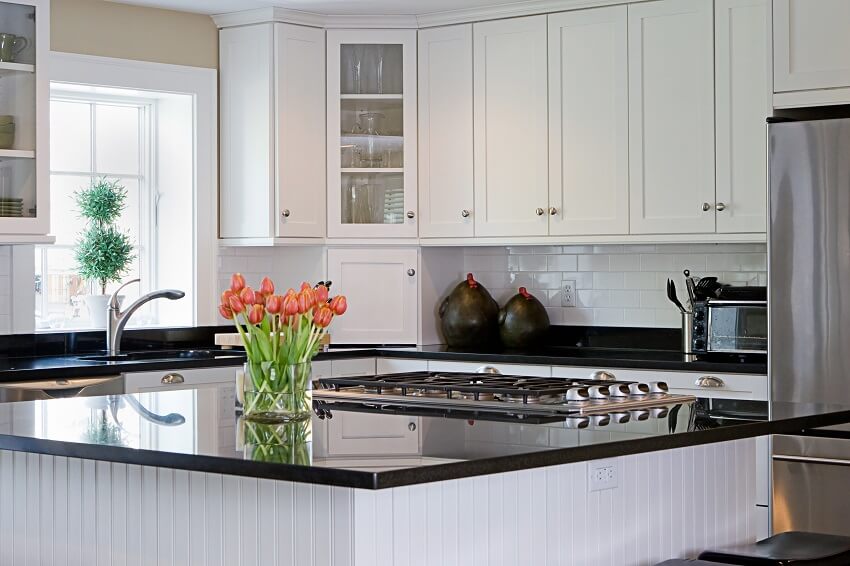 White is classic and timeless and it really comes as no surprise why it's at the top of the list for the perfect color for your cabinets to pair with a black granite countertop.
The colors are direct contrasts to each other, which can give your kitchen aesthetics that extra oomph and eye-catching appeal. They are still cohesive though, as this color combination is a strong play on minimalism and sleekness and no other color combination can quite achieve.
This is also bound to really make your black granite countertops the focal point of the kitchen design while your functional white kitchen cabinets sort of blend in with the background. Pair this with clean lines and nickel hardware and you're in for quite a treat.
Cream Kitchen Cabinets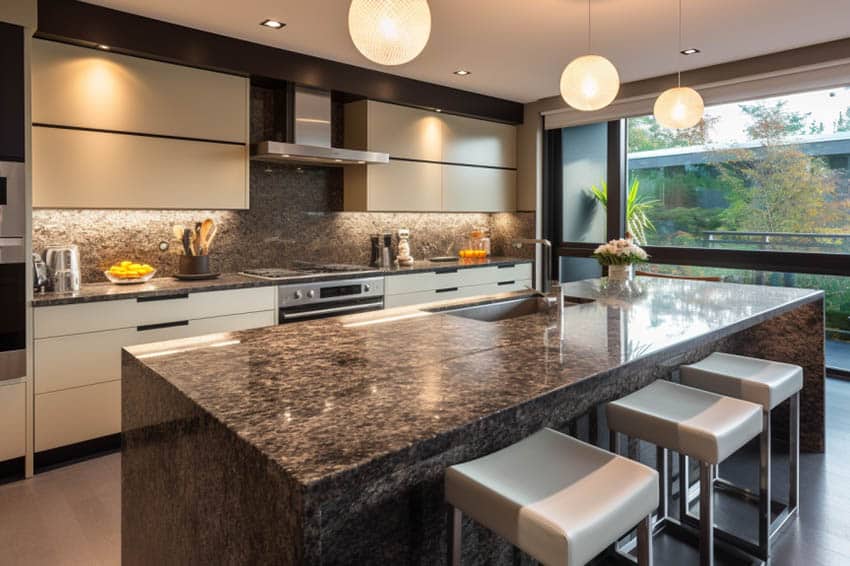 Cream has always been an attractive and convenient neutral especially when there are pops of strong color like black to deal with and it's no different when matching with dark countertops.
This is a particularly great color if the design aesthetic you're aiming for in the kitchen is kind of rustic or in the modern farmhouse vibes. See more farmhouse kitchen ideas here.
Pair cream kitchen cabinets with brick walls or something in a similar color wheel such as dark browns and you'll have a kitchen that's cozy and inviting, making you want to just sit down for a nice cup of coffee on a relaxing Sunday morning.
Gray Kitchen Cabinets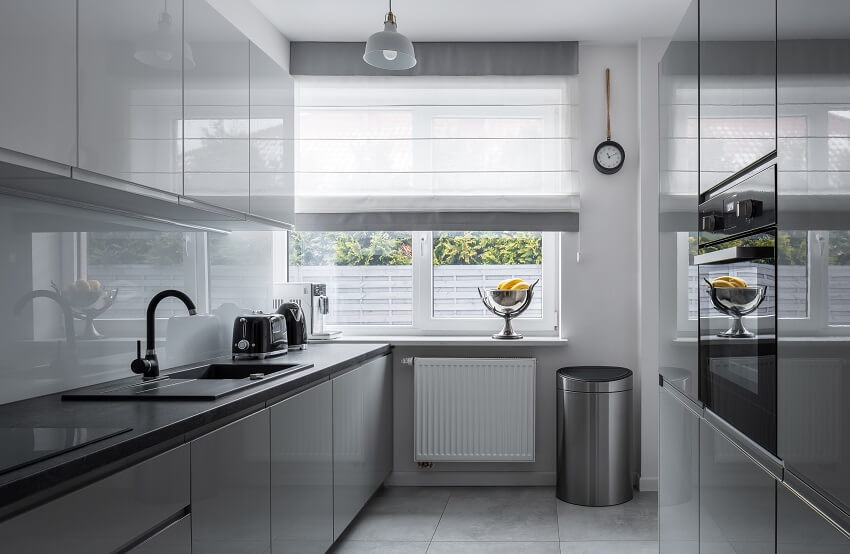 If you want to go for something modern for your cabinet walls but at the same time still kind of make your black granite countertop the star of the show, then gray kitchen cabinets should be your go-to.
If you're working with a particularly small kitchen, an extremely neutral color like white paired with a black kitchen countertop could make the design feel daunting and overwhelming.
A great way to soften the transition would be to use gray kitchen cabinets as an in-between color. This will create a look that's classic but also modern at the same time.
If you want a little bit of edge in your kitchen design but aren't quite that committed to go for something overly bold, gray kitchen cabinets paired with black granite kitchen countertops can turn out to be the perfect fit for you.
Brown Kitchen Cabinets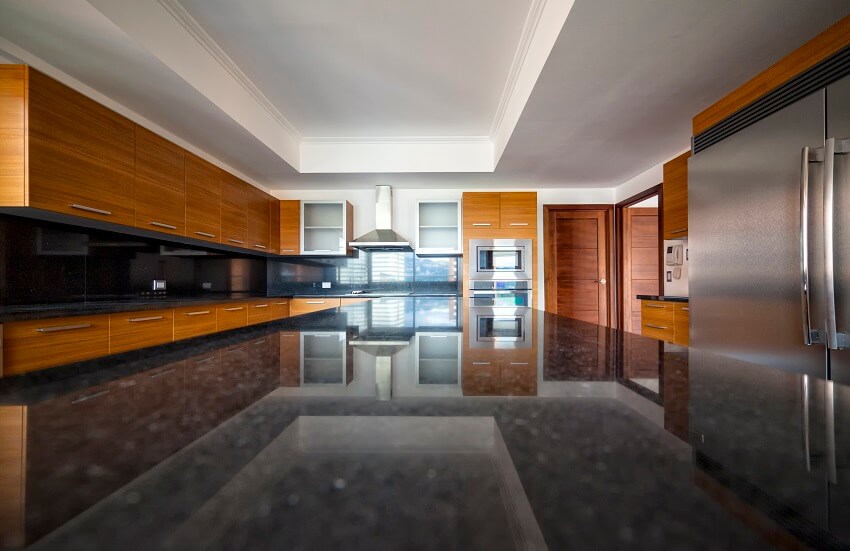 If you fancy the starkness of a black kitchen countertop but you're a little worried about how cold and harsh it might end up looking like, brown kitchen cabinets can solve the problem for you.
It's a simple and convenient way to create that transitional warmth in the kitchen which is an underrated requirement for a space that's so frequently visited and used in the home.
Brown cabinets with a black countertop in the kitchen can also create that rustic and masculine vibe that feels natural yet warm at the same time. Read more about kitchen colors with brown cabinets here.

Wood Kitchen Cabinets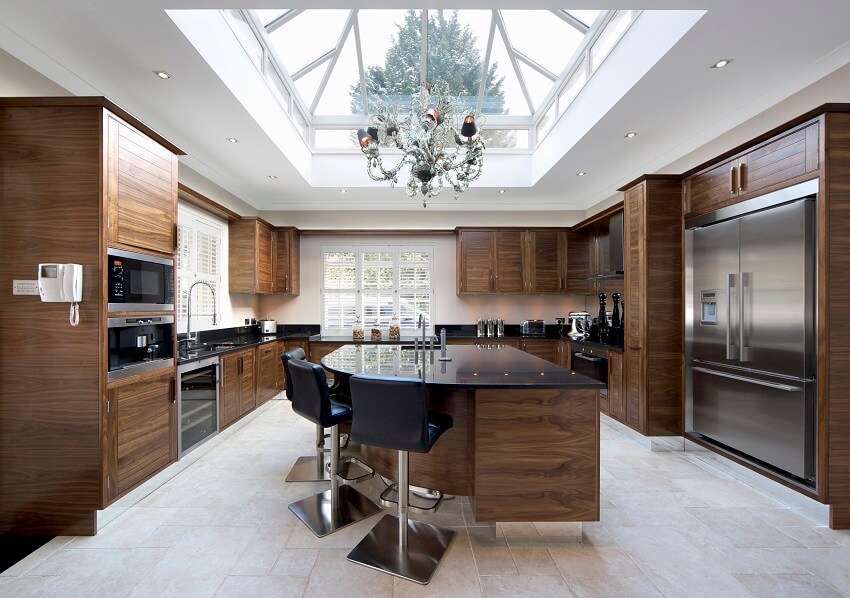 Black kitchen countertops have a magical way of working extremely well with wood accents so it comes as no surprise if you should naturally transition over to stained wood cabinets.
The thing with stained wood is that it works with relatively anything and everything but paired with black, it just brings it to a whole other level. Stained wood brings in a mid-century old world charm that no other cabinet color can quite bring to the table.
If you're all about bringing in that charm and nostalgia to the kitchen, then you should definitely pair your black countertop with stained wood cabinets.
You can go dark if you want something heavier and moodier, just pair it with neutral walls. You can also go lighter with the wood stain if you want something more cheerful in the kitchen. Read more about paint vs stained kitchen cabinets on this page.

Black Kitchen Cabinets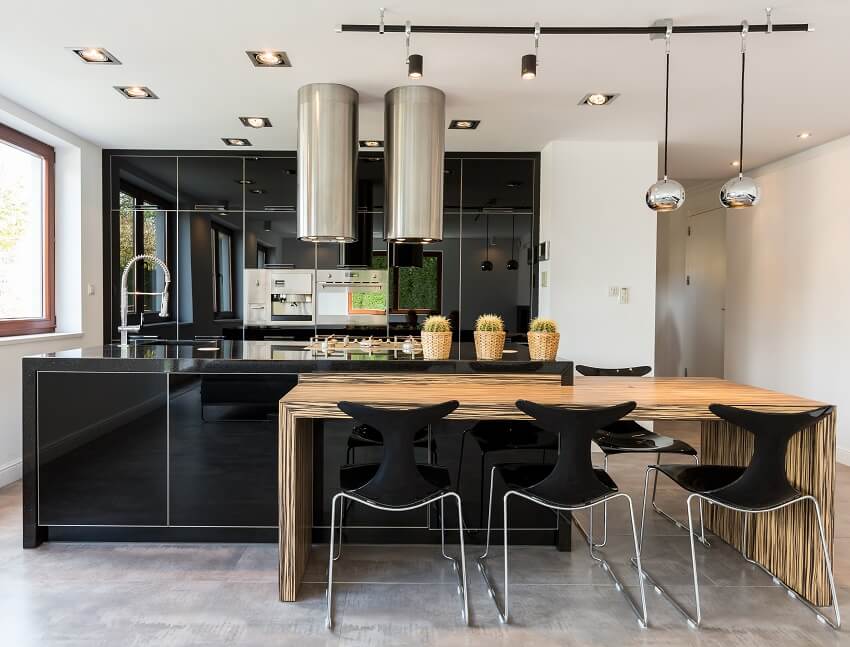 If you're quite fond of black on black, it's definitely possible for you to pair a black kitchen countertop with black kitchen cabinets.
A word of caution though, the "wrong" black countertop could end up disappearing in this combination. Make sure that you have a patterned black granite countertop instead to break up the monotony if you're planning on going for black kitchen cabinets as well.
However, if you're all about monochromatic designs and you want to go all black both for your countertop and kitchen cabinets, bring in a pop of color.
Go for bright color schemes for your walls and backsplashes. A stark contrast in the walls and backsplashes will make your countertop and cabinets stand out, banking on the racy look of black. See our gallery of the types of kitchen backsplash for more material ideas.

Best Cabinet Color With Black Granite
Although all of the colors above go well with dark colors, the top designer choices for cabinet colors to be paired with black granite would have to be in neutrals.
Beiges, whites, greiges (grey-beige), and other more neutral and lighter colored cabinetry are the go-to standard when it comes to thinking of color matches with a black granite countertop.
They can work amazingly well in a traditional kitchen space but depending on the elements that you bring in along with them, you can easily transform them into something more modern and chic as well.
Black can be paired with practically any design style and color which makes it an extremely versatile choice for interior designs – interior designer, Giezl Clyde Ilustre
Are Black Counters In Style?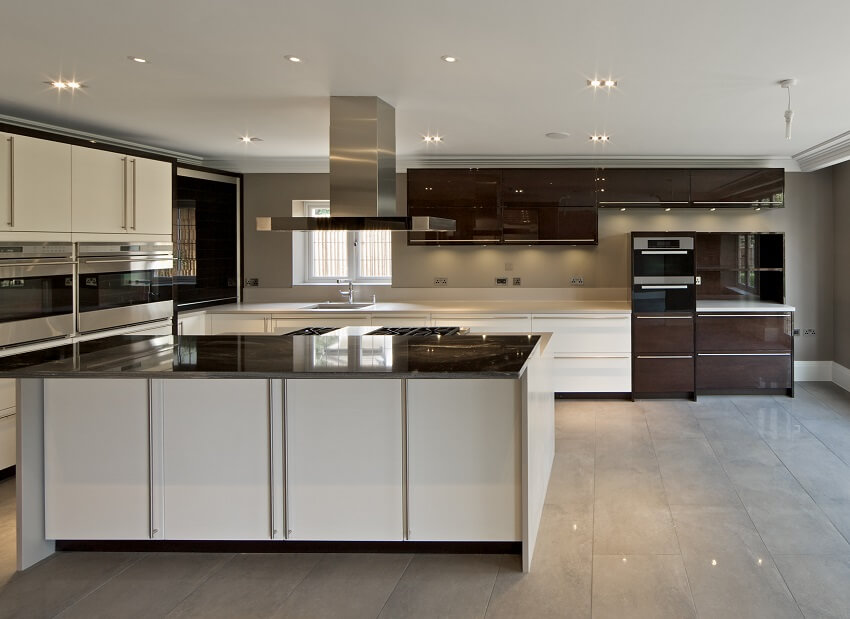 Black countertops are most definitely in style right now especially because we're now leaning towards designs with high contrast and minimalism.
Black provides a high contrast look that's just impossible to achieve with any other softer granite colors, but they're also easily transformable into something softer and more classic by changing up a few elements in the kitchen.
Understandably, softer colors are also graining traction in the interior decorating world but that's what's interesting with interior design because at the end of the day, any kind of look is possible by just mixing and matching them up.
Black counters are an easy go-to for homeowners who would want something interesting and sleek in the kitchen. They can do it without really going overboard with things because they can easily tone the look down by pairing the black countertop with softer colors.
Choosing lighter color appliances, shades of paint, fabrics, and reflective glass surfaces are a few of the ways to brighten the space.

Is Black Granite Dated?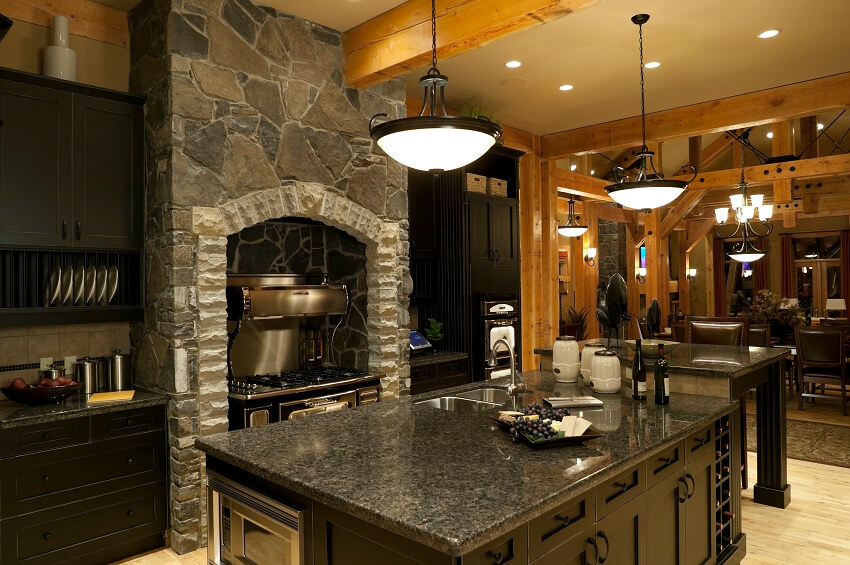 To answer this question directly, we honestly don't think black granite was ever out of fashion nor will it be in the coming years. This is mainly because of the fact that black granite can be used in a wide variety of innovative ways.
It brings in a design advantage that no other color can. And on top of that, it also ensures that you still get to continue to reap the benefits of natural stone and all of the rustic charm and character that comes along with it.
Granite is also one of the most durable materials out there for kitchen countertops so in a matter of speaking, you can never really go wrong with it at the end of the day.
This is the strength and advantage that comes along with natural materials. They never really go out of style. This is similar to wood, plants, and other naturally occurring materials.
Most of the patterns in black granite were formed way before kitchen designing was a thing. Granite is a geologic occurrence in nature. There's a certain appeal towards bringing that into the home and seeing it decorate your kitchen.
Are Black Counters Hard To Keep Clean?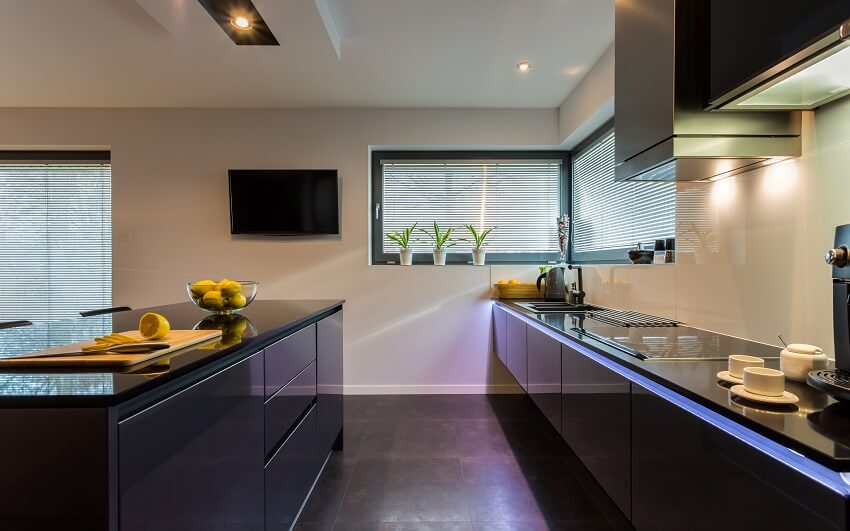 In essence, cleaning granite countertops is quite similar to cleaning just about any other countertop material. You use a nice basic cleaner and a rag to wipe it down, and perhaps another dry rag to clean it up even more to get rid of the water stains from the initial cleaning, just like any other countertop.
There is however, the slight downside of dirt, debris, and dust being more visible on black surfaces compared to the other countertop materials out there. But then again, would you really want to hide the dirt in your countertop?
Keep in mind this is a space where you do your food prep. So if there happens to be any amount of dirt, no matter how miniscule, you would want to see it and clean it up right away so it really shouldn't be that much of a downside. It's easy to clean something up when you can spot it right away and black countertops do just that.
Does Black Granite Show Fingerprints?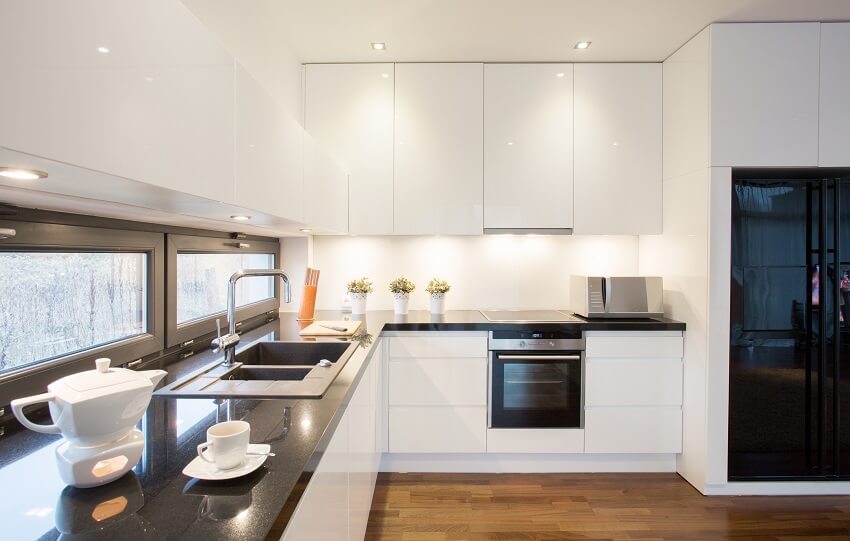 Yes, it will. Natural or artificial light (any kind of light, really) that's shone directly on black granite is always bound to show fingerprints.
It will be even more so if the black granite has either a polished or honed surface. It's really kind of unavoidable. Dark surfaces serve as magnets for fingerprints.
Fingers are oily and sweaty by design and although we very rarely feel this, this really is the case. Dust also plays a huge role in this. The dustier the surface is, the more visible the fingerprints will be.
Does Black Granite Show Water Stains?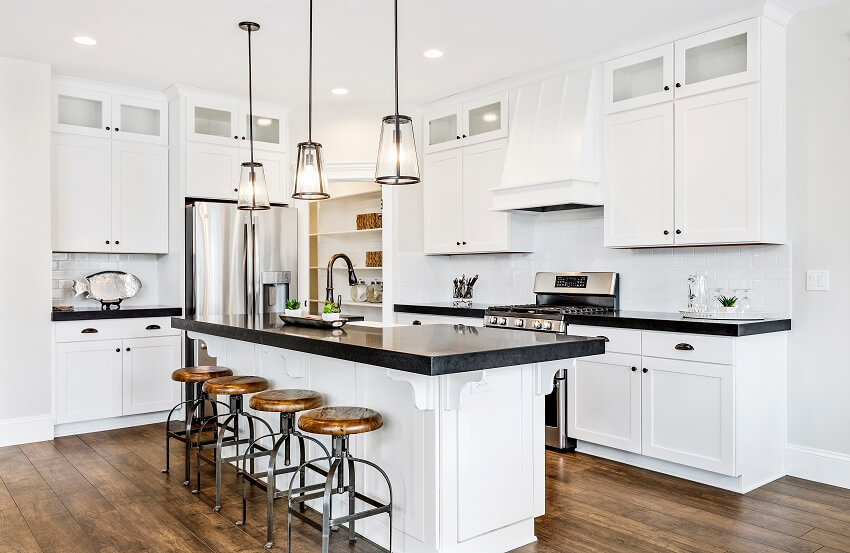 Yes it does. If the granite isn't sealed, the water doesn't really have anywhere else to go to but stay on the surface. This means that it's easier to just wipe it down and it doesn't necessarily stain if it did not evaporate on the actual surface. But then again, even if it does, it's easy to just remove the water stains with a basic cleaner.
An unsealed black granite surface, on the other hand, may be a completely different story. Granite is a naturally porous material and what this technically means is that it's bound to be absorbed into the surface before it evaporates.
This makes the material more prone to water stains that are more difficult to remove. You might need to scrub it off with a gentle brush or use special cleaners to really get the stains out and bring your black granite back to pristine condition.
Is Black Granite Hard To Maintain?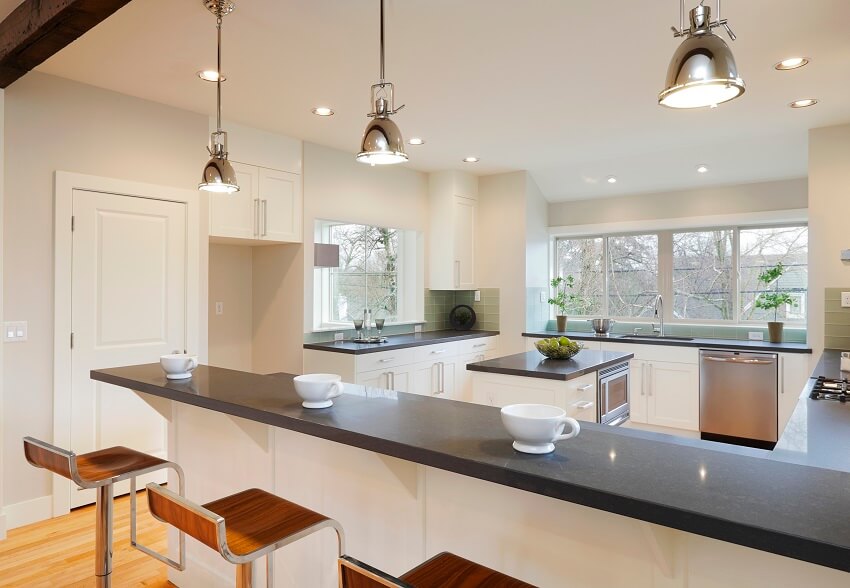 Black granite is a material that's considered as relatively low maintenance but it does require regular cleaning in order for you to maintain its appearance. This works just fine because you need to keep the place where you prepare your food sanitary in the first place.
Black granite is easy to clean, oftentimes, just needing nothing more than some soap and water. If you have a polished surface, you also need to be careful enough to not use any harsh brushes or abrasive cleaners or you might end up scratching the surface.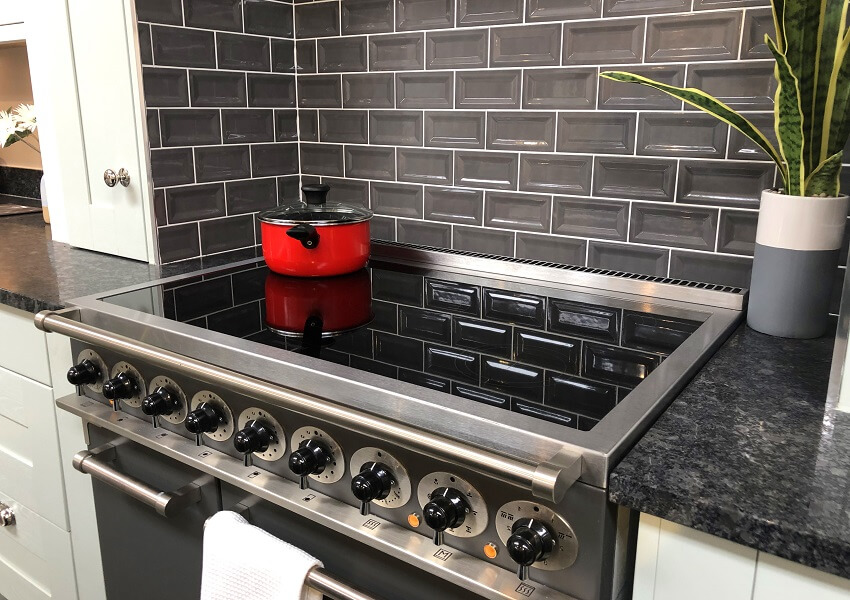 This is also another thing to consider with black granite or with any type of natural stone or material used in countertops; you need to be wary of scratches.
Light or minor scratches can be easily sanded down and resealed or re-polished but deeper ones might be a little harder to deal with and worse, they can be permanent. You can avoid this by using trivets to put your pans and other cooking implements on.
Also make sure that you make good use of chopping boards. Cutting directly on the surface might sound like an easy and hassle free thing to do but it actually isn't.
The hard surface material of granite will dull your knives and at the same time, the knives will leave unsightly scratches on your granite surface.
Visit our kitchen countertop ideas with white cabinets for more related content.