In this kitchen colors with brown cabinets guide we share different paint shades that match with gray, white, orange, and the best design options.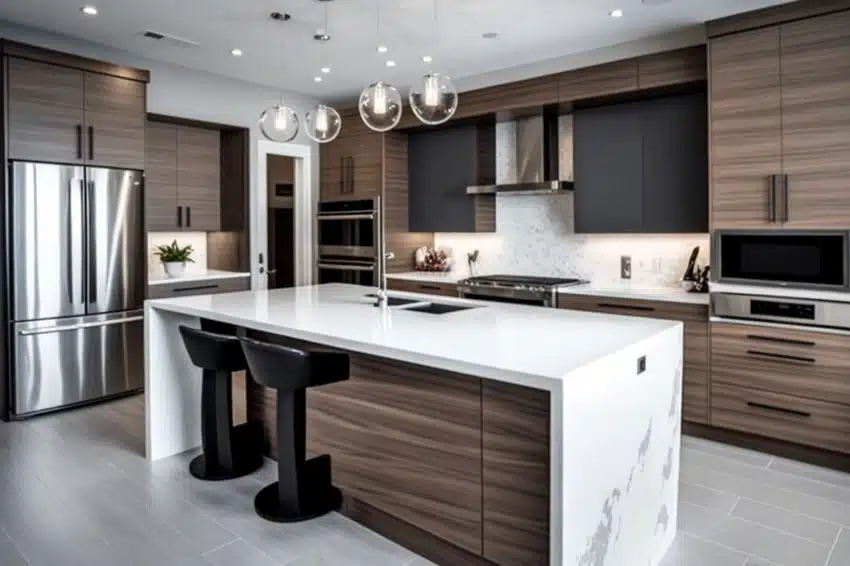 The kitchen is a vital part of any home. As a homeowner, it's only natural for you to want to make sure that it stays not only beautiful but efficiently functional as well.
For as far as kitchens are concerned, the cabinets within them are an absolute must. You can even say that it's an element that's quite indispensable to the space. This is where the challenge of mixing and matching colors and design comes into play.
One of the most basic and common colors for kitchen cabinets is brown. It makes sense because brown is a solid base and neutral color and it allows you to play up the rest of your kitchen area from the walls, ceilings, floors, and even to the appliances.
Here are some color combinations for kitchens with brown cabinets.
Kitchen Designs with Brown Cabinets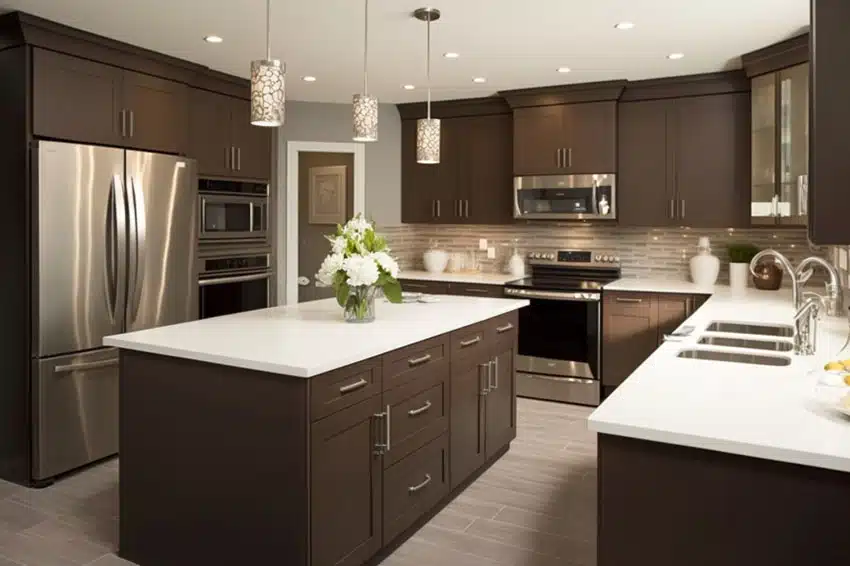 Brown, natural wood kitchen cabinets are a very traditional style for the home. While painted cabinets have gained popularity in recent years, there are ways to make brown cabinets modern and timeless.
Natural wood cabinets can be an inherently beautiful addition to the kitchen if they are paired with colors and materials that complement their beauty.
Rich, dark or medium- toned wood cabinets made an appearance in kitchens of the Seventies and Nineties and many older homes still have natural wood cabinets that have become outdated.
If you do not desire to paint your cabinets to bring them up to date, the following are ways you can fashionably style your wood cabinets. Manipulate wall colors such as light muted gray, white, light blue, and light green.
The tint or tone of the wall color you choose depends on the hue of the cabinets. For instance, the wood may have more yellow, red, or gray colors, and you should choose a wall color that compliments these colors but does not match.
The idea is to lighten up the darker, bulky presence of the cabinets by using light complimentary wall colors. For instance, if you have wood cabinets that are primarily yellow, avoid using yellow wall colors that will blend in with the cabinets and make them look more dated.
Another way to brighten the kitchen and enhance the wood cabinets is with white, light- colored, or patterned backsplash tile.
A stylish backsplash is essential for the kitchen's overall design. Add a white subway tile with darker wood cabinets and watch the kitchen become bright and airy. A patterned black and white backsplash can create a beautiful accent in the kitchen and break up the wood cabinets.
Add a light-colored backsplash as long as it compliments the wall color and cabinets. For instance, a sage green backsplash will pair nicely with any wood cabinet from dark to light. When deciding on a color for your backsplash, think of light pastel colors and avoid anything too saturated.
Medium to dark wood cabinets add all the richness that your kitchen may need, so stick to toned-down colors for walls, backsplashes, flooring, and countertops.
Light wood cabinets offer a much more contemporary style, and raw wood can be stained a light color to achieve this look.
However, I would use light woods such as Pine, Birch, Poplar, White Oak, White Beech, White Ash, and American Hard Maple to give you the lightest result for the least amount of effort.
Think of rustic Farmhouse or Scandinavian styles that manipulate light wood to create a modern design. Furthermore, you can create two-tone cabinets with a painted island and natural wood cabinets.
Or, paint your lower cabinets and keep the upper cabinets bare wood to split up the design and make it more interesting. Light wood cabinets open many more design possibilities since saturated or dark colors can be incorporated without overwhelming the space.
Grey Walls With Brown Cabinets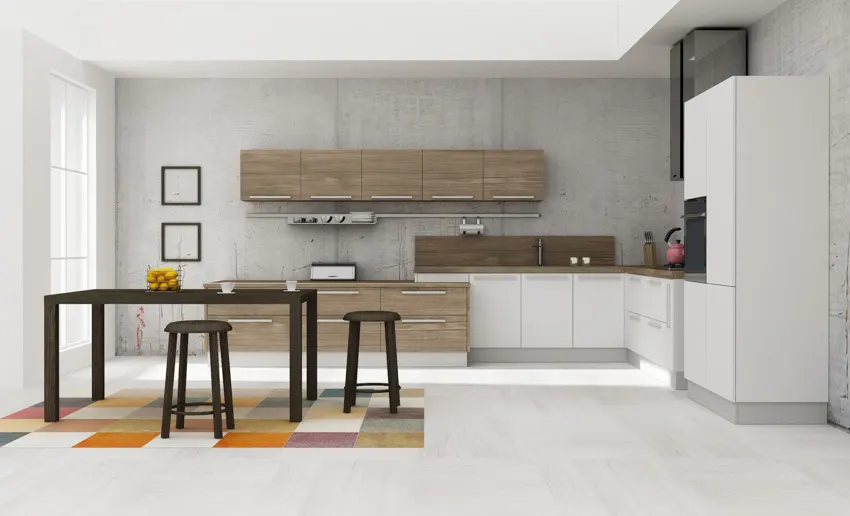 Here are some of the best grey paint brands to be on the lookout for:
Goose Down by Dulux: This grey paint color is airy and light and has undertones that are a bit on the cool side, making them perfect pairings for browns which usually have warmer undertones. Railings by Farrow & Ball: This bestseller grey shade by Farrow & Ball is a blue-toned type of charcoal grey. It's a strong color yet it has tones of softness in it, resulting in a space that's very relaxing and velvety. Grey Moss by Little Greene: This dark grey paint is a dramatic color without the downsides of making the space feel claustrophobic because it has all of the right warm tones in it.
Grey walls are moody if on the dark side but if used on the lighter side, they can make the perfect neutrals. They aren't as stark and blinding as white walls so the overall effect can be softer and cozier.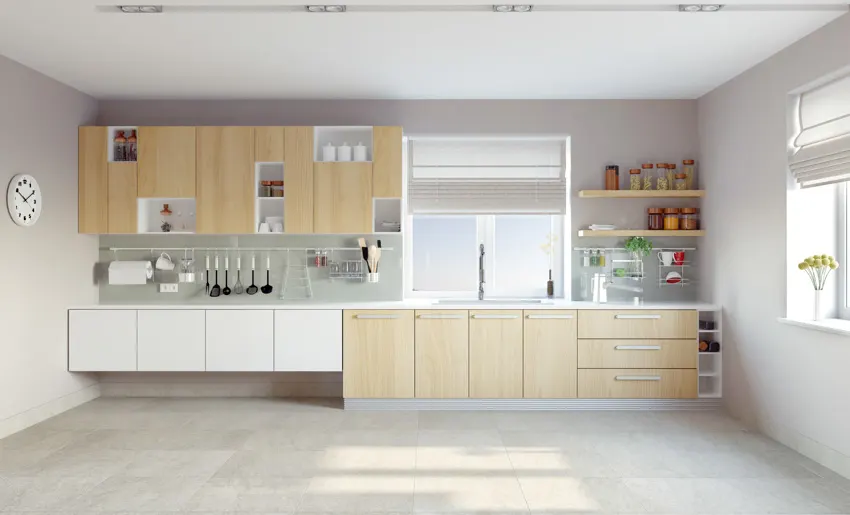 They pair well with brown cabinets, whether they're light or dark as they serve as a backdrop that's cohesive with the cabinet colors. Grey goes well with literally anything, given the right shade.
But it's perfect for brown cabinets. You'll end up with a kitchen that looks clean, fit to form, and a bit more on the masculine and contemporary side. Read more about kitchen colors with gray cabinets.

White Walls With Dark Brown Cabinets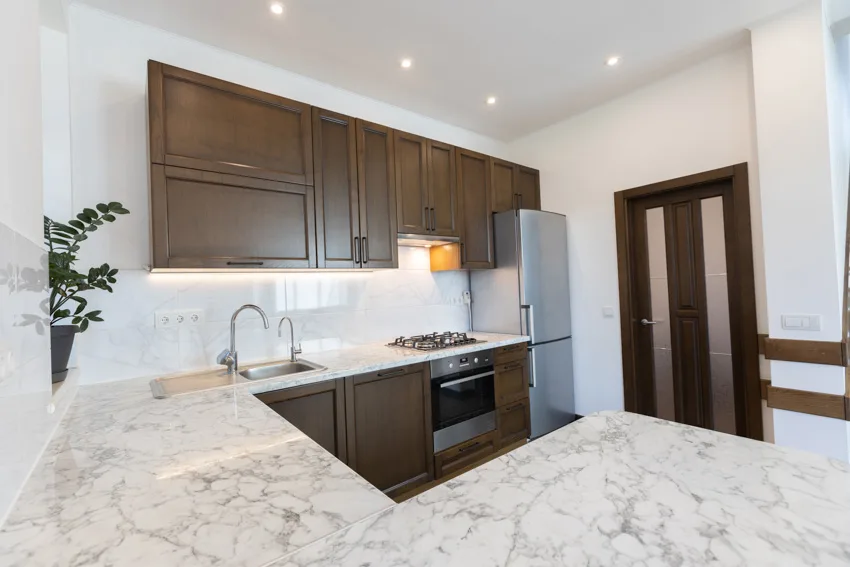 Here are some of the best white paint brands to be on the lookout for:
Benjamin Moore warm whites:

White Dove (OC 17)

Cloud White (OC 130)

Simply White (OC 117)
Sherwin Williams warm whites: Pure White (SW 7005) Extra White (SW 7006) Alabaster (SW 7008)
These white paints have subtle yellow undertones that feel warm and can make your kitchen space cozy. They pair well with dark brown cabinets as they harmonize with its warm undertones as well.
They are yellowish or at the very least, have the faintest smidge of yellow in them once fully applied. If you have a kitchen that needs a little bit of help with its play on light, these warm whites are definitely the way to go.
White walls are a blank canvas in your kitchen and when paired with dark brown cabinets that provide a stark contrast against them, it can give your space a minimalist and clean look.
It also has the added perk of making your dark brown cabinets the focal point of the space, plus the fact that they look like they're floating in midair. See more colors that go good with brown here.

White Tiles With Brown Wooden Cabinets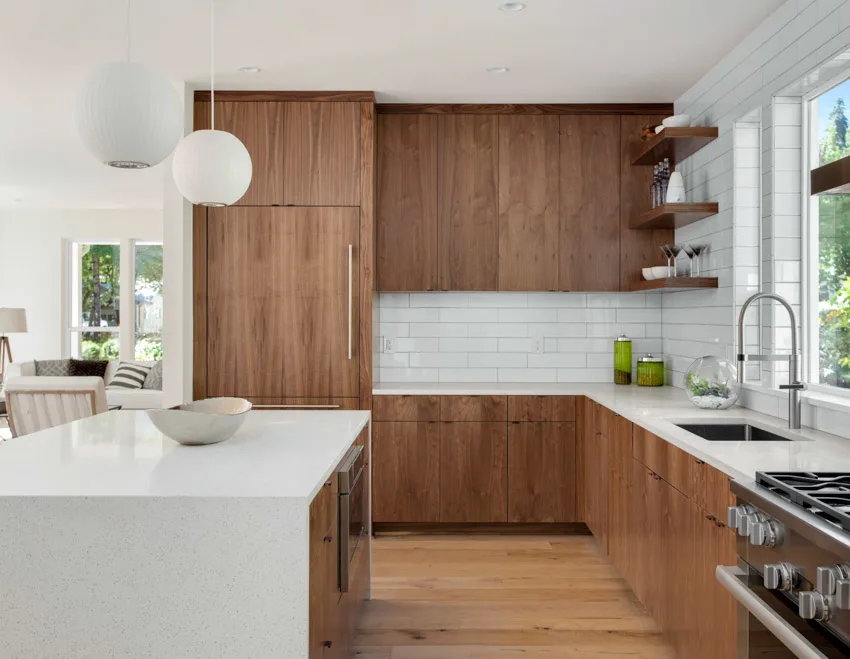 Here are some of the best cool white paint brands to be on the lookout for when pairing painted white tiles with brown wooden cabinets. Benjamin Moore Chantilly Lace (OC 65) Benjamin Moore Atrium White (OC 145)

Benjamin Moore Decorators White Sherwin Williams Extra White (SW7006) Sherwin Williams Snowbound (SW7004)

Sherwin Williams Eider White (SW7014)
These paint colors have purplish or bluish undertones that can make the overall effect feel crisp or cool once fully painted on. They pair very well with the warm and neutral shades of the brown kitchen cabinets they're being matched with.
There will be some instances wherein brown kitchen cabinets can be drowned out when paired with brighter colors that cover a lot of surface area, such as the floors.
Pairing white tiles for your floors or even for your backsplash with brown wooden cabinets can give your kitchen space a very clean yet at the same time homey and warm look coming from the wooden undertones.
White and brown blend in very well so this is a color combination that you can't really go wrong with.

Brown Acrylic Cabinets Mixed With White Ones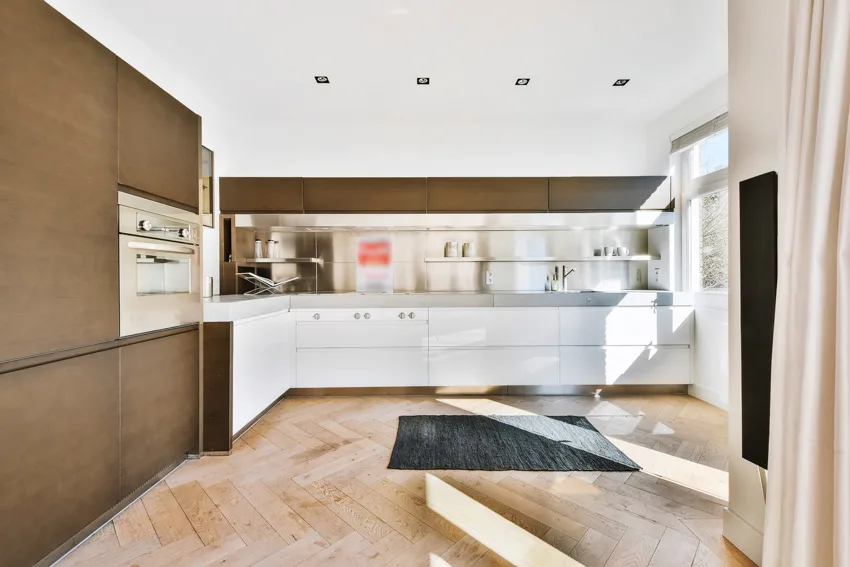 If you want a sleeker and higher end take on your kitchen cabinets, one thing you can try is opting for acrylic cabinets in brown.
However, the monochromatic brown might end up looking too heavy which is why some designers would recommend that you mix them up with white acrylic kitchen cabinets as well.
This color combination is classy and elegant and they create a contrast without being too loud. This is perfect for when you want to play up the colors of the rest of your kitchen space.
Browns and whites are neutrals and can work with virtually anything. You can apply this same rule in the kitchen.
Brown Kitchen Cabinets With Orange Cupboards
Here is the best orange paint brand to be on the lookout for this 2021:

Brave Ground by Dulux: This is an understated type of orange that can be used perfectly as a backdrop. It's a neutral shade with warm undertones and is more sublime, grounding, and comforting as opposed to having that wow factor that's usually expected from orange shades.
Another way to work brown cabinets in your kitchen space is to go for the two-toned approach. Browns and oranges sit close to each other in the color wheel so you'll be able to mix them together without deviating too much from the main tone of your cabinets.
Try playing up the colors of your cupboards with a muted orange color. This blend is an attractive combination and can be a great way to incorporate warmth in the kitchen.
It has been said that warm tones in the kitchen make for a visually conducive area for appetite, which can be a pretty good idea considering this is where all the food in the house comes from.
Kitchen Colors With Light Brown Cabinets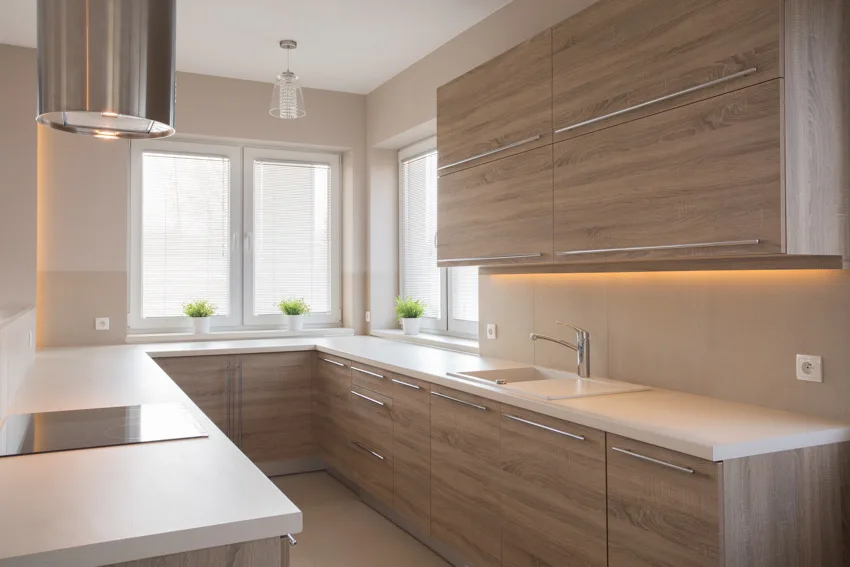 A good rule of thumb to consider when looking for kitchen colors that you can pair with light brown cabinets is that you will want to go for those that are the opposite of brown.
The best recommendation would be for you to consider tones of green or blue. You can explore other shades related to those two main shades such as teal, turquoise, gray-green, soft grey, aquamarine, or sky blue.
Teal:

Benjamin Moore Aegean Teal (2136-40) Clare Sublime Farrow & Ball Ballroom Blue
Turquoise:

Behr Caicos Turquoise

Sherwin Williams Calypso Benjamin Moore Florida Keys Blue
Grey-green: Benjamin Moore Budding Green (CSP-790) Benjamin Moore Soft Fern (2144-40)
Sherwin Williams Silvermist (SW 7621) Sherwin Williams Rainwashed (SW 6211)
Soft gray: Sherwin Williams Agreeable Gray (SW 7029) Sherwin Williams Naturel (SW 7542) Benjamin Moore Classic Gray (OC-23)
Aquamarine:

Sherwin Williams Sea Salt (SW6204) Benjamin Moore Jamaican Aqua (2048-60) Glidden Deepest Aqua (WGB09)
Sky Blue: Benjamin Moore Beach Glass (1564) Sherwin Williams French Moire (SW0956)

Benjamin Moore Normandy Blue (2129-40)
When looking at lighter shades like light brown, you need to heavily consider the undertones and let them weigh in on your paint choices when painting the rest of the kitchen.
For example, you would want to consider a similar undertone to brown. There's an easy trick to doing this. When considering a color, take a look at its darkest swatch in the color wheel.
That shade is considered to be its true color or the one that doesn't have any undertones. That will more or less give you an idea on what certain paint colors can have by the time you actually have them painted on the walls or on the other parts of the kitchen.
It's the best way to manage your expectations and more or less accurately gauge the overall look you'll end up with when pairing colors with your light brown cabinets.
Kitchen Colors With Dark Brown Cabinets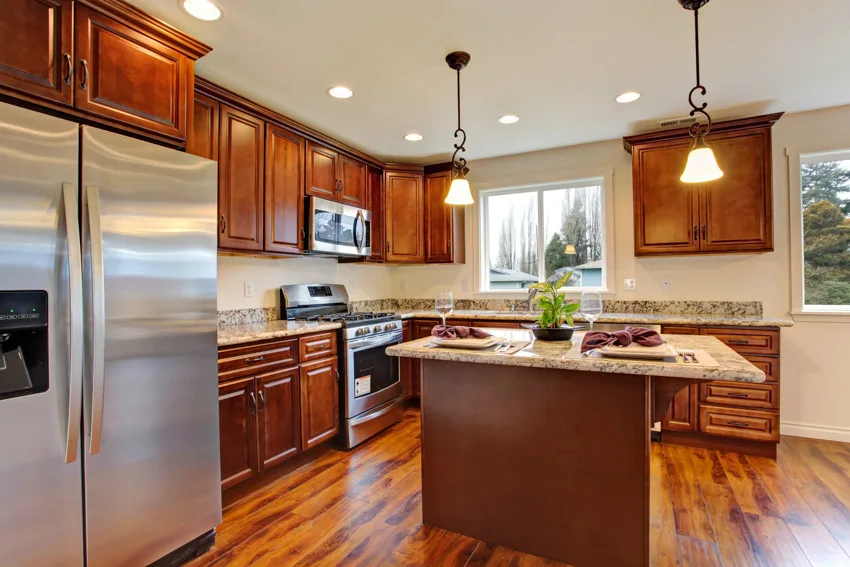 If you're trying to work with dark brown cabinets, you might want to go for colors that bring out the warmth in them. Opt to go for lighter neutrals that have warm undertones in them.
The best choices would be shades of taupe, beige, creamy white, blush pink, and greys that have some warm tones in them.
Taupe: Benjamin Moore Sparrow (AF-720) Benjamin Moore Upper West Side (CSP-70) Dunn Edwards Smoke and Ash (DET 514)
Beige: Pittsburgh Paints Siesta Sands (329-1) Ball & Farrow Slipper Satin

Sherwin Williams Accessible Beige (SW7036)
Creamy White: Benjamin Moore Chantilly Lace (OC 65) Sherwin Williams Alabaster (SW7008) Benjamin Moore Vanilla Milkshake (2141-70)
Blush Pink: Benjamin Moore Apricot Beige (1205) Sherwin Williams Apple Blossom (0076) Benjamin Moore Ballerina Pink (2082-70)
Grey: Sherwin Williams Agreeable Gray (SW 7029)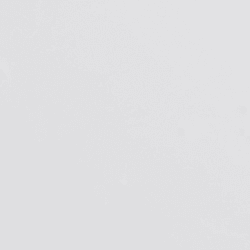 Backdrop West Coast Ghost
Best Paint Color For Kitchen With Brown Cabinets
Brown cabinets can at times come off as somber or serious and when picking out paint colors that can go with them in the kitchen, make it a point to always go for a splash of color, depending on how dark your brown cabinets are.
The key here is being able to create some sort of balance in the colors so you can either go for colors that highlight the undertones if you have light brown cabinets or go for paint colors that provide high contrast against dark brown kitchen cabinets.
Some creative combinations would be bold pops of color that would really stand out and be the focal point of the kitchen space such as yellows, blues, and greens. Other color recommendations would be the following:
White: This can create a contrasting look and brighten up the space by creating an illusion of negative space against the brown cabinets.
Recommended white paint brands:

Benjamin Moore Ivory White (925)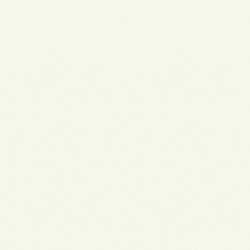 Benjamin Moore Snowfall White (2144-70) Sherwin Williams Alabaster (SW 7008)
Warm Neutrals: Try to go for those that have warm undertones as they can bring out the warm undertones in your brown cabinets. Go for light greys, beiges, taupes, or even soft pinks.
Recommended warm neutral paint brands:

Sherwin Williams Canvas Tan (SW 7567) Benjamin Moore Ballet White (OC-9)

Sherwin Williams Balanced Beige (SW 7037)
Cool Neutrals: This would help make it a bit easier on the eyes especially when you have brown cabinets that are a bit on the darker side.
Tones of blue, lavender, greige (grey-beige), or even sage green can work like magic against your dark brown cabinets.
It will open up your space and make everything seem so much brighter, which is a must for heavy-colored brown cabinets.
Recommended cool neutral paint brands: Farrow & Ball Paean Black (294)

Portola Paints Table Linen

Benjamin Moore Manchester Tan (HC-81)

Benjamin Moore Shaker Beige (HC-45)
With the help of these ideas, you can elevate the look of your kitchen with these brown cabinets.
See more related content in our article about the pros and cons of matte black kitchen cabinets on this page.