Here's our favorite timeless kitchen cabinet colors including the most popular cabinets through time and what helps a kitchen stay in style.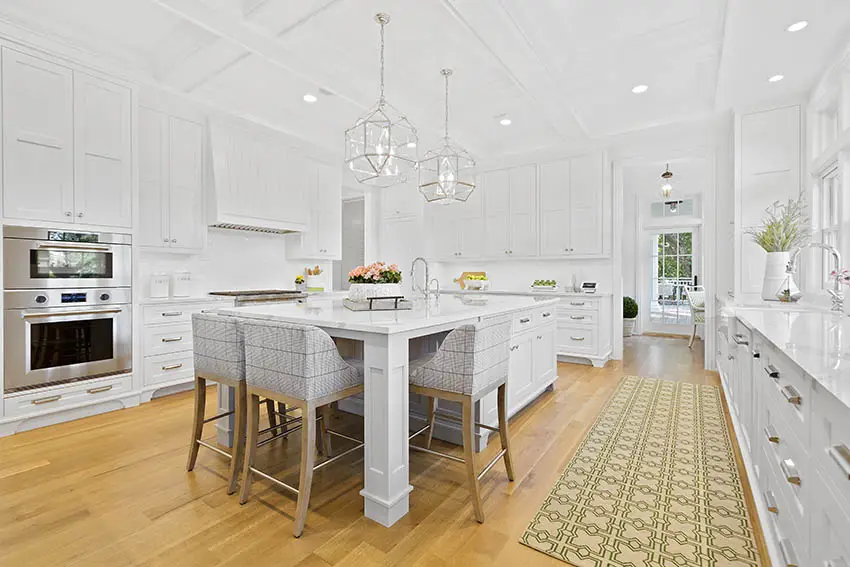 A timeless kitchen cabinet color is simply one that won't quickly become outdated or out of style too fast. This often means rather than going with the newest cabinet color trend, one selects more neutral color schemes that can be accessorized with the latest colors to keep up with the times.
What Color Kitchen Cabinets Are Timeless
There are a great deal of colors that can be timeless in a kitchen. These colors on cabinets offer limitless beauty over generations. While trends come and go, these colors are easily coordinated with and are functional with new styles.
White Cabinets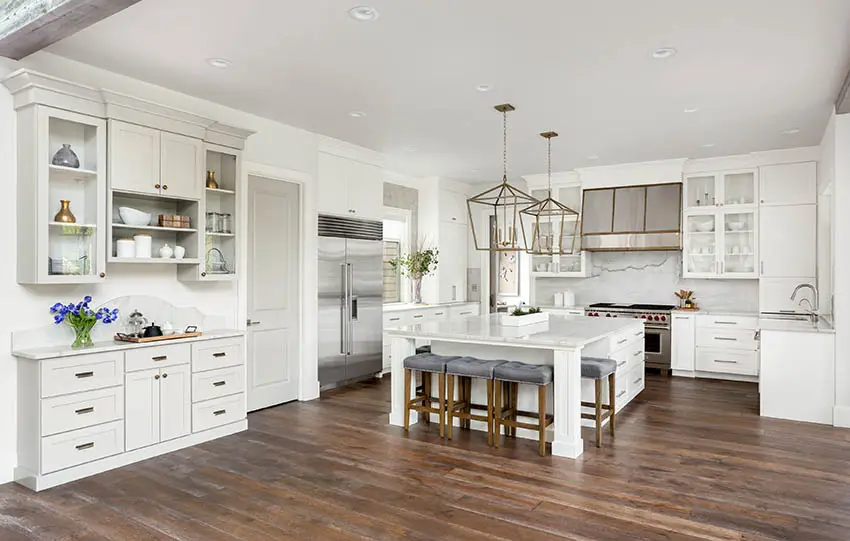 White kitchen cabinets are the first timeless beauty, offering energy and cleanliness to kitchens over the years. While white may seem like a boring and plain color, it is actually anything but. White offers itself up to be paired with any other color of finish that can help bring the kitchen to life.
Whether the newest trend be neon colors or wooden countertops white lends itself the perfect base. Switching up hardware, backsplashes or countertops over time can help keep the pristine white cabinets an iconic piece in the kitchen.
Gray Cabinets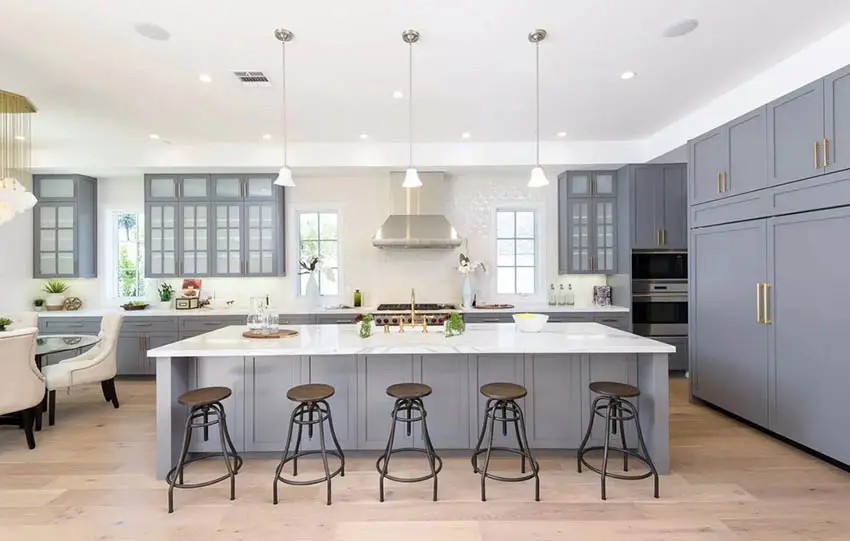 Gray cabinets are the second timeless choice for kitchen cabinets, as another neutral base to play with. Similar to white gray may seem dull and boring, but it gray has many layers and can flourish in any style in any time.
Using gray as a base by using it for cabinets gives opportunity to add color and design everywhere.
Contrary to the white mentioned before gray adds a timeless depth and based on the shade of gray selected can either warm or cool a space with just a small change in shade or hue. This allows for all colors and finishes to be used and included in design with gray kitchen cabinets.
Dark Wood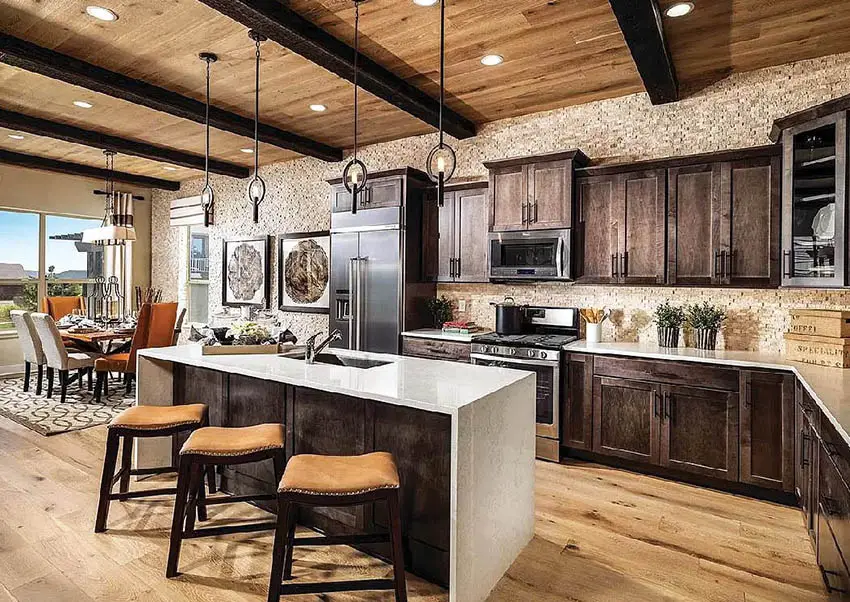 For the third, and most natural of the timeless cabinets described here, dark wood is somewhat controversial on whether it is timeless or not. The greatest thing about wood in general is that it is never going away – the definition of timeless, completely withstanding the tests of time.
Some woods are difficult to pair with certain styles as they contain oranges or too much yellows or browns. When it comes to dark woods, they are often so rich with color that they can pair with both contrasting bright colors and matching rich colors.
While these types of styles are vastly different, it stands to show the variety that dark wood kitchen cabinets can provide and how it can keep up with the changes in times.
Navy Blue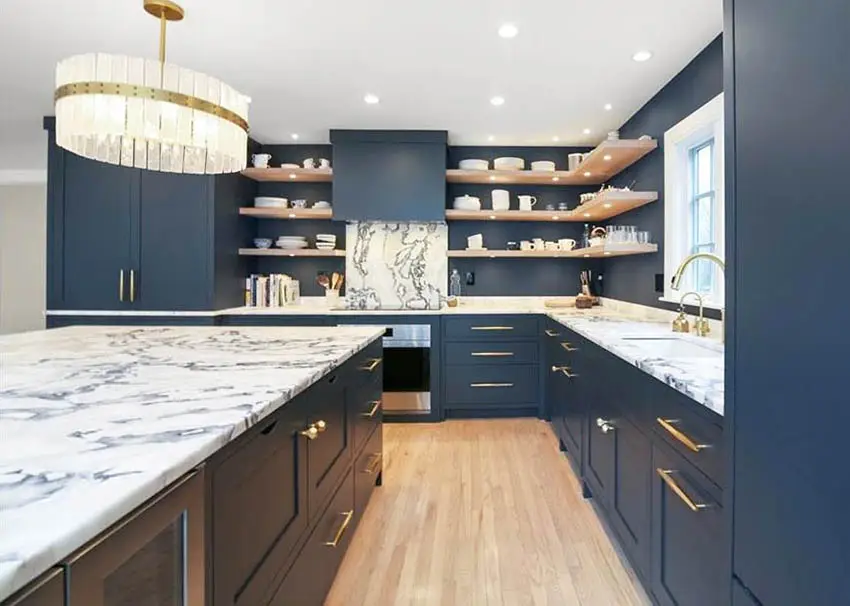 The next timeless cabinet color is navy blue. Navy blue is a deep rich color that is an absolute classic. The color is practical and often physically wears well over time.
Additionally the color has been favored time and time again by designers through the ages, as well as pairs well with a great deal of different trends that pop up throughout the years.
For more related designs visit our page on blue and white kitchens.
Mint (Light Green)
With so very many colors of green, there is one that should always be the go to if you don't wish to keep painting the cabinets year after year. Mint green is the next timeless color on the list.
Contrasting the Christmas and forest greens that can easily go in and out of style, the mint green selection offers a brightness as that is easy to pair with colors of any season, style and trend.
Using a color as the base for the cabinets offers the use of other neutral colors that can make the entire space timeless versus ever changing the accent colors per the changing trends. See more green cabinet kitchens here.
Glass Door Cabinets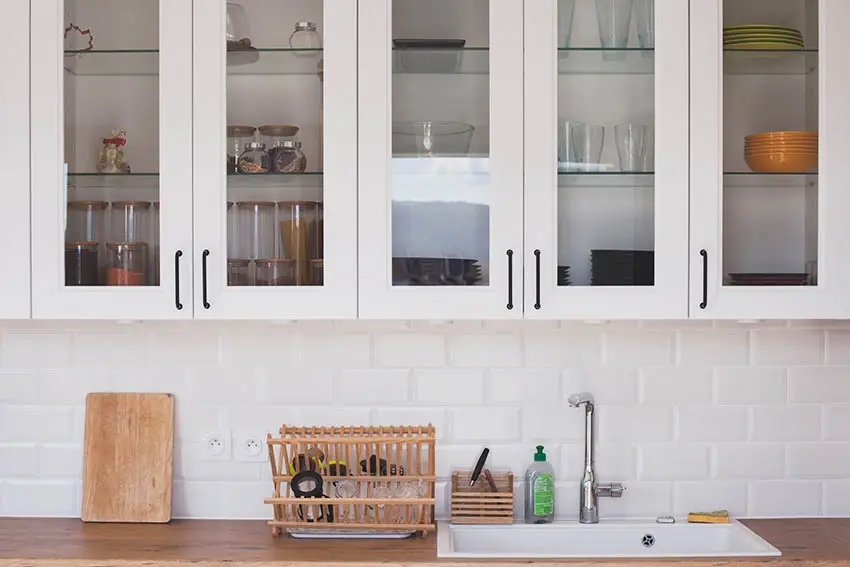 For the final timeless cabinet choice, both frosted and regular glass are not to be ruled out. Glass gives the opportunity to pair with any and all colors seeing as its best quality that it is transparent, more or less.
With cabinets this gives the chance for the accent colors to be included in the dishes inside of them, as well as color around the kitchen. Glass cabinets offer an openness to the entire space.
What Makes a Kitchen Timeless?
A kitchen is timeless when it can live through, decades and generations of people and nothing becomes an eyesore to the people occupying the space.
Avoiding the ever changing trends is a big part of making any space timeless. While it can be tempting to jump onto the shiplap fads or the newest bright color of the year, these do not tend to age as well as some neutrals.
There are always opportunities to add trendy items to a timeless kitchen, but that is best done through easily changeable items, such as accents items or backsplashes. – interior designer Savannah.
Selecting timeless colors and items for countertops, cabinets and flooring is the best way to create a timeless space.
For another popular timeless color visit our gallery of cream cabinet kitchens. What are your favorite timeless kitchen cabinet colors? Let us know in the comments section below.