Welcome to our guide to gray kitchen cabinets color psychology where we explore a variety of design ideas including matching paint, hardware & decor.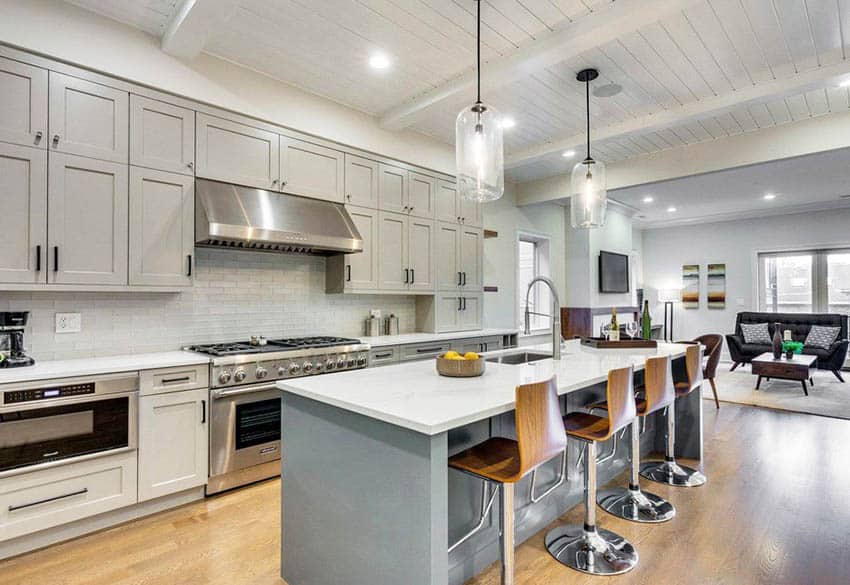 Time to go gray – it is the new white. These days, a growing number of homeowners are shifting from traditional white or brown cabinetry into choosing gray color schemes in their kitchen. Gray has quickly becoming a favorite neutral color of interior designers and homeowners alike. This new trend in favor of the many shades of gray makes it an immensely versatile hue achieving a timeless and sophisticated look.
The Psychology of the Color Gray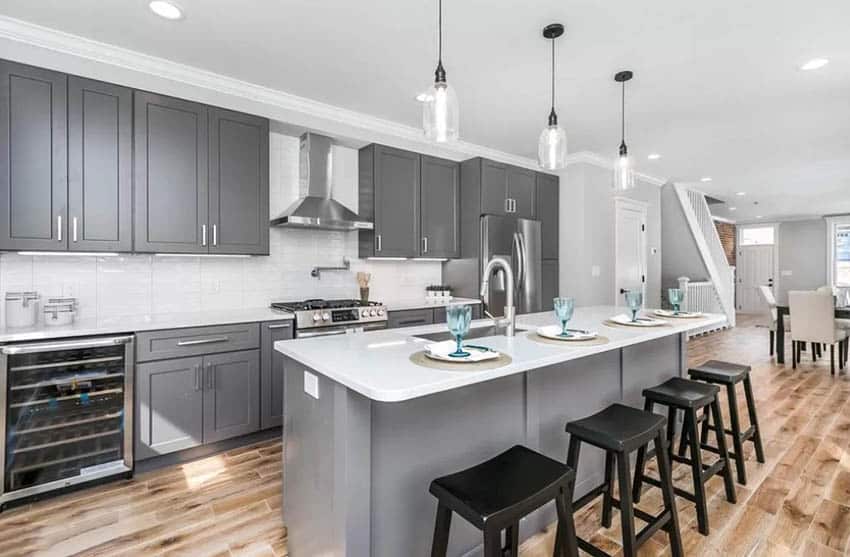 Gray color is genuine and lasting, thus, creating a sense of calm and tranquility. The color gray has an elegant and formal appeal which conforms well to any design scheme and because of its conventional and practical attributes. Gray is also the color of architecture, commerce and theory which is both gothic and industrial.
Often times, stillness and emotionless are identified with the color gray. Nevertheless, gray has also positive properties such as neutrality, warmth, wisdom, intelligence, futuristic, resignation, stability, dignity and compromise which makes it a timeless choice for kitchen cabinetry.
However unconventional it may seem, when you choose to use gray kitchen cabinets they let you defy expectations of sadness, boredom and dullness associated with the color. Since the color gray is also strong and steady, it demonstrates feeling of modesty, balance and safety.
Depending on the color it's mixed with, gray can become more dramatic and mysterious as its shade gears toward the darker shade. On the other hand, as gray gets closer to silver or white, the more it becomes dynamic, illuminating and lively. There are endless shades and hues in gray which can be integrated in any design scheme. In addition, gray has in itself an influence of other colors such as blue, green, pink, lilac and even yellow which gives a feeling of excitement and energy.
Why Gray Kitchen Cabinets Are So Popular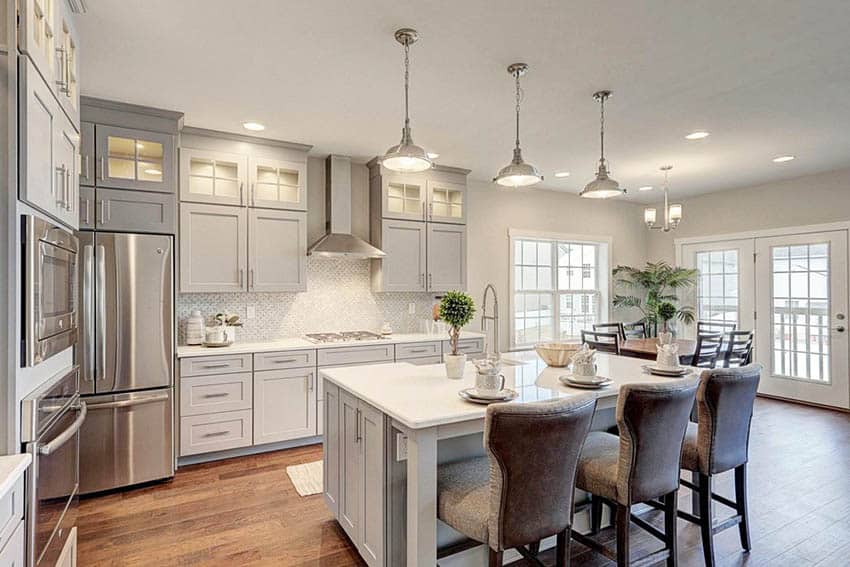 For those who consider gray as a somber color, there are techniques which can let you achieve great amount of sophistication and an elegant kitchen design by simply choosing the right shade of gray and understanding how to properly mix and match your kitchen cabinetry with other elements. The color gray helps to create the perfect canvas for bringing the attention to other design elements and letting them stand out.
There are so many different shades of gray you can use it from traditional, to contemporary or modern kitchen designs with great results. In addition gray can be paired with just about anything.
Here are some of the best ways to match gray kitchen cabinets with other elements: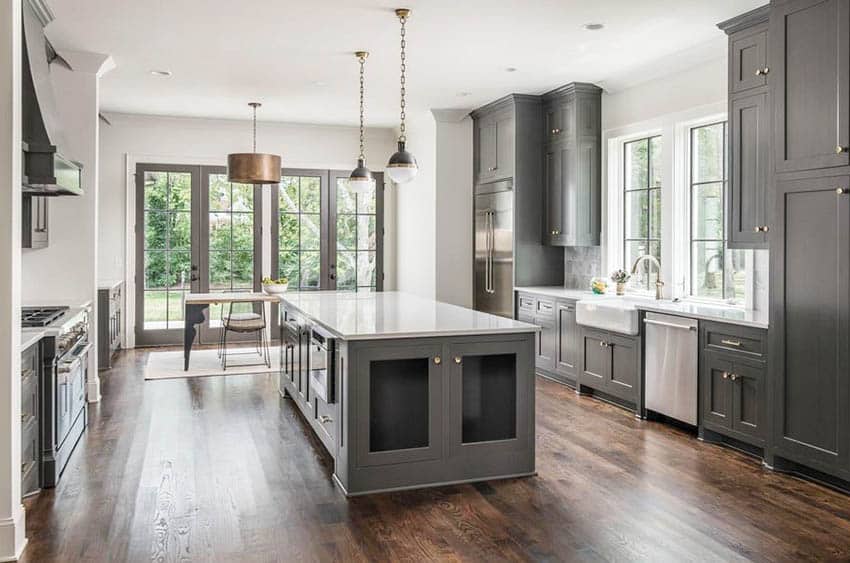 o Incorporate natural materials such as granite or marble countertops, wood or stone flooring, add simple touches of potted plants and flowers. The beauty of nature is a perfect way to infuse life, and natural accent into your gray kitchen. Try adding wood trim to your kitchen cabinets giving it a clean, warm edge.
o Combine your gray kitchen cabinets with a unique backsplash to spice things up. A backsplash such as the subway tiles, modern chevron, or a dot-patterned tile will create a fabulous sleek and modern design concept.
o Enhance your kitchen with rich textures of curtains and window treatments; this can soften and give a welcoming feeling into your grey kitchen.
o Adding architectural and decorative lighting will generate intimacy and warmth. These lighting fixtures can also serves as an accent piece in your kitchen setting.
o Since gray is a neutral shade, it will compliment well with almost any color. Try combining your grey kitchen cabinets with other colors for accent, it will help create a dynamic effect to your kitchen design scheme.
o To add some subtle excitement, break up the upper and lower kitchen cabinetry by combining your gray cabinets with another neutral color such as white for the upper cabinets. You may also choose to combine other unique shade of warm gray such as rose-gray, gray-copper or a bluish shade of gray to the bottom cabinetry. By doing so, it will give your kitchen a high-end look and a feeling of luxury.
What Color Walls Go with Gray Cabinets?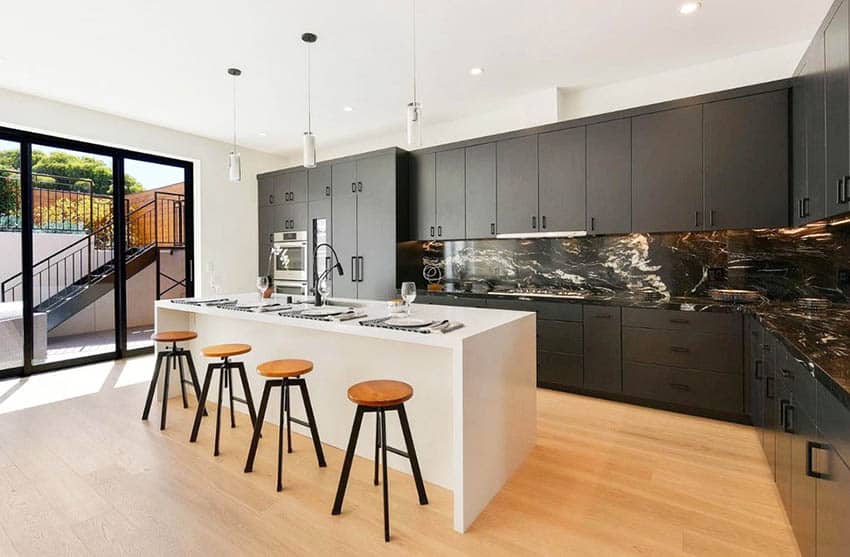 "As a rule of thumb, dark color kitchen cabinetry should go with a lighter wall color to balance the mood of the kitchen space. A contrast between gray kitchen cabinets and walls regulates the ambiance in the kitchen. Choose a shade of gray which is a few shades lighter or darker than the walls in order for these two components to blend in." – Interior Designer, Maria Bott
Paint using light and shade. Consider also the amount and quality of light coming into your kitchen whether it is from architectural lighting or natural light, since the color of the wall usually depends on lighting and creates a very interesting tone for a kitchen with gray cabinetry.
Use contrasting colors to give your kitchen a flair of energy and for a calming effect make use of complementary colors. You may also try to go for a monochromatic color palette by using various layers of the different shades of gray for the walls, cabinetry, countertop, backsplash creating a consistent mood in the design scheme.
Go for pastel color kitchen walls such as pastel pink which adds drama when paired with gray kitchen cabinets. You can see more kitchen colors with gray cabinets here.
An accent wall can greatly affect the mood of your kitchen, pair gray kitchen cabinets with energetic colors like aqua, sky blue, cobalt blue, lavender, lime, yellow, green, gold, peach and orange.
What Color Hardware for Gray Cabinets?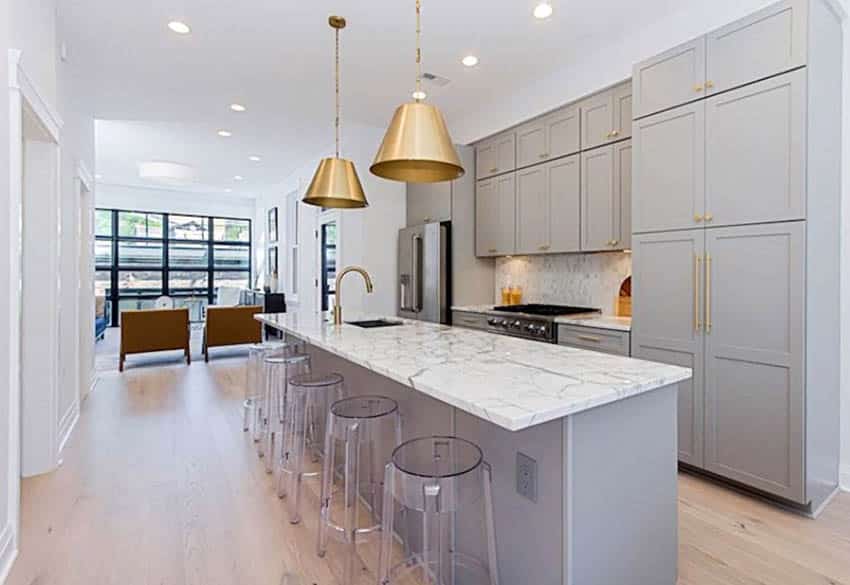 o Gold cabinet door hardware can look great matched with light gray kitchen cabinetry.
"Brass is a stunning combination for gray kitchen cabinets because it offsets the cool tones of gray making it warm and cozy." -Interior Designer, Maria Bott
If your kitchen cabinets are in the warm tone side of gray, try adding brass, copper or gold details – makes the perfect accents for gray cabinets. Gold drawer handles compliment well with a warmer shade of gray kitchen cabinets and paired with a gold sink faucet.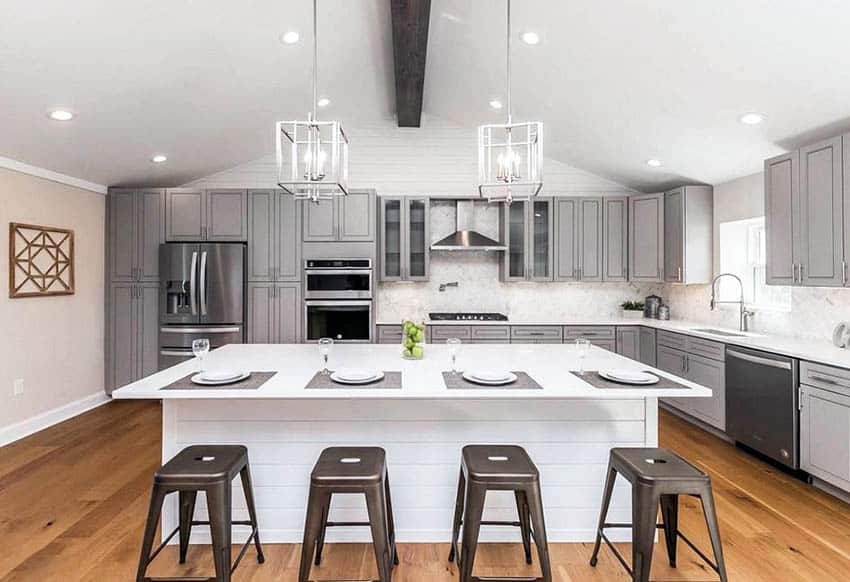 Silver is usually the most common and traditional hardware used with gray kitchen cabinetry, works especially well with cooler gray tones kitchen cabinets.
o A stylish touch for gray kitchen cabinets is to add leather handles which can make even the off-the-shelf units look high-end.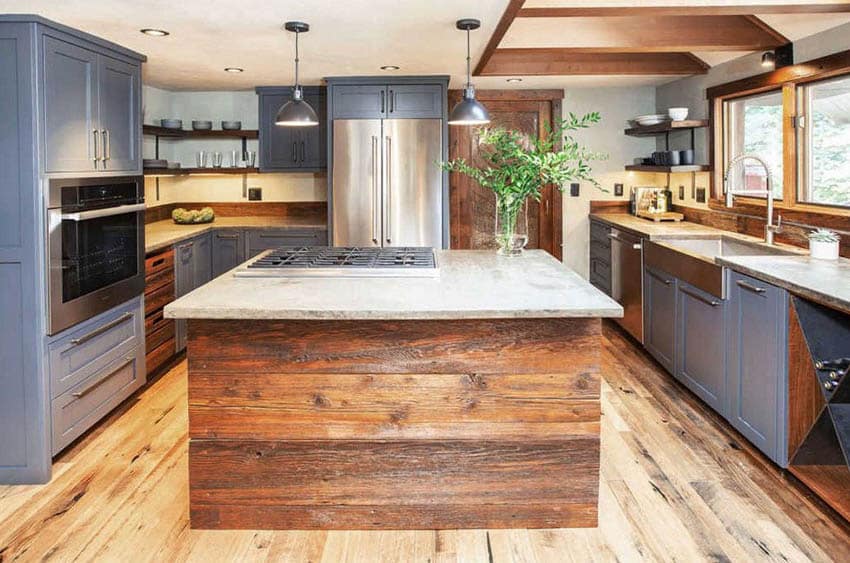 o Blue-gray kitchen cabinets looks elegant especially paired with metallic tone hardware like nickel or silver.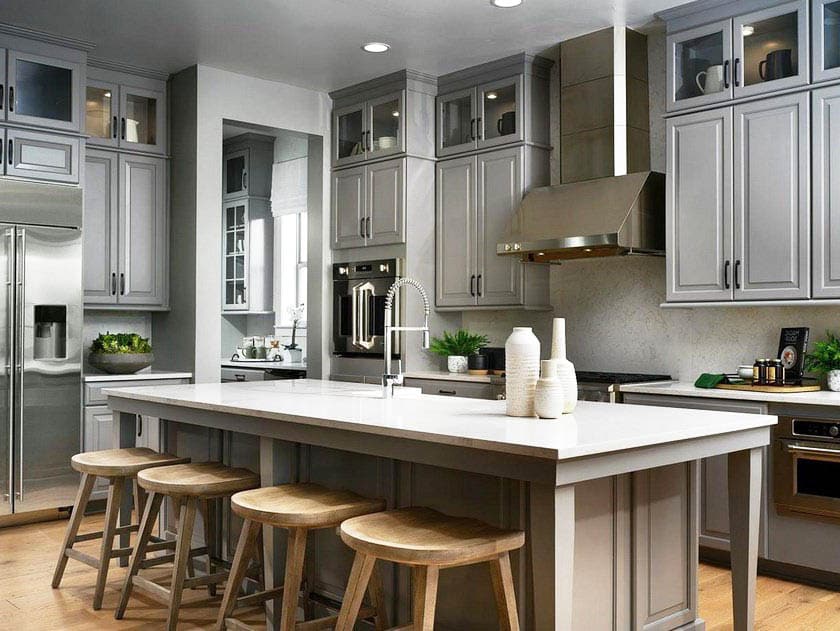 o Dark gray kitchen cabinets are simply stunning when paired with a black finish handles and drawer pulls.
"Kitchens are hard environments and they form incredibly strong characters." quote from Gordon Ramsay
For a even more designs, visit our gray and white kitchen ideas page.