Find out what backsplash goes with Taj Mahal quartzite, including how to choose and design factors to consider when matching paint colors, cabinets, and tiles.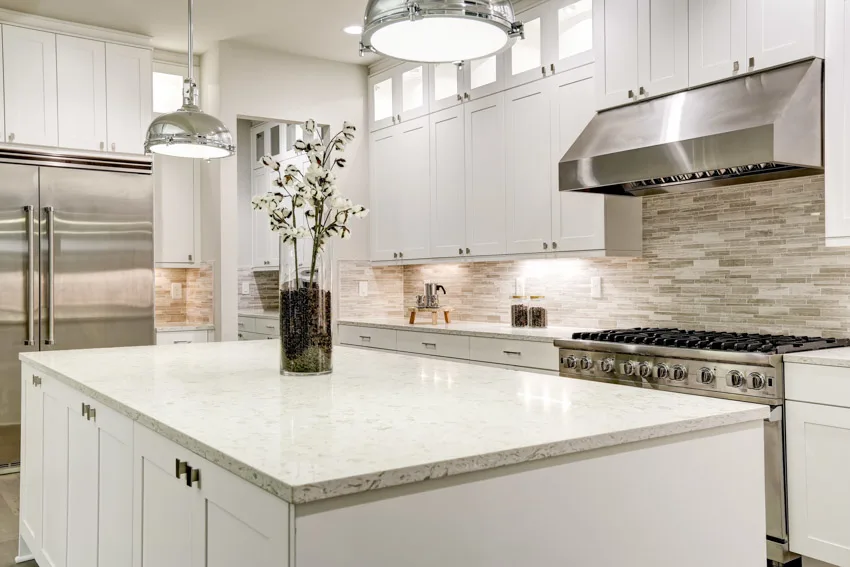 Rivaling the beauty of marble and the hardness of granite, natural stone quartzite countertops are rising in popularity when it comes to stone materials for interiors. But more than its hardness and aesthetic prowess, quartzite stone is denser compared to your marble and granite stone, it has around a range of 20% porosity making it less prone to staining.
One of the top choices for quartzite is the Taj Mahal or Taj Mahal White due to its predominantly white base with soft cream tones and gold veining. Dubbed as the "crown jewel" of natural stone countertops, a slab of Taj Mahal Quartzite showcases waves and swirls with interesting striations.
Generally, you'll find Taj Mahal Quartzite to have a relatively warm coloring with beige and taupe accents that work well with both warm and neutral themes. Taj Mahal quartzite slabs can be as large as 3.45 m x 2 m which can come as standard and book-matched slabs.
Choosing A Backsplash For Taj Mahal Quartzite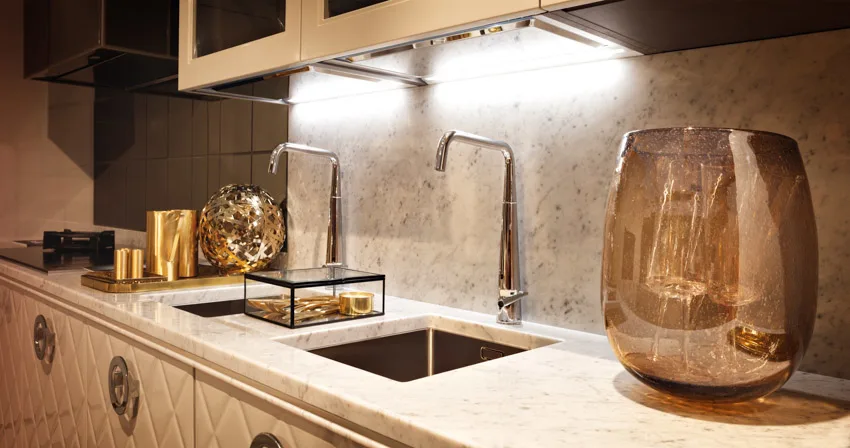 Natural stone countertops especially with soft and neutral tones work well for both traditional and contemporary themed interiors. However, the location (where will you install your quartzite?); budget, existing or planned cabinets, and size will matter in the selection of your backsplash.
Remember that Taj Mahal Quartzite is pricier than most marble and granite stones. In addition, quartzite is a heavy and dense material that will need specialized equipment and knowledgeable installers.
To compromise on your spending, choose more affordable materials that are simple to install, such as ceramic or porcelain as your backsplash. Another consideration when choosing a kitchen backsplash for your Taj Mahal Quartzite is its color and design.
Here are three general ideas to help inspire your selection:
General Design Considerations:
• Budget: Aside from the materials, consider the grouting and sealing costs.
• Size and Location: Remember that the wall area above your oven range and sink is a priority for your backsplash.
• Lighting: Take a sample of your material and tape it on your wall to see how the light affects the colors during the day.
Design Approaches:
• Match or Contrast: You can either stick to your quartzite's color palette or go with a contrasting color. Using the same stone material both on your countertop and backsplash creates a clean and sleek look that visually expands the space. Meanwhile, using contrasting colors or designs gives depth and visual interest.
• Mix Materials: Patterns and texture add visual richness to a space. A popular option is mosaic tiles, as there's a wide range of colors, shades, and designs.
You can go with glass tiles if you have a polished Taj Mahal Quartzite. The basic rule is to look for a backsplash and countertop material that will complement each other.
What Colors Are In This Variety of Quartzite Counters?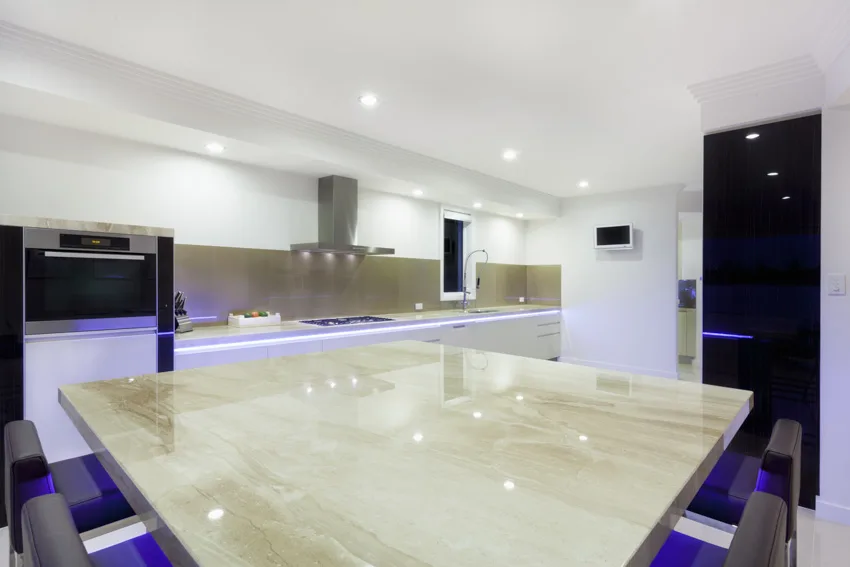 The main colors of Taj Mahal Quartzite are white, beige, and light gray; however, you'll find a wide range of colors in its variations of soft striations as the stone contains different minerals.
The most common are beige, gold, blue, or silver. The soft cream tones give off a soft, warm ambiance but are not overbearing.
The off-white Taj Mahal Quartzite is a popular option since it can accompany any color scheme and design. For a backsplash, it's safe to go with a degree lighter than your countertop as your backsplash material is part of your interior backdrop-the wall area as a light color scheme brightens the interior.
What Colors Go With This Quartzite?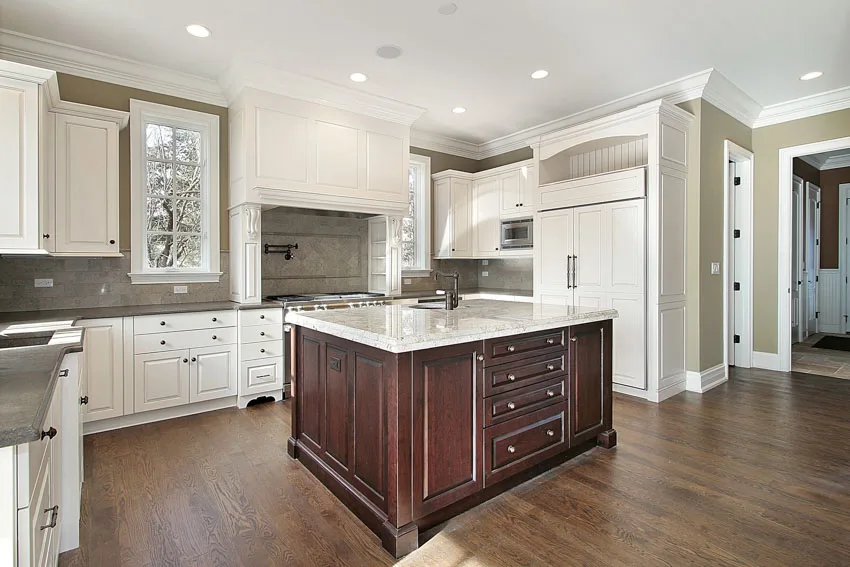 The neutral and light tone of Taj Mahal quartzite makes it easy to mix and match with other color schemes that accommodate many design aesthetics.
White to Off-white: The safest color choice to pair with Taj Mahal quartzite is white, as it obviously goes with any color. The white color looks pristine on cabinets, walls, and most types of kitchen backsplash.
As Taj Mahal quartzite typically comes in white and light beige hues making it easier to match with the neutral color. White is also a sensible choice, especially for kitchens and bathrooms making it easier to spot dirt or molds, while the soft beige colors of the Taj Mahal lend a warm vibe to the look.
The most popular colors are cream, eggshell, ivory, and vanilla.
Hex: #FAF9F6,
Paint Color: Sherwin Williams Aesthetic (SW 7035)
Soft Beige and Light Yellow: The warm hues of the natural stone go naturally well with colors with the same tone but are best at least a degree lighter. This creates a sense of continuity and cohesiveness.
If you plan to use Taj Mahal quartzite with your backsplash as well, you'll achieve a seamless look while creating a visual expansion of the space. To add variation, you can use a tile profile or shape or use the tile version instead of a large continuous slab.
Hex: #F8F0E3, #DDC7A0
Paint Color:

Sherwin Williams Accessible Beige (SW 7036)
Blues and Grays: If you've got a Taj Mahal Quartzite with a blue and gray undertone you can easily match it up with white or a soft version of blues and grays. The blues and gray are cool tones that work well with the soft veining of the stone.
Hex: #12345b
Paint Color: Farrow & Ball Parma Gray (No.27)
Another consideration to remember is the subtle color variations of your natural stone surfaces. When choosing a backsplash for your Taj Mahal Quartzite determine the style and mood you are going for. Where the color, pattern, and material of your backsplash are a feature of the theme.
What Color Cabinets Go With This Quartzite?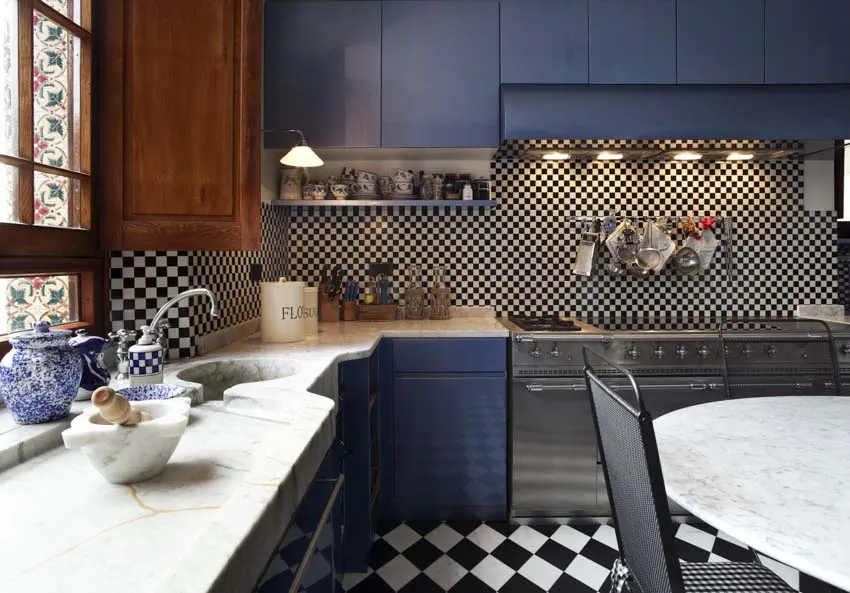 With a range of neutral hues available for Taj Mahal quartzite, it is easy to pair it with a variety of cabinet colors. Aside from the cream and off-white-colored cabinets where the warm variations balance the color scheme, you'll find tan hues a lovely match with cabinets made from natural wood with a mid-tone to dark wood.
Charcoal black or dark gray colored cabinets will look great with a Taj Mahal quartzite with neutral hues such as gray or white which provides a more contemporary look.
Cool colors like sandy gray or navy blue will look good with these counters with neutral undertones. Warmer colors such as deep chestnut, and chocolate brown will match with a natural stone with a beige tone or striations.
Gray: Dubbed as the "new neutral," is not hard to find gray cabinets for kitchens or bathroom vanities and you'll find blue undertones that give that nautical look. Choose a Taj Mahal quartzite that has gray or bluish striations to match your gray cabinets.
White Ash Stain: The light tan color of ash stain is a popular choice for both modern and traditional themed interiors because it showcases the beauty of the graining of wood while being easy on the eyes.
If you have a white Taj Mahal quartzite with very soft veining, you can easily match it with the light-colored ash kitchen cabinets. White is also suitable for stone that has heavy veining, as it won't overwhelm the look.
Chocolate Wood Stain: If you're looking for a rich and rustic look, the chocolate wood stain is the perfect choice to pair with your natural stone. The contrast is perfect for traditional homes such as a farmhouse design or cottage look.
The rustic aesthetic is a suitable alternative if you think black is overwhelming when you need dark-stained cabinets.
Weathered Oak Stain: Predominantly with gray graining with a few beige streaks, the weathered oak stain can be paired with a Taj Mahal quartzite that has veining of gray, beige, or both. The uniform graining and neutral hue of the weathered oak stain also makes it a great pairing with white counters.
What Tile Pairs With This Type Of Quartzite?
Unless you chose to use taj mahal quartzite, there is a wide range of tile options to choose from. You'll need though to consider the quartzite's veining, color, and undertones to match up with the perfect tiling.
In addition, the use and location are also a part of deciding the tile material to use. The most popular pairing are hexagons and subway tile kitchen backsplash.
Ceramic Tile: The ceramic tile is reasonably priced and at the same time natural stone has a lot of variations in colors and design making it easier to select the best tile design for your kitchen.
Porcelain: Porcelain is harder than ceramic and a little bit pricier. Match polished porcelain with a glossy finished countertop to create that luxurious look. There are a lot of choices available for porcelain tiles making it easier to mix and match with your Taj Mahal quartzite.
Stainless steel. Glass and stone are a beautiful juxtaposition and creates a balanced look. The stainless steel is not only aesthetically pleasing but there's the ease of cleaning and maintenance. The stainless-steel backsplash in your kitchen will mean you can easily wipe off grease and other accumulated dirt.
A stainless-steel backsplash is durable and easy to clean, besides the fact that it can reflect light which will make your kitchen a warmer and more welcoming place.
Glass Tile: Made from glass sheets, the glass tile has translucent glazing at the back. You can look for suppliers that provide custom-made designs for your glass tile such as predesigned patterns.
Travertine Tile: The Taj Mahal quartzite is a great option because you have that rustic charm of the natural stone while it can reflect light adding warmth and a welcoming vibe. Travertine costs less than your Taj Mahal Quartzite making it a great alternative for your backsplash.
See more related content in our article about Carrara marble backspalsh on this page.