Here we share our waterproof peel and stick floor tile designs including what it is, different flooring layers, what they're made from, pros and cons, and where to use peel and stick flooring.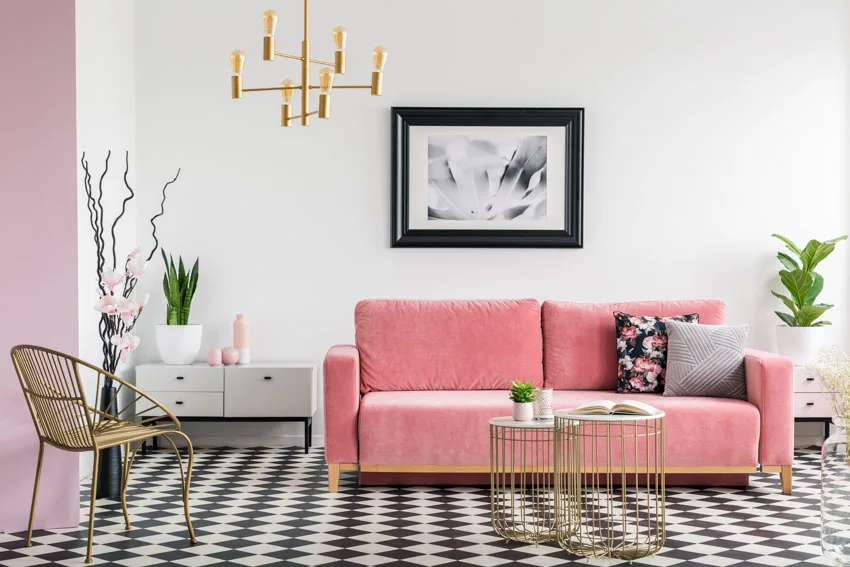 A flooring upgrade is one of the more costly home improvements, though a worthwhile investment nonetheless. But with today's fast innovation and improved manufacturing processes, homeowners now have the luxury of having the best materials for their homes that fall within their budget.
One of these budget-friendly building materials is the waterproof peel and stick floor tile. The affordable and easy-to-install flooring is made for low to medium traffic areas that simulate the look of natural materials as well as showcase edgy and modern styles.
What Are Waterproof Peel And Stick Floor Tiles?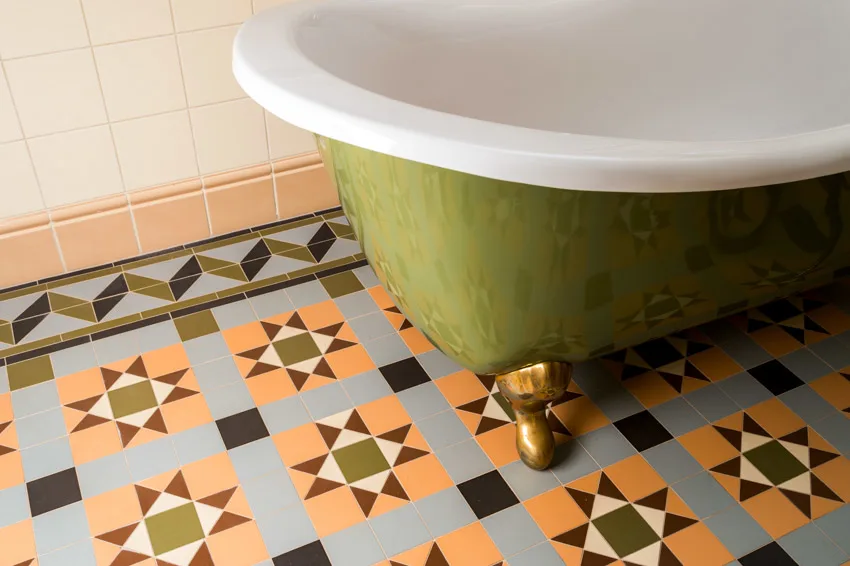 The waterproof peel and stick floor tiles are a thin flooring material made from compressed UV and waterproof coating, wear layer, color film, and a PVC or vinyl core sheet. These types of floor tiles usually come in standard sizes of 9″, 12″, and 18″ square.
You'll also find them in rectangle shapes and can also be cut to suit your specifications. Each tile will have an adhesive backing that is revealed by peeling off the protective layer; this backing is then fastened on the substrate. The typical thickness of the self-adhesive tile is between 0.3 to 0.5 millimeters.
What Is Peel And Stick Waterproof Floor Tile Made From?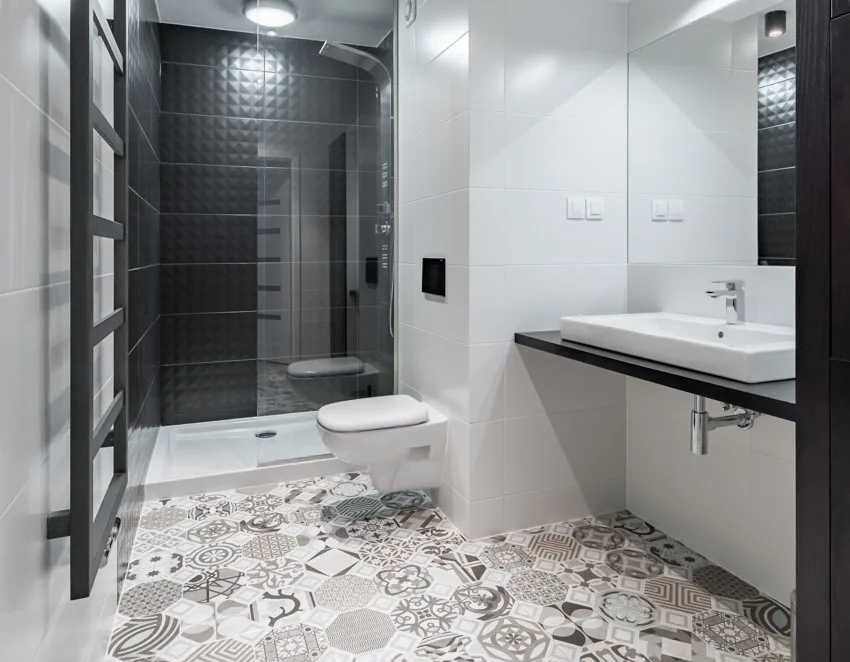 Peel and stick waterproof floor tiles are made from compressed vinyl powder that is heated, flat-rolled then cut into sheets. Additional layers are included, such as a UV coating, wear layer, color film, and waterproof coating such as polyurethane.
The waterproof floor tile is considered a cost-effective, fast, and hassle-free option if you want to update a room with low to medium traffic flow. You can use it as a quick and temporary solution while you prepare.
It can also be used to save for more expensive types of flooring materials for interior design. With quality installation and regular maintenance, you can enjoy your peel and stick waterproof floor for up to 25 years and beyond.
Like other types of plastic, vinyl tile is a moderately flexible material with desirable properties that can withstand heavy traffic. Because all vinyl flooring is constructed of PVC (polyvinyl chloride), a synthetic plastic, you may be interested in learning more about the environmental impact of its production.
Typical Layers For Vinyl Tiles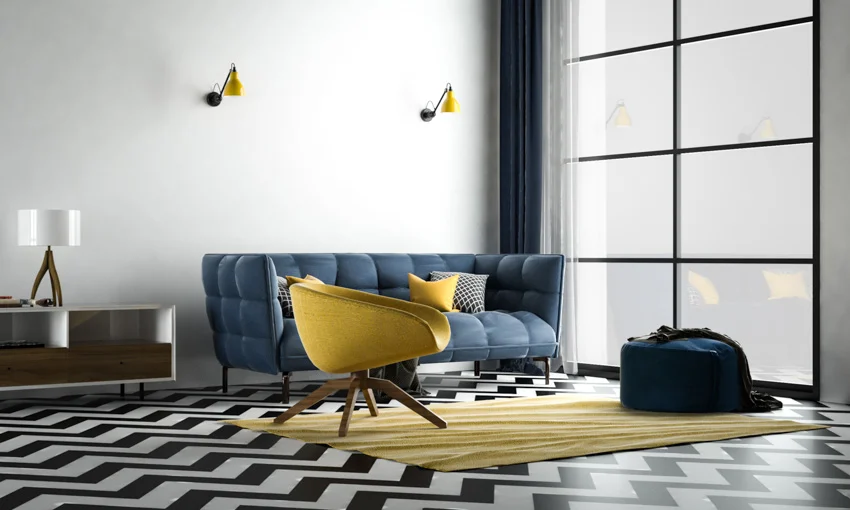 • Top Coating: Additional coating to protect the wear layer, such as UV protection and waterproof coating.
• Wear layer: The wear layer serves as a protection to the design layer pattern that matches your home décor.
• Pattern layer: This is the tile's color, design, character, and/or pattern that usually simulates other natural materials such as wood or stone.
• Cushion layer: This layer provides texture and bounces to the tiles.
• Fiberglass layer: This layer helps to keep the sheet flat.
• The base layer will need a flat, stable surface for the floor tiles to adhere to. Typically known as a substrate which can be wood, concrete, or existing tiles.
Waterproof Peel And Stick Flooring Pros And Cons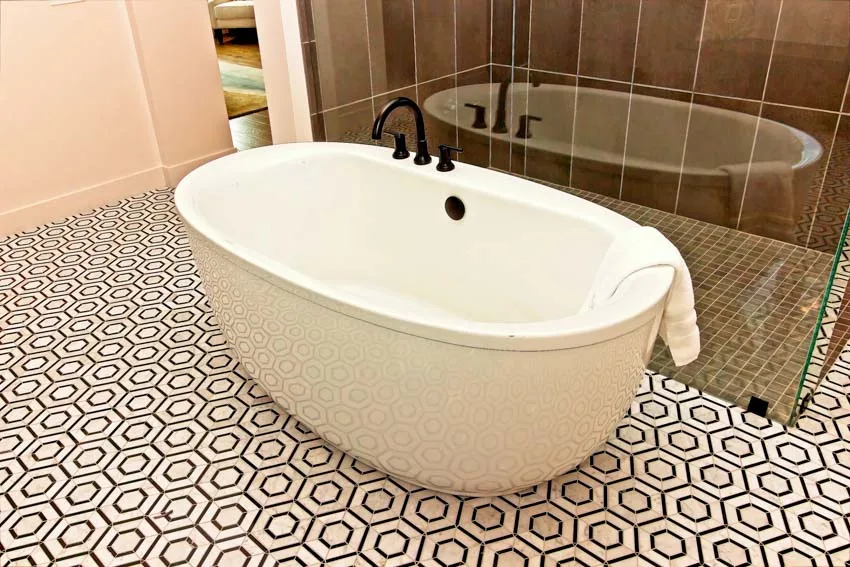 Here we share the advantages and disadvantages of waterproof peel and stick floors.
Pros of Waterproof Floor Tile: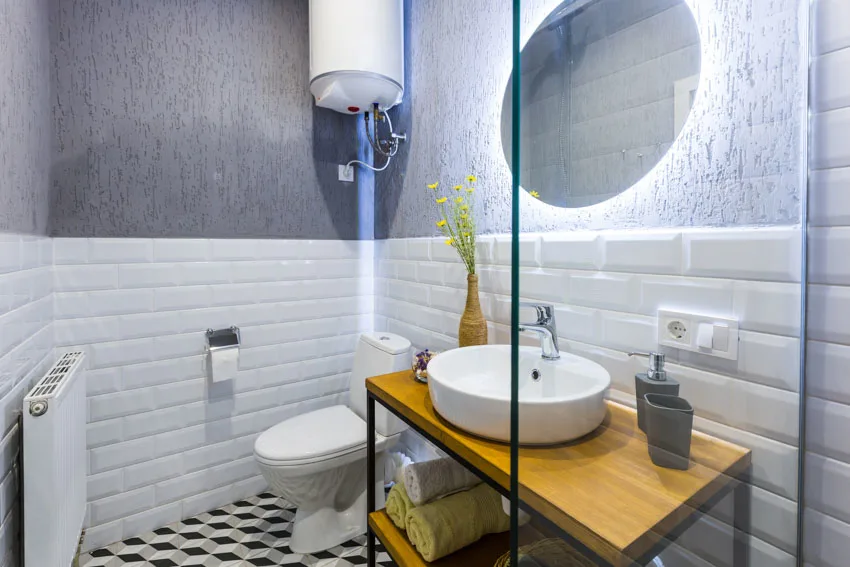 1. Waterproof: The peel and stick flooring with a polyurethane protective layer prevent water seepage making it an excellent solution for rooms that receive water and moisture. This means it can be great for basements, kitchens, and bathrooms.
However, the waterproof peel and stick types of floor tiles have no guarantee that it will hold against extensive exposure to water, such as flooding, which will also depend on the quality of your product. It does work with rooms that will have spill or pet accidents.
2. Commercial Grade Wear Layer: If you're looking for a more durable waterproof peel and stick flooring for high traffic areas, you'll find 12 mils or 20 mils. The thicker wear layer means it won't dent or scratch easily.
3. DIY Installation: The vinyl flooring can be installed without the need for professional help due to its self-adhesive backing that can be easily fastened to the flooring substrate. The light material also makes it easy to handle and transport.
4. Affordable: One of the most affordable, if not the cheapest, flooring material tiles in the market can is readily sourced in most home improvement and hardware stores. The lightweight material also means less transportation and handling costs.
5. Versatile: From simulated natural wood to minimalist themes, there's waterproof peel and stick floor tile is available to match your project. The self-adhesive tile flooring can be laid in any flat substrate such as cement, wood, stone, etc.
6. Lightweight Material: The thin profile makes the waterproof peel and sticks floor tile possible to install on any type of substrate without losing structural integrity. The lightweight flooring material can also be carried to higher levels without difficulty.
7. Low Maintenance & Easy to Clean: The impermeable and flat surface makes it easier to mop or wipe without the worry of staining from detergents.
8. Antistatic. A rubber-like material impedes or minimizes the static charge from static damage. This property protects people and products from being grounded due to static sensitive environments.
9. Dampen Noise: While it seems the peel and stick floor tile may not be a lot, the added material laid on a floor compared to having it bare will certainly dampen the noise without the need for expensive acoustics. However, you can install waterproof peel and stick floor tile but
Cons of Waterproof Floor Tile: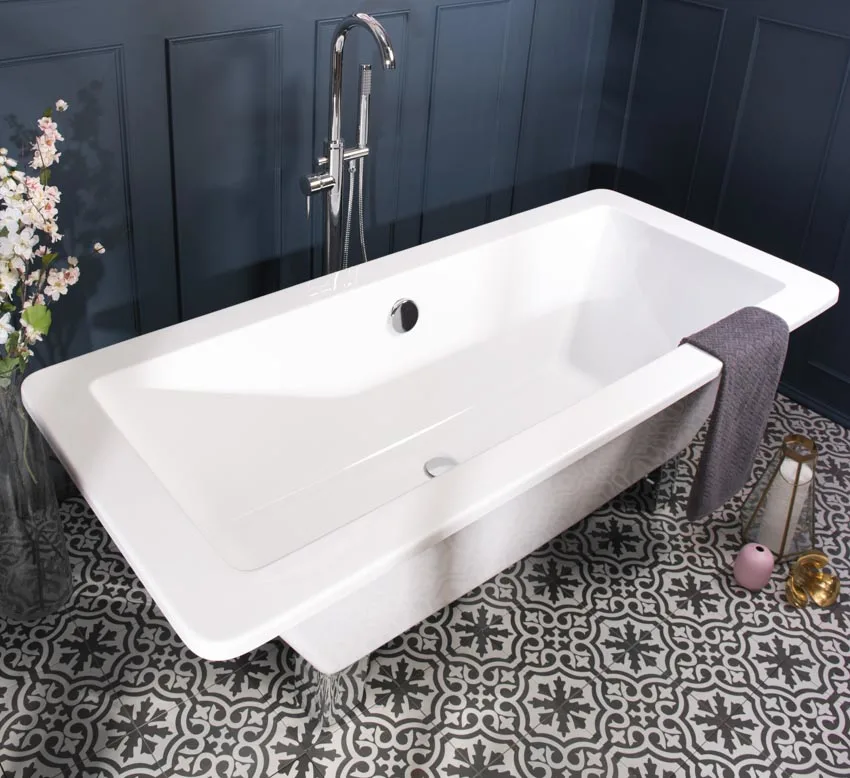 1. Discoloration: Not all waterproof peel and stick floor tiles are made equal. Vinyl tiles discolor when exposed to the sun extensively throughout a period of time. Exposure, especially for those that have no UV protective coating or layer, will lose its color and design faster.
2. Denting and scratches: The thick coating can withstand a fair amount of damage, especially for a 28-mil grade vinyl tile, but the protective layer can wear out over time, making it more susceptible to damage.
3. Difficult to Remove: The strong adhesive makes it difficult for the floor tile to be removed. When you plan to replace the flooring material, it is more practical to install over the flooring instead of removing the vinyl tiles.
4. Non-biodegradable: Since waterproof peel and stick floor tiles are basically made from plastic, it adds to the volume of non-biodegradable materials in landfills.
In addition, the liquid coatings and adhesives used can release harmful fumes. The plastic components can also be harmful to the environment, especially when it reaches our natural waterways.
5. Inconsistent Quality: As we've said, not all waterproof peel and stick floor tiles are made equally, and you might receive damaged or faulty products. So, it is best to get from reputable suppliers for your flooring material, and don't forget to a lot at least 5% to 10% for tile wastage just in case you might damage or replace your flooring tile.
What Is The Highest Wear Layer For Vinyl Flooring?
The highest wear layer for vinyl flooring is the top layer placed over the design film, which usually comes with a range of 20 mils to 40 mil wear layers. The 40-mil layer is considered for commercial projects. The best wear layer will fall to 20 or more mils while a fairly good layer will have 12 mils, and a below-average quality will have six mils.
The top layer of vinyl flooring, which is normally laid over the pattern film and has a wear layer thickness of 20 mils to 40 mils, has the highest wear layer. For commercial projects, the 40-mil layer is recommended.
The optimum wear layer will have a thickness of 20 mils or more, while a good layer will have 12 mils, and a poor layer will have six mils. The wear layer is considered one of the most important features of the vinyl flooring as the durability of the waterproof peel and sticks floor tile is determined by the wear layer.
The wear layer is placed on top of the decorative or design layer of your vinyl flooring. Some may also have an additional polyurethane-based protecting coating on top of your wear layer for additional strength and protection against fading.
What Is The Thickest Wear Layer On Vinyl Flooring?
The top layer of vinyl flooring, which is normally laid over the pattern film and has a wear layer thickness of 20 mils to 40 mils, has the highest wear layer. For commercial projects, the 40-mil layer is recommended. The optimum wear layer will have a thickness of 20 mils or more, while a good layer will have 12 mils, and a poor layer will have six mils.
The vinyl flooring's longevity, stain resistance, and scratch resistance are all provided by a wear layer. This is one of the most significant considerations when selecting flooring because it determines how long your floors will last. The wear layer has the greatest impact on the floor's durability, and it's measured in mils or one-thousandth of an inch.
Where To Use Peel And Stick Waterproof Flooring?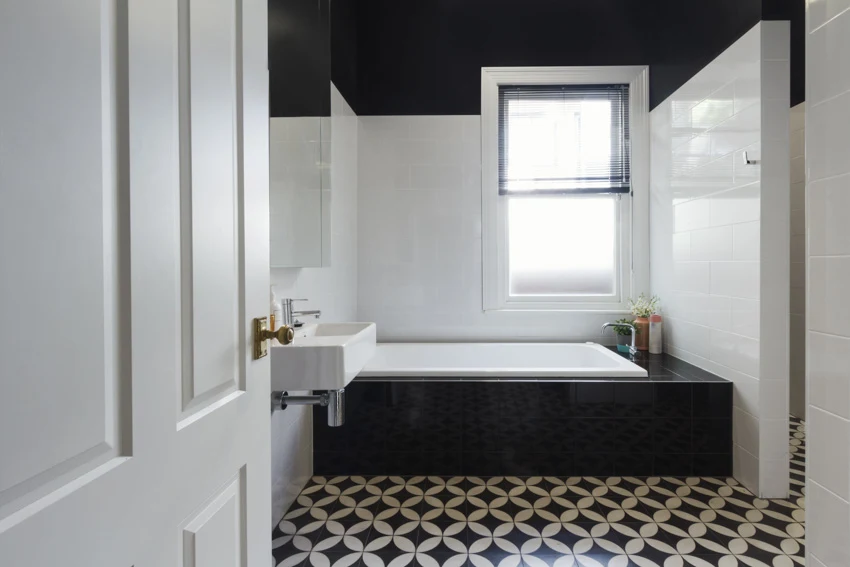 Like other forms of plastic, vinyl is a relatively flexible material with desirable features that stand up to high traffic. Commercial grade peels and sticks waterproof flooring are great for high traffic areas such as the kitchen, hallway, or bathroom.
For light to medium traffic for residential use, 28 mil is a minimum standard. Places with low to medium traffic are bedrooms, living room, and dining room.
Since the peel and stick waterproof flooring has a protective layer to resist water damage, you can also place it even in damp areas such as the bathroom or the busiest places on earth.
Waterproof Peel And Stick Floor Tile Bathroom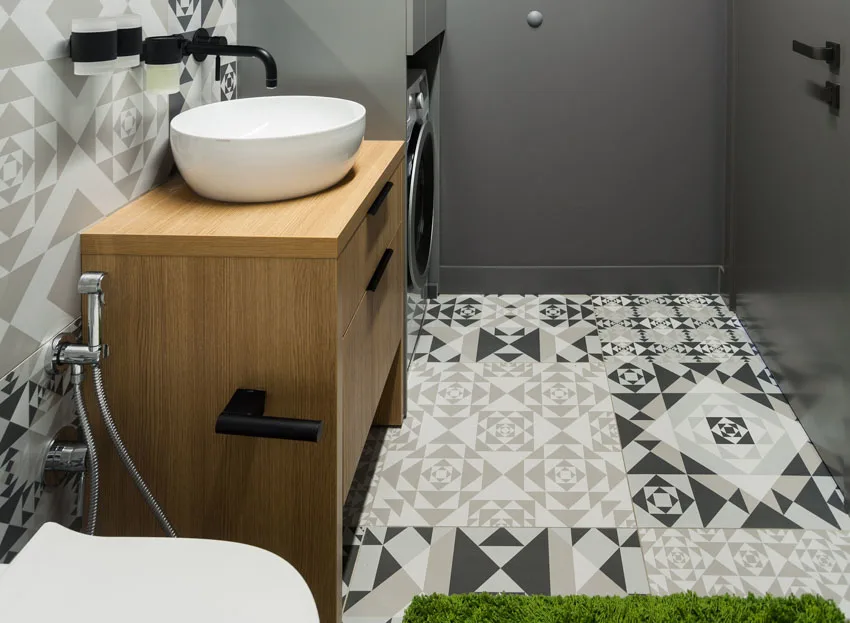 Peel-and-stick tiles can take spills and occasional moisture exposure, but they should be cleaned quickly so as not to weaken the backing materials of your vinyl tile.
There are other bathroom floor tile ideas that are more durable than others depending on the quality, thickness, and grade, which can handle being used in bathrooms or routine mopping, while others may be more susceptible to damage.
You should choose a thicker vinyl floor for busier areas because it will provide additional sturdiness and stability. Imperfect subfloors are also more forgiving with thicker grades.
If your subfloor is a concern, consider a thicker floor; nonetheless, we recommend installing new floors on a level with clean and dry flooring.
Remember that vinyl tiles will require a moisture barrier, especially if installed over a concrete subfloor. This underlayment keeps moisture from the subfloor from seeping into your floor. There is no need for underlayment with glue-down vinyl flooring.
To make sure you've got an excellent substrate for your waterproof peel and stick floor tile apply the foaming solution of a waterproof core (WPC), which is made from mostly plasticizers, calcium, wood, calcium carbonate, and polyvinyl chloride.
How To Install Waterproof Peel And Stick Tile?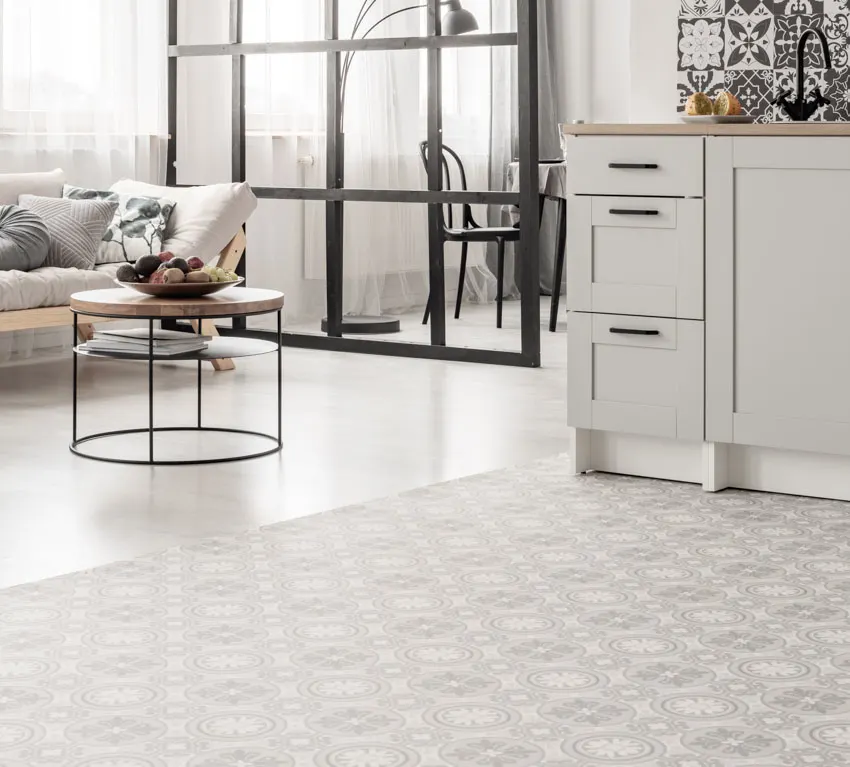 Installing the waterproof peel and stick floor tile is fairly easy by knowing these general steps:
1. Surface Preparation: A critical stage in any laying out of materials. It is important to make sure the substrate is leveled and flat, as uneven surfaces will cause gaps or air pockets that could damage your vinyl tiles.
2. Thorough Cleaning of Substrate: Aside from ensuring an even surface, also make sure that you have removed debris, dust, or any particles that can get embedded between your tiles and substrate.
After vacuuming or dusting off dirt, It is also helpful to wash off oil or any other chemicals from the surface with commercial detergents made specifically for various substrates to make sure the adhesive backing shall adhere to the substrate. Rinse the cleaning solution from the surface and let it dry.
3. Seal the Floor: When all parts of your floor have dried, it is now time to apply a sealant to the floor for added protection. Usually, the Sealant also acts as a filler to cover existing holes or dents.
4. Fill Expansion Joints: The application of fill expansion joints is used in between materials, most especially for wood substrates that will expand or contract depending on the weather. Then, let the filler settle for around 24 hours.
5. Fill in the Gap Again with Patching Fill: After settling the first filler, it would naturally show gaps as the liquid filler settles and dries.
6. Apply Sealant to the entire floor: After your patching fill has dried, apply a protective coating on the surface to maintain a seamless and impermeable flooring.
7. Apply and Install the Material: Make sure to follow manufacturing recommendations before installing the vinyl tile. Use a hand roller to bind together your waterproof peel and stick floor tile. The adhesive bond once each vinyl tile is laid.
Tip: If you want to remove stubborn glue from a previous vinyl or laminate tiling, use liquid dish soap to the area, then leave it for 30 min to soften the accumulated dirt.
Tip: When removing existing vinyl tiles, makes sure to ask for professional help when unsure, as the older vinyl floors were made with asbestos, especially those made in the 1980s or earlier.
There is also an asbestos testing kit. If you want to test the tiles by yourself, make sure to use a mask and other protective gear when handling the test and removing your tiles.
See more related content in our article about the best material for bathroom flooring on this page.