In this luxury vinyl flooring guide you'll see what it is, different types of LVP, pros and cons, best tips on layers, cost, installation, and cleaning luxury vinyl floors.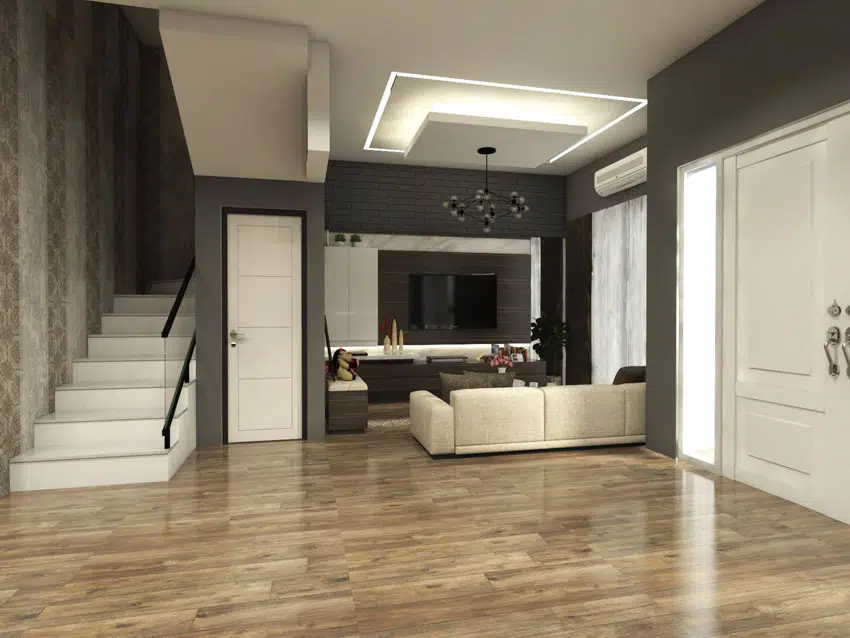 Vinyl flooring has the genuine appearance of hardwood floors but without complicated upkeep. However, when deciding what type of flooring you will use in your house, you will see how difficult it could be to choose the most appropriate one.
Even so, you will have to live with whatever decision you make for years. If the appearance of real hardwood appeals to you, you might want to consider setting up luxury vinyl flooring.
Luxury vinyl flooring is one of the quickest-growing flooring options in the market at the moment now, and its development in the field has been spectacular in recent years.
Furthermore, luxury vinyl flooring is a contemporary, stylish, durable, and cost-effective flooring selection that can compete with some of the most costly flooring alternatives available.
However, like with any selection, there are advantages and disadvantages to consider before committing to a type of flooring. Let us discuss the pros and cons of luxury vinyl flooring.
What Is Luxury Vinyl Flooring?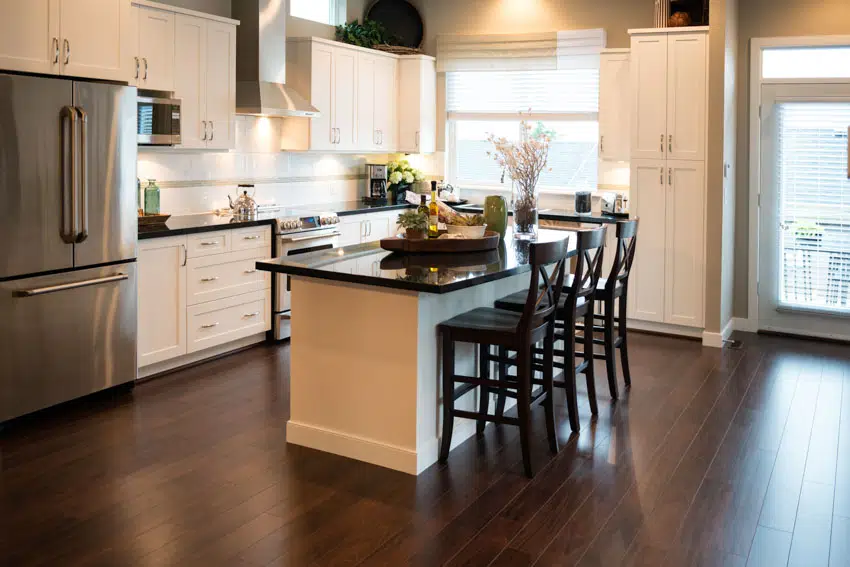 Luxury vinyl flooring is comparable to conventional vinyl flooring in certain ways, but what distinguishes it from any standard vinyl flooring is its capability to precisely simulate the look of genuine floor materials like wood, marble, or stone.
Luxury vinyl flooring is often broader than other forms of vinyl flooring and has a far more authentic resemblance to vintage types of hardwood floors.
It achieves this similarity by the use of a surface layer with an extremely accurate photo-created picture of actual wood, mixed with textures that are similar to natural materials.
Types of Luxury Vinyl Flooring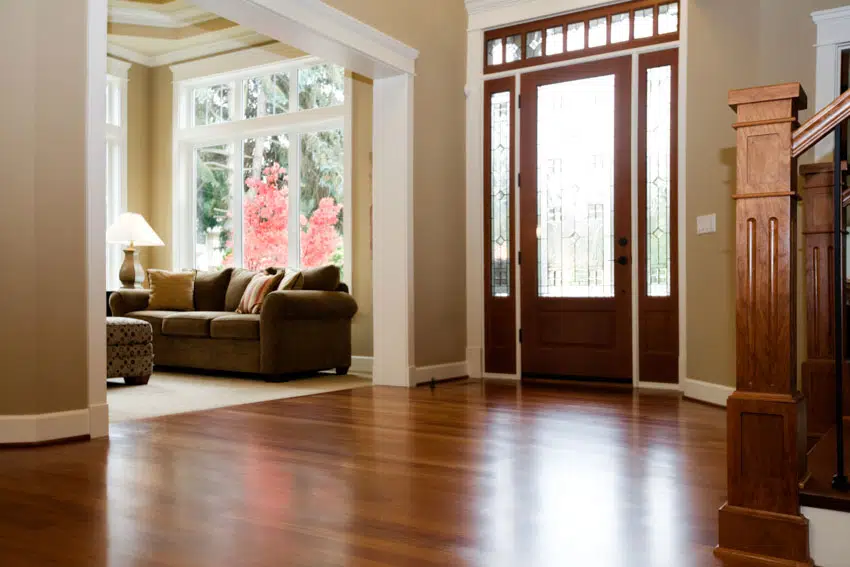 We have broken down the various types of luxury vinyl flooring available for your bathroom, kitchen, and more.
Luxury Vinyl Plank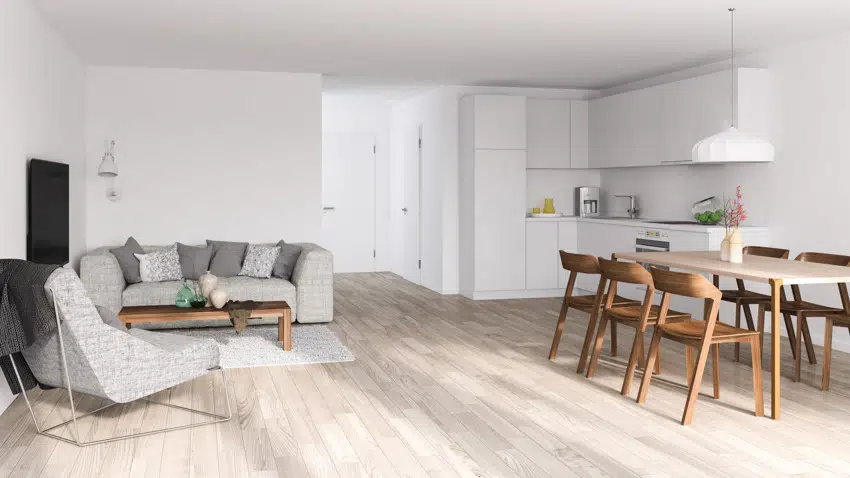 Luxury vinyl plank is yet another prevalent type of luxury vinyl (LVP). Luxury vinyl planks, as the name suggests, resemble hardwood flooring planks.
Because they are separate pieces of vinyl, they excellently simulate the actual object. LVP encompasses any vinyl designed in planks, providing the appearance of wood floors while retaining all of the attributes and advantages of vinyl.
Engineered Vinyl Plank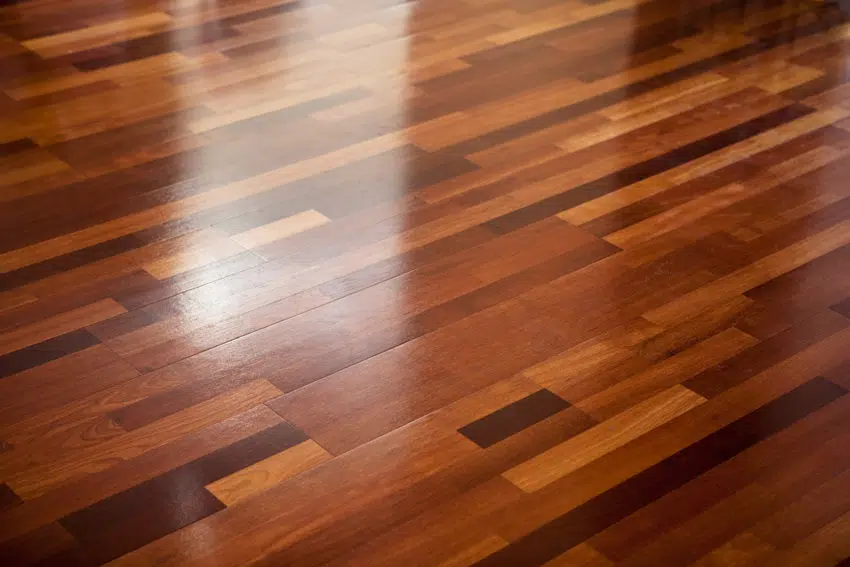 Engineered Vinyl Plank is a subcategory of Luxury Vinyl Plank (EVP). EVP is the closest in appearance, texture, and shape to engineered wood. It also appears identical to laminate flooring.
It is, nevertheless, far more adaptable and robust. The fact that EVP is watertight is likely the most significant difference between it and other vinyl or floor kinds.
Another distinctive feature of the engineered vinyl plank is that it is substantially thicker than standard glue-down vinyl. EVP is comparable to engineered hardwood in that it is typically 8-millimeter thick and constructed in layers.
The upper layer is vinyl, the mid-layer is a high-density core board, and there is frequently a connected back underlayment for additional padding.
Over the last few years, the engineered vinyl plank has grown in popularity as a less costly substitute to premium hardwood floors and a more sophisticated, appealing option to conventional vinyl or laminate flooring.
Luxury Vinyl Tile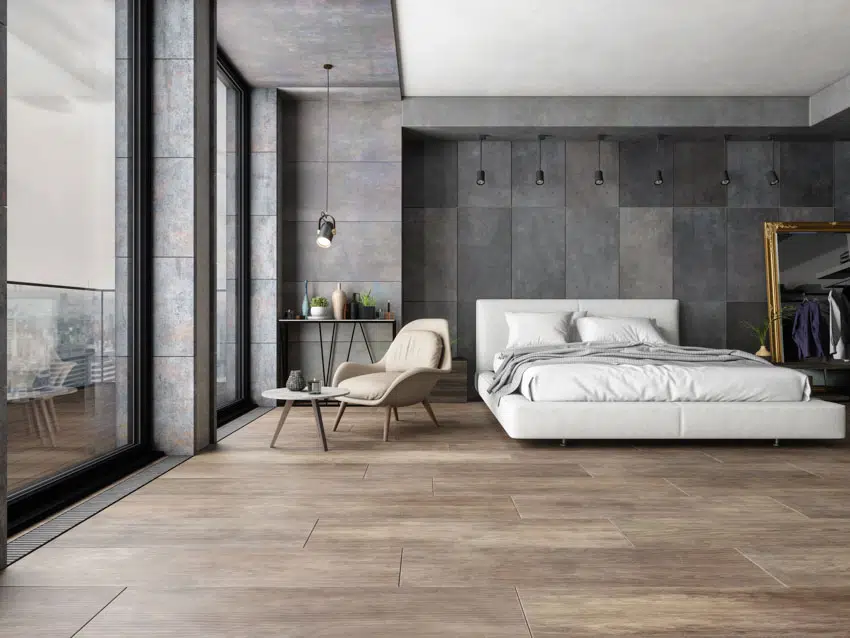 Luxury Vinyl Tile is a prevalent type of luxury vinyl flooring (LVT). Luxury Vinyl Tile comes in a variety of pattern possibilities and can simulate the appearance and complex details of actual stone or hardwood flooring without the expensive installation and difficult maintenance expenses.
The polyurethane finish, the transparent protective layer referred to as the wear layer, the print film layer, the vinyl substrate, and the tile underlay are the layers that make up LVT.
Luxury Vinyl Sheet Flooring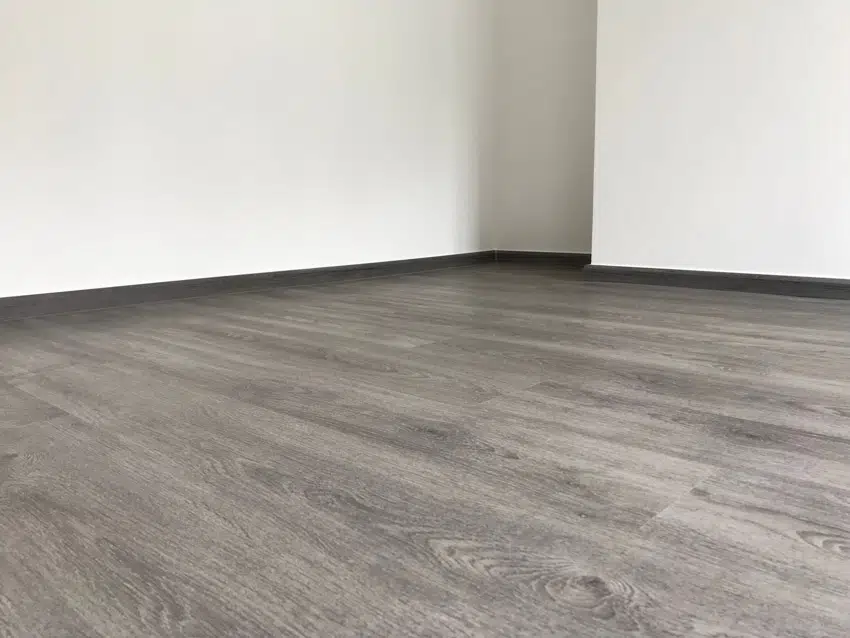 Luxury sheet vinyl flooring is a type of luxury vinyl flooring that comes in huge, seamless sheets that are pliable. Unlike vinyl floor tile, which comes in solid tiles, and vinyl planks, which come in interconnecting strips, a vinyl sheet floor is fully resistant to water.
It is occasionally referred to as linoleum since they are aesthetically similar, except that they use different chemical formulations.
This kind of luxury vinyl flooring is widely used since it is water-resistant, relatively durable, adaptable, robust and insulating, simple to install, obtainable in a range of looks, and reasonably priced. If bought commercially, custom-printed vinyl sheet flooring may cost more.
Rigid Core Luxury Vinyl Flooring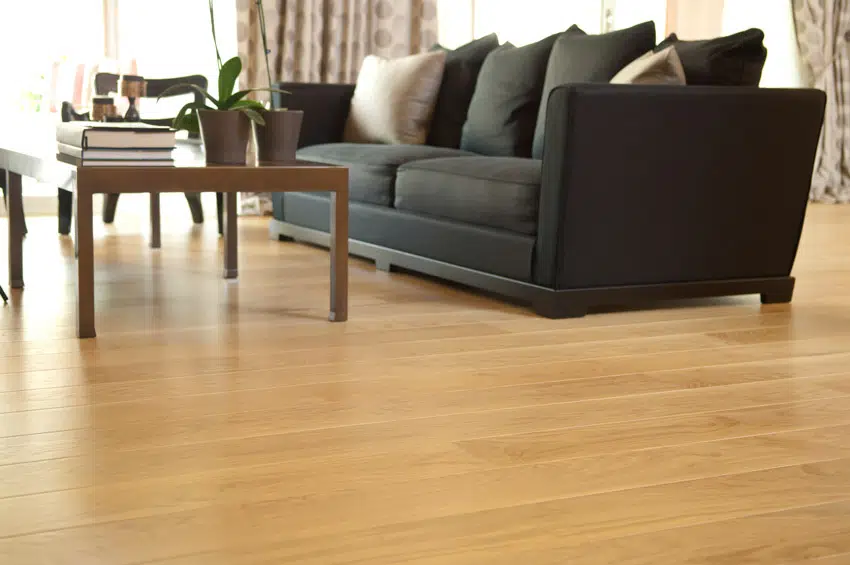 Rigid core luxury vinyl flooring is a type of vinyl flooring that has been developed with a core structure for enhanced stability. This renders the board or tile less flexible but more sturdily constructed.
Moreover, it is an improvement of regular vinyl flooring that makes it feel more like hardwood or tile flooring. Rigid core luxury vinyl flooring is available in a variety of styles, including wood plastic composite, stone plastic composite, and hybrid.
This distinctive structure of rigid core vinyl flooring distinguishes it from standard vinyl flooring, providing increased longevity and stability. Another advantage of a rigid core is that the vinyl is completely waterproof. This resilience also contributes to the appearance of hardwood or tile.
The deep coating enables the fabricator to give each plank or tile a more craftsman-like quality. Furthermore, the solid core luxury vinyl flooring is cozier and filters greater sound.
Finally, firm core premium vinyl will not break the bank. It is inexpensive, simple to install, and uncomplicated to maintain. This flooring is an excellent choice for any area.
Pros of Luxury Vinyl Flooring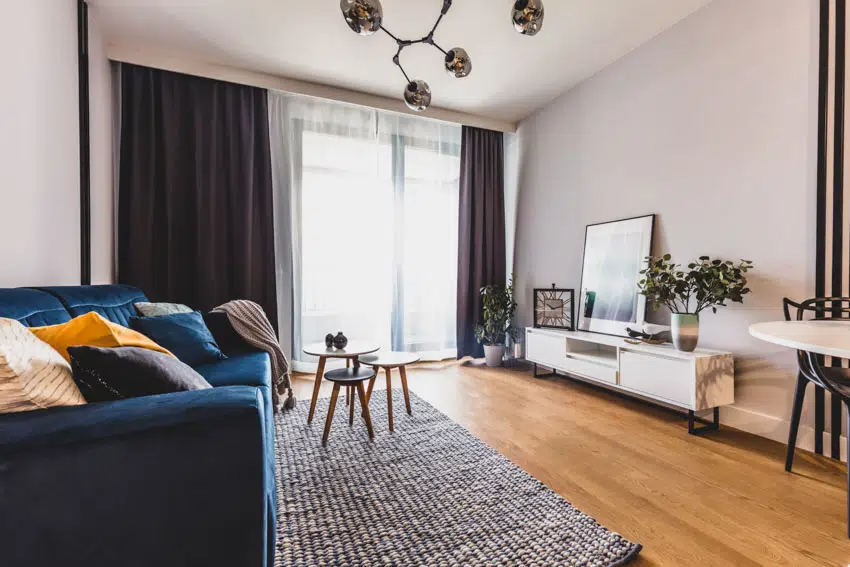 There are numerous pros to selecting luxury vinyl flooring, including cost, a plethora of design possibilities, and many more. Here are some of our favorite features of luxury vinyl flooring.
Very Easy to Maintain: While solid surface flooring such as genuine wood or marble may be extremely tough to maintain, luxury vinyl flooring is indeed one of the lowest maintenance options for homeowners.
A luxury vinyl tile (LVT), for instance, features a protective wear layer, which implies it does not necessitate polishing or waxing. Rather, it simply requires cleaning and sweeping to keep its brand new appearance.
If the wear layer is thicker than the usual, no doubt it can be used for up to ten years before needing to be renewed.
Certain luxury vinyl floor solutions may need extra effort. Whilst Vinyl Composite Tile (VCT) requires less upkeep than hardwood flooring, it does necessitate daily washing and sweeping, as well as frequent waxing and polishing to keep the surface free of marks and stains.
Gentle sweeping and mopping, on the other hand, will preserve luxury vinyl flooring in excellent condition. All-purpose detergents will also come in handy. If you damage the planks, you may easily pull them out and have them replaced.
Entirely Waterproof: While vinyl flooring has the obvious advantage of being water-resistant, only luxury vinyl flooring has the extra advantage of being entirely waterproof.
Thus, engineered luxury vinyl is an excellent choice for moisture-vulnerable areas of the home. It can be a good idea for kitchen, restroom, mudroom, and laundry room flooring.
Engineered luxury vinyl plank is a better alternative for waterproof flooring than engineered hardwood, which could be ruined by water.
Very Affordable: Probably the most significant benefit of luxury vinyl flooring is that it can provide a nearly perfect hardwood appearance at a quarter of the expense.
Of course, hardwood flooring is a lovely option for any house. It is available in a variety of colors, grades, and designs, but it is also one of the most costly options available.
Typical hardwood floor costs between $8 to $25 per square foot, while luxury vinyl only costs around $2 to $5 per square foot.
The appearance of luxury vinyl is simply a photographic picture layer of wood between the underlay and the clear wear layer, which means that luxury vinyl tile developers only need to photograph the required wood to replicate the actual material. That is why it is so inexpensive.
Many Design Variations: Luxury vinyl flooring comes in a myriad of design possibilities. Moreover, as the prevalence of luxury vinyl flooring grows, so does the variety of styles and colors available.
There are several luxury vinyl flooring, as well as luxury vinyl plank alternatives to select from, whether you want contemporary gray or faded woods and farmhouse themes.
Since patterns may be etched into the tile to give it a more genuine vibe, luxury vinyl tiles can even imitate parts of the texture of natural wood or stone.
One of the most frequent fallacies regarding LVT is that the pattern would fade over time.
However, the design is printed into the tile's film layer and covered by the transparent wear layer, which prevents dings and scratches and shields the printed design layer from walk-off. Meaning, it will not fade easily over time.
Very Comfortable to Walk and Stand On: Luxury vinyl flooring, especially engineered vinyl planks, is far more pleasant on the feet than other less expensive choices.
It also provides temperature and noise insulation, so you will not have to worry about freezing winter flooring or excessively noisy footsteps.
It Has the Genuine Appearance and Feel of Natural Wood: Luxury vinyl flooring could be the most ideal selection if you desire the beauty and feel of natural wood but don't want the complicated maintenance.
Luxury vinyl, particularly engineered vinyl plank, resembles genuine wood so closely that many visitors to your house may confuse it for hardwood. Luxury vinyl also feels more like a solid hardwood floor since the boards are broader and more solid.
Installation Versatility: While luxury vinyl was formerly exclusively produced in glue-down type, a lot has developed ever since. Luxury vinyl can previously only be attached directly to concrete flooring or, preferably, plywood.
Owing to the slimness of luxury vinyl, when applied straight to concrete flooring, the vinyl just lay on top of it without giving any cushioning, giving off a cold hard feeling.
However, there are now possibilities for "hanging" luxury vinyl flooring. The term "hanging" or "floating" refers to the fact that the vinyl floor is not fastened or affixed to the foundation, but instead rests on top.
This modification makes it considerably easier for a layman to set up LVF without the need for an expensive installation expert. Furthermore, floating or hanging vinyl flooring is significantly easier to remove and replace.
Additionally, the invention of the engineered vinyl plank has increased installation versatility even further. EVP is thicker than standard luxury vinyl planks and is laid by snapping separate sections together.
As a result, they not only give greater cushioning and insulation from the subfloor than some other types of vinyl floors, but they also keep tightly in position.
Luxury vinyl tile is also rather simple to set up. Certain luxury vinyl tile products can use either glue or grout, whereas others will latch together or have peel-and-stick backing, but virtually all will offer installation for the user.
Generally speaking, luxury vinyl flooring is fairly simple to install and has the added advantage of being capable of being laid on practically any surface.
Very Cost-Effective: Luxury vinyl flooring is far less costly than hardwood, tile, and other high-end flooring alternatives.
Plus, you may typically prevent tile tear up, which can significantly increase your labor expenses. So, indeed, using luxury vinyl flooring is very cost-effective.
Cons of Luxury Vinyl Flooring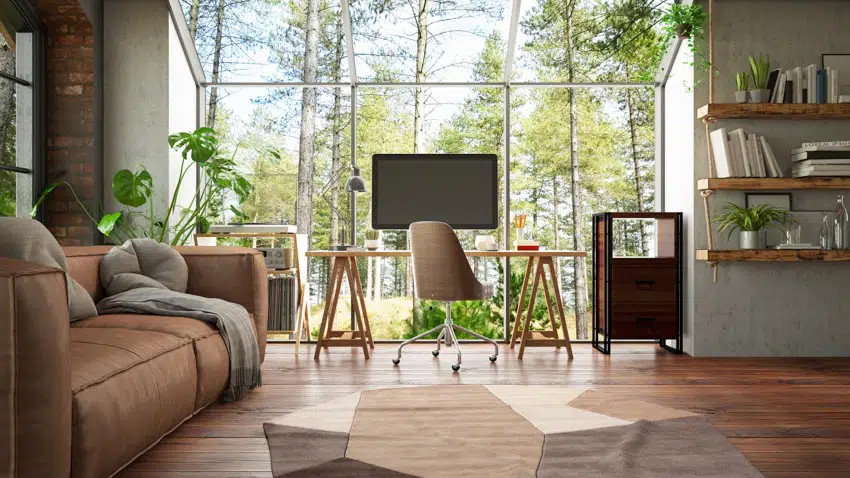 While vinyl flooring has an abundance of advantages, like minimal maintenance and extreme durability, there are a few cons that you have to be mindful of. Here are some of the disadvantages of vinyl flooring.
Complicated Preparation Before Installation Process: Due to the sensitivity of certain luxury vinyl, if your flooring is rough or uneven, it may necessitate thorough preparation.
Engineered vinyl planks will not queue up well if you have a very disorderly subfloor. If this is the situation with your house, you should either apply a self-leveling solution (at an additional cost) or go for a glue-down construction.
Not Exempted to Damaging: Although luxury vinyl flooring is extremely durable, long-lasting, and waterproof, it is not immune to damage. It can still scratch or dent, particularly when in persistent contact with massive objects like appliances.
Does Not Add Great Value to your House: Notwithstanding its name, luxury vinyl flooring will not increase the value of your property in the same way that hardwood or ceramic can.
If the value of the investment is a significant element in your floor selection, you won't want to disregard it throughout the planning phase. This is a simple renovation blunder to avoid.
Safety Threats: Although the consistent, flawless appearance of luxury vinyl flooring can be regarded as an advantage, we'd be negligent if we didn't highlight the apparent con that luxury vinyl flooring is more slippery, and thus more of a fall hazard than other types of flooring materials available.
Vinyl Flooring Layers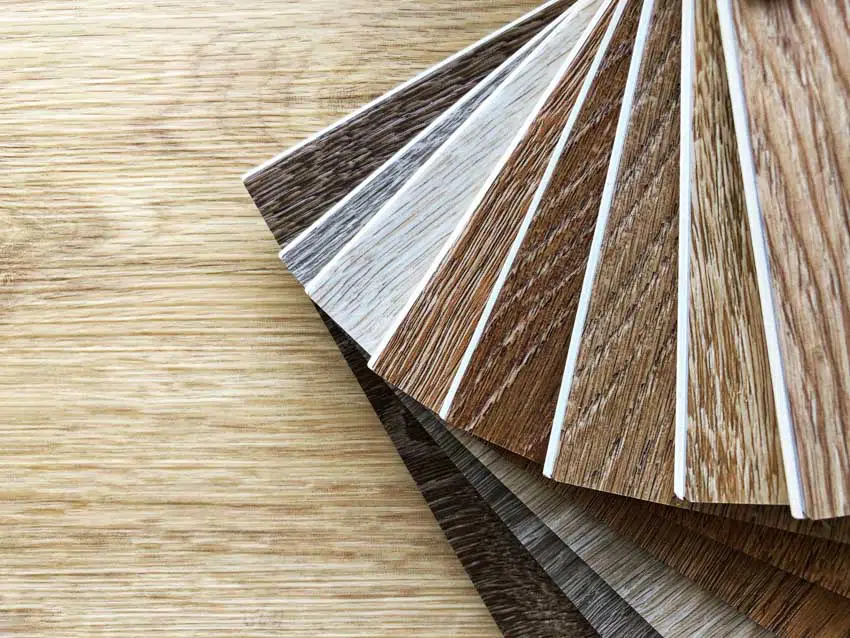 Vinyl flooring consists of 4 layers. Here are what builds up each layer:
• First Layer: This is the topmost clear coating, which prevents scratches and provides additional durability.
• Second Layer: This is the compressed vinyl layer commonly used for embossing or ornamental sheets.
• Third Layer: This layer is composed of one of the four core elements. It can either be a Wood Plastic Core (WPC), Composite Core (CC), Solid PVC, or Solid Polymer Core (SPC). If you want to make your vinyl flooring waterproof, make sure to select WPC or SPC.
• Fourth Layer: This bottom foundation layer is constructed of foam or cork, and it supplies a finishing barrier such as an affixed pad to absorb sound or protect against floor heating equipment.
Luxury Vinyl Flooring Cost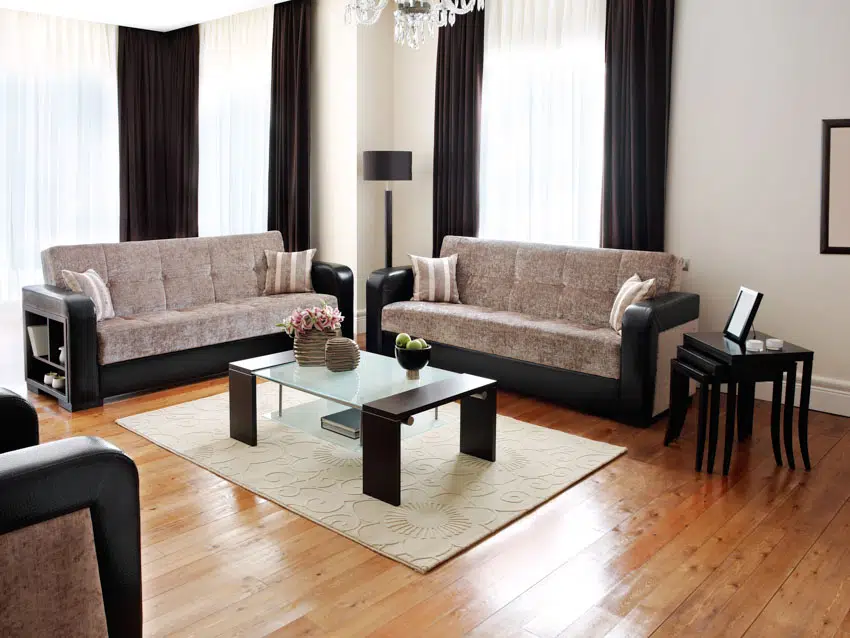 Luxury vinyl flooring is indeed a major upgrade in comparison to sheet vinyl, and the cost reflects this. While the price of conventional vinyl flooring can range from $0.50 to $2 per square foot, the price of luxury vinyl flooring is generally around $2 to $5 per square foot.
Luxury vinyl flooring is really simple to install. In addition, it is the simplest flooring for a do-it-yourselfer to lay. This is an excellent approach to save total costs.
If you want it professionally placed, anticipate paying an extra $1.50 to $3 per square foot, provided that you have a zero-issue subfloor.
How to Install Luxury Vinyl Plank
Here are the things you will need during the installation
• Hammer
• Hearing protection
• Air compressor
• Air hose
• Aviation snips
• Belt sander
• Square
• Straightedge
• Tape measure
• Utility knife
• Brad nail gun
• Knee pads
• Chalk line
• Cold chisel
• Dust mask
• Putty knife
• Safety glasses
• Sanding block
Step-By-Step Instructions of Installing Luxury Vinyl Plank
1. Sand Down the High Areas: Using a straightedge, locate the low and high points on wooden subfloors. Over a 4-foot period, the floor height must not increase or fall more than 1/8 inch. Sand the high areas using a belt sander and a coarse-grit belt.
Reminder: Since this is a messy task, turn off your heater and wear a dust mask to prevent spreading dust throughout your home. Moreover, use the coarsest sanding belt available (40- or 60-grit).
2. Start Filling in the Lower Spots: Fill up the lower spots with floor patches and spread them out with a trowel.
Reminder: Stay away from self-leveling floor patches. The floor does not need to be level; it only needs to be smooth.
3. Undercut the Door Jambs: Cut the jambs and casings so that the flooring could be slid below.
Reminder: An oscillating multi-tool is ideal for this task. As a reference, use a little fragment of flooring.
4. Provide a Space for Expansion Along your Walls: Shims should be inserted to provide a 1/4-inch to 3/8-inch space between the flooring and the walls.
Reminder: These holes enable the flooring to expand and contract readily in response to temperature fluctuations.
5. Fasten the Luxury Vinyl Planks by Snapping Them: End to end, snap the boards in the first row altogether. Place the tip of the first plank on the second row at a low angle into the groove of the first row and put it on the floor.
Mount the second and following boards in each row by initially locking the ends together, then working your way down the plank, forcing the tip into the groove as you go.
Reminder: It is recommended to twist and bend each plank into position.
6. Start Staggering the Seams: Seams should be at least 6 inches apart, and no row should begin or end with a plank less than 6 inches broad.: Open many boxes at the same time and jumble them to create a unique pattern.
7. Begin Tapping In the End Planks: Tap tough seams closed after hooking the pull bar onto the end of the plank.
8. Set up Bridge Molding: Fill in the expansion space between the floor and the base trim.
Reminder: Do not nail into your flooring since this will restrict it from expanding properly.
9. Put in Shoe Molding: 1-1/4-inch finish nails should be driven through the shoe and into the base trim once your flooring is already down.
Reminder: Be cautious not to damage the flooring in the process. Finish the molding so that it matches the trim rather than the flooring.
How to Clean Luxury Vinyl Plank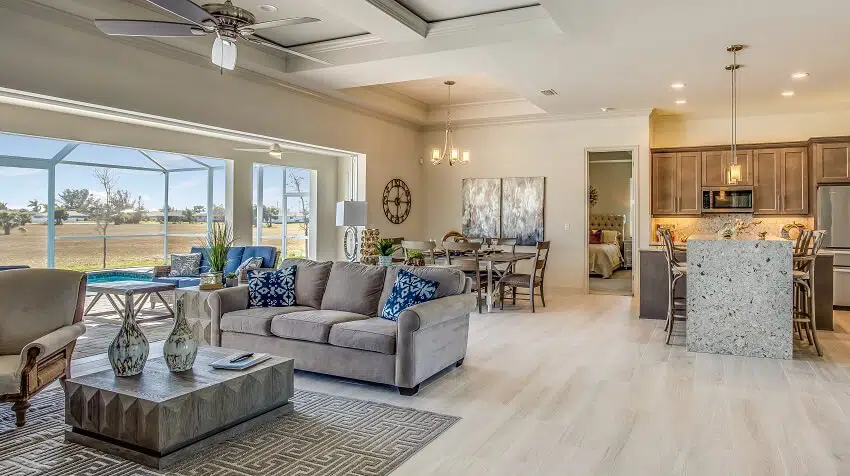 Here are the things you might need in cleaning your luxury vinyl plank
• Vacuum
• Mop
• Apple cider vinegar or gentle dish soap
• Water
• A bucket or basin
• Microfiber or regular cloth
• Soft bristle brush
Here are the three methods of cleaning your luxury vinyl plank:
• To eliminate surface dirt, dust, and detritus, vacuum or dry-mop your floor: Constant carelessness is the quickest way to destroy vinyl plank flooring.
That is why it is highly recommended vacuuming or dry mopping your floors once or twice a week. This will pick up all types of debris, dust, and filth that can form small scratches on the floor and diminish its luster.
• Use a scrubber to erase stains: Whether the stain is new or frustratingly old, a soft nylon brush can assist in loosening and removing it without damaging your floor.
Scrub carefully after dipping your brush in a DIY baking soda and water combination. If it does not work, try removing the discoloration with isopropyl alcohol or hydrogen peroxide.
• Do wet-mopping to remove grime: A cup of apple cider or white vinegar in a gallon of heated water is one of the strongest vinyl plank flooring cleaners. Mop your vinyl plank flooring in the orientation of the planks using a wet mop.
The vinegar will remove filth, grime, and splotches without leaving traces or creating a sudsy waste.
See more related content in our article about vinyl flooring with attached underlayment on this page.