Here's our soapstone floor tiles design guide including what it is, where to use, cost and how to clean soapstone tiles.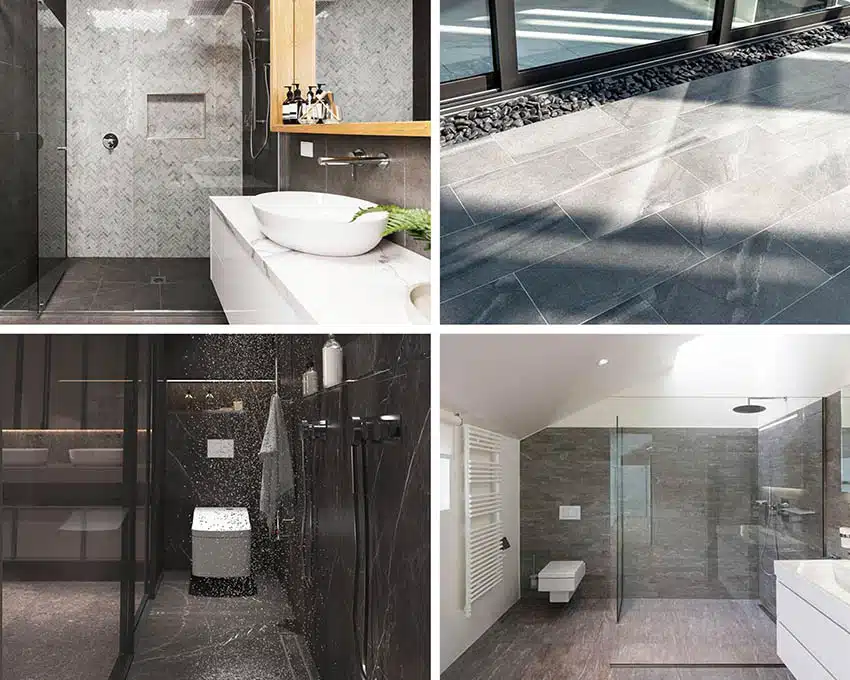 Soapstone tiles are attractive in that the shades vary depending on the batch of soapstone tiles bought or taken in. The shades can be anywhere from light gray to dark gray to even little hints of white whirls of marbling.
This is a common favorite among interior designing options because it gives the floors a distinctive look without necessarily having to break the bank.
What Are Soapstone Tiles
Soapstone floor tiles are constructed natural soapstone and offer superior durability than many other types of stone flooring materials. Soap stone has natural anti-bacterial and non-porous properties making it ideal for flooring.
Soapstone tiles are also considered as ideal choices for houses that are situated in cold climate areas. For starters, it doesn't get as gold as the ceramic or stone tiles out in the market right now.
Soapstone is greenish or greenish gray in color. It is characterized by its soapy feel and by ease of sawing into slabs or structural shapes, high electrical resistance, resistance to heat and to acids, and slow radiation of heat. -Raymond Bardeen Ladoo, Talc and Soapstone
Usually, soapstone floor tiles are combined with some nifty in-floor radiant heating system. This can turn out to warm the house space very efficiently. But apart from that, one ought to know so many other things about soapstone tiles.
Soapstone tiles also make for excellent choices for wet spaces in the house. It may be in the bathrooms, in the pool area, in the outdoor spaces; or relatively any space out there that has the tendency to get wet and slippery.
Soapstone does not get slippery and neither does it absorb water when it gets wet. More than that, it feels very soft to the touch, ensuring that it doesn't hurt the feet in case people walk around barefoot.
It also has the benefit of resisting heat and acids and acts as an electrical insulator. [Source: cameochemicals.noaa.gov The Chemical Composition of Soapstone]
Where To Use Soapstone Flooring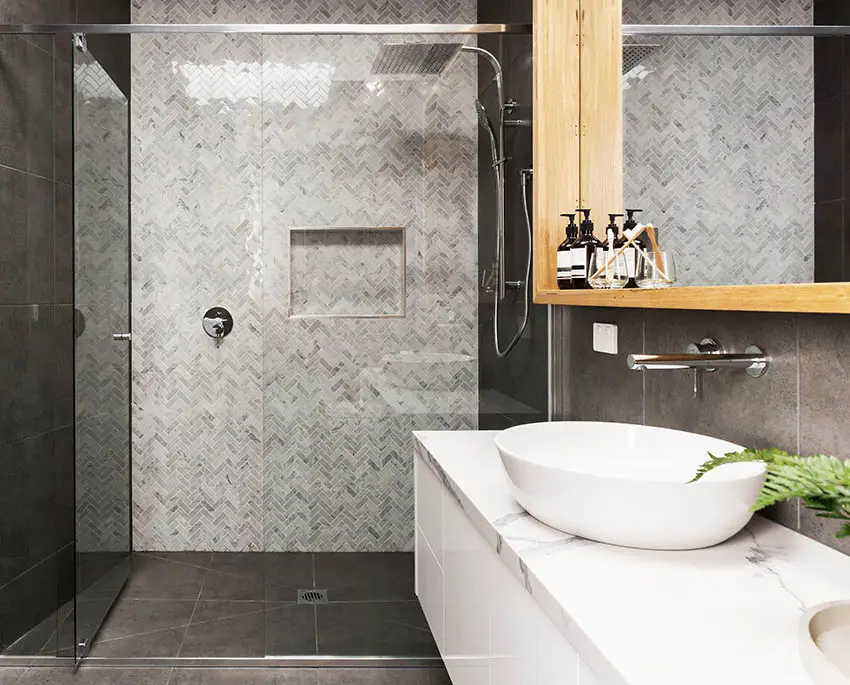 Uses of Soapstone Flooring
Indoor Use:
– Backsplash for kitchen
– Bathroom wall/flooring
– Any area that gets wet
Outdoor Use:
– Patio area
– Withstands all elements
Other Features:
– Versatile and durable
– Easy to clean and maintain
– Natural feel to the space
– Colors are versatile
Soapstone Flooring Application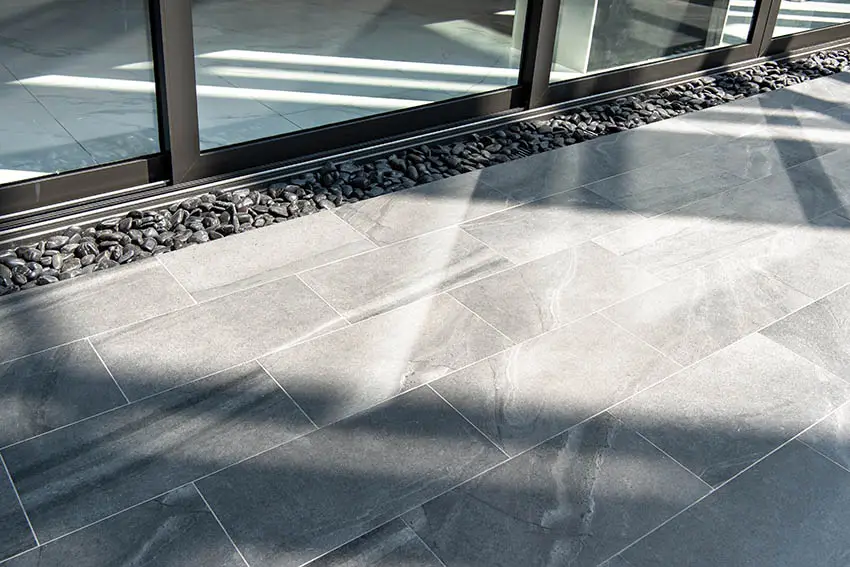 As a matter of fact, this type of tile or flooring option can be used either indoors or outdoors. This means that the sky's the limit for as far as using it in and around the house is concerned.
Soapstone flooring is a favorite flooring option used for outdoor patio areas. The elements such as snow or rain or even extreme heat will not affect or damage its surface.
Soapstone floor tiles won't fade out from being exposed to too much sunlight or heat during the summer. It also will not get stained from rotting leaves during fall season.
Indoors, it can be used anywhere but it is usually best for areas that usually get wet just because they withstand so much dampness or wetness. [Source: www.ncbi.nlm.nih.gov Compliant Flooring for Showers]
One of the main examples of soapstone being used indoors is as a backsplash for the kitchen. It's easy to clean and maintain. It also makes for a really interesting addition to the bathroom, be it as a wall option or as a flooring option.
The thing is, soapstone is a great way to dress up any type of space be it inside or outside of the house. This type of tile is subtle yet for all of the right reasons, it can also make the spaces it touches up stand out. It lends out a really natural feel to the space.
Because the colors are pretty versatile, they don't really clash with a lot of colors; leaving the designing options pretty open and interesting.
Can Soapstone Be Used In A Shower?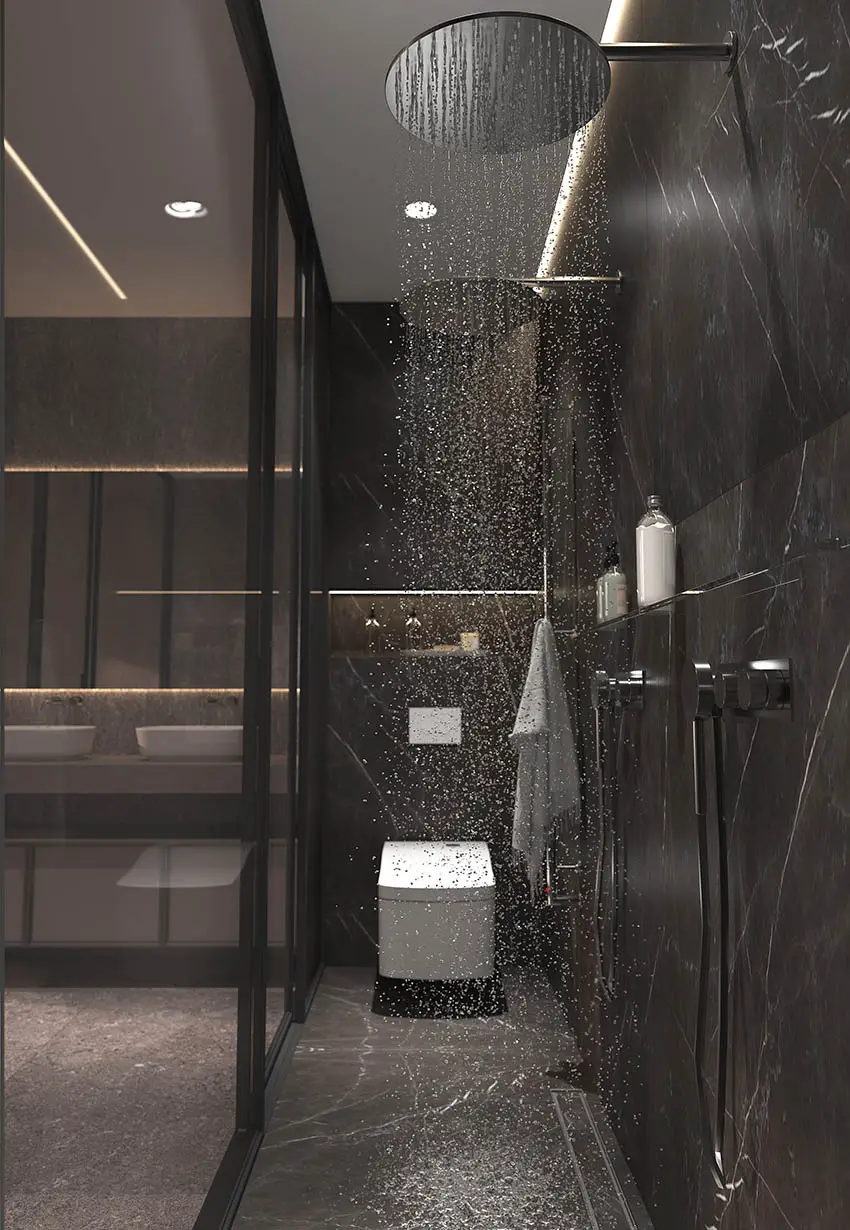 The direct answer to this question is, without any type of hesitation, a resounding yes. Remodeling or redoing a bathroom can be a stressful time for any homeowner out there.
The thing is, the goal is always to get the most out of the budget while at the same time successfully creating a space that is unique and distinctive.
Although it may be true that soapstone countertops or kitchen backsplash materials are the traditional way it's been used; soapstone has long transitioned into being used in the bathroom.
There are some challenges to adding soapstone in the shower, though. There are a lot of pros and cons that need to be considered given the variables that are at stake.
However, regardless of the challenges, the good traits far outweigh the bad when it comes to deciding on whether or not soapstone actually belongs in your bathroom.
For starters, soapstone is a much softer material compared to marble, granite, quartz; and all of the other usual materials being traditionally used.
Soapstone has the presence of talc in its natural composition. This gives it its naturally soft feel. This gives out the notion that because of its softness, it might degrade with the moisture and over time but that is not the case.
Soapstone's density makes it extremely durable which makes it perfect for any type of bathroom space.
Soapstone can also hold heat without burning. This material is non-porous. This allows it to retain the heat of the water if used to fill up a sink, for example. It is also great for handling residual heat coming from hair tools such as curling irons, blow-dryers, and the link.
As a shower floor, it can retain its heat when coming into the direct line of sight of the sunlight. This makes stepping out of the shower very pleasant during the late mornings.
This material is also eco-friendly and hygienic. Mining them out requires digging them up from the earth's surface and cutting them into slabs of preferred sizes.
Because it's non-porous, it eliminates the need for any type of sealing so the use of harsh chemicals that might eventually eat into the material is absolutely unnecessary. It also does not provide an area for bacteria to thrive in because of its density.
How Much Does A Soapstone Floor Tile Cost?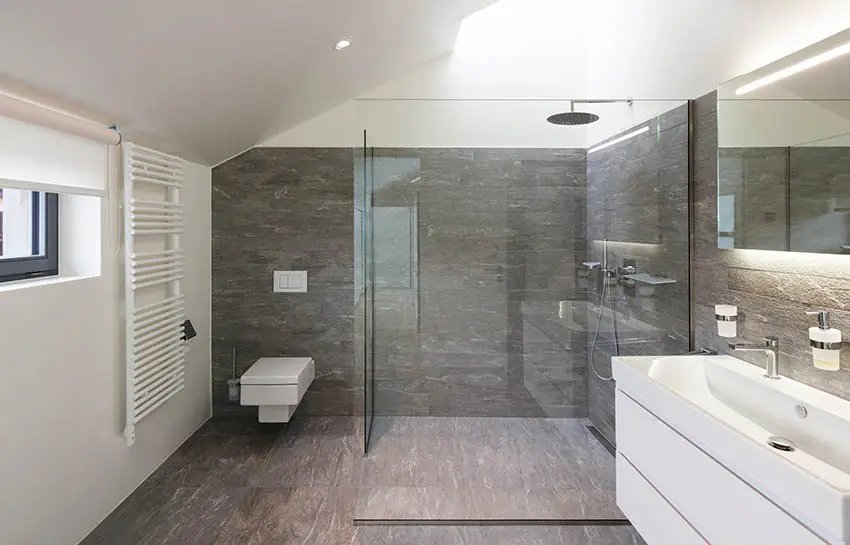 Soapstone can be bought in tiles, prefabricated, or in slabs. The price ranges vary from there. Tiles usually range from $30-$40.
Prefabricated pieces usually range from $40-$60, depending on the actual size.
Slabs are the most expensive, ranging at $70-$120.
The prices of soapstone floor tiles can also vary depending on where the material was quarried and how high or low its talc content is.
Lower talc content usually costs more because the material is denser and more durable.
How Do You Clean Soapstone Tiles?
Soapstone tiles are easy to clean, and there are only a few maintenance pointers to stay on top of. A good layer of mineral oil is the best option out there.
Rub it on with some clean, dry cloth. Make sure this is done every few months to maintain the luster.
When polishing, pay attention to putting in smooth and circular motions. Allow the oil to steep in for a good half hour or so. Soapstone is naturally light-colored but applying mineral oil can make it deeper and richer.
Steps For Cleaning Soapstone Tiles
Apply mineral oil to the tiles with a clean, dry cloth every few months to maintain luster
Polish in smooth, circular motions
Allow the oil to steep for 30 minutes
Mineral oil can make the soapstone deeper and richer in color
Again, warm soapy water will readily clean soapstone. You can also purchase cleaners made specifically for stone surfaces at a hardware store, home center, or stone countertop supplier. -Ken Matesz, Masonry Heaters
What do you think of soapstone floor tiles? Let us know whether you love this natural stone or not in the comments. For more like this see our article about ceramic tile flooring pros and cons here.