Here we share our what color walls go with dark wood trim guide including the different paint shades that give the best results and the combinations you should consider.

Some homeowners like to coat dark wood trim with a particular paint, especially white. However, it's always a better idea to let that gorgeously natural beauty that the dark wood trim gives.
Indeed, dark wood trims can give a welcoming and refreshing ambiance while giving your house a vintage mood. Although your dark wood trim adds a huge amount of warmth to your house, it's also an exceptional idea to pair it with other wall paint colors.
The goal is to prevent your house from being too dim. However, what are the paint colors that go best with dark wood trims?
In this article, you'll be informed of some of the paint colors and brands that will help you enhance your dark wood trim.
Paint Colors With Dark Wood Trim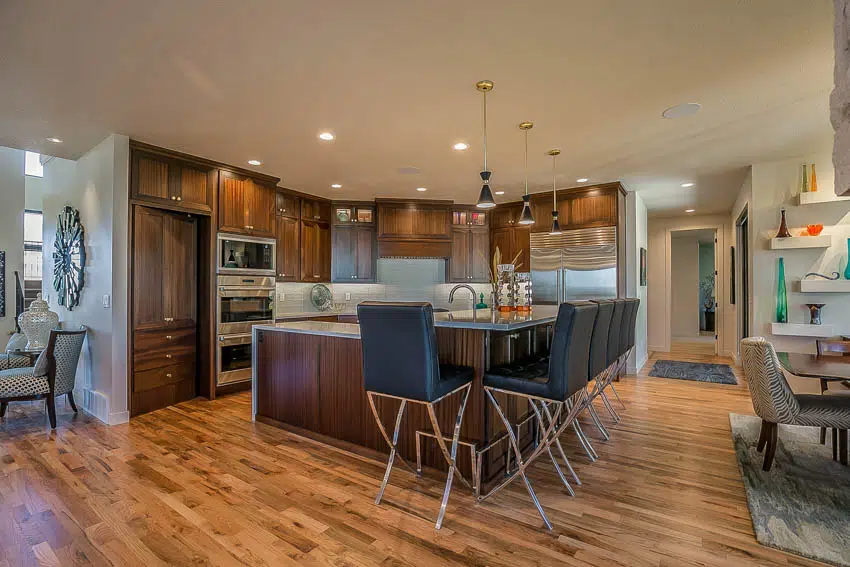 To either enhance or tone down the warmth or dimness of dark wood trim, this variety of paint colors and brands might help you.
Medium Gray With Green Undertones
This paint color produces a more inviting and calming space especially if it's partnered with dark wood trim. Magnolia Home Weathered Windmill (A7A9A3) is one of the brands that use this paint color. This paint matches well with dark wood trim. It doesn't overpower the natural beauty of the wood.
Grayish Beige
One of the most ideal choices for making dark wood trim look a lot more fresh and natural is Grayish Beige. Greige is the other term for that. It also helps in balancing the colors and making the dark wood trim not looking too dark.

The most recommended brand for this paint color is the paint brand named Sherwin-Williams' Ice Cube (SW 6252). Its color is ideally light gray with vaguely cool undertones.
It looks very lovely with dark wood trim. You can also pair it with another light color as the Sherwin-Williams Ice Cube is a very versatile paint.
Crisp Light Blue
This option might be one of the most unique choices. Most of the ideal colors that can be matched with dark wood trim are usually neutrals or various white tones.
However, a touch of crisp light blue can add an eye-catching color effect to your hallways or living space. It won't darken the space. One great brand that uses this vibrant paint color is Benjamin Moore's Iceberg (2122-50). Its energizing color enlivens the ambiance while complementing the dark wood trim.
This would also match well with lighter trim. Read more about our guide on the colors that go with light blue walls here.
Beige
The perfectly blended beige can be paired with dark wood trim. It will truly create a very calming and relaxing space. The warmth of the living space will be highly amplified. One of the most absolute choices is The Spruce Best Home's Macrame Beige (SPR-05).
It contains an energizing creamy yellow undertone that can exceptionally accompany the dark wood trim's natural warmth. Read more about our guide on the colors that go with beige here.
Grayish Green
Grayish green works well with dark wood trim as it gives a very radiant effect. It looks virtually white in an area where there's an abundance of natural lighting. One brand that uses this warm color is Benjamin Moore's Vapor Trails (1556).
When this paint color brand is painted next to dark wood trim, the subtle green undertones become very apparent. It's also the most ideal choice for rooms that require a calming ambiance such as bedrooms. The effect it gives to dark wood trim is very subtle and isn't overpowering.
Neutral White This selection is very suitable for increasing the illumination of a particular space. Fortunately, Behr's Snow Fall (W-F-600) uses a precious neutral white shade that can be perfectly matched with dark wood trim.
This paint color selection doesn't contain overly ostentatious warm and cool undertones. Since it lacks yellow tones, this neutral white paint can be an absolute choice for softening the effect of wood trim. The outcome that this color combination gives is very soothing and relaxing.
Cool White
Several dark wood trim can contain excessive orange hues. You have the choice to turn down the warmth a little bit by pairing it with cool white paint color with a subtle blue undertone. Luckily, Benjamin Moore's Chantilly Lace (OC-65) has a cool, clean, and slightly sharp white paint. It also contains subtle bluish undertones that assist in adding a huge amount of eye-pleasing visual effect and increased contrast to dark wood trim.
Creamy Off-White
To elevate and enhance the warmth of your dark wood trim, you might need to pair it with creamy white paint. It helps in bringing out the orange and red hues of the wood.

Valspar's Du Jour (7002-6) contains a creamy off-white that gives an outstanding neutral color effect.
This paint color selection is infused with subtle orange undertones that appear very gorgeously with dark wood trim.
Neutral Green
If you want to make your room or living space more refreshing and earthy, you might want to pair neutral green with your dark wood trim. It makes the trim look even more organic and natural. One of the recommended brands that use this neutral color is The Spruce Best Home's Quiet Green (SPR-09) contains a subtle, muted, and neutral green that matches very well with dark wood trim.
It makes the whole ambiance feel more rejuvenating. Read more about our guide on the colors that go with green here.
Wall And Trim Color Combinations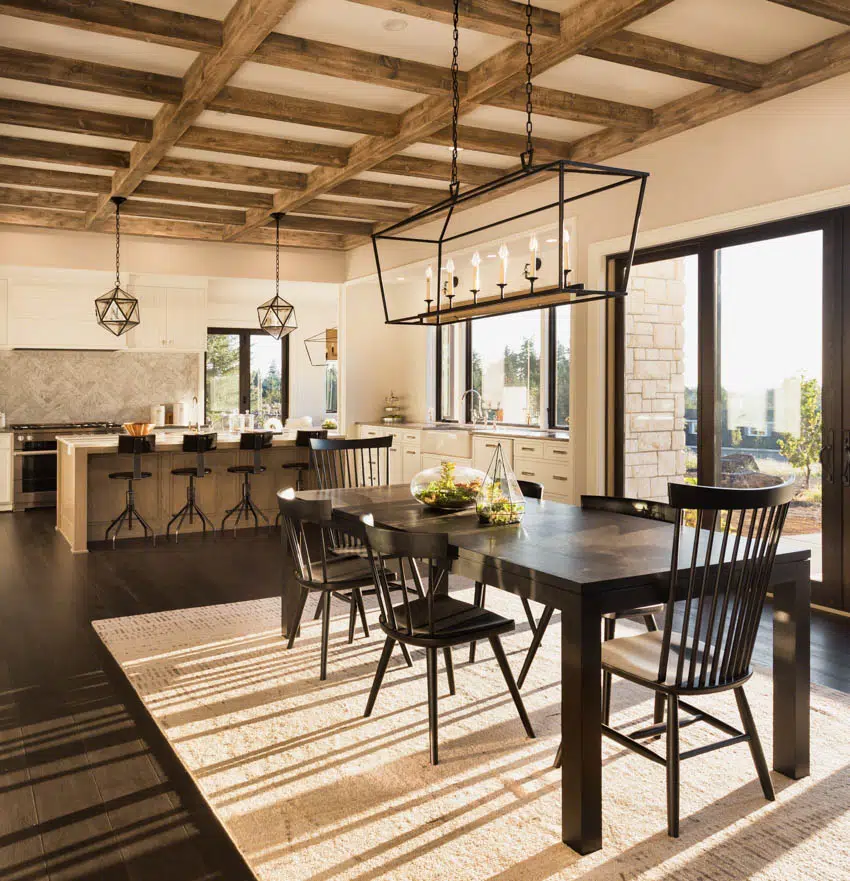 Generally, the wall and trim do have contrasting hues. The trim normally contains a contrasting color yet intensifies the color of the wall. There are several great sources for color creativity such as fabrics, furniture, rugs, window frames, and other accessories.
Creatively and logically, you can select the most vivid hue for main wall surfaces, a much darker color for your door and window frames, and medium-toned colors for your skirting board.
Walls that possess pale paint colors can be matched with doors, windows, and other architectural objects painted with subtle and contrasting colors and hues. Also, window trim frames with darker colors can be used to emphasize the outdoor view.
Moreover, cream or off-white-painted walls with contrasting trim like muted green or grayish-blue can produce a calming and colonial ambiance.
To give you a few ideas of the wall and trim color combinations that really work well together, check down below:
Gray Wall with Blue Trim

Navy Blue Wall with White Trim

Sage Wall with Ivory Trim

Peach Wall with Glossy Sheen Trim

Green Wall with Buttery Yellow Trim

Mahogany Wall with Beige Trim
But then, if you have dark wood trim in your interior space and you want to match them with your walls, you are free to check out some of the wall paint color recommendations we discussed above. See more related content at our article about what wall color goes with black furniture on this page.