The guide to the best type of carpet for bedrooms including the most durable, the recommended carpet weight, and the overall best carpet for bedrooms.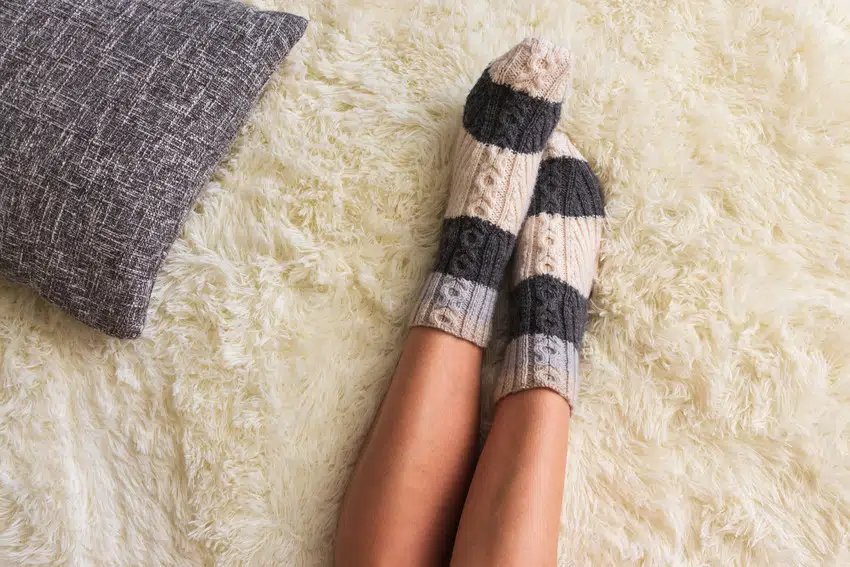 Most homeowners prefer installing a carpet on their bedroom floor as they provide a very comfortable and warm feeling underfoot. Indeed, it feels truly amazing to get out of your bed and step on extremely soft flooring.
Furthermore, carpets also create a cozy and relaxing ambiance in your bedroom. They also reduce sounds from footsteps and other noises that are coming from the other side of your house, making them an excellent bedroom flooring choice.
However, how do you exactly choose the best type of carpet for your bedroom?
How to Choose Carpet for the Bedroom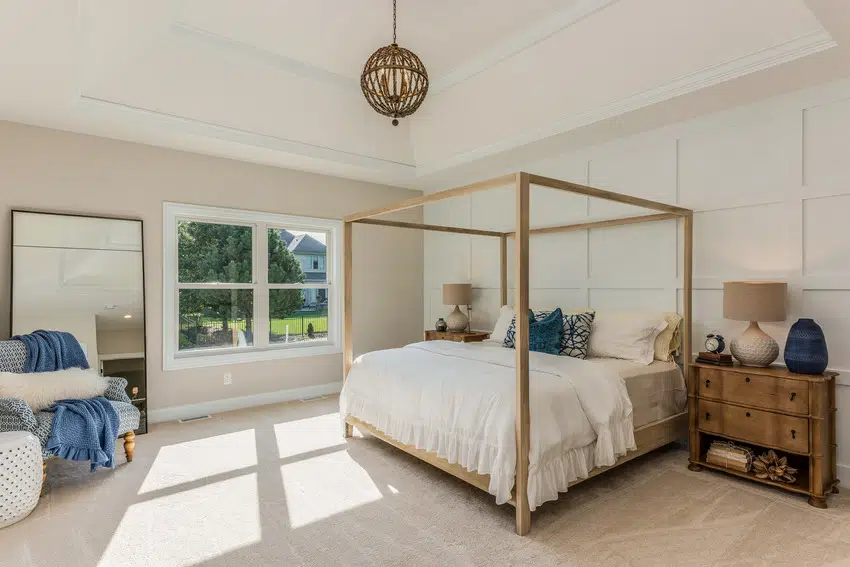 Carpet is an extremely well-known flooring option for bedrooms. However, there are several factors that you would first need to consider when choosing a carpet for your bedroom. Read more about our article on the best flooring for bedrooms here.
The Pile of the Carpet
Typically, carpets can be low-pile or high-pile. What do they mean? The term 'pile' basically refers to the height of the carpet fibers. Take note that this does not include the backing.
For high-traffic areas, the most recommended carpet pile would be low-pile. Low-pile carpets are normally made of compact and short fibers. The flat and solid appearance of a low-pile carpet provides enough foundation for color and texture application.
If you prefer easy-to-clean flooring in your bedroom, low-pile carpets would be a great choice since they don't require excessive maintenance.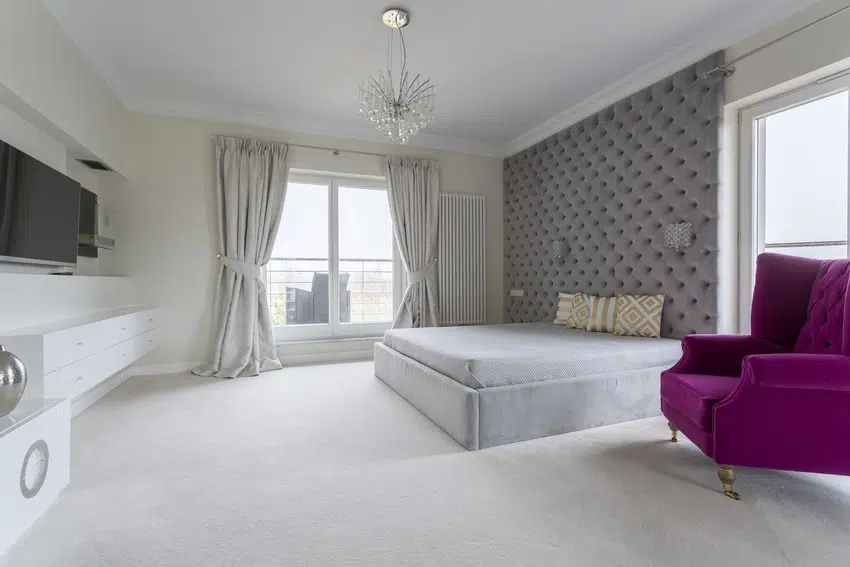 However, if you wish to make your bedroom flooring extra comfortable and luxurious, a high-pile carpet may be your best bet. High-pile carpets can dampen sound more effectively, as well as provide more warmth and comfort compared to low-pile carpets.
Moreover, a high-pile carpet can make your bedroom look more elegant and stylish. It also does not tend to flatten easily over time. This option is also strongly recommended for a kid's bedroom.
Carpet Fiber
Most modernized carpets are either comprised of natural or synthetic fibers. Common fiber materials include wool, nylon, and polyester.
Each material differs in terms of cost and the level of comfort it provides.
When it comes to softness and comfortability, polyester and wool may be the most popular option. But among the three, nylon is normally the most affordable choice.
Tip: Sisal fiber offers a modern and trendy appearance, and is quite cheap compared to other fiber options.
The patterns of the fiber such as shag, cut pile, loops, plush, and so on can also impact the overall appearance and comfort level of your carpet.
Carpet Style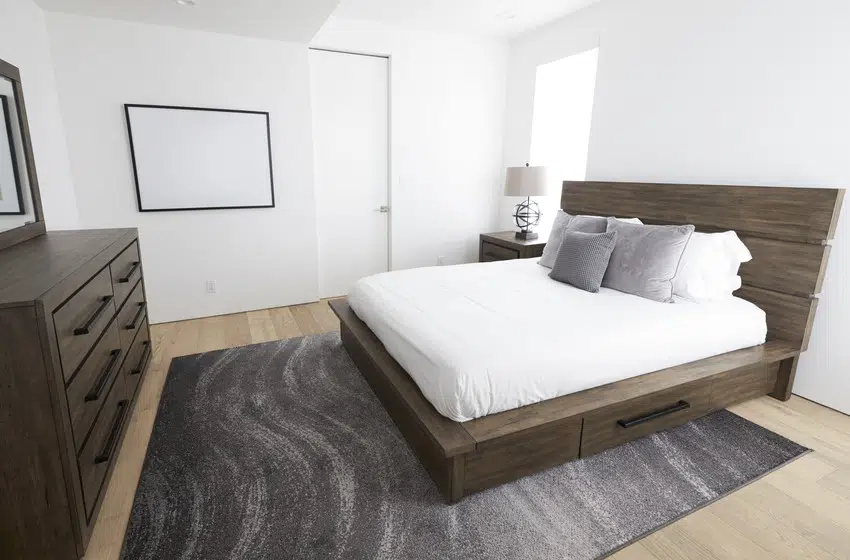 To create a well-coordinated and organized bedroom style, it is always a great idea to make sure that the style of your carpet flooring complements your bedroom walls, furniture, and other bedroom interior elements.
For example, if your bedroom has a classic look, then your carpet must also have a traditional style or design. However, if you have a modern-style bedroom, incorporating a plush style may also do the trick.
Meanwhile, the color of your carpet should also blend well with the dominant color of your bedroom interior.
Typically, neutral-colored carpets are the most popular choices for an adult's bedroom. For a kid's bedroom, however, a colorful or vibrant carpet may be an excellent option to reflect a child's creative imagination.
Nevertheless, it would not hurt to pick a flexible and timeless carpet color so it can still match your bedroom should you decide to upgrade or remodel your overall bedroom interior in the future.
Room Budget
The price of a carpet may vary depending on its brand, quality, pile, pattern, and overall materials used. So before choosing a carpet for your bedroom, make sure that you have enough budget for it.
Even so, you do not have to worry so much about carpet expenses since they are generally cheap and affordable. In fact, the highest-quality carpet you can buy is still less pricey than other similarly inexpensive flooring options such as laminate and hardwood.
Carpet Health Concerns
While a carpet can make a bedroom feel cozy and relaxing, it can also be a host of allergens, dust, and dead skin. If that's the case, there are allergy- and eco-friendly carpet options that you can consider.
Some carpet materials volatile organic compounds or (VOC's) that are known to release harmful chemicals in to the air.
Eco-friendly carpets provide fresher and cleaner air quality in your home. Some carpets even have a family- or pet-friendly certification or label, making them an excellent choice, health-wise.
One of the best types of carpets for those who are looking for a health conscious choice are wool carpets.
What Type of Carpet is the Most Durable?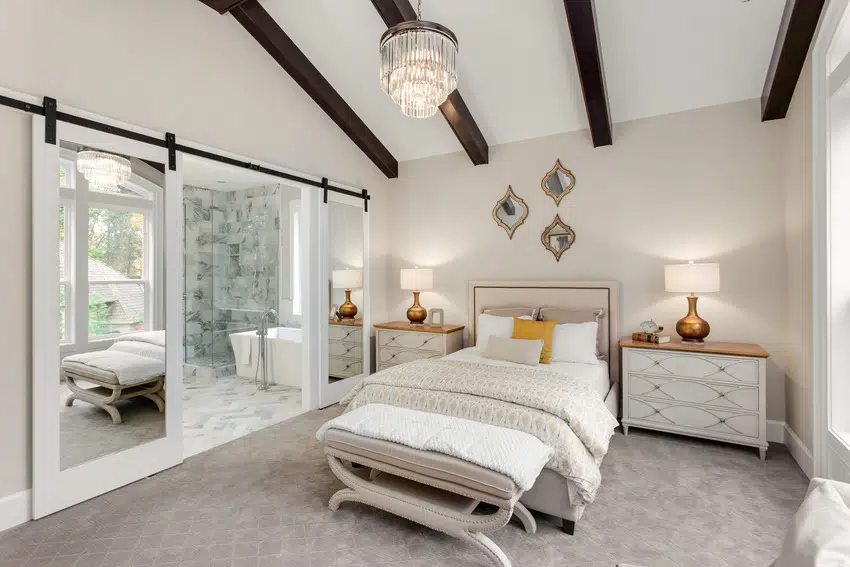 The most durable type of carpet is nylon. This carpet fiber is very robust and can withstand natural elements. Read more about our article on nylon carpet pros and cons here.
Nylon carpets are also stain-resistant. For houses with kids and pets, nylon carpets are strongly recommended as it's also ideal for high-traffic areas.
What about the most long-lasting carpet? That would have to be a Berber-style carpet.
Although it's not as soft as high-pile carpets, Berber-style carpets can be the perfect choice for bedrooms in terms of durability and longevity.
What Weight Carpet is Best for Bedrooms?
To ascertain the utmost durability of your bedroom carpet, it must have a face weight of around 35 to 40 ounces. Carpets with this face weight amount generally last 12 years or longer.
However, take note that the face weight may still vary depending on several factors such as the carpet's density, twist level, and how often the bedroom is used.
In general, the overall weight of a carpet would be the sum of both its face weight and backing weight. Compared to the fiber of the carpet, the backing is much heavier.
However, the backing weight does not define the overall durability of the carpet. A much heavier backing may be a sign that the carpet has a higher quality, but it's not always the case either.
Essentially, the only thing you need to focus on is the face weight of the carpet. In any case, the heavier the face weight, the better it is for your bedroom.
Best Overall Carpet to Choose for the Bedroom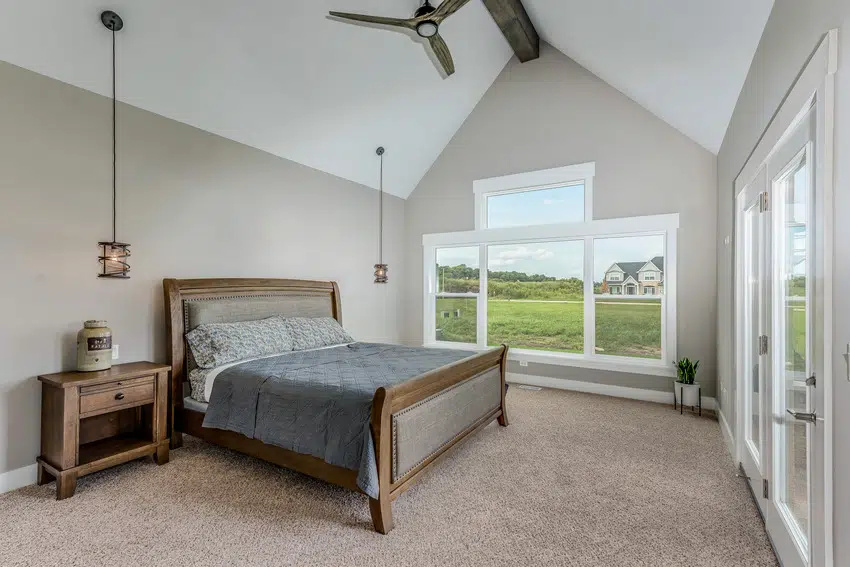 All things considered, the best carpet for the bedroom would have to be nylon or wool.
For those who prefer a carpet for a high-traffic bedroom, it's best to select a nylon carpet with short loops. This type of carpet essentially prevents staining, resists wear and tear, and is overall pet-friendly.
Meanwhile, for those looking for the highest quality carpet material available for the bedroom, wool may be your best bet.
For more related content about the best type of carpet for bedrooms, visit our ultimate guide on the different types of carpet.