A well-planned deck adds incredible value to your home's outdoor aesthetics. Here, we share our small deck ideas so you can easily maximize your limited space. We have included construction designs for inspiration, outdoor furniture tips & suggestions for budget-conscious homeowners.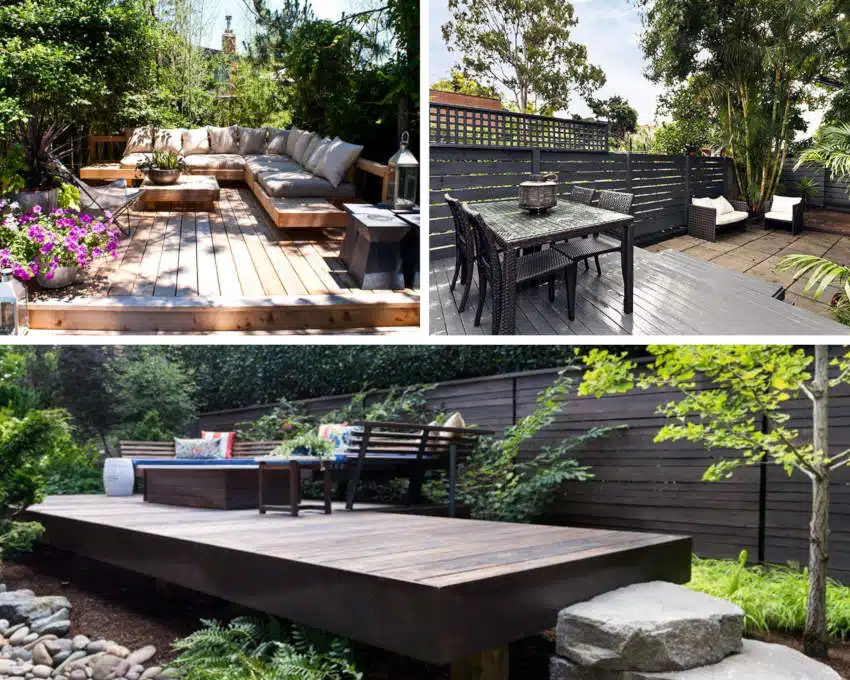 You can turn the deck into your own little corner of peace and relaxation. You can even transform your deck into a place for family events, like Friday barbeque dinners or picnics.
If you only have a small space left to work on your deck, there are still exciting and stylish ideas you can do! The trick is to design your deck, applying functional ideas while maintaining the requirements you want your deck to have.
Quicklist: Small Deck Design Ideas
Be a Minimalist

Use Seating as Border

Consider the Scale

Design for Multiple Activities

Don't Cram All Ideas

Build a Cozy Corner

Match Home's Architecture

Add Greenery
Building a Small Deck Ideas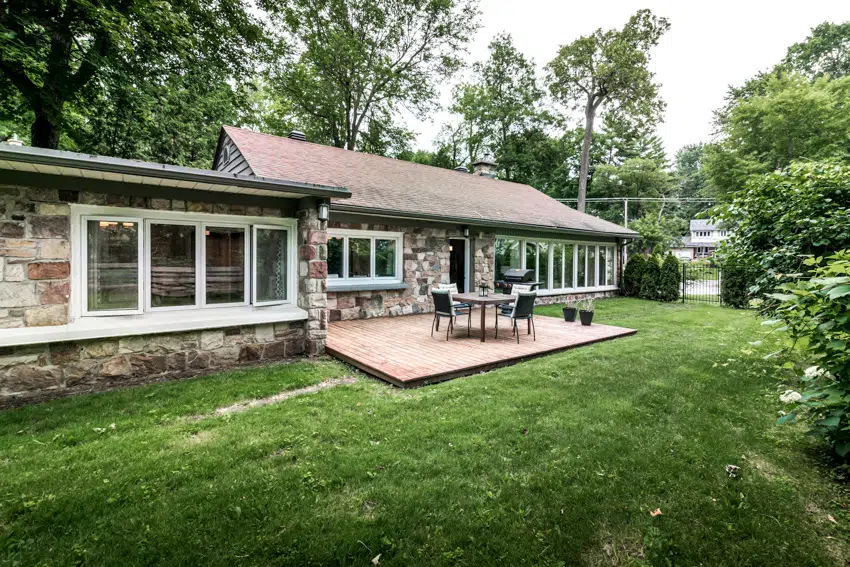 Maximizing the small yard in building your small deck can be challenging. The key to your success lies in knowing what to do. Here are some inspiration you can do for your small deck.
Practice Minimalism When Building Your Deck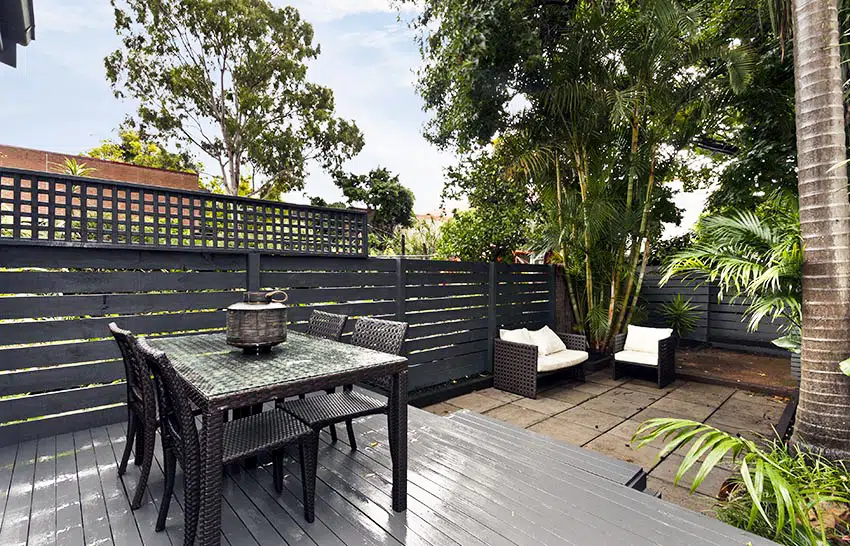 When it comes to creative space-saving tips, minimalism takes the cake. With the concept "less is more", you can design your deck spaces without needing a lot of furniture that can only crowd your space.
This platform deck features traditional wood deck materials that match the design of the fence. The minimalistic appeal of the small deck prevents the small space from looking cluttered and disorganized.
Using minimalism doesn't remove the small deck's functionality, especially with installing the four-seat table. This small deck is perfect for breakfast or brunch on a beautiful sunny day.
Use Seating as Border for Your Deck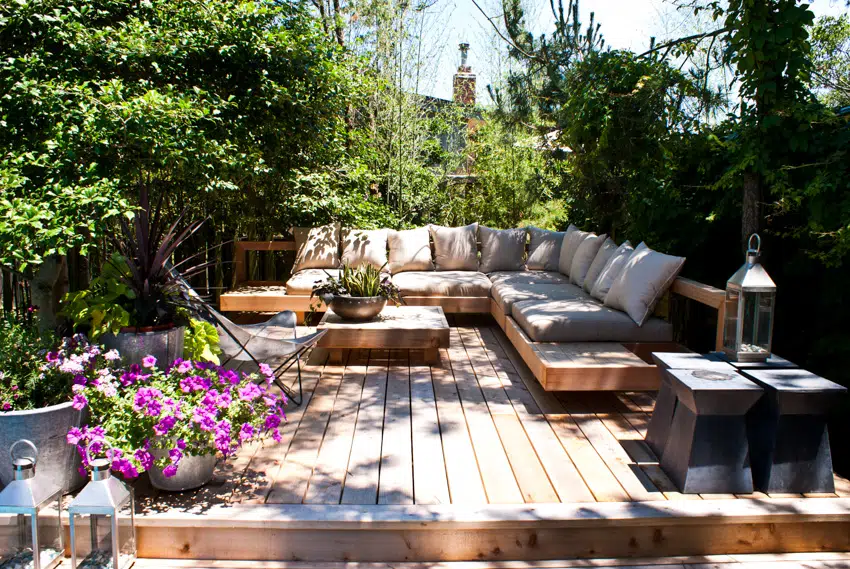 Using seating as a border along the perimeter of your deck is one of the oldest tricks in maximizing space. Since the seating also serves as the deck's border, it appears like it's not a piece of additional furniture that crowds your deck.
The small wooden deck showcases a good example of using your seating as the border of the deck. With the addition of cushions and fluffy pillows, the deck appears homier and more inviting.
The designer of this deck didn't have to buy expensive seats and tables but built them as part of the deck instead.
Consider The Deck's Scale By Adding Space-Saving Decor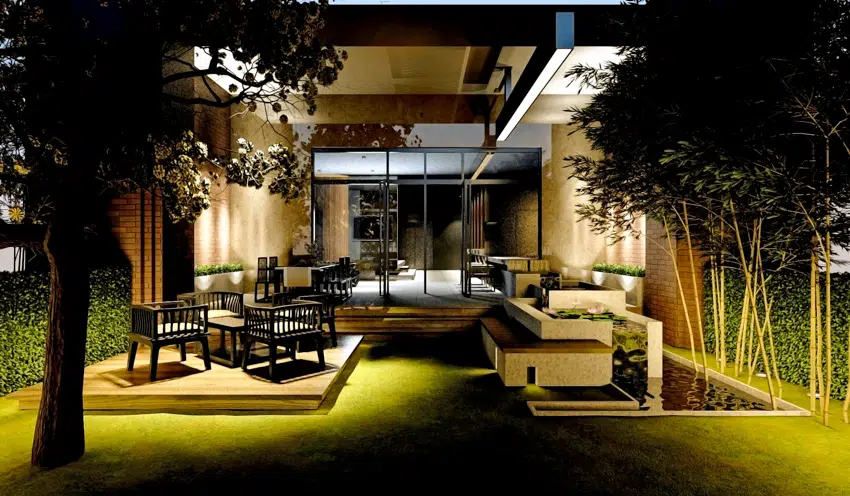 One of the basic factors to consider before designing a deck is the space it covers. You can't just randomly choose furniture or decor for your deck.
For a small deck, space-saving furniture and decor are recommended. All furniture to be included needs to be well thought out.
Consider your deck dimensions in relation to your furniture and decor sizes. The latter should be proportionate to the size of your deck.
Choose furniture and decor to make your deck appear bigger and more spacious. Read more about our guide on maintenance-free outdoor furniture here.
Having a sliding mirror beside your deck makes it appear bigger. This is seen in this freestanding deck. Having two parts of the deck also makes it appear more spacious. The modern look of this small deck adds to its charm, with the furniture matching its style.
Design Your Deck To Accommodate Multiple Activities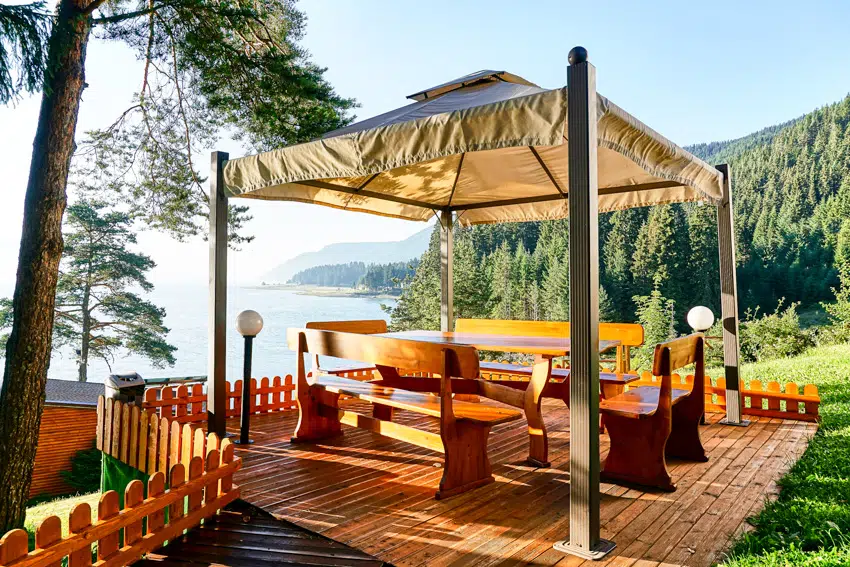 You can do whatever you want with your deck but building it to accommodate multiple activities is a great idea. Design your decking in a way so it can be a place for relaxation and to entertain guests.
Your porch can host your family's monthly get-togethers or special occasions like Thanksgiving and Christmas dinners. In making it a multi-purpose venue, you can maximize the space of your small sundeck.
This contemporary deck sports a stone pathway and floor. The canopy has steel pillars, making the style appear more modern than cozy. The grass surrounding the sundeck provides the "nature" appeal that balances out its modern look.
Appearing to be a standalone gazebo, picnics, and fun daytime in this decking is perfect. With the installed lighting in two corners, it can accommodate family dinners.
Don't Cram All Your Ideas On Your Deck
Yes, you have many ideas about what you want your decking to be. You can create a multi-purpose deck but can't cram everything in a small elevated platform. The key is to plan your deck's design well.
If there are things you want to add, but your elevated patio is already full, find a corner where you can install your idea (if there is still space available). If no space is available, let the idea go.
This elevated platform is connected to the home through a pathway made of wood planks. The L-shaped decking is installed with a wooden bench that matches the deck's design. It's simple and not cluttered.
Build a Cozy Corner in Your Deck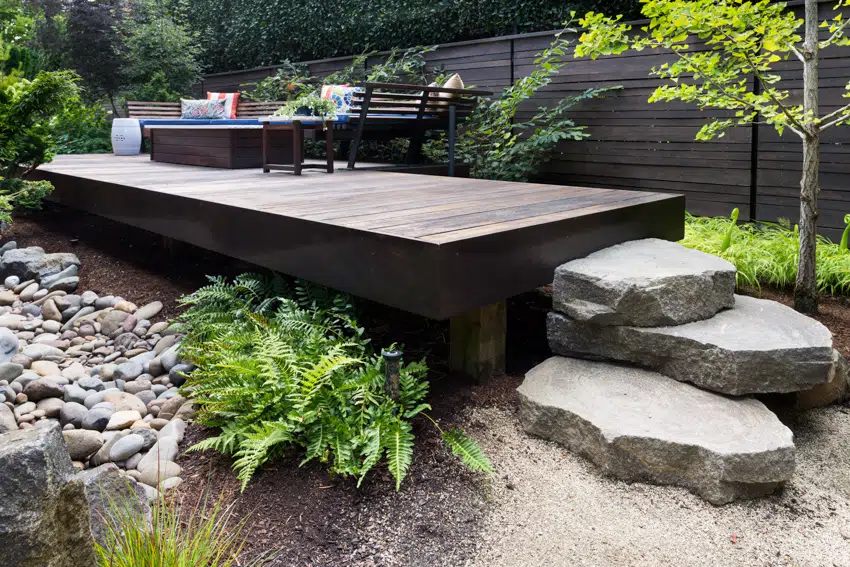 Let's face it. You want to build a platform because of that cozy little corner. A small decking is a perfect spot to have privacy for your personal time. If you want your small patio to have an intimate vibe, choose items that will make it possible.
Your definition of cozy is your own. Whether this means soft throw pillows or a simple yoga mat, it's up to you. Get a cup of coffee and make this patio corner your spot.
This raised and above-ground traditional elevated platform is made from wood or woodlike materials. It is spacious and has this little corner you can call your own. Installed with seating as its border with a few soft pillows, it can be cozy when you want it to be.
Make Sure That Your Deck's Design Matches Your Home's Architecture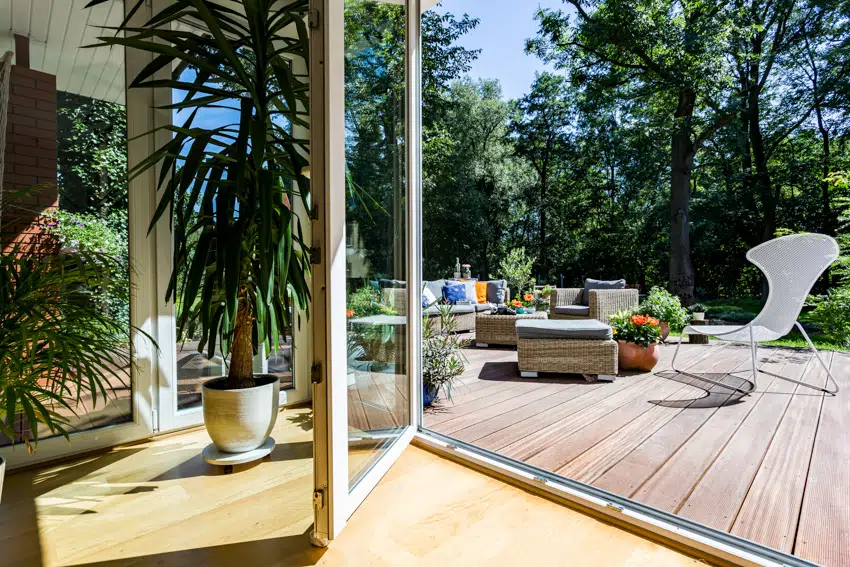 Your deck's style and design should not be different. It must complement your home's design.
If the decking is beside the kitchen, it will be a great place for breakfast or dinner. If your bedroom opens to the elevated platform, it will be the perfect location for your daily yoga exercises or sunbathing needs.
This contemporary patio is connected to a part of the home with only a glass door panel between them. The wooden design of the floor showcases a homey and comfortable ambiance. The pathway from home directly to the decking offers convenience and functionality.
Add Greenery Or Take Advantage Of Existing Shrubbery And Trees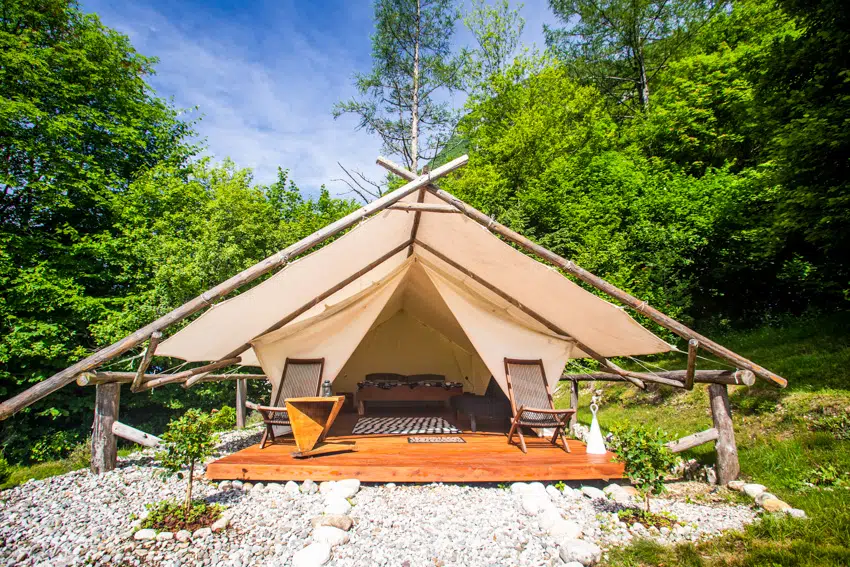 Decks are part of outdoor designs and making the most out of nature as aesthetics is a smart thing to do. Even more than for looks, shrubbery, and trees can be used for shade and additional ambiance.
"Build around nature to create a deck that blends with the landscape and scenery, rather than fight with it." – Chris Peterson, Deck Ideas You Can Use
If you have an existing tree near where you plan to build your elevated platform, you're lucky!
In case you don't have the support of nature, you also have the option of installing plants on pots on your elevated platform. You can even choose the color of the planters and the variety of plants.
This mountain-style decking showcases the best way to integrate nature and greenery into your deck's design. It has a wooden elevated floor with a canopy held down by different log sizes. It has an unfinished and rough feel, adding more to its rustic charm.
The tent-style decking features a stone pathway surrounded by trees and shrubbery. The design of the decking itself is perfect for nature.
Small Deck Furniture Ideas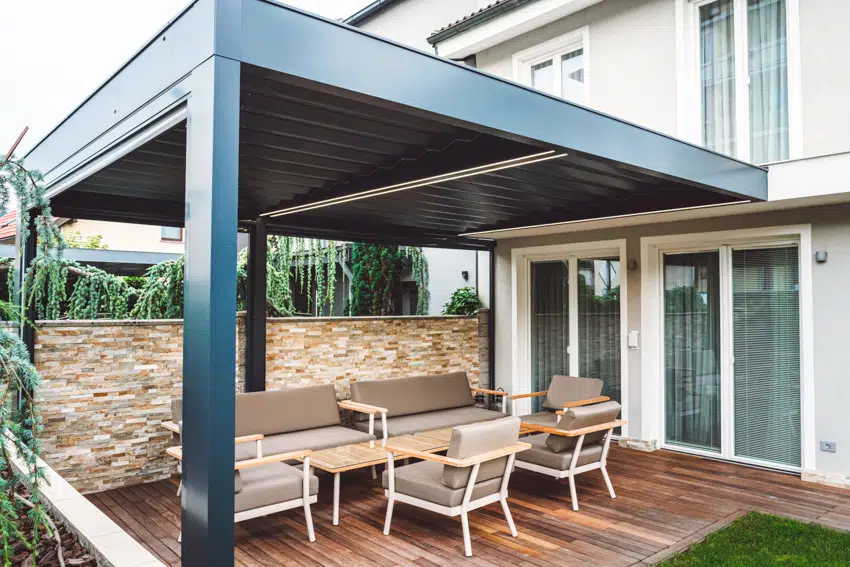 A small porch requires a well-thought-of set of furniture and decor. Since the space is limited, you must be sure about your choices. You would want your elevated platform to feel refreshing and uncluttered!
Before choosing any outdoor furniture, visualize what you want your decking to look like. Do you want it to be your own personal spot with fluffy pillows and rugs?
Do you want to use the veranda for entertaining guests and dining? If you are still unsure, let us help you. Regarding your choice of furniture for your small, here are some ideas you can consider.
Multi-Purpose Furniture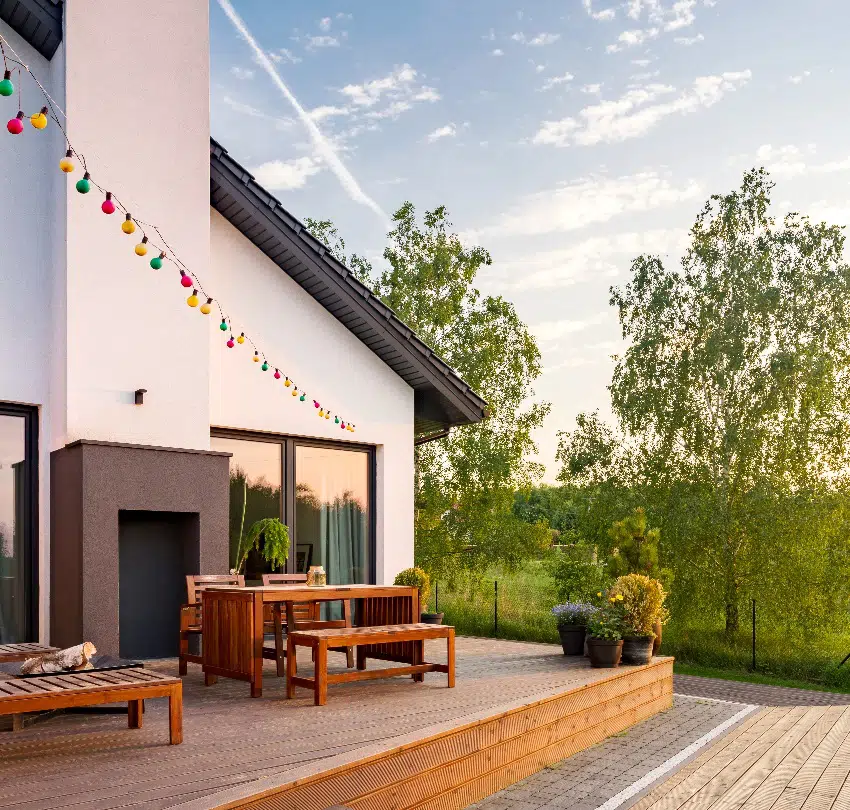 Check out multi-purpose furniture if you are unsure about what furniture to include. This furniture has a double-duty functionality, depending on its design and purpose. Some examples of furniture are the following:
Garden stools for sitting that can transition into a dining table

An umbrella stand that is at the same time a side table

A cooler that can be used as a table
Comfortable Furniture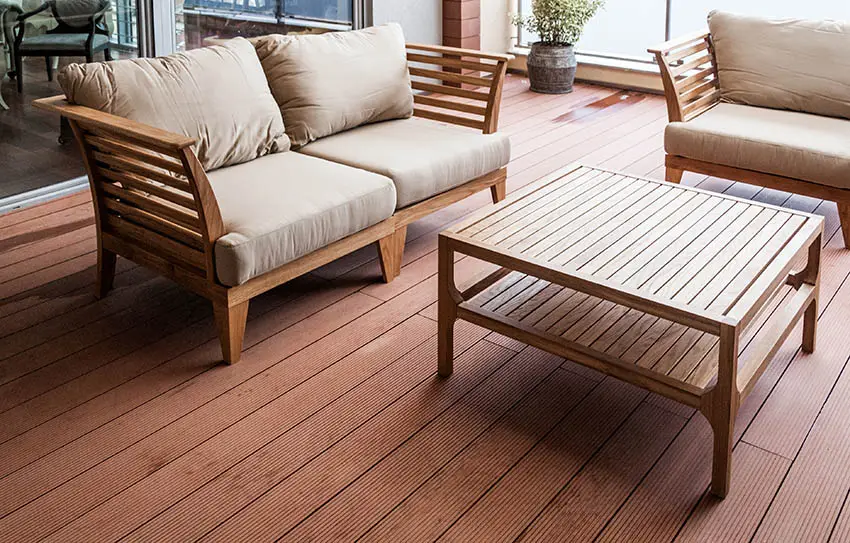 Whatever furniture you choose, make sure you are comfortable with it. Choose a color palette that fits your personality, and add soft pillows to comfort when drinking coffee. Avoid bulky furniture, though that can take up too much space.
Space-Saving Bench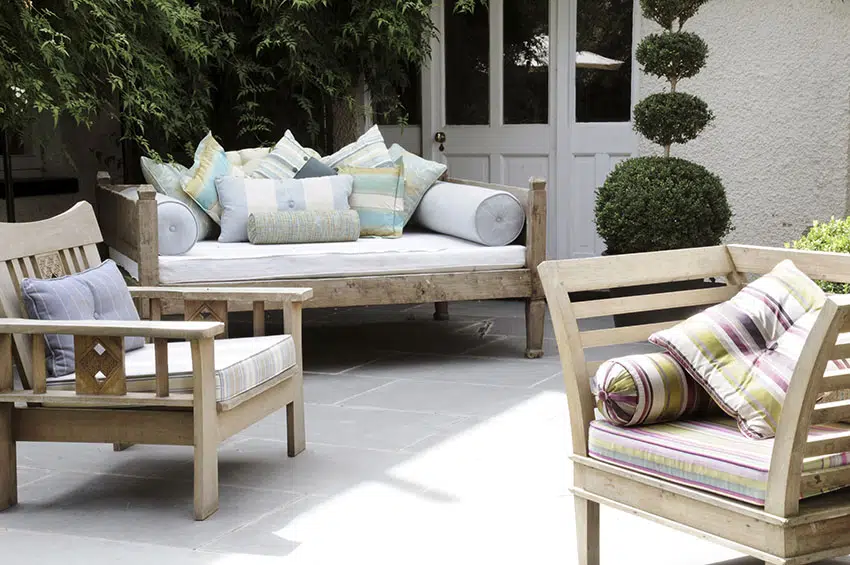 A small elevated platform can quickly feel cluttered after bringing in a few pieces of furniture. One piece of furniture you can consider is a space-saving bench.
With it, you get to add more seating without adding more chairs. You can also use the bench as a border to the perimeter of your decking. Add fluffy pillows to make it cozier.
Hanging Chairs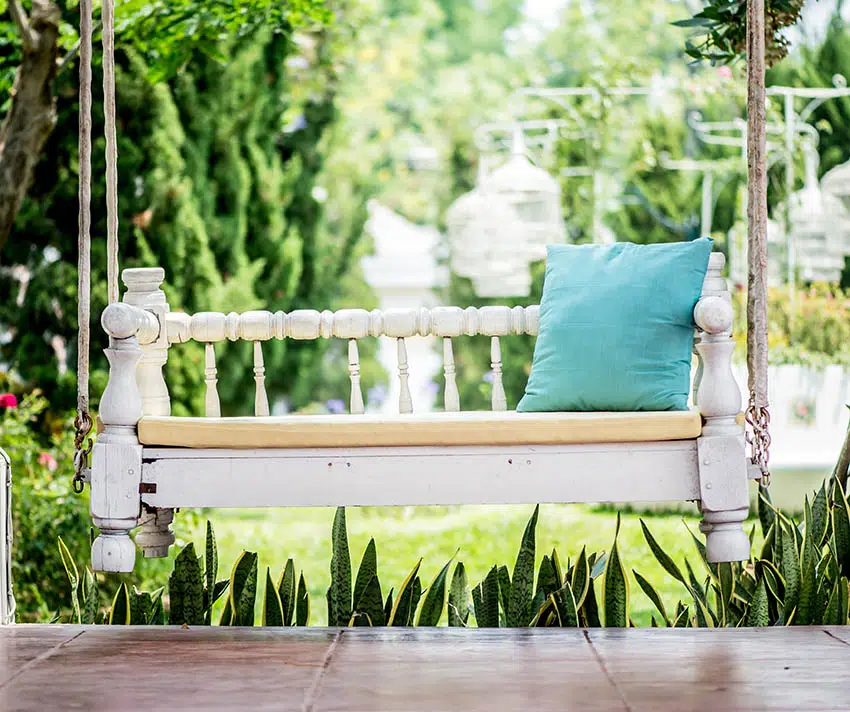 Hanging chairs are not only space-saving but also stylish for your small patio. Just make sure to install the hanging chairs where they can maximize the space of your terrace instead of taking up space.
Outdoor Rug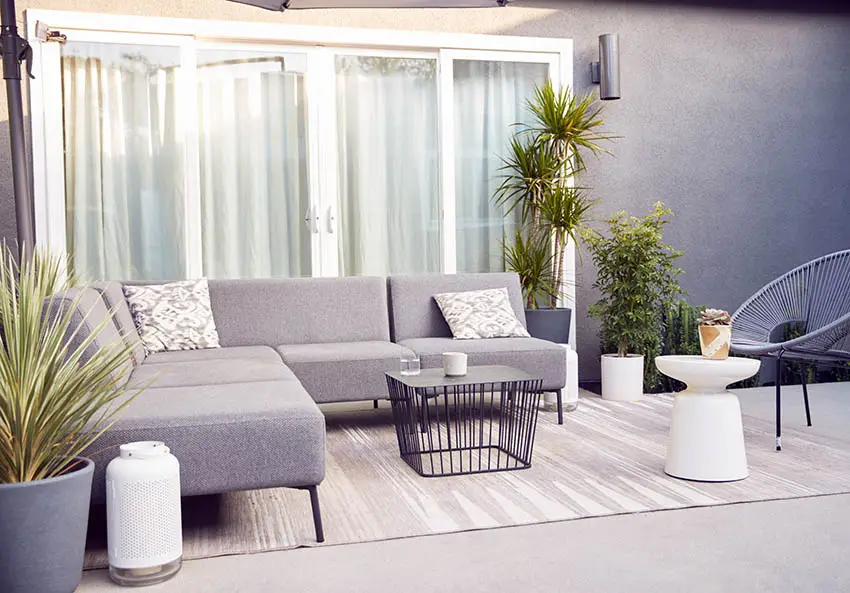 An outdoor rug is not just for your deck's aesthetics, but it can also cover the entire porch floor, defining the space of the patio.
Add a touch of your personality through the rug you choose. Just make sure it is inexpensive and built to last.
Outdoor Lighting – Hanging Lights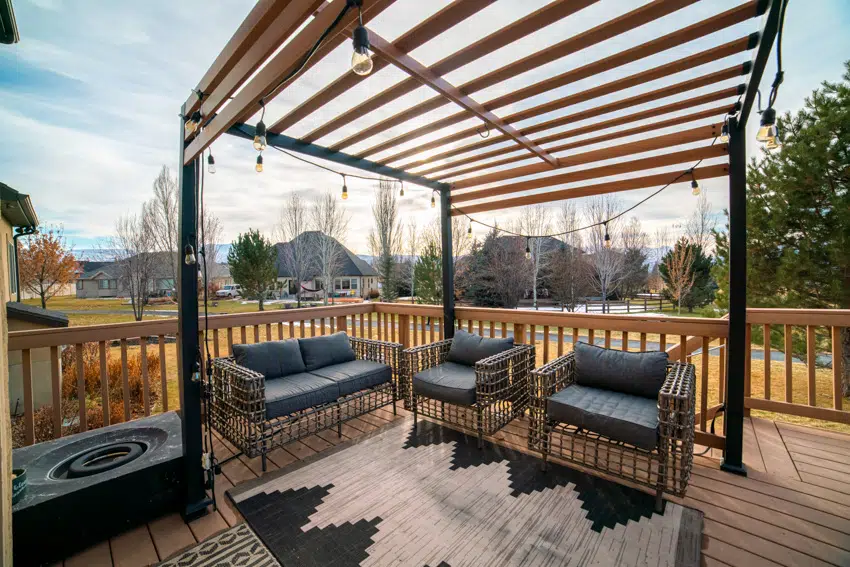 Install outdoor lighting to add to your sundeck's aesthetics and functionality. The lighting will set the ambiance and mood of your patio, so choose well. It can be hanging lights or mini lanterns, whichever you prefer.
Read more about our guide on outdoor deck lighting ideas here.
Small Deck Ideas on a Budget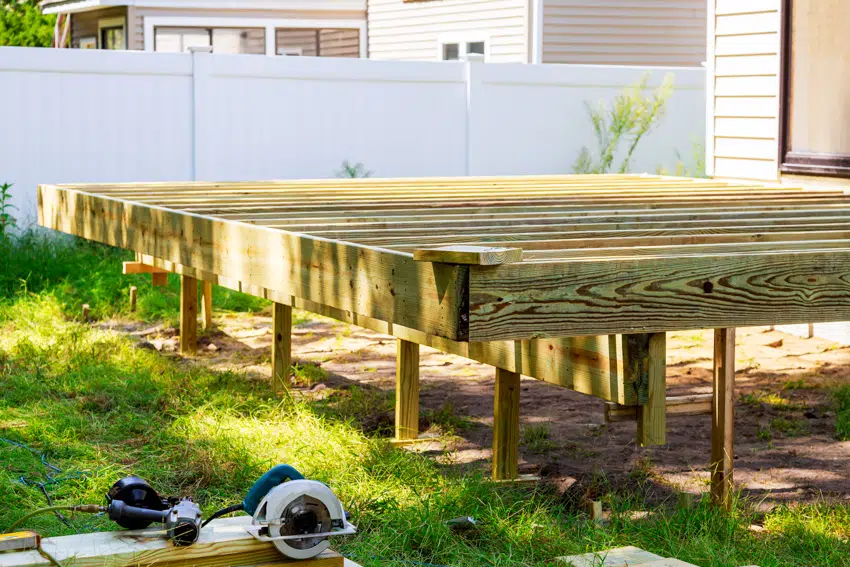 Let's face it. You don't want to empty your pocket to build your dream patio. And, honestly, you don't have to!
A small sundeck is an excellent add-on to your home; you can create new memories and experiences just in that little extra space. Even if you are on a budget, there's something you can do!
Building the elevated platform yourself is one way to reduce your small deck's budget drastically. But before you start hammering away, make sure you know some DIY tricks up your sleeves.
A good example of this is building this small sundeck. This raised platform is easy if you have the tools and materials. Wood is one of the most basic materials used for a patio.
Some of the most popular wood used for decks include cedar, pine, and Ike. Choose the wood you would want to use. Read more about our guide on cedar vs. composite decking here.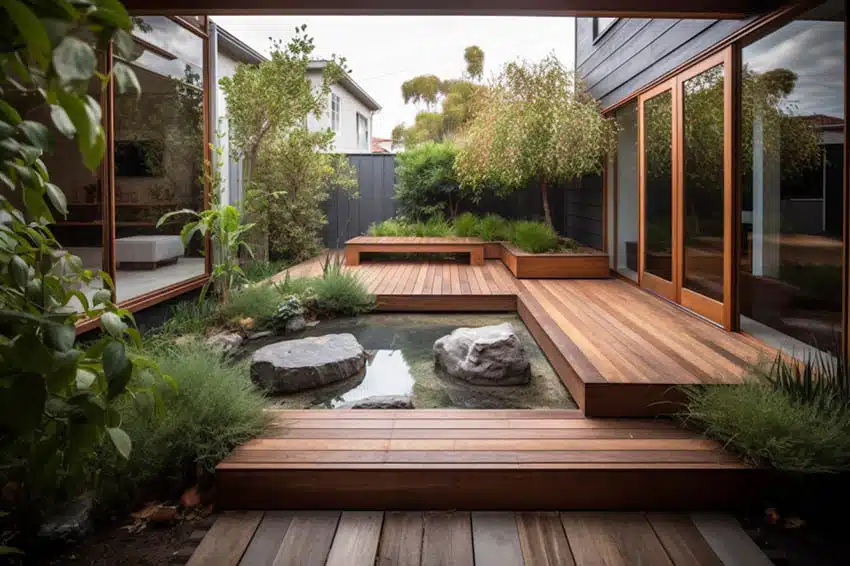 Additionally, you need to check your local building code to determine whether you need to acquire a permit. Some cities may require you to procure a permit, especially if you plan to build a terrace 30 inches above the ground at any level. [Source: sandiego.gov]
Here are other small sundeck ideas you can do when on a budget (besides building your own deck).
Use Colors That Complement Your Home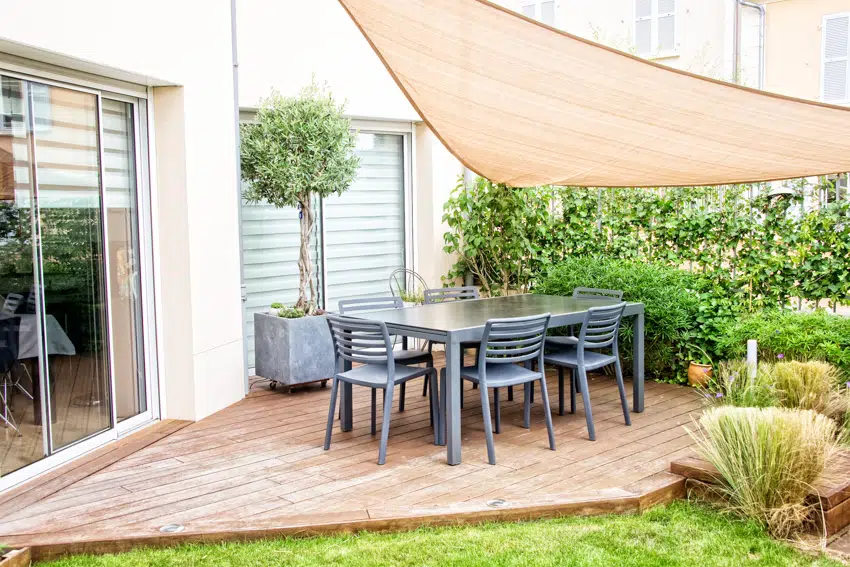 Being on a budget does not mean sacrificing aesthetics and having a good-looking patio. Simply making sure that your patio has a complementary color to your house can help it look more polished.
Your patio needs to have harmony with your house. This is why you should also ensure that your decking is in scale with it.
This wooden elevated platform complements the house's color theme. The wooden floor of the patio complements the house floor. Similarly, the patio canopy also complements the color of the house's walls.
Add Some Greens to Your Patio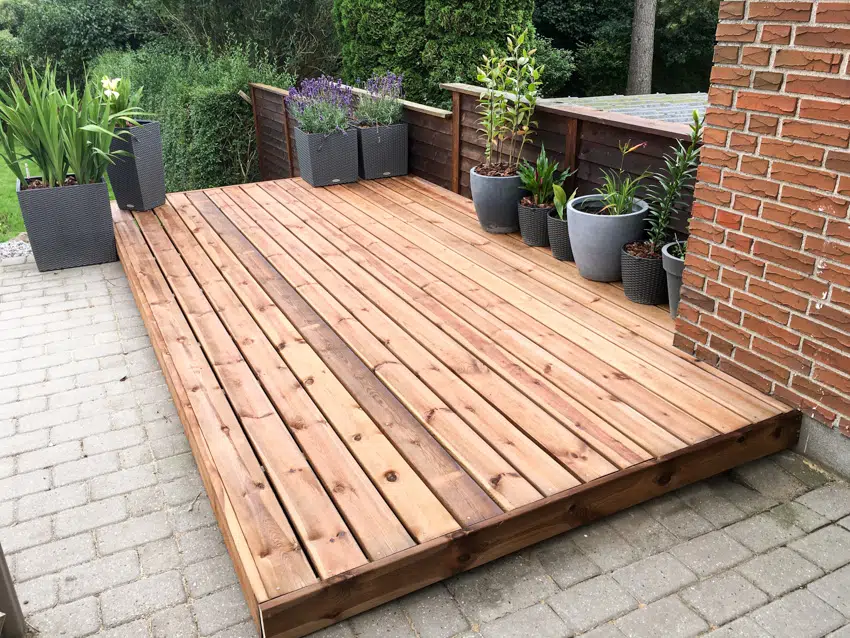 One way to spice your patio up without costing you too much is through plants. You can use existing trees and shrubs surrounding your elevated platform for additional aesthetics.
You can also install your own potted plants. You can even choose the design of the pots to use and the type of plants to install. Perhaps you can choose the low-maintenance cactus or the double-duty insect-repelling plants.
Potted plants improve the style and ambiance of this simple elevated platform, giving it an edge and some character.
Incorporate Built-In Seating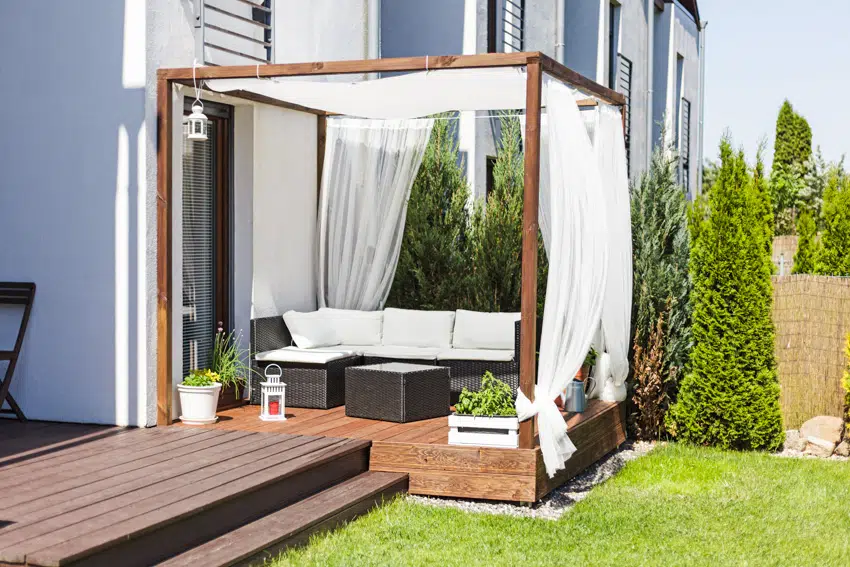 Built-in seating is one of the techniques used to maximize the space on a small patio. Integrating a bench into the patio railing makes it a double-purpose design.
Compared to chairs, the built-in seating won't take up much space. It provides more standing room and saves you a lot of money.
This elevated platform has built-in seating that also serves as its railing. While it may appear small, the decking is stylish with its see-through curtains and potted plants.
It also feels like a standalone patio, considering its platform floor uses a different kind of wood from the floor it's attached to.
Choose to Be Low-Maintenance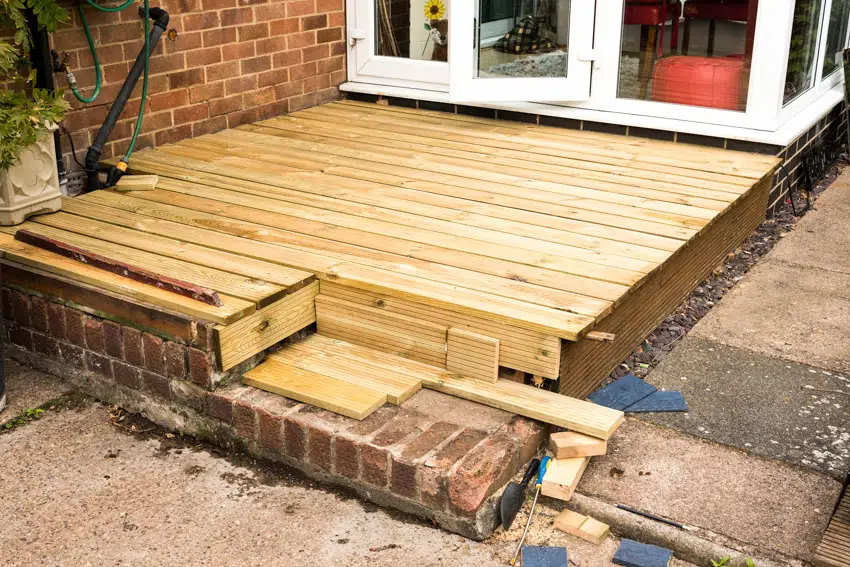 Going on a budget when building and designing your DIY decking can be limiting. Choose to be low-maintenance.
If you don't need it, don't buy it. If your small backyard patio doesn't need cushioned seats, don't buy them.
This platform is a low-maintenance addition to one's house. Its wood-and-stone combination has a DIY charm to it.
While it may be bare, save for that little potted plant in the corner, the veranda still serves as an extension of the home.
Choose A Color Palette That Reflects Your Personality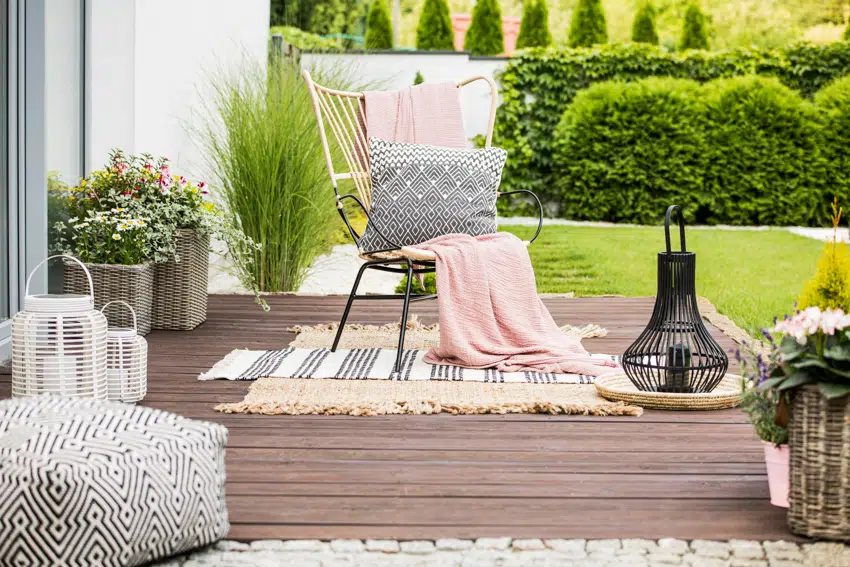 This is the time to use your creativity! Reflect your personality by choosing the color palette you like for the pillows, cushions, and rugs.
Choose bold patterns as your primary colors. Remember not to forget the neutral palettes as your complementary colors, though.
This traditional platform decking is as cozy, rustic, and homey as it gets. The neutral colors used in the patio are calming, while the addition of pink adds personality.
Make Sure to Anchor Your Seating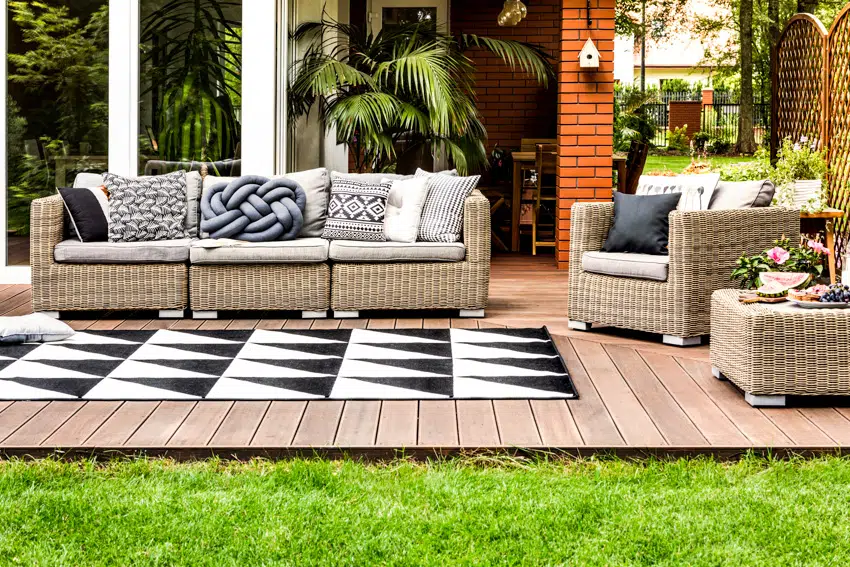 Rugs are both functional and fashionable. Anchor your seating to the rug and choose one that can cover the entire veranda. This will protect the decking and keep it clean at the same time.
This contemporary-looking elevated platform uses bold designs for its rugs and pillows. This decking is a good home extension with wood/woodlike material used for its floor. The rug used also covers most of the space on the elevated platform.
Install Chairs In Diagonal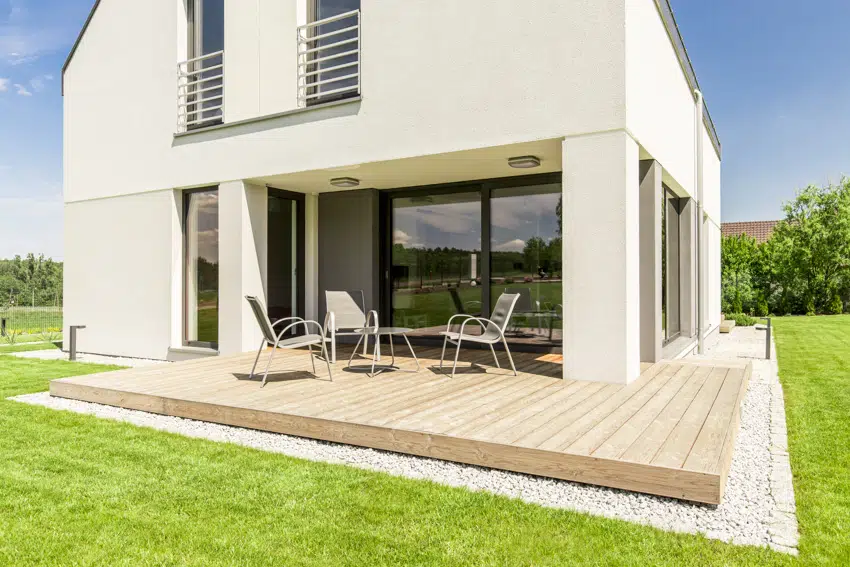 If you are going to use chairs, make sure to install them diagonally. With a small elevated platform, there might be an instance where a chair might fall off the edge. Installing them diagonally will help avoid these situations.
This wooden platform decking is a simple extension of the home. Chairs are installed diagonally, with the table right in the middle.
This elevated platform is perfect for your morning coffee and personal conversations with family and friends. See more related content in our article about deck designs on this page.